Visiting Helsinki had been on my bucket list for a very long time but never thought that would come true so easily. During my Sweden trip, I had a weekend to spare so just bought an overnight Viking Line ferry ticket for Helsinki. I am not sure why I am referring it as ferry instead of cruise despite the fact that I had a cabin with bed and shower room.
Traveling to Helsinki by ferry is like having fun for locals and an excuse to buy booze tax-free, gamble in the casino, having good food in one of those on board restaurants and hanging out in the clubs and spend most of the time on the dance floor.
Our ship left the Stockholm port at 4:30 pm right before the dawn so the light was perfect for a spectacular view of Stockholm from the deck. On board, the experience was excellent, did not have much sleep as after the dinner we mostly spent time at the Casino and the dance club. We caused about 16 hours 30 minutes and next day morning right after a fabulous breakfast we arrived in Helsinki.
I took the tram line 4 from the Viking Line Ferry Terminal and got off at Lasipalatsi station, from there about 8-10 minutes walk to Forenom Aparthotel. After checked-in to my room, I had the entire day to explore the city.
Here are few affiliates link that may help planning a perfect trip while staying within budget
Top Things To Do In Helsinki
Temppeliaukion Church
This church is located in the heart of Helsinki, get off at Sammonkatu stop if you are taking tram line 2. This church is one of the main attraction of Helsinki and very popular among tourists. The special architecture makes it unique especially for its copper-lined dome and rocky interior walls. This 1960's church was excavated directly into the solid rock. Pay a visit, I highly recommend it.
Visit Senate Square
The Senate Square is the most interesting place to be while visiting Helsinki it is wide open square surrounded by beautiful Neoclassical architectural buildings like Helsinki Cathedral, Government Palace, the National Library of Finland and the main building of the University of Helsinki. One of the most is the statue of Alexander II (1894) stands in the middle of the Senate Square. The famous Market Square is just a block away from here. A great place to hang out.
Uspenski Cathedral
The Finnish Orthodox Cathedral with an ornate exterior and Lavish interior decoration is located on a hilltop Hilltop and worth a visit. The architectural design represents of the Russian impact on Finnish history.
Market Square, Helsinki
Helsinki's open-air harborside market is one of the places you can't miss, no matter where you are heading you may have passed through this most visited area. The market is open year-round with food stalls, handicrafts and many more. In summer this place gets especially crowded and turns into a fun place to be. People just go there, shop in a relaxing atmosphere and sit back and soak up the sun. The stalls in the Market Square sell traditional foods and treats, as well as handicrafts and souvenirs.
Sibelius Monument
It was amazing to see 600+ steel pipes forming a wave-like shape representing music, a 1960s monument by Eila Hiltunen. It was unveiled 7 September 1967. The Sibelius Monument, resembling organ pipes, is made of welded steel with over 600 pipes. The monument is one of Helsinki's most popular statues and one of the most well-known tourist attractions.
Visit Helsinki Cathedral
This Cathedral is a most prominent landmark of Helsinki and most photographed building in Senate Square. It was designed by Tsar's favorite architect Carl Ludwig Engel in 1852. Just one block from Market Square and the harbor.
Finnish National Theatre
It is an iconic building designed by Omni Tornqvist-Tarjanne. The amazing 20th-century landmark is located in Helsinki's Railway Square.
How To Get To The Airport From City Center
After a fabulous trip time for me to return to Stockholm. I needed to catch an early Finnair flight. The commute to the airport was easy. I was reluctant to spend €50.00 by taxi so just walked to the nearest tram station from my hotel, then took the line going to the Helsinki Railway station. Bus Line 615 and Finnair City Bus operate frequently between Railway Station and the airport. Alternatively, there were also train service connection between Helsinki city center and Helsinki Airport.
Are you looking for a cool place to stay in Helsinki, Here is where I stayed
Forenom Aparthotel Helsinki City, Eerikinkatu 24, Helsinki 00100, Finland
I had an excellent stay at Forenom Aparthotel Helsinki City hotel, great location only 1000 feet from Helsinki Bus Terminal and Kamppi Shopping Centre and close to the tram station. Comfortable and super clean rooms. I would highly recommend this hotel!
My Favorite Scandinavian Food
I always love Scandinavian cuisine specially Finish which is delicious and healthy, perfect for someone like me who want to enjoy authentic food without gaining few pounds on the road. There are plenty of restaurants to choose from for typical Finish dishes. One of the common items is smoked fish, like salmon, perch, and pike and Baltic herring are my favorites.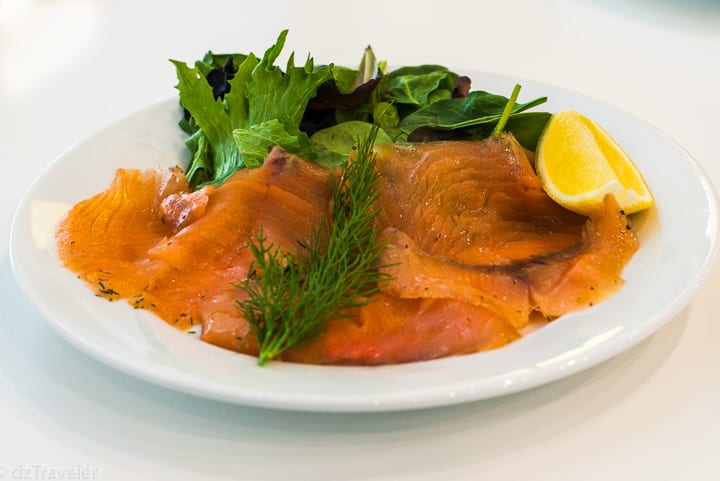 My Opinion and Tips
Have you been to Helsinki? Any additional tips to share?
Please leave a comment below! I'd love to hear from you to improve my knowledge.
Was this travel guide helpful for you?
If you'd like to help me continue making free guides, here is one way you can help:
Share This Guide – If you have a friend that would benefit from this guide, share it with them. Or post this guide on Facebook, Twitter or Google+
Your help would definitely help me making more free guides like this. Thank you in advance!
My Pictures That Will Tell My Travel Stories, comment if you like: