Rio de Janeiro is the most visited city in South America because of its beautiful beaches, Carnival festival, and famous mountains. In fact, no destination on earth is more likable, exciting, and lively than Rio de Janeiro. The city is surrounded by many natural attractions such as Corcovado and Sugarloaf mountains, the Tijuca rain forest, and famous beaches like Ipanema and Copacabana. Apart from the Carnival celebrations and vibrant parades, the Iconic landmark of Brazil's gigantic Christ the Redeemer statue also attracts visitors from around the world.
Planning Your Trip
Best Area to Stay in RIO
Ipanema and Leblon are locals' favorite, and it is a relatively quieter and safer places to stay in Rio. The beautiful sandy beach connects these two neighborhoods with the two brothers' mountains in the background. They are less touristy than Copacabana and very safe. I stayed here and loved the area.
Copacabana, of course, is world-famous for its beautiful sandy beach, where you will find many hotels and perfect for all kinds of entertainment. It is the most popular place to stay among foreign visitors.
The beachfront middle-class neighborhood of Botafogo and Flamengo is also a beautiful place to stay. It may not be as popular as Ipanema or Copacabana, but it got its own fame. These areas are home to some great restaurants, shopping, and lively nightlife with a picture-perfect view of the bay and Sugarloaf mountain.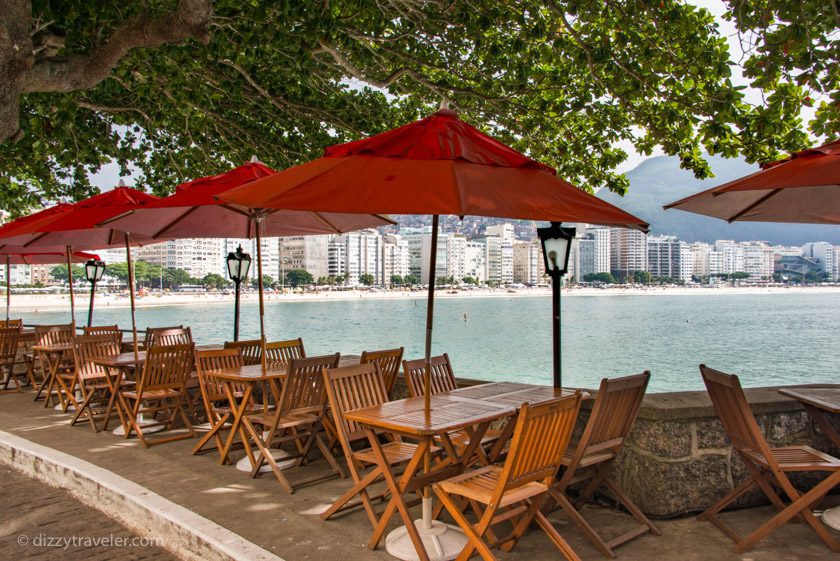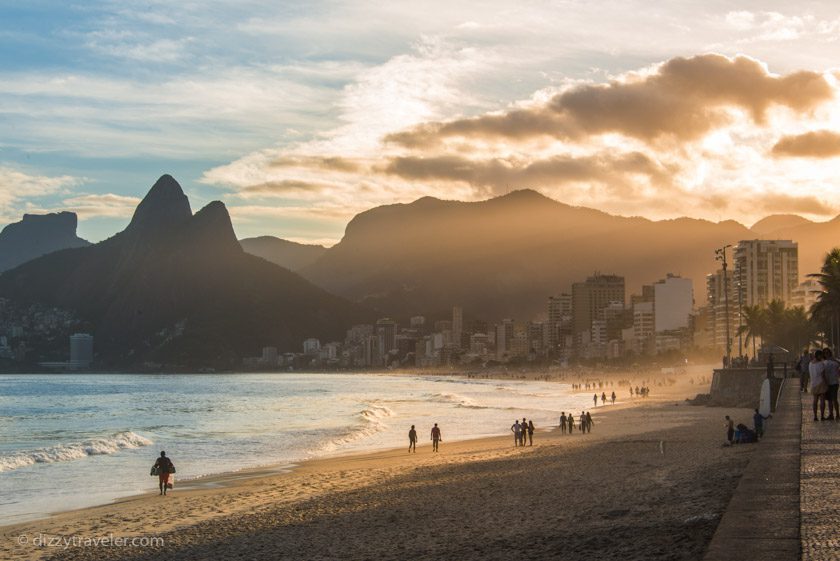 How To Get There
There are two airports in Rio de Janeiro SDU (Santos Dumont) and GIG (The Galeão International Airport) 14 and 6 miles respectively (23 km and 9 km) from my hotel in Ipanema Beach. Most long-haul international flights have daily flights to GIG; my favorite airport is SDU for short-distance international and domestic flights. I have used both airports several times and found both very convenient; both got free WiFI which was a plus for making a UBER reservation.
I still remember the breathtaking view of Sugarloaf mountain and the Rio Skyline through the airplane window when taking off from Santos Dumont (SDU) airport to Iguazu Falls (IGU); it was once in a lifetime experience. 
How To Get Around
Taxi – Plenty of meter taxis are widely available in the city. I have used them on multiple occasions and never had a bad experience. The price is reasonable, and they are reliable too.
UBER – Personally, I prefer using Uber as there is no need to deal with cash or flag down one. It was convenient to make a reservation at the hotel, restaurants, and airports, and they were relatively cheaper than metered Taxi fares.  
Best Time to Visit Rio de Janeiro
Winter – I visited Rio de Janeiro in June and experienced the best weather over there. Winter in Brazil is between May to September, just opposite North America. The temperature in Rio de Janeiro is mild during the winter; it remains between 58º F to 80º F ( 15º – 26º C), perfect for hiking and sightseeing. Humidity is low so you get a clear blue sky with no haze to provide a clear view of the surrounding landscape. It's a good idea to bring a light jacket with you because some evenings may get surprisingly chilly.
Summer – The hottest and most humid period of the year is from December to March; the temperature and humidity rise well above 90º F regularly. It's the holiday season for Brazilians, so lodging and other expenses are relatively expensive.
Useful Information
Avoid walking alone at night; certain areas in Rio are known for high crime, so try to avoid it, even if you are in a group. Take a taxi or call Uber if you are going somewhere unknown. 
If you like to explore Favelas (slums), go to a safe one in the south zone, such as Rocinha or Vidigal. Don't even think of visiting Favelas, located in the north zone.
Don't wear clothes that will stick out as a tourist, to avoid being overcharged at the shop or being targeted by the muggers.
When you are on the beach, keep an eye on your bag, avoid taking valuables with you, and leave them with a reliable person when going to the sea.
Top Things To Do In RIO
Tijuca National Park
Tijuca National Park is one of the largest urban forests in the world. The 13 square miles (33 square km) jungle is home to ocelots, howler monkeys, and many bird species. Taunay Waterfall is a popular attraction along with hiking, and one of Rio's iconic landmarks, the Christ the Redeemer statue, stands atop Corcovado Mountain. It is located only 19 miles west of Rio de Janeiro, and the best way to get there is by taking a guided tour.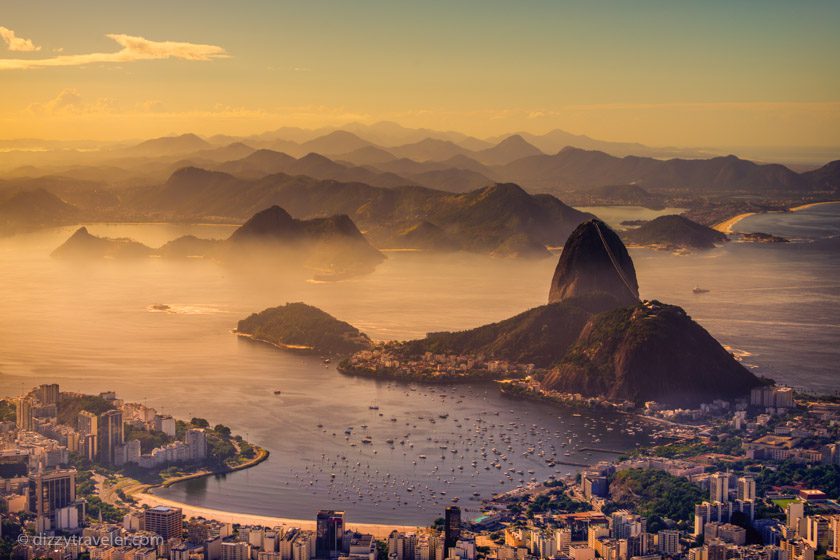 Tijuca National Park owns locations and historical attractions that are worth a visit, such as Cascatinha (Little Waterfall), Capela Mayrink (Mayrink Chapel), Mirante Excelsior (Excelsior Viewpoint), Barracão (Big Shack), Gruta Paulo and Virginia (Paulo and Virginia Cave), Lago das Fadas (Fairy's Lake), Vista Chinesa (Chinese Viewpoint) and Açude da Solidão (Solitude Weir), all of them spots often visited by entire families on the weekends.
Visit Christ The Redeemer
I am sure we have repeatedly seen the world-famous iconic landmark statue Christ the Redeemer (Statue of Jesus Christ), especially when it comes to representing not only Rio but also the entire country. Thinking about a trip to Rio de Janeiro without visiting Christ the Redeemer is unthinkable. Located on top of Corcovado's Mount, the masterpiece is the best-known Brazilian symbol, famous all over the world. It's easy to get to Christ the Redeemer; I took an uber to the Corcovado Train station and from there took Trem Do Corcovado all the way to the top. The adult ticket price is R75.00 (US$ 1 = 27 Reais).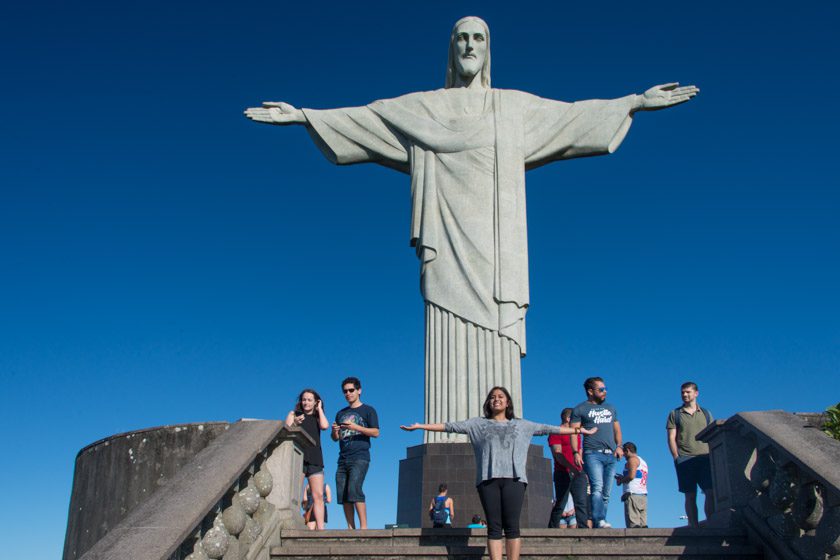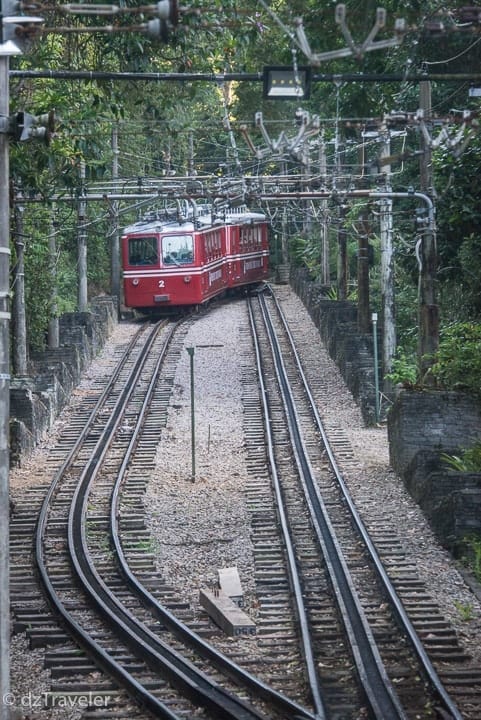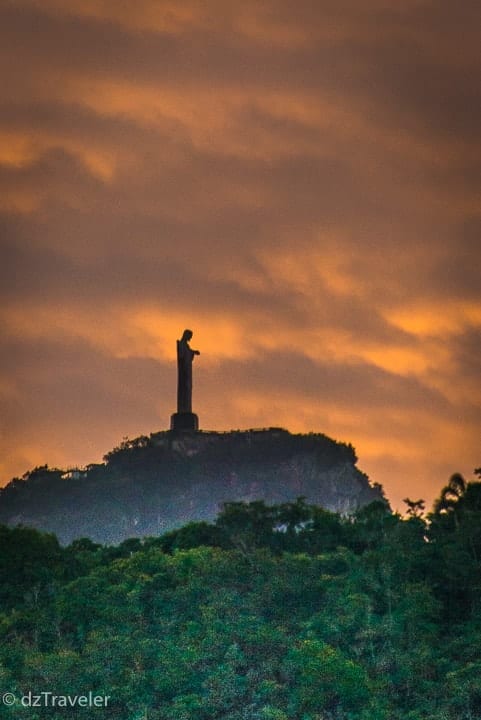 Sugarloaf Mountain
Your Rio visit is not complete without visiting Sugarloaf Mountain. It is one of the most popular spots in Rio de Janeiro for a bird's eye view of the beautiful Rio beaches such as Flamengo, Botafogo, Copacabana, Ipanema, Leblon, also beautiful Rio skyline, the Dumont Airport, and many more. Take the cable car from the base of Babilonia hill and climb to the top of Urca hill, then another cable car up to Sugarloaf mountain's summit. If you want to avoid the daytime heat, early morning or late afternoon is the best time to head up there. It is also one of the best places to enjoy the Rio sunset.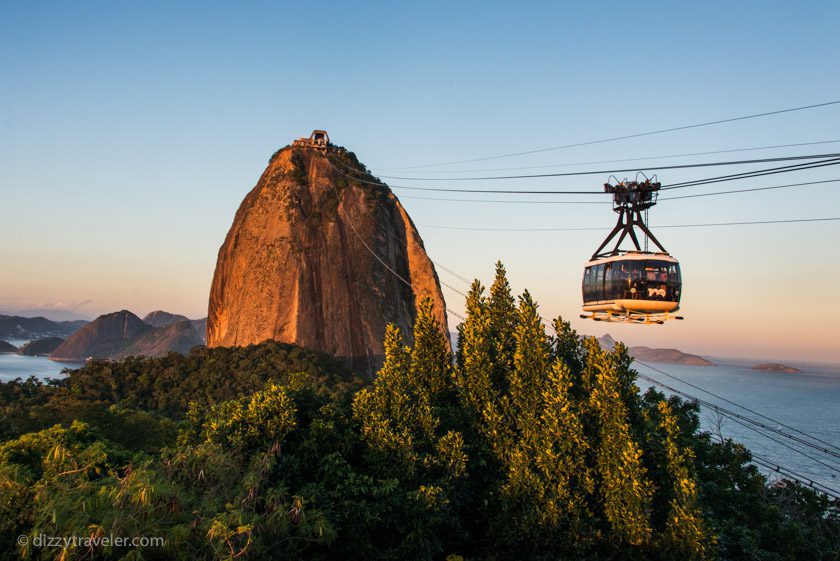 Copacabana Beach
Copacabana is often known as the world's most famous beach and is ranked one of the top attractions in Rio de Janeiro. The beach runs from Posts Does to Posto Seis and stretches up to 2.2 miles (4 km). You can't miss the world-famous Copacabana beach, as it is the center of all attractions in Rio de Janeiro. The 2.5 miles (4 km) long beautiful beach is full of activities like a soccer game or beach volleyball, and for convenience, kiosks lined up along the beach serving all kinds of drinks and snacks, and on the other side of the road are closely packed hotels and apartments.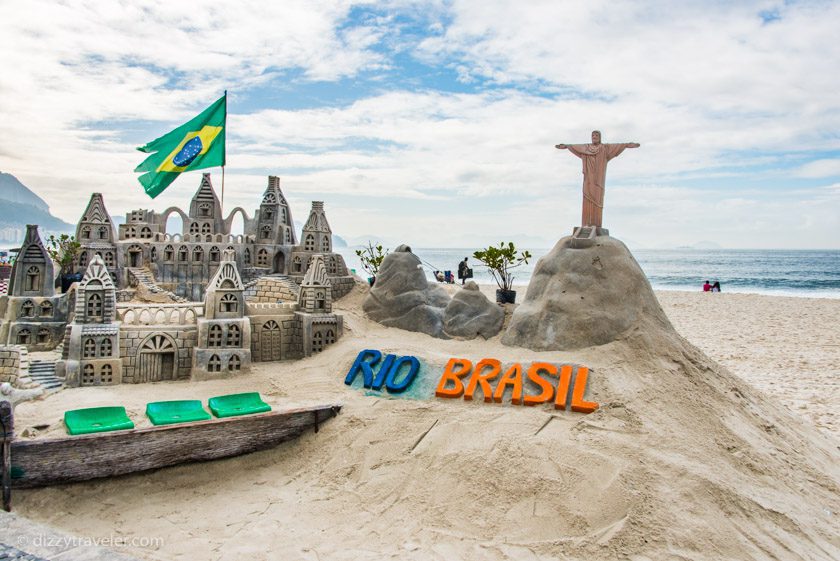 Relax at Ipanema Beach
The Ipanema beach is located between Copacabana and Leblon in a nice upscale neighborhood with a beautiful soft white sandy beach and a lovely view of two brothers' mountains in the background. It regularly enters the peak of the "Best Beaches in the World" lists year after year. It is Rio's most famous beach among locals and tourists alike.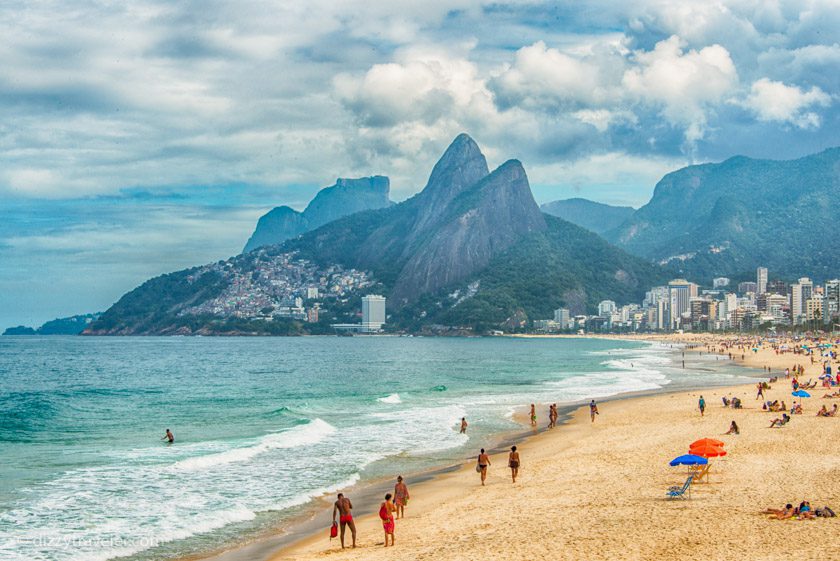 Lagoa Rodrigo de Freitas
One of the city's most scenic points in the heart of Rio de Janeiro, Lagoa Rodrigo de Freitas (also known as Lagoa or Lagoon), is surrounded by a 7.2 km hiking and cycling track. The lagoon is renowned for its tranquility and beauty. There are bikes, and paddle boats are available for rental.
This natural lake is located in the upscale neighborhood of Lagoa, just a few blocks away from the beaches in Ipanema and Leblon—a great place to visit during your Rio Trip.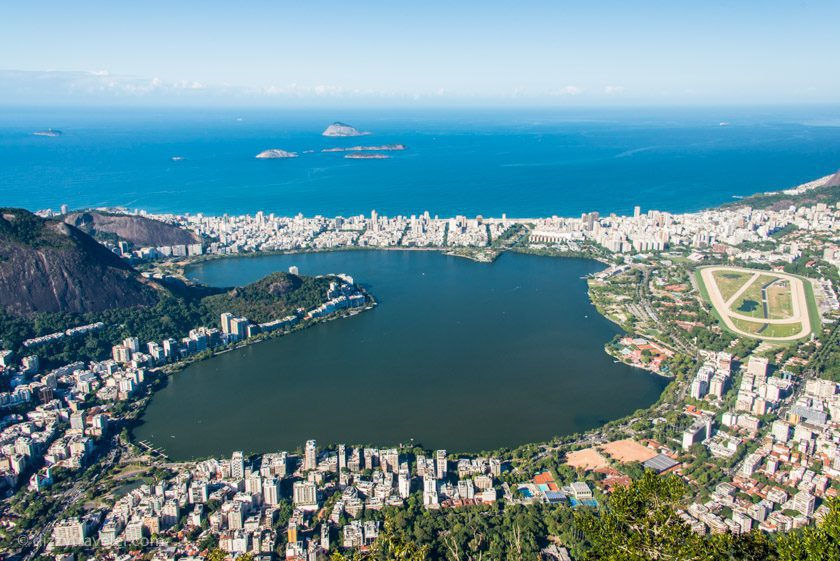 Visit The Ipanema Hippie Fair (Feira Hope)
This is a great place to find Authentic Brazilian folk and contemporary art, jewelry, clothing, and a lot of street food. Extremely popular among tourists and locals alike. This Sunday market in Ipanema was started by a group of hippies a long time ago, and in current days it has grown a lot with hundreds of stalls of all kinds.
Maracanã Football Stadium
Maracana football stadium is one of the showpiece venues for the 2016 Rio Olympics. It is one of the most famous and one of the world's largest football stadiums. Initially, it was built for the World Cup of 1950 and later renovated for the 2014 FIFA World Cup. Book a guided tour and get a behind-the-scenes experience at Maracanã Stadium.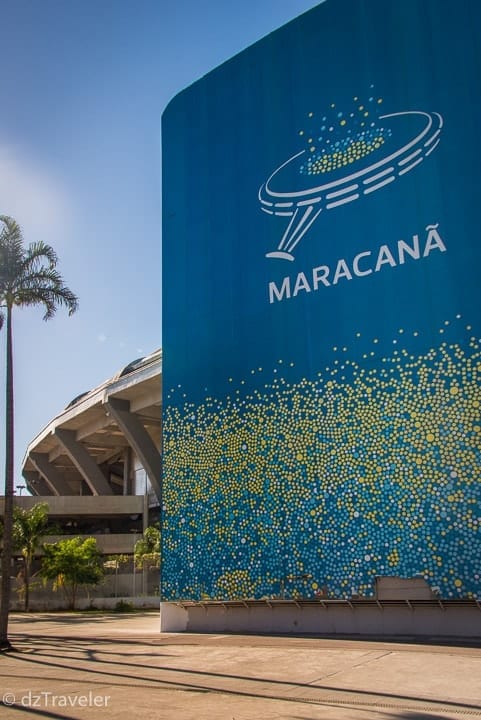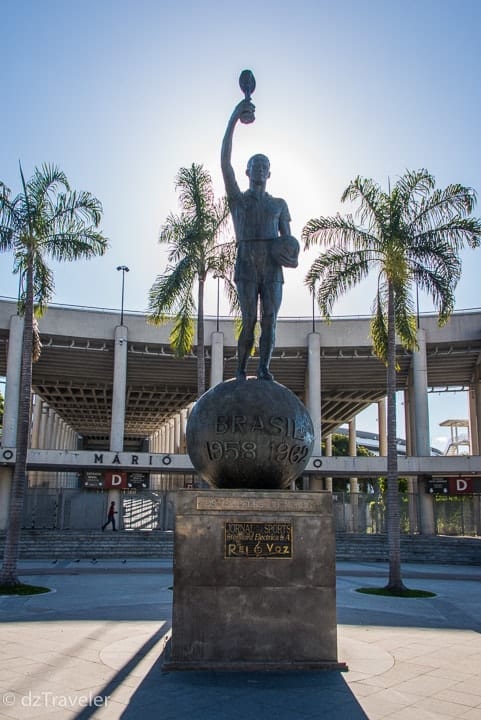 Escadaria Selarón (Selerón Stairs)
Escadaria Selarón, also known as the 'Selaron Steps,' has come under everyone's radar and recently became quite popular worldwide. The stairs totaling 215 steps, were decorated with colorful mosaic tiles, named after the Chilean-born artist who worked on the steps since 1990. I would recommend paying a visit and checking it out.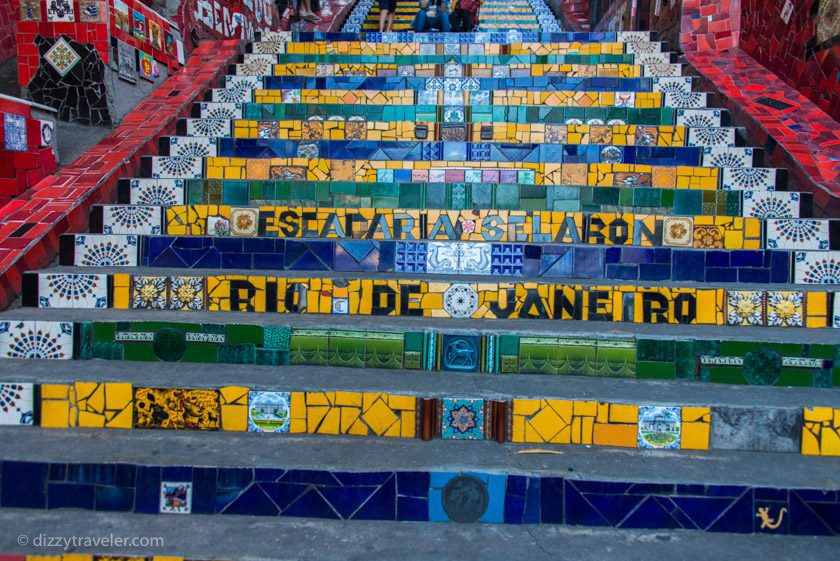 Metropolitan Cathedral of RIO
The Metropolitan Cathedral of Saint Sebastian is better known as the Metropolitan Cathedral of Rio de Janeiro. This beautiful church does not look like a traditional church at all; instead, it was built in the style of an ancient Mayan Pyramid.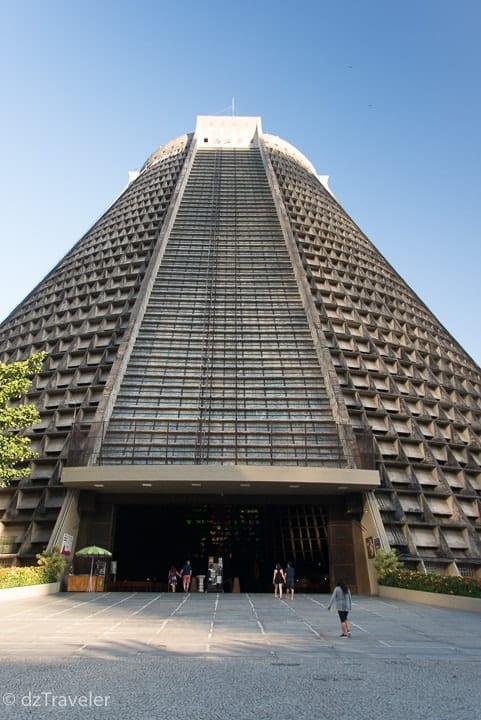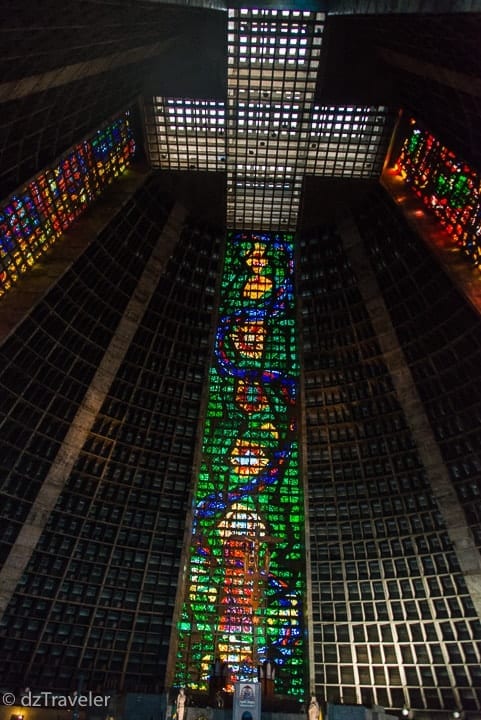 Traditional Food and Drinks
In the heart of Ipanema, you must try this famous Brazilian Steakhouse. They are more renowned for Rio's best Churrascarias (rodizio style BBQ). You'll find high-quality cuts of various meat dishes and delicious salads. Servers make frequent rounds at your table with delicious food. This friendly-looking restaurant with excellent service is definitely worth a try.
Carretao Classic Grill (Churrascaria), Rio de Janeiro
CT Boucherie Restaurant
It was created by Claude Troisgros, Rio's most famous chef. The innovation is to follow the traditional idea of Churrascaria BBQ. Still, instead of unlimited all-you-can-eat meat, you will be served rodizio-style side dishes fresh from the kitchen. For example, they have delicious house special lamb, duck breast, or grilled fish.
Casa Momus Restaurant
One of the best and loveliest restaurants in Lapa Casa Momus. It is a small but great selection of Mediterranean-influenced dishes that will satisfy your taste. Start with prawn croquettes and fried polenta with spicy gorgonzola. Also, Moroccan lamb kafta (spiced meat patty) with tabbouleh and yogurt sauce is delicious.
Hotels in Rio de Janeiro
Arena Ipanema Hotel, Ipanema – Rua Francisco Otaviano 131 Rio de Janeiro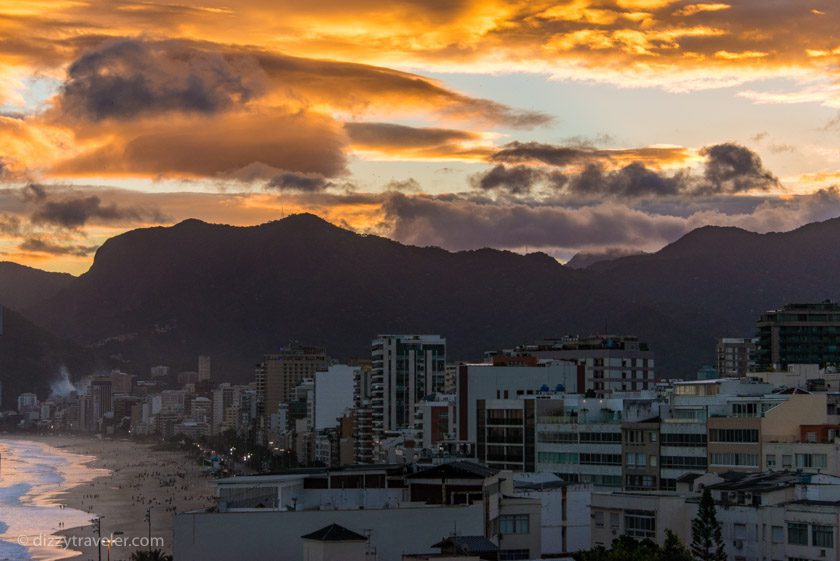 Arena Leme Hotel, Copacabana – Av. Atlântica 324 Rio de Janeiro
Le Chateaux Joá, Rua Jose Pancetti N 70 Rio de Janeiro
My Opinion and Tips
Have you been to Rio de Janeiro, Brazil? Any additional tips to share?
Please leave a comment below! I'd love to hear from you to improve my knowledge.
Was this travel guide helpful for you?
If you'd like to help me continue making free guides, here is one way you can help:
Share This Guide – If you have a friend that would benefit from this guide, share it with them. Or post this guide on Facebook, Twitter or Google+
Your Support would definitely help me making more free guides like this. Thank you in advance!
Affiliate Link – This post in Dizzy Traveler contains affiliate links, which means I receive a referral commission if you purchase after clicking at no additional cost to you. These funds go to maintain the site. Thank you for your support.
Book Your Sightseeing Trip
There are a lot of beautiful places to visit and some exciting sightseeing activities to bring unforgettable memories back home. Please click on our below affiliate link to see your options.