Coron. What makes it more perfect? Here, there are plenty of things-to-do and must-see nature reserves that will leave even the most seasoned traveler breathless! The sparkling emerald green water, the blue lagoons, the powdery white sand beaches, and the gray jagged karst cliffs will not disappoint.
That's not all though because, for me, it is my love-affair for snorkeling why I pursued this trip. Thus, it didn't matter being roasted under the blasting sun while snorkeling. The truth is, I considered my burnt skin to be the proof of the blissful moments I had on that island. Planning a trip? Then the following are the kind adventures awaiting you. Keep reading.
Kayangan Lake &
Honda Bay
: Take That Perfect Picture for Social Media
The iconic spot where everyone wants to have a picture of themselves! It is the view from atop of rock, and below, you will see the clear turquoise waters and tall cliffs surrounding the bay. To get to that spot, take a steep ten-minute rock climb. And when you reach the very top, take a break to photograph the phenomenal view.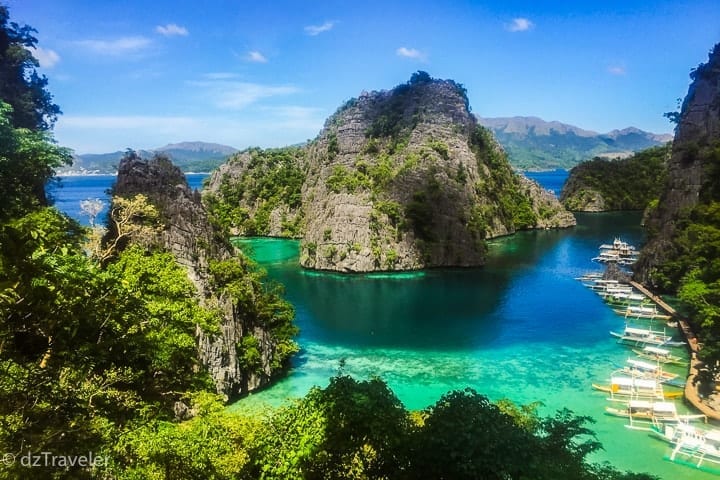 Truth is, that is not the view of Kayangan Lake. Instead, that is the angle of Coron Bay. People refer to it as the view of Kayangan Lake because it is the same outcropped stairs you take to get to the hidden lake. Anyhow, it could get crowded on that top of the rock as everyone wants a photo to post on their social media accounts! When done with your turn, descend through the narrow stairs that lead to Kayangan and plunge into the bath temperature water.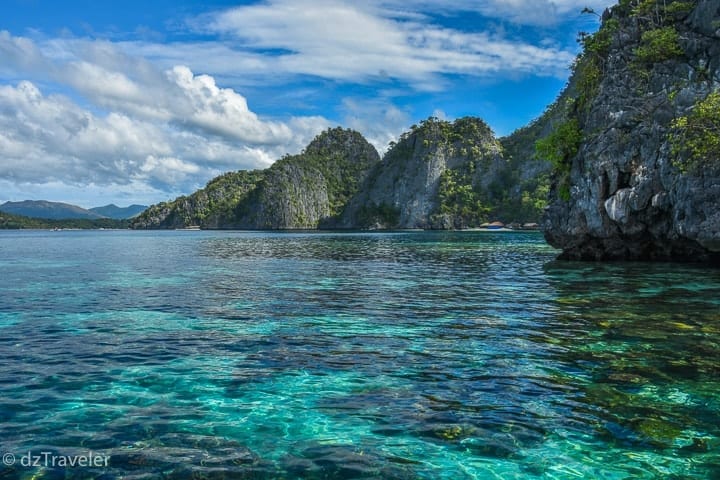 Barracuda Lake: Take Deep Breaths
One of Coron's attractions is a freshwater lake from an ancient crater. Here, the limestone cliffs formations are so majestic; that you can't keep yourself from admiring. If you love snorkeling, well, this is the favorite activity here. So, you hit the perfect spot. It will get even better if you dive into the turquoise water because swimming with arrays of fishes is pure fun for sure.
If the mentioned hobbies are not yours, that's alright. Just savor the beauty of the lake. Relish the moment. Breathe. Close your eyes. Nurture your inner side. Your body and soul will thank you for doing so.
To access this cove, you need to climb some steep and sharp rocks for about ten minutes. The hike is a small price to pay for what you will enjoy!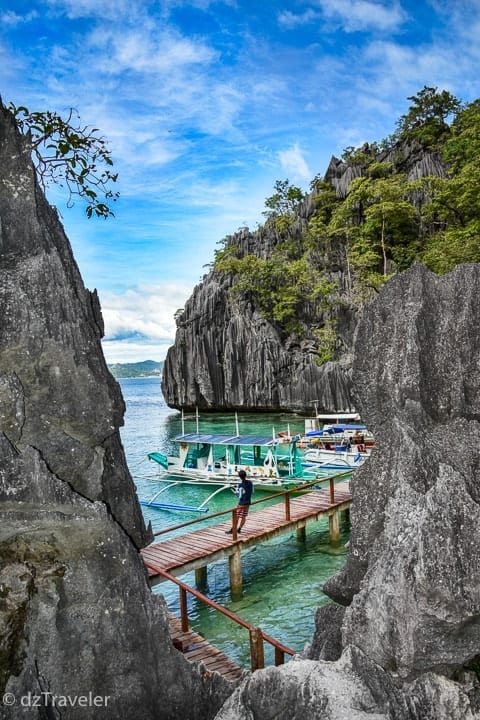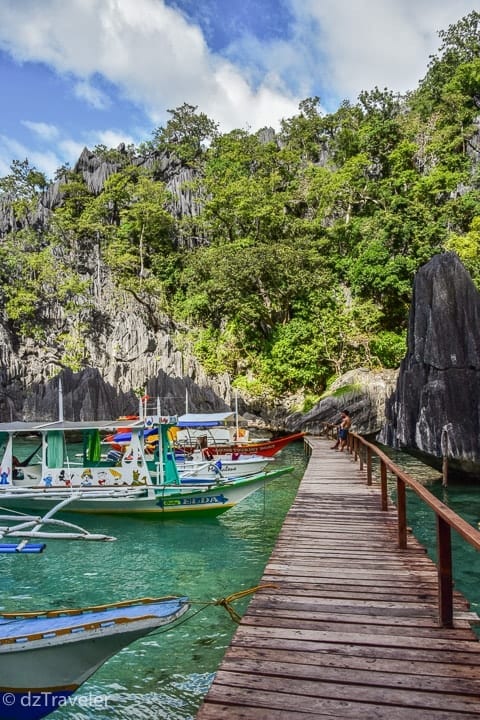 Twin Lagoon: Paddle Alone
Of all the sites we visited, it is the Twin Lagoon was I wished we hired a private boat to go there instead of joining a tour group! You wouldn't want to paddle in the presence of many people. Let me explain.
Twin Lagoon is to be enjoyed by yourself and yourself only. You want it to be your paradise! No one should ruin the stillness and monastery-like quietness in Twin Lagoon. It is so beautiful it resuscitates euphoric feelings, and it is impossible to experience such in the presence of other sightseers. That's why the best time to head there is in the late afternoon when visitors have already left for the day, or in the early morning when everybody is still under their blankets. I lack words to describe it. Even photos don't do justice to show its real beauty.
Coron's Youth Club Beach: Feel Young Again
Feel like a kid again and let your eyes will sparkle at Coron's Youth Club! It is very much different here from the lagoons, and lakes that are hiding within the walls of limestones cliffs. CYC Beach is a small but spread out island beach backdropped by lush trees and mangroves. With nothing there but bathe warm waters and far stretching white sands, who would want to leave? Sadly, we're only allowed to stay on the beach for less than thirty minutes.
Hire a private boat if you can, so, that you can stay on the island for the entire day, do it. After all, you are there to relax and chill! FYI, there are no cottages on the shore, but there are mangroves to shelter you from the sun. Be careful about bringing your camera. It may be a bit scary, as it might get wet on your walk to the coast from the dropping point.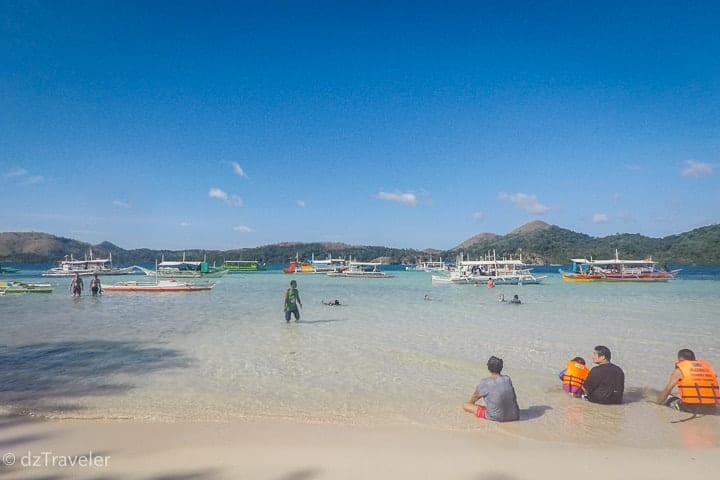 Coral Garden Park: It's so Fun Than Anywhere Else
Your pulse will beat in a rapid rhythm. Jump down into the limpid sea and start your snorkeling journey. Follow your tour guide and flip-flop like a line of tropical fishes. Stretch out your arms until you could almost touch the coral reef. Pick up a starfish and watch it breathing! Watch the multi-colored fishes swing their flexible body and let them swim across your hands and feet! Oh, so fun! Only in the Coral Garden Park, Coron Island, Palawan!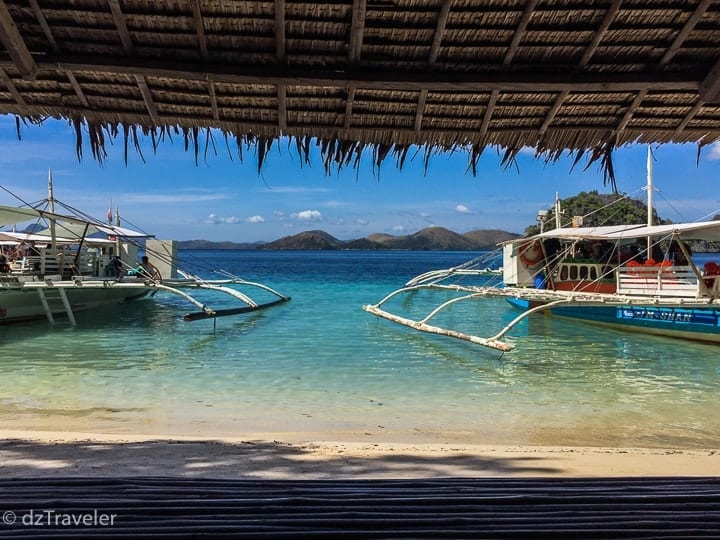 Mount Tapyas: Climb to Get the 360-Degree View of Coron Town
Don't tell me that the last time you went for a run was when Bush was still the President! Because if your answer is yes, then forget about climbing Mt. Tapyas. Not an easy feat if you are not fit! You will have to climb the 700 + steps to reach the top of the mountain. I admit that by the time I stepped the 300th staircase, I gave up!
If you reach the top though, your reward is a fantastic and unobstructed view of the town. You'll be mesmerized by the glistening waters, those velvety rolling hills, and the majestic mountains. Chase the sunset there and watch the sky turns to gold. Bring a little mat or blanket to spread out on the grass. Lie down on your back, close your eyes, feel the breeze, and be grateful for that bliss.
Before you descend, strike a pose in front of the big cross with the town's name. It's the Coron's version of the Hollywood sign in Los Angeles!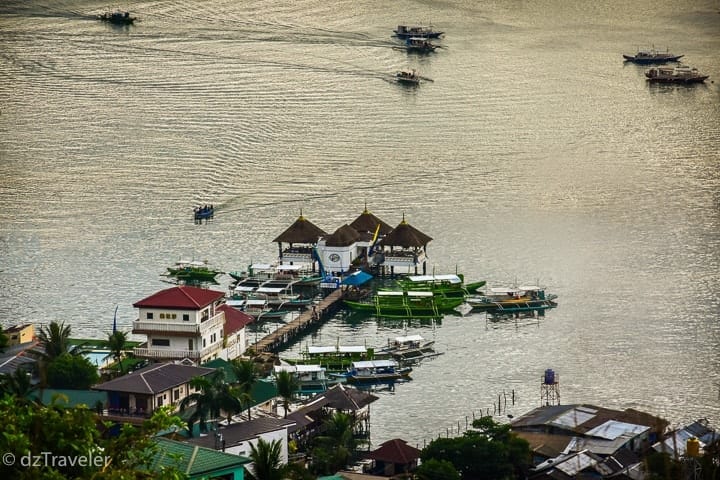 The Maquinit Hot Spring: Peel Off Your Robe, Slip Into The Hot Water and Say Ahh.
I do recommend a trip to Maquinit Hot Spring especially after those energy-sapping activities! Go for a dip and feel the healing properties of warm salt water (and say ahh..)
The best time to go there is in the evening. Book your excursion through the hotel you're staying at or through the tour companies in the town verificar aquí. If you want on your own, hire a tricycle driver, but negotiate well before hopping. If you pay for a round-trip, the driver should wait until you are ready to go back into town.
There is an entrance fee of PHP 500.00 per person. Bring a bottle of cold water; you'll get thirsty after soaking for some time. Remember, hundreds of tourists go there in the evening, so, the dipping pools can get crowded. Lastly, the way to the resort is via rough roads. If it's raining, expect a muddy, bumpy ride!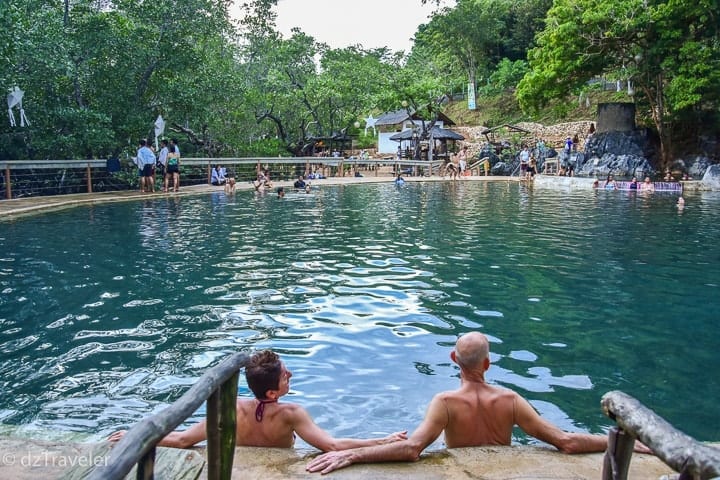 Diving: The Wreckage!
The most famous water sports in Coron is wreck diving. Visitors from different countries flock to this offbeat coastal town for this reason.
Your snorkeling guide will give you a chance to see some shipwrecks. If you can swim deep enough into those wreckages, you'll get an up-close encounter and leaves you fascinated by those underwater ruins.
Have I mentioned yet that Forbes Travel Magazine featured the sunken Japanese vessel the top ten best scuba diving site in the world? The Japanese vessel shipwreck is in the deep waters of Coron!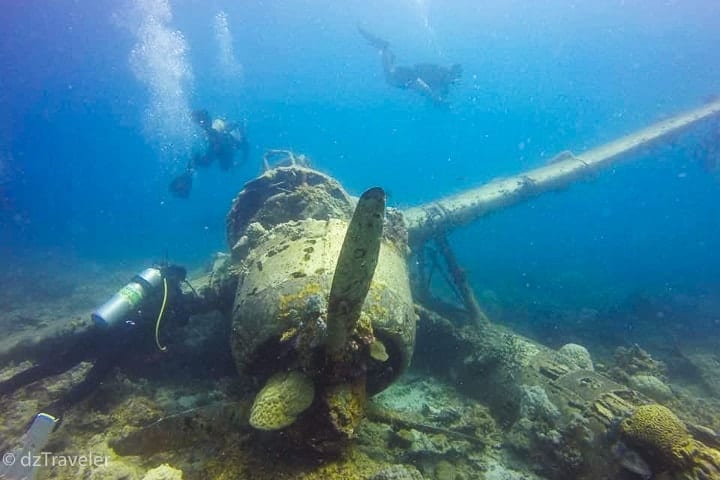 Recommended Hotels
Two Seasons Coron Bayside Hotel, Coron
Two Seasons Coron Island Resort & Spa, Palawan
Club Paradise Resort, Palawan, Philippines
Recommended Restaurants
Kawayanan Grill, Coron, Palawan
Kawayanan Grill offers great local delicacies such as grilled meats, seafood, the traditional Nido Soup (Bird's Nest) and other fresh catch of the day.
Altrove Coron, Rosario Street, Coron Town Proper, Coron, Palawan
Great Italian food in a nice atmosphere. Don't miss their Margarita pizzas cooked in wood-burning ovens.
My Opinion and Tips
So, there you go fellows! If you can think more to add to this list of things to know before embarking on a trip to the island of Coron, please share and write it down in the comment box below. Thank you in advance! Travel well!
Have you been to Coron, Palawan? Any additional tips to share?
Please leave a comment below! I'd love to hear from you to improve my knowledge.
Was this travel guide helpful for you?
If you'd like to help me continue making free guides, here is one way you can help:
Share This Guide – If you have a friend that would benefit from this guide, share it with them. Or post this guide on Facebook, Twitter or Google+
Your Support would definitely help me making more free guides like this. Thank you in advance!
Affiliate Link – This post in Dizzy Traveler contains affiliate links, which means I receive a referral commission if you purchase after clicking at no additional cost to you. These funds go to maintain the site. Thank you for your support.
Here are a few pictures that will tell the trip stories of Dizzy Traveler.
Please Click Here For Slideshow: