Palawan, the largest island-province in the Philippines, owns a total of 1, 780 islets! That is one-fourth of the country's bragged 7,000 plus islands. (And if I haven't mentioned yet – the "Pearl of the Orient Seas" is the second largest archipelago in the world!) Wow, that is a whole lot of islands to explore then! It just makes sense why is island-hopping be in your Palawan top things-to-do! I repeat; if there is one thing you need to tick off your travel bucket list, island-hopping tour it is!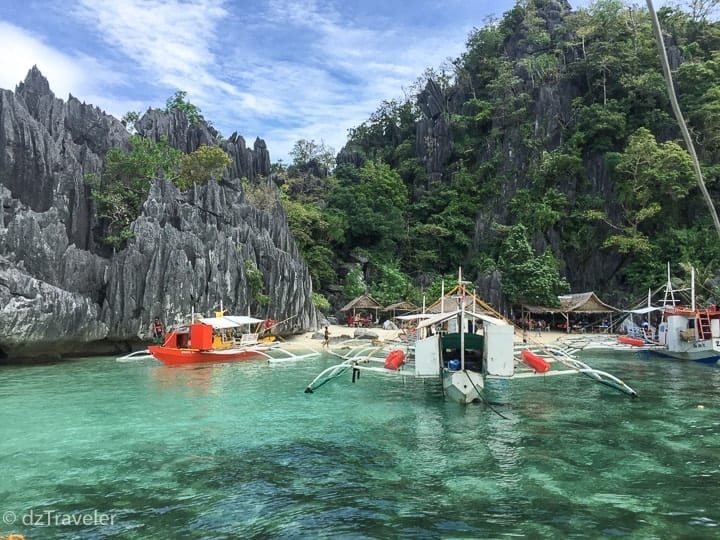 Because of these cluster of islands dispersed in the cleanest waters of Philippine seas, one can come back again and again and still cannot explore it all. But good news for those who are on a short visit! They'll get to see at least three enchanting islands. And how? By joining an excursion (The Island Escaped Tour) from the town Coron. The itinerary includes Malcapuya Island, Banana Island, and Bulog Dos Island. You can book this tour through any of the hotel, or through a travel agency in town.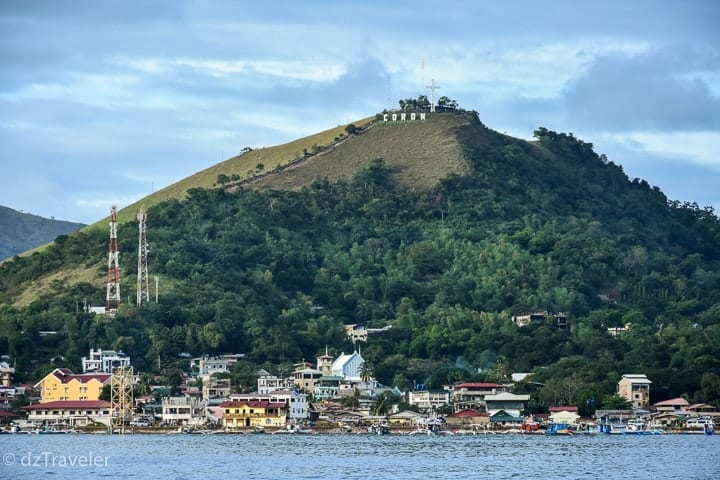 The itinerary:
First Stop: Malcapuya Island
Malcapuya Island is the first stop on this island-hopping tour. From the pier to the first stop is a one-and-a-half-hour rough but funfilled sailing. You'll agree that the long boat ride was all worth it the moment that long stretch of blindingly white sandy beach appears. Everybody is excited to leave the boat, but we dropped anchor at the bay behind this island. So, we had to walk a couple of minutes to get to the front shore. We spent two hours here and had enough time to laze on the beach, take pictures, and of course, snorkel. Given the variety and colors of fishes, snorkeling is a must-activity.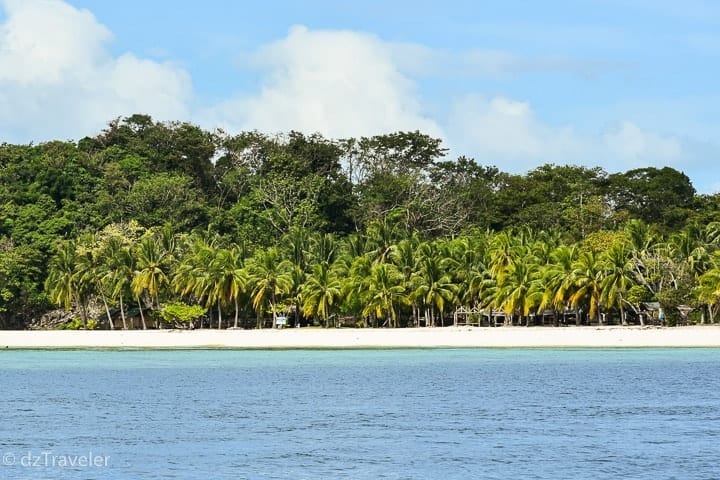 Want to experience a solitary life on an island? Then spend a night or two here. Stay on either of those rustic cottages or put up a tent by the shore. Bring those camping gears, drinking water, and food supplies.
You might want to know if there is a power supply on the island. Yes, there is run by a generator, but who needs electricity when you are in paradise?
Now write this on a sticky note, need to arrange for a pick up for the trip back to the harbor of Coron town. Never want to get stranded there.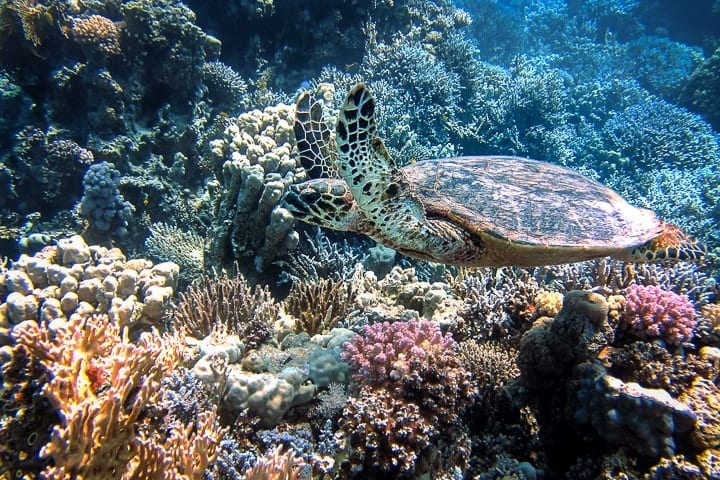 Who love coconuts? You can pick your own here and eat it fresh! Perfect for quenching thirsts from the heat of the sun. Oh boy, the refreshing drink costs very cheaply too!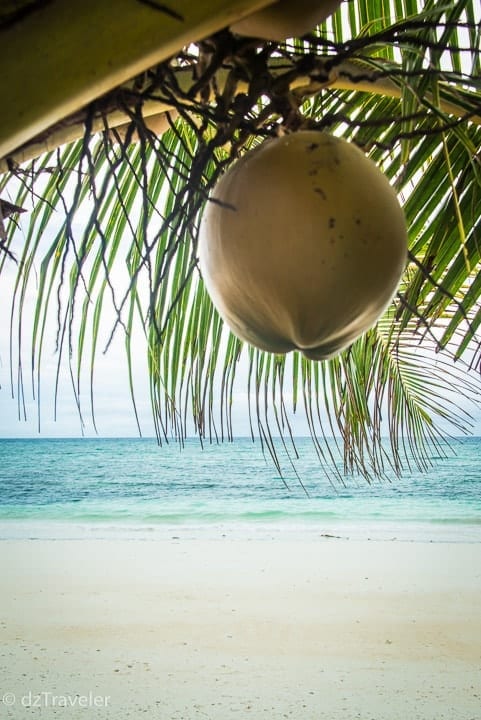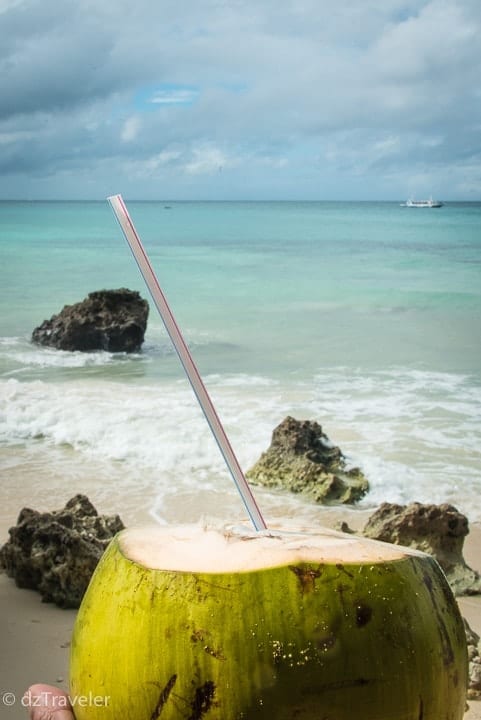 Second Stop: Banana Island
After that top-notch snorkeling adventure and laid-back stroll on the snow-white shores of Malcapuya, it was time to head for the next islet – the Banana Island.
The name of the island comes from its shape that is much like the contour of a banana. Those who wish to indulge in slow sway while watching or listening to the waves, they have hammocks tied up on towering coconut trees. This spot is glorious for such. Every vacation should have a piece of heaven, right? We had that on Banana Island.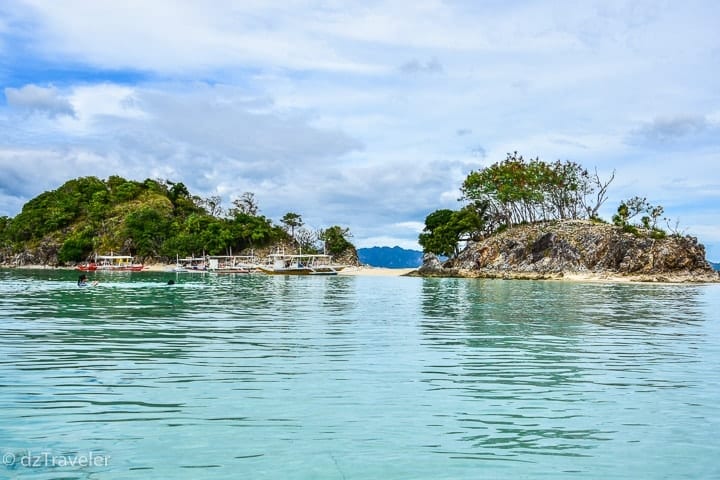 There is a family-friendly resort on this island. Their cabins are complete with bathroom and toilets. Plus fire pits for those who want to barbecue. It was on here where we stopped for lunch. We had rice, fried fish, chicken adobo, barbecue pork chops, cucumber salad, seaweed salad, and many more.
Delicious and good looking food!
Fresh fish on the plate – so delicious!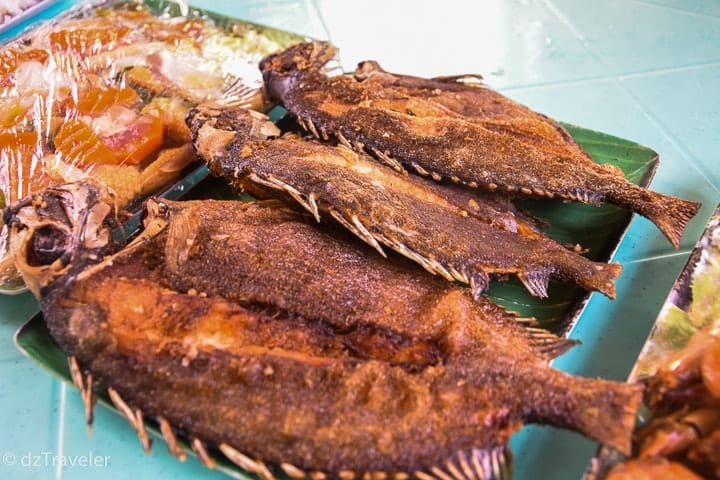 Final Stop: Bulog Dos
Only ten minutes away by boat from Banana Island is Bulog Dos (BD). BD is not an island, but a sandbar that joins Cauayan Island to the north and Bulalacao Island to the south. This island may not be as exotic as the two previous stops, but BD has a character of its own. Here are its assets:
First, the beach has the softest sands ever! It felt like I was walking on baby talcum powder! And it makes barefoot walking extraordinarily pleasurable and relaxing. Second, the hill in between the two islets is perfect for a piece of cake hiking stint. Upon reaching the top of the rock, take a seat under the trees and enjoy those beautiful views of limestone cliffs rising from the emerald waters. Third, during sunset and it is low tide, the scenery from here proved to be even more photogenic. Take tons of pictures to capture this beautiful place.
And last but not the least, if I am to recommend the best snorkeling ground in the entire Calamian or Coron, I will pick this area of BD! For the last time, we snorkeled to our heart's content. But suffice it to say, it was hard to forgo when you are having the best moments in such a breathtaking place.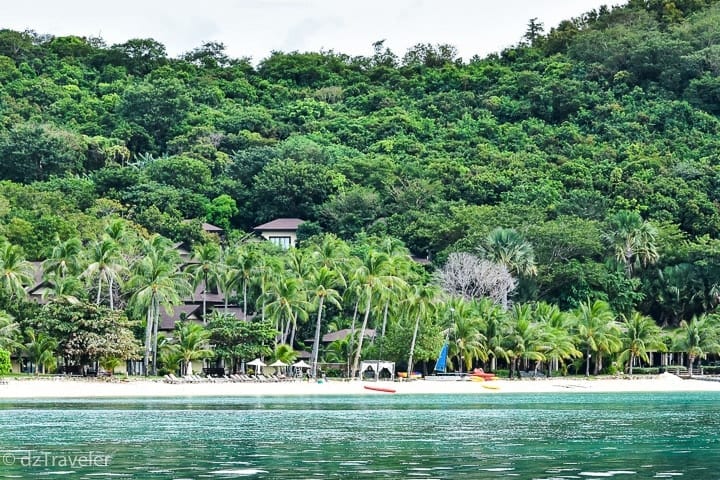 Here are few affiliates link that may help planning a perfect trip while staying within budget
Recommended Hotels / Restaurants
Two Seasons Coron Bayside Hotel, National Road, Barangay Tagumpay, Coron, Palawan, Philippines
My Opinion and Tips
Our guide made our island-hopping tour not only comfortable but also entertaining. He was funny, and his command of the English language was excellent. He seemed to intuitively know we did not want to be rushed, like some tour guides, and instead encouraged us to enjoy the island to our heart's content. So, my "tip for the day?" Hire a tour guide like this dude!
Have you been to Coron, Philippines? Any additional tips to share?
Please leave a comment below! I'd love to hear from you to improve my knowledge.
Was this travel guide helpful for you?
If you'd like to help me continue making free guides, here is one way you can help:
Share This Guide – If you have a friend that would benefit from this guide, share it with them. Or post this guide on Facebook, Twitter or Google+
Your Support would definitely help me making more free guides like this. Thank you in advance!
Affiliate Link – This post in Dizzy Traveler contains affiliate links, which means I receive a referral commission if you purchase after clicking at no additional cost to you. These funds go to maintain the site. Thank you for your support.
Here are a few pictures that will tell the trip stories of Dizzy Traveler.
Please Click Here For Slideshow: