Northeast Bangladesh is one of the popular destinations for local travelers. Sylhet, Moulvibazar, Sreemangal, Madhabkunda Waterfall, Jaflong, Ratargul Swamp Forest, and more. If you visit Bangladesh, one of Southeast Asia's less-traveled treasures, you will find the country still preserved its authenticity and beautiful natural landscapes. But the tourism network is not yet as developed as neighboring India. That is why Bangladesh has not attracted that many foreign tourists. Also, many are nervous seeing crowded transportation, traffic jams, poverty, dart, and pollution.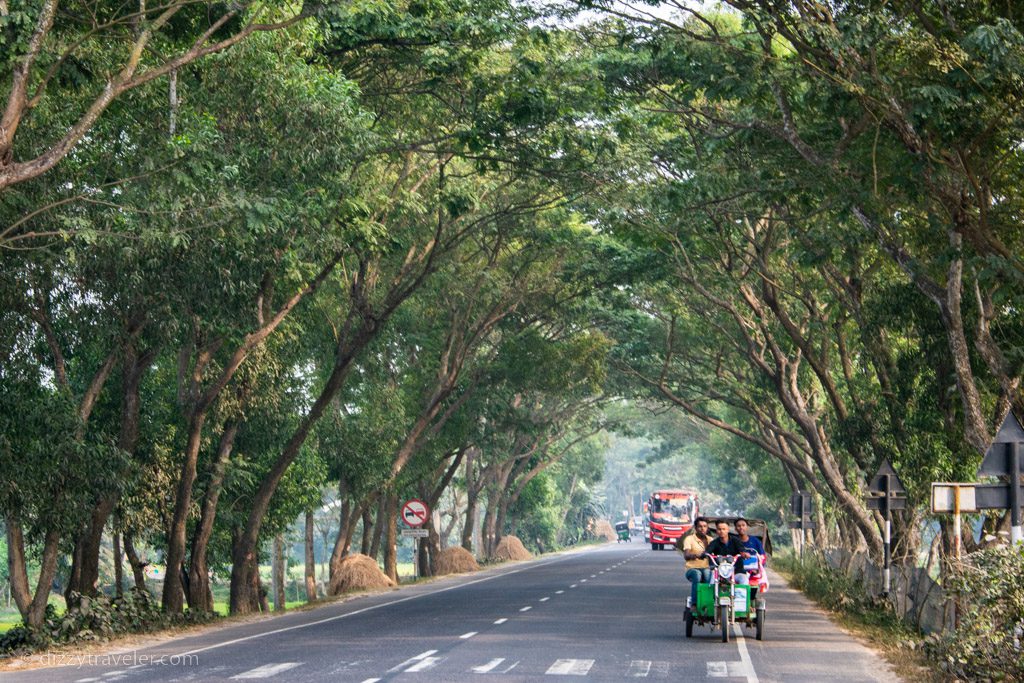 Places of Interest
Activities On The Road
The highway between Dhaka-Sylhet Highway N2 is a little better than I anticipated. The distance between these two cities is only 144 miles (232 km approx), but due to the highway passing through small towns and bazaars, slow-moving traffic and road conditions will take about 5 hr 30 min. We were driving a private car, but I felt driving on those highways was dangerous sometimes, so one needs to drive very defensively.
Check-out Road Side Shops
There are many makeshift shops along the highway; we made a couple of stops out of curiosity and to take pictures. Sreemangal pineapples are known for their flavor and natural sweetness. Those are the best pineapples I have ever had. Locals call it Joldugi Pineapple.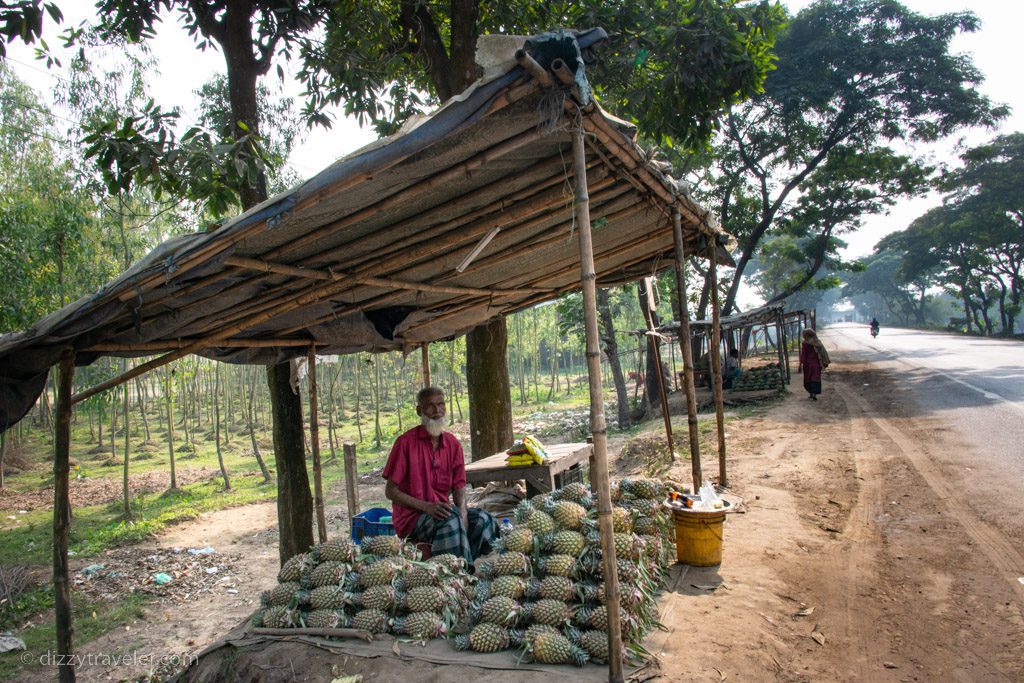 Quick Stop for Lunch
Soon we crossed the Meghna River from Bhairab to Ashuganj. The restaurant was on our left. Soon we crossed the Meghna River from Bhairab to Ashuganj. The restaurant was on our left. You can't miss Hotel Ujan Vati & Resort is a perfect location for a lunch break. The restaurant was clean, and plenty of open tables. The food was delicious; we had Chicken Corn Soup, Fried Rice, chicken noodles, and sizzling beef. The restroom was decent, but not comfortable with the wet floor; water everywhere needs more cleaning attention.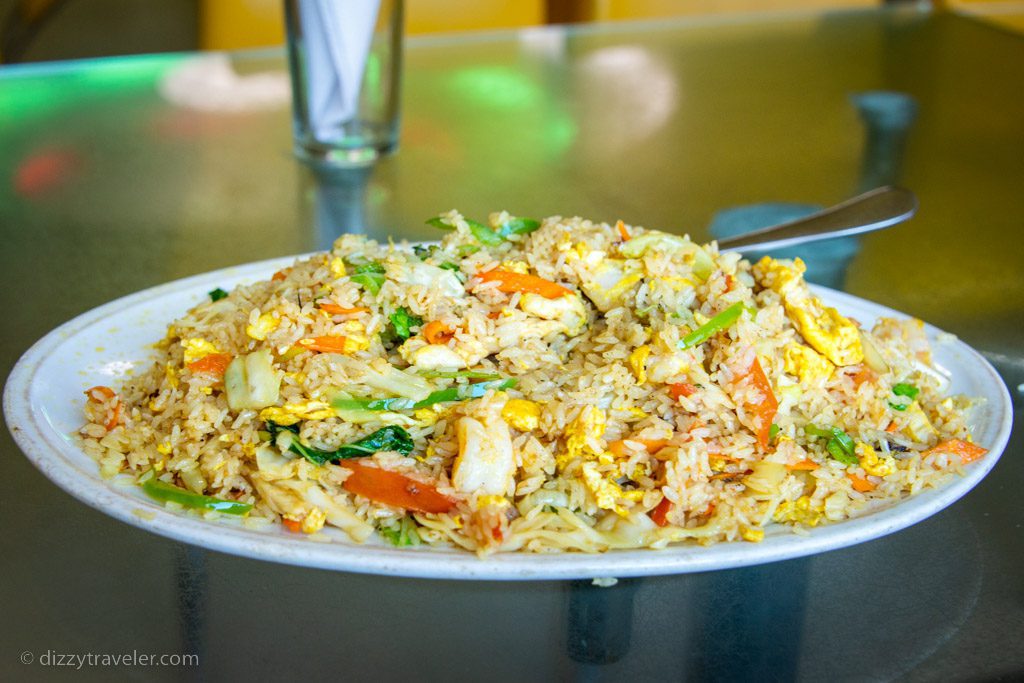 On The Road – Make Random Stop
Since we traveled by private car, we had the luxury of making frequent stops for food, pictures, and more. So only you need to find a good, experienced driver who can handle poor road conditions on one of those highways.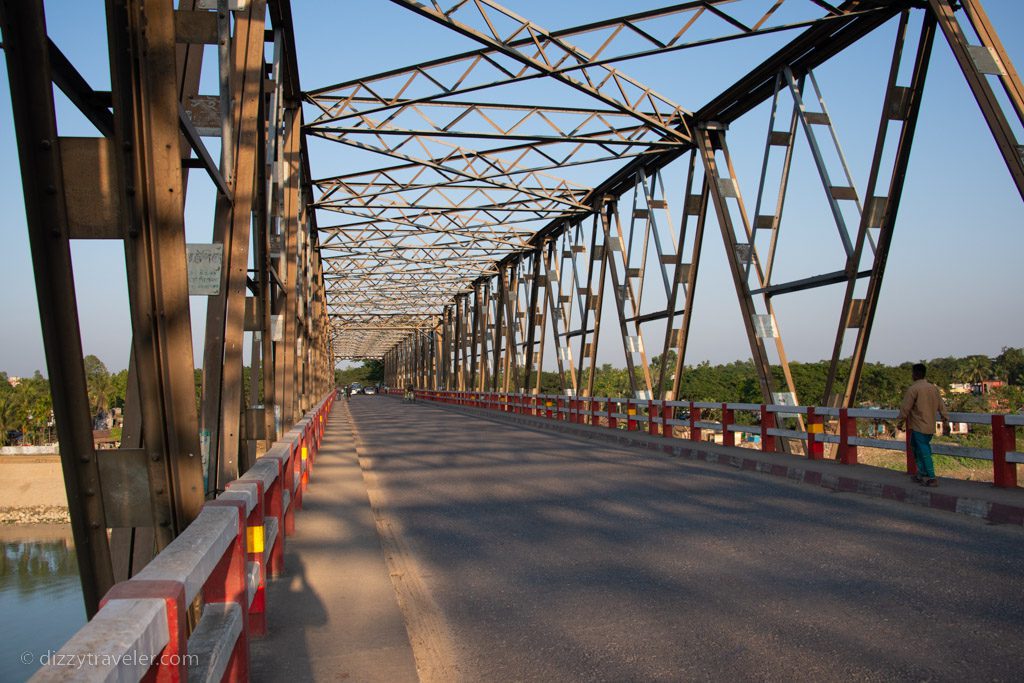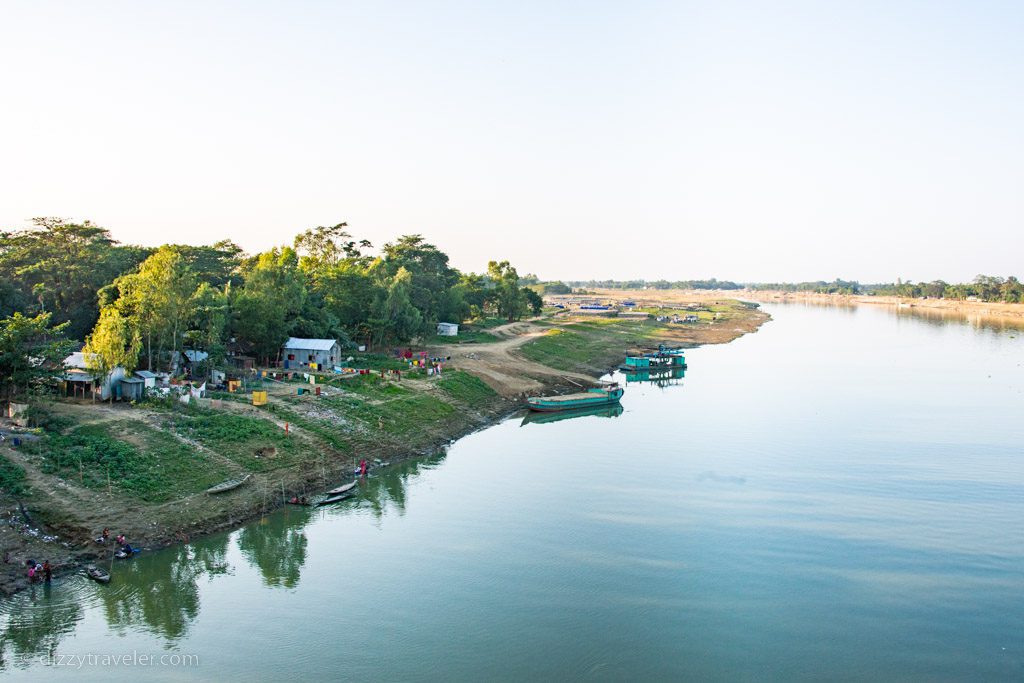 Early Morning Hike Through A Village
We were traveling during the winter season. As usual early morning fog blanket the region almost every morning. One morning we decided to drive down to Dhakadakshin, Nogor, and Ahmed villages for a walk. We saw people walking their cattle to the field. Locals are riding scooters and taking auto rickshaws to the nearby towns for work. It was a great experience. I took many pictures to capture those unforgettable moments.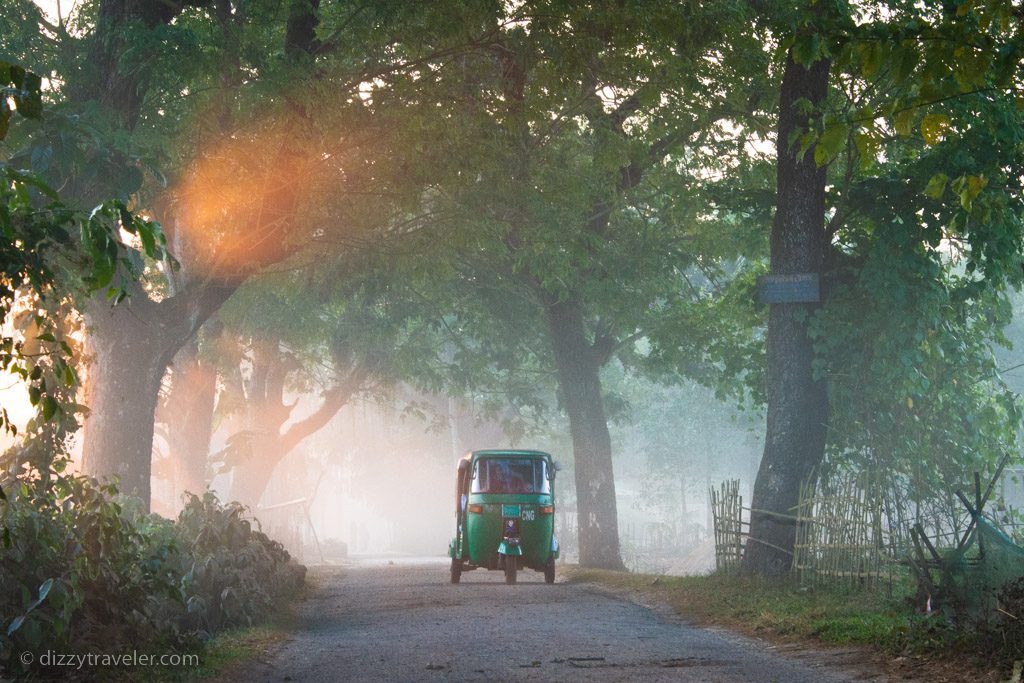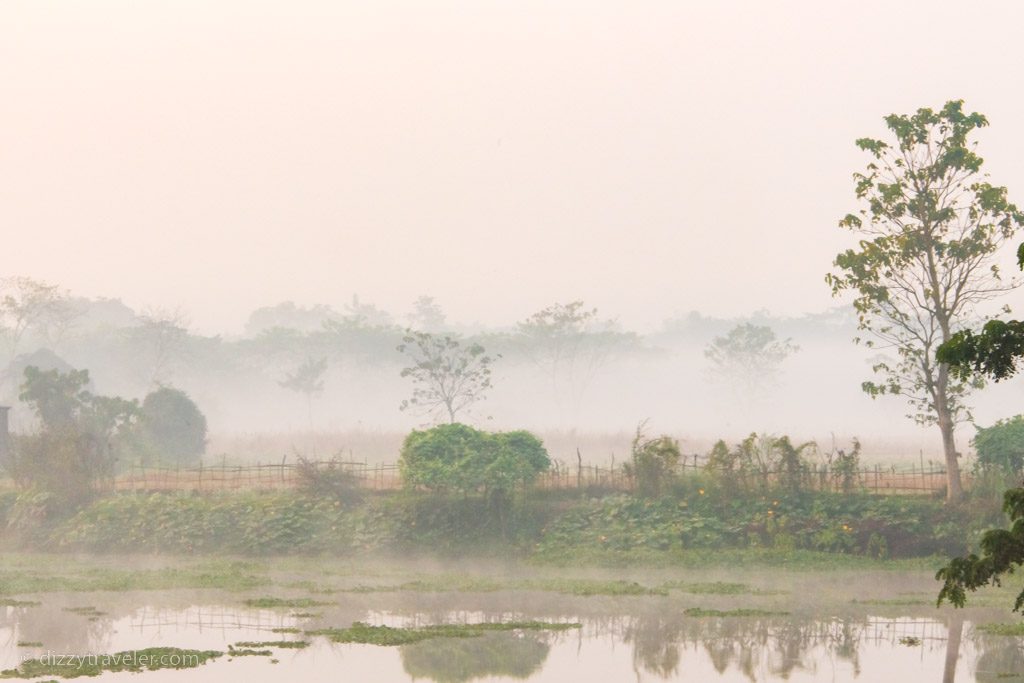 Local Market in Sylhet
I am always fascinated by local markets, so over the years, I have developed the habit of visiting markets the way locals do. Regardless if it is a fish market or a covered dry market, the genuine cultural experiences that the markets present are what I love. There is a list of things that attract me to marketplaces, like the busting vibe of every market, food, spices, clothes, and more. Also, I love taking great pictures, interacting with locals, learning about cultures, and often trying local food.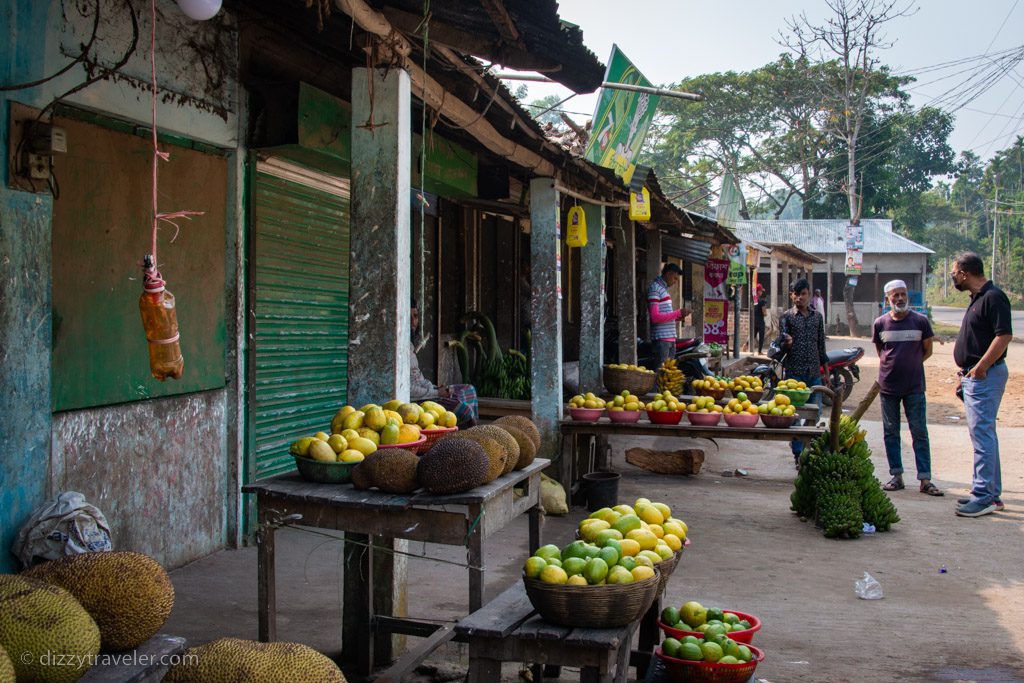 Boat Trip in Kushiyara River
Kushiyara River is huge; lucky we were there in winter when the mighty river cooled down a bit. If you want to do a dream itinerary, then rent a boat (motor boat). It is the best option to see fishing activities, riverside villages, and life around the riverbank. Our boat was about 15 to 20 feet long. The morning view around the river was incredible, and the whole private boat tour in the Kushiyara River experience was excellent. We were even able to buy live fish from the fishermen.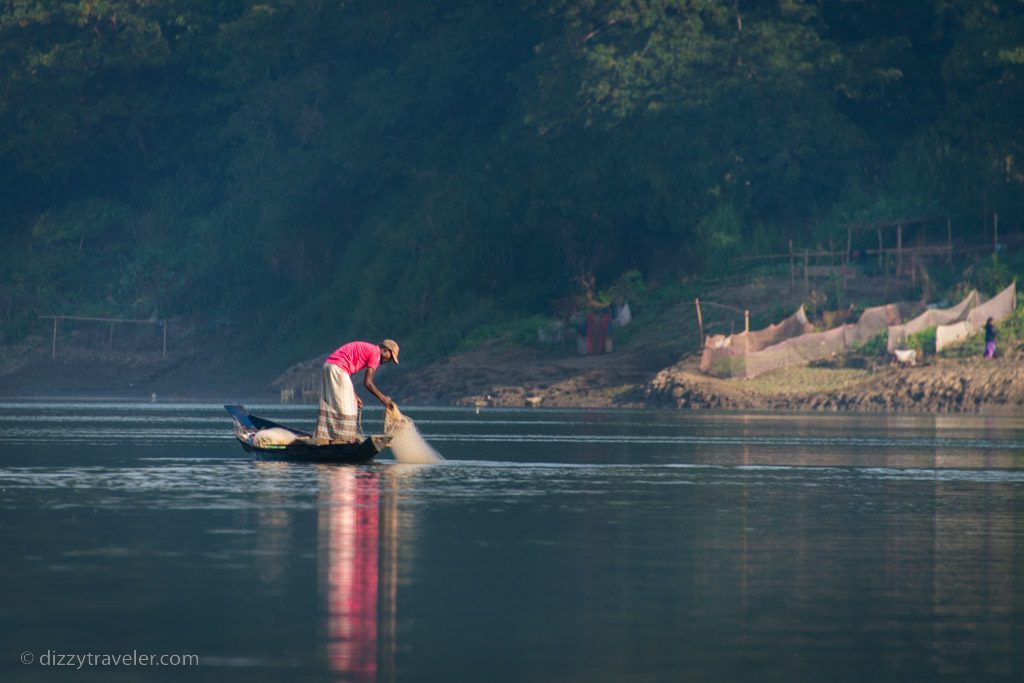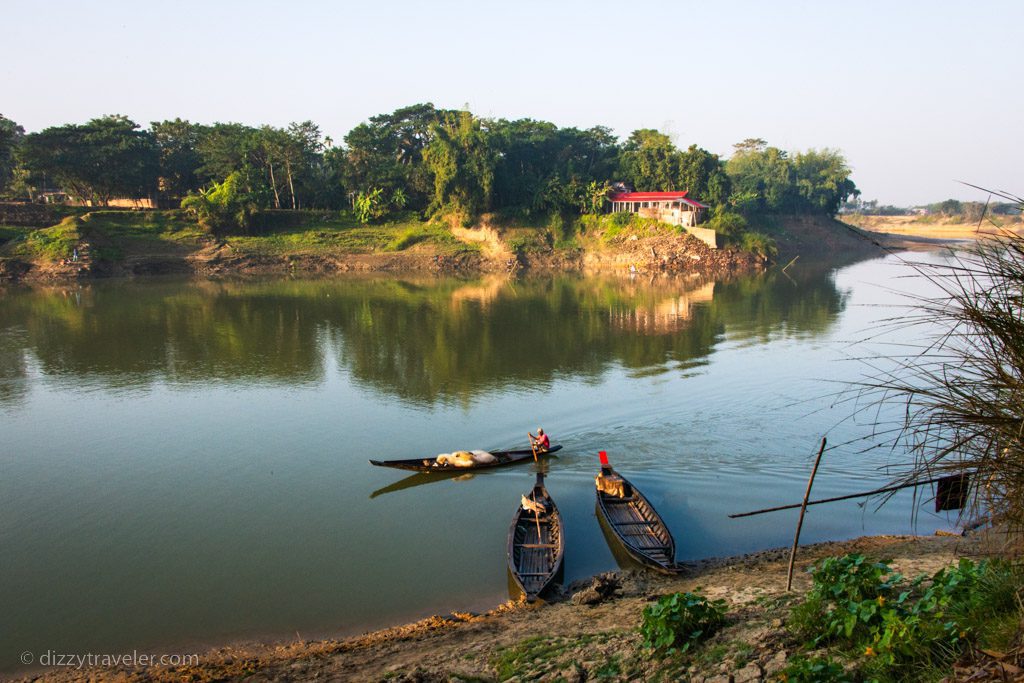 Trip to Ratargul Swamp Forest
Ratargul Swamp Forest is a freshwater swamp forest located in Gowainghat, about 16 miles (26 km) from Sylhet. Ratargul stays underwater for almost five months, and the rainy season is the best time to visit the swamp forest. During the rainy season, most trees are submerged in the water. I visited during the winter when you could see thousands of migrating birds. It is a popular destination for tourists around the country.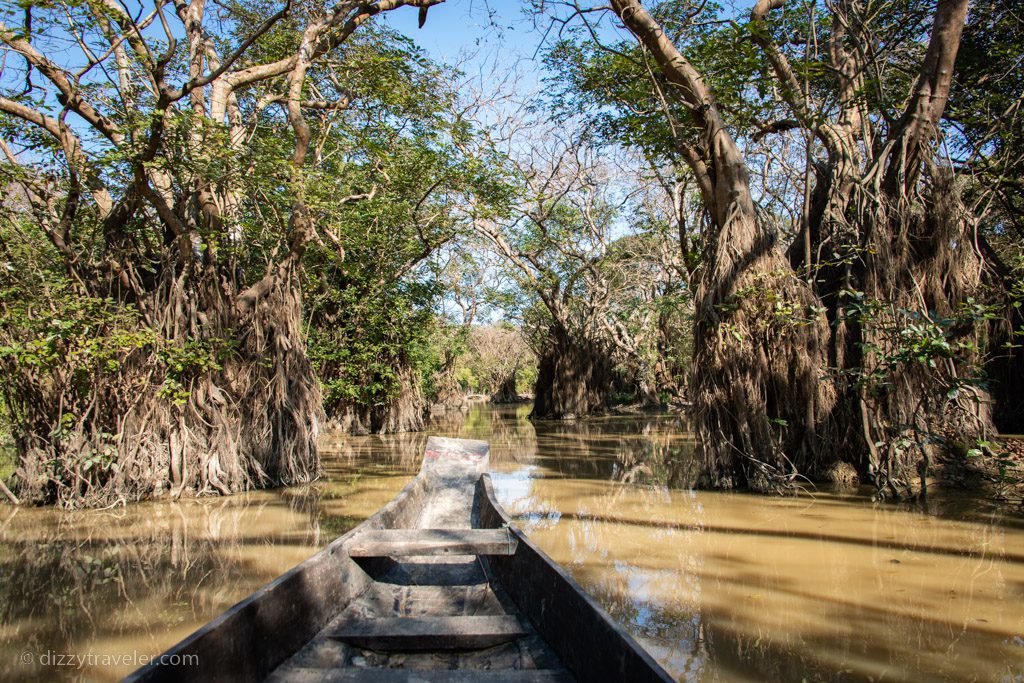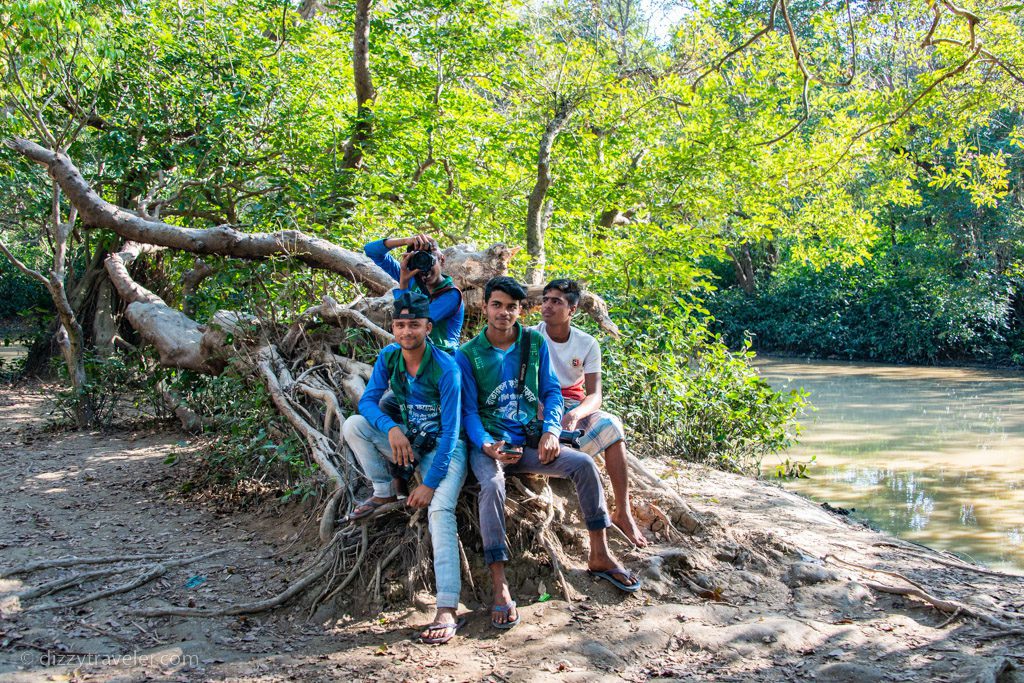 Visit Madhabkunda Waterfall
It is only about 40 miles (62 km) from Sylhet town, but due to the road conditions and heavy traffic, it takes a little over 2 hours by car. The road to Madhavkunda Ecopark through the tea garden is also picturesque. The 162 feet fall is considered one of the highest waterfalls in Bangladesh. Therefore, it is a popular tourist sight for locals. Inside the Ecopark, you will find a Hindu temple called Sri Sri Madhabeshwar Mahadev Temple.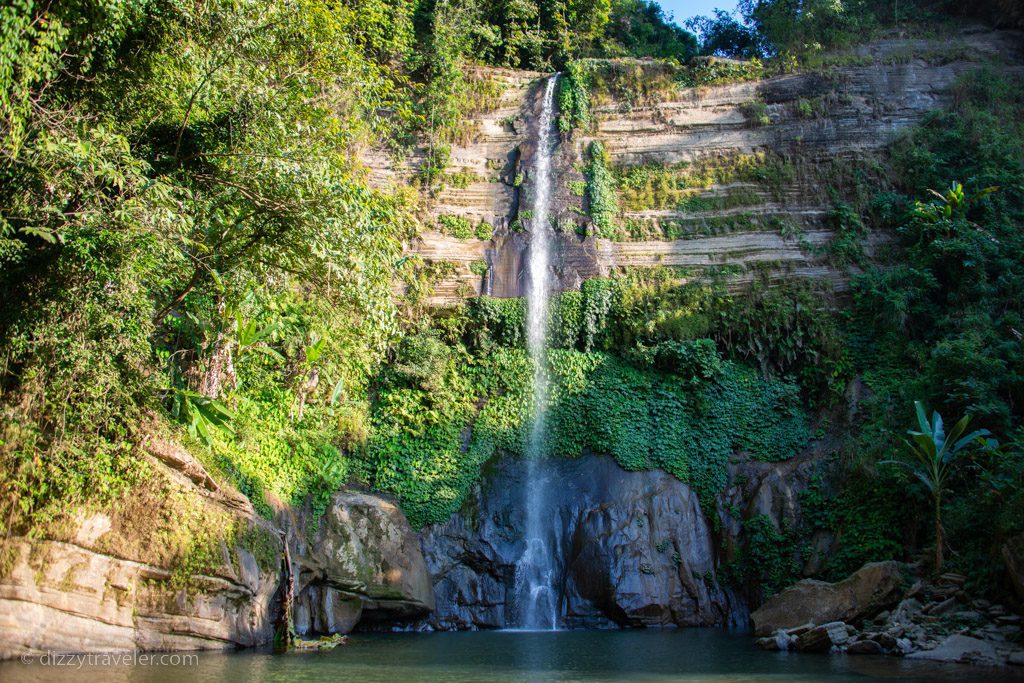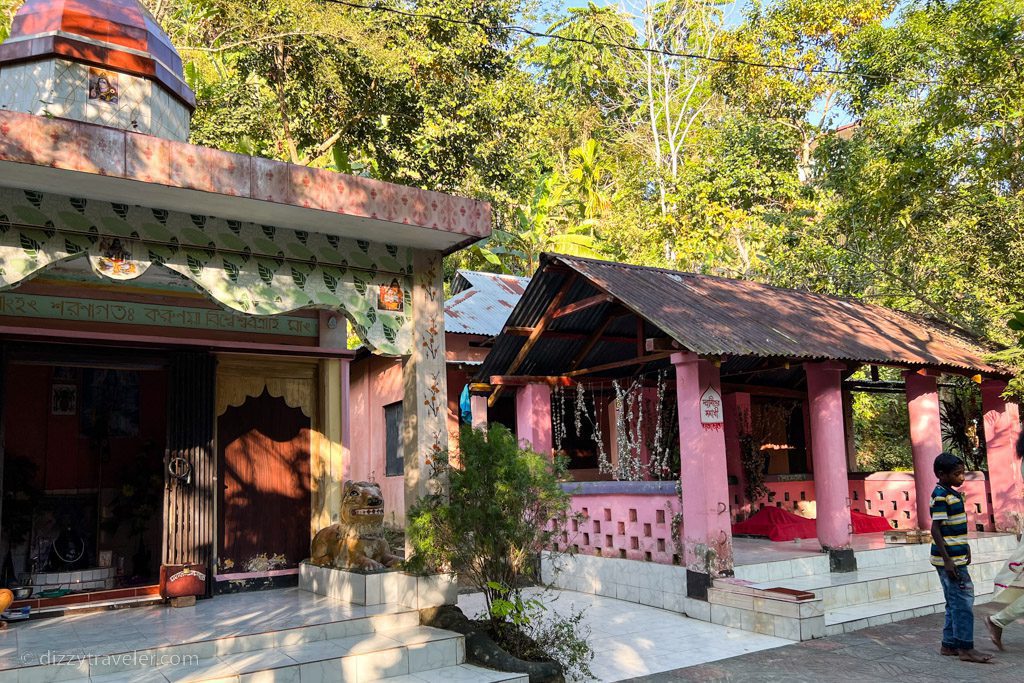 Visit Tea Gardens in Sreemangal
Sreemangal is best known for its famous tea gardens, also called tea mountain. It is less than 2 hours drive from Sylhet (55 miles / 88 km). There are more than 163 tea estates in the region. Hiking, driving through the tea gardens, and enjoying the tea-picking scene are popular among tourists and photographers. Other attractions in Sreemangal are worth a visit, such as Lawachara National Park great for hiking, and Hum Hum waterfall, located in the Kurma forest.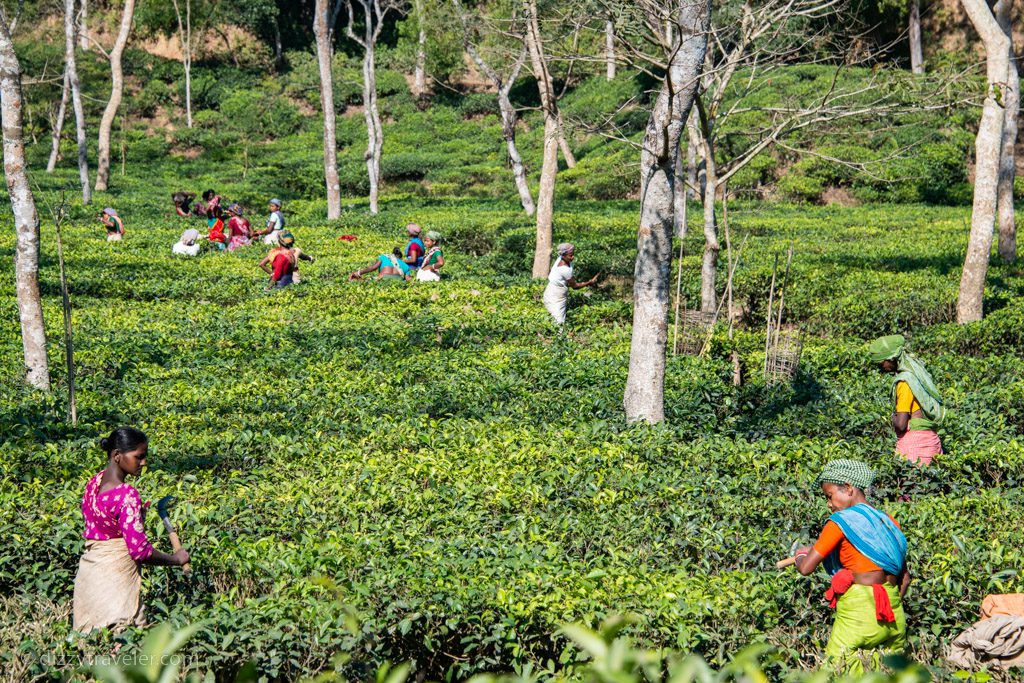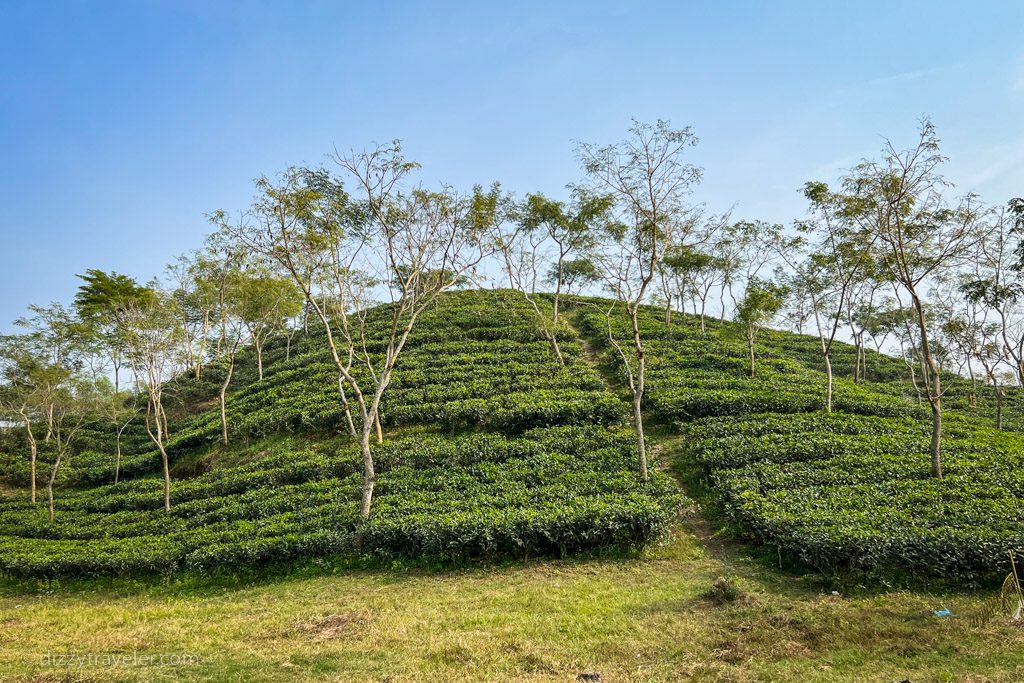 Where to stay in Sylhet, Bangladesh
Grand Sylhet Hotel & Resort in Sylhet features 5-star accommodations, an outdoor swimming pool, a fitness center, and a garden. Free private parking is available, and the hotel also provides car rentals for guests who want to explore the surrounding area. Guest rooms at the hotel come with air conditioning, a seating area, a flat-screen TV with satellite channels, a safety deposit box, complimentary toiletries, and a hairdryer. Breakfast is available daily and includes a buffet, and you'll also find a restaurant serving American, Chinese, and Seafood cuisine. Vegetarian and halal options can also be requested. The nearest airport is Osmani International Airport, 0.6 miles from the hotel.
Grand Palace Hotel & Resorts Sylhet has a fitness center, a shared lounge, a terrace, and a restaurant in Sylhet. This 3-star hotel offers room service and a 24-hour front desk. In addition, the property has free private parking and a free airport shuttle service. The hotel will provide guests with air-conditioned rooms offering a desk, an electric teapot, a minibar, and a safety deposit box. In addition, guests at the accommodation can enjoy a buffet breakfast. Grand Palace Hotel & Resorts Sylhet offers 3-star accommodations with an indoor pool.
The nearest airport is Osmani International Airport, 6.2 miles from the hotel.
My Opinion and Last Word
Have you been to Sylhet
, Bangladesh

? Any cool tips to share?

I loved being in Sylhet, Bangladesh, and want to go back again. I hope my story has motivated you to visit Bangladesh.

Please leave a comment below! I'd love to hear from you to improve my knowledge. 
Was this travel guide helpful for you?
If you'd like to help me continue making free guides, here is one way you can help:
Share This Guide 

– If you have a friend that would benefit from this guide, share it with them. Or post this guide on Facebook, Twitter, or Instagram.
Your Support would definitely help me make more free guides like this. Thank you in advance!
Affiliate Link – This post in Dizzy Traveler contains affiliate links, which means I receive a referral commission if you purchase after clicking at no additional cost to you. These funds go to maintain the site. Thank you for your support.
Book your Sightseeing Trip
There are a lot of beautiful places to visit and do some exciting sightseeing activities to bring unforgettable memories back home. Please click on our below affiliate link to see your options.