Tucked away in the south of Thailand is the small peninsula of Railay in Krabi. Only accessible by boat, this tropical treasure is a must-visit. Here is your guide to not only getting to this hidden gem but also what you should do there.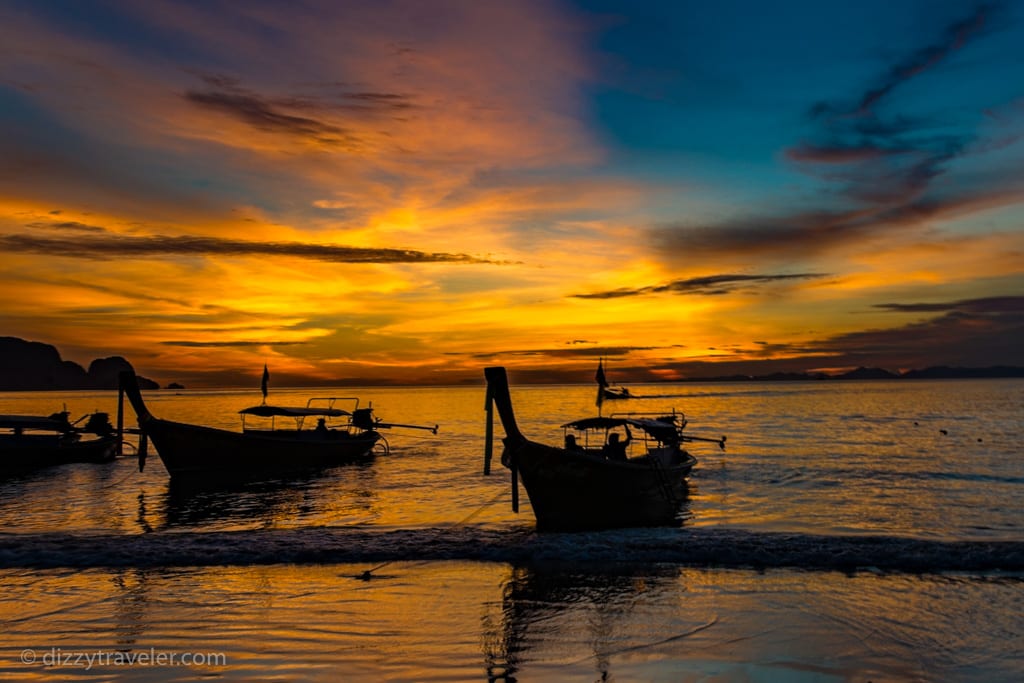 The Arrival
After landing in the Krabi airport (KBV), you want to pick up as much local currency as you may need from the airport ATM. After that, you are greeted by a mob of taxis, and any one of them will get you to your destination which is the Ao Nam Mao Pier.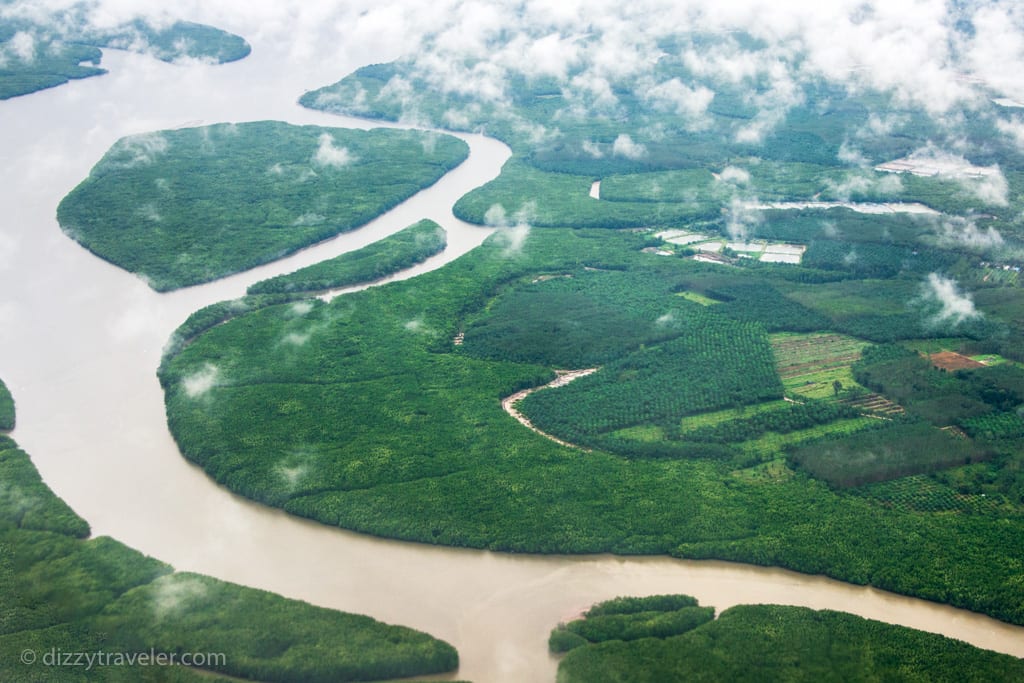 Getting There…
Once at the pier you have a picturesque view of the sea with several trademark long-tail boats waiting to take you to their hotels. The reason for the cash is that you will need it to pay for your boat ride to the actual island. The 10-15 minute trip to Railay typically costs around 100 baht depending on which season you're in. The long tail boats run on a scheduled half an hour apart so you may have to wait a bit until it's your turn. The boat ride is quick, and you get a nice, panoramic view of the limestone cliffs as you're moving toward your destination.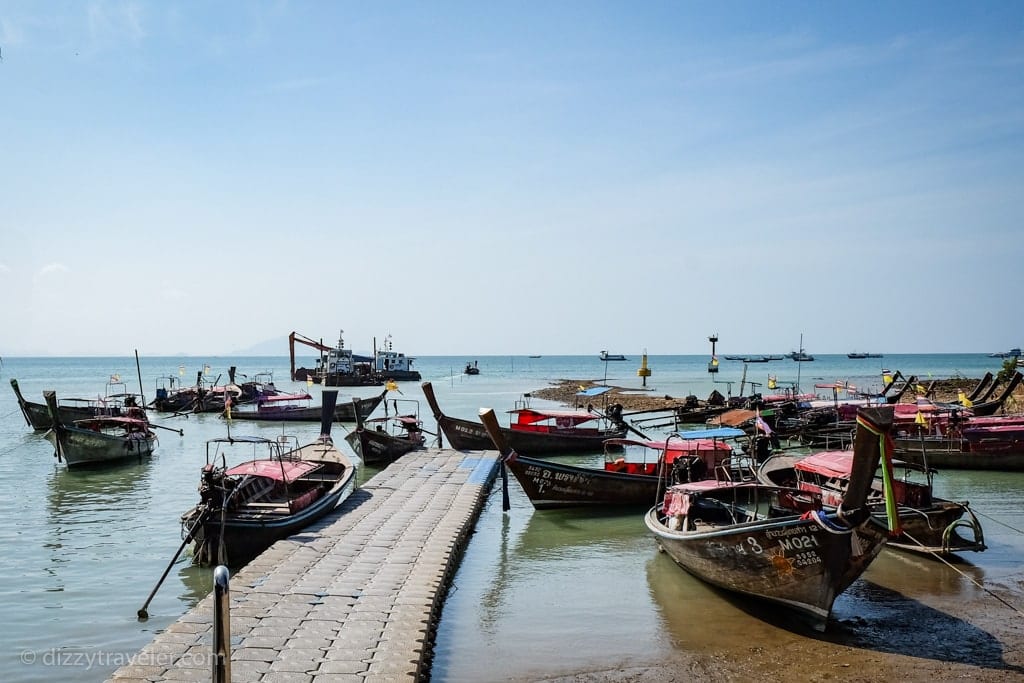 Relaxing At The Resort
Fortunately, we stayed at Princess Resort and Spa, which is a stone throw away from where all the tourist boats dock. Check-in was not until a few hours, so we decided to grab a few drinks and an order of the classic Pad Thai at the resort to relax after the journey. We then spoke to the concierge, who suggested several excursions for us to try.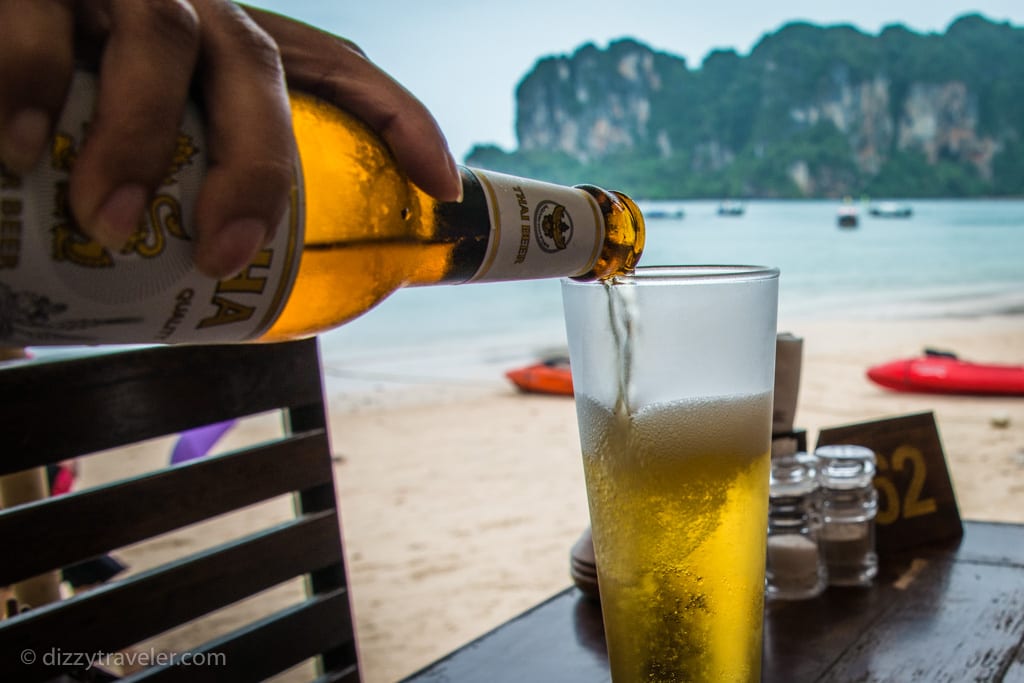 Day 1 Sightseeing – Sunset Dinner Cruise
The way the schedule had worked out, we decided to immediately hop on the Krabi Sunset Dinner Cruise, which lasts about 6 hours. About half an hour before our meetup time, we walked from our resort to Railay Beach West, where there were already tons of tourists enjoying the sun and sand. The characteristic limestone cliffs were acting as a backdrop for the long tail boats that were docked.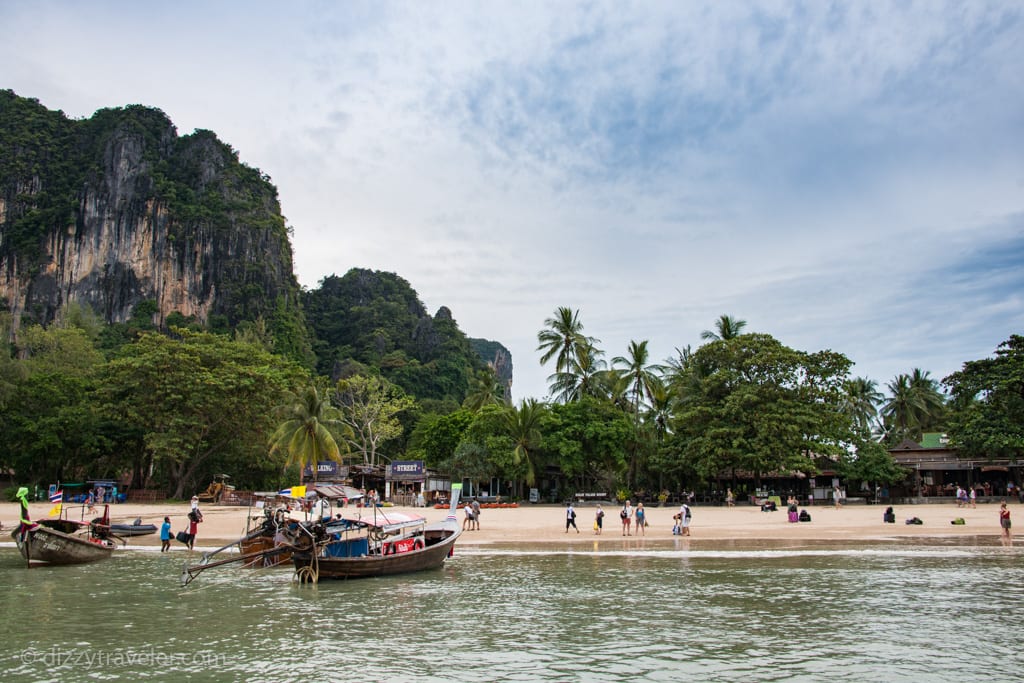 The cruise itself was wonderful! I was not expecting a boat this large, and it did not disappoint. We were greeted by Michael who ran the operation and several boat crewmembers who explained the rules and had us sign waivers just in case of any incidents.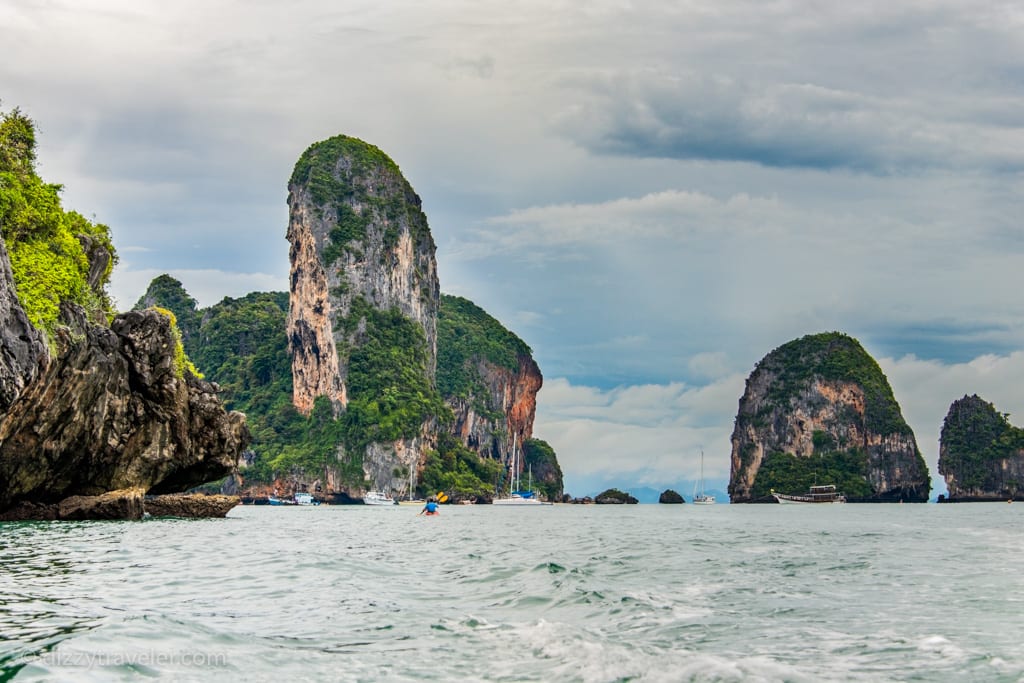 After that, we were off! The cool breeze and lapping water offset the hot sun that warmed our backs and faces. We were able to get water and soft drinks as part of the package and pay separately for liquor i.e cocktails and beer/wine if we wanted something harder.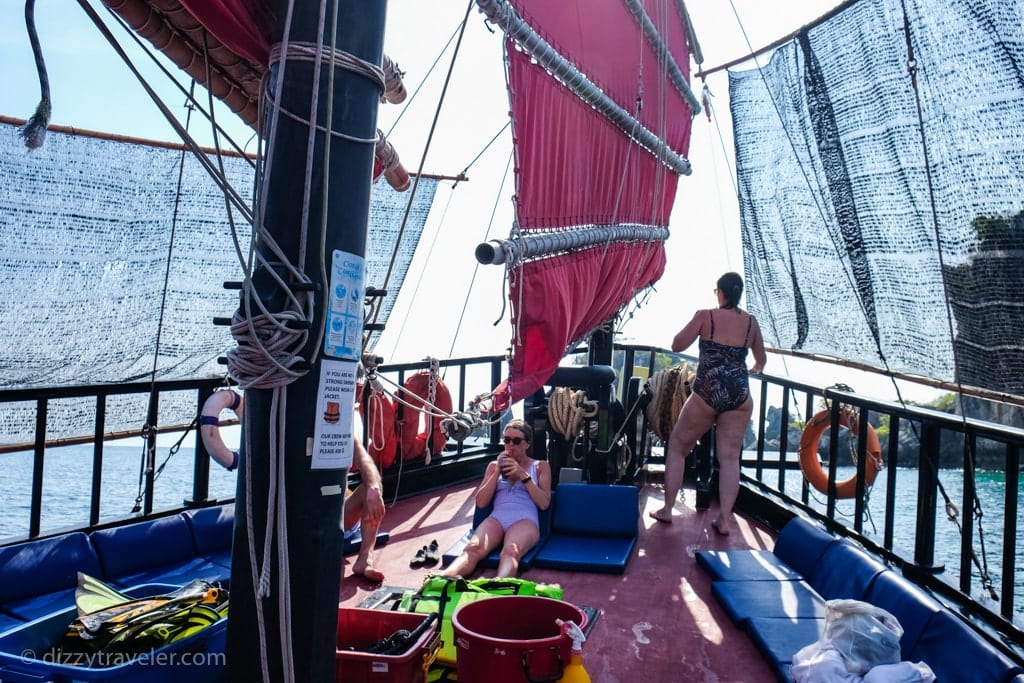 ---
Guided Tour from Railay Bay
There are guided tours available in Moscow, they usually combine sightseeing, lunch and a few sightseeing stops on the way. Get Your Guide is the one I recommend.
---
Tour Activities
We stopped at 4 different islands on the tour and had the ability to swim, snorkel, and paddleboard. The guides helped us get over our fear of the deep ocean and were there the whole time to make us feel comfortable in the water.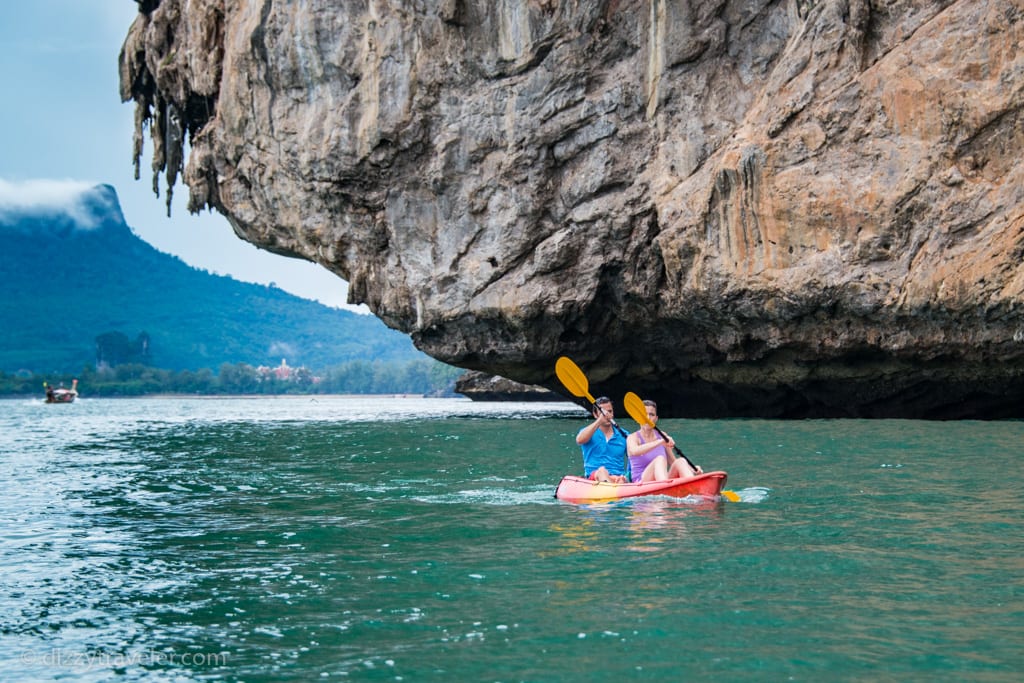 Island Hopping
During our sunset cruise, we stopped at 4 islands including the beautiful Bamboo Island (Ko Mai Phai).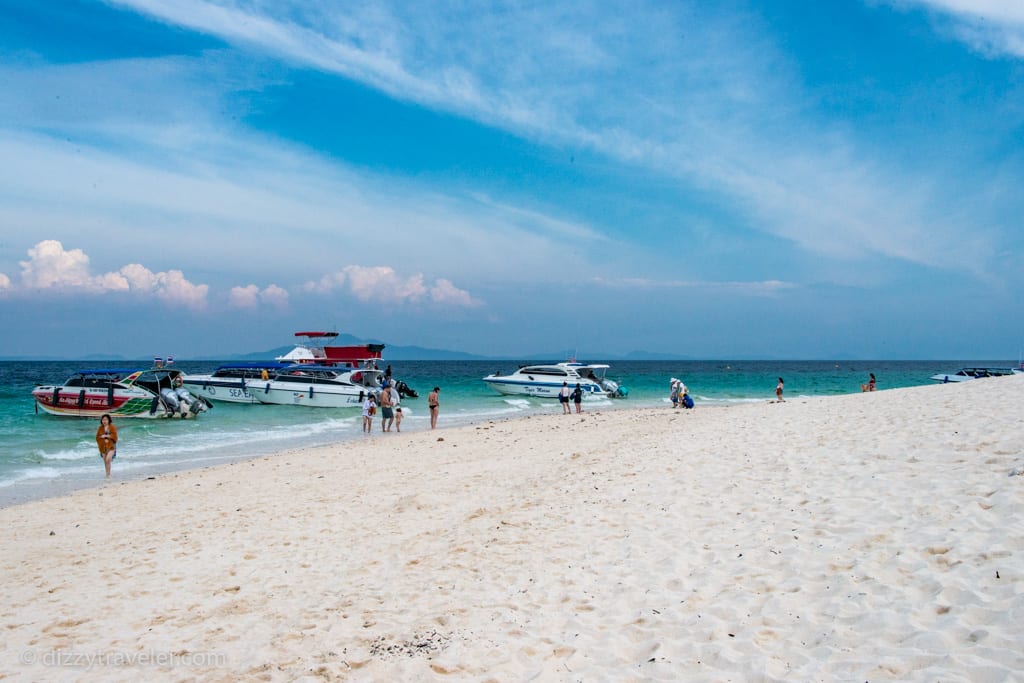 Snorkeling and Diving
One thing to note is that there are quite a few jellyfish in some areas of the ocean so if you are to swim and snorkel just keep a sharp eye out for these. I did get stung by one but it hurt as much as sunburn and went away after an hour or so.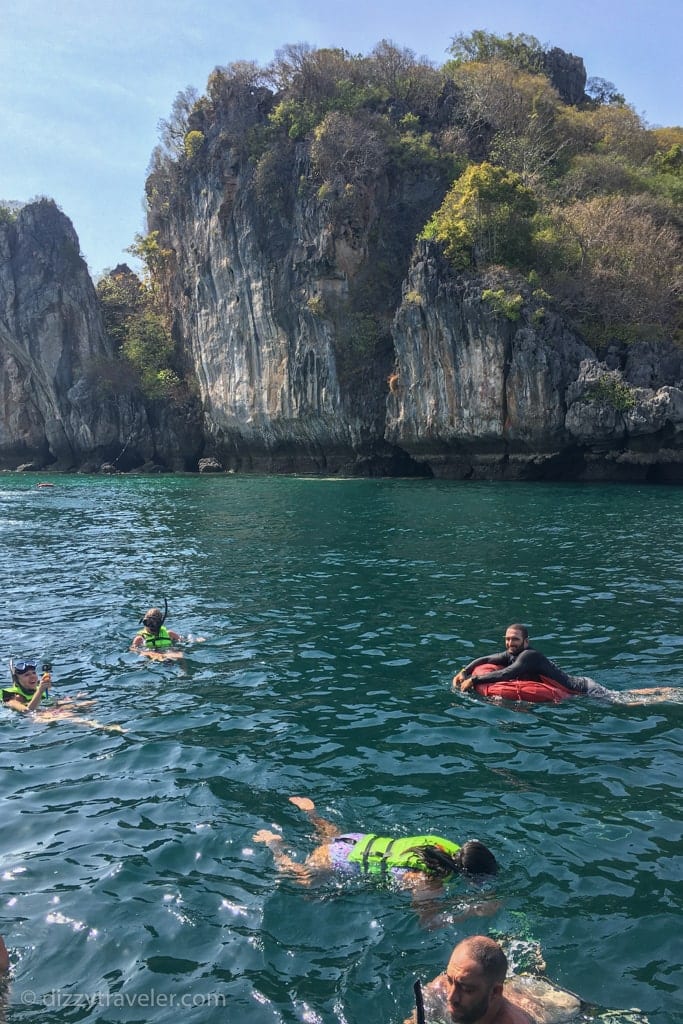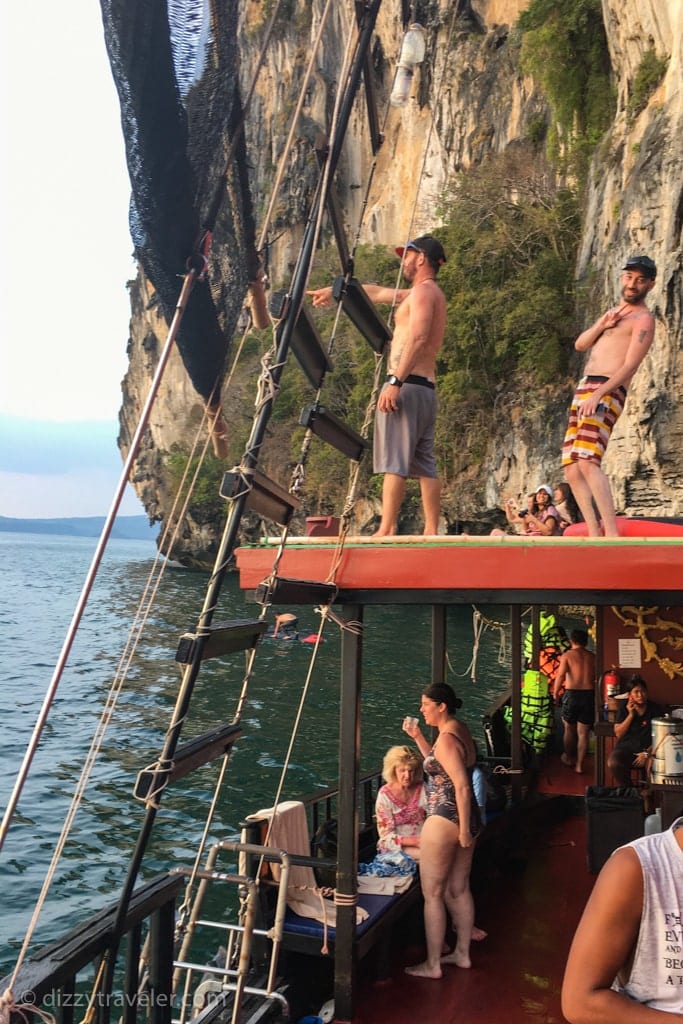 You also had the ability to climb up to the teak deck to relax and enjoy the panoramic views. Michael and his crew took awesome pictures and videos of us jumping off the roof and were patient with us the whole time.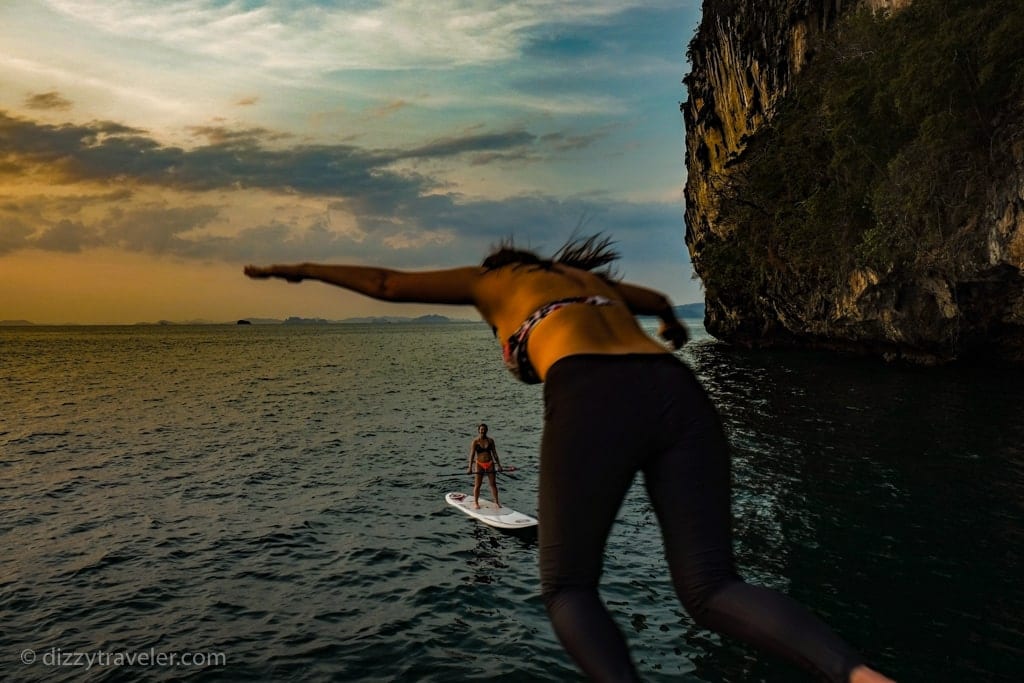 Watching the Sunset
When it was time for sunset, we all climbed to the roof and watched together as a few people paddle boarded quietly soaking in the beauty of it all.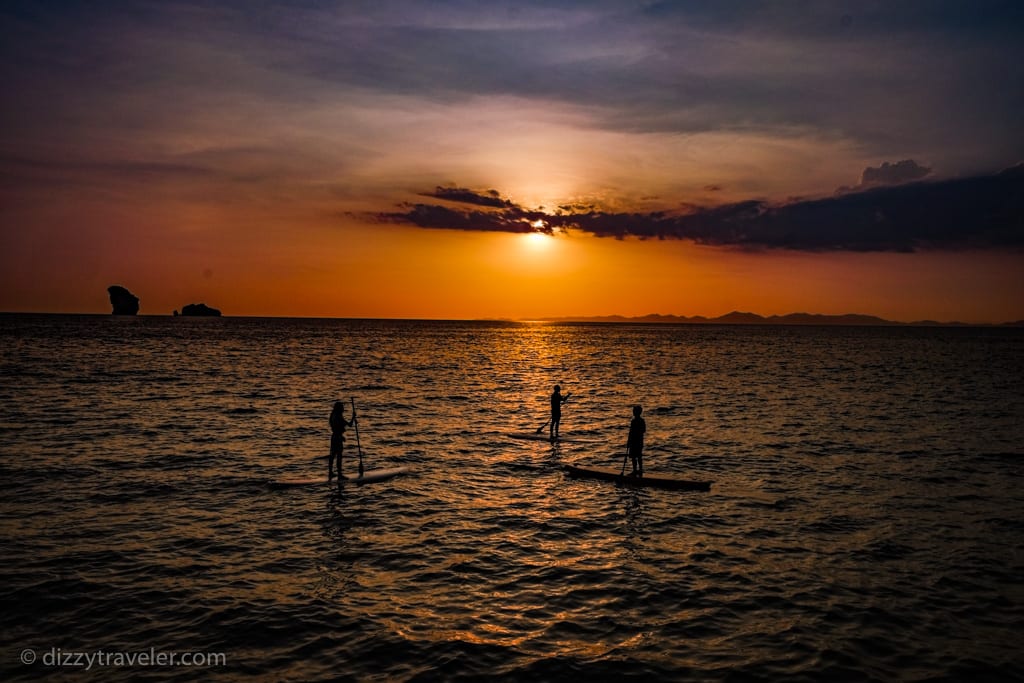 After the sunset, we enjoyed an authentic Thai dinner that was served to us on the boat. After all that swimming and jumping, this meal was the perfect way to end our day. After dinner, we sailed back towards Railay Beach West, but not before we had another opportunity to swim next to Pranang beach in the dark and experience the bioluminescent waters.
Day 2 Activities
Early Morning Trip to Phra Nang Beach
The next day, we wanted to take it easy after all the excitement from the day before and explore the resort and surrounding beaches. We decided to wake up early and head over to Phra Nang Beach, hidden at the far end of Railay that can only be accessed via cave.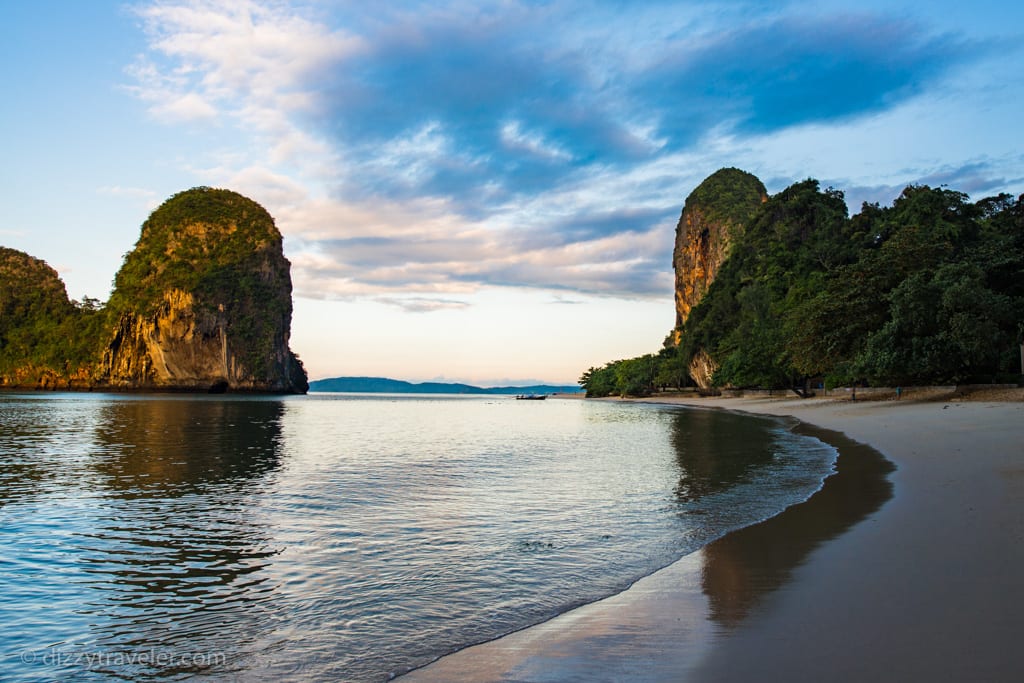 Rock Climbing
As you trek to this beautiful beach, you can see several rock climbers test their skills on the steep cliffs Railay has to offer as well as mischievous monkeys swinging through the trees looking for a snack left behind by a tourist. The reason we recommend coming here early is that at about 9 AM, all the tourist boats from other islands dock here and it becomes extremely crowded.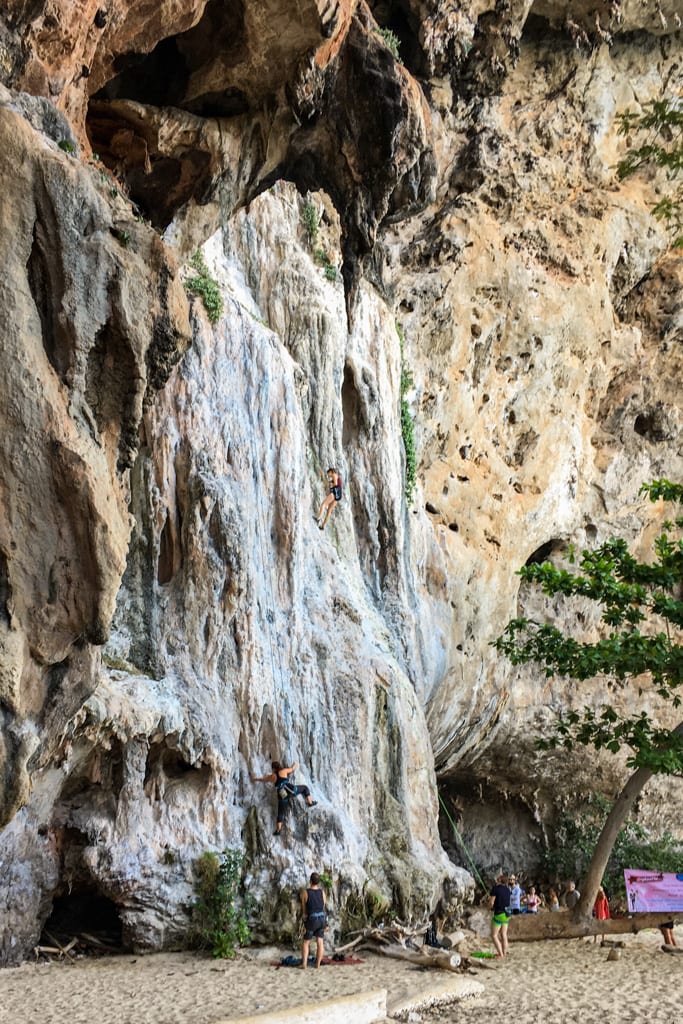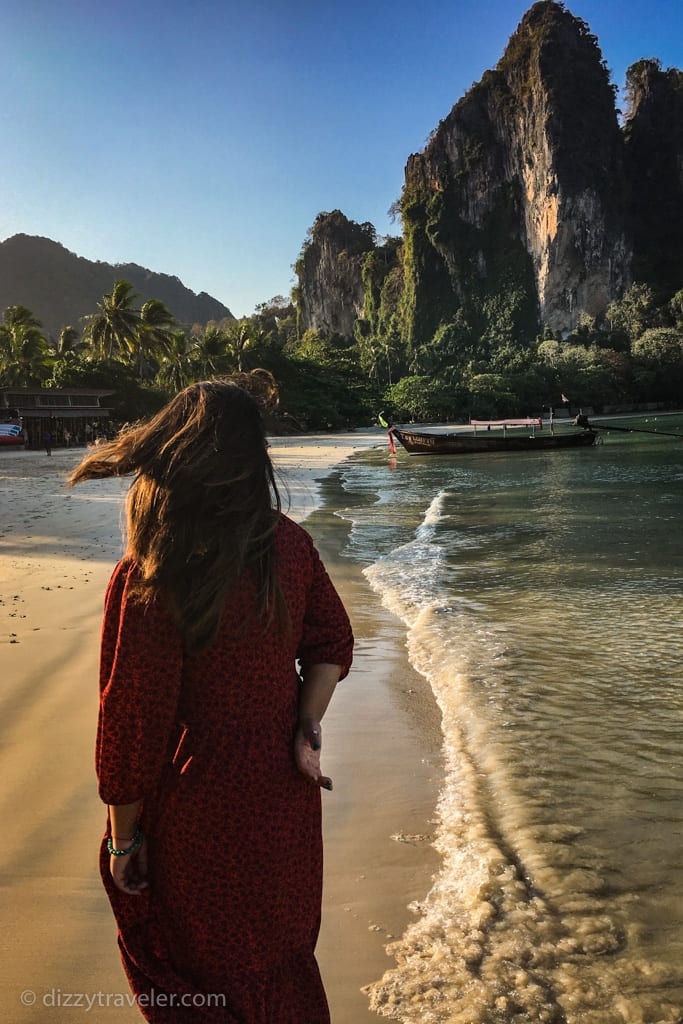 Hiking to the Railay Viewpoint
The trail to the Railay viewpoint is a challenging and adventurous trek, which requires some levels for climbing. But once you are up there, you will be rewarded with a beautiful panoramic view of emerald-green seawater and longtail boats in East and West Railay Beach.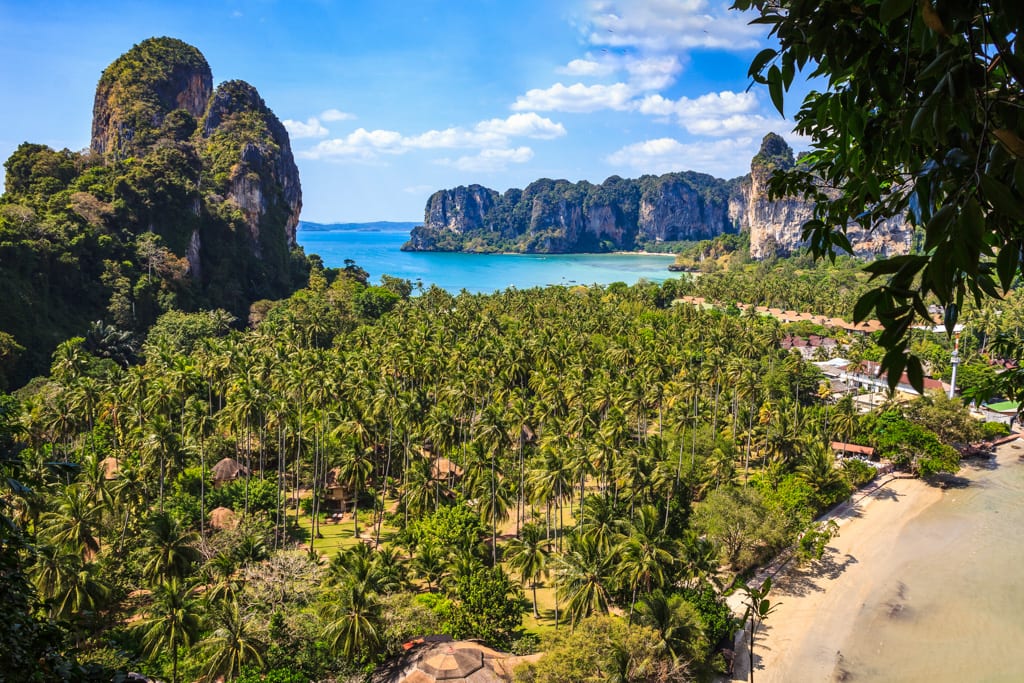 We came across a merchant boat that was selling smoothies and coconut water from freshly cut coconuts such a treat on a beautiful, hot beach day.
Soothing Thai Massage
We made our way back to the resort for our scheduled massage that was overlooking a beautiful lotus pond. We enjoyed a complimentary drink and were given an authentic Thai massage and facial treatment which was heavenly!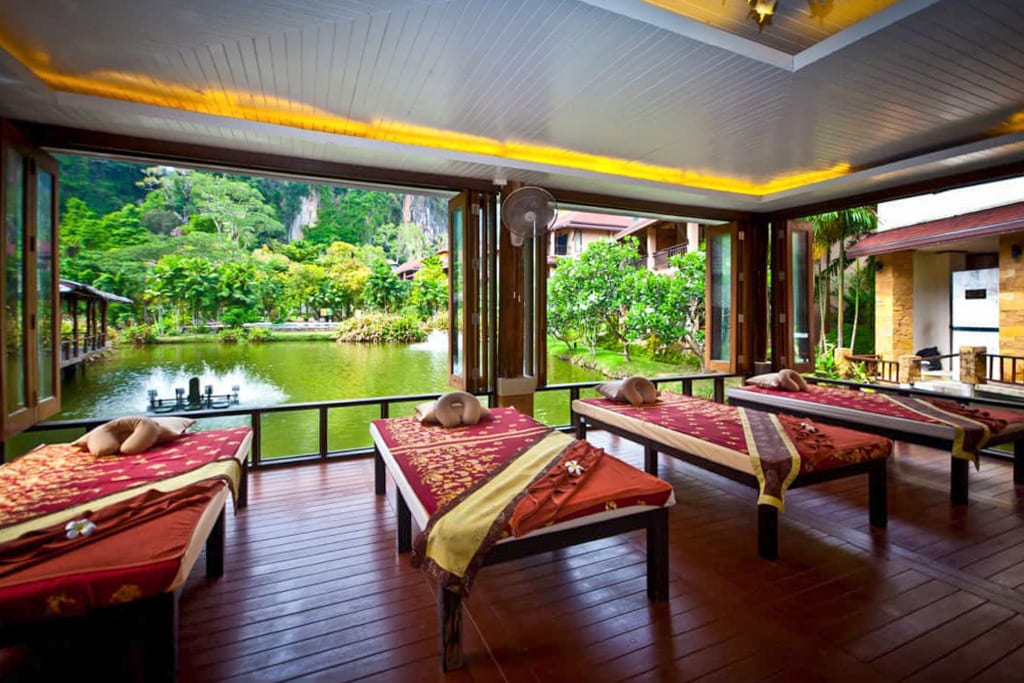 Can't Get Enough of Those Sunsets!
After our treatments, we made our way to Ao Nang to watch the sunset. If you're looking to relax on the beach with a bottle of Singha beer watching the sun coat the beach in the most beautiful orange glow, then watch the sunset at Railay Beach. There is a sense of calm among everyone watching this magnificence that happens here every night. The only movement was the locals having a soccer match on the shore which only added to this surreal view.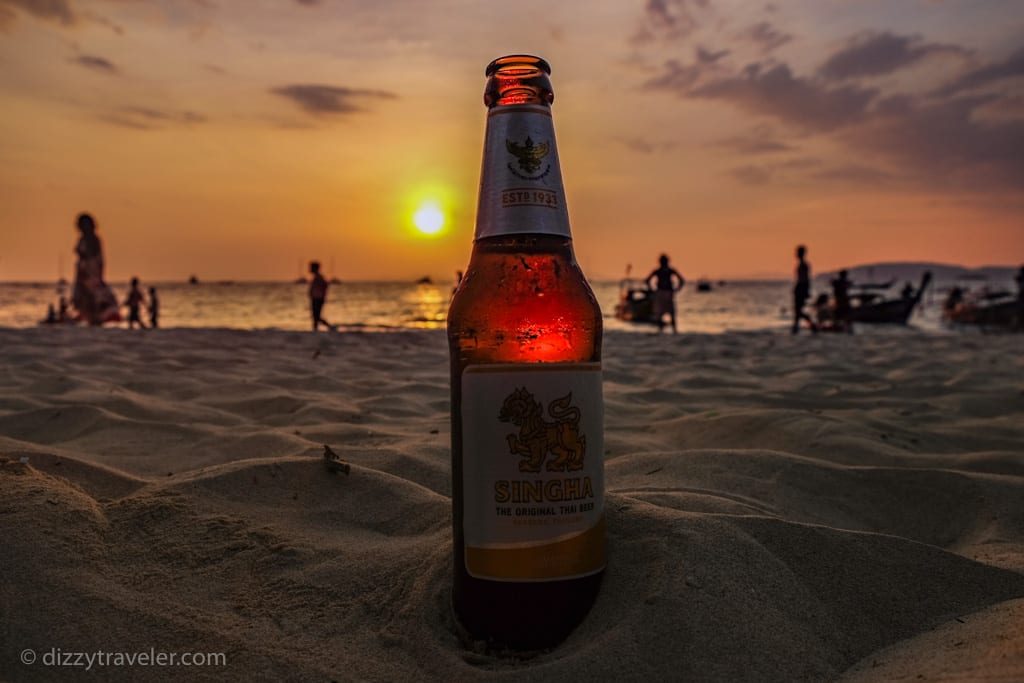 Thai Cooking Class
We decided to take a cooking class that the resort offered right on the bar/restaurant strip. The night was hot, but even hotter near the flame of the stove. However, this experience was once in a lifetime and learned a lot. We made dishes that included spring rolls and authentic Pad Thai.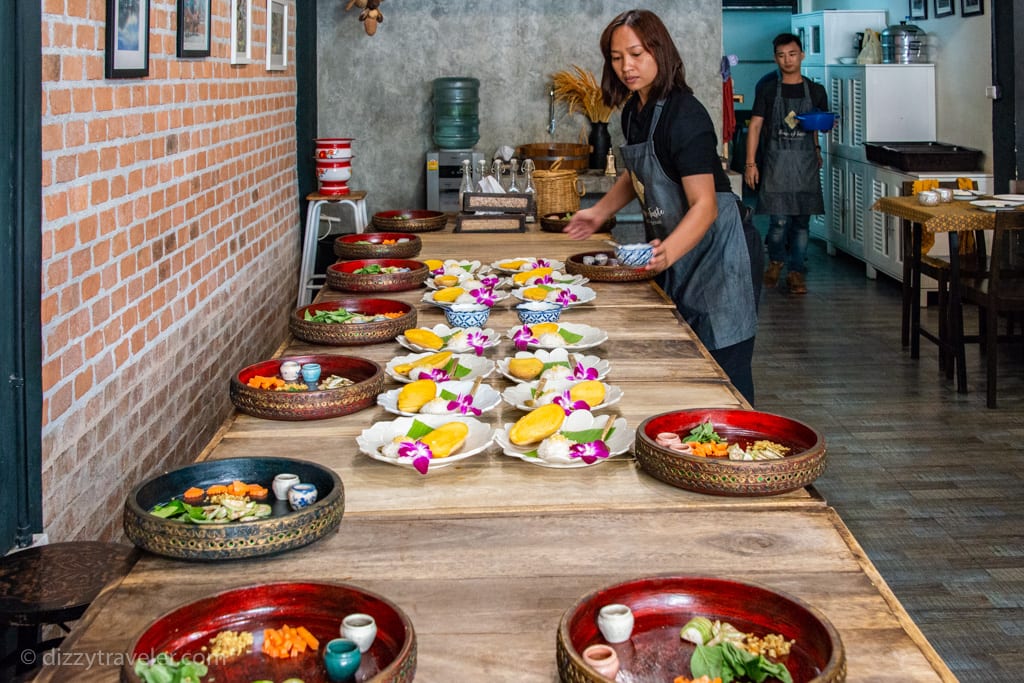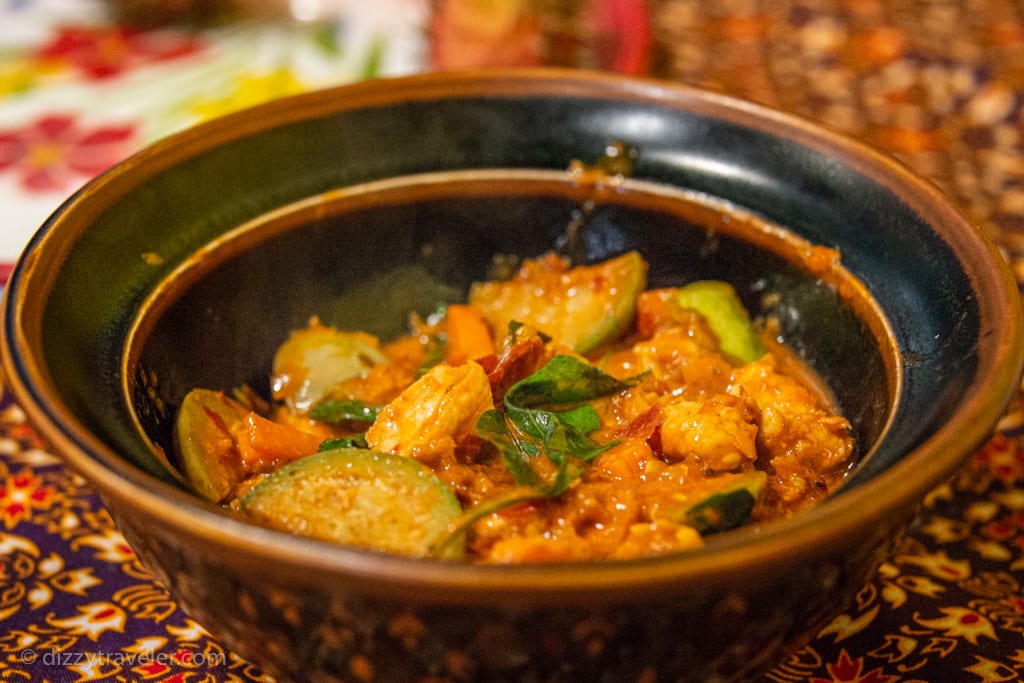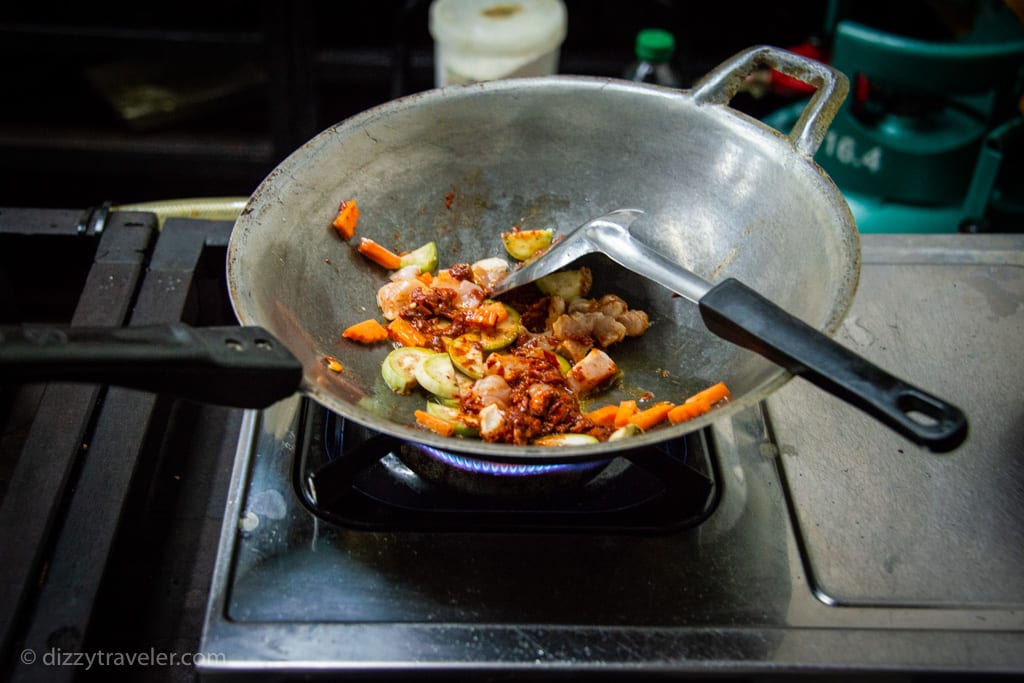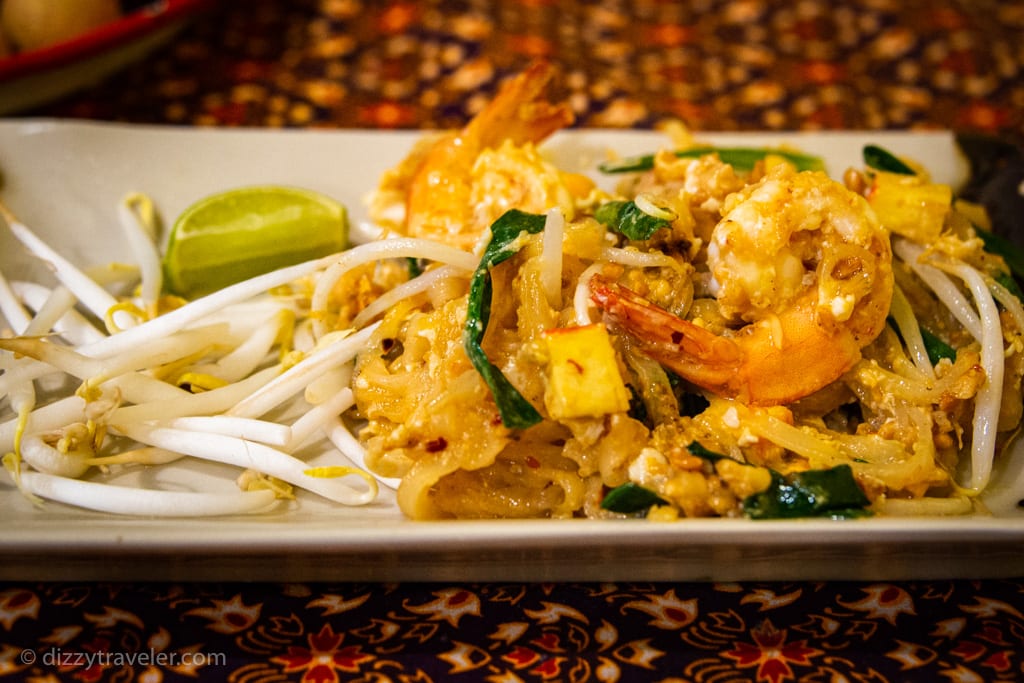 Day 3 – Last Day in Railay Beach
On the last day in Railay beach, we wanted to take advantage of the early morning activities before heading towards the airport
Early Morning Sunrise Viewing
Actually, the sunrise view window is so limited we wanted to do it again this morning hoping for a much better experience than the last time. From our hotel, we walked to Railay Beach West and spent some time on the beach.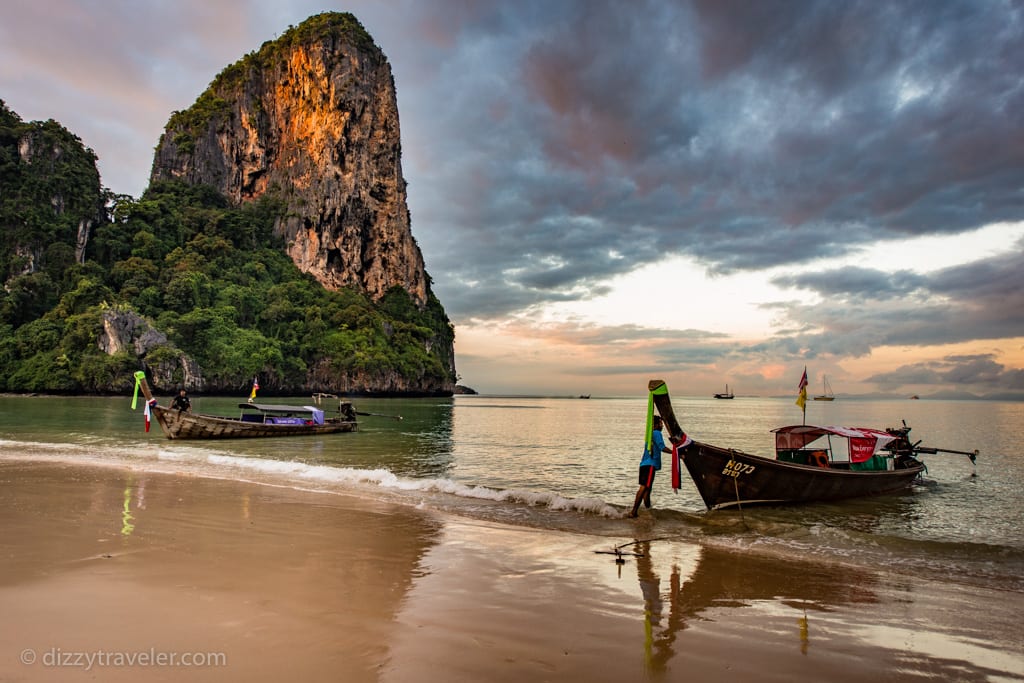 Heading Back to Krabi Airport
Our flight out of Krabi airport (KBV) to Bangkok Don Muang Airport (DMK) was at 1:10 PM, so considering boat ride to Ao Nang (about 20+ min) and van from Ao Nang boat pier to the airport another 45 to 50 minutes. Therefore we planned to leave the island at about 9:30 keeping enough time on hand.
---
A Few Photos That Tell The Story
---
Where Did I Stay In Railay Bay, Krabi
Railay Bay Resort & Spa is located at Railay Beach West with a beautiful view of the Sea. There are a few Swimming Pools and restaurants with a great view.
I loved staying in Railay Princess Resort & Spa right on the Railay Beach East. The clean and spacious rooms with one queen size bed were beautiful. The breakfast was excellent.
My Opinion and Last Word
Have you been to Railay Beach, Thailand? Any cool tips to share?
I loved being in Railay and want to go back again. I hope my story has motivated you to plan your visit.
Please leave a comment below! I would love to hear from you to improve my knowledge.
Was this travel guide helpful for you?
If you would like to help me continue making free guides, here is one way you can help:
Share This Guide – If you have a friend that would benefit from this guide, share it with them. Or post this guide on Facebook, Twitter, or Instagram.
Your support would definitely help me making more free guides like this. Thank you in advance!
Affiliate Link – This post in Dizzy Traveler contains affiliate links, which means I receive a referral commission if you purchase after clicking at no additional cost to you. These funds go to maintain the site. Thank you for your support.
Here is a few affiliate links that may help plan a perfect trip while staying within budget.