Phuket is one of the beautiful islands located in the southern part of Thailand in the Andaman Sea, and it is also the largest island. This mountainous island is often called the Pearl of the Andaman. Over the years, it has positioned itself as one of the top destinations in Southeast Asia and gained popularity among foreigners and locals alike. It is well known for the fascinating coastline featuring long sandy beaches surrounded by beautiful rock formations and major gateways to stunning islands such as Phi Phi, Similan, Racha, Coral, Koh Khai, and many more.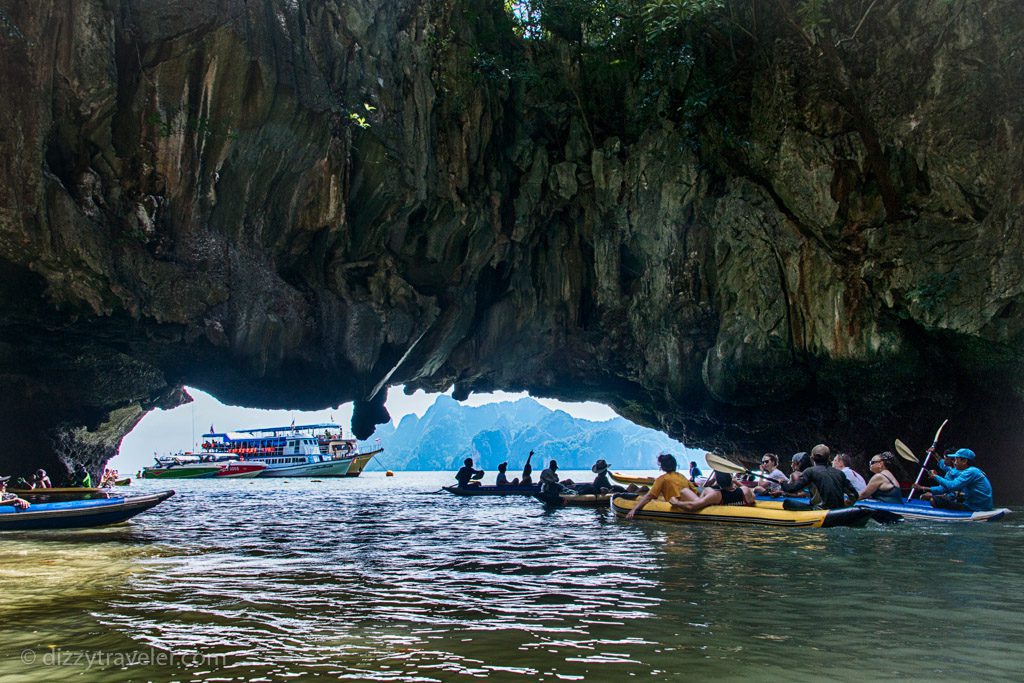 How to Get There
Phuket International Airport (HKT) is the second busiest airport in Thailand. Many domestic and international passengers fly to Phuket from Malaysia, Australia, New Zealand, China, Indonesia, Japan, India, and other countries, making this paradise one of the major getaways to famous beaches and fascinating tourist attractions.
There are buses to Phuket from just about everywhere in Thailand throughout the day and night. This island is also reached by boat from the surrounding islands of Koh Lanta plus from Koh Phi Phi, Ao Nang, and Krabi on the mainland.
Here Are a Few Guided Tour From Phuket
---
Best Time to Visit Phuket
Jan-Feb is the peak season. If you are not an enthusiast of crowds, then try to avoid this period. Hotels are sold out, and pricy so are all other activities.
Apr-Oct is the Rainy season, and the weather is hot and humid or raining heavily most of the time. As a result, you may find great hotel deals, and beaches will be less crowded.
Nov-Dec is the best time to visit in my opinion in terms of beautiful weather, usually sunny and pleasant. But Hotels will still be pricey, and beaches will be crowded.
Getting to City Center from Phuket Airport
Phuket International airport offers two main transportation options to the town of Phuket. The most popular and trustworthy choice is to hire one of the airport taxis, which are usually available 24/7 in front of the airport. The second option is the airport bus which is available every 1 to 3 hours, depending on the time of the day. A trip with a Phuket airport taxi usually takes around 45 minutes and costs about 600 Bath (US$ 20). The bus, on the other hand, takes 1 hour and 30 minutes for the same trip and costs about 120 Bath (US$ 4).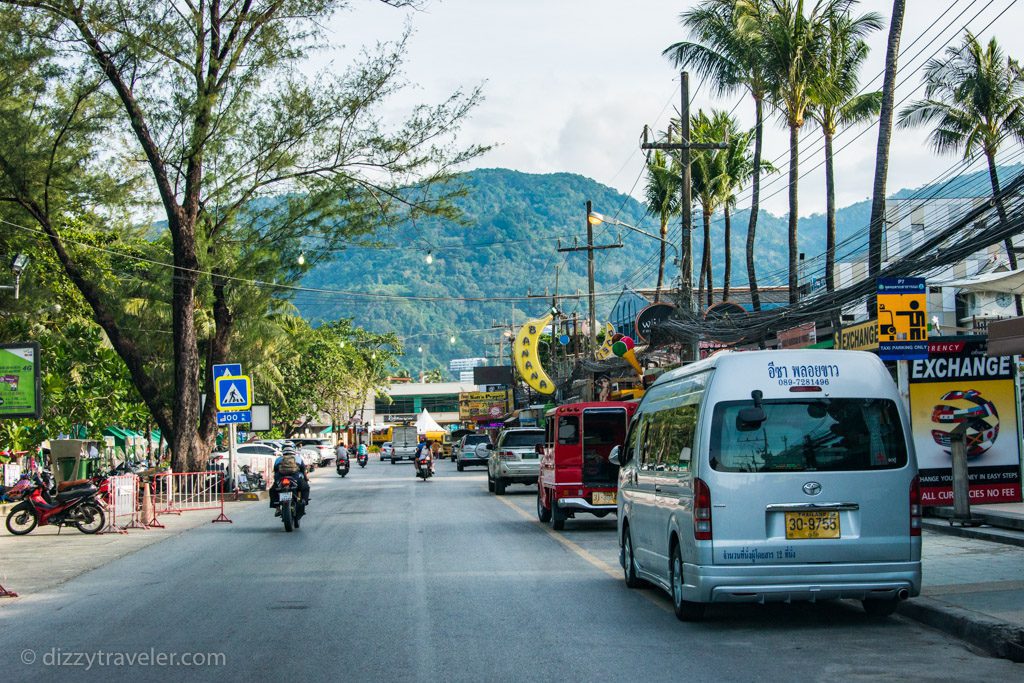 Day 1 – Arrival To Phuket
We took an early morning flight from Singapore Changi Airport (SIN) to Phuket International Airport (HKT). Flight time was a little less than two hours (1 hr. 45 min). Phuket airport is about 30 miles (47 km) from the Kata beach hotel; it took us about an hour to get there.
I usually don't have any problem with early check-in at the hotel. Still, a prior email request to hotel management is recommended considering it is one of Thailand's most popular tourist destinations. So, after settling down at the hotel, I hired a taxi and headed for a sightseeing trip.
Self Guided Tour to Big Buddha
The 45 meters tall Big Buddha is one of the iconic landmarks of Phuket that is worth visiting. It is located on top of the Nakkerd Hills with a breathtaking panoramic view of Phuket Town, Kata, Karon, Chalong Bay, and more.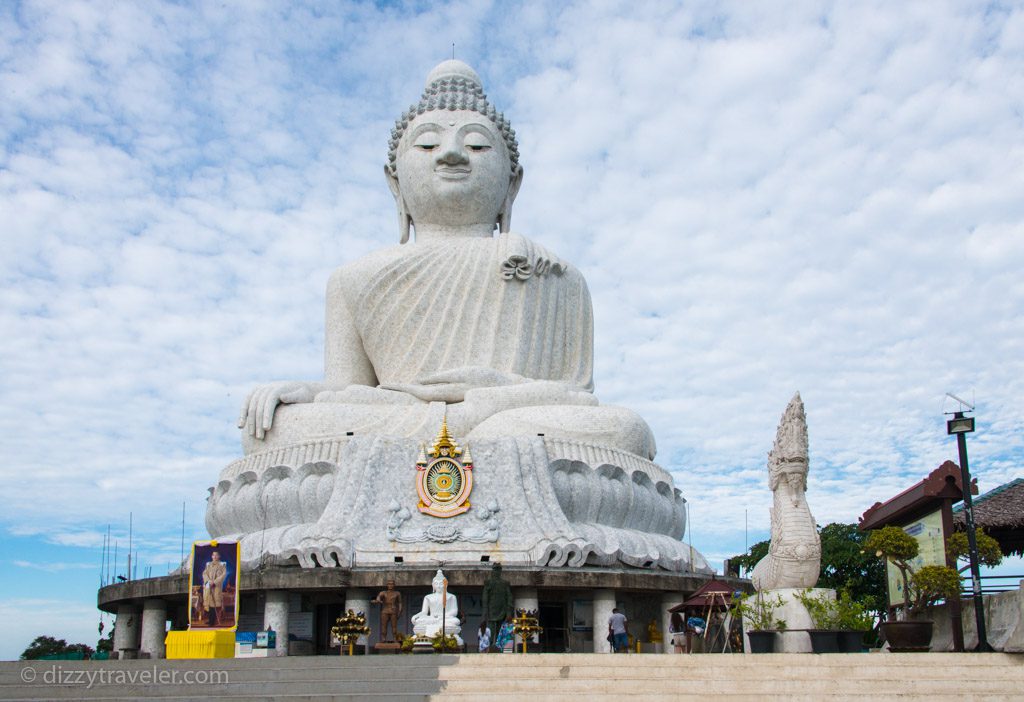 Visit Wat Chalong in Phuket
This Buddhist temple is most visited by Thai and tourists alike. Local Buddhists go there to pray and foreign tourists to learn about Buddhism. Wat Chalong is very colorful has many Buddhist statues inside the building. This temple is open between 7 am to 5 pm.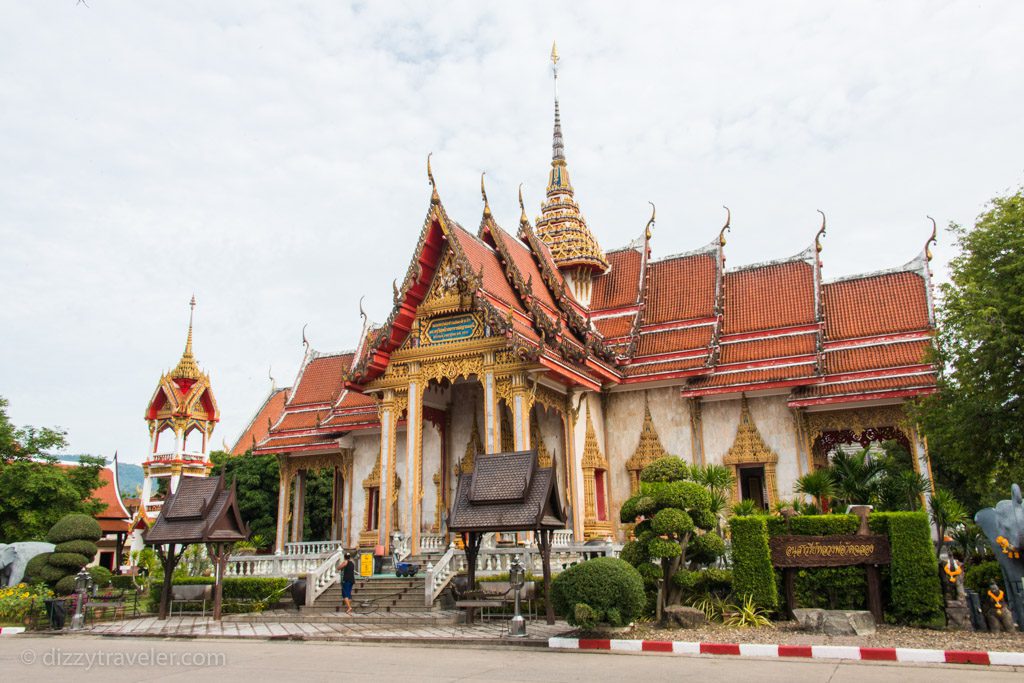 Visit Bangla Road, Experience Nightlife in Phuket
Bangla road stretches from the beach all the way to Rat-U-Thit Road across the Jungceylon Shopping Mall. It is the notorious soul of Phuket Nightlife, where all the action takes place after the sun goes down. A great place to enjoy live music, check out beer bars and nightclubs. Unfortunately, there are few Go-Go bars on both sides of the streets, and touts will definitely approach you for all sorts of offers, so don't fall into their trap.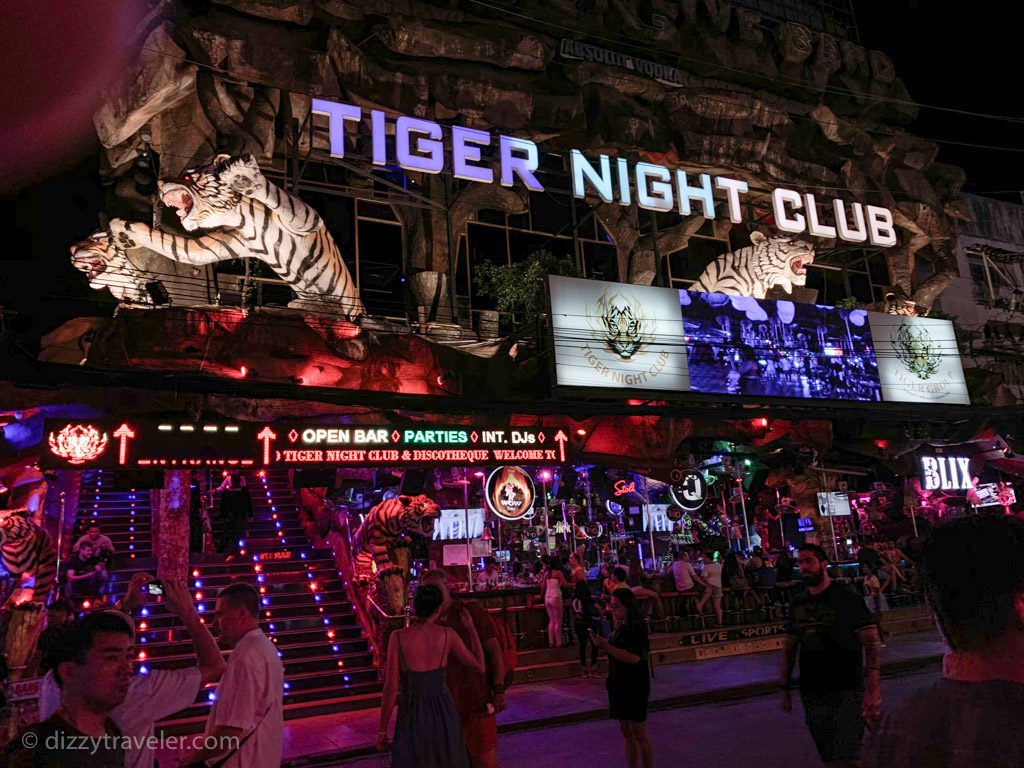 Day 2 – in Phuket
Day Trip to Phi Phi Islands
The breathtaking sights of Koh Phi Phi are the most popular of all the islands around Phuket. Although Phi Phi Island is 28 miles (45 km) by ferry takes about two hours, a speed boat will take less than that. In fact, the guided tour will take you to two main islands in this part of the Andaman Sea. Phi Phi Don is the main island where most visitors head to (mainly backpackers) for the overnight stay or as a hub for the day-trippers to all the other small islands and attractions around there. On the other hand, Phi Phi Leh is the quieter southern island. It has no overnight accommodation and highlights many coves and caves and Maya Beach–the famous setting for the film, The Beach.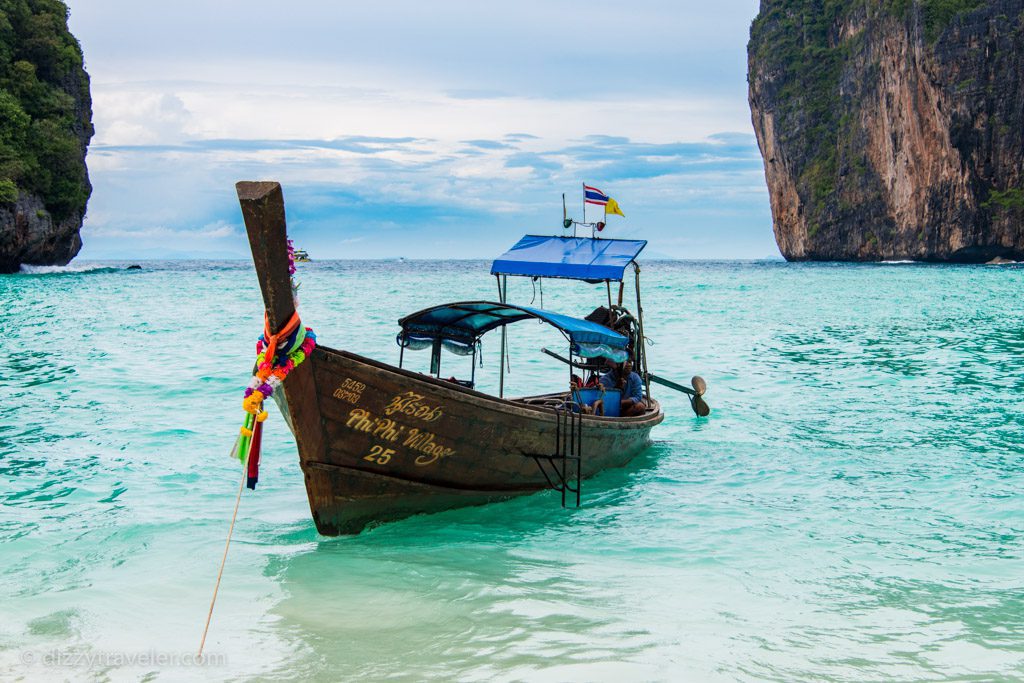 A full-day tour covers Loh Samah Bay, Mai Ton Island, Maya Bay, Pileh Cove, Viking Cave, Monkey Beach, Phi Phi Don, and Bamboo Island. Most tour departs from mainland Phuket by speedboat or regular big boats with free hotel pickup and dropoff, lunch, and snacks. Activities also include swimming and snorkeling in the turquoise water, sunbathing on white sandy beaches and photo opportunities at Maya Bay, and much more.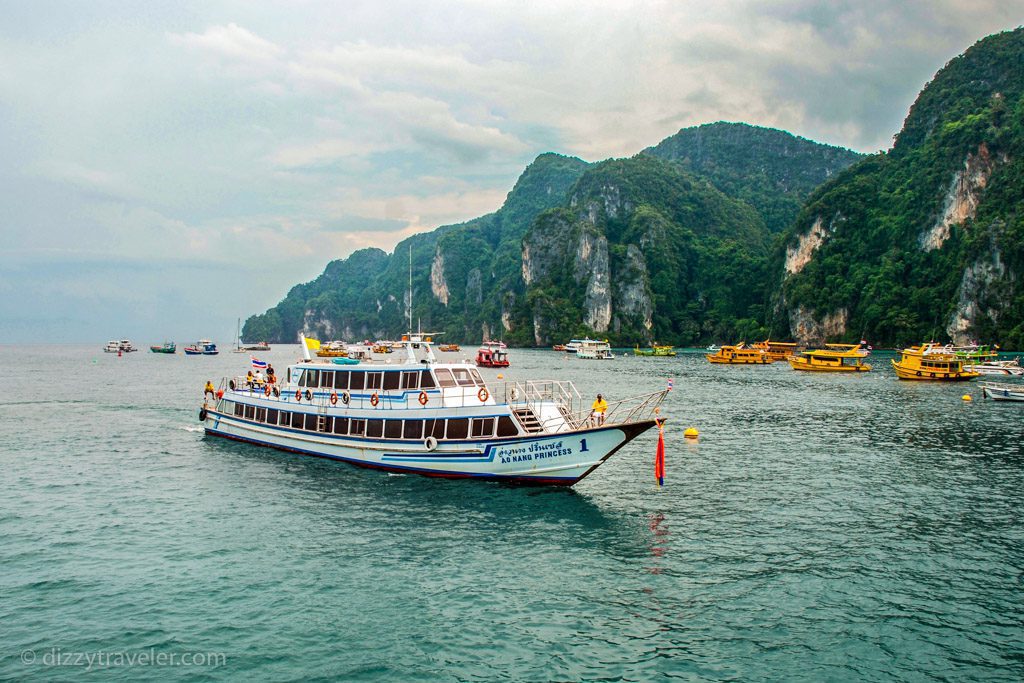 After a Day-Long Trip, You Deserve a Good Dinner
Treating yourself in a good restaurant is definitely the best way to spend the evening after a long 10 hours sightseeing trip. This high-end beachside restaurant was the best choice. Baan Rim Pa Restaurant Patong is well known as one of the finest Thai restaurants in the country. Baan Rim Pa's menu features dishes that were once prepared only for Thai royalty. Even though the food is expensive but for an unforgettable experience, I would highly recommend a visit.
Baan Rim Pa Restaurant, Patong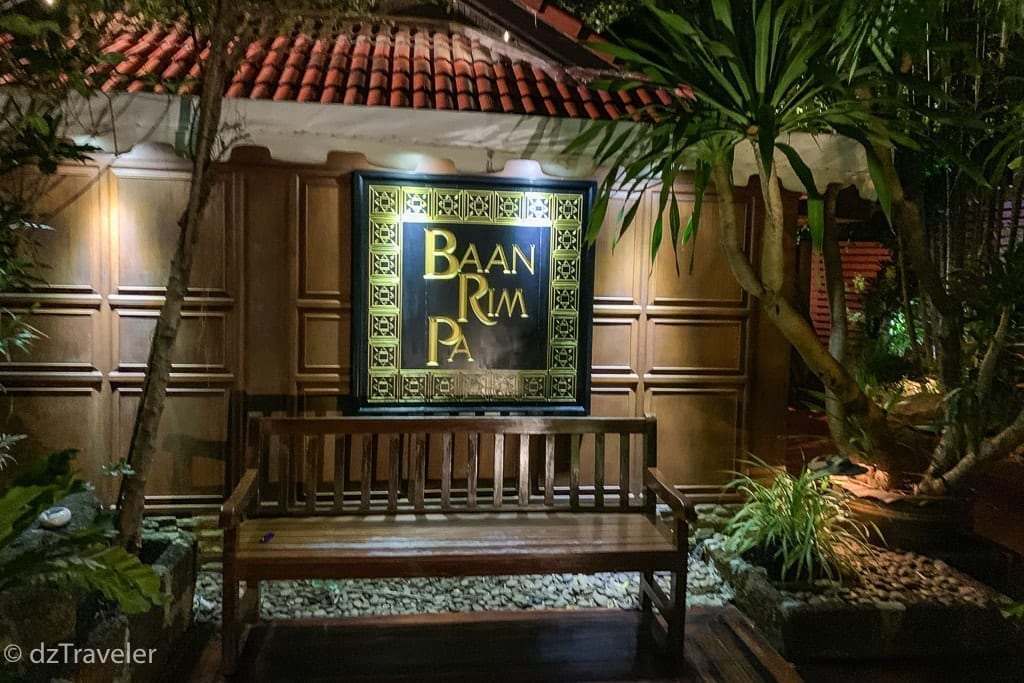 Beautiful View of Patong Beach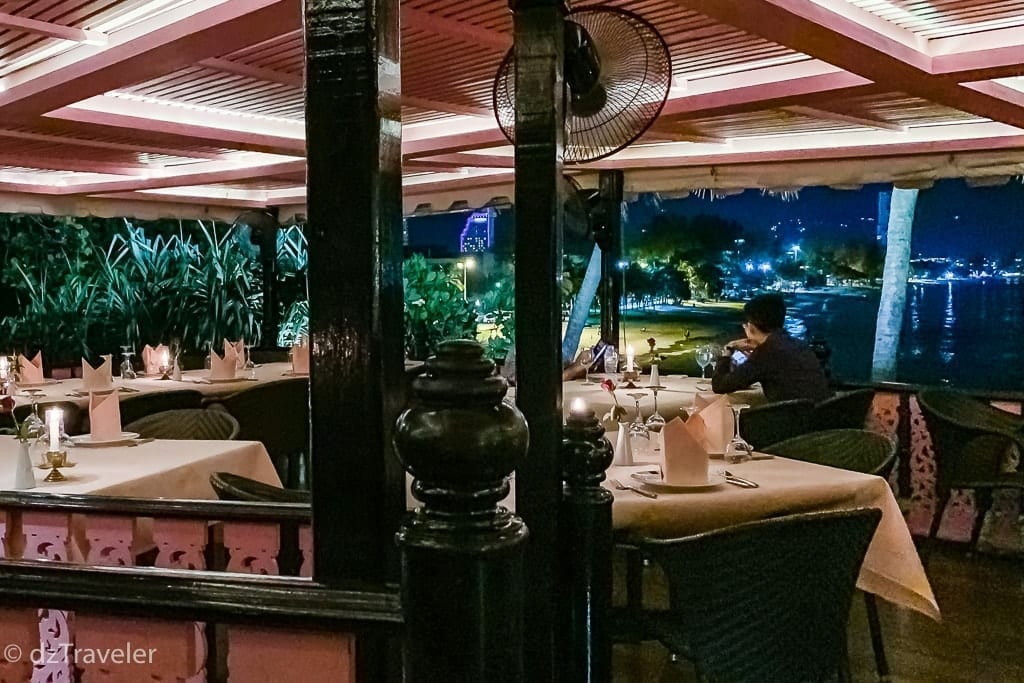 Inside The Baan Rim Pa Restaurant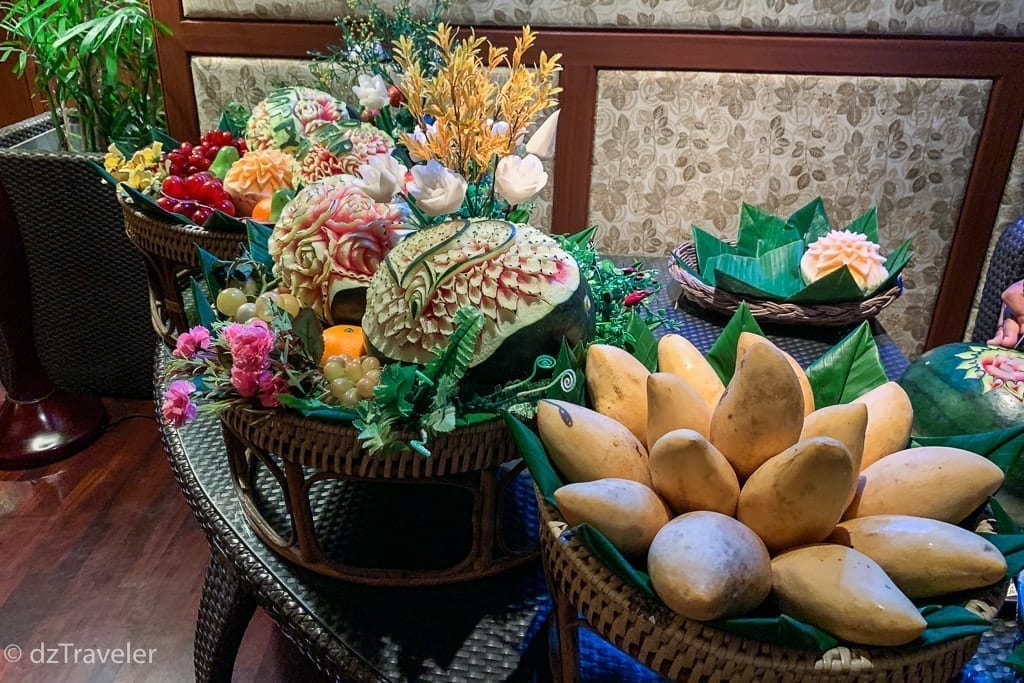 Authentic Southern Shrimp Dish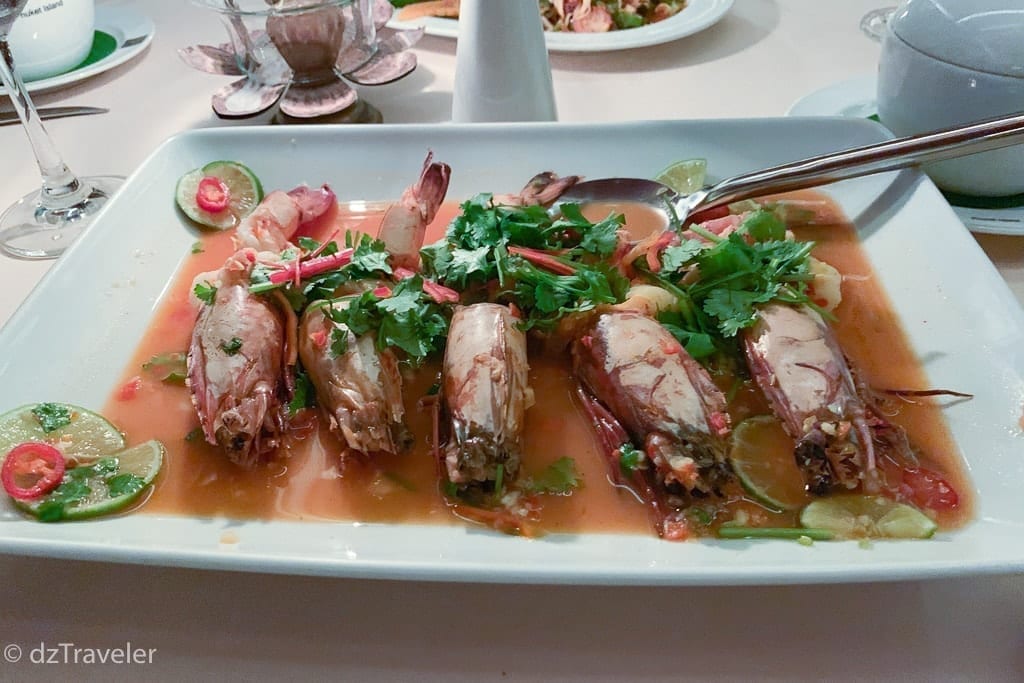 ---
Day 3 – in Phuket
Early Morning Beach Hopping in Phuket
Patong Beach – Patong Beach – This beach is the heart of Phuket, the center of all attractions, and one of the most visited among all others. It is a family-friendly beach, and there are always lots of activities to keep the entire family entertained.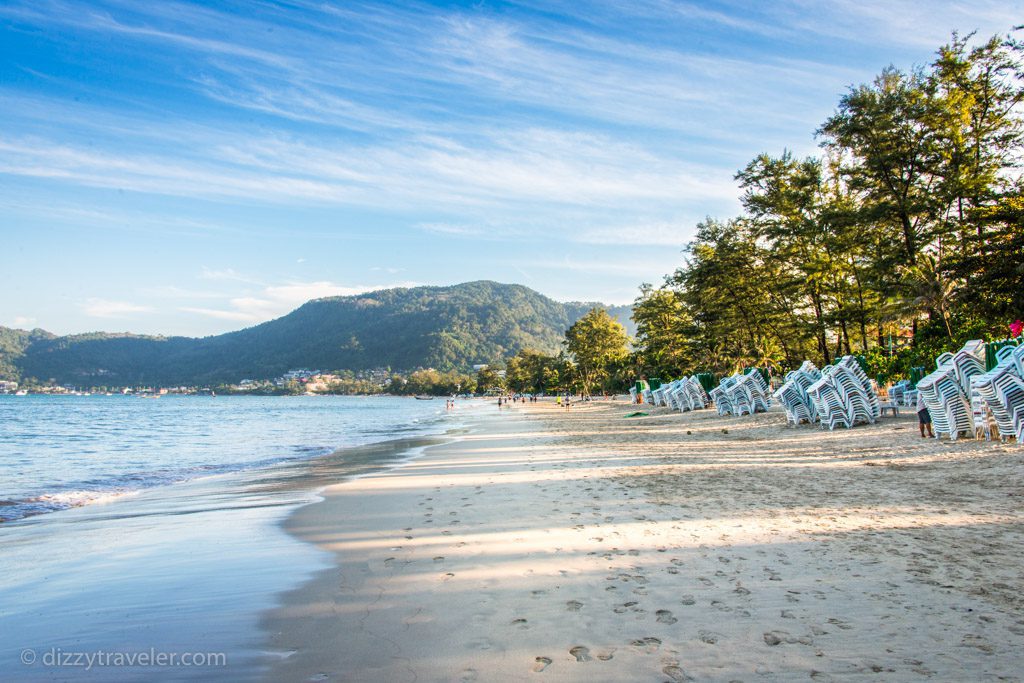 Kata & Karon – For a more lay-back Phuket beach experience, start heading to the beautiful sands of Kata and Karon beaches. A lot is going on around these bays to keep you occupied. Despite being less busy than Patong, there are some great beachside bars and restaurants plus fantastic viewpoints close by, definitely well worth checking out.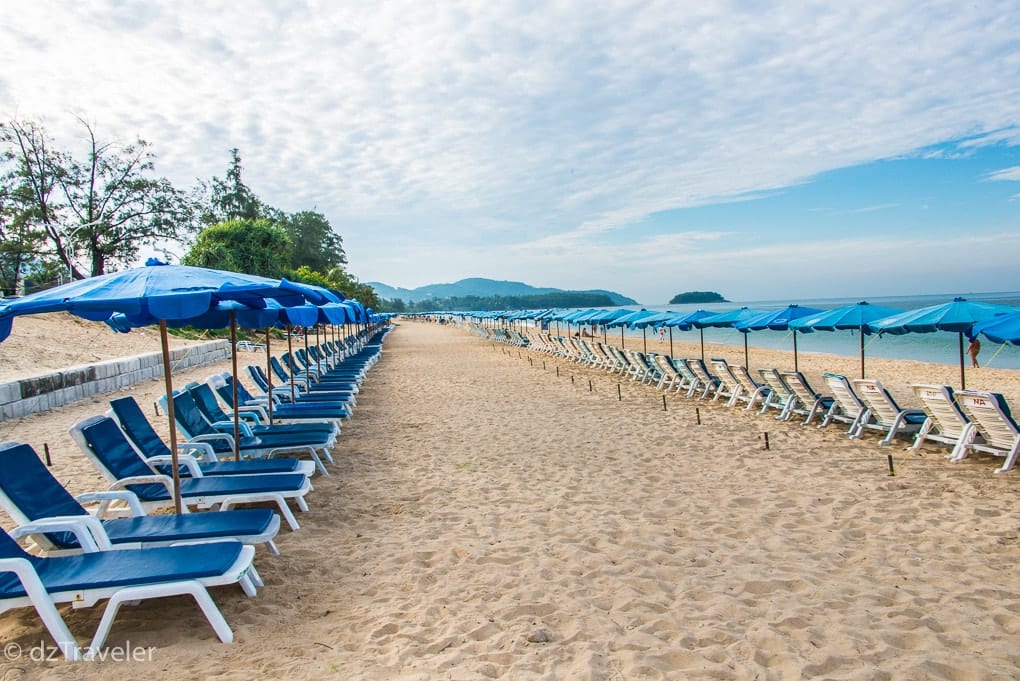 Day Trip to James Bond Island
One of the best benefits of Phuket is its vicinity to plenty of other breathtaking islands to explore. Without a doubt, Phang Nga Bay and James Bond are worth a visit. Nothing can beat the excitement of a boat trip through the impressive limestone drops (karsts) extended all over the Andaman Sea. Therefore, our 2nd day in Phuket started with a day trip to prang Nga National Park, articularly exploring, kayaking, swimming, and Sea Caves Canoeing in the vicinity of the few breathtaking islands. Absolutely, at the end of the trip could not miss a photo opportunity at the most touristy James Bond Island, which got its popularity since the filming of the Man With The Golden Gun.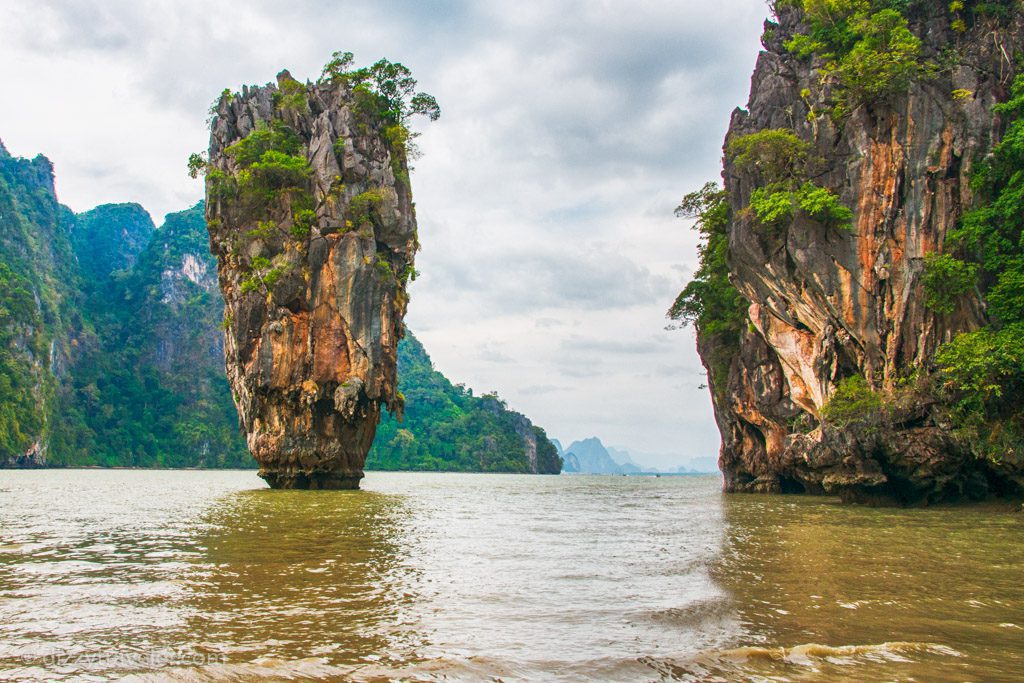 Day 4 – Fly Back to Bangkok
Return to Bangkok and transfer to your International flight back home. Most of the European and North American flights are late at night and fly out of Bangkok Subramaniam Airport (BKK), so if you are transferring on the same day, you need to make sure that you are arriving at BKK airport. If you arrive at Don Muang Airport (DMK) from Phuket, you need to consider two hours to transfer from DMK to BKK airport by taxi. Few budget airlines offer a direct flight between Bangkok Subramaniam BKK and Phuket HKT, such as ValuJet, Thai Airways, Thai Smile, Bangkok Airways, etc.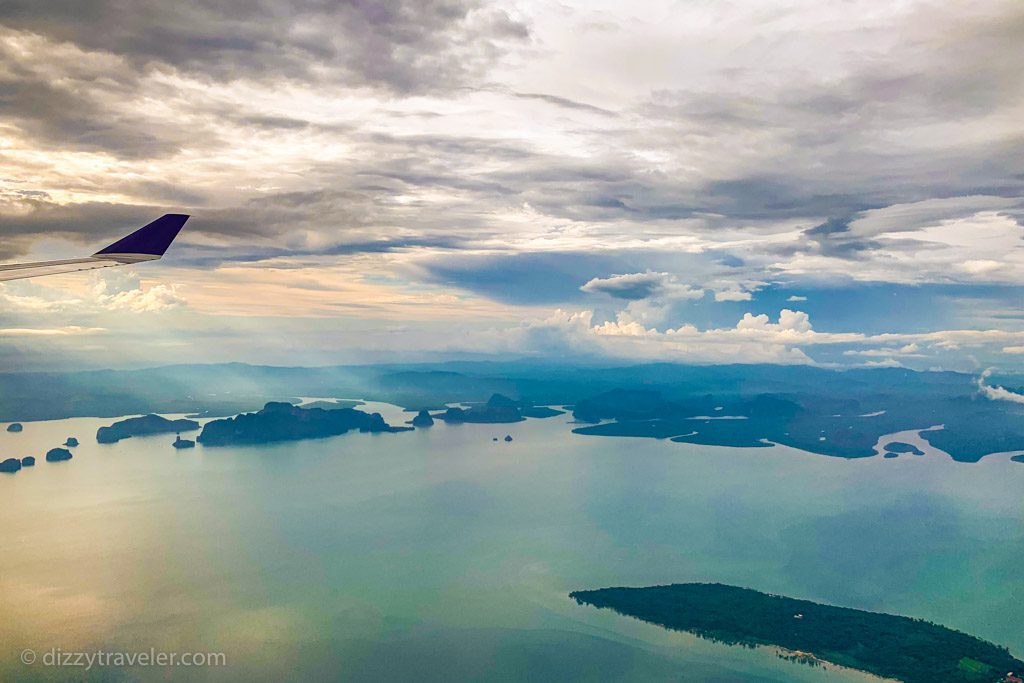 Where to stay in Phuket, Thailand
Katathani is an ocean-front resort is located near the beautiful Kata Noi Beach, one of the quietest beaches in Phuket. It is only 20 minutes ride to Patong and other touristy beaches and nightlife. All of the rooms and pools are very close to the beach. Although hiring a sun lounge is inexpensive, only 200 Baht for the day, few of them are available for resort guests complimentary. The rooms were spacious with modern, clean restrooms. We enjoyed our stay here especially the spectacular sunset scene was unforgettable.
Happy Holiday Resort & Apartments is located near Patong Beach, not far from Bangla Road and within walking distance of the largest shopping mall (Jungceylon) in Patong. The hotel offers an outdoor swimming pool and a garden, terrace, air-conditioned, and has a dining area and a seating area with a cable flat-screen TV. There's also a kitchen in some of the units equipped with a microwave. I enjoyed staying there.
My Opinion and Last Word
Best viewpoints in Phuket 
Promthep Cape –  until the end of the day and enjoy a beautiful view over Phuket. Phromthep Cape is a popular and often busy tourist hub–but this shouldn't distract from the incredible sunset views from Phuket's southernmost point.
Karon Viewpoint – Confusingly named Karon Viewpoint, this viewpoint is in fact in Kata. Those who climb the steps to the top of the pavilion here on a clear day will be rewarded with sweeping views across Kata Noi Beach, Kata Beach, and Karon Beach in the north.
Food & Drinks
Natural Restaurant is located in the heart of Phuket town, serves delicious Thai and international food.
Mom Tri's Kitchen is located in Kuta beach for the best dining experiences during your visit to Phuket.
Have you been to Phuket, Thailand? Any cool tips to share?
Over the years I have visited Thailand multiple times, but during this particular trip, I was flying out of Singapore to Phuket for 4 days then flying to Bangkok for a few more days. It was a great experience and definitely loved it. Hope my story has given you some idea and motivated you to plan a fall trip. 
Please leave a comment below! I'd love to hear from you to improve my knowledge. 
Was this travel guide helpful for you?
If you'd like to help me continue making free guides, here is one way you can help:
Share This Guide – If you have a friend that would benefit from this guide, share it with them. Or post this guide on Facebook, Twitter or Google+
Your Support would definitely help me make more free guides like this. Thank you in advance!
Affiliate Link – This post in Dizzy Traveler contains affiliate links, which means I receive a referral commission if you purchase after clicking at no additional cost to you. These funds go to maintain the site. Thank you for your support.
A Few Pictures From My Trip to Phuket