Lima is the coastal capital of a country that is famous for its mountains. Most adventurous travelers pass through here to hike Inca Trail and see Machu Picchu. Lima has many historic monuments and popular for its vibrant nightlife, probably the best in the country. Because of the Humboldt Current, Lima is covered in fog seven months of the year. Lima gets very little rain throughout the year and the sky is almost always overcast.
Best Time to Visit Lima
Lima has a sub-tropical climate and due to the cool water of the Pacific Ocean, the city enjoys much cooler temperatures. The temperature rarely falls down to 54ºF (12ºC) or rise above 84ºF (29ºC).
The peak season in Lima is between December to April, the cities summer season. The temperatures during this time vary between 64ºF – 78ºF (18ºC-26ºC). Skies are mostly cloud-free during the daytime, with occasional foggy days during this season. The visitor can enjoy the spectacular and colorful sunsets which are quite famous in Lima.
Winter is between June – October with breezy conditions, gray skies, and humid plus cool temperatures are not so popular for travelers. The average temperature remains around 60ºF (15ºC). Dark skies may overcast the city for a week or more at a stretch or thick gray fog known as 'Garua' covers the city making it less appealing to tourists.
How To Get Around
The best way of getting around in Lima is a public transportation system, take the Metropolitano (Lima's official public transportation system). It connects the popular neighborhoods of Barranco and Miraflores to the historic center. They are often crowded, but a quick way to reach your destination and avoid sitting in the traffic.
Top Things To Do In
Visit Plaza de Armas
Lima's Plaza Mayor (main square) is central Plaza de Armas, the city's historic heart and birthplace. Landscaped with palm trees, elaborate lampposts, flower beds, and greenery, the square's highlight is the 1650 tiered bronze fountain in the center and the statue of Francisco Pizarro on horseback nearby.
Visit at 11:45 am to watch the changing of the guard or visit any time to find an empty seat and watch the world wander by.
Explore Plaza San Martín
The Plaza San Martín is one of the most representative public spaces of the city of Lima. It is located at the ninth block of Colmena avenue, within the Historic Centre of Lima which was declared a World Heritage Site in 1988 by UNESCO.
Check Out Larco Museum
The Larco Museum is a privately owned museum of pre-Columbian art, located in the Pueblo Libre District of Lima, Peru. The museum is housed in an 18th-century vice-royal building built over a 7th-century pre-Columbian pyramid.
Municipal Palace of Lima
The Municipal Palace of Lima is a public building that serves as headquarters of the Metropolitan Municipality of Lima.
Government Palace
The Government Palace also known as House of Pizarro is the seat of the executive branch of the Peruvian Government and the official residence of the President of Peru.
Cathedral of Lima
The Basilica Cathedral of Lima is a Roman Catholic cathedral located in the Plaza Mayor of downtown Lima, Peru. Construction began in 1535, and the building has undergone many reconstructions and transformations since.
Monastery of San Francisco
One of the "must do's" in Lima is a highly recommended tour through the monastery. It gives an impressive inside on how religious life was during Spanish colonial times.
Convento de San Francisco is the Spanish name for Saint Francis Monastery located in Lima, south of Parque la Muralla and one block northeast from the Plaza Mayor.
Palacio de la Exposición
The Palacio de la Exposición is a building located on Colon Avenue in downtown Lima. It was constructed in the 19th century together with the Park of the Exposition to house the International Exposition of Lima in 1872.
Torre Tagle Palace
The Torre Tagle Palace is a Spanish Baroque palace located at Jr. Ucayali 363, in downtown Lima, Peru, a couple of blocks east of the Plaza de Armas. The palace currently is home to the Peruvian Ministry of Foreign Affairs.
Sanctuary of Las Nazarenas
The Sanctuary of Las Nazarenas is a church in Lima and is the site of the Peruvian Catholic procession of the Lord of Miracles, Señor de Los Milagros, who is also the patron of the city.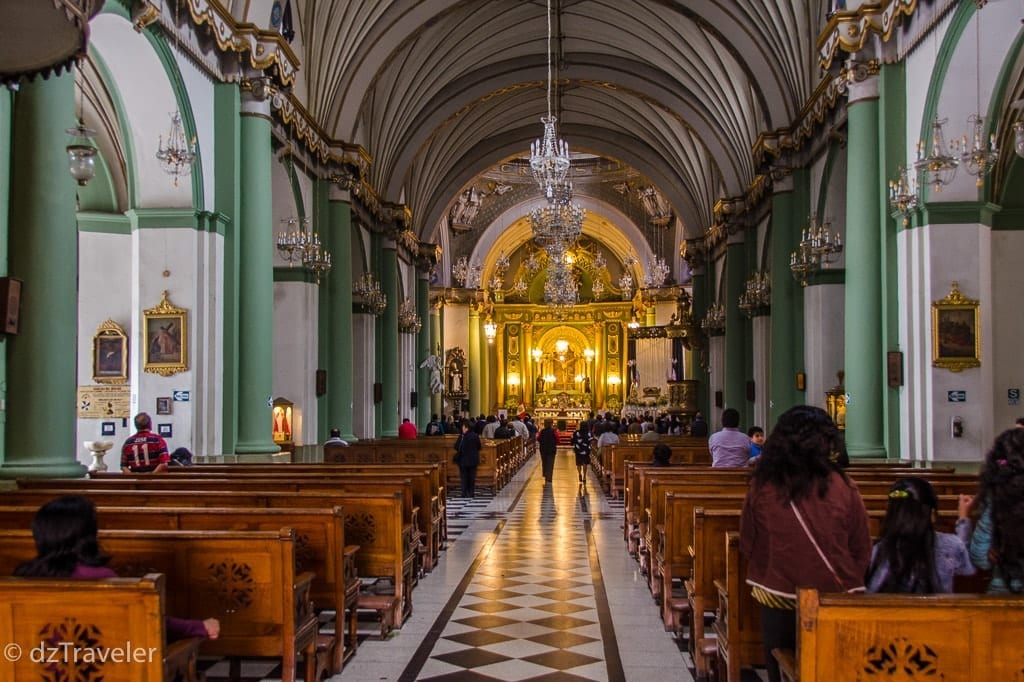 Local Food in Lima
You can eat cheaply in Lima especially in those traditional buffet-style restaurants. They also offer a fixed menu of starters, main courses and, in some cases, even a dessert.
Cala Restaurant, Circuito de Playas, Barranco, Peru
Restaurant Huaca Pucllana, Cdra 8, Calle General Borgoño, Distrito de Lima, Peru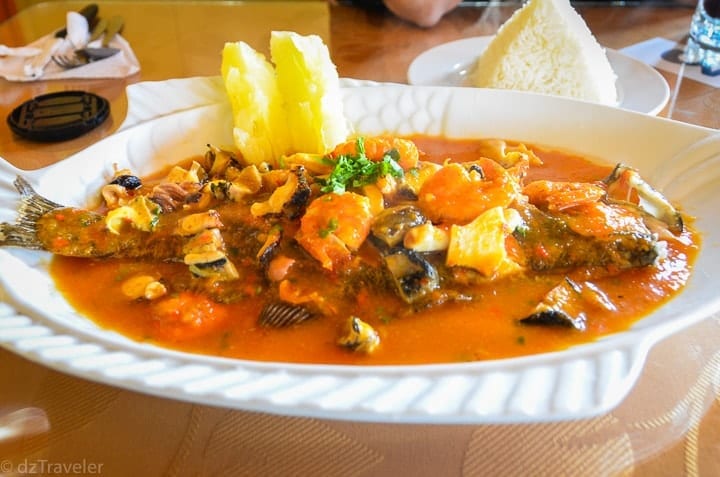 Peruvian Fish curry (Pescado) – The colors of Peruvian cuisine are fantastic. A whole fish fried then cooked in tomato sauce, yucca, and vinegar with the twist of sugar that gives it a delicious sweet and sour taste. The portion is huge, definitely a family size.
Crispy Fried whole Fish (Pescado) – The crunchy fried fish is delicious, cooked in sizzling hot oil, served with yucca, lime marinated onion, salad, and white rice. It has a unique flavor that hard to get in a Peruvian Restaurant in the USA.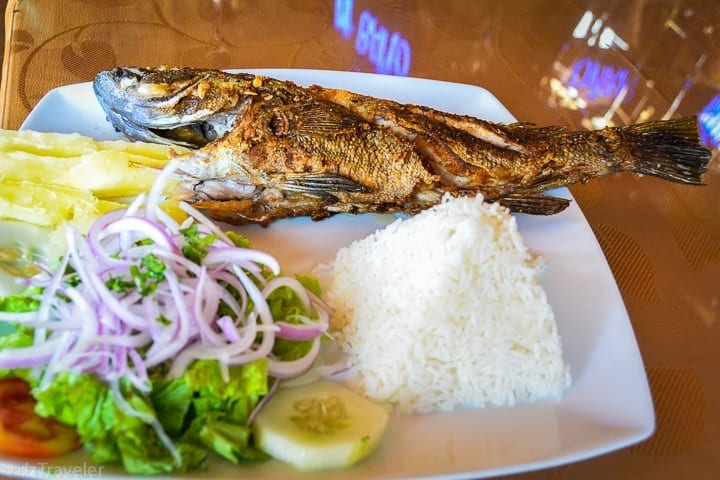 Hotel Where I Stayed in Lima
Bayview Hotel, Las Dalias 276, Miraflores, Lima
My Opinion and Tips
Photo Courtesy – Due to the influx of tourist locals in and around Lima seems particularly sensitive to photo. One common courtesy is to always ask before taking pictures of locals.
Have you been to Lima, Peru? Any additional tips to share?
Please leave a comment below! I'd love to hear from you to improve my knowledge.
Was this travel guide helpful for you?
If you'd like to help me continue making free guides, here is one way you can help:
Share This Guide – If you have a friend that would benefit from this guide, share it with them. Or post this guide on Facebook, Twitter or Google+
Your help would definitely help me making more free guides like this. Thank you in advance!
Featured Pictures That Will Tell My Travel Stories
---
Affiliate Link – This post in Dizzy Traveler contains affiliate links, which means I receive a referral commission if you purchase after clicking at no additional cost to you. These funds go to maintain the site. Thank you for your support.