Truth be told, Buenos Aires wasn't on my bucket list. Well, initially, but dubbed as the Paris of the South, how could I not visit? I decided to stay a few days en route to my trip to El Calafate. I did not regret my decision. Buenos Aires, Argentina in South America is a vast city with forty-eight barrios, each characterized by its distinct beauty, rich history, and tons of attractions. Also, if you love the charm of narrow cobbled stone streets lined up with outdoor cafes, quaint shops, and old architecture, then this is the next city for you.
Here is a few affiliate links that may help plan a perfect trip while staying within budget.
How to Get There
There are direct flights between the United States and most major cities in the world. For budget travelers like me, the question is, "How do I get there cheaply?" Here is an inside tip. From any major city, you may fly to South America, cities such as Santiago, Chile, and hop into another airplane to Buenos Aires. You could also get to the city by land from its nearby countries, but that's if you have the luxury of time and patience for long-haul road trips.
How to Get Around in the City
Subte and Bus – The cheapest way to get from one barrio to another is by taking the underground subte or metro. Buses are also reliable and convenient. However, you must purchase the SUBTE card available at metro stations and convenience shops.
Taxi – If you only have a limited time of stay and if your budget allows it, by all means, use the cab to get around. The good news is cab fares in Buenos Aires are generally cheap. However, some taxi drivers in Buenos Aires are known to rip off their passengers. So keep your eyes on the driver's meter!
By foot – Can you go around the city on foot? Absolutely! In fact, this option is even better. Not only will you burn loads of calories from consuming too many empanadas, but you will also enjoy many beautiful Roman and French-inspired architecture along the way.
Where I Stayed
Infinito Hotel, Palermo – I wanted to stay in the city center, a few miles to and from the (AEP) airport, and a stone's throw away from some of my points of interest. Bravo! Infinito Hotel was exactly what I was looking for. The quiet and safe vicinity of Palermo is a plus!
Best Time to Visit
Spring (September to November) and autumn (March to May) are the best seasons to visit the country due to the mild climate during these months. However, June to August are the months when airfares from North America sell like hotcakes because who wants to travel when it is almost freezing? Me, apparently. I made sure I packed that cute, stylish hot pink pea coat!
Useful Information:
Visa Requirement – Yay! There is no visa requirement to enter Argentina for a 90-day stay. But make sure that your passports are valid at the time of entry, with one blank page required for an entry stamp.
Safety – Like any other big city, crime is prevalent, so be extra careful. If you visit the tourist spot in Barrio La Boca, stay within the perimeter of El Caminito. You can use your expensive camera openly in this zone, but still, be extra cautious. As a female solo traveler, I felt very safe in all the barrios I visited.
Credit cards – The use of credit cards in Buenos Aires is widely accepted, contrary to what I read on the net. Even in a small bakery shop, if you purchase a small piece of alfahores, they will still swipe your card.
Currency – 1.00 US$ is to 27.00 Argentine pesos. So, you can splurge on your dinner with the US$ buying power! So, now is your chance to indulge in that modestly priced dinner of tender, juicy, and thick-sliced Angus steak with sides and a glass of Malbec wine for less than $30.00 (per person!)
How to Spend Two Days In Buenos Aires
My first impression of the city as I peeked through the airplane window was that Buenos Aires is such a tremendously big city in South America. We descended for over twenty minutes, and the sites of buildings, roads, houses, bridges, etc., were never-ending. That is when I thought, "How will I ever explore this sprawling metropolis in just two days?" Believe it or not, I did! Well, not exactly. I had to prioritize the places I wanted to see. This way, I managed to visit those sights in a short amount of time. Proper planning is key.
Day One
Visit Barrio Recoleta
Recoleta may not be exactly like the Beverly Hills of Los Angeles, but this barrio is the home of the Argentine elite! It is the most peaceful place among the rest of the neighborhoods. Plush hotels, high-end malls, fine-dining restaurants, lavish homes, and ornate old architecture surrounded me. Have I mentioned that barrio Recoleta was home to Evita and Juan Peron? Keep reading because I am about to write about the places you can visit in the neighborhood.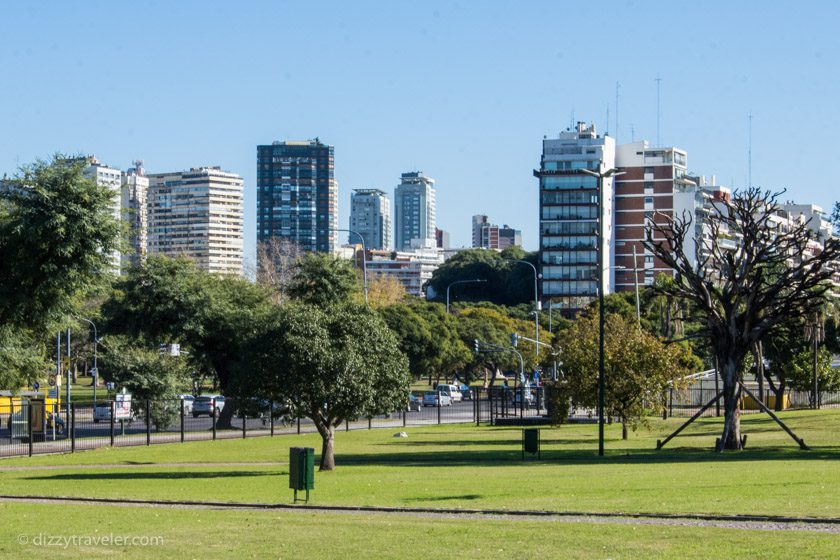 Recoleta Cemetery
Do you like the combination of art, atmosphere, and history? Then, Recoleta Cemetery should be on your list. The thousands of elegant mausoleums are evidence that those buried were some of Buenos Aires's most prominent figures. One of them is Evita Peron. I am not a big fan of Ms. Peron, but an aunt of mine is. So, for her sake, I paid a visit. Getting to Evita's mausoleum is very easy. Just follow the crowd! Entry is free.
La Recoleta Cemetery should be considered a must-see by any tourists. The magnificent monuments are fascinating enough to keep you engaged for a couple of hours and walk you through many of the city's most famous residents resting here in peace.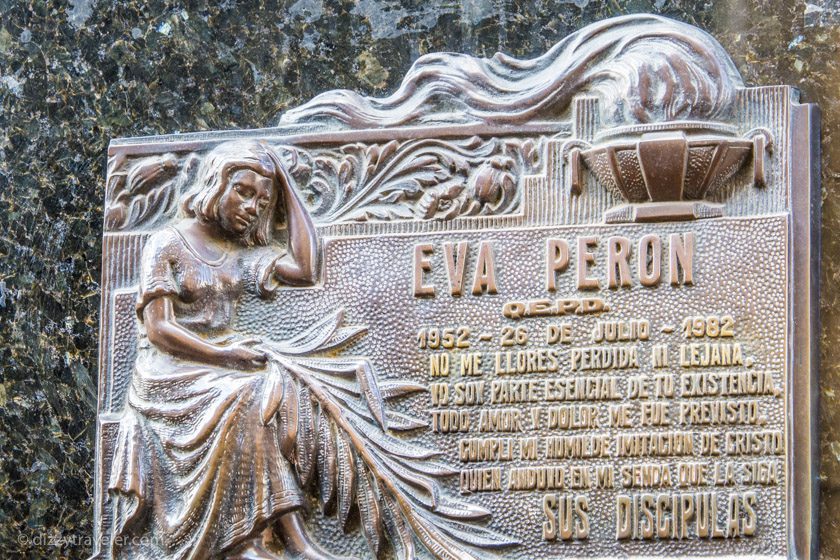 El Ateneo Grand Splendid
The El Ateneo, Grand Splendid bookstore, will leave you speechless! Why? Because this book-lover's place was a former opera house transformed into a grand bookstore. The colossal seating areas are now shelves of volumes of book titles. It gets even more splendid if you stop to gaze at the ceiling. It's the original romantic-style frescos from the old theater, while the previous stage is now a café. El Ateneo is the most beautiful bookstore I have ever seen. It has an average of three thousand gawkers daily!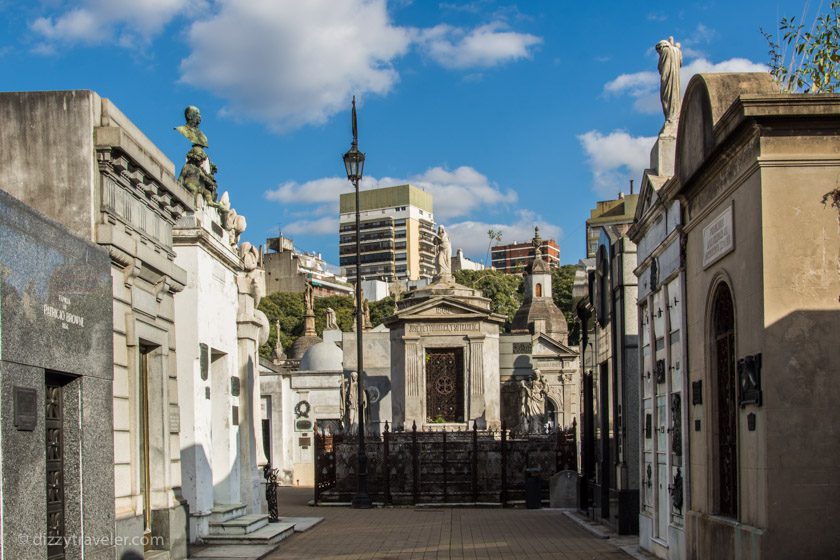 Visit Palermo
No, not Palermo city in Italy. I am referring to the Palermo, one of the barrios in Buenos Aires, Argentina. Century-old trees, outdoor cafes, and family-owned shops line the streets, easily explored on foot. The self-guided walk is a tour with sights of vibrant murals and lush gardens. Here, the old and modern architecture stand on each side. The city of Buenos Aires has a very diverse neighborhood. I am glad to have chosen this safe area for my base camp.
Evita Duarte de Peron Museum
Whether you are a fan of Eva Peron or not, this museum may still be worth a bit of your time. This European-style building was the home of the late Juan and Evita Peron and is now the Evita Duarte de Peron Museum. Most of the exhibits show her limelight career before she became the first lady of Argentina. You probably only need a good twenty minutes to look around and read some of the English signage on the exhibits. FYI, photography is not welcome except in the blue-tiled courtyard. The entrance fee as of June 2018 is Argentine Pesos 120.00.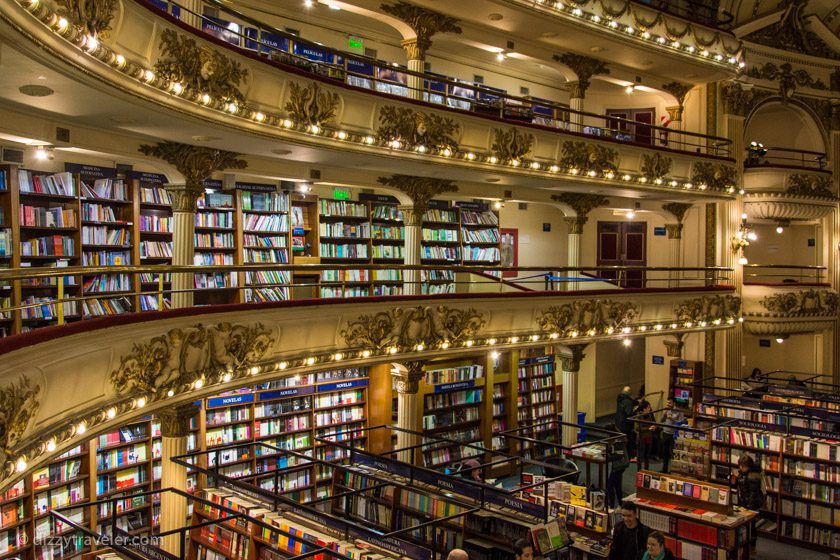 Take a break at The Evita Museum Café.
After spending time in the museum, I headed to the in-house café for some meals. The dining room is cozy, and the outdoor eating area looks pleasant with overhanging trees. I tried Pastel de Carne topped with white meringue. It was pretty sweet but tasty. Excellent!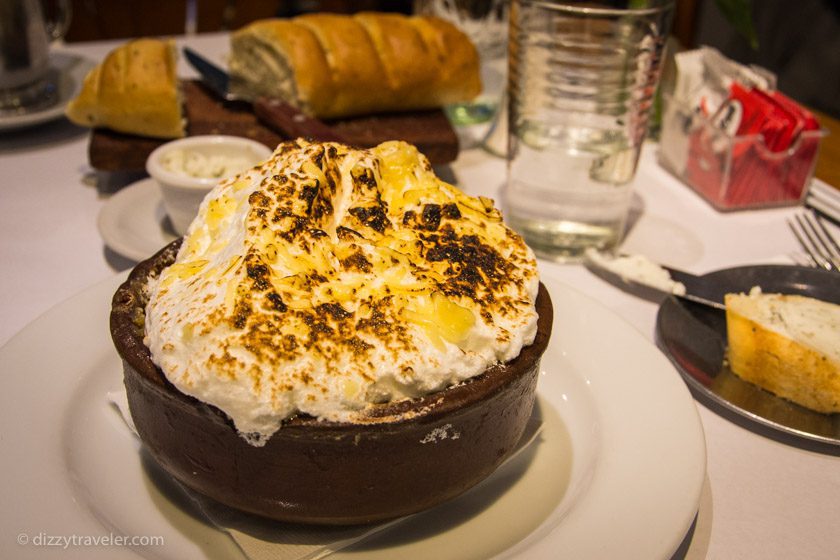 Visit Floralis Generica
While searching on the net for landmarks, Floralis Generica popped up immediately. It was love at first sight with this giant steel flower that I did not leave Buenos Aires without seeing it myself. Floralis Generica is very impressive! Make sure to visit it at midday when the bulb is wide open. It floats in the middle of a pool in Plaza de las Nacionales Unidas. Entering the park is free.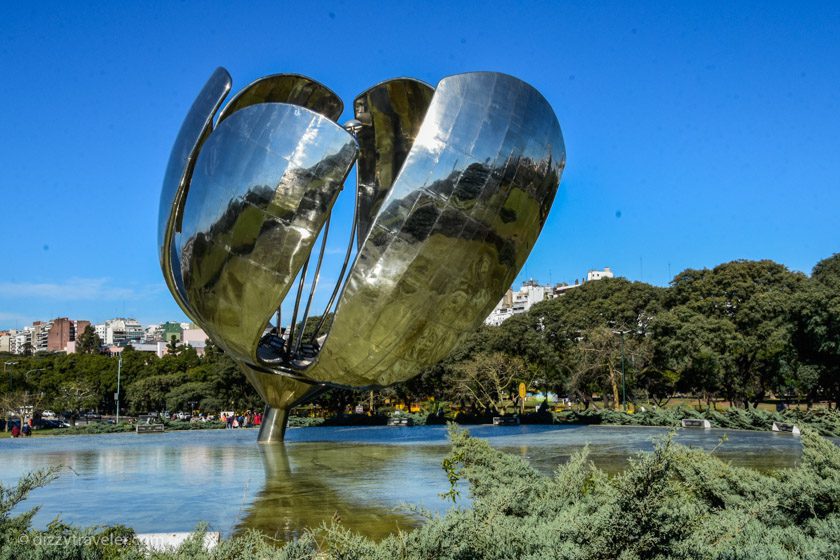 Puerto Madero, Puente de la Mujer ('Women's Bridge')
More landmarks? Puente de la Mujer (Women's Bridge) deserves your attention! The location of the bridge was rundown, but now one of the most vibrant neighborhoods, widely diffused by restaurants, shops, bars, offices, and condominiums. The best time to visit the bridge is when the lights shimmer in the dark. It looks so romantic at nighttime that you and your significant other must stroll on the deck together. After all, when you stare at the bridge from afar, it may look like a sexy couple dancing the tango.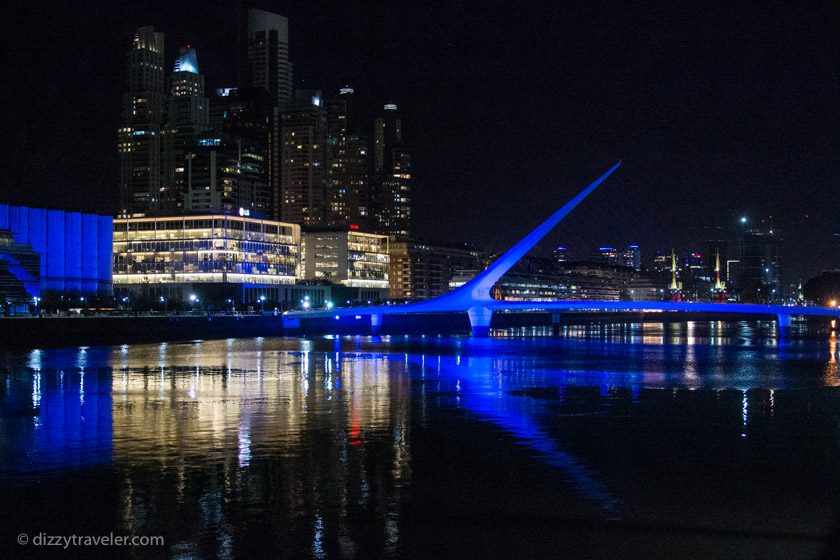 Day Two
Visit Micro Centro
The Micro center is a part of the city where government offices and commercial buildings share a location. I focused on visiting Plaza de Mayo in the very early morning when there were no tourists yet, but the police officers were already visible in the square.
Casa Rosada
Funny, but I found myself humming the song "Don't Cry for Me, Argentina" in front of Casa Rosada. Back in the day, Evita Peron delivered her speeches on the balcony of this pink building to thousands of supporters. My aunt, who is a huge fan of the former Argentine First Lady, should see this beautiful architecture. Besides its rich history, its pink color is mesmeric. One of the rooms is a free-entry museum, but you must reserve a spot on their website.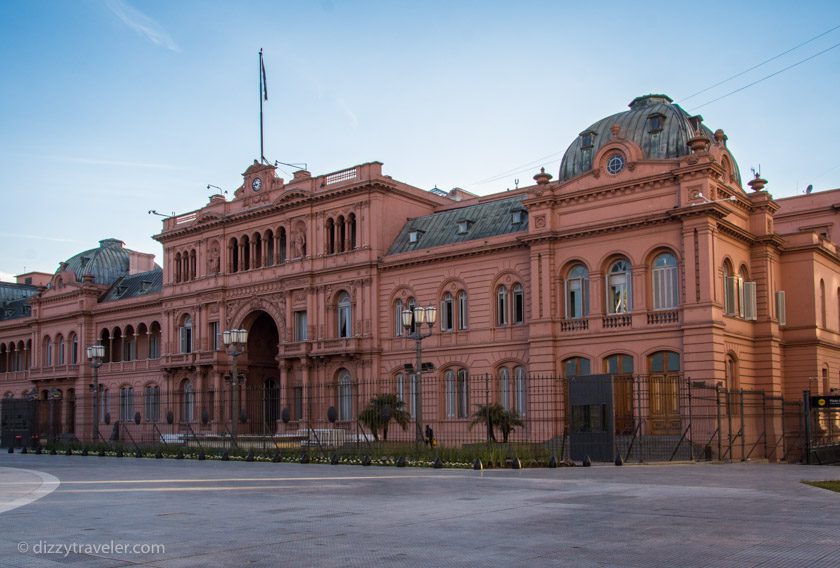 Stroll along on Avenida Rivadavia
The northwest edge of the Plaza de Mayo is Avenida Rivadavia, supposedly the longest avenue in the world, extending twenty-three miles from Casa Rosada all the way to the suburb of Merlo! Threading this direction led me to the Obelisk.
Openly or secretly admire the Obelisk.
While Piramide de Mayo is the oldest national monument, the Obelisk is the most celebrated landmark. Would you believe they even covered it with a giant pink condom in 2005 to observe World AIDS Day? Its sight is most impressive at daybreak, in my opinion. Although, the locals will urge you to visit it at sunset. At sunrise or sunset, the Obelisk shines in all its splendor.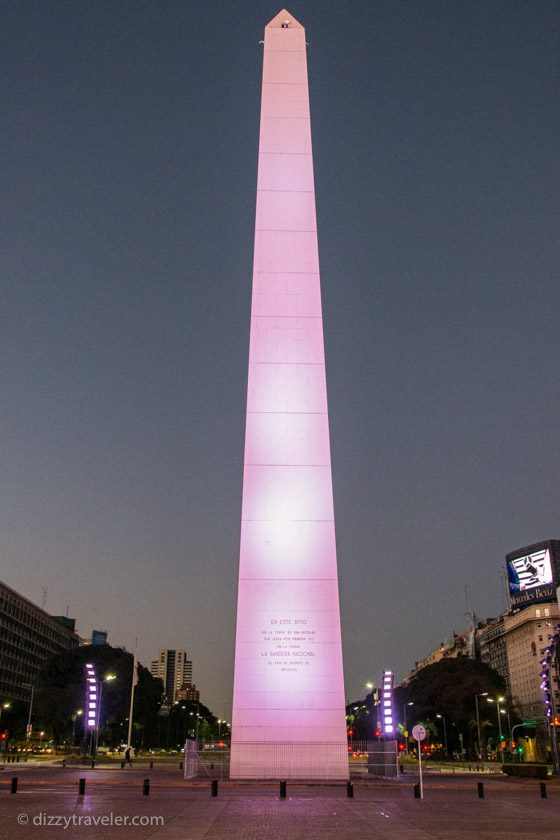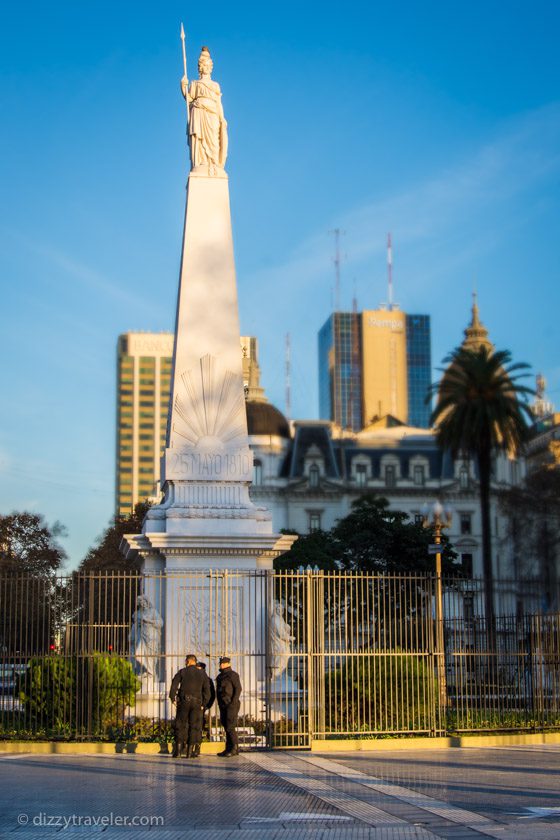 Have a cup of coffee at Café Tortoni, 825 Avenida de Mayo.
The historic Cafe Tortoni is located in Avenida 9 de Julio (the widest avenue in the world). It is the oldest coffee shop in Buenos Aires. Its interior is grand interior and very ornate. In the past, this place is an exclusive hangout for Argentine intellectuals and international personalities like Hillary Clinton and even Albert Einstein. Today, celebrity or not, you can occupy a seat. I ordered a cup of café mocha and some churros to brag that I had gone there. It is a must-visit on my list.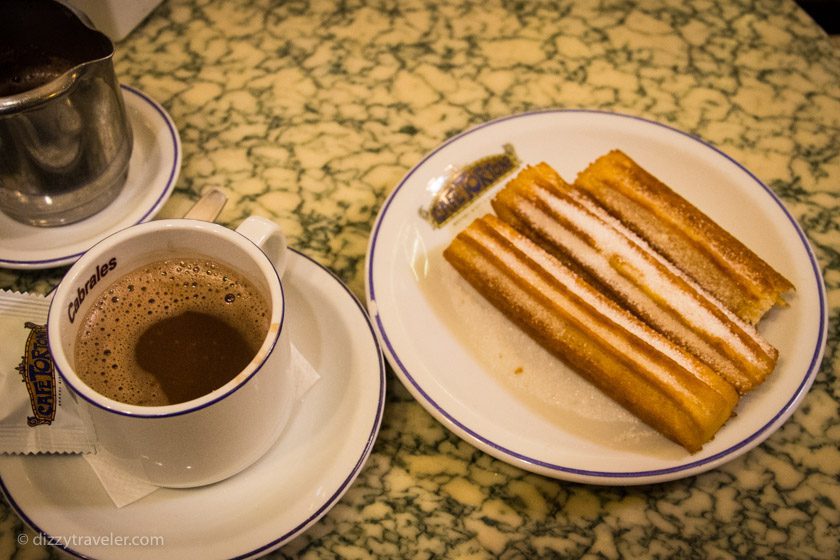 Visit La Boca
I debated whether or not to visit this neighborhood due to its reputation as the most dangerous barrio in Buenos Aires, but I am glad I did. Even though La Boca is where you shouldn't let your guard down, I must tell you that I never witnessed anything unsafe but instead unbridled cheerfulness. Furthermore, I have never experienced a place so delightful as La Boca!
Watch Street Tango
Tango is why Buenos Aires is one of the most romantic cities in the world. I had the chance to watch this very sensual dance in El Caminito, the most famous street in La Boca. However, some of the gals and dudes dressed in the costumes may not be genuine dancers but posing only to get tourists to take photos with them. Then they collect "fees."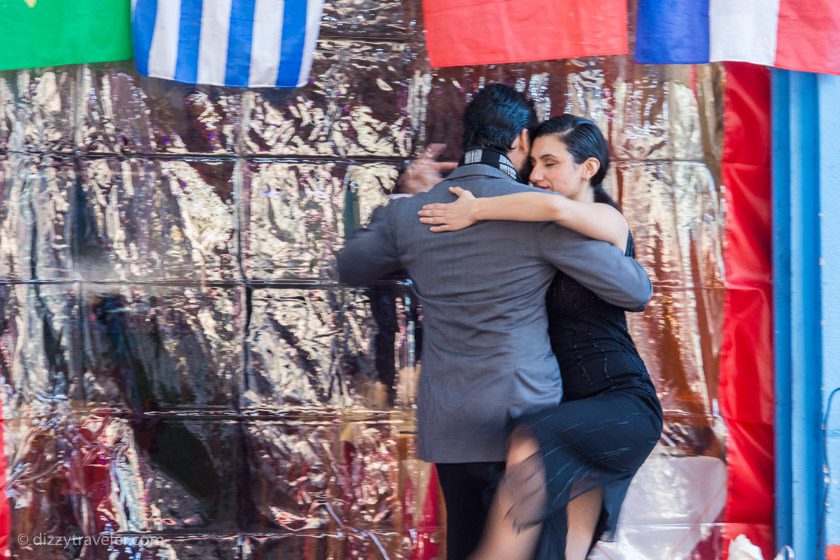 Feel the exuding vibe of El Caminito.
El Caminito is like a two-narrow cobbled-stone alley. But what lies in between has got to be the most vibrant sight on earth. As you walk down this alley, you are greeted by the intense, vivid lights and shocking colors of the facades of restaurants, bars, and shops. Although I was visiting alone, I was drawn into the crowd and felt like one with them. El Caminito bursts with energy and should be on top of your list of must-see places in Buenos Aires!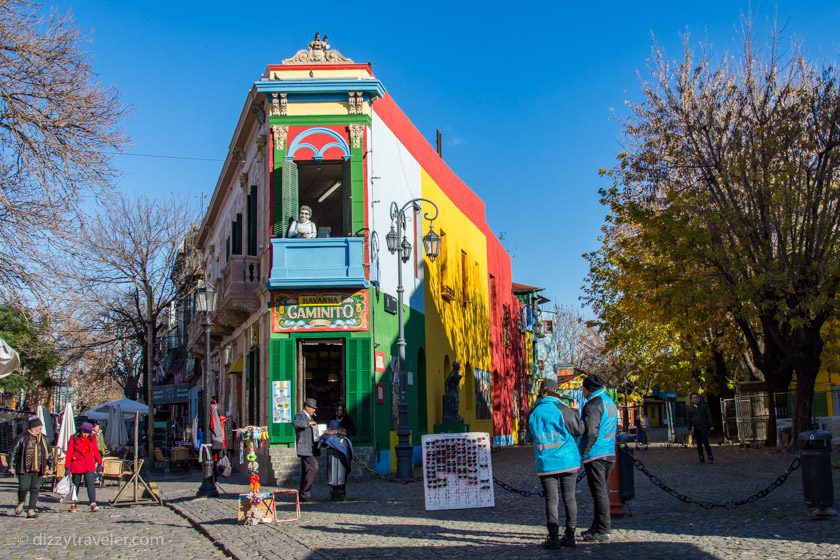 Souvenir shopping
If there is one spot to shop for some souvenir items, this is the place. The hardest challenge is peeking into the myriad shops and deciding which to buy. You better go there with a list and stick to it if you don't want your pocketbook emptied.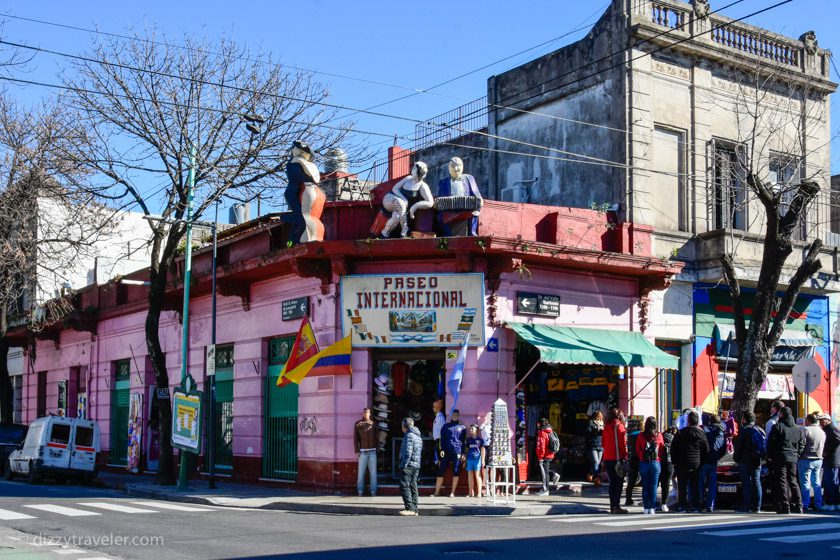 My Observation And Tips
I love Buenos Aires! I wish I had stayed in this diverse city for more than two days. However, my short visit has made me appreciate the Argentine people and their culture. They are very hospitable, helpful, and not to mention big meat-eaters and sweet-tooth!
When researching for my trip, the dominant information I got was that crimes are rampant in Buenos Aires. Honestly, that scared me, but don't let fear keep you from visiting Buenos Aires in South America because of what we hear or read about the city. Does that mean you can be gullible? Of course not, but be sensible and careful.
Where to stay in Beenos Aires, Argentina
Comfortable Studio Palermo is located in Buenos Aires, within an 11-minute walk of Plaza Serrano Square and 1.1 miles of Bosques de Palermo. The apartment has 1 bedroom, 1 bathroom, a fully equipped kitchenette, and a terrace with city views. Comfortable Studio Palermo Soho offers a seasonal outdoor swimming pool and a fitness center. In addition, this apartment has a shared lounge. Popular points of interest near the apartment include Palermo Lakes, Buenos Aires Japanese Gardens, and El Rosedal Park.
Well set in Buenos Aires, Huinid Obelisco Hotel provides air-conditioned rooms, a fitness center, and a bar. In addition, every room includes a private bathroom, complimentary toiletries, and a hairdryer. At Huinid Obelisco Hotel, the rooms are equipped with a desk and a flat-screen TV.
Guests at the accommodation can enjoy a buffet or an American breakfast. Popular points of interest near the hotel include The Obelisk of Buenos Aires, Colon Theater, and Palacio Barolo. The nearest airport is Jorge Newbery Airfield Airport, 3.7 miles from Huinid Obelisco Hotel.
My Opinion and Last Word
Have you been to Buenos Aires, Argentina? Any cool tips to share?
loved being in Buenos Aires, Argentina, and want to go back again. I hope my story has motivated you to visit Aregntina.
Please leave a comment below! I'd love to hear from you to improve my knowledge. 
Was this travel guide helpful for you?
If you'd like to help me continue making free guides, here is one way you can help:
Share This Guide 

– If you have a friend that would benefit from this guide, share it with them. Or post this guide on Facebook, Twitter, or Instagram.
Your Support would definitely help me make more free guides like this. Thank you in advance!
Affiliate Link – This post in Dizzy Traveler contains affiliate links, which means I receive a referral commission if you purchase after clicking at no additional cost to you. These funds go to maintain the site. Thank you for your supporta
Book Your Sightseeing Trip
There are a lot of beautiful places to visit and some exciting sightseeing activities to bring unforgettable memories back home. Please click on our below affiliate link to see your options.