Not so far away from Los Angeles, Santa Barbara is a beautiful coastal town located between the steeply rising Santa Ynez Mountains and the Pacific Ocean also known as American Riviera for its Mediterranean like climate. It is definitely a beautiful destination all year round, it offers fun activities for all age groups.
Plan Your Trip
How to get there
Santa Barbara is North West of Los Angeles on the 101 North freeway. Driving distance is about 108 miles from LA and takes about 2 hours.
Where To Stay
Budget Stay: This is tricky because there aren't really good budget options in Santa Barbara. For the best value, try Extended Stay America, or Ramada.
Best Time to Visit
Spring – Between March-May is the best time to visit Santa Barbara
Fall – Between September-November is also lovely to be there, even though the temperature is moderately mild year-round, hovering in between the 60s and 70s, but traveling in the spring or fall is good to avoid crowds and accommodation will be comparatively reasonable.
Top Things To Do in Santa Barbara
Visit Downtown
State Street is one of the most visited places in downtown, which is filled with restaurants, cafes, and boutiques. But for a unique shopping experience visit Funk Zone close to Urban Wine Trail. You will find many galleries and restaurants a perfect place for hanging out, also great for parties in the evening.
Visit Mission Santa Barbara
While visiting Santa Barbara the historic landmark Mission Santa Barbara should be at the top of your itinerary. It was founded in 1786, and an excellent site to start exploring and discovering about Santa Barbara's Spanish roots. Beautiful location overlooking the Pacific Ocean, mountains in the back, gardens and a historic cemetery that one can easily spend hours to explore and enjoy.
Explore Santa Barbara County Courthouse
The iconic Santa Barbara County Courthouse is located in downtown and a visit to Santa Barbara is not complete without visiting this Spanish Colonial Revival style building.
For a 360 view of Santa Barbra take the stairs up to the Clock Tower to view the 18th-century clock and experience the breathtaking picturesque views of downtown Santa Barbara with rolling mountain vistas and the Pacific Ocean in the far distance.
Don't Miss Visiting Stearns Wharf
The oldest working wharf in California and undoubtedly one of the most popular attractions in California. Nothing can beat being on Sterns Wharf and watching the Sunset in the Pacific Ocean and the rolling mountains. The Pier provides a lot of fun activities for all age groups, charming view and is the ideal place for tourists and locals alike to shoot photos, watching the sea life, and make everlasting memories.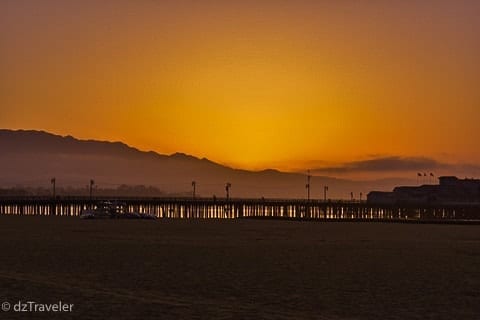 The Santa Barbara Dolphin Fountain is also an iconic symbol of the coastal town located right in front of Stearns Wharf, but don't be surprised if you end up seeing no water in the fountain due to frequent drought.
The Lobero Theatre
The Lobero Theatre is a historical building in downtown Santa Barbara. It is California's oldest, continuously running theatre. First founded in 1873 and reconstructed in 1924, it is known as one of Santa Barbara's architectural jewels and a landmark.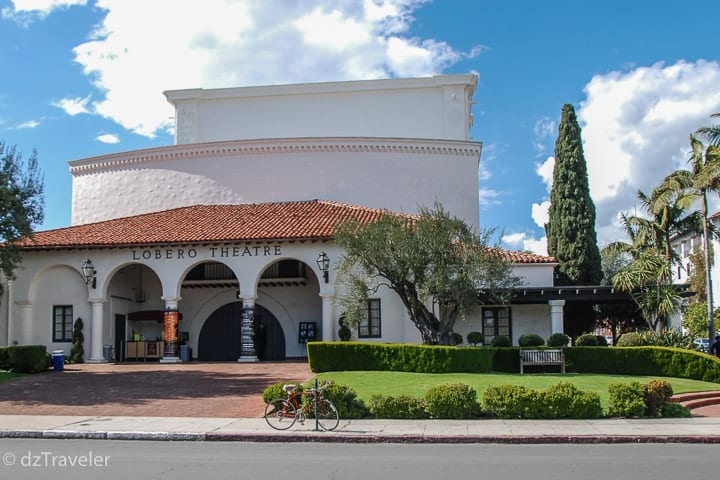 A picturesque waterfront park lined with tall palm trees, next to the beach, great for biking, jogging, and for me, it was breathtaking view as I usually don't get to see such beautiful and tall palm trees in the east coast.
Try Wine Tasting
Urban Wine Trail offers more than 20 tasting rooms to choose from, so for wine lovers, one day of wine tasting is definitely not enough in Santa Barbara. Moreover, there are also a live band and different fun events scheduled in different testing rooms on regular basis.
Hike The Rocky Pine Ridge
Do this mountain hike for the best view of Santa Barbara. It is one of the favorite among weekend visitors, not so difficult climb but will be rewarded with spectacular views and best climbing experience.
If you are fit and comfortable with navigation, it is a great hike that awards beautiful views of the rocks. The trailhead is tricky to locate, beginning at the intersection of Gibralter Rd and East Camino Cielo Rd.
Visit Leadbetter Beach
Leadbetter Beach is a City beach between the Shoreline Park and Santa Barbara Harbor. Popular for a picnic, BBQ, and other outdoor activities.
Butterfly Beach
This pretty beach regularly makes it into top California beach lists, with good reason. It's easy to access from the Four Seasons Biltmore, the gentle waves are perfect for swimming, and the beach offers some of the best spots for sunset watching in Santa Barbara. There are no public facilities on the beach, so bring your own lunch and have a nice picnic afternoon.
Recommended Restaurants
In Stern wharf, there are three great restaurants. My experience at Moby Dick Restaurant was excellent. They offer incredibly fresh seafood and choice of your favorite cocktail that goes alongside with it. The most exciting part was the outdoor cocktail patio and the Sunset Room which is a perfect setting for an evening meal.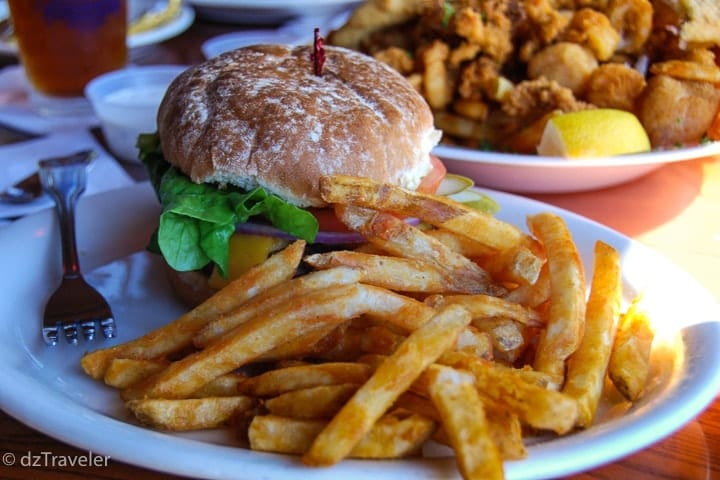 Recommended Hotels
Ramada by Wyndham Santa Barbara – 4770 Calle Real Hwy 101 and Turnpike Road Santa Barbara
The Upham Hotel & Country House – 1404 De La Vina Street Santa Barbara
My Opinion and Tips
Have you been to Santa Barbara? Any additional tips to share?
Please leave a comment below! I'd love to hear from you to improve my knowledge.
Was this travel guide helpful for you?
If you'd like to help me continue making free guides, here is one way you can help:
Share This Guide – If you have a friend that would benefit from this guide, share it with them. Or post this guide on Facebook, Twitter or Google+
Your Support would definitely help me making more free guides like this. Thank you in advance!
Affiliate Link – This post in Dizzy Traveler contains affiliate links, which means I receive a referral commission if you purchase after clicking at no additional cost to you. These funds go to maintain the site. Thank you for your support.
Here are a few pictures that will tell the trip stories of Dizzy Traveler.
Please Click Here For Slideshow:
Pin it to your favorite travel Pinterest boards