Pattaya offers many things to do, from partying to relaxing to sunbathing. Moreover, Pattaya has developed a reputation as a convenient place to enjoy the sunshine, sandy beaches, and sea over the years. Being only 2 hours (95 miles) driving distance from Bangkok; therefore, it's definitely a perfect destination that can be considered when you have a limited stay in Bangkok and can't fly to other distended beach destinations. Experience the beautiful beaches, great nightlife, and the picturesque Koh Larn also known as Koh Lan (Coral Island).
Getting There
We, a group of 4, went there by hired taxi from Bangkok and it took us a little over an hour. Little expensive, but we shared the cost of Bath 1500 (approx US$ 45). Many people travel by bus, and it is an inexpensive way to travel from Bangkok or Suvarnabhumi International Airport to Pattaya.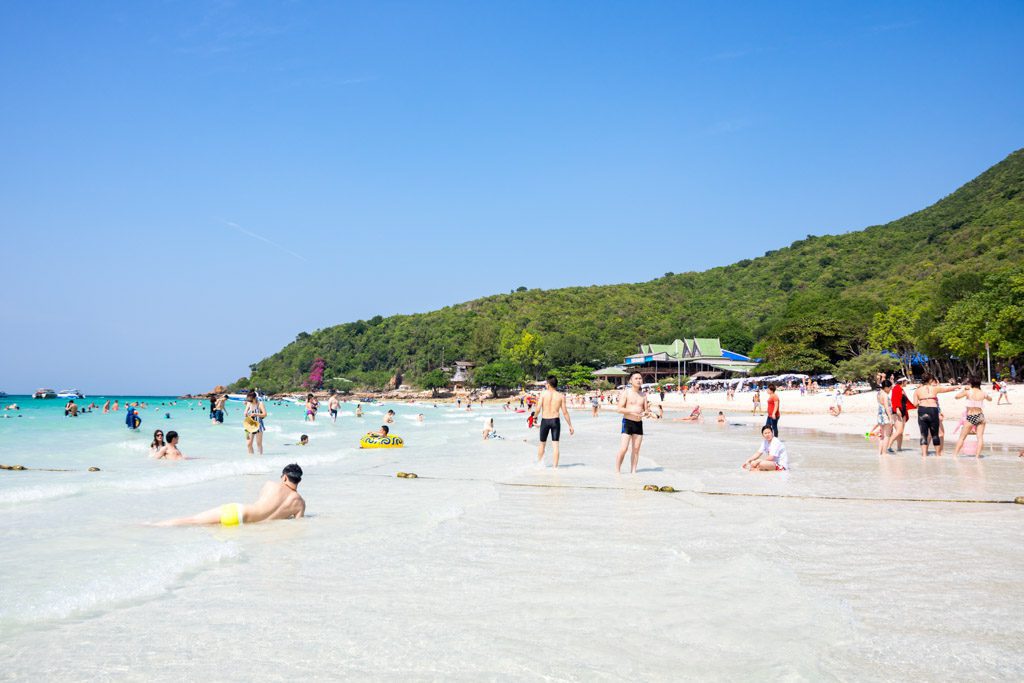 Getting Around
Songthaew – A Songthaew is the primary mode of transportation in Pattaya. It's a pickup truck, and the back area is converted with two benches as a sitting area for the passenger. They have services throughout the city and Jomtien, Naklua, Sriracha, Sattahip. It is cheap and convenient if you are brave enough. A single trip cost is around 15 – 30 baths ($ .5 to $1 ), to hire a songthaew one way only for yourself is going to cost you appx 3 – 5 dollars.
Grab (ride-hailing service) – If you have a working local cell phone, all you need is to install the Grab app to use their service Asian version of Uber. So so very convenient. I use them all the time.
Public Bus – The public bus network is good in Pattaya, but I never used it due to language barriers.
Things to do in Pattaya
Viewpoint Pattaya Sea island touch
Khao Pattaya viewpoint is on the top of Pratumnak Hill (elevation 2589 ft), a photographer's heaven from where you get to see spectacular panoramic views of Pattaya City. The Buddhist temple Kho Phra Bat is also located on the summit is one of the main attractions in the city. I would recommend being the during sunset and in the evening.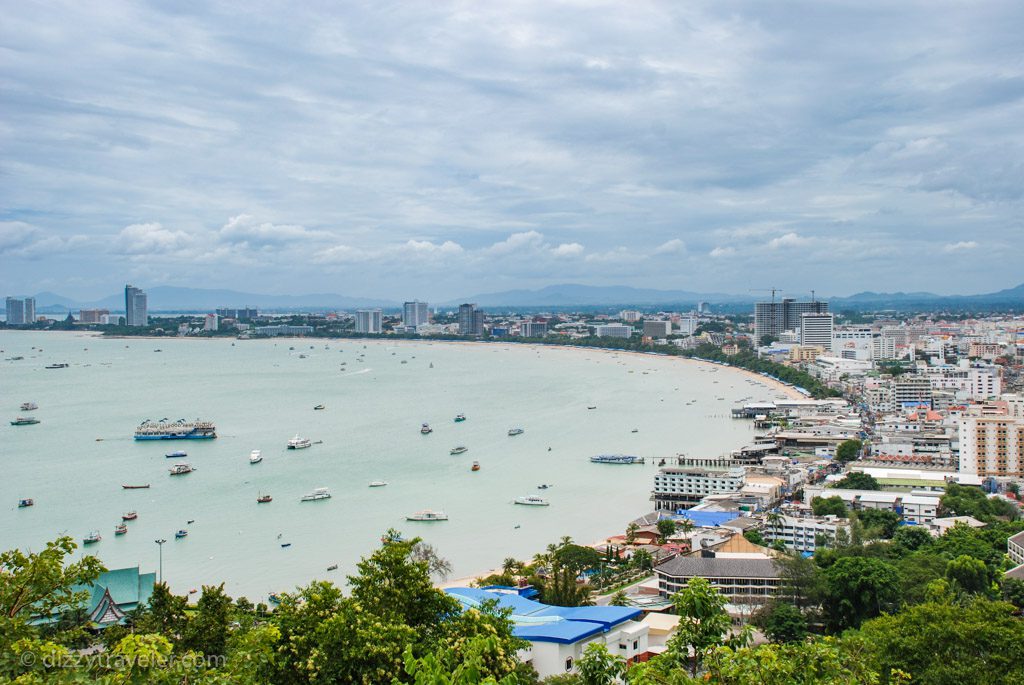 Visit Pattaya Floating Market
The Four Regions Floating Market Pattaya is a perfect way to escape Pattaya's chaos and enjoy the riverside experience and traditional Thai way of life back then. Pattaya floating market is located on Sukhumvit Road to Sattahip, about 8 miles (12 km) from Pattaya beach road. There are many boats for hire for a small cost, and enjoy shopping from the wooden boat, especially authentic Thai dishes, desserts, fruits, and much more. Besides food, you will find local handicrafts, other goods, and entertainment.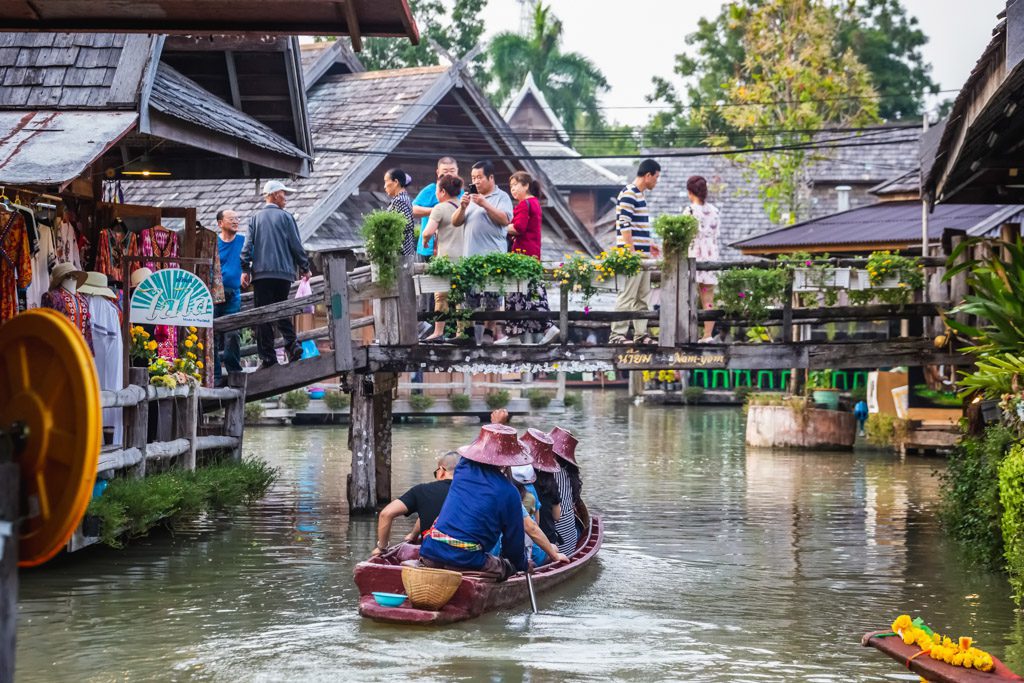 Explore Beach Road and Pattaya Beach
Pattaya beach and Pattaya road are very popular among tourists and locals alike. In addition, several large malls, Museums, and floating restaurants attract visitors during the day and become a party place at night. Beach Road is the best area to stay in Pattaya for those who love nightlife. Pattaya beach is not the most excellent beach compared to all other beautiful beaches the country offers, but it's undoubtedly crowded due to its proximity to Bangkok.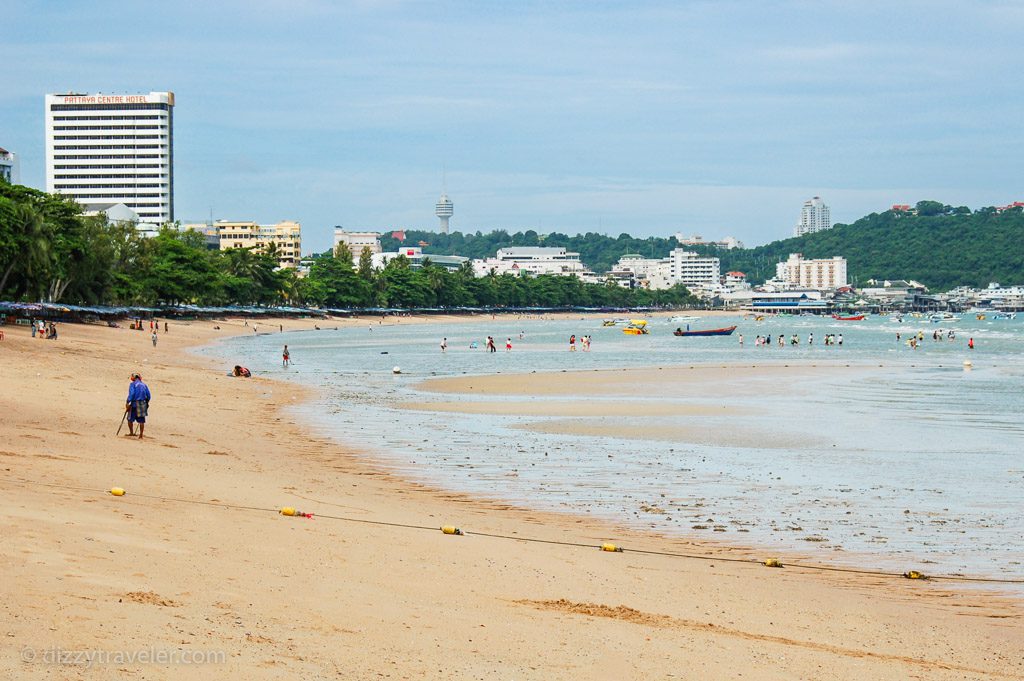 Visit Nong Nooch Tropical Garden
Nong Nooch Tropical Garden is one of the most famous attractions in Pattaya. The botanical park is packed with plants, gardens, playgrounds, restaurants, entrainments, and shows. It is a day trip event about 16 miles (25 km) from Pattaya beach road if you add this to your floating market trip.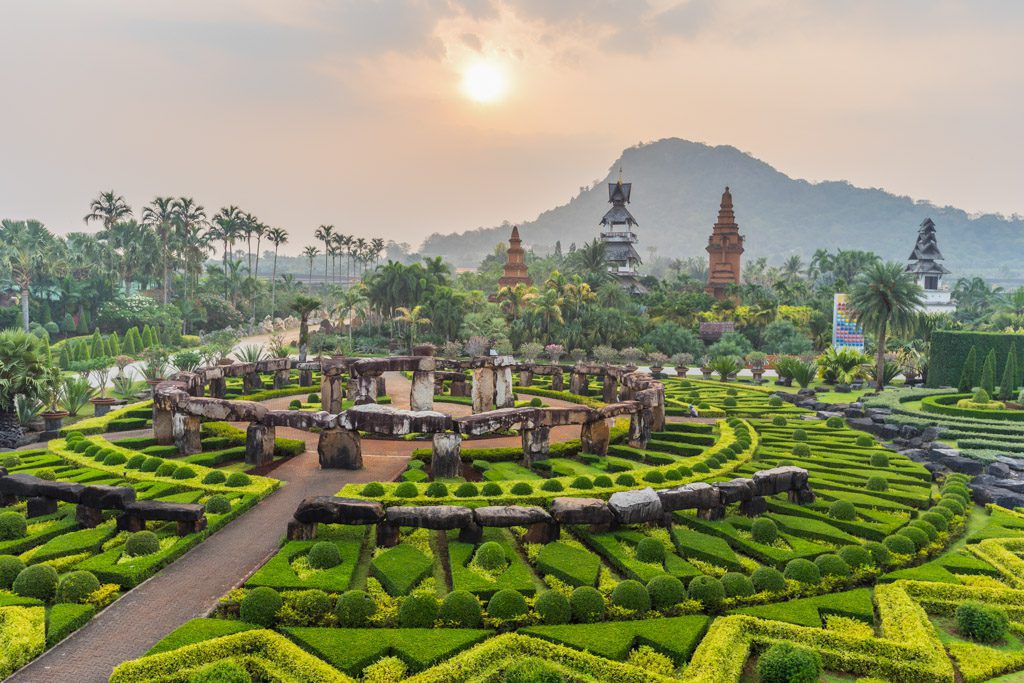 The Sanctuary of Truth
The Sanctuary of Truth is one of the most iconic architecture in Pattaya. It is a vast wooden castle still under construction based on the Ayutthaya era and Buddhist and Hindu beliefs. This majestic wooden building project was started in 1981 by Thai billionaire Lek Viriyahbhun and is located just a few miles north of Pattaya in the Naklua area.
For Nightlife Visit Walking Street
Regardless of whether you are a party person, it is worth checking out Walking street for nightlife activities. Not a good idea to visit this area with the family, though. All the action only starts in the evening with the business opening for tourists and never sleeps until early morning hours. You will find a lot of pubs, gogo bars, and other entertainment.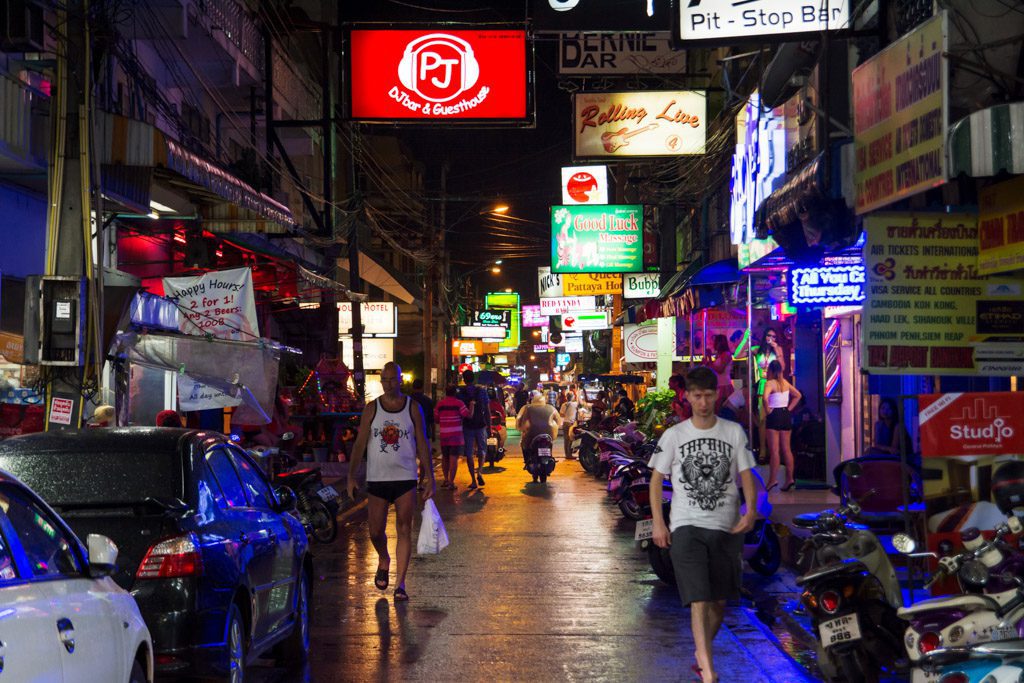 Day Trip to Coral Island (Koh Larn)
Koh Larn, also known as Ko Lan or Coral Island, is a small picturesque island about 7 miles (11 km) boat ride from Pattaya. A great day trip location from Pattaya but, definitely worth staying over for a day or two. There are a couple of beautiful beaches much quieter than Pattaya, and my recommendation is Ta Yai Beach, Tawaen Beach, Tien Beach, and Samae Beach. Since the island is only 2.5 miles (4 km) long and 1.5 miles (2 km) wide, getting to and from is not difficult.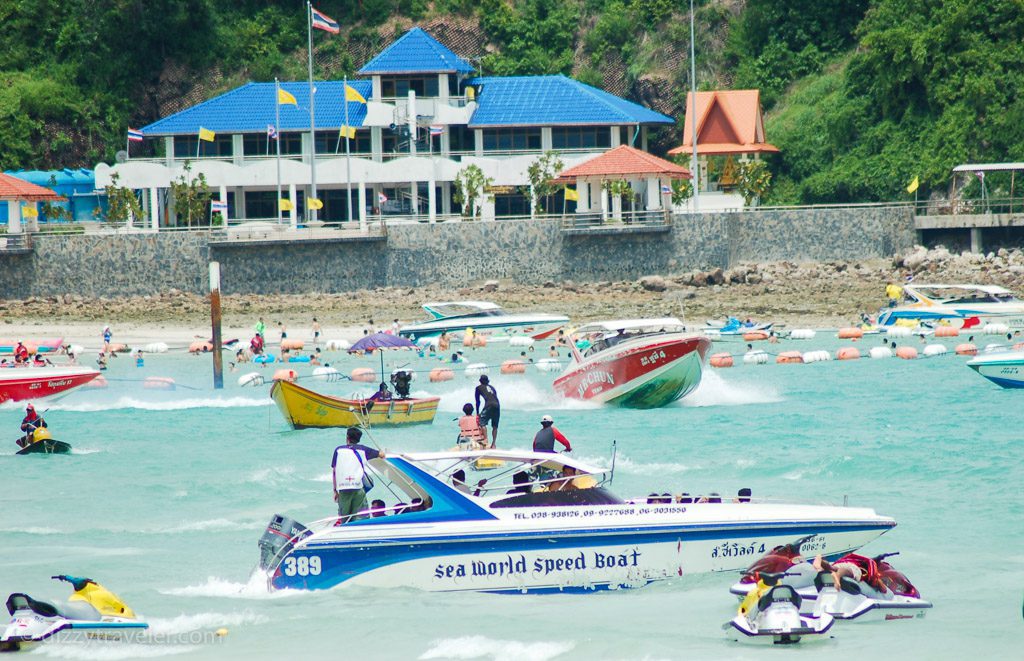 Where to stay in Pattaya, Thailand
If you like to be in the City Center, don't mind dealing with the traffic, and want to experience the look and feel of any other metropolitan city in the world. The beachfront area around Beach Road may be an excellent place to stay. For travelers to experience its nightlife, the walking street area is the place for you. Alternatively, Jomtien Beach and the North Pattaya area are family-friendly and quieter experiences. Here are a few hotels I stayed during my multiple trips to Pattaya, take a look!
Located on a quiet beach stretch along Pattaya Bay, Dusit Thani Pattaya offers sweeping sea views. It features three restaurants and two swimming pools. Guests enjoy free parking. Dusit Thani Pattaya is 4.3 mi from the Elephant Village and 5.9 mi from the Floating Market. Bangkok City is a 1.5-hour drive from the hotel. A family friendly great place to stay in Pattaya. 
Located on the popular Beach Road, Holiday Inn Pattaya features sea views from all 567 guest rooms and suites with the added comfort of a private balcony. The guest will have the opportunity to enjoy breakfast or evening drinks while enjoying the panoramic view of Pattaya city. In addition, the hotel features 4 outdoor pools and a fitness center. Holiday Inn Pattaya is a 90-minute drive from Bangkok Airport. Central Festival Pattaya Beach is a short walk away, and The Sanctuary of Truth is 2.5 mi away.
My Opinion and Last Word
Have you been to Thailand? Any cool tips to share?
Over the years I have visited Thailand multiple times, during this trip, I taken a road trip to Pattaya from Bangkok mostly for sightseeing, food, and beach hopping experience.  During this trip, I had one of the most unforgettable adventures of my life and definitely loved it. Hope my story has given you some idea and motivated you to plan a trip. 
Please leave a comment below! I'd love to hear from you to improve my knowledge. 
Was this travel guide helpful for you?
If you'd like to help me continue making free guides, here is one way you can help:
Share This Guide – If you have a friend that would benefit from this guide, share it with them. Or post this guide on Facebook, Twitter or Google+
Your Support would definitely help me make more free guides like this. Thank you in advance!
Affiliate Link – This post in Dizzy Traveler contains affiliate links, which means I receive a referral commission if you purchase after clicking at no additional cost to you. These funds go to maintain the site. Thank you for your support.
A Few Pictures From My Pattaya and Coral Island Trip