Poas Volcano National Park is one of the most visited national parks in Costa Rica, drawing visitors to witness its stunning beauty and natural wonders. This is the first place I visited in Costa Rica, only 31 miles (50 km) from San Jose. At the altitude of 8,885 feet (2708 meters) above sea level, the temperature (between 45º F – 70º F) is perfect for a smooth hike up to the smoking craters and lake. Within the approximately 25 square miles park's ecosystems, you will find lush rainforests, cloud forests, and a unique high-altitude volcanic environment.
One of the main attractions of Poás Volcano is its active crater, known as the Main Crater. It is one of the largest volcanic craters in the world, measuring approximately 1.5 kilometers (0.9 miles) in diameter and 300 meters (984 feet) deep. The crater is constantly emitting sulfuric gases and occasionally experiences phreatic eruptions, creating a mesmerizing spectacle for onlookers.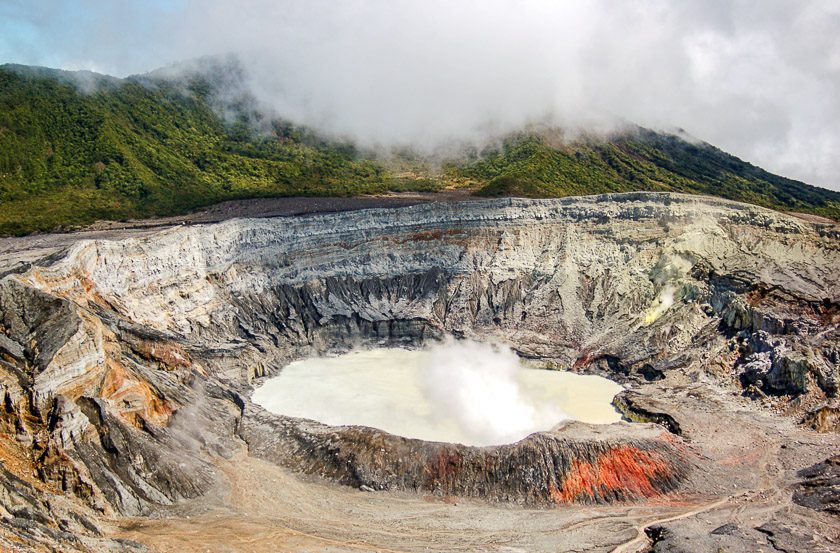 Visitors to Poás Volcano can hike along well-maintained trails that lead to various viewpoints, allowing them to observe the volcano's magnificent crater and the surrounding landscape. On a clear day, the views from the summit offer panoramic vistas of the surrounding forests, mountains, and even the Pacific Ocean. It's important to note that due to the volcanic activity, the accessibility to the crater is regulated by park authorities, and occasionally, the park may close temporarily for safety reasons. Therefore, it's recommended to check the park's current status before planning a visit.
Overall, a trip to Poás Volcano offers a unique opportunity to witness the power of nature up close and appreciate Costa Rica's geological wonders. It is an experience that combines adventure, natural beauty, and a deeper understanding of the Earth's geological processes.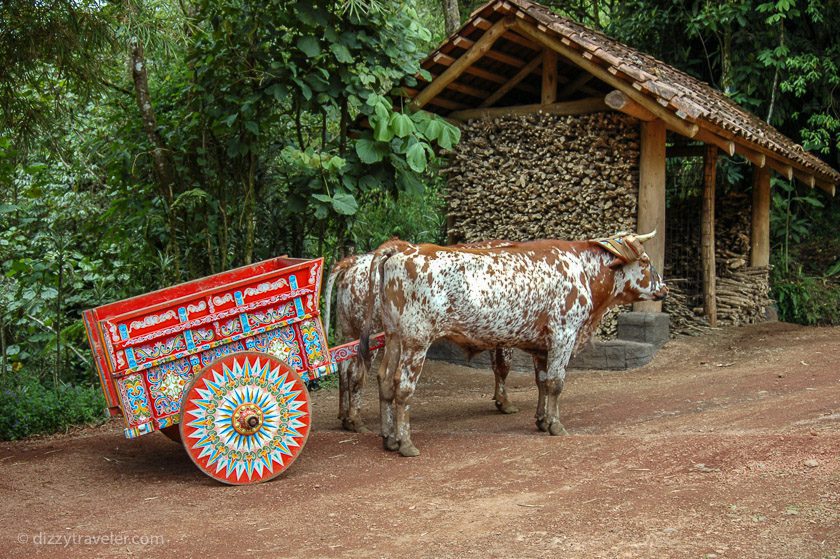 Best Time to Visit
December through April is the dry season and the best time to visit the park when the crater visibility is most consistent. We visited Poas early in the morning, and the main crater view was very clear. But I saw clouds roll in periodically during my stay there. Daytime temperatures can dip into the 50s, so a light jacket or sweater is advised. Weekends are a little crowded, so plan accordingly.
How to Get There
By Taxi:
Taxi may be a suitable option depending on individual preferences, but for me, a rental car was the best fit. A taxi from San Jose to the main entrance of the park may cost you between US$ 60 – 70
By Public Bus:
You can catch a bus to Volcano Poas from San Jose or Alajuela, but bus travel can be tricky within Costa Rica if you don't know what you're doing.
A TUASA bus departs from Avenida 2, Calles 12/14 in San Jose at 8:30 am, arriving at Alajuela's main bus terminal around 9:00 am en route to Poas Volcano. The journey is usually a little more than 2.5 hours each way, and only one return bus departs Poas for San Jose (via Alajuela) at 2:30 pm.
Self-Driven Car:
Driving through the scenic roads took me a little longer than expected; moreover, I did not get lost since my GPS from the USA was working fine. We took route one from San Jose to Alajuela. Then follow the signs and continue on this road through Alajuela, following numerous signs to Poas. We stopped at roadside coffee shops, restaurants, and wine stores; definitely, it was fun.
What to Bring to Volcano Poas
Bringing a hoodie and rain rear would help, as it's a little chilly up there. Also, it will be handy if you are visiting rainforests and waterfalls on your way back. Other than that, you don't need much for this trip. First, 10 minutes of hiking to the main crater viewing point is not difficult. Then a 50-minute, mostly-paved loop hike to get to the second crater. Public restrooms and hot drinks and snacks are available.
Things To Do In The Park
Hiking in Poas
Hiking is a great way to explore Poas Volcano National Park; you will get to see not only the beautiful view of the craters that boils out sulfurous gases but also will have the opportunity to view the impressive wildlife at the park. Some wildlife you will find at Poás Volcano National Park is the cloud forest birds, including hummingbirds, tanagers, toucanets, the clay-colored robin, and the stunning quetzal.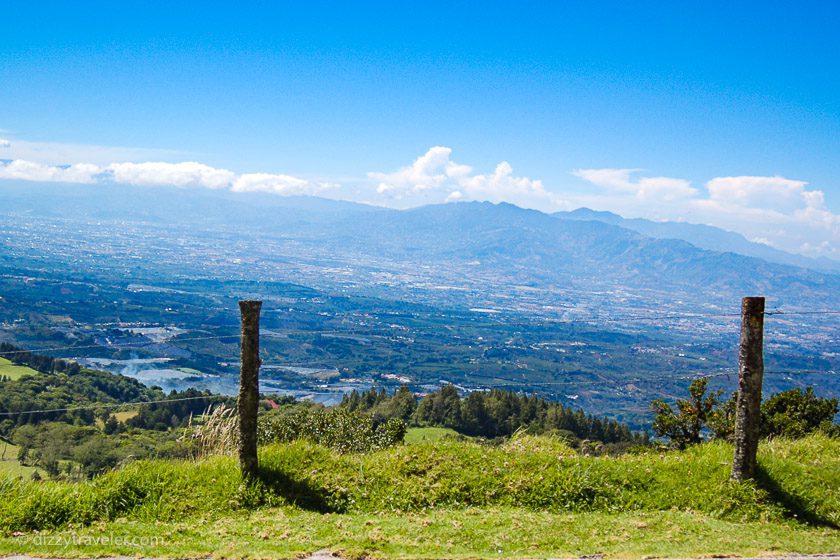 Visit Botos Lagoon
The Botos Lagoon connects to the Rio Angel. Its surroundings are home to a number of hummingbirds, toucanets, flycatchers, and quetzal, the most famous bird in all of Costa Rica, to name a few. This cold and clear crater last erupted about 7,500 years ago.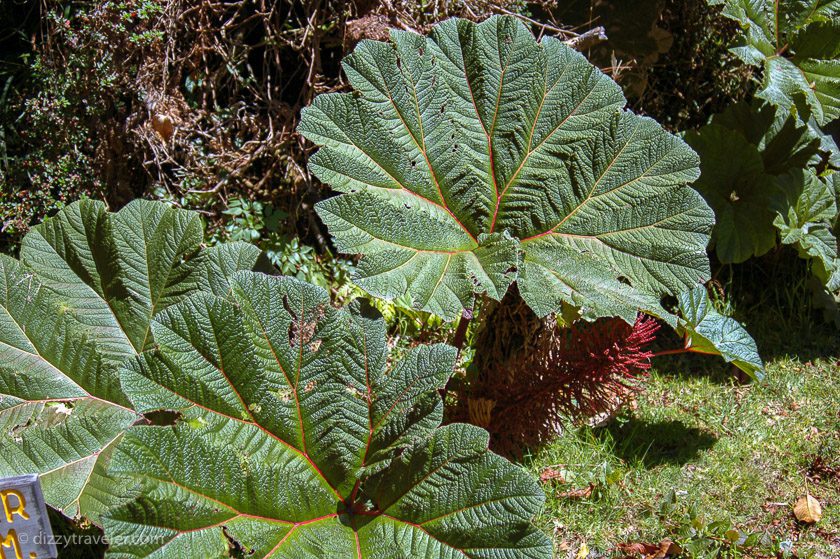 Habitats in the Park
There are four habitats evident in the park. A stunted forest, areas with little or no vegetation, and a cloud forest area. In these habitats, you can see some coyotes, deer, marsupials, bats, felines, skunks, Poas, green-yellow squirrels, and about 79 bird species.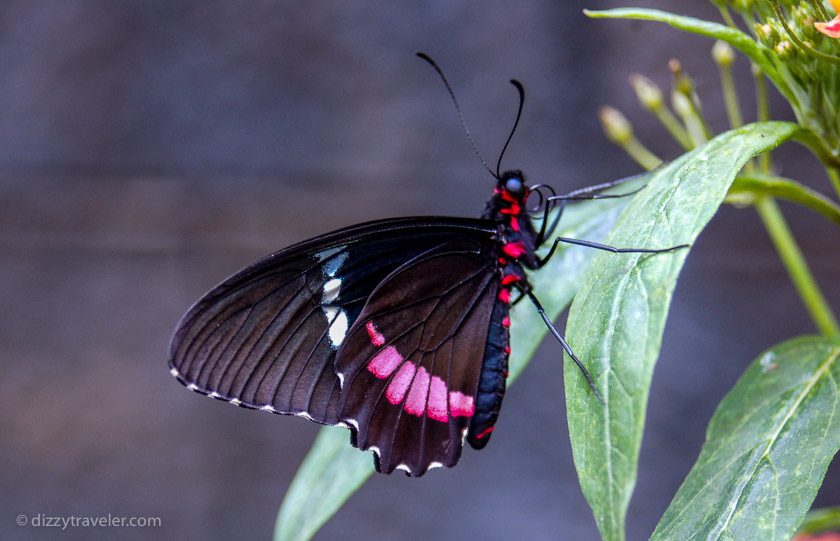 Visit Coffee Plantations on the Way
The road to Poás Volcano National Park is so beautiful, with a variety of coffee plantations along the way. Stopping by the coffee farm is a soothing idea to warm your body after a cold tour around the Poas Volcano National Park. The volcano's lower slopes are filled with fruit farms and ornamental flower farms. Some of these flowers are commercialized already, but they still look different when you see them in their natural habitat.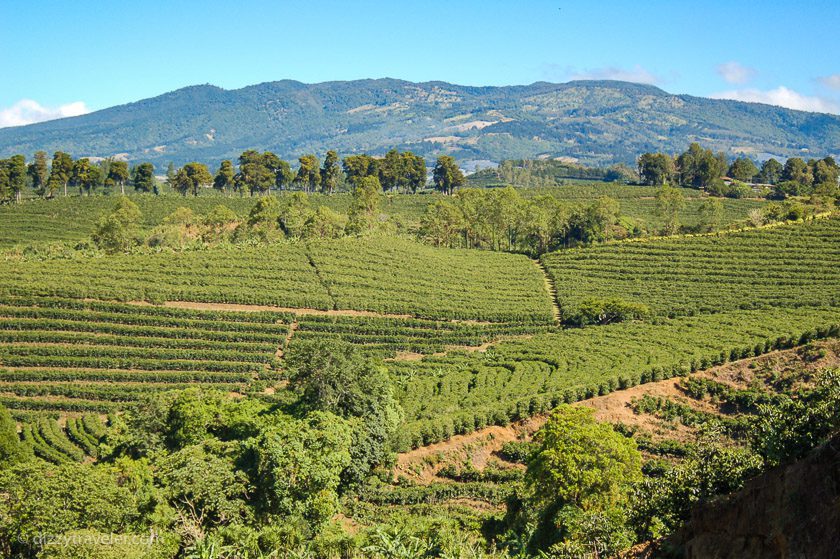 La Paz Waterfalls
La Paz waterfall is also located only a few miles from the national park, so it may be the best idea to visit this exciting site on the way back from the volcano. Also, the La Paz butterfly garden is so beautiful to visit if you want to see some beautiful birds and butterflies—the perfect place to have your lunch in one of the traditional restaurants in the park.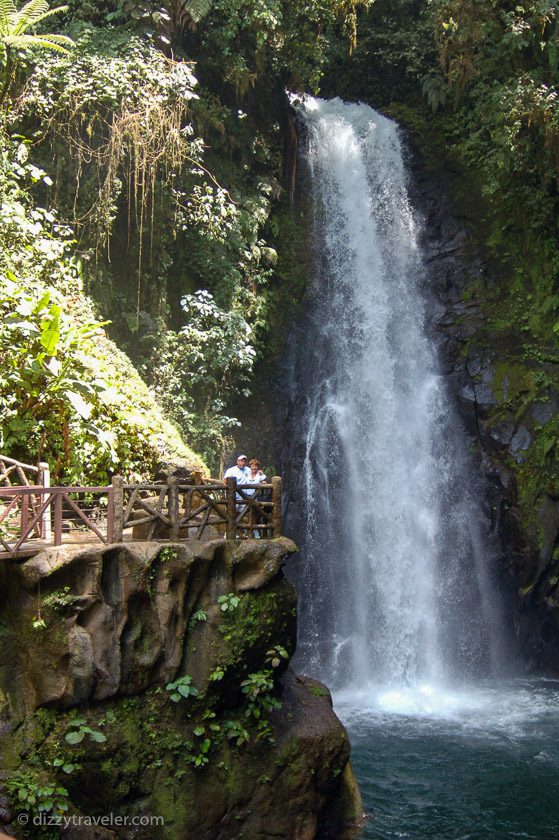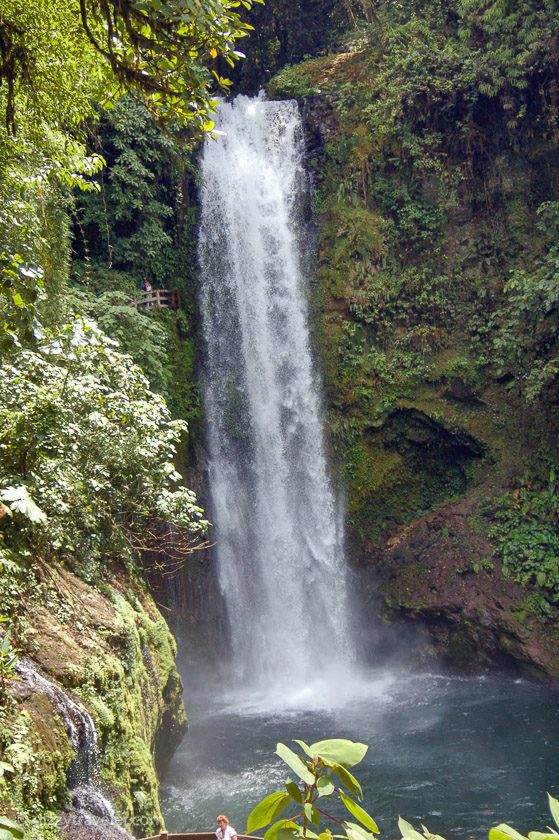 Fast Facts About Poas Volcano
Region: San Jose's Central Valley & Highlands
Closest Town: Alajuela, 23 miles south
Volcano Altitude: 8,885 ft (2708 m) above sea levelVolcano Altitude: 8,885 ft (2708 m) above sea level
Closest Airports: San Jose (SJO)
Average Temperature: 45º-70º F (8º-21º C)
Park Admission Fees and Hours: Poas Volcano National Park is open from 8:00 am to 3:30 pm, 7 days a week, with a $10 entrance fee.
Where to stay around Volcano Poas, Costa Rica
Featuring a beautiful mountain setting just one mile from Poás Volcano National Park, Altura Hotel features rooms with views of Costa Rica's Central Valley. This charming hotel is on attractive grounds with gazebos and walking paths. There is a sitting area with a fireplace, flat-screen cable TV, a mini-fridge, and tea and coffee-making facilities. Guests can enjoy a continental or traditional Costa Rican breakfast in Altura's dining room. The staff at the front hotel desk can arrange excursions to local coffee plantations, national parks, and waterfalls. Canopy tours of the rainforest at Las Colinas can also be arranged. The hotel has a peaceful location outside Fraijanes, just a 20-minute drive from the city of Alajuela. San José is approximately 22 miles away.
Quinta Esencia features mountain views, free WiFi, and free private parking in Alajuela, 8 miles from Poas National Park. There's a fully equipped private bathroom with a shower and complimentary toiletries. In addition, guests can relax in the garden at the property. La Paz Waterfall Gardens is 10 miles from the lodge, while Alejandro Morera Soto Stadium is 10 miles away. The nearest airport is Juan Santamaría International Airport, 12 miles from Quinta Esencia.
My Opinion and Last Word
Have you been to Volcano Poas, Costa Rica? Any cool tips to share?
I loved being in Volcano Poas, Costa Rica, and want to go back again. I hope my story has motivated you to visit Costa Rica.
Please leave a comment below! I'd love to hear from you to improve my knowledge. 
Was this travel guide helpful for you?
If you'd like to help me continue making free guides, here is one way you can help:
Share This Guide 

– If you have a friend that would benefit from this guide, share it with them. Or post this guide on Facebook, Twitter, or Instagram.
Your Support would definitely help me make more free guides like this. Thank you in advance!
Affiliate Link – This post in Dizzy Traveler contains affiliate links, which means I receive a referral commission if you purchase after clicking at no additional cost to you. These funds go to maintain the site. Thank you for your support.
Book Your Sightseeing Trip
There are a lot of beautiful places to visit and some exciting sightseeing activities to bring unforgettable memories back home. Please click on our below affiliate link to see your options.