Tropical Costa Rica sitting perfectly between the North and South American a perfect place for eco-tourism. There are hot springs tucked away in lush rainforests, handing bribes over misty cloud forests, palm-tree studded white-sand beaches, dramatic seaside cliffs, the arid rolling hills of Guanacaste there's no end to the experiences. Visit Arenal Volcano and wonder at a massive volcano and surrounding verdant rainforest.
Visa Requirements
Citizens of the United States and most European nations don't need a visa to visit Costa Rica unless the length of your stay exceeds 90 days. Visitors must pay a Costa Rican departure tax of $29 when leaving the country.
Transportation in Costa Rica
The main ways to get around in Costa Rica are by public bus, rental car, taxis, shuttle minivan or small planes. Public buses are the cheapest option, but they aren't always convenient.
Rent-a-Car is a good option if you are traveling in a group and have few days to spend. Driving in Costa Rica is not so crazy, and very hard to get lost if you have a GPS. Sometimes in the Monteverde area, you may lose the signal but still, there are not so many roads that may confuse you as long as you don't jump off the mountains. Renting a car is affordable.
While the buses aren't luxurious, the ride is definitely doable. You can expect to pay around $3 to go from one town to the next or to up to $20 USD to travel across the entire country.
Shuttle buses cost about $40 – $80 USD per person from one town to another.
If you're short on time and willing to spend some extra money you may want to travel using small domestic planes from local airlines Sansa and Nature Air. You can get a flight starting around $30 by booking in advance.
Things To Do In Costa Rica
Costa Rica has attractions, national parks and small towns that are not so touristy but full of wilderness activities and offer travelers great scape and they won't break the bank either.
Visit Poas Volcano National Park
Poas Volcano National Park is one of the most visited national parks in Costa Rica. This is the first place I visited in Costa Rica. Only 31 miles (50 km) from San Jose. At the altitude of 8900 feet (2712 meters) above the sea level, the temperature (between 45º F – 70º F) is perfect for a smooth hike up to the smoking craters and lake.
If you are in San Jose you should not miss the opportunity to see one of the biggest geyser craters in the world and most of the time you get to see a full view as it's up in the cloud forest. Since the route is very scenic so we had to make frequent stops for pictures, as a result, it took us roughly an hour and a half to get there. The entrance fee was US$ 10.00 for foreigners. For more details see my blog on Poas Volcano.
Rio Sarapiqui
Originating from Botos Lake and other clear mountain streams, the Sarapiqui River runs from the Central Mountain Range just north of San Jose to the San Marcos River which runs along the shared border between Costa Rica and Nicaragua.
On our way back from Poas Volcano we took a cruise in Sarapiqui river where it travels through tropical wet forest environment. There was plenty of opportunities for us to view wildlife on the calm stretches between the rapids. We saw several different species of monkeys, sloths, crocodiles, river turtles, iguanas, hummingbirds, woodpeckers and much more. If you are interested in white water rafting this river is well known for it as well.
Visit Monteverde – A Forest in the Cloud
Monteverde (Green Mountain) is one of Costa Rica's top ecotourism destinations. Where trees are covered in layers of thick moss and plants grow on top of one another due to a constant haze of clouds and filtered sun. This unique habitat, called the cloud forest, is home to an abundance of birds and other wildlife. This was my second trip to Monteverde.
Getting to Monteverde require planning unlike me drove up there with a rental Toyota Corolla during my first trip. Places where there was no cell phone service and also GPS signals were lost a couple of times. Luckily we did not get stuck anywhere during the trip. But during my second trip I did not make the same mistake again so no matter what time of the year you visit, I recommend an SUV with higher clearance and 4×4 if possible.
A great place for hiking through the cloud forest, the most popular one has guided night tours if you are interested to see wildlife that might not be seen during the day. Zip lining and hanging bridges are well known and another way to enjoy the cloud forest.
If you are planning a trip to Costa Rica this gorgeous park should be on the top of your list.
Arenal Volcano (La Fortuna)
Costa Rica is home to many active volcanoes with Arenal being the most visited and famous one. A perfect cone-shaped peak Volcano Arenal towers over the nearby town of La Fortuna. It's about 1600 meters high and 140 meters wide can be seen from miles away. If you are visiting La Fortuna then Volcano hiking is a must, but unfortunately, you can't see lava oozing out of the volcano anymore.
Beach Town Jaco in Puntarenas
The closest beach to San Jose is in Puntarenas should not miss Playa Jaco, Hermosa or even Herradura. Jaco is a lively town with good restaurants and nightlife. It is notable for having too many activities such as safaris, horse riding, surf, fishing any many more. It's easy to get there from San Jose.
If you like surfing, the most recommended beach is Playa Hermosa. Playa Jaco is the clean and quiet beach, but not like the typical Caribbean beach, sometimes the sea is rough and too difficult to swim. One of the most visited day trips that you can't miss is that of Manuel Antonio National Park, which is not far from Jaco. The park is a combination of beautiful beaches with lush dense jungles and exotic animal and bird species and exquisite coral reefs.
Turubari Eco Park and Rainforest
Turu Ba Ri is an Eco-adventure oriented theme park that is not far away from Jaco, Puntarenas. It offers premium quality one-day adventure rainforest tours such as the famous Costa Rica canopy tour, the rainforest aerial tram tour, the tropical park tour, the horseback ride tour, the sensational cable tour and much more.
The natural surrounding of the Turu Ba Ri Tropical Park is the ideal place for visitors who are looking to learn more about Costa Rica's natural history, discovering our ancestor's lifestyle, having an adventure experience or simply enjoy the beautiful landscape. It has a total extension of 650 acres in beautiful scenery, surrounded on the northeast by the Rio Grande de Tarcoles, to the southwest by the Turrubares hillsides and the Carara National Park and to the west by the Nicoya Gulf, which you can see from the highest elevation areas.
Playa Tamarindo
Lively Tamarindo is a hyped-up surfing and water-sports beach with wild nightlife. Most visitors come here to surf and learn Spanish. The beach is gorgeous and shouldn't disappoint you.
Corcovado National Park
Corcovado is for adventure lovers, where you can hike through the jungle searching for unique Costa Rican wildlife like tapirs, toucans, and pumas. The largest of Costa Rica's parks, it covers one-third of the Osa Peninsula. While you can't hike the park on your own anymore, it's possible to hire a local guide to show you the way.
Tortuguero National Park
Ever dreamed of sea turtles? Tortuguero National Park is the place to go because endangered green turtles are breeding on the beach here. Tortuguero is also home to many birds, crocodiles, monkeys, sloths, and manatees, so if you're a fan of the jungle you'll love it! Boat or kayak tours through the jungle will cost you between $40 – $60.

San Jose – Capital of Costa Rica
If you are arriving at Juan Santamaria (SJO) the largest international airport in Costa Rica then you can get to San Jose by hopping on a bus, by taking a taxi, or by hiring a shuttle service. City Center is located about 30 minutes from the airport.
If your hotel is in the city center then exploring San Jose downtown by foot is easy as the heart of downtown is relatively compact, and there are areas that are for pedestrians only. Museums, architecture, and culture of Costa Rica are within walking distance.
Where I stayed in Costa Rica
Hotel Arenal Lodge, 142 142, Provincia de Alajuela, Costa Rica – 200 meters Northwest from the dam of the Arenal Lake, Fortuna de San Carlos,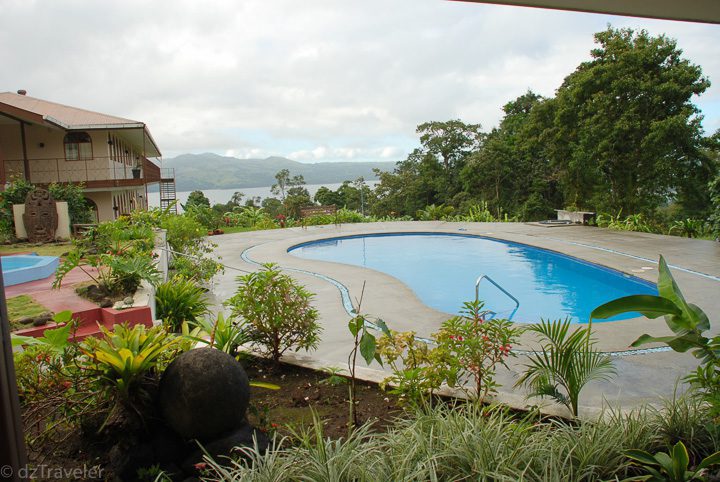 Hotel Balmoral. Avenida Central Calles 7 y 9, San José, 10303, Costa Rica
My Opinion and Tips
Have you been to Costa Rica? Any additional tips to share?
Please leave a comment below! I'd love to hear from you to improve my knowledge.
Was this travel guide helpful for you?
If you'd like to help me continue making free guides, here is one way you can help:
Share This Guide – If you have a friend that would benefit from this guide, share it with them. Or post this guide on Facebook, Twitter or Google+
Your help would definitely help me making more free guides like this. Thank you in advance!
Pictures That Will Tell The Trip Story