Arenal's perfectly symmetrical shape makes it a visitor's dream, while its abundance of outdoor activities makes it an easy place to check things off your "must-do in Costa Rica" list. Until 2010, it was Costa Rica's most active volcano. Much to the enjoyment of its visitors, Arenal spewed enormous amounts of lava, gas, and ash regularly. That eruptive cycle – which began with the infamous eruption of 1968 – ended recently. In October 2010, Arenal entered into an indeterminate resting phase. For now, visitors will be unable to watch the much-loved explosions, although that could change within months or years. Travelers to Arenal will still enjoy its bountiful sights, sounds, and activities— there are mountains to be hiked, lakes to be fished, and rivers to be floated. As one of the country's most scenic and accessible areas, it is a requisite stop on any tour of Costa Rica.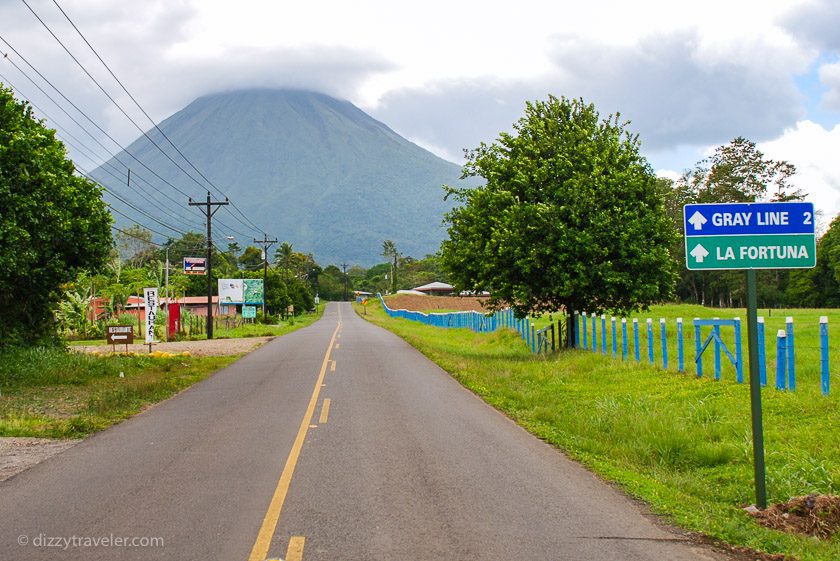 Best Time to Visit
The best time to visit La Fortuna is between November and April. During this time weather becomes dry and beautiful, with moderate temperatures, less rain, and warm sunshine. If you are lucky may be able to see the volcano clearly.
November – April is the dry season; the temperature is between 19ºC – 24ºC ( 66ºF – 75ºF)
May – November Is the rainy season weather can be quite unpredictable.
How to Get There
Self Driving:
From San José: The shortest way from SJO is through the Inter-Americana highway passing through San Ramon and La Tigra. This route takes about 3 and a half hours.
From Guanacaste: Take the Interamericana highway passing through Cañas and turn off when you reach Tilarán. Then, drive all the way around Lake Arenal to reach the national park. This route takes roughly 3 hours.
By Bus:
There are many shuttle companies that service from San José to La Fortuna. The cost of a one-way ticket per person is around $45. A private shuttle is also available but more expensive, around $180-200.
Public buses cost around $4, take about 4-5 hours, and leave 3 times daily: 615 AM, 840 AM, and 1130AM.
By Air:
Domestic flights are available via airlines such as Nature Air and cost around $150 one way, depending on where you are coming from.
Taxi:
If you are coming from Monteverde, some companies have taxi/water taxi services between Monteverde and Arenal. This takes around 3 hours and costs around $170 per person.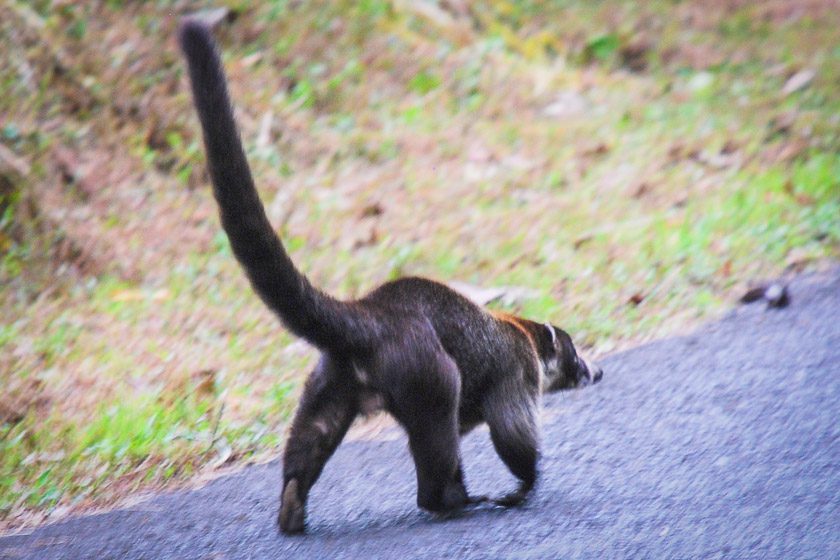 Top Things To Do In La Fortuna and Arenal
Get A Close-up View of Arenal Volcano
Without a doubt, however, the most popular of Costa Rica's volcanic giants is Arenal. Located in the northern part of the country, it towers over the surrounding fertile landscape, surrounded by plantations producing the best coffee in the world. The symmetrical cone-shaped Arenal Volcano erupted an average of 41 times a day in the past. While it currently slumbers, Arenal and the surrounding area are a great base for adventure touring.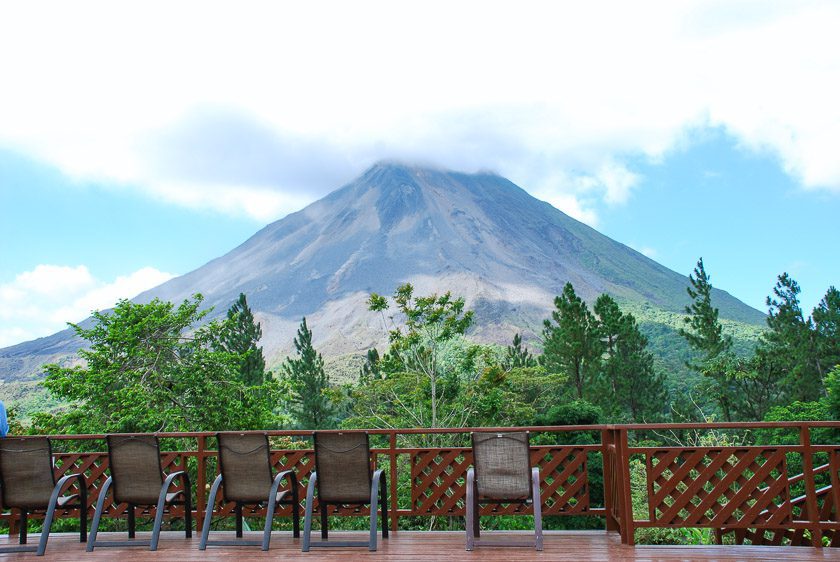 Check Out Hot Springs
La Fortuna is popular for its hot springs, naturally heated by the volcano's thermal energy. In addition, there are resorts that you can visit just to soak in luxurious gardens. Tabacon Hot Springs is one of the places where you would find 5 pools with water temperature range between 25º – 50ºC (77º-122ºF), with restaurants and a waterslide for additional entertainment. Ecotermales Hot Springs is also much popular, with 6 pools.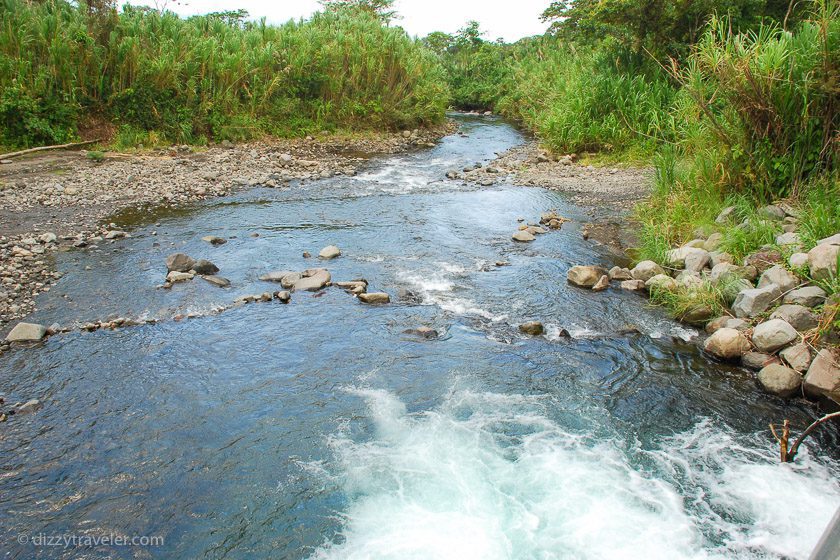 Visit La Fortuna Waterfall
If time permits, visit La Fortuna waterfall, just a short distance from La Fortuna, in dense jungle greenery before plummeting some 200 feet (65 meters) into an emerald pool below. To avoid the crowds, I recommend arriving early in the day as this is a popular attraction and getting busy during the high seasons.
The trail to the fall can be accessed by foot or on horseback. The hike is picturesque, runs through the rainforest, and is an opportunity to spot toucans, monkeys, and other tropical creatures. It takes an hour to get there by horse and about 15 minutes to hike down the stairs to the waterfall. The entrance fee is $8.00.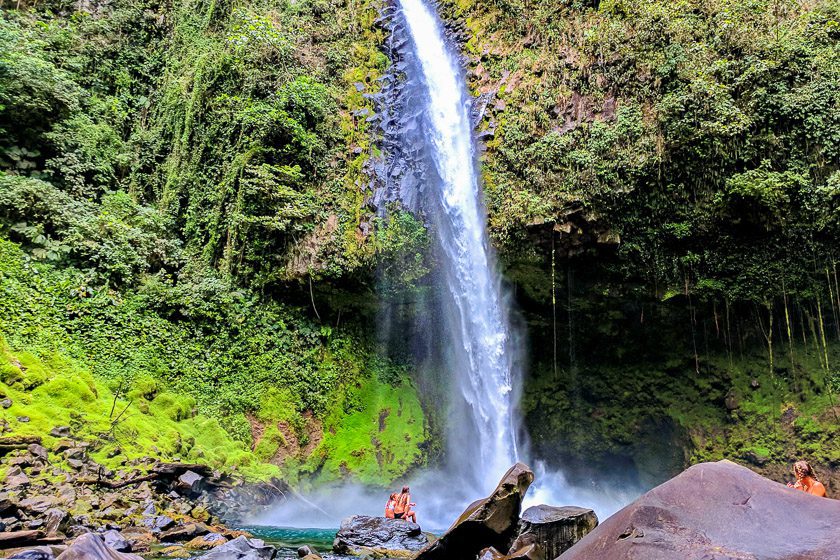 Picturesque Cruise in the Arenal Lake
The sunset at the volcano, as seen from the lake, is breathtaking. A Cruise on Lake Arenal is perfect for watching the amazing view of the sunset, especially as the Sun illuminates the Arenal Volcano. You may also have the opportunity to view the amazing birdlife around the lake, like Kingfishers, egrets, herons, and much more.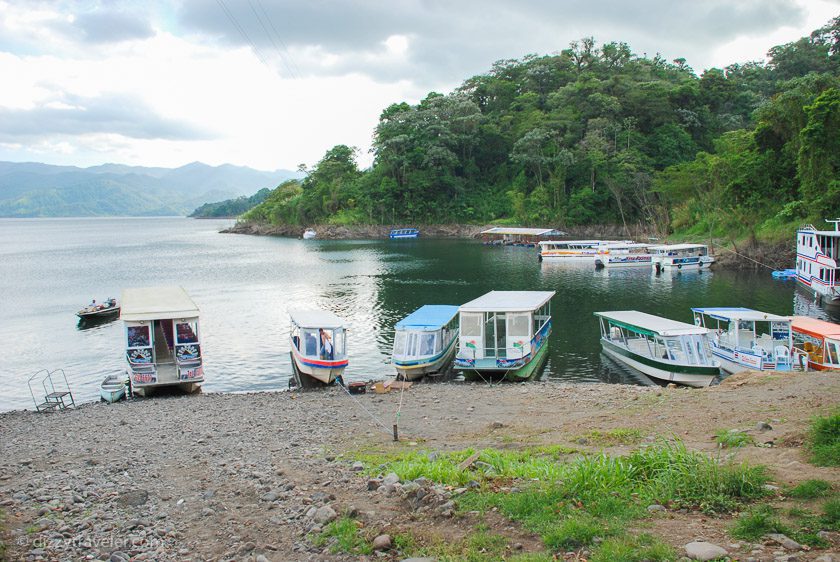 Where to stay in La Fortuna, Costa Rica
Villas Paradise is a recently renovated bed and breakfast in El Castillo de La Fortuna, where guests can make the most of the garden and bar. This property offers access to a terrace, free private parking, and free Wifi. The family-friendly restaurant serves American and Argentinian dishes and Caribbean and Italian cuisine. Sightseeing tours are available in the surroundings. In addition, the bed and breakfast has a picnic area where you can spend the day outdoors. La Fortuna Waterfall is 16 miles from Villas Paradise, while Sky Adventures Arenal is 3.2 miles away. The nearest airport is Fortuna, 21 miles from the accommodation, and the property offers a paid airport shuttle service.
Ferreto`s House is a sustainable vacation home in El Castillo de La Fortuna, where guests can make the most of the open-air bath and garden. On clear days, guests can head outside to enjoy the vacation home's outdoor fireplace or simply kick back and relax. Providing a balcony and mountain views, the spacious vacation home includes two bedrooms, a living room, a satellite flat-screen TV, an equipped kitchen, and two bathrooms. Guests can also relax in the shared lounge area. La Fortuna Waterfall is 17 miles from the accommodation, while Sky Adventures Arenal is 3.8 miles away. The nearest airport is Fortuna Airport, 22 miles from Ferreto`s House.
My Opinion and Last Word
Have you been to La Fortuna, Costa Rica? Any cool tips to share?
I loved being in La Fortuna, Costa Rica, and want to go back again. I hope my story has motivated you to visit Costa Rica.
Please leave a comment below! I'd love to hear from you to improve my knowledge. 
Was this travel guide helpful for you?
If you'd like to help me continue making free guides, here is one way you can help:
Share This Guide 

– If you have a friend that would benefit from this guide, share it with them. Or post this guide on Facebook, Twitter, or Instagram.
Your Support would definitely help me make more free guides like this. Thank you in advance!
Affiliate Link – This post in Dizzy Traveler contains affiliate links, which means I receive a referral commission if you purchase after clicking at no additional cost to you. These funds go to maintain the site. Thank you for your support.
Book Your Sightseeing Trip
There are a lot of beautiful places to visit and some exciting sightseeing activities to bring unforgettable memories back home. Please click on our below affiliate link to see your options.