Sedona is one of the places I have wanted to visit for years now; well known for its abundance of hiking and breathtaking scenery. Sedona is only 100 miles north of Phoenix, Arizona. So, after two days of sightseeing in the Grand Canyon, I drove down from Flagstaff. Sedona attracts nature lovers, foodies, art lovers, adventure seekers, and spiritual and curious travelers worldwide. Just drive down the Red Rock Scenic Byway (Route 179), and you will immediately know why Sedona is called a hiker's paradise. There are scenic hiking trails everywhere. The iconic mountains are formed from sandstone layers in various shapes and colors. Many people wholeheartedly believe that the red rocks of Sedona are spiritual.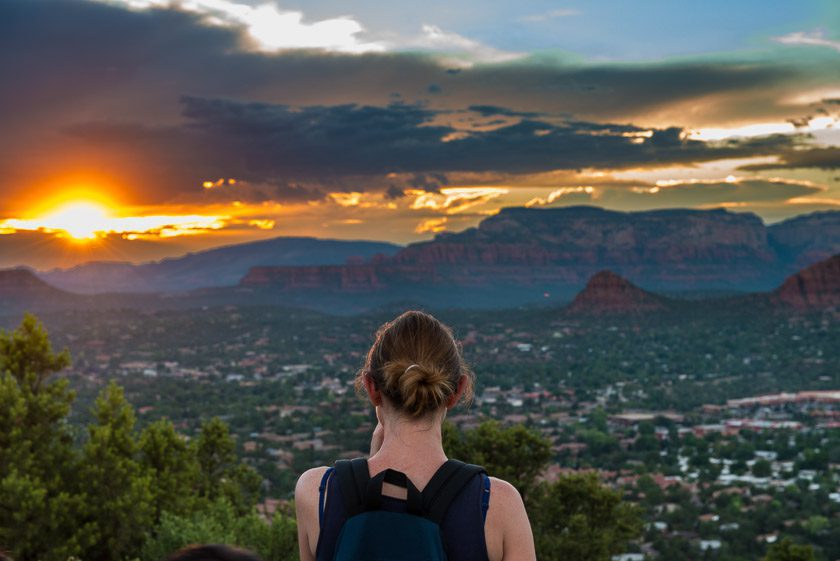 Best Time to Visit Sedona, AZ
The best time to visit Sedona is from March to May when the temperatures are warm — but not scorching — and the area is in full bloom. Hikers love this season, as desert flowers add color to the rust-colored trails. Then, thanks to mild weather, September to November is another ideal time for outdoor activities.
Best Way To Get There
Flagstaff Pulliam Airport (FLG) is the closest airport to Sedona; therefore, flying to Flagstaff and then car rental at the airport is a good option. Driving distance is 30 miles, about 50 min via AZ-89A, but due to traffic conditions, low-speed limit, and its scenic beauty, this way could get congested, especially during the weekend. The alternate faster route is 17 South, about 53 miles, and the driving distance would be less than an hour. Many visitors also drive from Phoenix Sky Harbor International Airport (PHX) to Sedona; it's about 120 miles, and driving won't take more than 2 hours.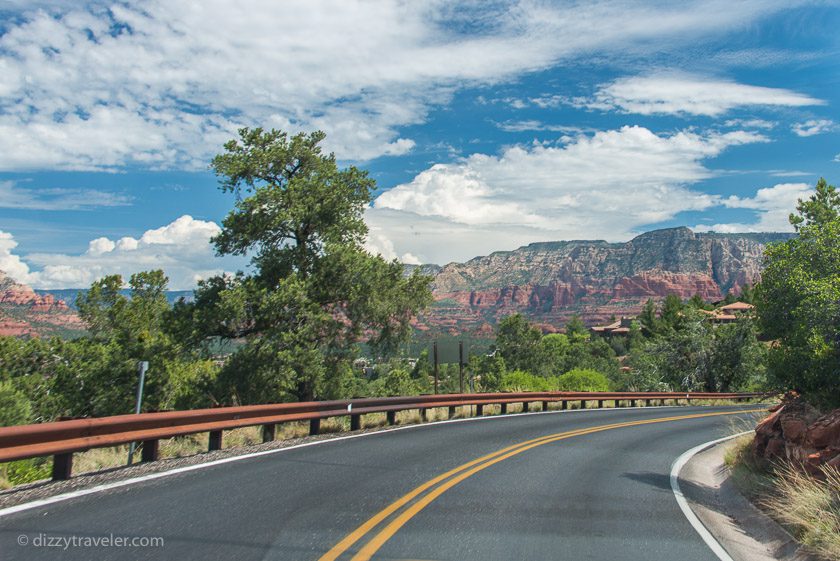 My Trip Story
In July 2017, I finally fulfilled one of the most wished travel bucket lists by spending two days in Sedona, Arizona. Of course, I was traveling solo, so it was easy for me to do a little bit of everything on a short trip. However, while strolling through the city center, I did realize that a fabulous place like Sedona is perfect for a family trip. There is something for everyone great restaurants on both sides of the main road, a Pink Jeep trip for fun, and an unbelievable view of red rock mountains surrounding the city.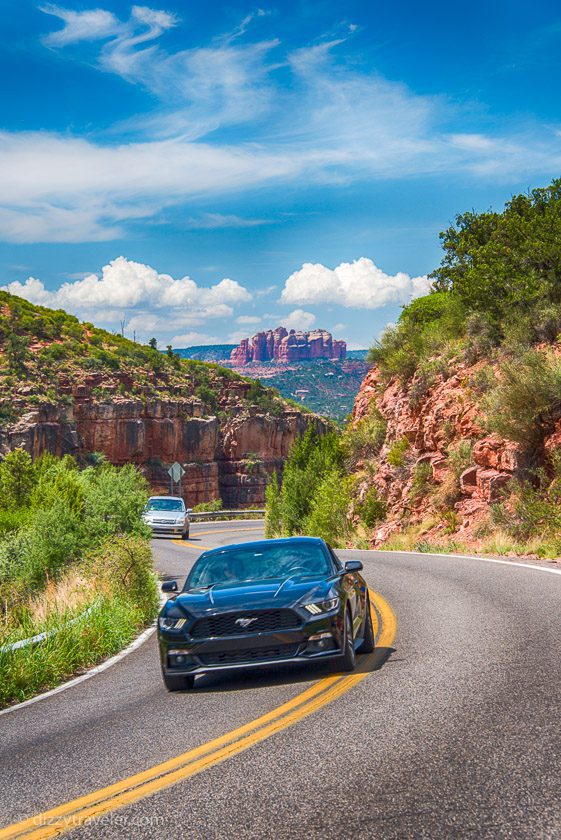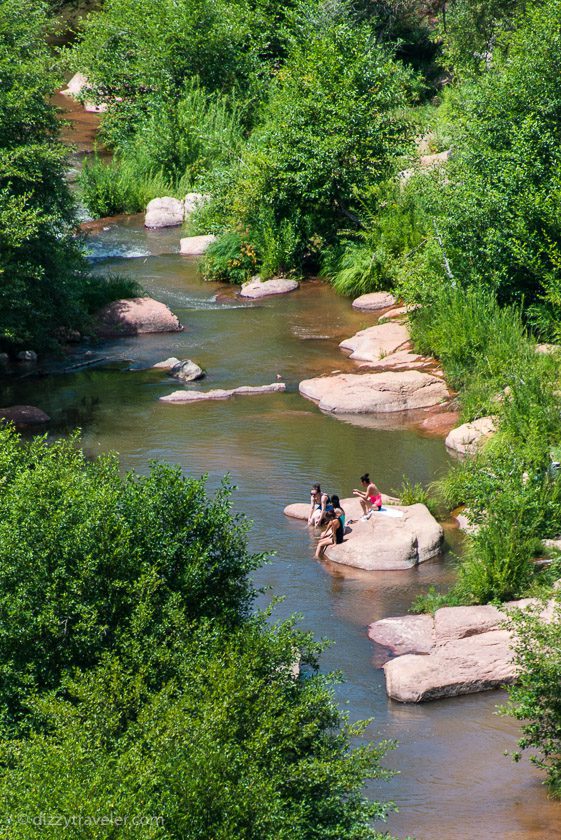 The Grand Canyon to Sedona road trip is so scenic that I couldn't stop pulling over to enjoy the picturesque view and photo ops. Usually, covering 136 miles (218 km) should not take more than 2 hours of nonstop driving, but it took me way more than that. You will definitely end up making multiple stops on the way. Honestly, I wish I had more time in Sedona; 2 days was not enough for me. However, especially when you have hiking as one of your favorite hobbies, as there are plenty of hiking trails that are very much popular among locals and visitors alike. If you plan to visit Arizona, I would definitely recommend Sedona. I am absolutely positive that Sedona's scenic beauty will also amaze you.
Top Things To Do In Sedona, AZ
Take The Oak Creek Canyon Scenic Drive
Oak Creek Canyon is a river gorge in northern Arizona between Flagstaff and Sedona on Route 89A. The scenic drive is a breathtaking experience. I have ranked among the top 5 most scenic drive charts. If you are a photographer, it's a must-do trip in Sedona.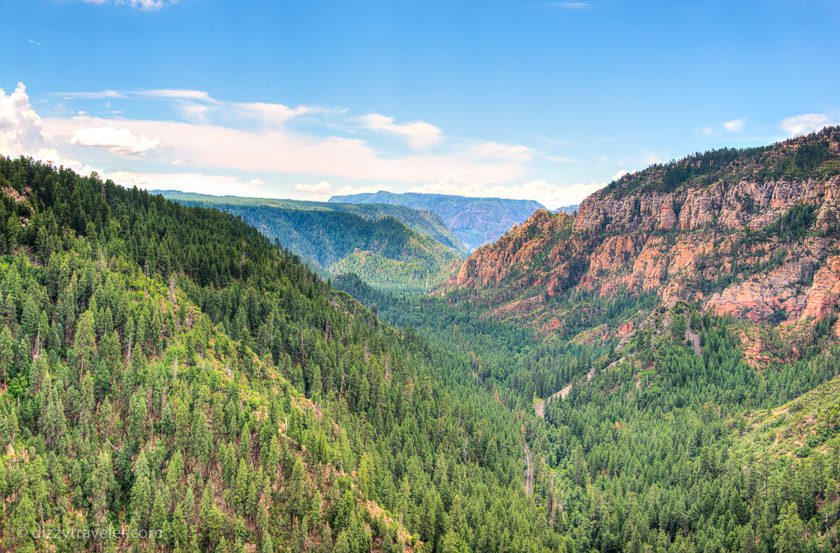 Red Rock State Park Is A Great Place To Visit
Red Rock State Park is a state park in Arizona featuring a red sandstone canyon outside the city of Sedona. This day-use park's main mission is to preserve the riparian habitat along Oak Creek. This State Park maintains a 5-mile network of interconnecting trails along scenic Oak Creek. You can experience the vista at the top of Eagle's Nest (300' climb).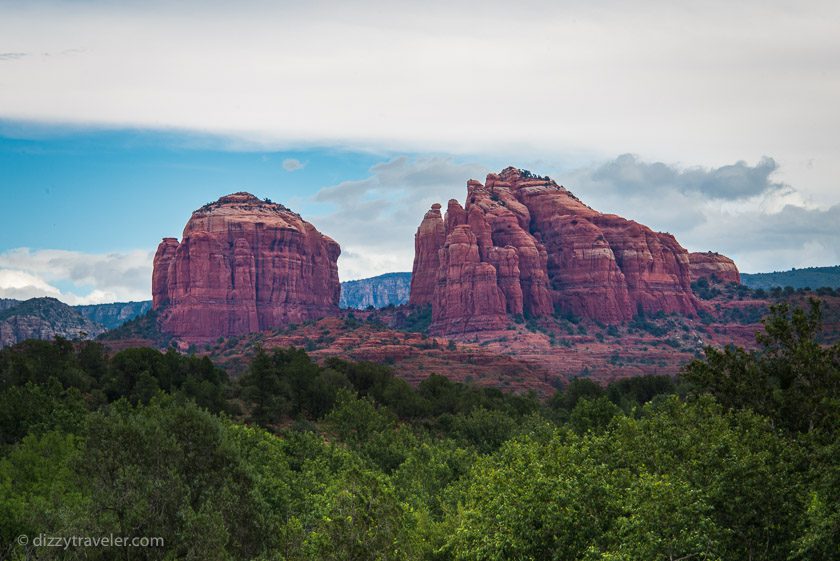 Visit Slide Rock State Park
Slide Rock State Park is a state park in Arizona, located in Oak Creek Canyon, only 7 miles north of Sedona on Route 89A. It is known as one of America's top swimming holes. This natural waterslide is formed by the slippery bed of Oak Creek. The slide rock is 80 feet long and 2.5 to 4 feet wide, with a 7% decline from top to bottom.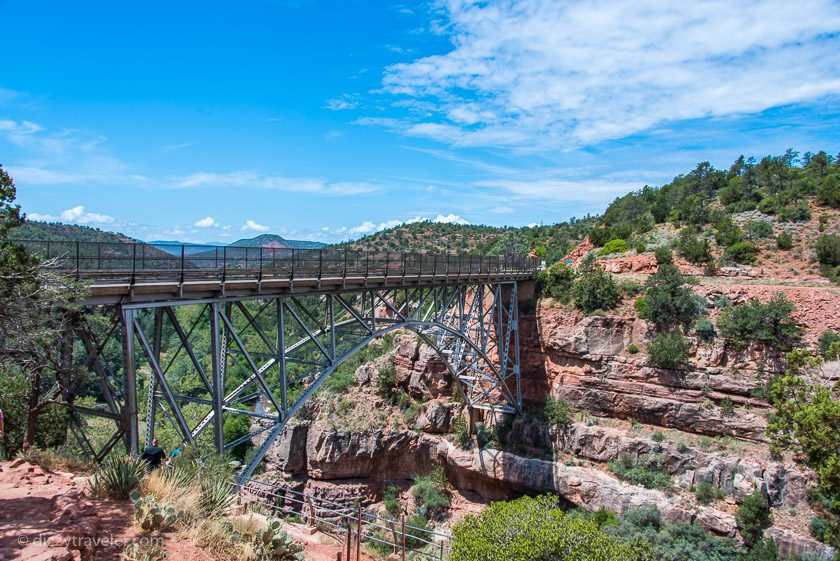 Drive Up The Hill And Enjoy at The Chapel of the Holy Cross
The Chapel of the Holy Cross is a Roman Catholic chapel and a favorite tourist attraction for many who visit Sedona. It is located just off Route 179 at the end of Chapel Road. It is open from 9 AM to 5 PM daily. The Chapel is nestled beautifully into a red rock; from the top, it has an incredible view of the majestic Cathedral Rock, Bell Rock, Courthouse Butte, and much of the eastern rim of Sedona.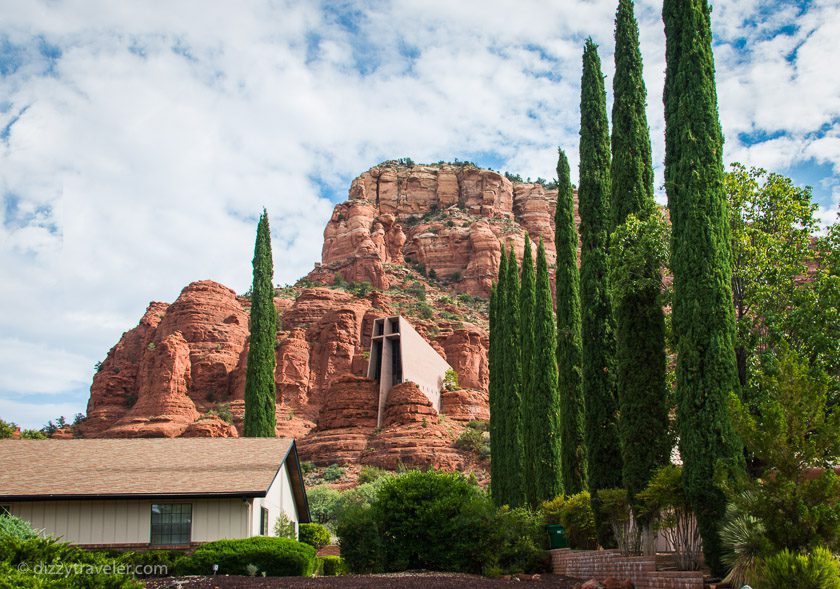 Cathedral Rock Another Hiking Site
Cathedral Rock is a famous landmark in Sedona and can be seen from the distance. It is one of the most photographed sights in Arizona. There is a short 0.7-mile trail that quickly rises 608 feet in elevation. The middle part of the trail has a near-vertical segment that requires climbing. This is an excellent place for hikers and those not afraid of heights.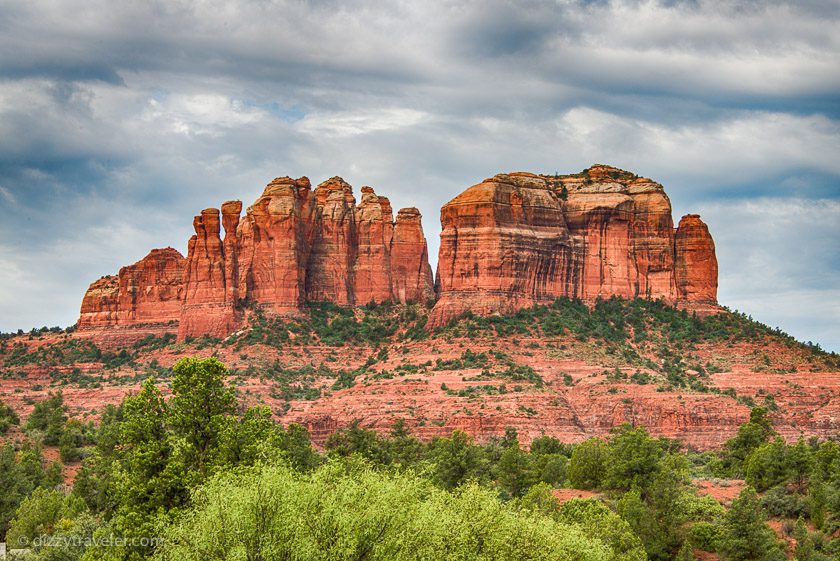 Take the Bell Rock Tour
Bell Rock is one of the famous tourist attractions located north of the Village of Oak Creek, AZ, south of Sedona in Yavapai County. The elevation of its summit is about 4,919 feet. It did not take much effort to track down the location of this church bell shape rock from a distance. Even an early morning or evening drive to the Rock along the beautiful Red Rock Scenic Byway (Highway 179) is amazing.
The hike to Bell Rock is famous among visitors as it is easy and flat. The Trail will take you about halfway up Bell Rock. Unfortunately, the top of the Rock is inaccessible. If you take the entire Courthouse Butte Loop, it's about five miles long. But you can bypass it and take only the Bell Rock pathway, which is much shorter.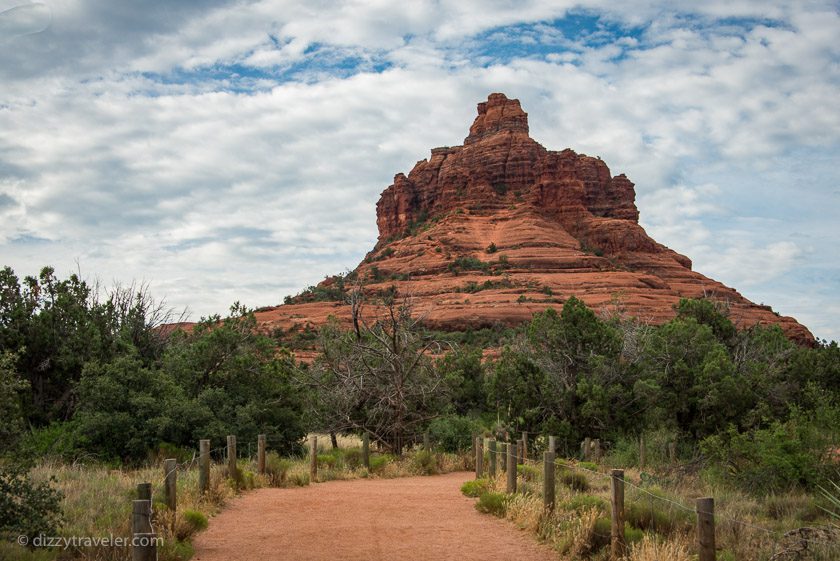 The Honanki Heritage Site
The Honanki Heritage Site is 15 miles west of present-day Sedona. Great place to experience the cliff dwelling and rock art site that was last inhabited between 1400 and 1875 by Yavapai and Apache people. Perfect place to stretch your legs and breathe in the fresh air; the site has two trails for self-guided tours to explore the ruins as well as the surrounding forest. One of the best ways to get there is by Pink Jeep Tour or self-driven car.
Where to stay in Sedona, Arizona
Sky Ranch Lodge is located on the top of the mountain next to Sedona Airpot and the city's beautiful scenic overlook, which is also famous among locals and tourists alike for viewing the sunset. I was amazed once I drove to the top of the mountain and found the hotel. The room was spacious, and the beds were comfortable and had a microwave and kitchen utensils. My stay was an enjoyable one, and definitely, recommend this hotel. The view from the hotel was beautiful, especially if you like to sit back and relax with a glass of wine and watch the Sun goes down on the horizon behind the red rock mountains in the far distance. Montezuma Castle National Monument is 28 miles from the hotel. The nearest airport is Flagstaff Pulliam Airport, 29 miles from Sky Ranch Lodge.
Featuring a tennis court, Zen Desert, 2BR/2BA Apartment, and Private Entrance offers accommodations in Sedona. This property offers access to a patio and free private parking. Outdoor dining is also possible at the apartment. The apartment features a washing machine and a fully equipped kitchen with a dishwasher and oven. Guests at Zen Desert, 2BR/2BA Apartment, Private Entrance can enjoy hiking nearby or make the most of the garden. Coconino County Fairgrounds is 28 miles from the accommodation, while the Chapel of the Holy Cross is 6.3 miles from the property. The nearest airport is Flagstaff Pulliam Airport, 29 miles from the property.
My Opinion and Last Word
Have you been to Sedona, Arizona? Any cool tips to share?
I loved being in Sedona, Arizona, and want to go back again. I hope my story has motivated you to visit Arizona.
Please leave a comment below! I'd love to hear from you to improve my knowledge. 
Was this travel guide helpful for you?
If you'd like to help me continue making free guides, here is one way you can help:
Share This Guide 

– If you have a friend that would benefit from this guide, share it with them. Or post this guide on Facebook, Twitter, or Instagram.
Your Support would definitely help me make more free guides like this. Thank you in advance!
Affiliate Link – This post in Dizzy Traveler contains affiliate links, which means I receive a referral commission if you purchase after clicking at no additional cost to you. These funds go to maintain the site. Thank you for your support.
Book Your Sightseeing Trip
There are a lot of beautiful places to visit and some exciting sightseeing activities to bring unforgettable memories back home. Please click on our below affiliate link to see your options.