Story: Our Trip to Sarangkot
Ring, ring, ring! Our wake-up call from the front desk reminds us of our early morning plans to Sarangkot. Groggy eyed, we make our way to the tiny Maruti 800 waiting in the black of night. The air is crisp in Pokhara as we are smack dab in the middle of beautiful lakes and the extraordinary Annapurna Himalayan mountain range. The town is stirring in the early hours as farmers carry items from one hilly mountain to the next, and merchants get ready for their day by sweeping their shop fronts.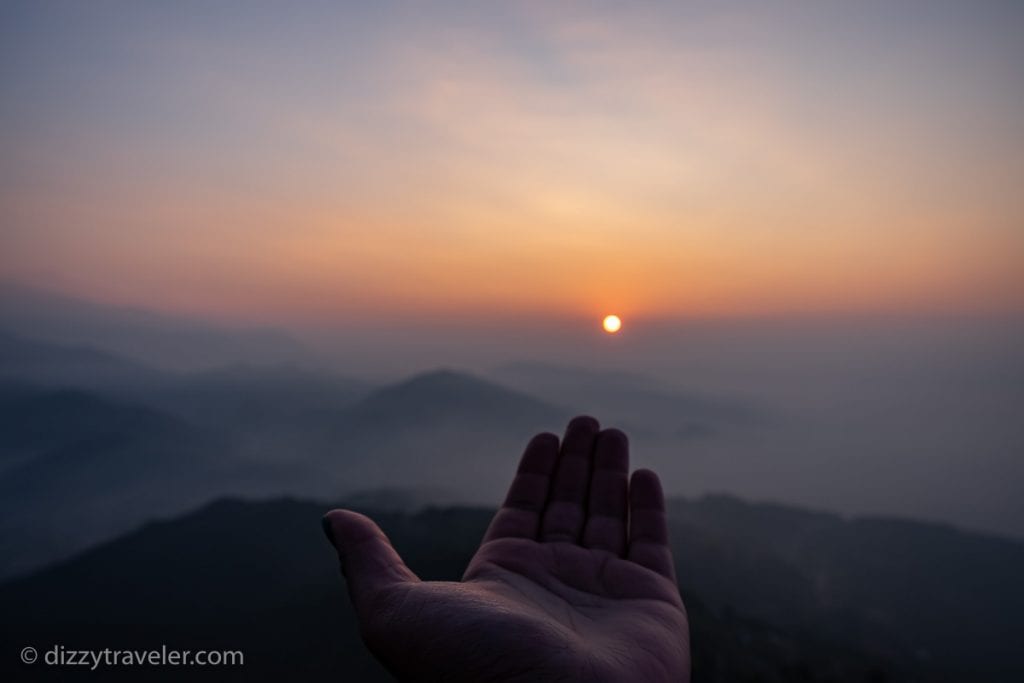 Where is Sarangkot
Sarangkot hill, located on the outskirt of Pokhara, the second-largest city in Nepal. Sarangkot Viewing Point is, without a doubt, offers one of the most magnificent views fo the Annapurna Himalayan mountains peaks. The early morning view is spectacular while the sun rises slowly in the horizon, and the first light hits the 8,000+ m peaks of the Anapurna range in the distance. Moreover, it offers incomparable mountain views of scenic local villages, Dhaulagiri, Fishtail, and Fewa lake.
The ride to the Sarangkot hilltop at the elevation of 5,500 ft (1592 m) takes about 45 minutes from lakeside hotels. The driving distance is about 9 miles (14 km).
---
A Few Pictures From Sarangkot Trip
Half of our trip was in the darkness, no lights around so able to share only a few pictures that will definitely tell our travel story!
---
Making Our Way Up
We are making our way up towards the Sarangkot view tower for our sunrise that morning. Suddenly, we make a harsh stop, and through the darkness, we can see a huge charter bus is stuck. One thing you must know about the long and winding road to the top is that it is extremely narrow. One wrong turn, and you find yourself free-falling 1600 meters to the bottom of the mountains.
Our driver, a stout and friendly Nepalese man jumped right out of his car to help assist the broken-down vehicle ahead. All the drivers that were stuck came out to help the charter bus out of the main road, and that is one thing to note about the Nepalese people.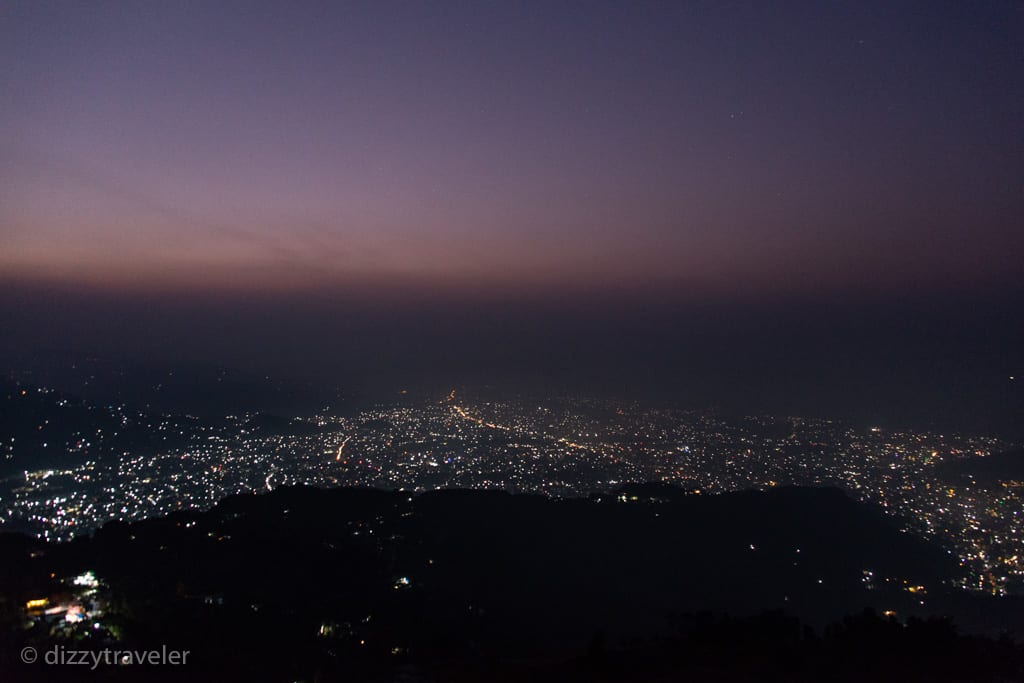 Arrival At The Hill Top
We feel the air getting thinner and crisper as we make our way to the top. Still pitch black and only the headlights from the car to help us see what's ahead. Finally, we park! We are here! Although, that is not necessarily the case. We find that amid darkness, we still have a way to go by hiking to the viewpoint. It should be said that there are no paved roads at this point, and we must climb multiple stairs and rocks to get to the top.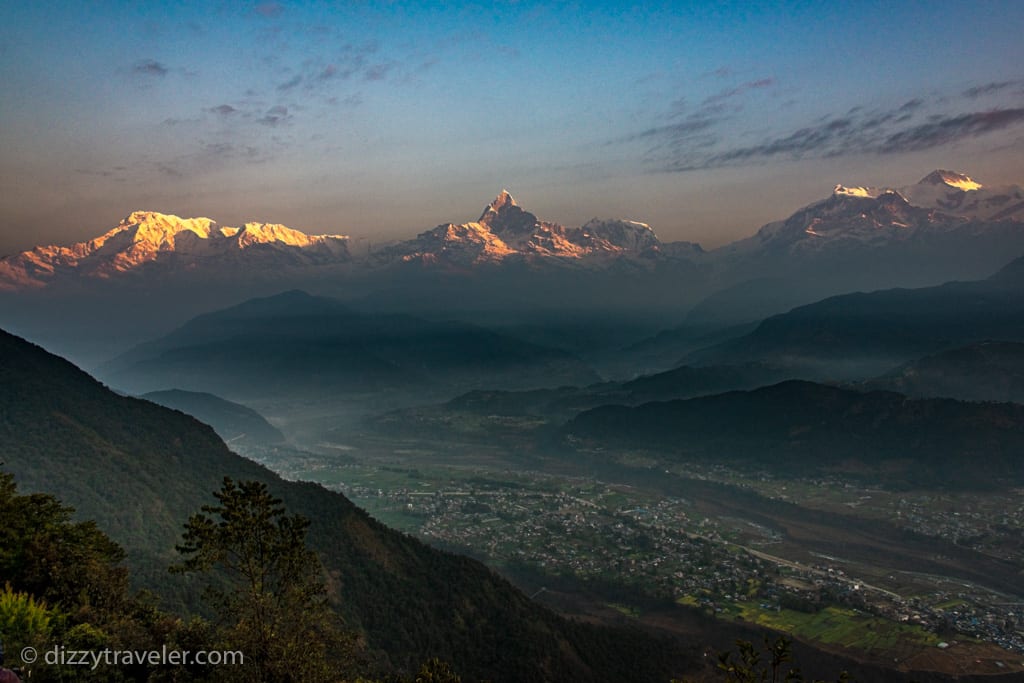 Hiking In The Dark
After much huffing and puffing, we are now officially here! A few others are at the viewpoint, as well as setting up tripods and timed cameras. In the distance, you can see a very faint glow peeking up behind the city.
As time moves forward, more and more people arrive to catch a glimpse. It was one of the rare days that fog had not covered the morning sky, so the viewpoint was filled with people interested in seeing the sun. No longer was this "our" sunrise in the sense of myself and my family, but "our" collective sunrise with all those that came to enjoy the view.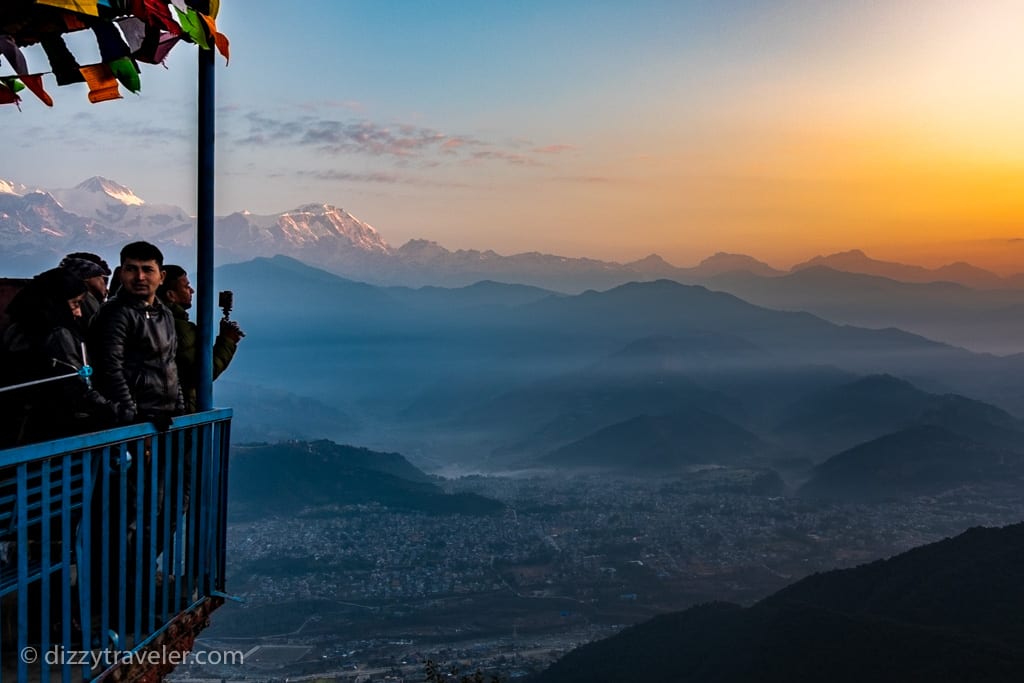 Finally The Sunrise
A group of yogis set up camp in order to practice meditation and poses against the Himalayan backdrop and rising sun. Suddenly, the group comes alive, clapping as the sun emerges to warm our cold faces. From one side, you see the flawless round star through the morning clouds, and from the other, you see that same star shining on the peaks of Annapurna and Fishtail Mountain to reveal is magnificence. The sun has a way of casting amazing colors onto the mountain peaks ranging from white to orange to purple. At this moment, you catch yourself thinking about your place in the world and how infinitely quiet everything is at sunset. The promise of a new day and a fresh start.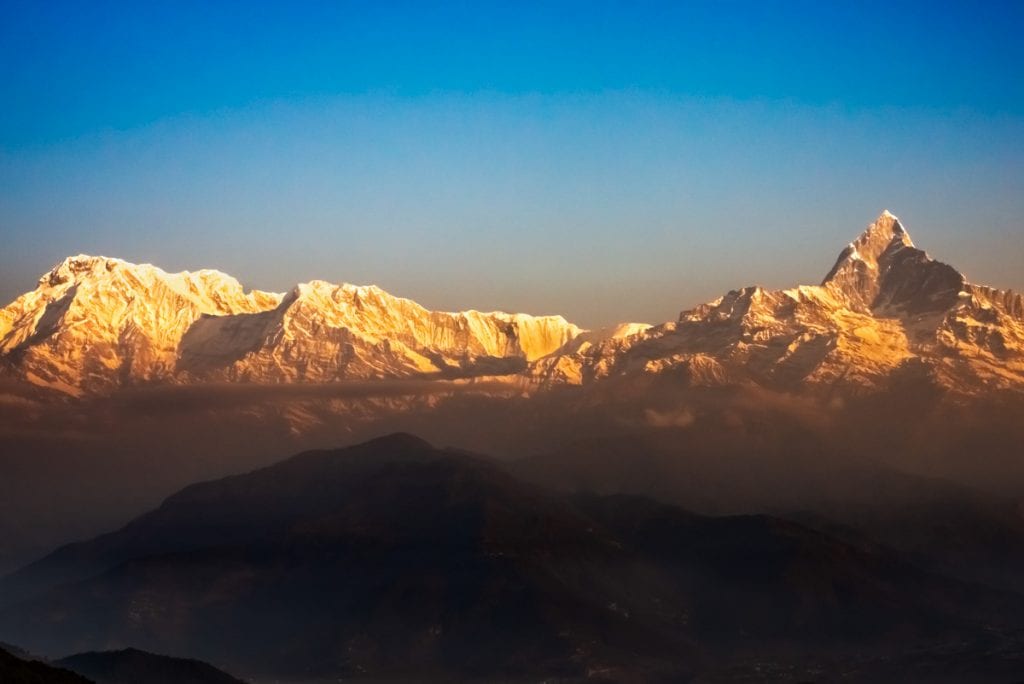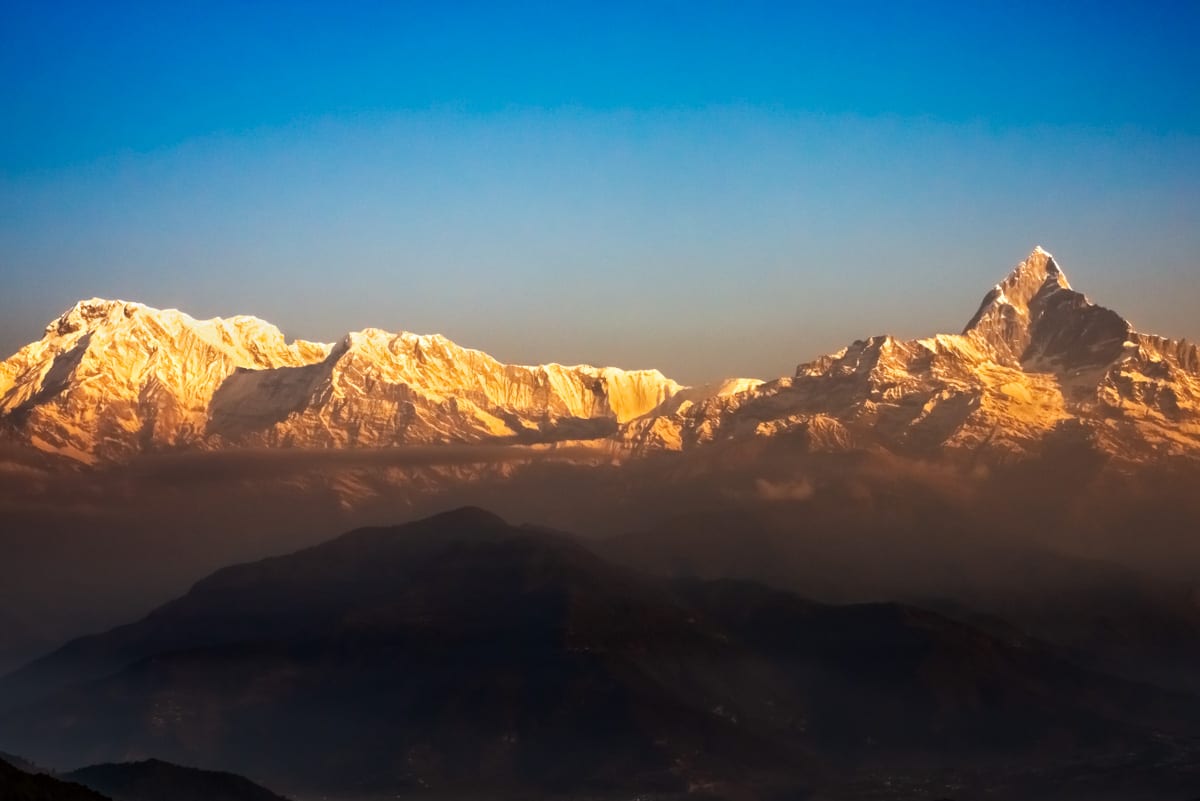 Beautiful View On Our Way Down
After the sun has risen, it's now time for us to make our way back down! Unlike going up we can now enjoy the beautiful view on both sides of the road. We had to make frequent stops to take a closer look at the surroundings and capture pictures of those beautiful moments.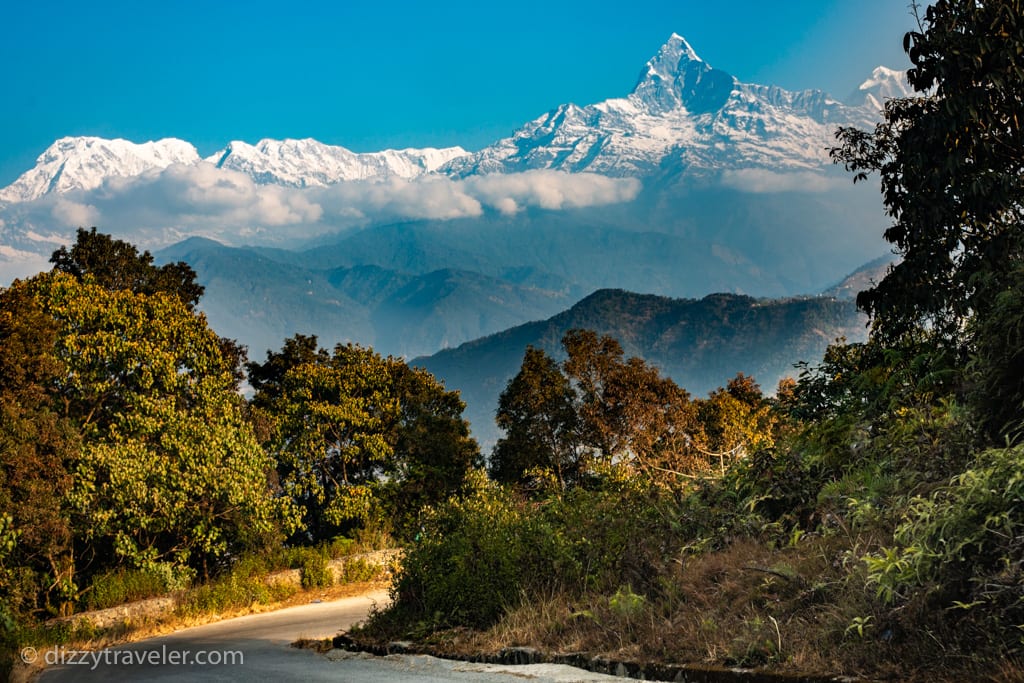 Here is a few affiliate links that may help plan a perfect trip while staying within budget.
Helpful Information
SIM Card for Cell Phone

Buying a SIM card at Kathmandu Airport is easy. I purchased a Ncell SIM, the most popular one in Kathmandu. All you need is a photo, your passport, and fill out a form. I paid 300 rupees for the SIM and 250 rupees for 7 days 4GB data plan. A 3-days with 2GB data plan will cost you 150 rupees, and a 30-days with 16GB is 1050 rupees.

Local Currency

Local Nepalese currency is called 'Rupees' at the time of this writing; the value was 1 US$ = 114 Rupees. There are ATMs available all over. I used one of the ATM at the airport with a minimum charge, which helped me pay the taxi fare and also buy the SIM card for my cell phone.

Health Concerns

Bring your own disinfecting wipes, Toilet Papers, especially if you are going for multi-day trekking. Hand Sanitizers is a lifesaver as well.

Getting Around

I found that Nepal is one of the most affordable countries in the world to travel. Getting around in the capital city Kathmandu and the 2nd largest city Pokhara is not expensive. Apart from renting a motorbike and have the freedom of going anywhere, you can also take taxis, which are cheap, most comfortable, and the quickest option; all you need to do is negotiate the price before the trip as no one uses the meter.

Nepal is Inexpensive

Nepal is a very affordable country. In fact, its probably one of the cheapest in the world and definitely a backpacker's favorites. A decent lunch would cost you between US$2-$5, and hotels start from US$ 10 and up.

Food to Avoid

Traveler's diarrhea is widespread in Nepal, I would recommend avoiding street food and uncooked or undercooked food that includes certain fruits and vegetables. I understand it is one of the anticipated cultural experience a tourist always want to have but as long as you know the consciences.
Where Did I Stay In Pokhara
The location of this hotel could not be better, right by the beautiful Phewa Lake, and the rowing boat pier is across the street. Walking distance to many attractions in town.
Hotel rooms are spacious and clean with a beautiful view of the snow-covered Annapurna mountain range. Breakfast at the hotel was delicious. The complimentary airport pick-up and drop-off was an added service we appreciate. I would stay there again.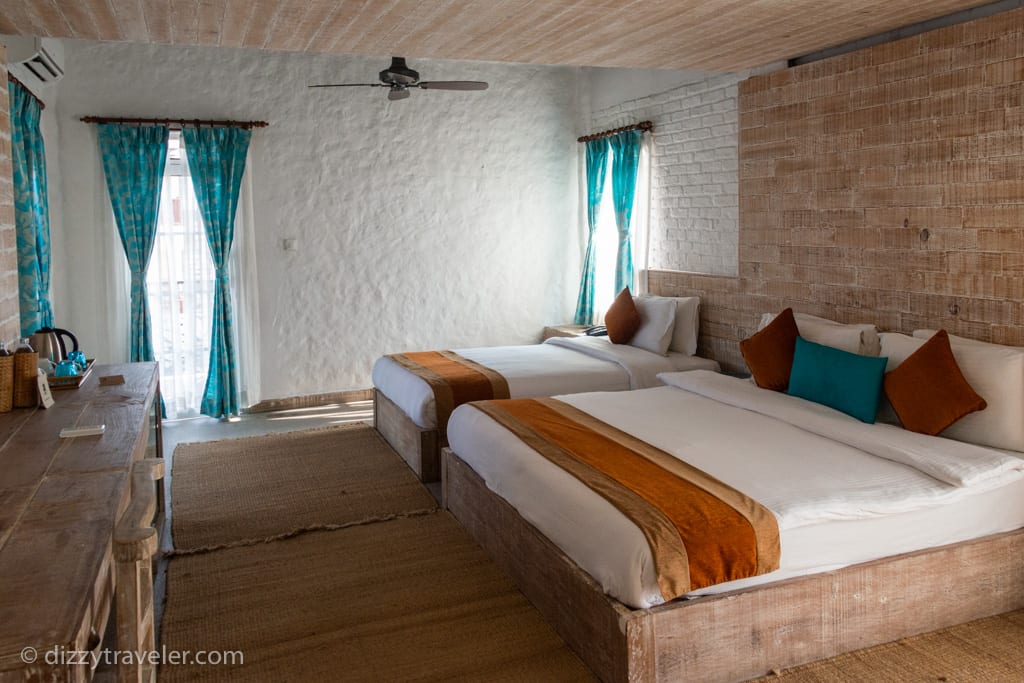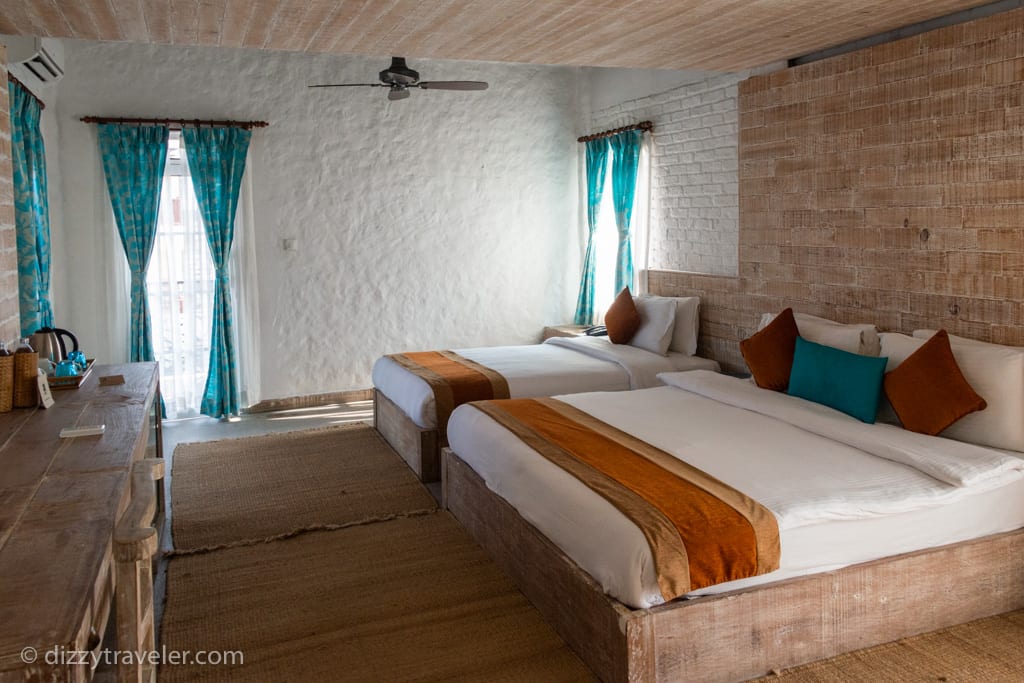 My Opinion and Last Word
Have you been to Sarangkot, Pokhara? Any cool tips to share?
I loved being in Pokhara and want to go back again. I hope my story has motivated you to plan your visit.
Please leave a comment below! I would love to hear from you to improve my knowledge.
Was this travel guide helpful for you?
If you would like to help me continue making free guides, here is one way you can help:
Share This Guide – If you have a friend that would benefit from this guide, share it with them. Or post this guide on Facebook, Twitter, or Instagram.
Your support would definitely help me making more free guides like this. Thank you in advance!
Affiliate Link – This post in Dizzy Traveler contains affiliate links, which means I receive a referral commission if you purchase after clicking at no additional cost to you. These funds go to maintain the site. Thank you for your support.