Bosnia and Herzegovina is one of the most beautiful countries I have ever visited in Europe, which was part of Yugoslavia and got independent in 1992. The country is almost entirely landlocked, except for its 20 km Adriatic coastline. The Capital, Sarajevo, is located in the heart of the Balkan peninsula in Southeastern Europe and is definitely a perfect starting point when visiting that region. The beautiful, bustling, and welcoming city is nestled among dramatic peaks and forested mountains that offer a picture-perfect postcard backdrop.
This beautiful historical capital is very welcoming and has been restored since being destroyed by the war. Another city Mostar which is well known for its Old Bridge, a UNESCO heritage site, is only 126 km from Sarajevo. Its neighbors include beautiful Croatia, Montenegro, and Serbia. The distance between Sarajevo to Dubrovnik, Croatia is only 239 km, the fascinating Split; a Croatian city is only 246 km; Zagreb, the Croatian capital, is about 405 km; Belgrade, Serbia, about 246 km; and stunning Podgorica, Montenegro, is 230 km.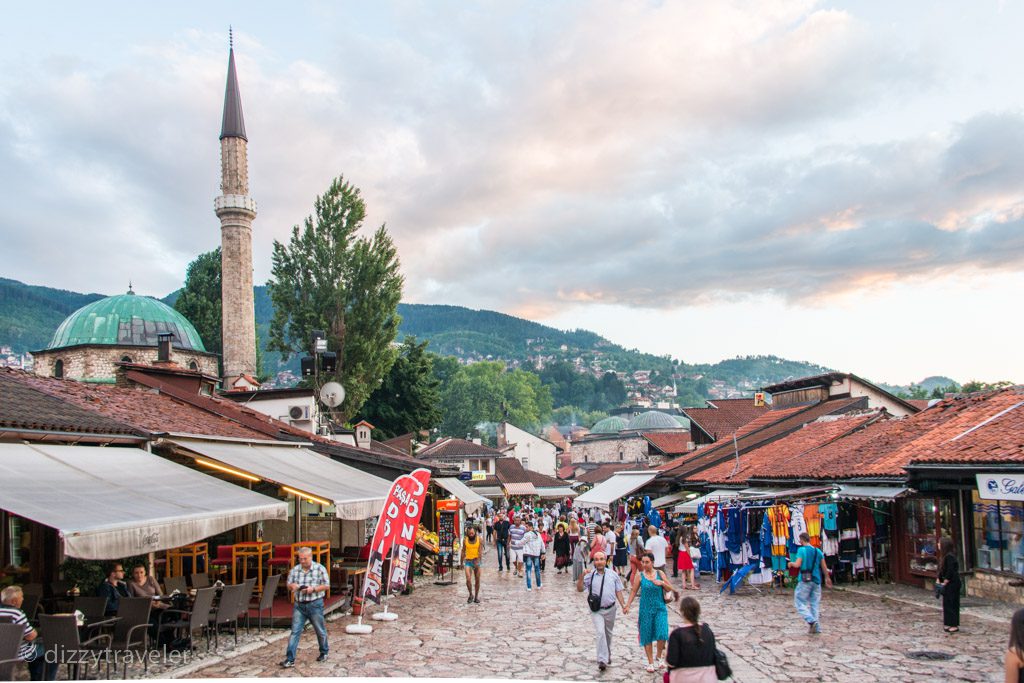 Here is a few affiliate links that may help plan a perfect trip while staying within budget.
Best Time to Visit Bosnia
Bosnia and Herzegovina got a relatively dry climate with hot summers and cold winters. Therefore, spring is typically the best time to visit as the temperature is pleasant between May – June. During this period, it's warm but not overly humid, and nights are cooler.
How to Get to Sarajevo
By Air:
Sarajevo International Airport is the main international airport in Bosnia and Herzegovina, well connected with most of the major European cities. Especially there are frequent daily non-stop flights from Belgrade, Serbia, and Zagreb, Croatia. During my trip, I took an hour's flight by Air Serbia from Belgrade to Sarajevo. You may find cheap deals on airline tickets here.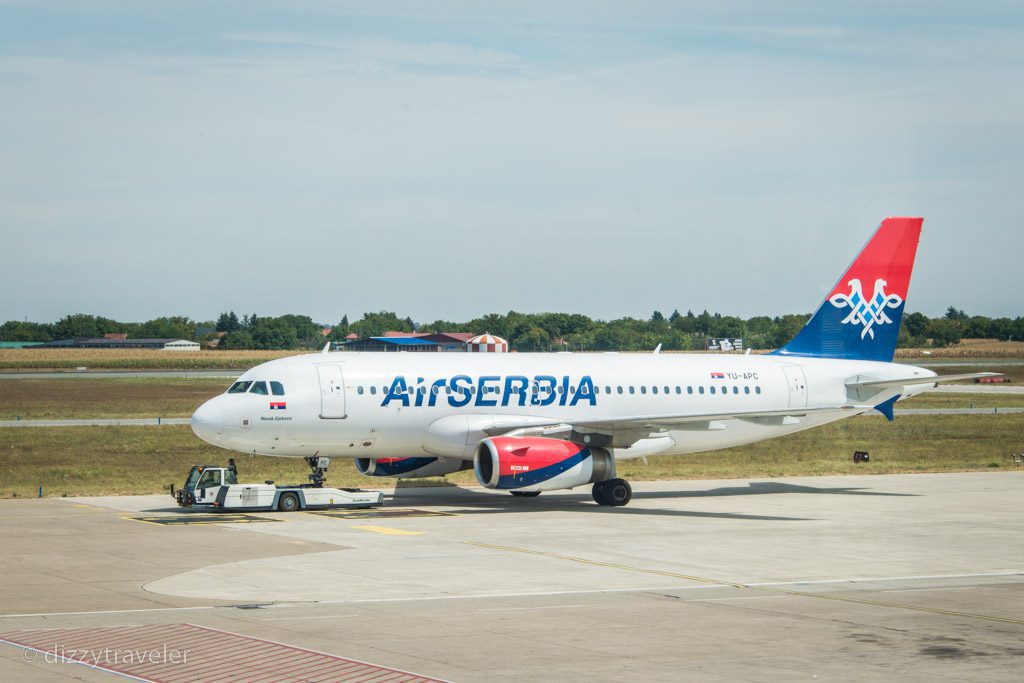 By Train:
International train service is not that great in Bosnia. Since 2016 they suspended the only remaining international train service between Sarajevo and Zagreb. All other international lines have been closed for several years now. There are two trains a day between Sarajevo and Mostar, which takes about 2 hours of travel time between these two cities. Please check the schedule and ticket availability here.
By Bus:
Bus services from Croatian cities like Zagreb, Dubrovnik, and Split is top-rated among tourist getting to Sarajevo, Bosnia.
Bus from Zagreb to Sarajevo – There is a frequent bus between Zagreb and Sarajevo. Depending on the travel route, the distance is between 236 – 280 miles (380 – 450 km). The cost is about US$ 26 (€24), and the travel time by bus is about 8 hours. The first bus starts at 6:30 AM from Zagreb and arrives at 2:50 PM in Sarajevo. 
Bus from Dubrovnik to Sarajevo – The bus commute from Dubrovnik is scenic, and it's a popular route among travelers. The distance from Dubrovnik to Sarajevo is only 150 miles (240 km), but it would defiantly take about 6 hours. 
Bus from Split, Croatia to Sarajevo – There are several daily buses from Split to Sarajevo. Still, most of the buses travel via Mostar, so if you are interested in exploring Mostar, you can take the early bus from Split and then spend the day sightseeing in Mostar, then the option to continue to Sarajevo by bus. 
By Car
Driving in Bosnia, even in Croatia, is very easy. The advantage is you can stop whenever and wherever you like and take your time to enjoy the beautiful scenic view of the countryside, take pictures, and get to know the local people and lifestyles.
I have rented a car from Sarajevo airport, drove around Bosnia and Croatia, and found it safe as long as you are patient and conservative, especially while driving the single-lane roads. Going through the winding road, you may often get stuck behind slow trucks or passenger buses where you can't see ahead enough to pass. So as long as you don't get frustrated and take unnecessary risks, you won't have any problems. In some places, the highway gets very narrow and winding, making it difficult to overtake.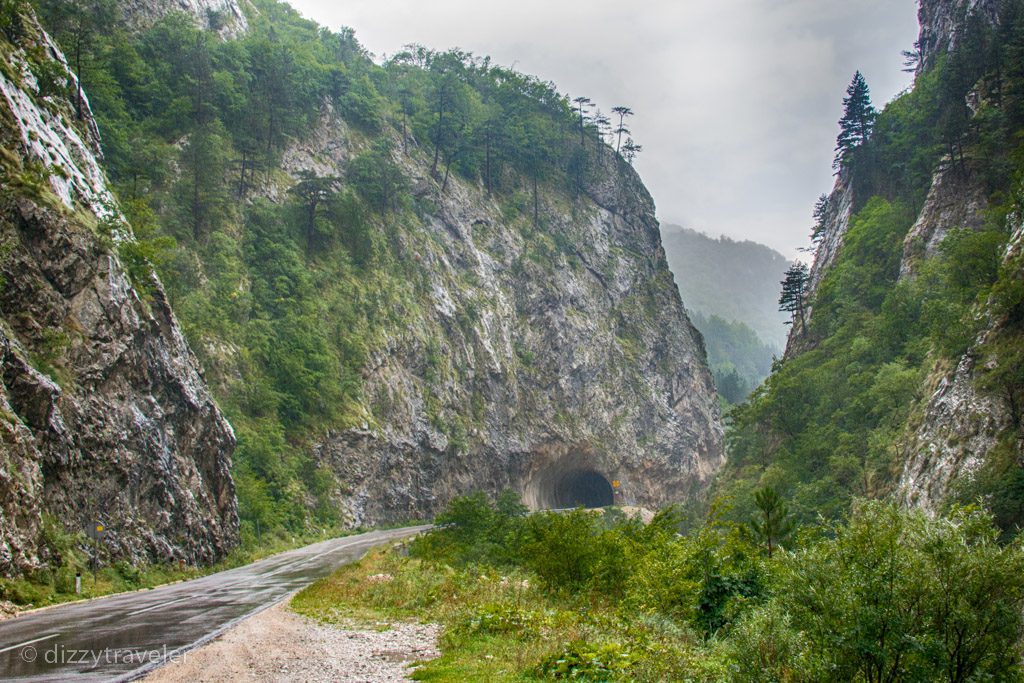 Visa Requirement
You need a passport valid for at least three months past your planned departure date. U.S. citizens do not need a visa for stays of up to 90 days within six months following the first entry.
My Trip To Sarajevo
It was a short 50 min flight from Belgrade to Sarajevo (SJJ) by Air Serbia. The airport was small, so clearing immigration and customs was smooth. I picked up my car from the enterprise and headed towards Hotel Bristol in Sarajevo, only 5 miles (7+ km) from the airport. It took me a while to adjust to driving in the new country, especially when driving a stick shift.
Sarajevo is a relatively small city and walkable to all the attractions, especially the oldest and most historically significant part of the old town (Stari Grad). Unfortunately, the street around there is not car friendly, so I parked my car at the hotel and headed towards the heart of the old town, Baščaršija, the old town market where the city was founded in the 15th. Century. There is so much to do in Sarajevo; here is a list of places I have visited.
Things To Do In Sarajevo
Visit Ali Pasha's Mosque, Sarajevo
Ali Pasha's Mosque was constructed in Sarajevo during 1560-61. Which was heavily damaged by Serbian forces during the conflict of the early 1990s, then renovated in 2004 -2005. So it's worth paying a visit.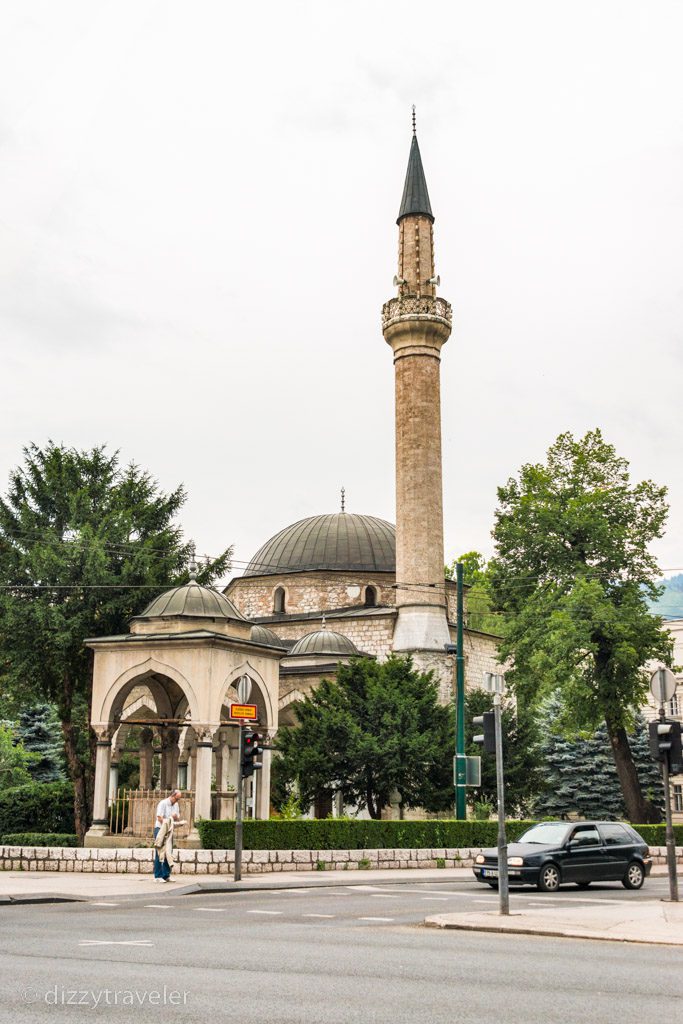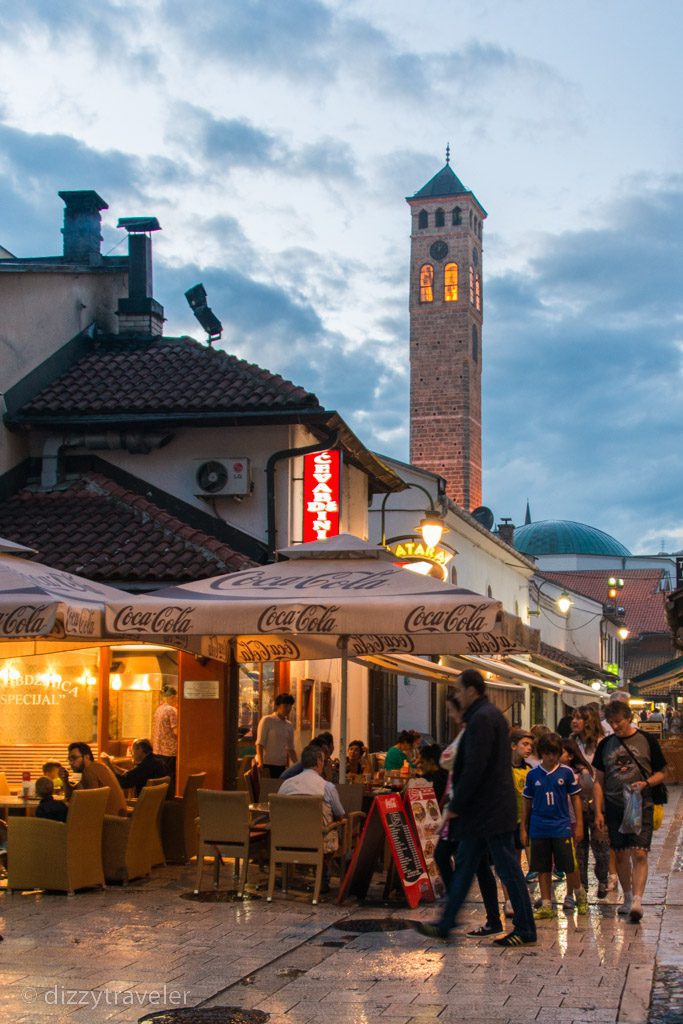 Visit Old Clock Tower (Lunar Time)
Located in the historic old town section of Sarajevo, next to the Gazi Hursev-beg Mosque, the Old Clock Tower is worth a visit. This clock tower is one of the tallest in Bosnia, and Herzegovina, also known as "Little Ben." It is the only public clock that keeps lunar time, so at first, look don't get the impression that the close is off time. The reason it keeps lunar as it aligns with daily religious prayers.
Enjoy The Beauty of Baščaršija
The old bazaar in Sarajevo is called Baščaršija; it's also the historical and cultural center of the city. The word Baščaršija derives from the word "baš," which means "main" in Turkish, so Baščaršija means "the main street." It is located on the northern bank of the river Miljacka.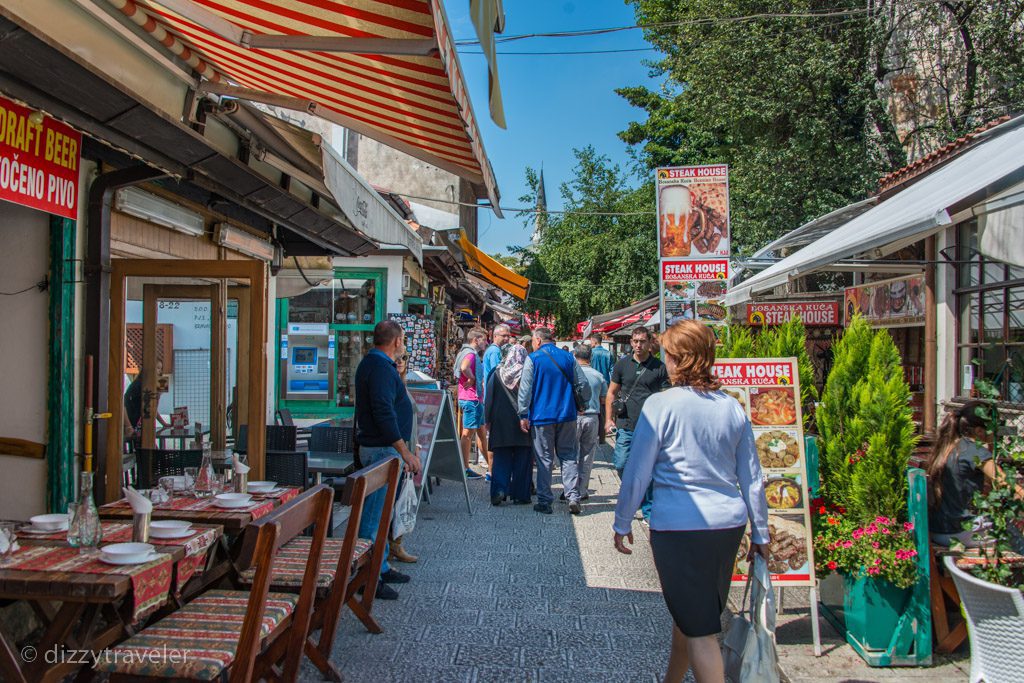 Visit Avaz Twist Tower, Sarajevo
It is located next to Sarajevo train station. The Avaz Twist Tower is the tallest building in Sarajevo and offers a fantastic 360 panoramic view of the city from its observation deck.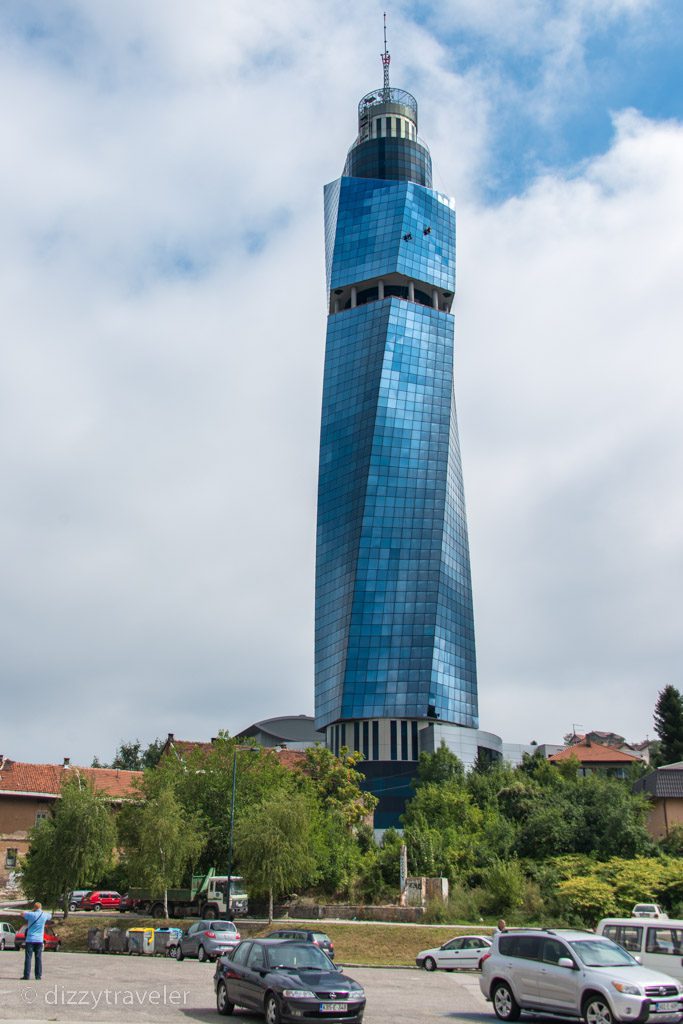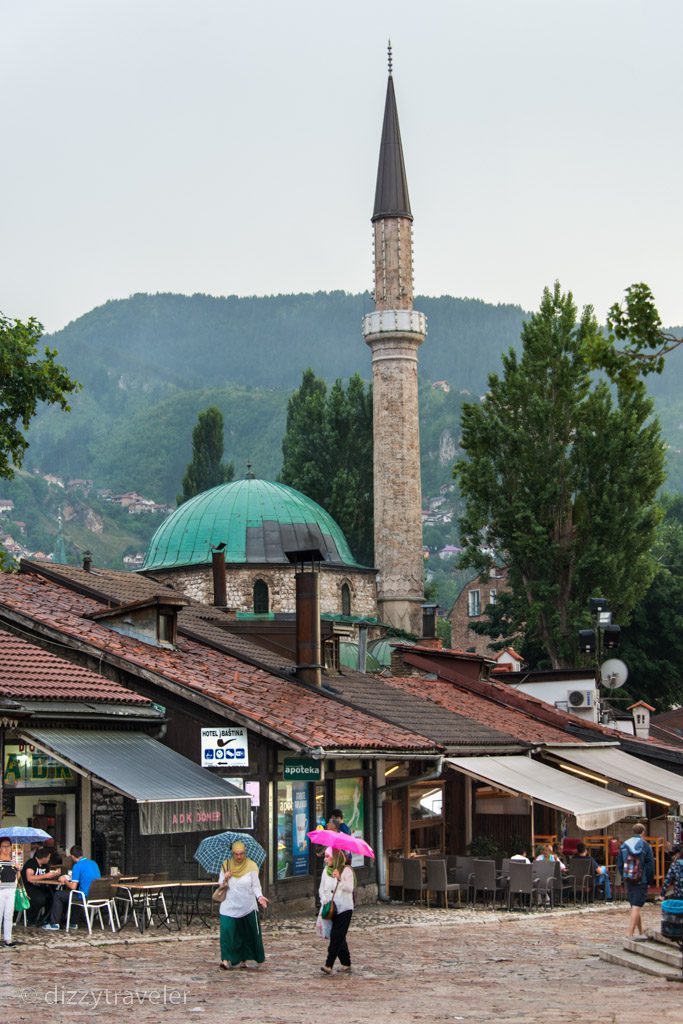 Got to See Gazi Husrev-Beg Mosque
This is one of the Balkans' largest historical mosques and the most typical Ottoman structures. Built-in 16th and today serve as the main congregational mosque of the Islamic community of Bosnia and Herzegovina.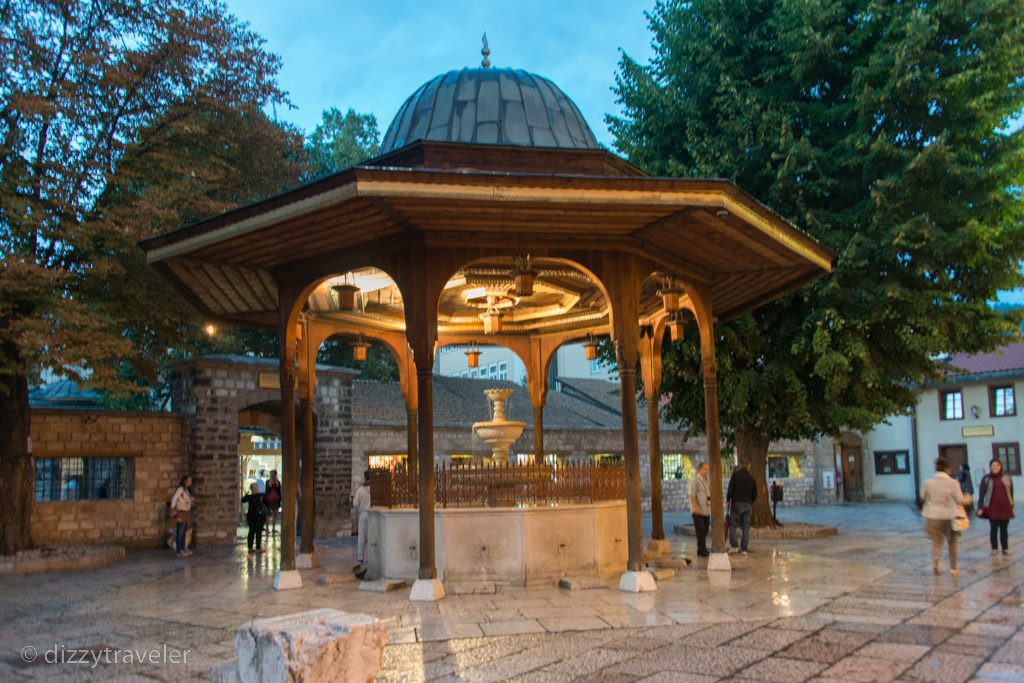 Beautiful St. Joseph Church, Sarajevo
Saint Joseph's Church is a Roman Catholic church in Sarajevo, Bosnia & Herzegovina. It was declared a National Monument of Bosnia and Herzegovina in 2008.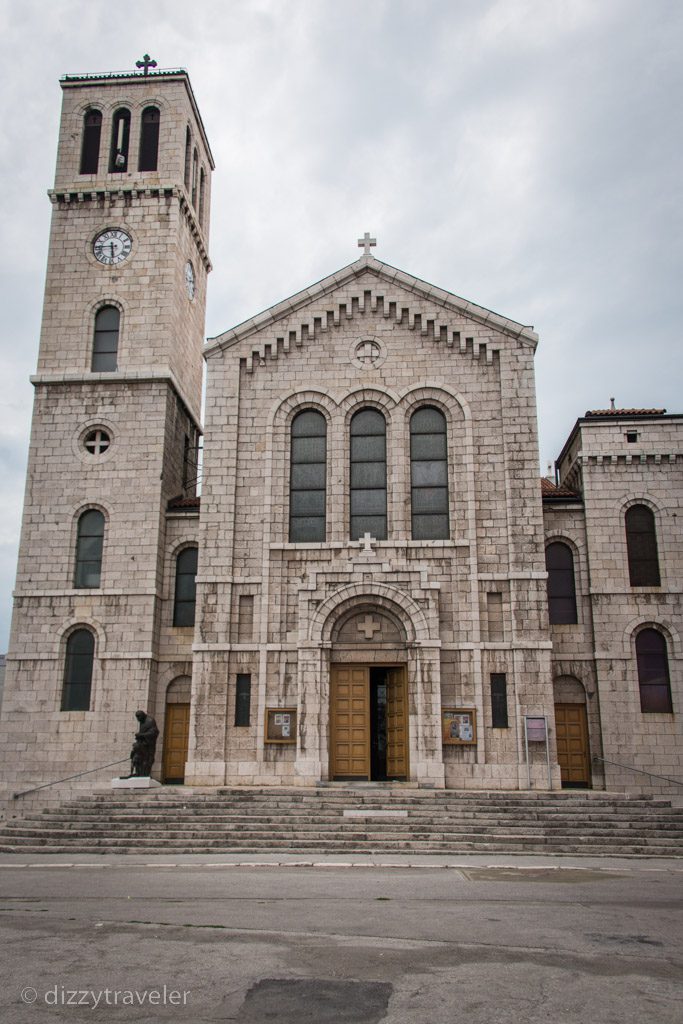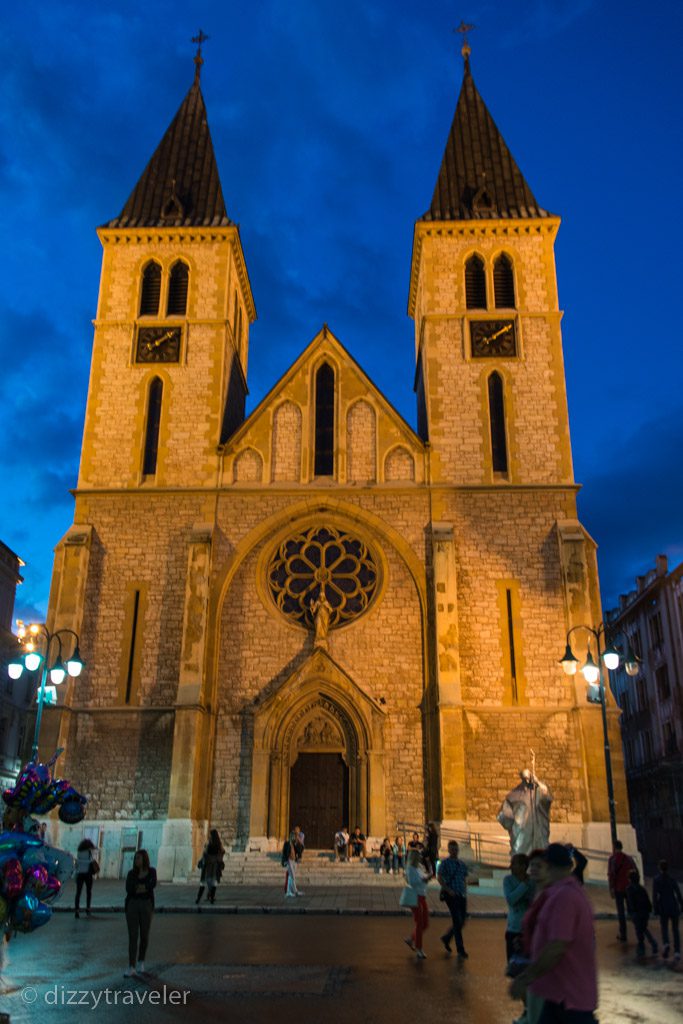 Sacred Heart Cathedral, Sarajevo
The Sacred Heart Cathedral is a Christian church in Sarajevo; commonly referred to as the Sarajevo Cathedral, it is the largest cathedral in Bosnia and Herzegovina.
Walk Over Latin Bridge
Latin Bridge is an Ottoman bridge over the river Miljacka in Sarajevo, Bosnia & Herzegovina. The northern end of the bridge was the site of the assassination of Archduke Franz Ferdinand of Austria, which initiated World War I.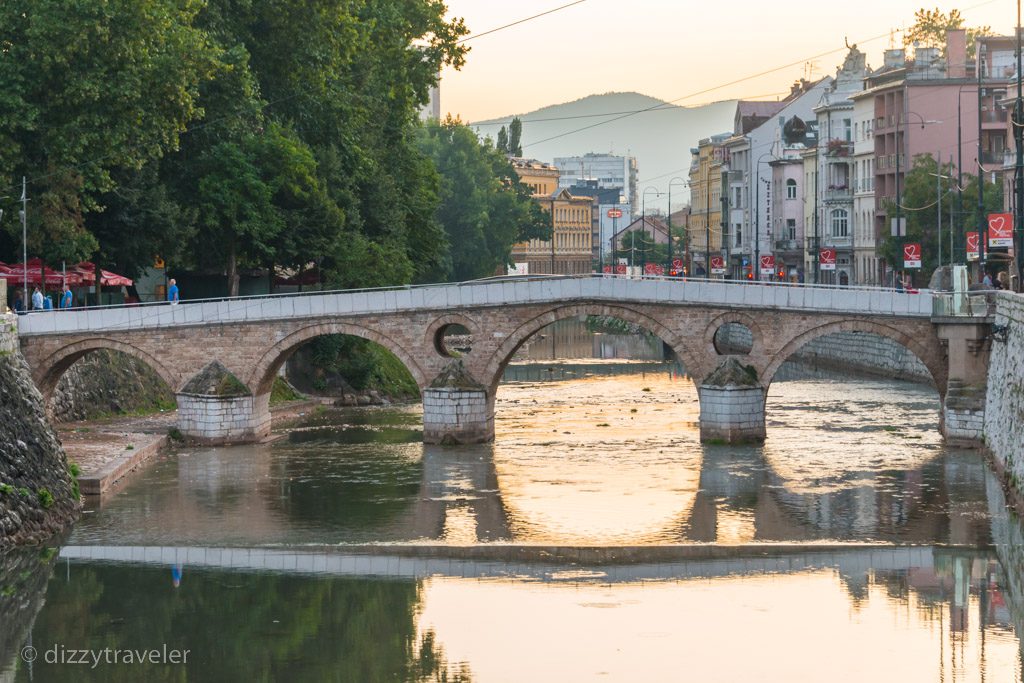 Enjoy At Sebilj in Sarajevo
The Sebilj is a pseudo-Ottoman-style wooden fountain in the center of Baščaršija square in Sarajevo built by Mehmed Pasha Kukavica in 1753.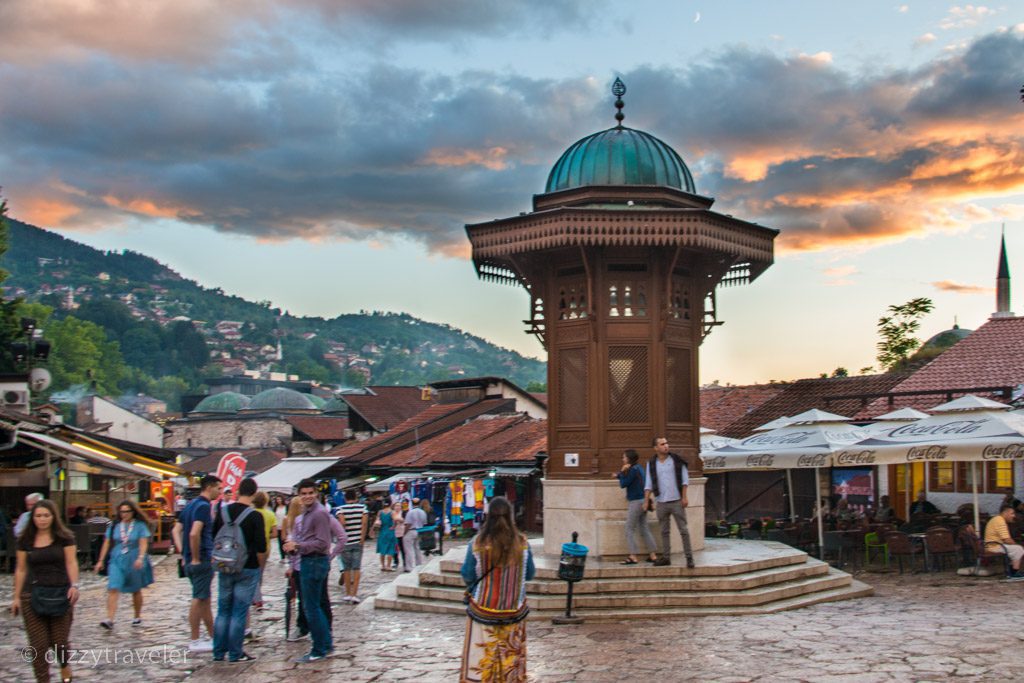 Visit Vijećnica – The City Hall
Sarajevo City Hall, known as Vijećnica, is located in the city of Sarajevo next to the river Miljacka.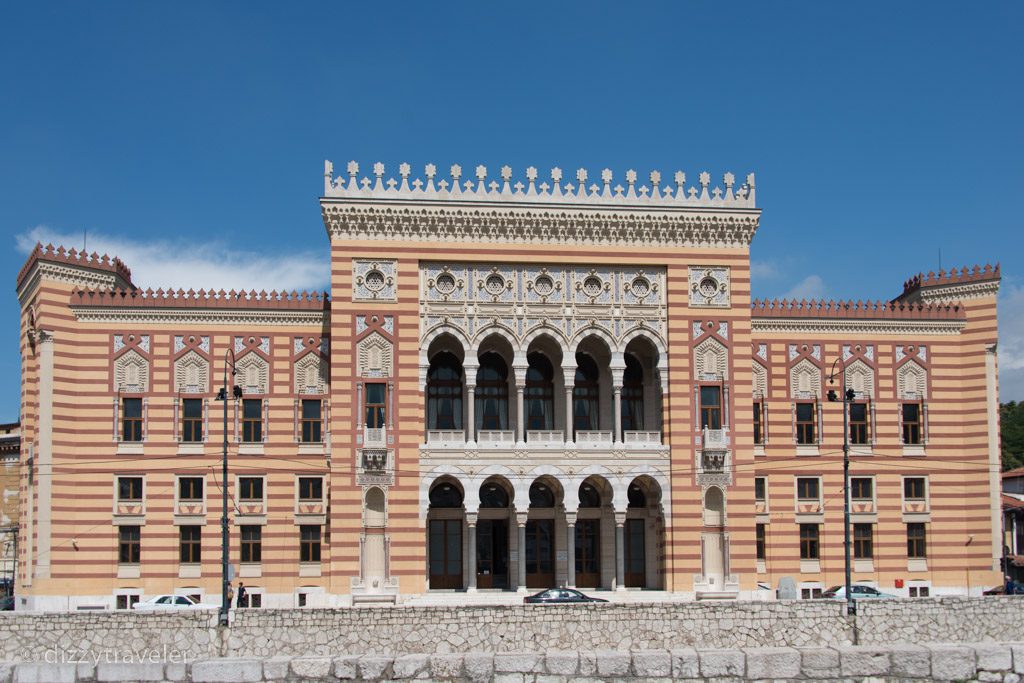 Šeher Ćehaja Bridge
Šeher Ćehaja Bridge is a bridge that crosses the River Miljacka in Sarajevo, Bosnia & Herzegovina. During Ottoman rule, 13 bridges were built in Sarajevo. One of the most impressive ones is Šeher Ćehaja Bridge.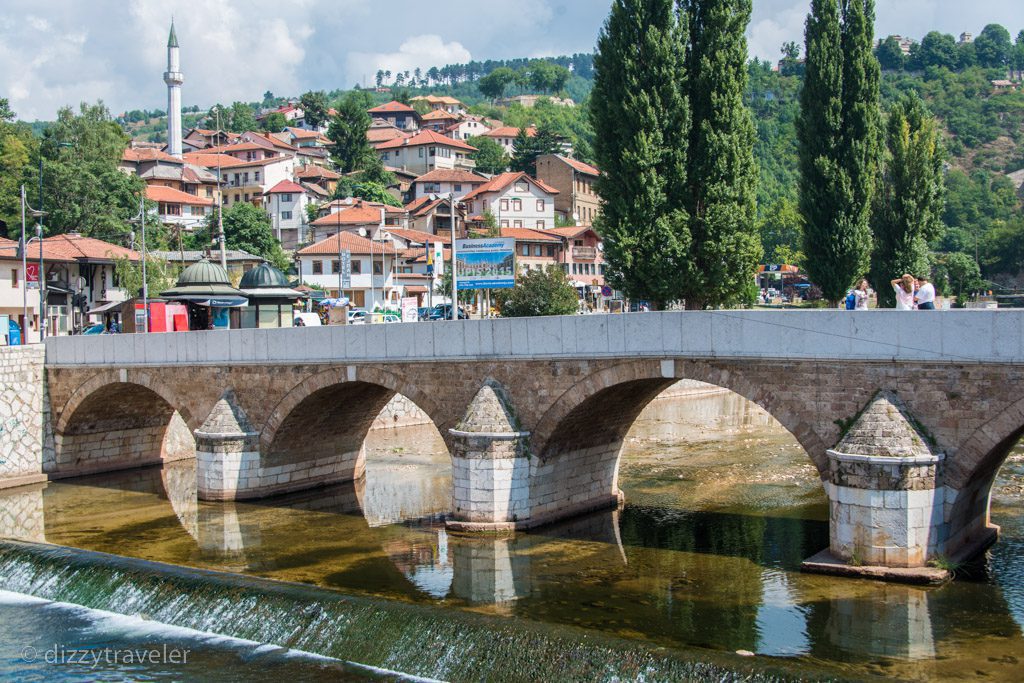 Bascarsija Mosque, Sarajevo
It is located on the main square of Sarajevo's old trading center – Bascarsija. It is believed that this mosque was built before 1528.
While the mosque's courtyard is not very large, it's quite pretty and is like a little oasis in the center of Baščaršija, with its small fountain, roses, and two tall poplar trees.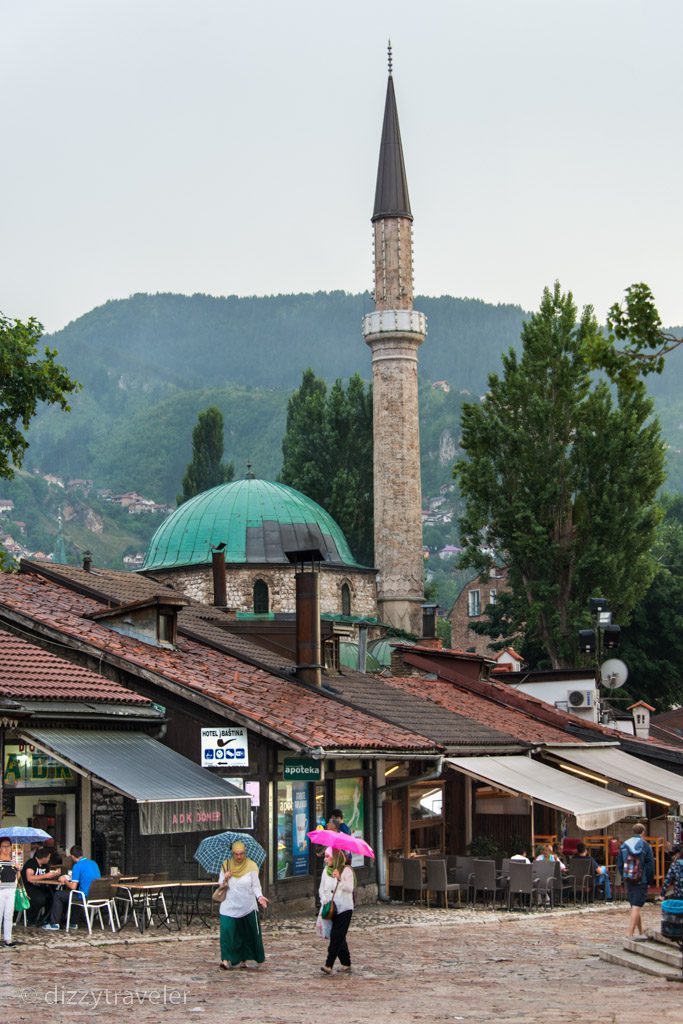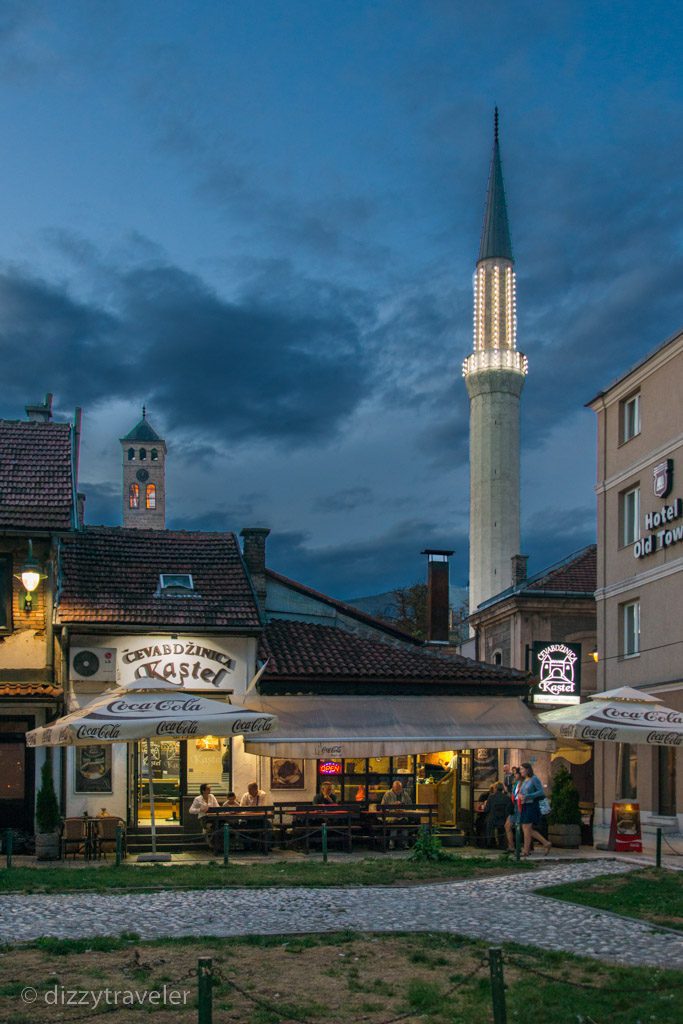 Bijela Tabija
The White Fortress is an old fort overlooking the historic core of Sarajevo. It is a national monument of Bosnia and Herzegovina.
How To Get Around
Bus and Tram:
Public Bus and Tram is the most convenient and cheapest way to move around the city. I did not use the bus but tried both Tram 1 and 3. A single ride will cost you 1.60 KM (US$ 0.86) if purchased from kiosks; otherwise 1.80 from the driver. A day ticket is also available for purchase, which will cost you 5.30 KM (less than US$ 3), covering all trams and trolleybuses but not buses. Note that day tickets need to be purchased from official kiosks only.
Tram 3 starts from Ilidza passes the National Museum, and then circles around Bascarsija (old town) frequently (every 4 to 7 minutes). Tram 1 starts from the train station and then goes around the ancient city, the same loop as Tram 3. Trolleybus and regular buses also run through the city and are a great way to move around.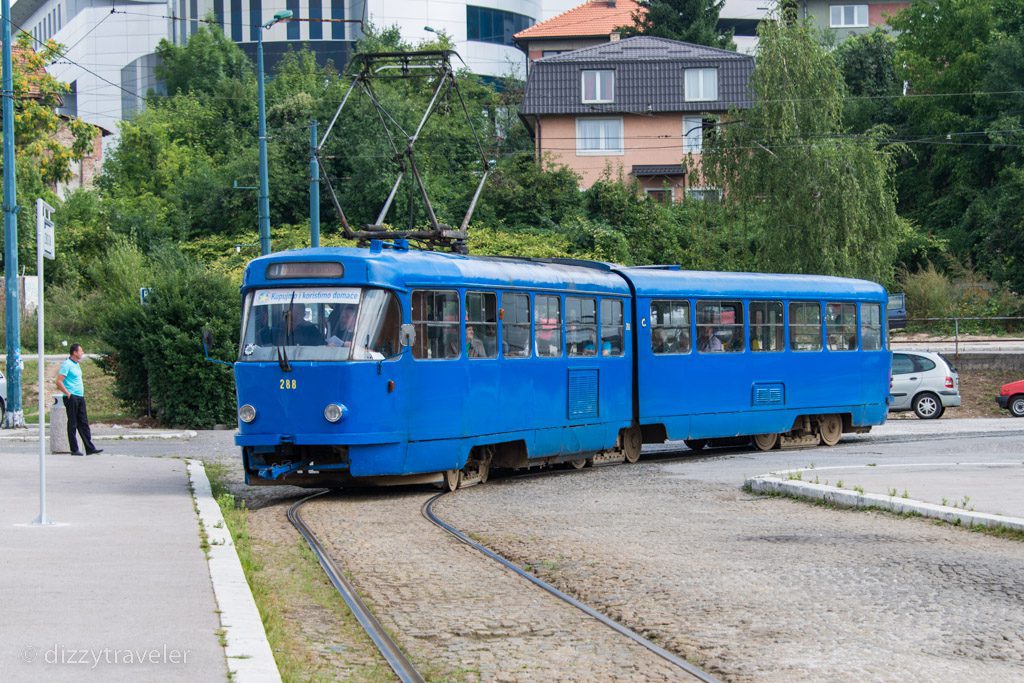 Car
The old town is not a good place to drive around, and it is very difficult to find parking. Even though I rented a car, I parked it at my hotel when I planned to explore the old town (Bascarsija) area. But when you plan to visit the surrounding mountains, having a car makes it much more manageable.
Taxi
There are taxis available in the city, but you may need to negotiate the fare and often want a fixed price. Sometimes language is going to be an issue in communicating with the driver.
Where to stay in Sarajevo, Bosnia and Herzegovina
I enjoyed staying at this 4-star hotel on the right bank of Miljacka River, 1.5 miles from Sarajevo's Old Town. Breakfast was excellent—a lot of items to choose from. The hotel staff was friendly and helpful. While staying there, I took the tram most of the time to get to the city center (old town). The closest Tram station Pofalici is a few minutes walk from the hotel. If you have a rental car, then video surveillance secured parking is available at 20 KM/BAM per night or 3 KM/BAM per hour. The airport is 15 miles from the hotel, and transfers by Hotel limousines are only 40.00 KM/BAM (US$ 22); email them for a reservation.
The wholly refurbished Hotel Central in Sarajevo provides outstanding fitness and relaxation facilities and a 100 feet long swimming pool. Complete relaxation offers the West Wood Day Spa, with a sauna, relaxing steam baths, and a hydrotherapy pool. Indulge in professional treatments, including facials, waxing, manicure, and many others. This hotel is in a great location in the heart of the city and close to all the attractions.
My Opinion and Last Word
Have you been to Sarajevo, Bosnia and Herzegovina? Any cool tips to share?
I loved being in Sarajevo, Bosnia and Herzegovina, and want to go back again. I hope my story has motivated you to visit Bosnia and Herzegovina.
Please leave a comment below! I'd love to hear from you to improve my knowledge. 
Was this travel guide helpful for you?
If you'd like to help me continue making free guides, here is one way you can help:
Share This Guide 

– If you have a friend that would benefit from this guide, share it with them. Or post this guide on Facebook, Twitter, or Instagram.
Your Support would definitely help me make more free guides like this. Thank you in advance!
Affiliate Link – This post in Dizzy Traveler contains affiliate links, which means I receive a referral commission if you purchase after clicking at no additional cost to you. These funds go to maintain the site. Thank you for your support.
Book your Sightseeing Trip
There are a lot of beautiful places to visit and some exciting sightseeing activities to bring unforgettable memories back home. Please click below affiliate link to see more options.