Athens is rich in history and has many ancient ruins, monuments, temples, and churches. But, of course, you can't miss the Acropolis, a hill in the middle of Athens with some of the most important archaeological monuments. And Athens was once the heart of ancient Greece and the gateway to the stunning islands. The city has seven different districts. The word Athens originated from the name of the Greek goddess Athena. Many well-known historical monuments have partly been destroyed due to several wars fought over the centuries. Nevertheless, philosophers such as Aristotle, Socrates, and Plato were born in Athens. If you're planning a visit to Athens and looking for the best area to stay and places to see and do, then you are in the right place. Here you will find our experience and pictures that may help you plan yours.
Helpful Information
Best Time To Visit
Best Time To Visit – I'd recommend visiting Greece anytime between February – May when the temps are manageable and tourists haven't completely swarmed the city. Plus, hotel rooms should be cheaper (besides Easter). Peak season traditionally runs from June to August. 
Summer is hot and sunny. The warm water is perfect for beach enthusiasts who bring crowds to vacation destinations like Santorini Island. Also, schools are closed between the 1st week of June to mid-September, so expect to pay a higher price for accommodations and other travel-related activities. Beaches, ferries, trains, and tourist attractions are usually crowded. 
How To Get There
The best way to get there is by air or by road from neighboring countries.
Getting There: Most flights will arrive at Athen's International Airport (ATH), the main international airport about 33 km from Athens city center.
Search for Airline Tickets, Hotels, and Rental Car
Getting Around in Athens
Many of the best attractions are close together, and some are spread out; therefore, exploring them on foot could be challenging as the city is large and contains several neighborhoods. Also because of the hilly area everything can therefore be difficult to walk. Fortunately, the best option to move around the city is by metro, tram, train, taxi, and bus. In addition, public transport is relatively cheap, and you can buy a day or week pass that will give you unlimited rides. Most of the well-known sights are close to Metro or bus stations.
From Airport
From Eleftherios Venizelos Athens International Airport (ATH), there are several ways to get to the city center.
By Metro
You can take the metro Line 3, which connects the airport to the city center. The metro runs every 30 minutes, between 6:30 am – 11:30 pm, and takes about 40 minutes.
By Express Bus
The express bus connects Athens Airport to the city center. Operates 24/7 tickets can be purchased at the kiosk outside the arrival hall or from the bus driver (cash payment only).
By Taxi
Taxies are reliable and available from the designated taxi stand outside the arrival hall exit 3. The flat fare is €35 between 5:00 am – midnight and €50 between midnight to 5:00 am.
Please stay away from renting a car in Athens; it is difficult driving around in jam-packed traffic conditions in Athens. You will simply waste your valuable time and get agitated and stressed instead of enjoying your vacation. But a self-driving rental car is much easier and more convenient if you are heading north to Meteora, Thessaloniki, or the Ioannina area.
Athens is a vast spread-out city; therefore, finding a suitable area to stay in requires prior experience or expert recommendation. An area closer to Acropolis or Megaro Mousikis Metro station is ideal.
Search Hotels in Athens, Italy
Visa Requirement
Citizens of many countries may obtain visas on arrival at the airport. Most of the countries, Canada, Brunei, Japan, Malaysia, Singapore, South Korea, Turkey, and a few more, do not need visa. Currently, US citizens do not need a visa to visit Italy for less than 90 days.
Check out iVisa for visa services
Things to do in Athens
You can visit many ancient ruins, monuments, temples, and churches in Athens. But, of course, you can't miss the Acropolis, a hill in the middle of Athens with some of the most important archaeological monuments. In addition, you will find remains of temples and other historical monuments scattered throughout the city many devoted to the ancient Greek gods. On the other hand, there are plenty of museums to visit if that is one of your interests. The best-known museums are Acropolis Museum and National Archaeological Museum. At the same time, Monastiraki Squire is one of the famous squires for shopping. So the city has something for every tourist to experience.
Visit The Acropolis of Athens
The Ancient citadel UNESCO World Heritage Site, the Acropolis of Athens, is located on a rocky outcrop above the city of Athens. The complex includes the remains of several ancient structures of architectural and historical value.
Caryatids of The Erechtheion
The Erechtheum is one of the most important sanctuaries of the Acropolis. The six columns look like the statue of women are famous among photographers. The building consists of two different areas, one room was dedicated to a statue of Athena Polias, and the other was devoted to King Erechtheus and the god Poseidon. So the Erechtheum is named after the king Erechtheus.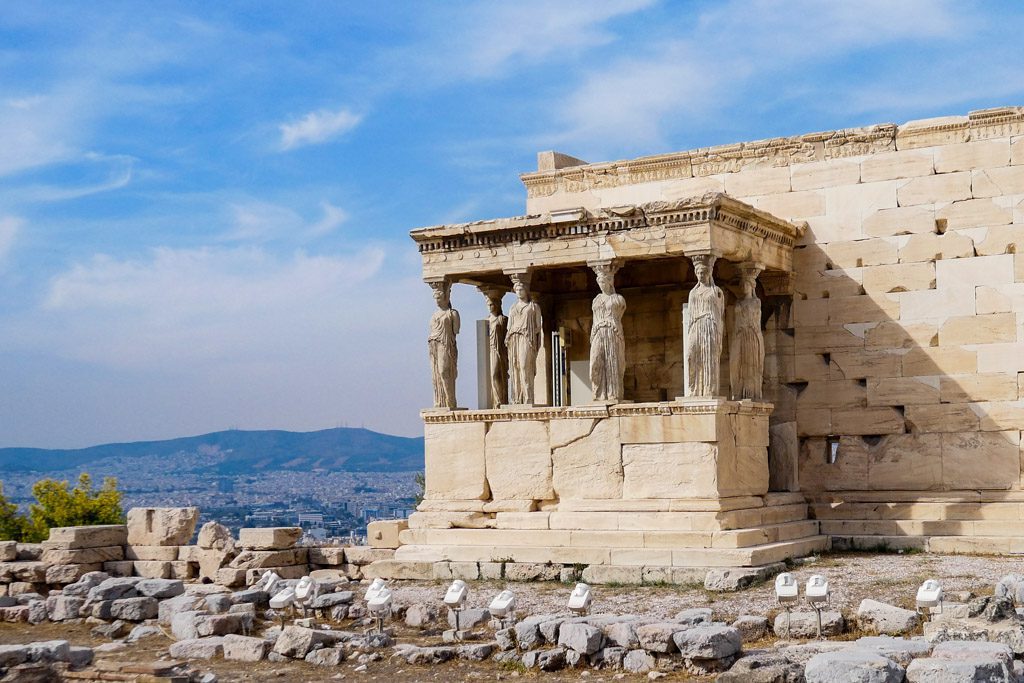 The Parthenon
The Parthenon is a former temple and is the most impressive and prominent building on the Acropolis. It was built between 447 to 438 BC by Delian League, which later became the Athenian Empire. The building is dedicated to the goddess Pallas Athena. This temple intended to demonstrate how dedicated and skilled the Greeks were in art and architecture.
Visit The Propylaia
The Propylaia is the classical Greek Doric building complex that functioned as the monumental ceremonial entrance gate to the Acropolis of Athens—built between 437 and 432 BC. This entrance is therefore dedicated to gods who protected entrance gates.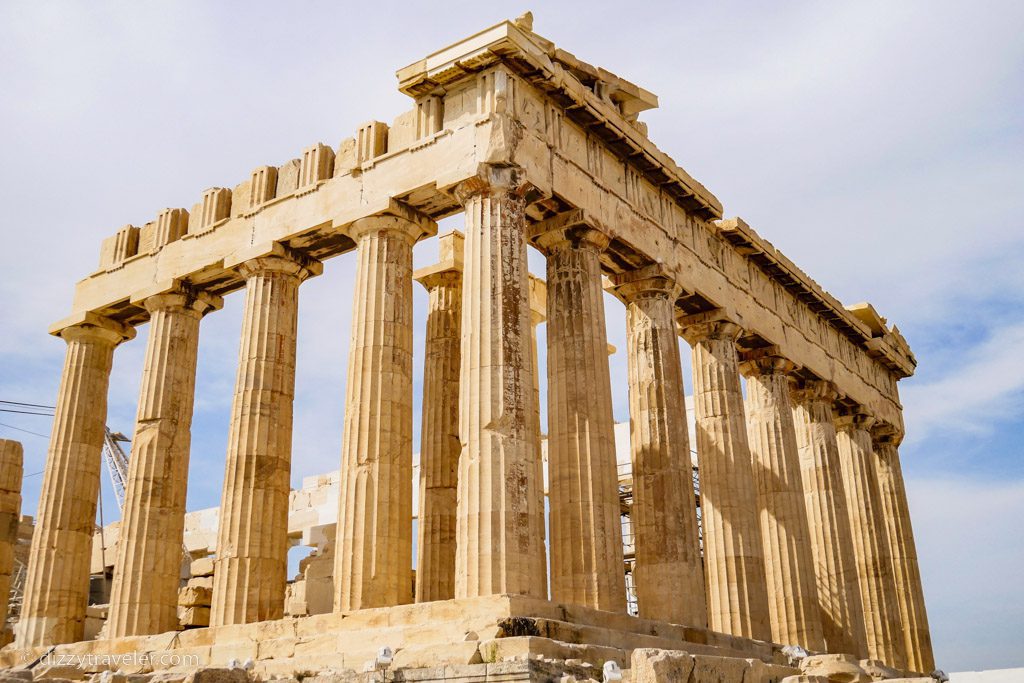 The Temple of Nike
The Temple of Nike built in honor of the goddess Nike and Athena on the Acropolis. Built around 420 BC, the temple is the earliest fully ionic-style temple with eight columns. On the front wall, there are several pillars with nice decorations. The most important part of this temple is probably the friezes. On the other side, you can see the gods Zeus and Athena.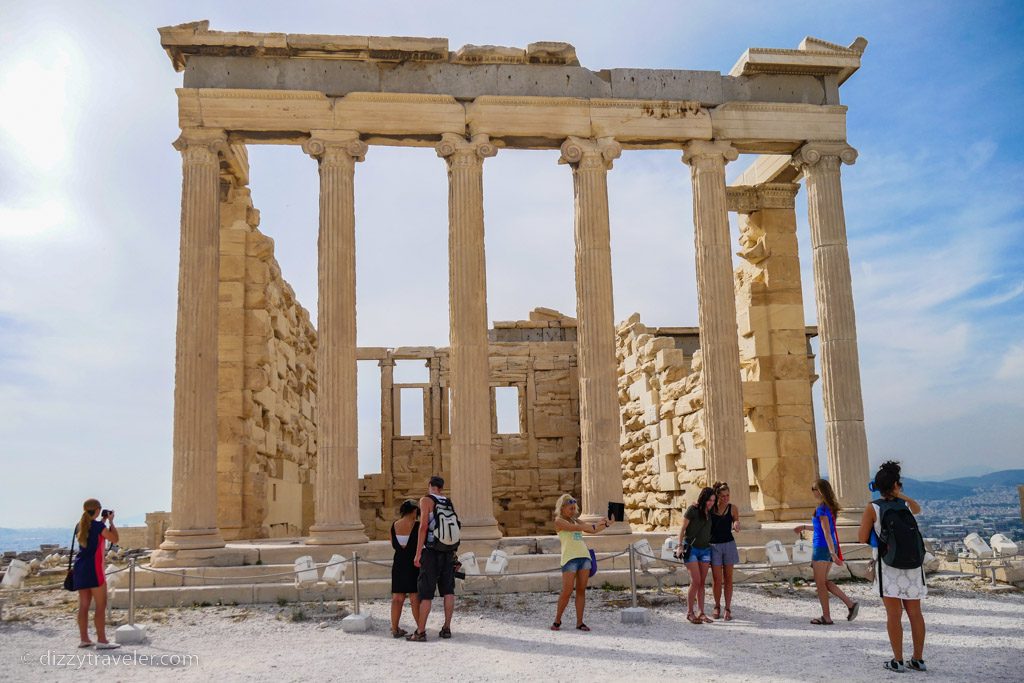 Odeon of Herodes Atticus
The Odeon of Herodes Atticus is a stone Roman Theatre commissioned by Herodes Atticus, an influential, wealthy person in Athens who built it for his late wife. The theatre has a semicircle shape that can accommodate approximately five thousand people. Since 1970, public performances like concerts, operas, and dance have been taking place.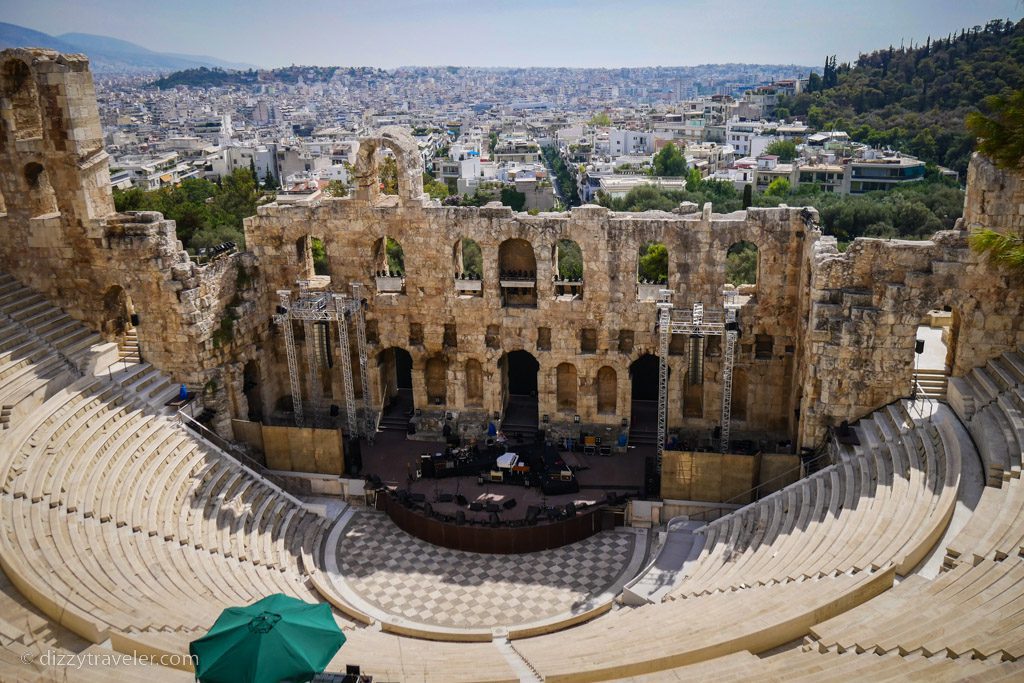 Temple of Olympian Zeus
The Olympian was dedicated to the god Zeus, therefore called the Temple of Olympian Zeus. It was one of the first buildings designed for the modern Olympic Games. It was one of the largest temples in Ancient Greece. Then, the temple had 104 columns 55 feet (17 meters) high, but today you can see only 16 columns.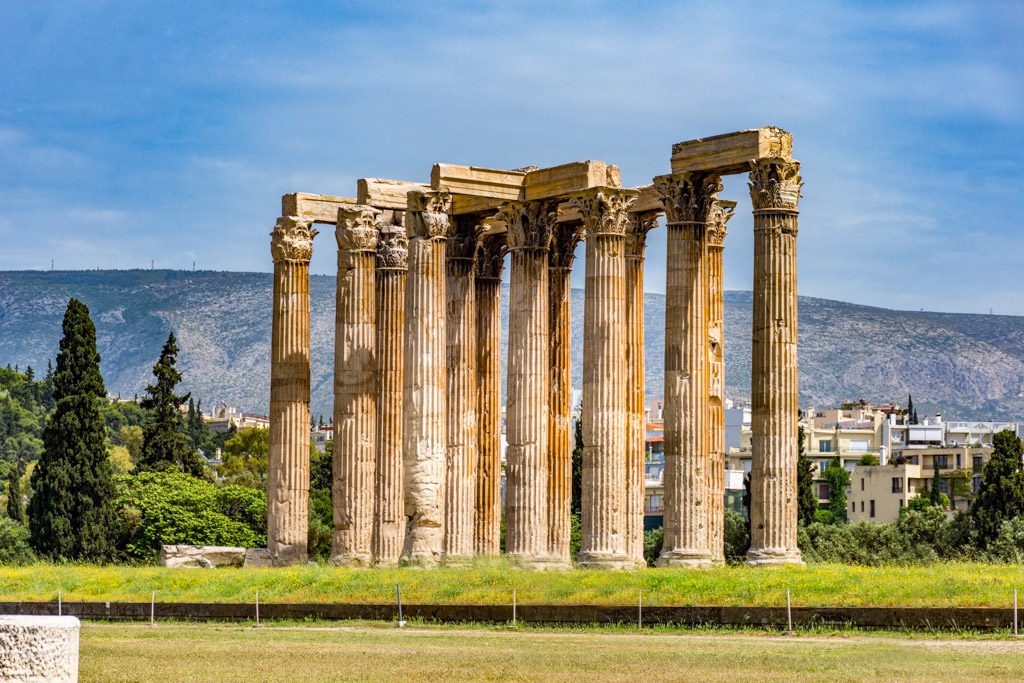 The Panathenaic Stadium
The Panathenaic Stadium once hosted the Panathenaic Games. In 1896 the staduium hosted the first modern Olympic games. The stadium can accommodate about 80,000 people, but now it is only a landmark where you can learn more about the Olympics.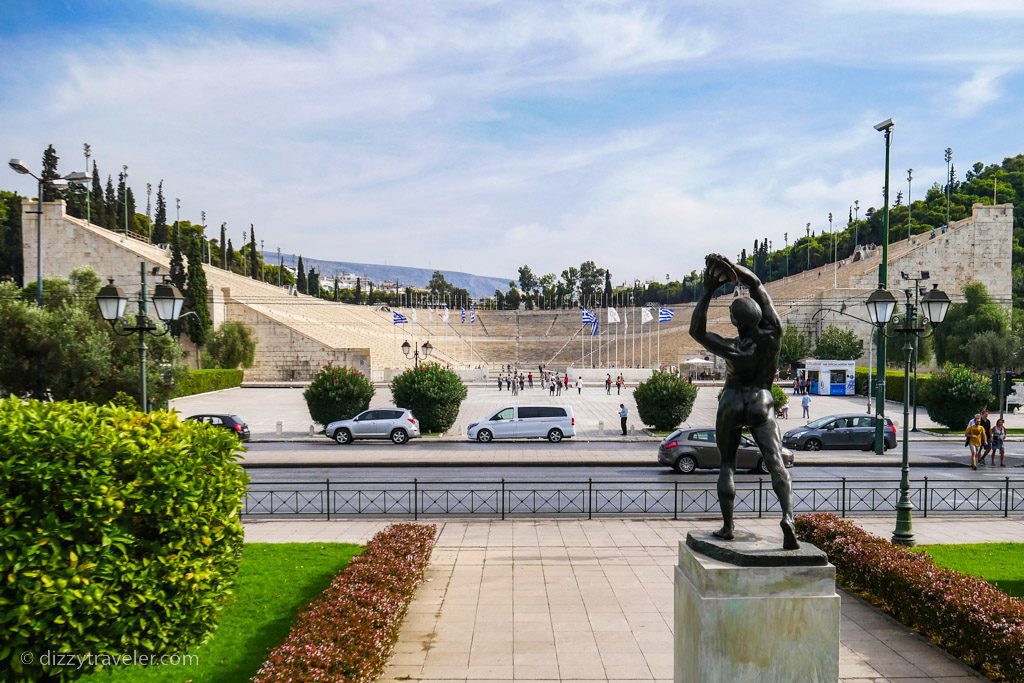 Monastiraki Square
Monastiraki Square is one of the prominent places in Athens with a cozy atmosphere. This square is located in the middle of the busy Monastiraki district and is very popular among locals and tourists. In addition, there are quite a few churches and museums near the squire. Ermou street is a famous shopping street between Monastiraki Square and Syntagma Square. In addition, there is a flea market every Sunday where you may find antiques. The squire is close to the metro station and surrounded by lovely shops and cafes, an excellent meeting point as well.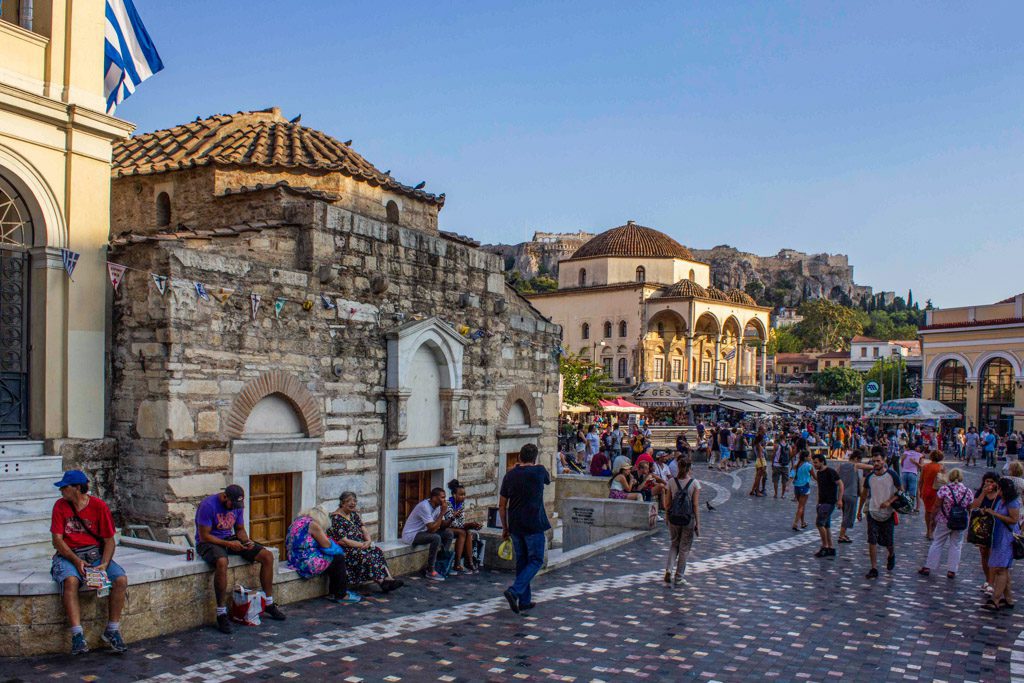 The Roman Agora of Athens
The Roman Agora was built around 11 BC with the help of Julius Caesar and Augustus, among many others. The complex is located east of the Ancient Agora in Athens and surrounded by a wall and contained a square with shops, shores, and trading places. Their Tower of the Winds used to indicate ancient Athens's time and wind direction.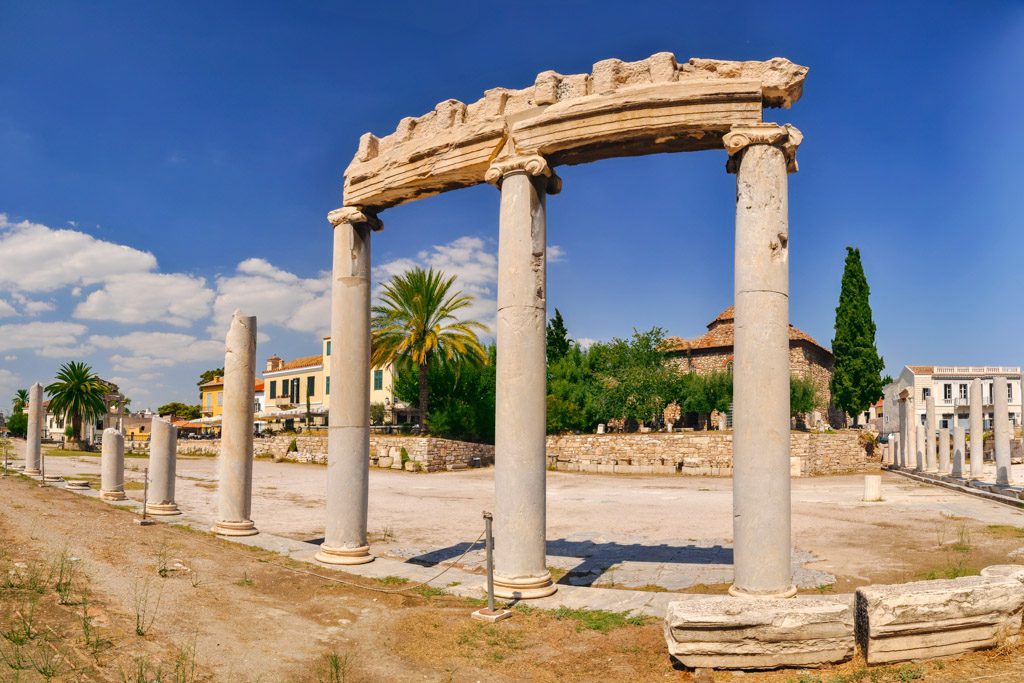 Visit Areopagus Hill
The 380 feet (115 meters approx) Areopagus rock is located northwest of the Acropolis. Pagus is the Greek word for large rock. The main judicial establishment of Athens once served here on the rock as the high court of appeal for judicial cases of ancient Greece. Legend has it that the god Ares was sentenced here for slaying Poseidon's son. Unfortunately, in the current period, you will not find any ruins of temples on this hill, but you will be rewarded with a beautiful view over Athens. Climbing up and getting down could be somewhat tricky, depending on individual skill level and physical fitness.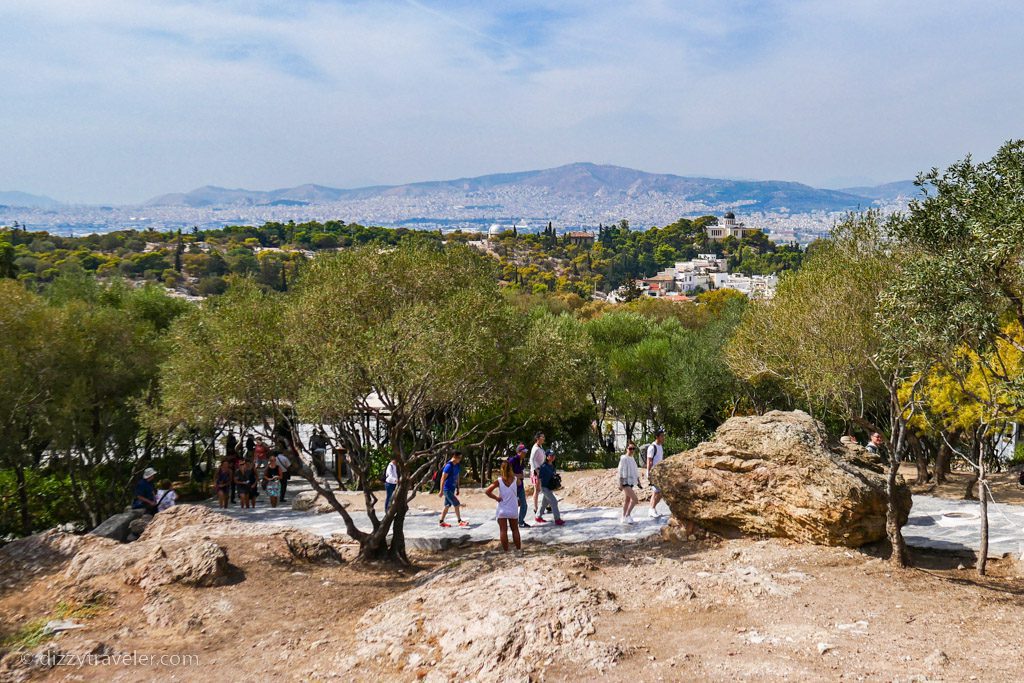 View Sunset from Lycabettus Hill
For the breathtaking view of the entire Athens, you must visit Lycabettus Hill. You hike the trail to climb the tallest hill in Athens or take the Lycabettus funicular. At the elevation of 910 feet (277 meters), you will find an open-air theater, restaurant, and St. George church. It is very popular for its beautiful sunset view.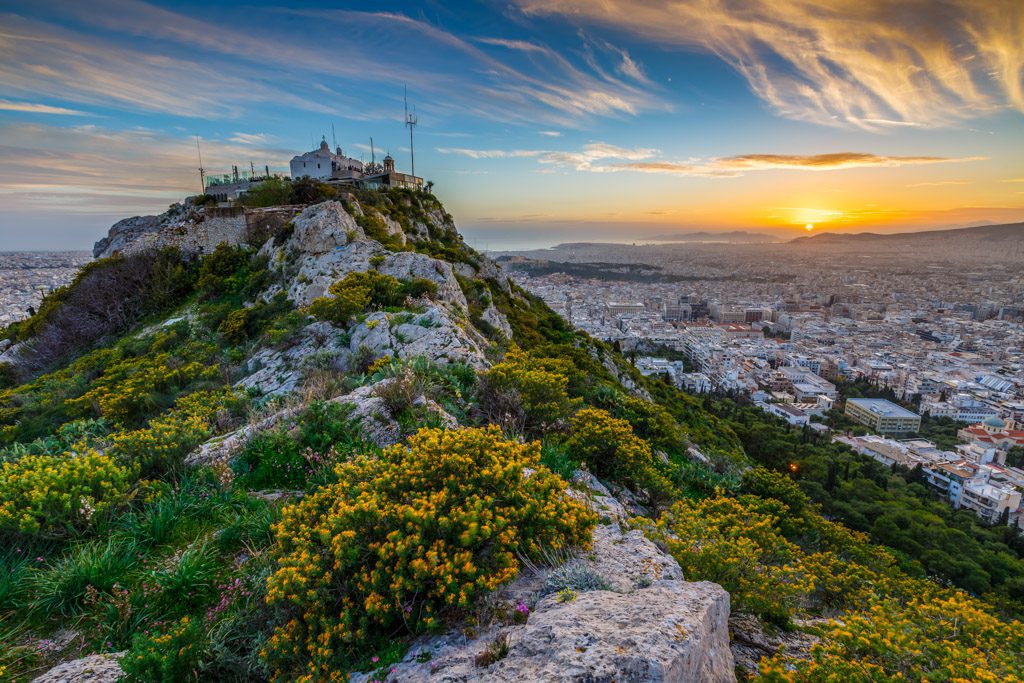 Visit Central Market
Close to Monastiraki, you will find the Varvakeios market halls (Central Market). You can buy vegetables, meat, fish, fruit, wine, and much more in this market. In addition, there are restaurants where you can buy authentic Greek delicacies and delicious food from different cultures. It is a great place to visit for lunch or snacks as well.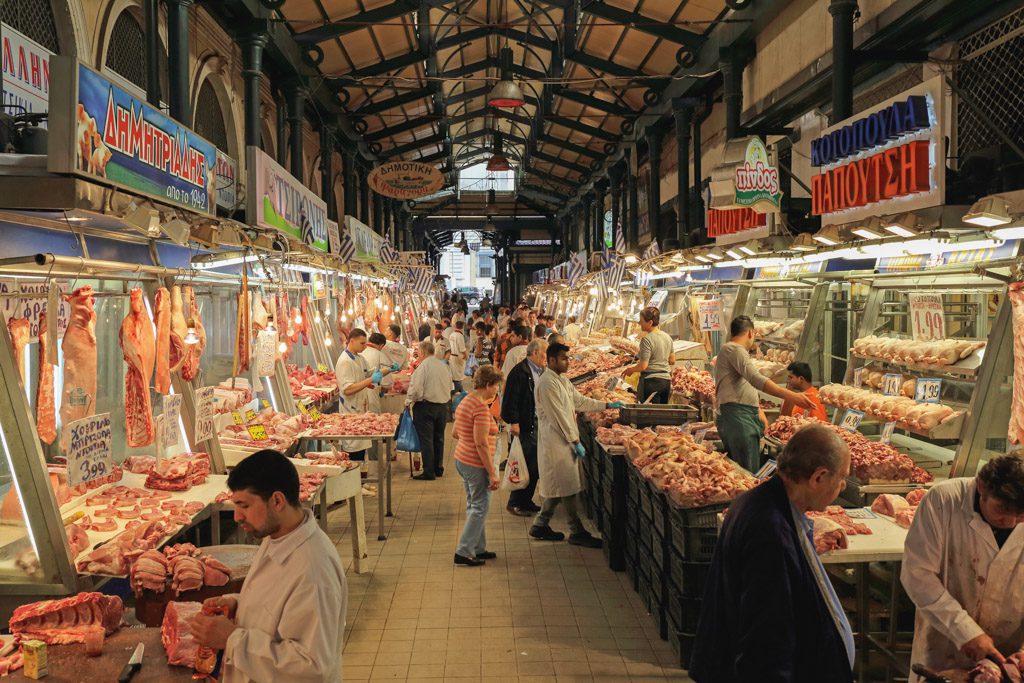 Walk around Plaka and Anafiotika
Plaka and Anafiotika are the two great neighborhoods you should definitely visit while visiting Athens. Palka is among the nicest colorful neighborhoods, with terraces and souvenir shops popular among tourists. However, to enjoy the authentic atmosphere, you need to walk through the narrow streets and absorb the experience. The area is getting a lot of attention from international tourists, so expect to see crowds.
Anafiotika is also very popular among visitors and is a must-see area. It is an excellent and quiet neighborhood. You will find white houses all over as if you are on one of those Greek islands like Santorini. Like Plaka, attracts many tourists and local visitors. However, in this district, you can find a viewpoint where you can take beautiful pictures.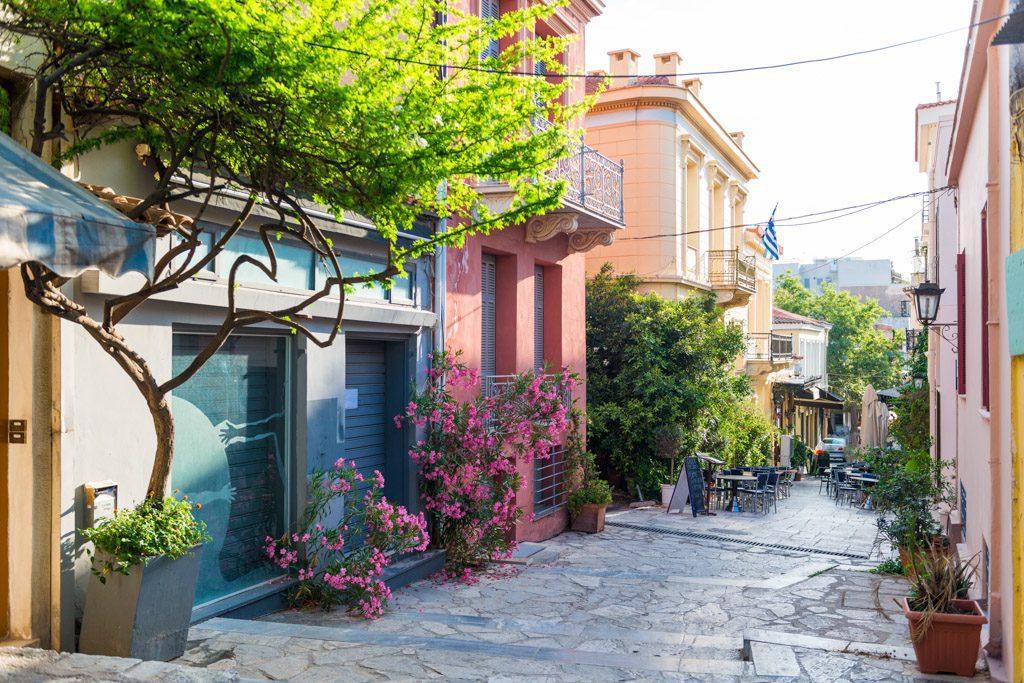 Nightlife districts of Gazi or Psirri
Visit Gazi or Psirri District for Nightlife if you want to experience great nightlife. There aren't many activities in the Gazi district during the day, but at night the district transforms into one of the city's loveliest areas. In contrast, the Psirri district is vibrant and surrounded by live music, street food, and appetizers like Mediterranean Meze. As a result, this cozy neighborhood is very popular among young people and hipsters.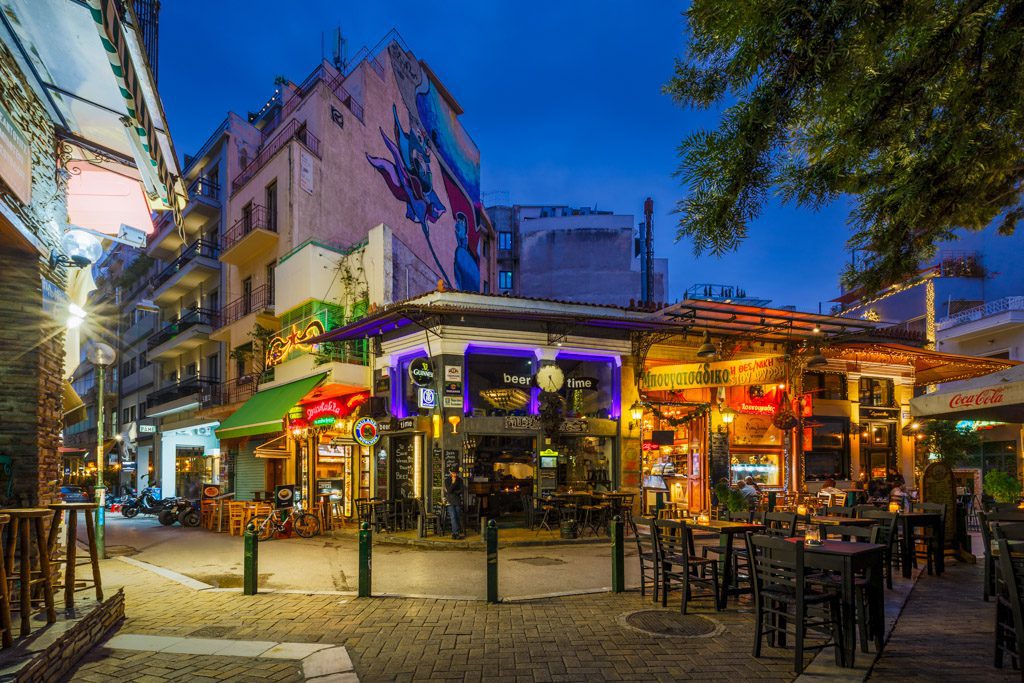 Visit Port City Piraeus
Piraeus, the port city, is a great place for boat lovers in Athens. Piraeus is one of the most important passenger ports in Greece. In addition, there are passenger ferries that commute to various islands in the area. There are a few museums displays mainly about history of the port. It's a walkable city with restaurants and shops ideal for international tourists.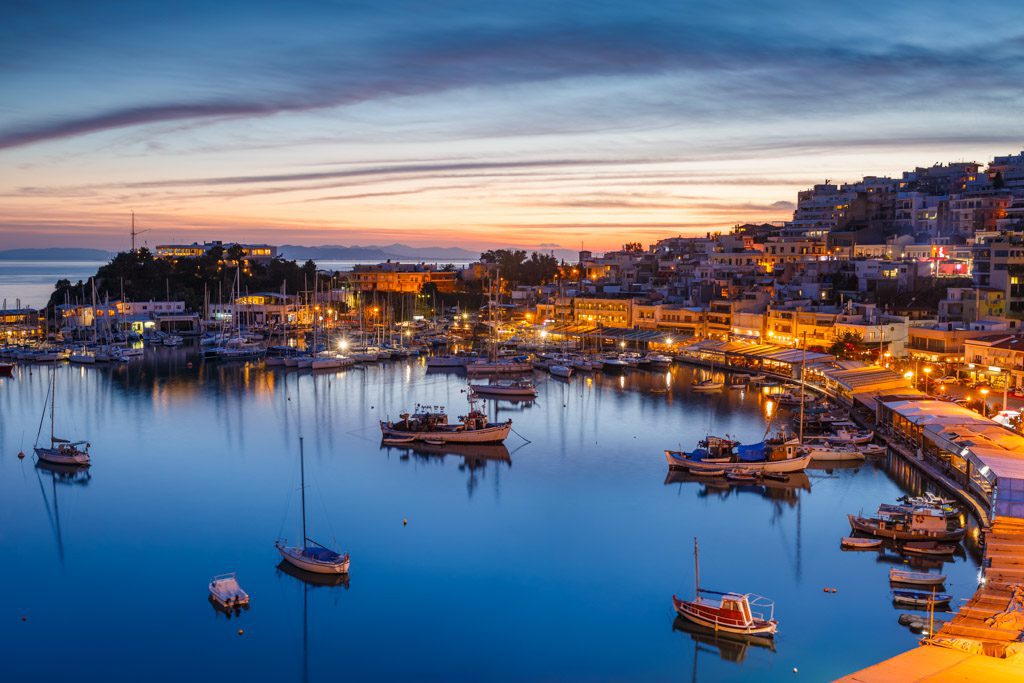 Where to stay in Athens, Greece
Located at the foot of the Acropolis, Herodion Hotel offers elegantly decorated air-conditioned rooms. It has a beautiful roof garden with sun loungers and two hot tubs boasting spectacular views over Athens. Most rooms have private balconies, and some have a view of the Acropolis. Offering direct views of the Acropolis, the rooftop PointA restaurant is fitted with a decked terrace, serving Mediterranean cuisine with Greek influences and a variety of cocktails. Hotel Herodion is just a few steps from the new Acropolis Museum and a 15-minute walk from the central Syntagma Square. The Acropolis Metro Station is within 650 feet of the hotel.
This 4-star hotel is a 5-minute walk from Megaro Mousikis Metro Station and two stops from Athens's historical and shopping center. It offers soundproofed rooms with satellite TV. The elegant rooms at the Golden Age are fully air-conditioned and have black-out drapes. They all include an in-room safe. The Golden Age Hotel's two restaurants serve gourmet Mediterranean dishes. The Athens Concert Hall is 1,300 feet away. The hip Kolonaki district is approximately 2,950 feet from the hotel.
My Opinion and Last Word
Have you been to Athens, Greece? Any cool tips to share?
loved being in Athens, Greece, and want to go back again. I hope my story has motivated you to visit Greece.
Please leave a comment below! I'd love to hear from you to improve my knowledge. 
Was this travel guide helpful for you?
If you'd like to help me continue making free guides, here is one way you can help:
Share This Guide 

– If you have a friend that would benefit from this guide, share it with them. Or post this guide on Facebook, Twitter, or Instagram.
Your Support would definitely help me make more free guides like this. Thank you in advance!
Affiliate Link – This post in Dizzy Traveler contains affiliate links, which means I receive a referral commission if you purchase after clicking at no additional cost to you. These funds go to maintain the site. Thank you for your support.
Book your Sightseeing Trip
There are a lot of beautiful places to visit and do some exciting sightseeing activities to bring unforgettable memories back home. Please click on our below affiliate link to see your options.