Lake Como (Lago di Como) is located in the northern part of Italy, boarding Switzerland. The third-largest lake in Italy is stunningly beautiful, surrounded by mountains, picture-perfect villages, and luxurious lakeside villas in Bellagio, Varenna and more. No doubt why it is one of the most popular tourist destinations in the country. I loved my trip to Lake Como so much that I want to return for another captivating experience. In addition to its stunning beauty, it also offers many other activities for tourists, such as hiking the nearby hills, mountain biking, a boat ride on the lake, exploring beautiful villages, visiting luxurious villas and gardens, or simply relaxing on the balcony with a drink and admiring the breathtaking lakeside view.
Getting to Lake Como
How to get to Lake Como by Trian
The Italian railway network is a convenient way to travel within Italy and is well organized in a country with miles-high mountains in almost every direction your eyes go. Milan is one of the major hubs to connect Lake Como. There are two ways to get to Lake Come by train best option depends on where you are staying. 
We took a regional train from Milan Centrale Station to Varenna Esino station. The hour-long journey was comfortable. Once at the Varenna station, we just walked down to the ferry terminal for the next available ferry to our hotel in Bellagio. 
Taking a train to Como San Giovanni station is another option from Milano Porta Garibaldi station. This route is perfect for those who plan to rent a car from the station and explore beautiful places surrounding the lake. Or take a public bus or ferry to your final destination.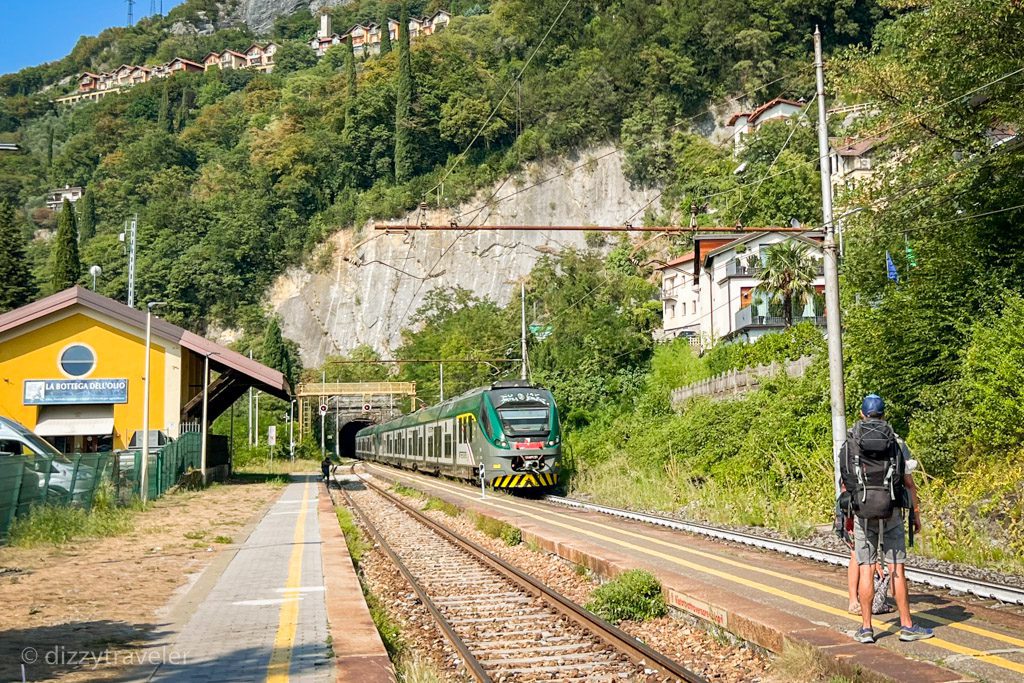 Getting There by Car
Driving to Lake Como by car has advantages as well as disadvantages. The only drawback was that I couldn't fully pay attention to the surrounding beauty while driving because I had to focus on the road and direction. But nothing can beat the advantage of the freedom of stopping anywhere, stretching out, taking pictures, trying out food at a local restaurant, and much more fun activities. 

Getting Around
Lake Como is surrounded by primarily small villages on the hilltop, hillside, or at the base of a mountain. Small towns such as Bellagio, Varenna, Menaggio, San Giovanni, Tremezzo, etc., are not so spread out and are easily walkable. Still, there is a lot of uphill climbing to do, getting from point A to B. That is one of the things you need to keep in mind, especially during the summer when the temperature is close to or above 33 C / 92-93 F). 
Taxi
Local taxis also service the region but aren't readily available at all times; therefore, if you prefer to travel by taxi, plan to book in advance. 
E-Bike
Lately, renting an e-bike is gaining popularity. I highly recommend exploring this option if this is something you can do interested in. 
Best Time to Visit
Lake Como is Italy's top resort location, famous for family activities year round due to its weather conditions. Even though it is located close to the mountains, its climate is milder than many other areas as its huge lake serves as a thermal reserve and is protected by surrounding mountains. These conditions make summer weather cooler, and winters are milder than in similar regions.
Summer between July and August is the peak season to visit Lake Como. Great for outdoor activities like hiking, climbing, cycling, boat trips, swimming, and much more, as long as the crowd does not bother you. However, most hotels usually get sold out months in advance during peak season. Therefore visiting during this season could be the most expensive. In addition, these are the hottest and driest months when temperatures exceed 30 degrees C.
Spring and Autumn between May – June, and September – October is the best season to visit because the temperatures are milder despite occasional heavy rains. Best time to avoid crowds and get great reasonable hotel deals. Milder weather makes exploring the area relaxing and cruising on the lakes more comfortable.
Winter in Lake Como is relatively mild, and the temperature remains around 5 – 12 degrees C. Snow is rare but can occasionally occur at higher elevations. Accommodation is much cheaper during this season than in peak season.
Useful Information
Varenna Esino to Ferry Termina
Varenna Esino train station to the Varenna Ferry terminal is less than 1/2 km, just a 5-7 minute downhill walk. On the other hand, going uphill could take longer, especially if you have luggage to carry up. So we just walked to the ferry terminal during our trip and took a ferry to our hotel in Bellagio. While our way back just hired a taxi from the ferry terminal to the station for Euro 10. 
Train From Milan to Varenna Esino Station
Regional Tranin from Milan depart on a hourly basis and the hour long ride is comfortable and relaxing. The last leg of the journey is very scenic as the train travel alongside the lake. You can buy train ticket from Italia Rail website,
Renting a Car from Como
If you plan to rent a car, the best option is to go from Como San Giovanni train station. I didn't find any car rental place in Varenna. Here is the link for car rental that you can explore. 
Search Flights, Hotels, & Cars
Bellagio Things to do and see
Our hotel was in Bellagio, so we were lucky enough to explore the beautiful town totally, one of the most favored among all the other villages around the lake. Most attractions in this tiny town are within walking distance, making Bellagio perfect for a day-tripper destination from Milan. It is also known as the pearl of lake Como. Here are a few places you can visit depending on your schedule, but keep in mind that there are stairs to climb and stiff uphill hiking involved.
Exploring The Streets of Bellagio
Bellagio is a small town perfect for strolling and exploring the narrow cobblestone streets and the uphill stairs leading from the waterfront to the uptown. In addition, there are a few locations from where you can enjoy the picture-perfect view of colorful buildings and lake Como. Particularly Salita Serbelloni is one of the most photographed and walked passageways in the heart of Bellagio. If you are tired of climbing uphill, then stop by a local gelato store for a break or sit back and relax in one of those coffee shops. There are also many excellent waterfront restaurants with great views that are worth visiting.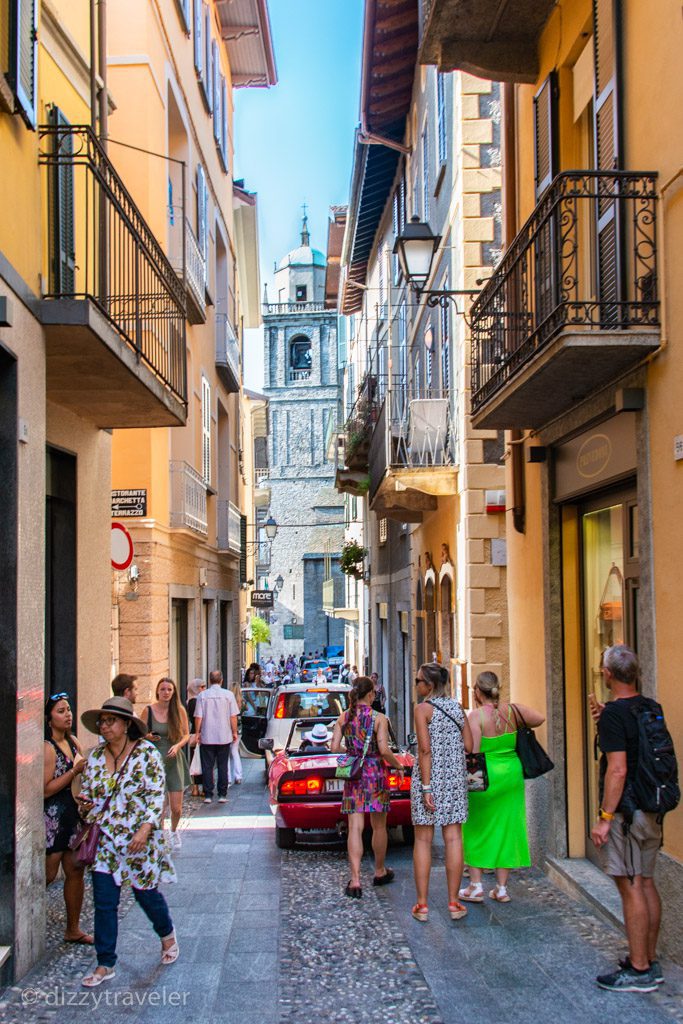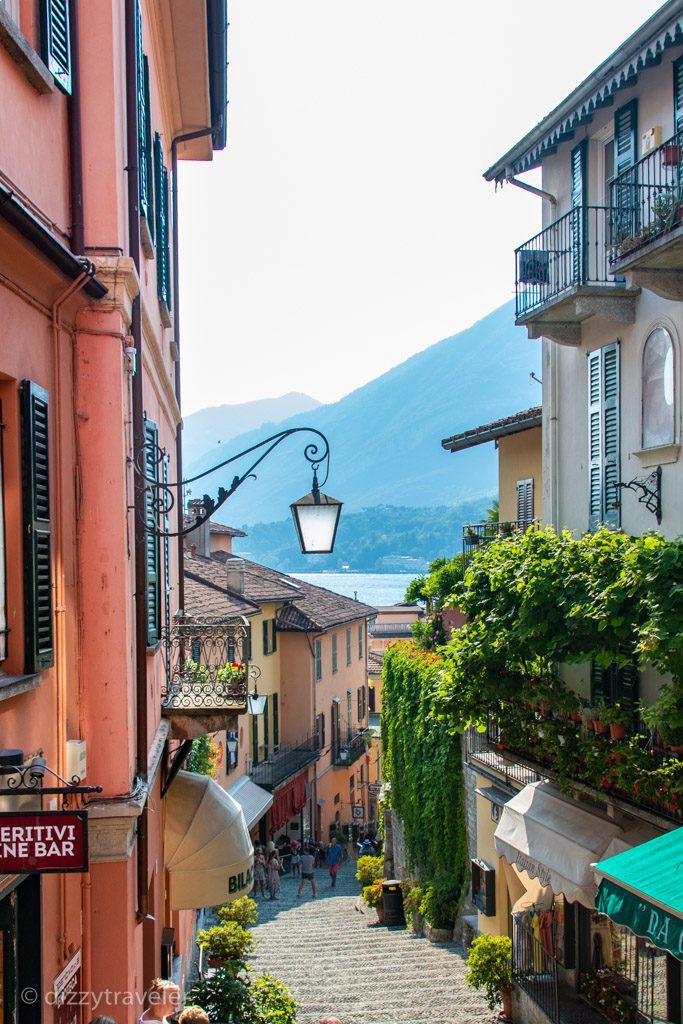 Visit The Basicica of San Giacomo
The church of Saint Giacomo is located right in the center of Bellagio, one of the most beautiful and picturesque in the entire lake Como area. It was built between the 11th and 12th centuries. The iconic bell town can be seen from a far distance.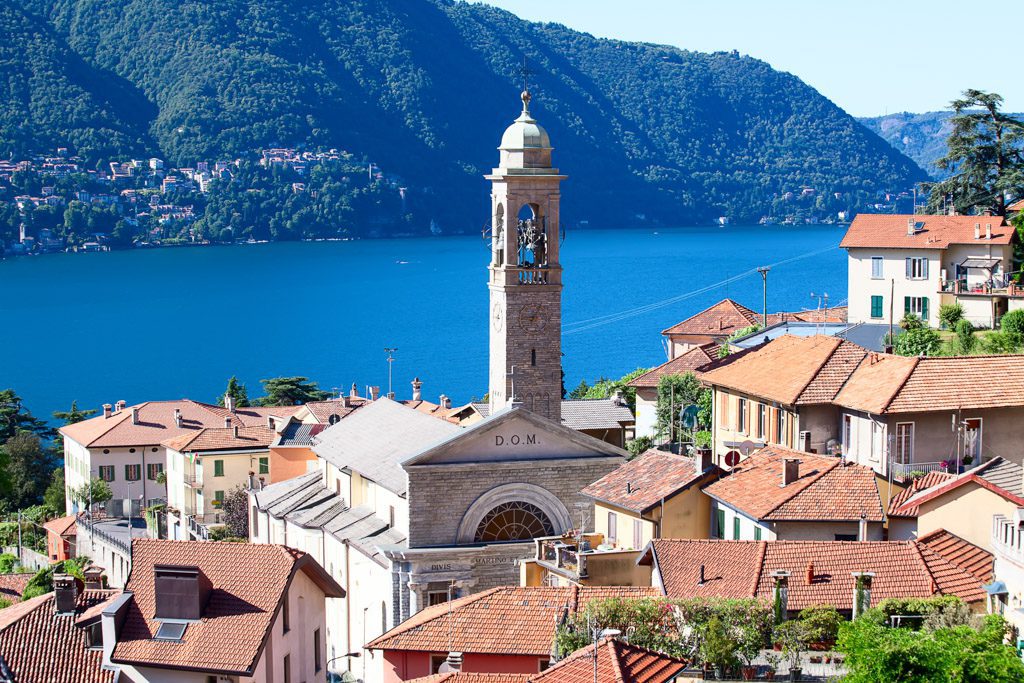 Visit Melzi Gardens
Villa Melzi is just a short walk from the Bellagio ferry terminal; the spectacular beautiful garden is open to the public between March – October. It is filled with walkways, trees, statues, a temple, a Japanese pond, and a great lake view. So if you are taking a ferry ride in Lake Como, you will definitely have a great idea of the villa and the beautiful surroundings from a distance.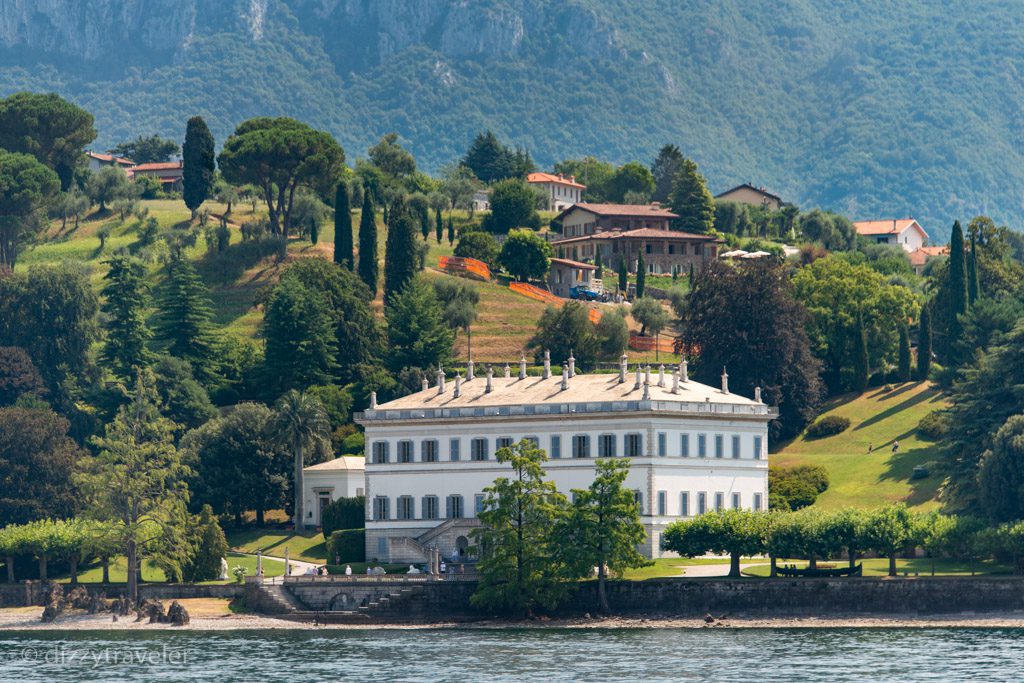 Check-out Punta Spartivento
Punta Spartivento is a small park in the northernmost part of Bellagio. From here, the view of Lake Como and its surroundings is beautiful. Also, you could see Varenna, Menaggio, and a few other lakeside villages. Suppose you are heading to or from Varenna by ferry. In that case, this park should be on your way; just keep your camera ready. But if you are planning a dinner at La Punta restaurant adjacent to the park, it's worth visiting during the sunset and dinner at the restaurant.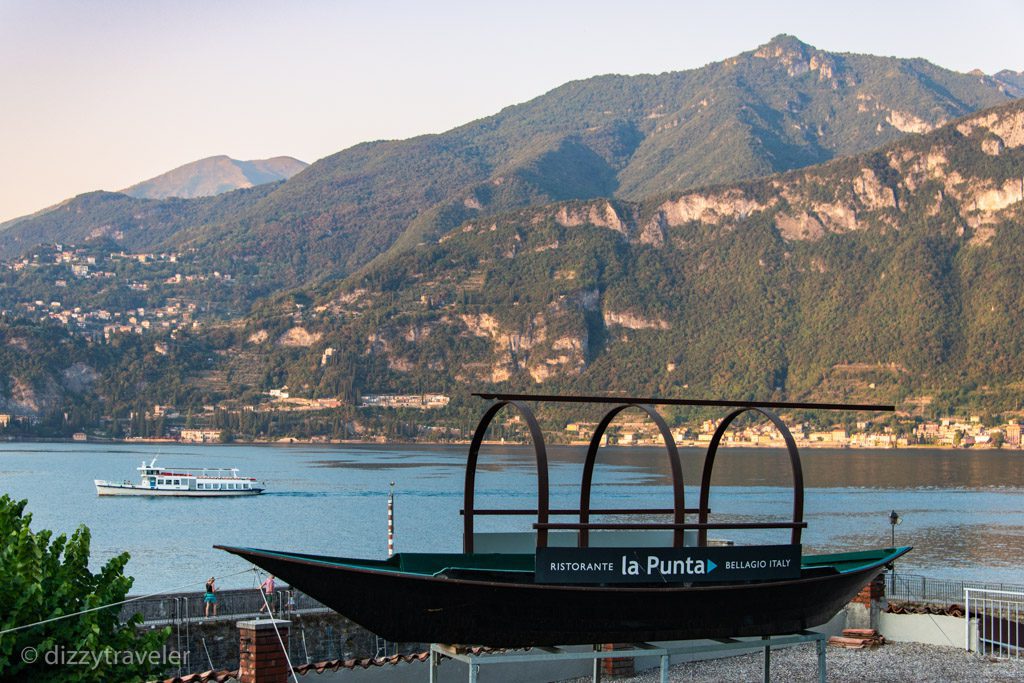 Visit the Fishing Village of Pescallo
If you want to get away from bustling Bellagio filled with tourists and day-trippers, Pescallo, a beautiful little fishing community, is perfect. It is a postcard-perfect quiet area, nice to relax and watch the beautiful view around the lake. You can rent kayaks or boats or swim. The walk to Pescallo is short from the hilltop Bellagio main road but not easy. Getting back up to Bellagio is a little challenging. Around a 10-15 minute uphill stairs climbing may drain your energy.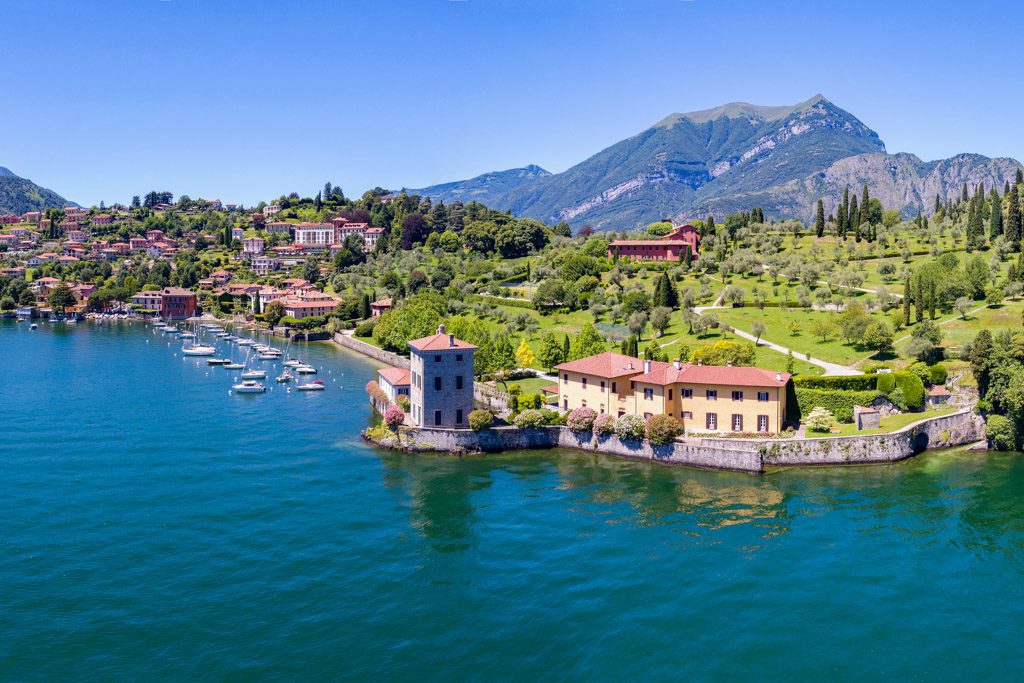 Bellagio Restaurants
Ristorante La Punta
Via Eugenio Vitali, 19, 22021 Bellagio, Italy
Ristorante Trattoria Bellavista
Via Nuova, 2, 22021 Bellagio, Italy
Seta Hotel, restaurant and cocktail bar
Via Teresio Olivelli, 23 Bellagio, Italy
Varenna Things To Do
Varenna is one of the most picturesque of the surrounding Lake Como villages. Only about 60 km south of Milan, one of the popular day trip attractions by an hour-long train journey. Also, a getaway village to other destinations such as Bellagio, Menaggio, and much more around the lake by ferry. Here is a list of the popular things to do in romantic Varenna.
Church of San Giorgio
The iconic 13th-century church of St. George is located in the center of Varenna town square. The church has a unique tall tower that can be seen from away. I highly recommend visiting this beautiful little church while visiting Varenna.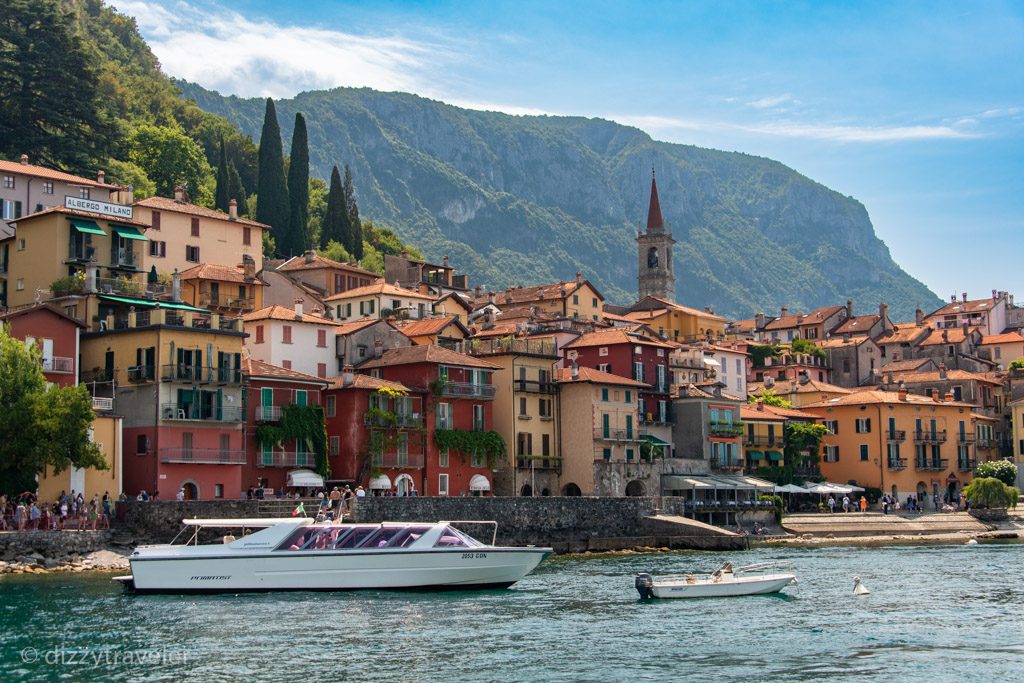 The Lover's Promenade
The lover's promenade is a beautiful scenic way that leads from the ferry terminal to the center of Varenna village. It is one of the main attractions that attract tourists to Varenna. Watching the sunset is one of the best things you can do here, especially since this place becomes peaceful once all the day trippers have left at the end of the day. For a great evening, there are plenty of restaurants along the way where you can relax and enjoy the gorgeous lake and the sunset.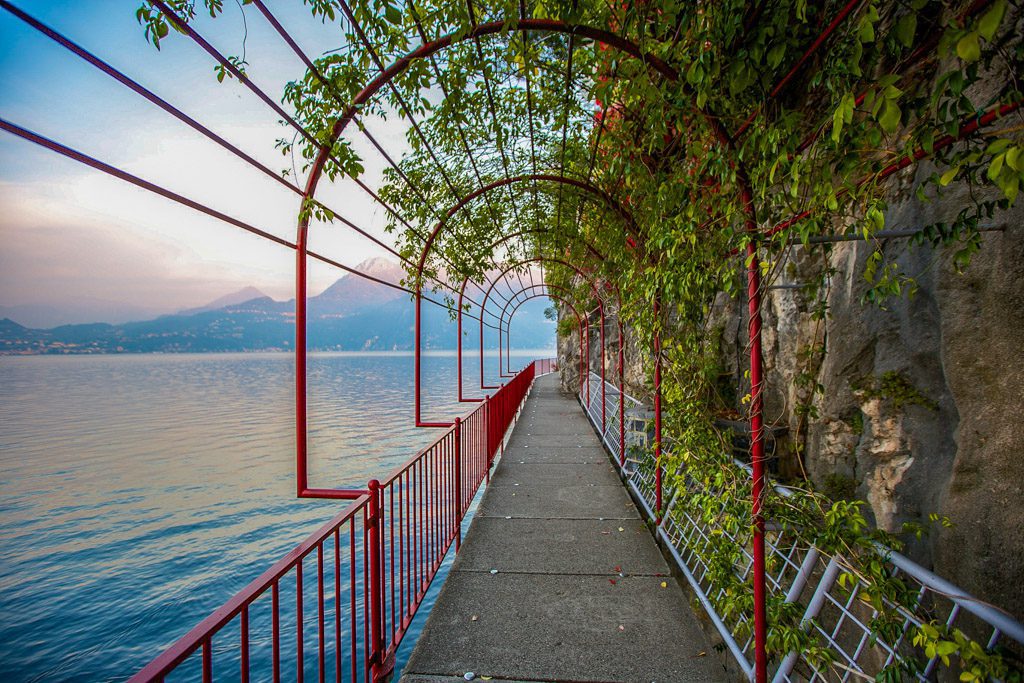 Visit Villa Monastero
Villa Monastero on the shore of Lake Como is a must-see in Varenna. A 10-minute scenic walk from the ferry terminal will take you there. It is also famous for its beautiful botanical garden and vast collections of many rare plants and species. Pubic visiting is open only between March and November. Check the website before planning a visit.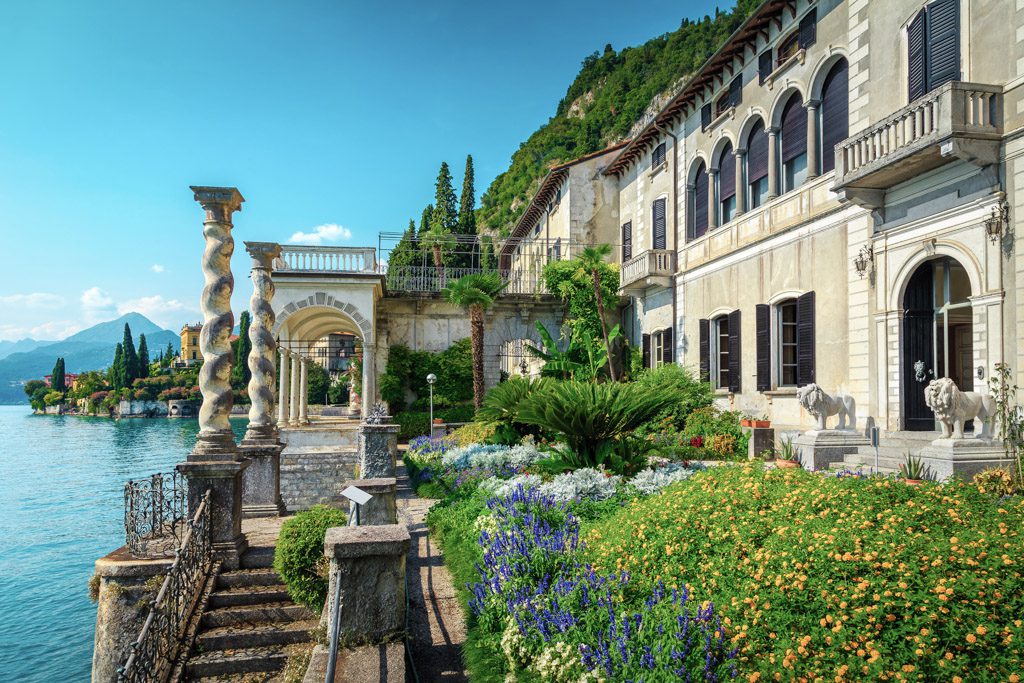 Visit Villa Cipressi
On your way from the ferry terminal to Villa Monastero near the town center, make an effort to visit Villa Ciperssi, a hotel complex enclosed by beautiful terraced gardens by the shores of Lake Como. A great place to visit for those who love nature and photographers for great pictures. Check their website for ticket and opening time for public.
Other Things To Do In Lake Como
To assist you in planning a great experience, here's my guide to the most lovely things to do in Lake Como.
Rent a Boat on Lake Como
Renting a boat and cruising on the lake is the best way to see hidden places you usually don't get to see when exploring on foot or by car. You can book your boat from Lido di Bellagio on an hourly basis.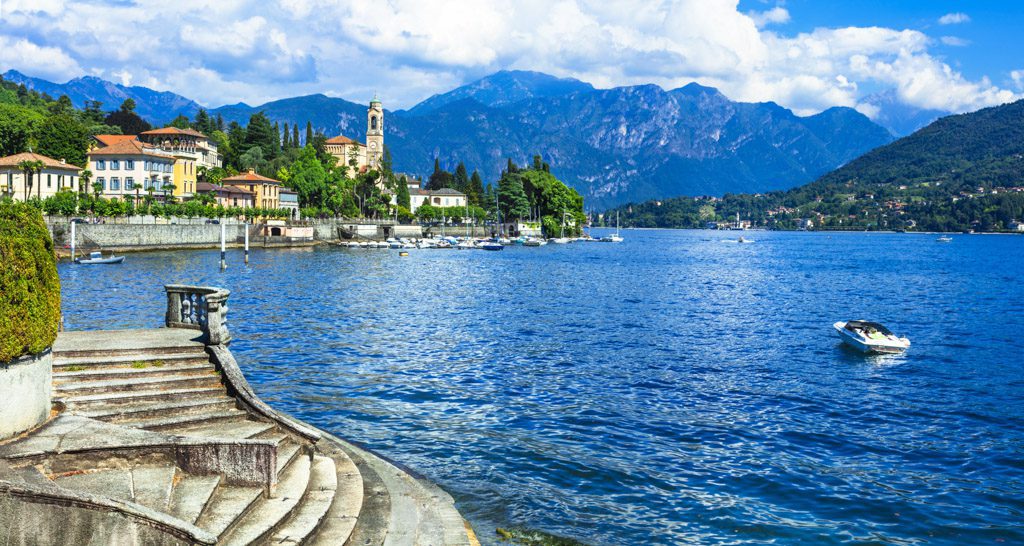 Visit Beautiful Village of Menaggio
Menaggio is a beautiful village 10 minutes ferry ride from Bellagio with ancient origin overlooking Lake Como. It is one of the most famous towns loved by tourists because of its gorgeous lake promenade and easy access by car ferry. In addition, it is a great starting point for many e-bike tours around the nearby three lakes. The upper town presents steep stairs, narrow alleys, and stone buildings that still have a medieval look.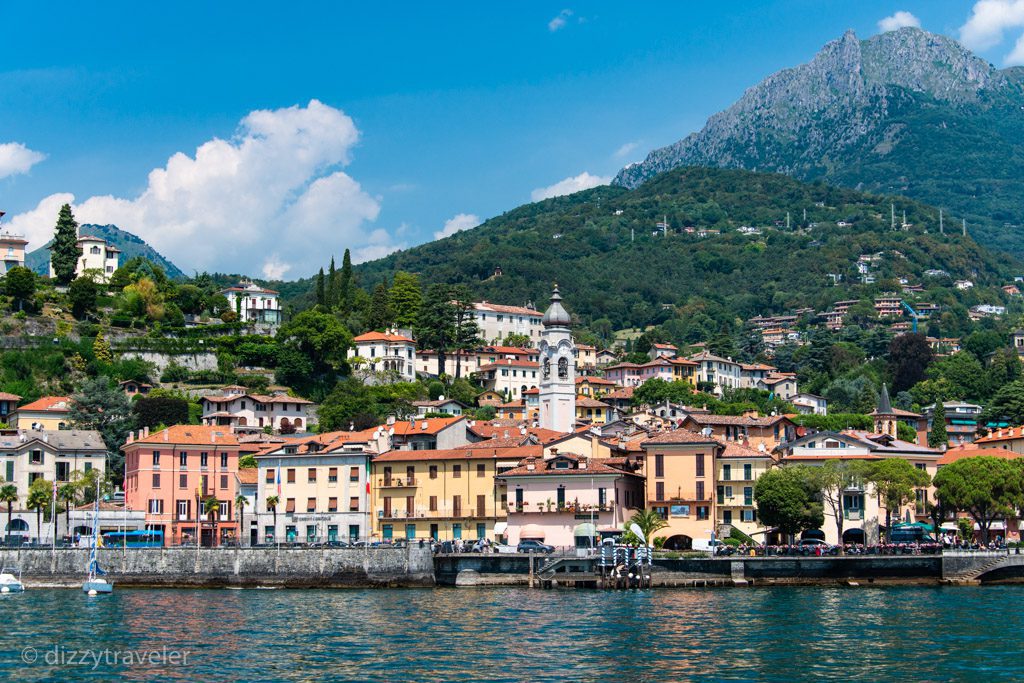 Villa del Balbianello
Villa Balbianello is located on a wooded peninsula with a stunning view of Lake Como. The beauties of Villa del Balbianello are also enjoyed from the water. From the ferry, take off at Lenno station. It is famous for its elaborate terraced gardens.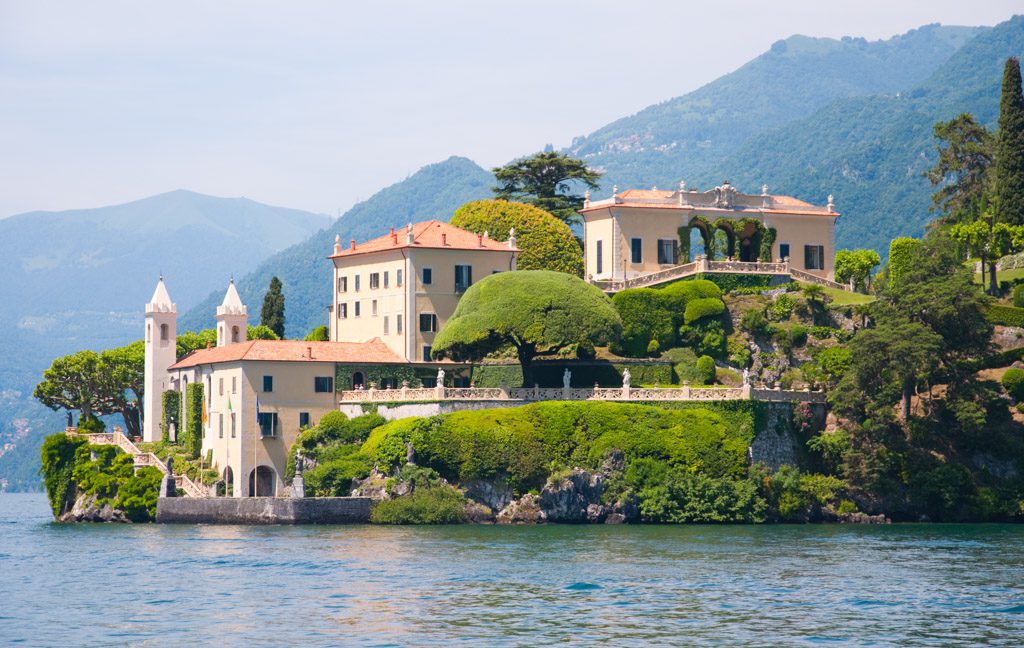 Mid Lake Como Ferry Trip
The best way to explore beautiful villages around the lake is by taking the Lake Como ferry. For this, a mid-lake ferry day pass will let you hop on and off at all the ferry terminals on the way. This ferry services between villages such as Menaggio, Varenna, Bellagio, San Giovanni, Villa Carlota, Tremezzo, and Lenno. It is a great way to explore those beautiful villages around the lake.
E-Bike Tour of Lake Como & Surroundings
Lately, renting an e-bike is gaining popularity, especially around the Lake Como area, for active travelers. Therefore, I highly recommend exploring this option if this is something you can are interested in doing. The battery-powered e-bikes are perfecxt for riding uphill into the mountains. An excellent way for nature lovers to enjoy panoramic views of Lake Como and Lake Lugano and explore typical authentic mountain villages untouched by mass tourism. While riding on quiet mountain roads, stop anywhere and take photos.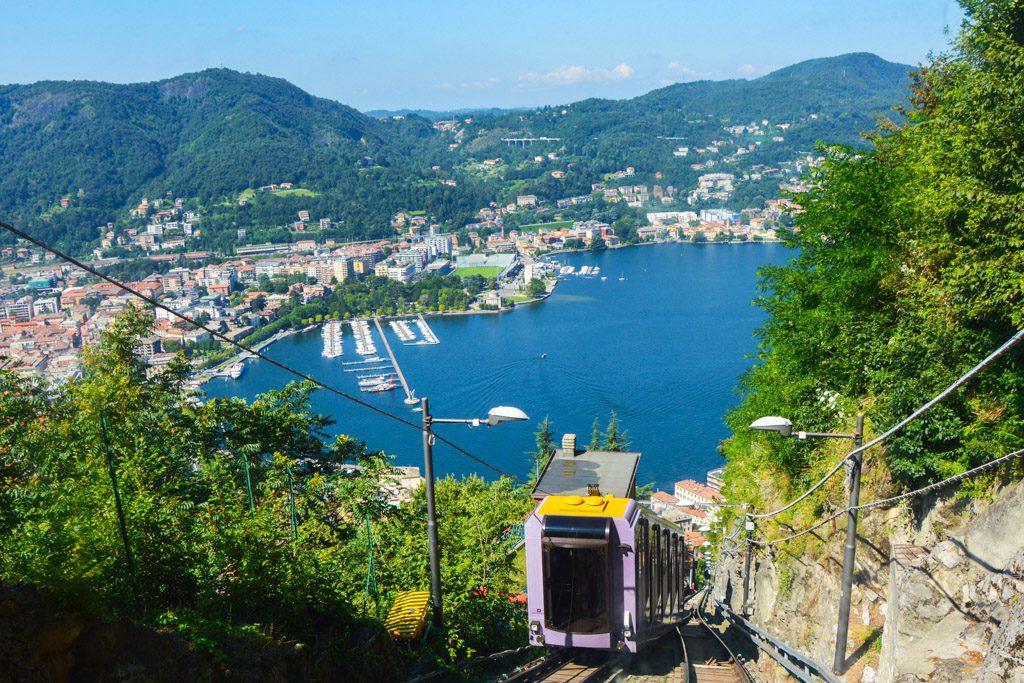 Where to stay in Lake Como, Italy
Diamond Apartments is located in Bellagio, a 6-minute walk from Bellagio Ferry Terminal and 0.9 miles from Villa Melzi Gardens, Diamond Apartments has accommodations with a garden with a playground. Complimentary WiFi is available throughout the property and private parking is available on site.  
Borgo le Terrazze is located close to the beach, just a 10-minute walk. You will enjoy the fantastic lake views from the private balcony or in the garden at the hotel. The suites and studios come with modern amenities. The hotel is in a panoramic position on the hill of Vergonese, a small village of Bellagio. It features a lush Mediterranean garden and a swimming pool with an unforgettable view.
My Opinion and Last Word
Have you been to Lake Como, Italy? Any cool tips to share?
I loved being in Como Italy, and want to go back again. I hope my story has motivated you to visit Italy.
Please leave a comment below! I'd love to hear from you to improve my knowledge. 
Was this travel guide helpful for you?
If you'd like to help me continue making free guides, here is one way you can help:
Share This Guide 

– If you have a friend that would benefit from this guide, share it with them. Or post this guide on Facebook, Twitter, or Instagram.
Your Support would definitely help me make more free guides like this. Thank you in advance!
Affiliate Link – This post in Dizzy Traveler contains affiliate links, which means I receive a referral commission if you purchase after clicking at no additional cost to you. These funds go to maintain the site. Thank you for your support.
Book your Sightseeing Trip
There are a lot of beautiful places to visit and some exciting sightseeing activities to bring unforgettable memories back home. Please click on our below affiliate link to see your options.