Should You Drive In Bosnia
The burning question for all travelers is whether it is safe to drive in Bosnia or any other Balkan country. The answer is yes, but as long as you are patient and cautious while going through the winding single-lane roads. You may often find yourself stuck behind a slow-moving truck or passenger bus where you can't see far enough ahead to pass. But you will have no problems if you refrain from taking unnecessary risks.
My rental car was from Sarajevo Airport Enterprise rent-a-car, and the daily rental cost was about US$ 38. Since I planned to drive all the way to Dubrovnik, Croatia so, I had to pay an additional 100 KM (US$ 54) to get the 'Green Card" (Zeleni Karton) insurance for international driving. If you are part of a group, a rental car is definitely the best option. One of the many advantages is that you can stop whenever and wherever you like and take your time to enjoy and soak in the beautiful scenic view of the countryside, take pictures, meet the locals and experience their lifestyles.
Here is a few affiliate links that may help plan a perfect trip while staying within budget.
Tips: Always keep your headlights on while driving to avoid getting pulled over by cops. Don't forget to obey the speed limit, as taking the risk does not make sense. I met a few local Bosnians and found that the wounds they experienced from their painful past are still too young to heal. However, they are very peaceful and extremely nice people.
Best Time to Visit Mostar
Bosnia and Herzegovina have relatively dry climates with very hot summers and very cold winters. Spring is typically the best time to visit as the temperature is pleasant between May – June. During this period, it's warm but not overly humid, and the nights are much cooler. Mostar is in the lower valley of the Neretva river, where the climate is like the Mediterranean. It gets hotter between July and September, and winter is relatively milder.
Driving Experience From Sarajevo To Mostar
Sarajevo is such a fascinating city that it was difficult for me to just drive away from there without taking a final stroll through the old town. Since Mostar was only 2 hours and 30 minutes away (about 126 km), I was in no rush to leave. Early in the day, I drove to Baščaršija, the old town market, for a final tour and to take a few excellent photo opportunities. After wandering the streets for a while and taking pictures of the surrounding area, I decided to start the next road trip adventure.
On the highway, I have to admit that I was completely dependent on the GPS but luckily, minus a few hiccups in the rural areas, I did not have any major issues with finding my way. Driving is the easiest and most scenic way to travel to a beautiful country like Bosnia because you can fully capture its culture, history, and natural beauty.
Destination map from Sarajevo to Mostar
As always I was driving solo in Bosnia & Herzegovina
The route to Mostar was breathtakingly scenic. I drove on a two-lane highway most of the time. I passed many small villages surrounded by mountains, picturesque lakes, rivers running alongside the road, and beautiful minarets of mosques. I don't think anyone driving on such a scenic route will be able to make it straight in 2.5 hours from Sarajevo to Mostar because you will find the need to make many stops to enjoy the beautiful views. Roadside restaurants will also attract you even if you are not a hardcore foodie. Passing through these small towns, I am absolutely positive that your curiosity and eagerness will make you take a few pitstops to experience the local activities and enjoy the unspoiled culture of rural Bosnia.
A good friend of my mine recommended having lunch at a local restaurant, and I enjoyed the location because it was right by the scenic river and overlooked the lush green mountains.
First Stop Was At Konjic
After about 50 kilometers of driving southwest from Sarajevo, I arrived at a small town called Konjic, with a population of 26,000 people. Green mountains surrounded the city. The beautiful small town was almost 4000 years old, with settlements on both sides of the Neretva river bank, which was breathtaking.
If you are driving, you won't miss it; Konjic is a perfect place to make a stop, apart from the many mosques you will enjoy near the Neretva river and the Konjic bridge connecting both towns. This bridge is also one of the National Monuments of Bosnia and Herzegovina and is definitely worth a visit. For accommodation, please refer to the hotel line below.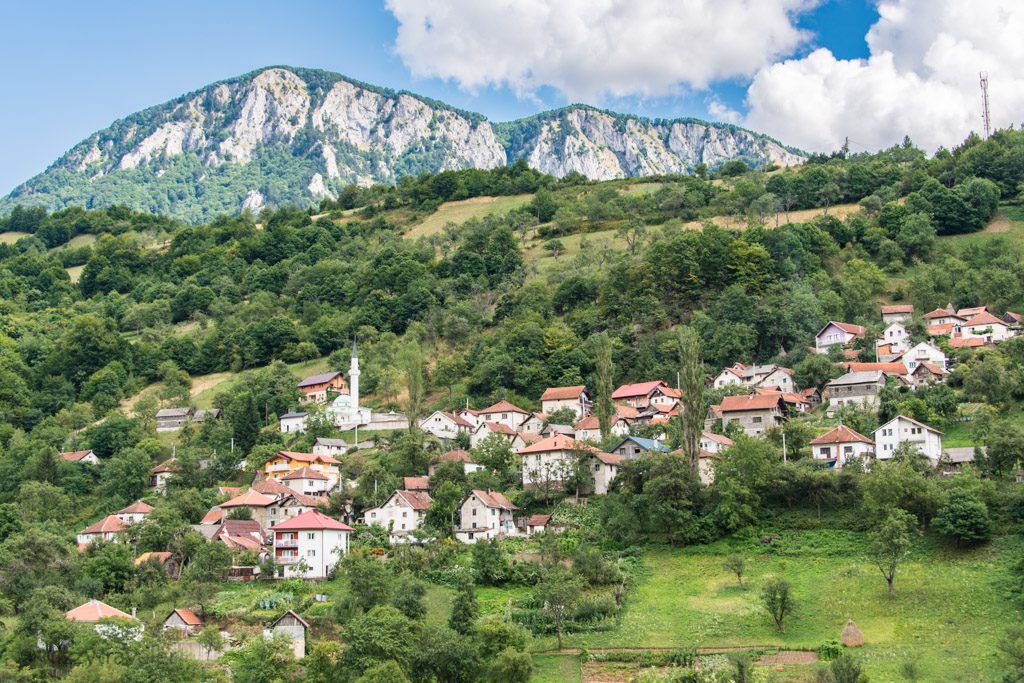 A Quick Stop At Homemade Chicken BBQ Joint
I was not expecting to see something like this on the highway, so I missed it while driving. But I made a U-turn to return to this roadside homemade chicken BBQ joint. How could I have missed it? Delicious food and one that you will have to take my word for.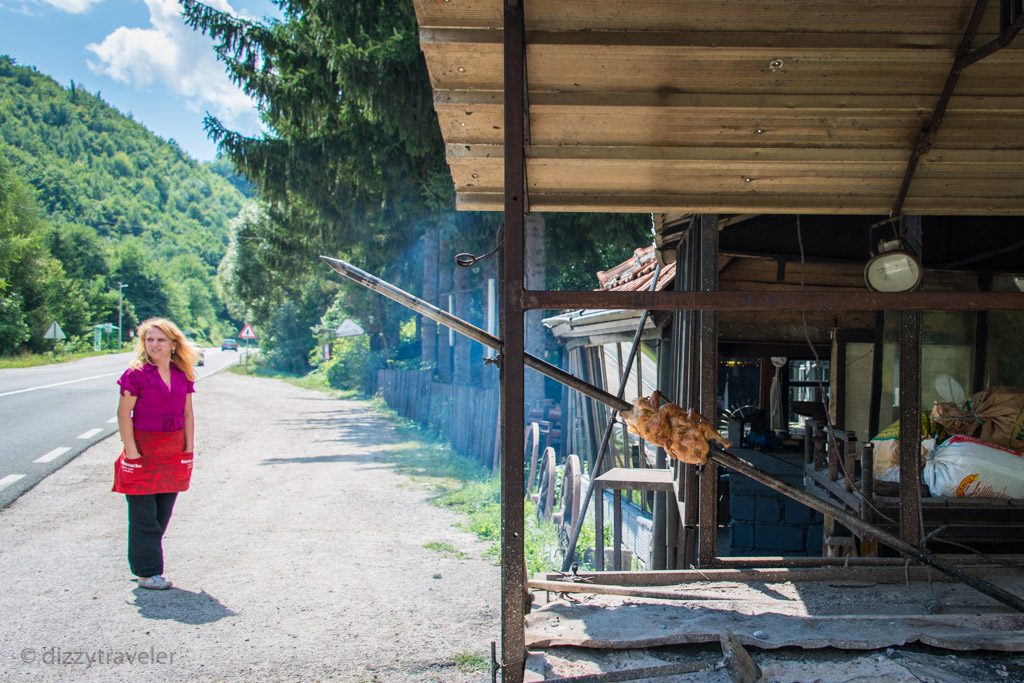 Next Stop Restoran Orahovica, Orahovica
I was glad that I stopped here; otherwise, I would have missed this experience of having delicious local food en route to Mostar. Restoran Orahovica is in the perfect location, only 5 km southwest of Konjic along the highway M17 and on the bank of Jablanica Lake, only 1 km from the town of Orahovica.
I planned to have lunch at my next stop in Donja Jablanica. I could not resist looking at their open-air seating arrangement on the deck overlooking a gorgeous lake view. I tried one of their recommended dishes called Ćevapi – Bosnian kebabs, small grilled meat sausages made of mixed lamb and beef; served with onions, sour cream, ajvar, and Bosnian pita bread (somun)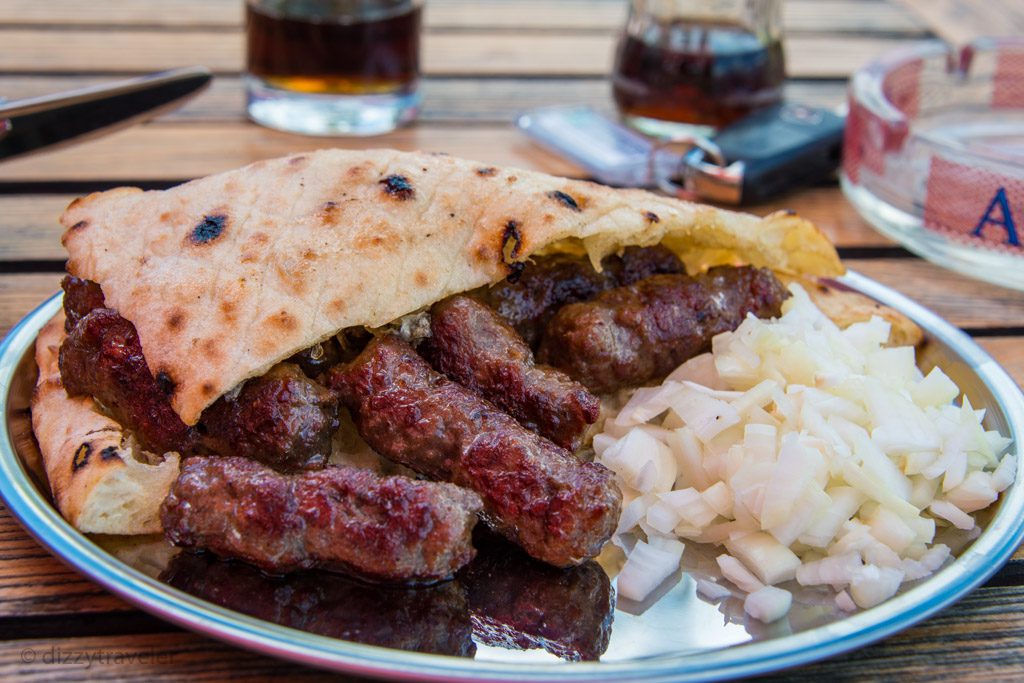 They also have accommodations available, in which all the rooms are equipped with TV, bathrooms, shower, and air-conditioning. The hotel also had a private beach with paddle boats, a great way to relax on the lake. If you plan to stay overnight, it is a great place for unforgettable adventures like cycling, mountaineering, rafting, hunting, and fishing.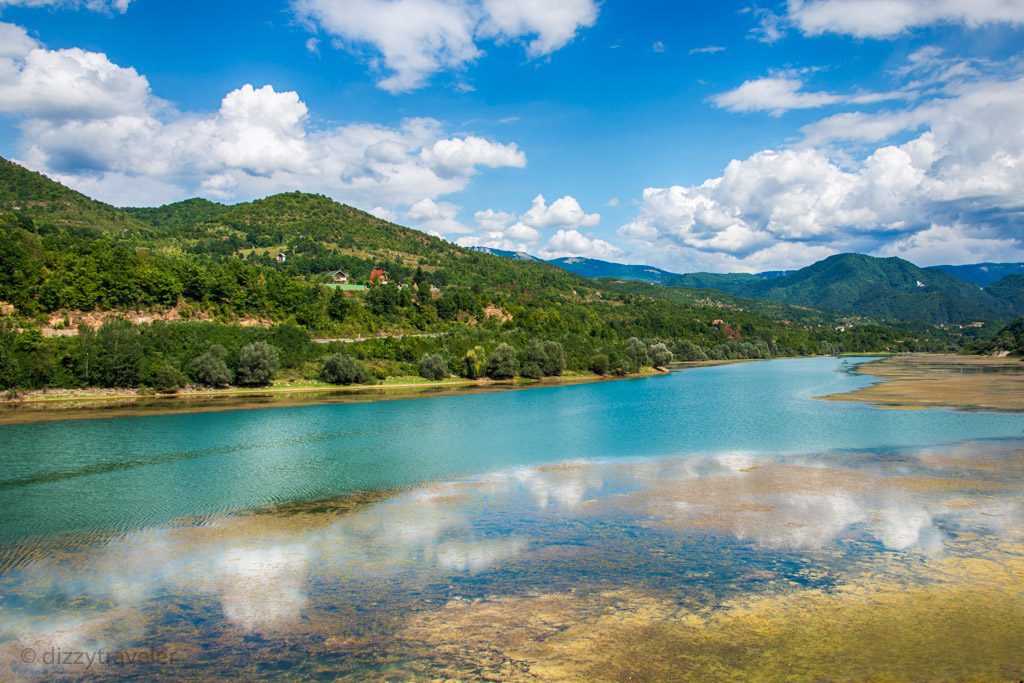 Next Stop – Beautiful view of Ostrozak, Bosnia
Since I was already there, I quickly stopped to enjoy the beautiful view of Jablanica lake. The nearest town is called OstroŠac, and Glodnica is located on another side of the lake. Unfortunately, I didn't spend much time exploring here as it was past noon, and I still had 55 km to cover to get to Mostar with a stop for lunch at Restoran Kovacevic in Donja Jablanica.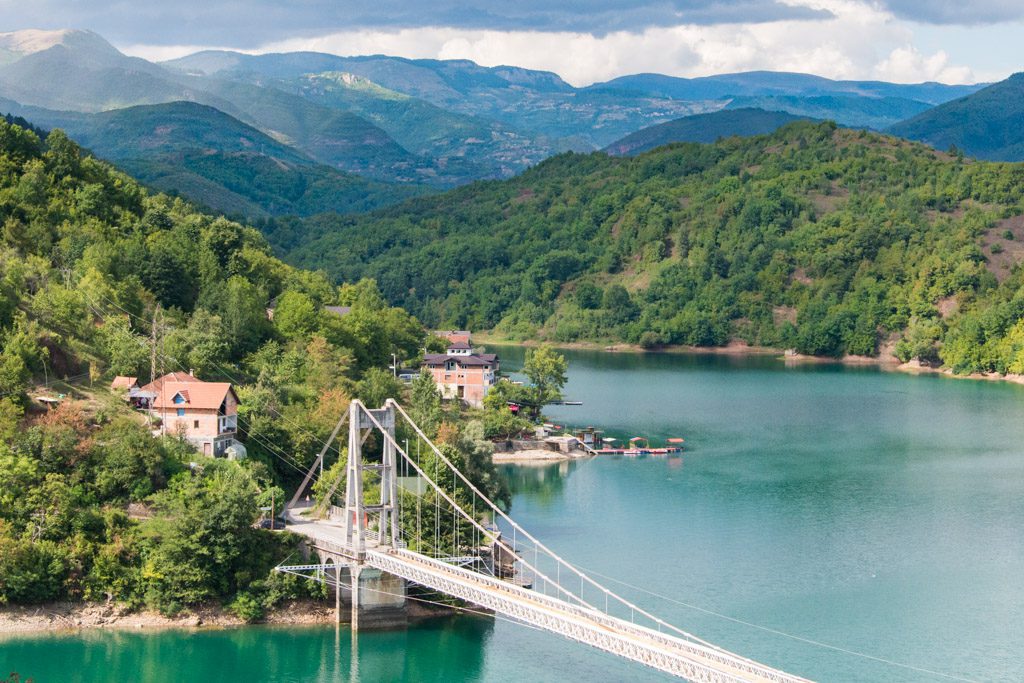 Final Stop Restoran Kovacevic in Donja Jablanica
After driving about 26 km southwest of Konjic, I arrived at this restaurant by the highway M17. This restaurant's great location and dining area had a view of the beautiful lush green mountains of Prenj with its reflection on the water of the Neretva river. The small town of Donja Jablanica was also visible in the distance.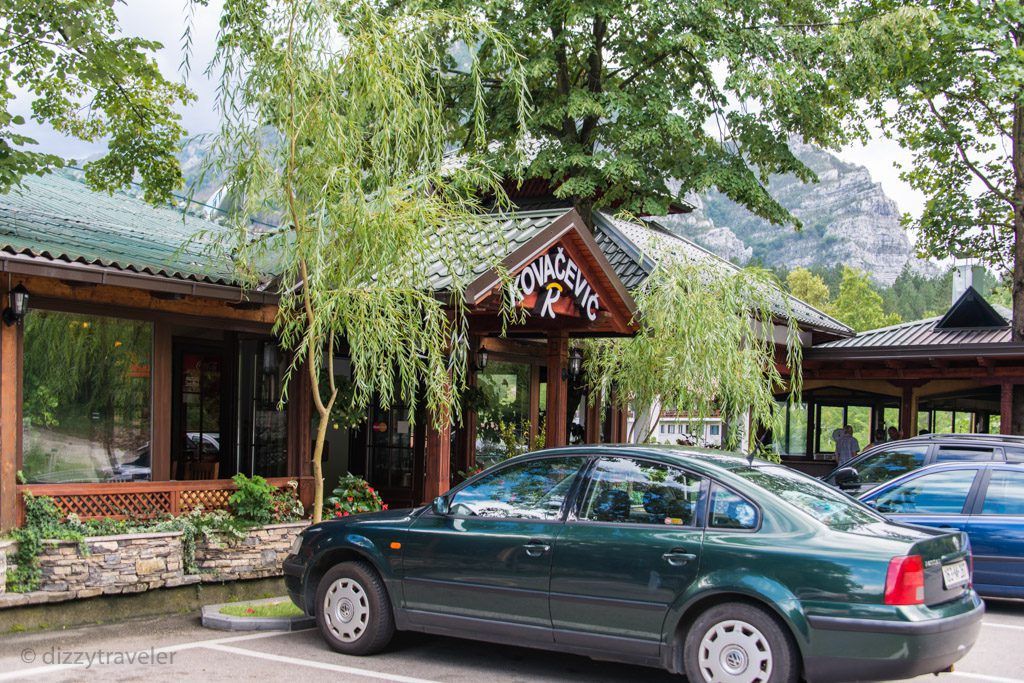 Furthermore, another restaurant recommended by a friend for lunch was known to be one of the best to enjoy traditional Bosnian dishes. I was not so hungry as I tried a few pieces of Ćevapi at my previous stop, but by looking at the traditional way of making Jablanica Lamb Roast, I couldn't help but feel hungry again.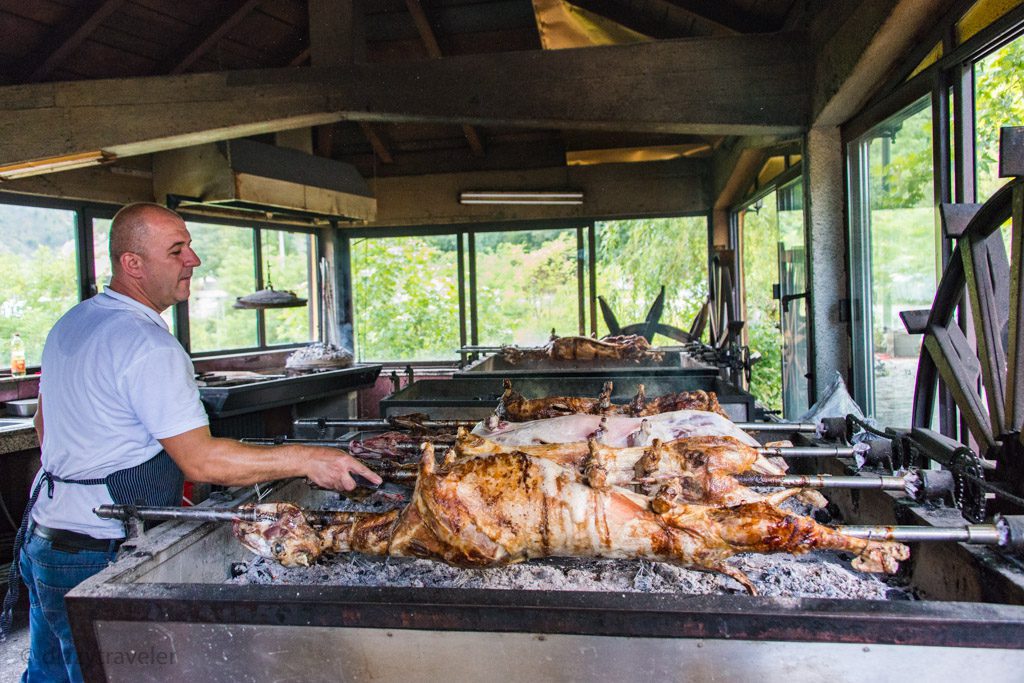 It was worth having your lunch here, and nothing can beat having Jagnjece Peenjo (Grilled Lamb) in a pleasant atmosphere; moreover, its surroundings will add value to your memorable journey.
One of my Favourite dishes and cost:
Jagnjece Peenjo (Grilled Lamb) 1 kg (US$ 16.00) 30 KM or 300 gm (US$ 6.00) 11 KM
Teleci Kotleti Sa Prilogom (Veal Chops with a side dish) 12 KM (US$ 6.00)
Beer Sarajevsko 3 KM (US$ 1.50)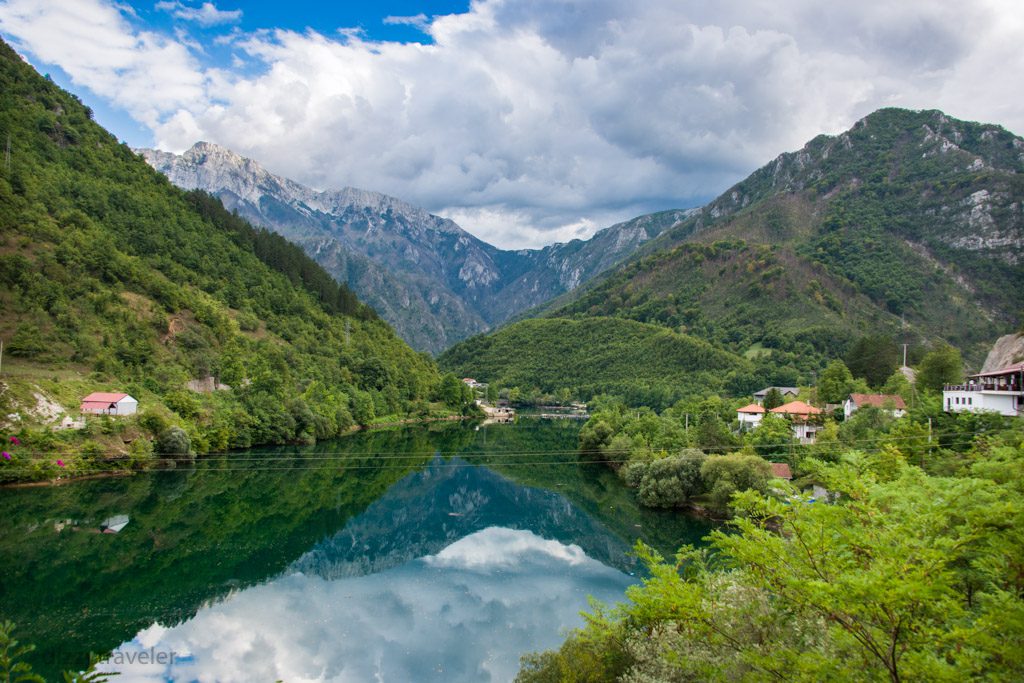 Finally, at 3:00 pm, I arrived in Mostar and pulled over in front of the hotel Bristol. I quickly checked in and hit the streets on foot to explore Mostar. The driving experience from Sarajevo to Mostar was unforgettable. I would definitely like to do it again if I get another chance.
Where to stay in Konjic, Bosnia and Herzegovina
Apartments Jablanica is located in Konjic and offers a garden and a terrace. This beachfront property has a patio and free private parking.
The apartment has one bedroom, a fully equipped kitchen with a fridge and an oven, and one bathroom with a shower and complimentary toiletries. The nearest airport is Sarajevo International Airport, 41 miles from the apartment.
Accommodations with a terrace and free WiFi. The property has city views. The apartment has 1 bedroom, 1 bathroom, a dining area, a fully equipped kitchen, and a balcony with river views. The nearest airport is Sarajevo International Airport, 35 miles from the apartment.
My Opinion and Last Word
Have you been to Konjic, Bosnia and Herzegovina? Any cool tips to share?
I loved being in Konjic, Bosnia and Herzegovina, and want to go back again. I hope my story has motivated you to visit Bosnia and Herzegovina.
Please leave a comment below! I'd love to hear from you to improve my knowledge. 
Was this travel guide helpful for you?
If you'd like to help me continue making free guides, here is one way you can help:
Share This Guide 

– If you have a friend that would benefit from this guide, share it with them. Or post this guide on Facebook, Twitter, or Instagram.
Your Support would definitely help me make more free guides like this. Thank you in advance!
Affiliate Link – This post in Dizzy Traveler contains affiliate links, which means I receive a referral commission if you purchase after clicking at no additional cost to you. These funds go to maintain the site. Thank you for your support.
Book your Sightseeing Trip
There are a lot of beautiful places to visit and do some exciting sightseeing activities to bring unforgettable memories back home. Please click on our below affiliate link to see your options.