Thousand Islands is a perfect day trip destination, only 165 miles (265 km), about 3 hours drive from Toronto. The 1000 Islands is actually an archipelago of 1,864 islands on both sides of the Canada-U.S. border in the St Lawrence River. One of the most famous and scenic tourist destinations among US and Canadian visitors.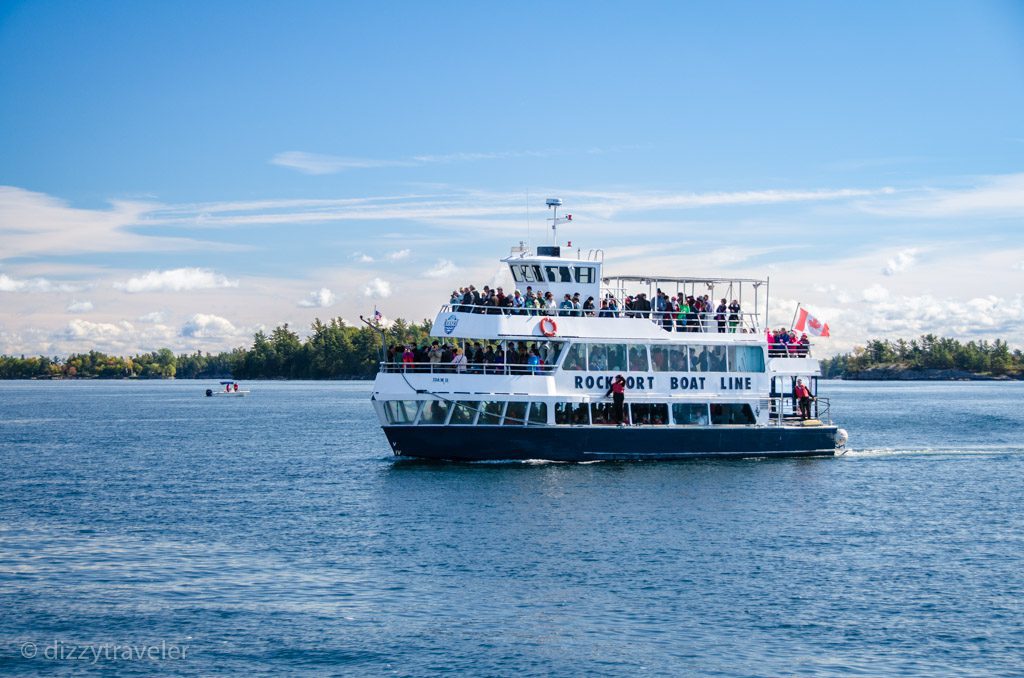 Things to do in 1000 Islands
The 1000 islands offer many recreational activities, like boating, fishing, hiking, kayaking, skiing, etc. A perfect place to consider for your family vacation.
Take The Thousand Islands Boat Tour
Definitely, taking the Thousand Islands boat cruise is one of the most popular activities for visitors. A perfect family-friendly way to enjoy the St. Lawerence River and admire the surrounding picture-perfect landscape dotted with tiny islands and cottages. Boat touring companies like Gananoque Boat Lines and Rockport cruise offer a wonderful cruise around the islands. You can also book a group tour from the GetYourGuide site.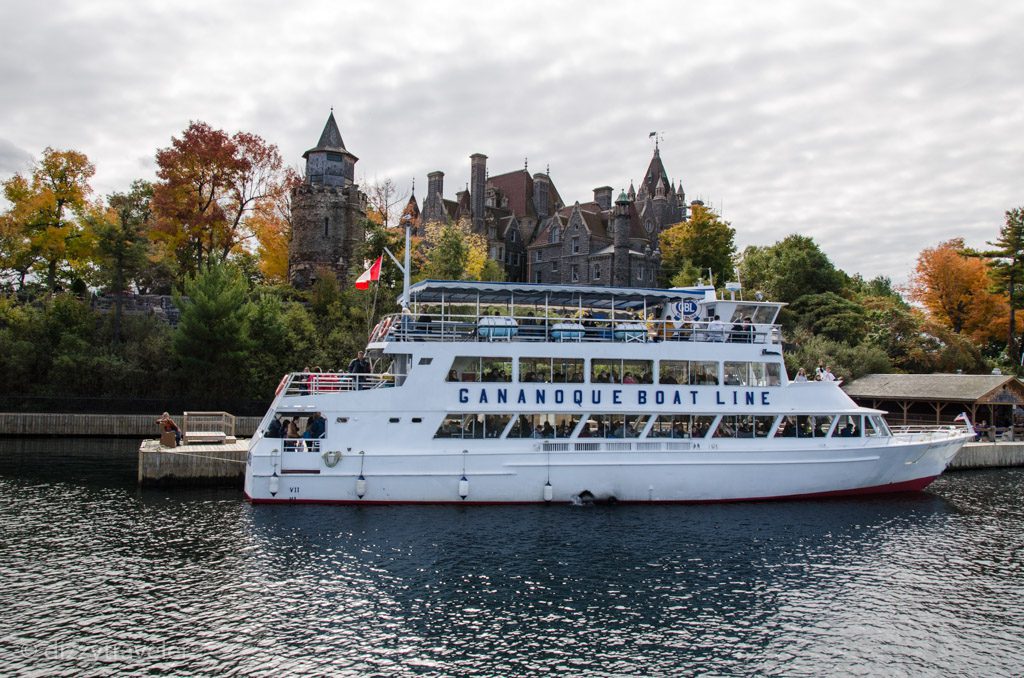 Get Off at Boldt Castle on Heart Island
Don't miss Heart Island during your boat tour, one of the main attractions where most visitors get off to see Boldt Castle and the boathouse. The Boldt Castle is on one of the US Islands, so visitors need proper paperwork, including a Passport, depending on their originating country. Throughout the summer, visitors enjoy a lively schedule of theater productions, gallery exhibits, and special museum shows.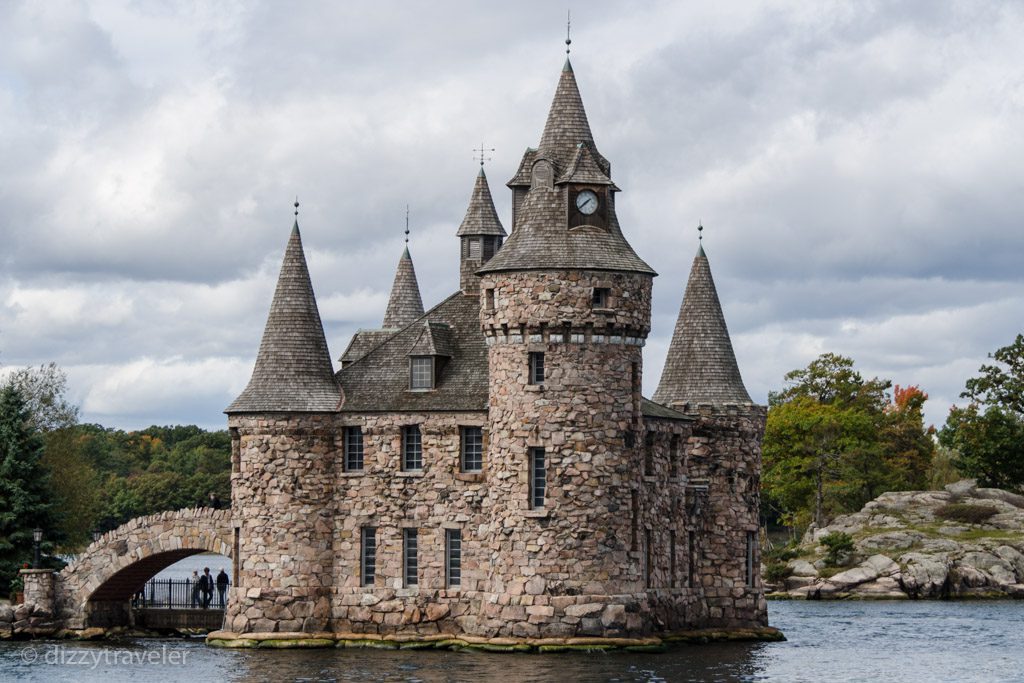 Another Most Amazing Thing From The Boat
It's amazing to see a bridge between two little islands from two different countries and a bridge connecting to cross over. But I did not see any customs and immigration posts!!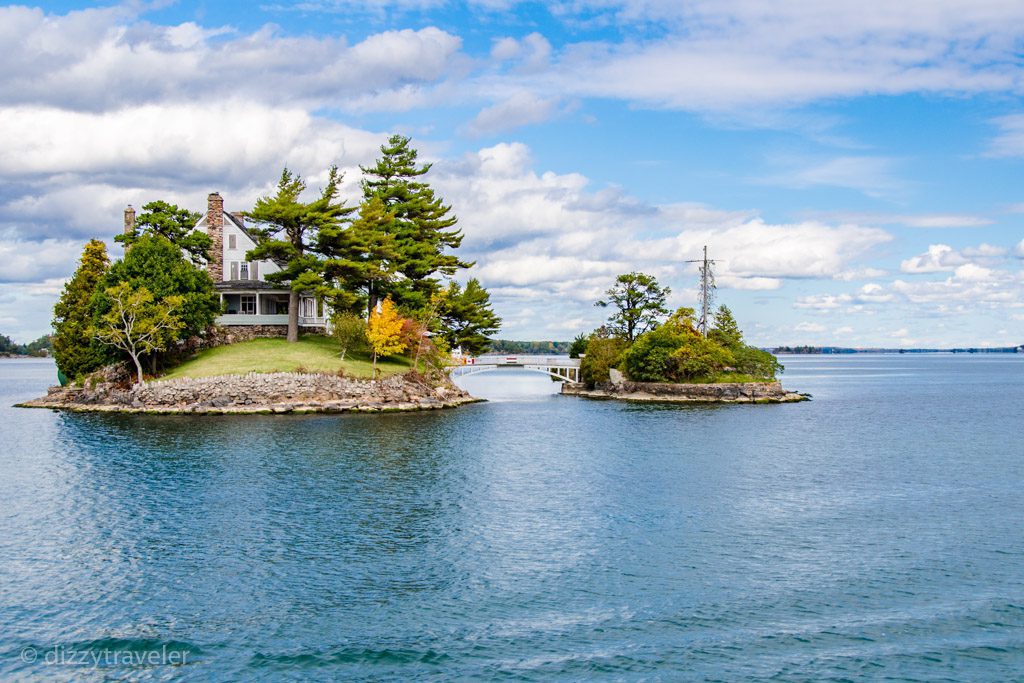 Most Prettiest Drives in Ontario
While in the region, if you are self-driving, you need to make sure to drive along the 1000 Islands Parkway from Gananoque to Butternut Bay just west of Brockville, which is considered to be one of the prettiest drives in Ontario.
Thousand Islands Kayaking Tour
If you want to see the 1000 Islands up close, the best way to do it is to take guided kayaking tour. Actually, no experience is necessary for kayaking when a certified instructor shows you how to. In addition, the instructor will definitely help you improve your stroke technique and give you valuable tips. I am sure you will have fun, and there is no need to worry as those boats are very stable and comfortable. For more information, price, and pre-book your trip, check the 1000 Island kayaking website. They depart from the Gananoque waterfront at 110 Kate Street in Gananoque.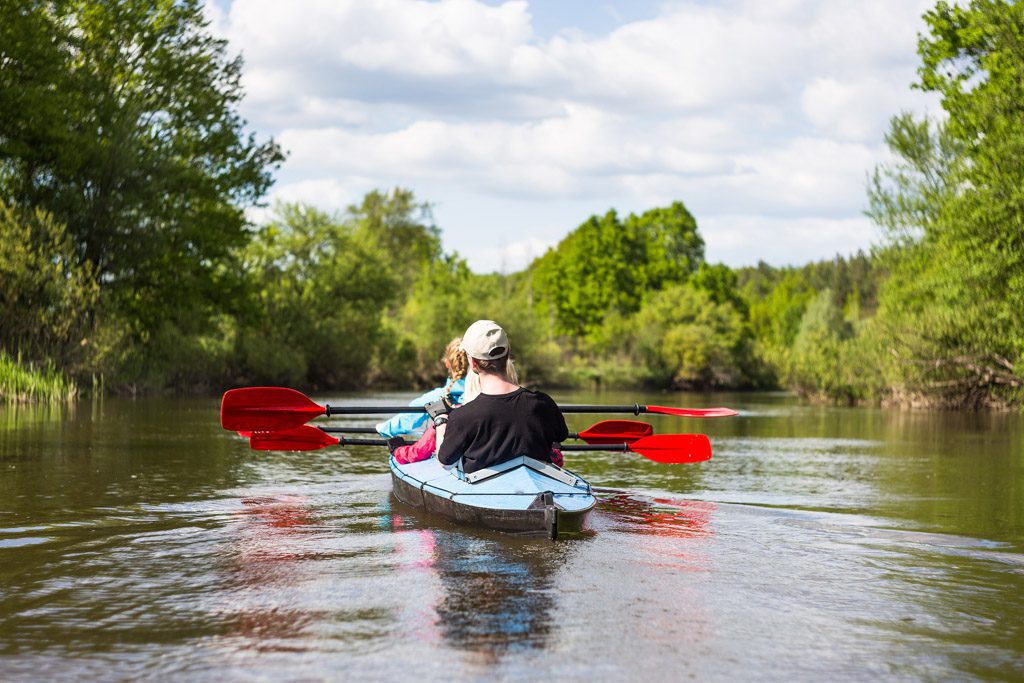 1000 Islands Helicopter Tour
The best way to enjoy the stunning birds-eye view of the Thousand Islands is to take the Islands Helicopter Tours. The 10-minute ride from the town of Gananoque is definitely worth it to experience the beauty of the St. Lawrence River, the 1000 Islands International Bridge, dotted islands with tiny private homes absolutely picturesque scene.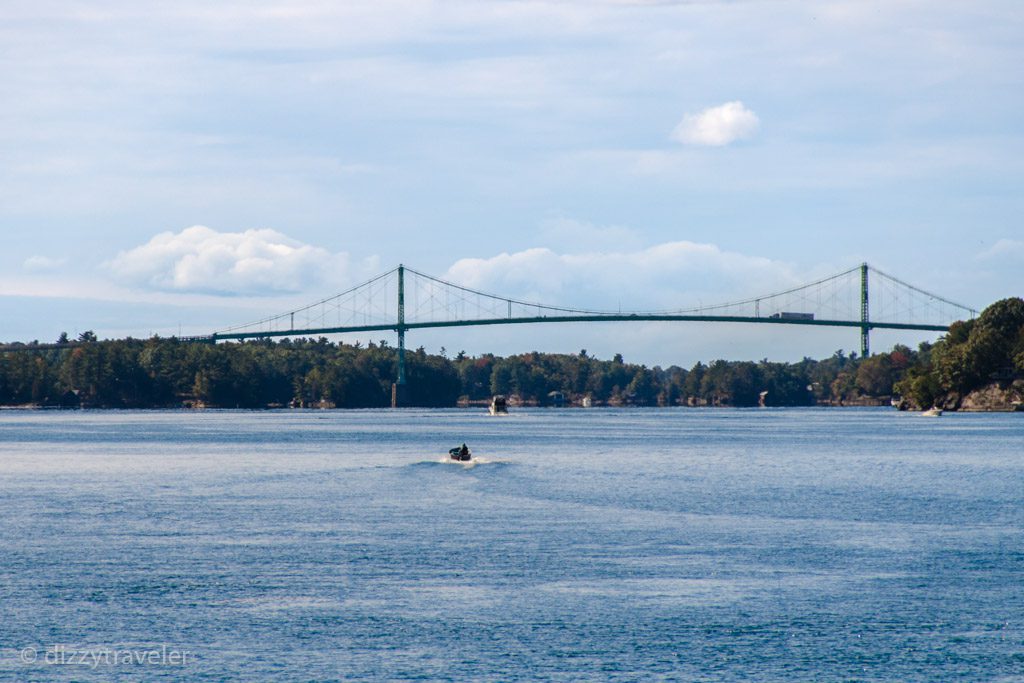 A View From The 1000 Islands Tower
You absolutely must witness the stunning views from The top of 1000 Islands Tower. It is another most favored tourist attraction in that region. You can take the elevator to reach the first of three observation decks. You will have the tremendous photographic opportunity from any observation deck and enjoy the 360-degree panoramic sceneries of the 1000 Islands and St. Lawrence River. For more information click here.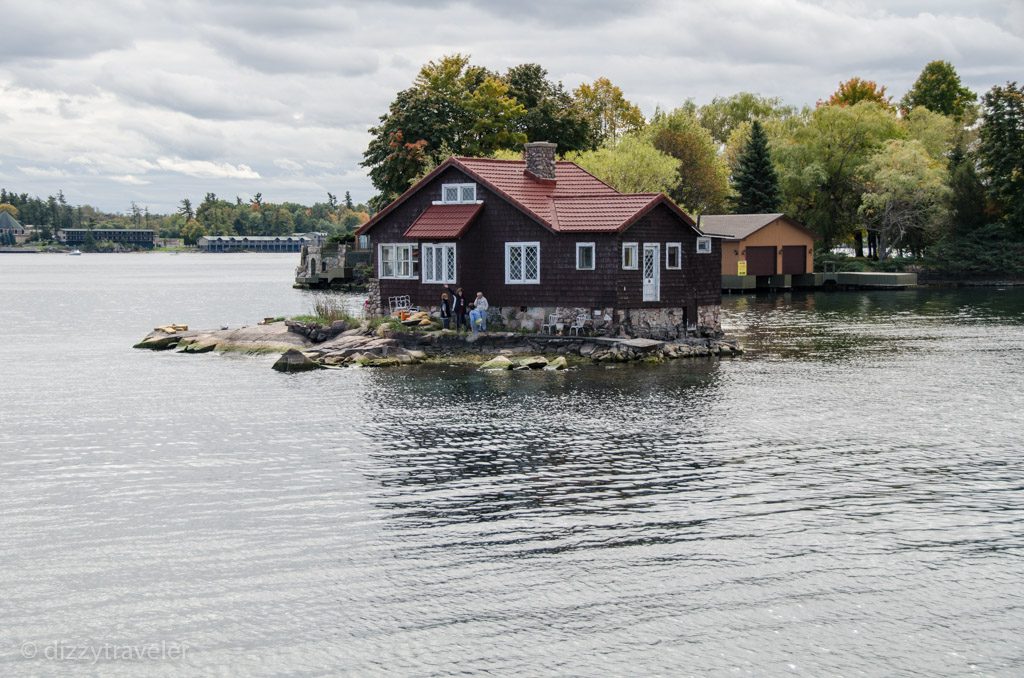 Where to stay in 1000 Islands Area, Canada
Boathouse Country Inn is located on Saint Lawrence River in 1000 Islands' historic village of Rockport. The B&B rooms have a private balcony and fireplace, including a full kitchen. The best part is that the on-site restaurant has indoor and outdoor dining with a great view of the Saint Lawrence River. This facility is only 20 minutes drive from 1000 Islands Charity Casino or the town of Gananoque. Definitely a great place to stay during your 1000 Islands trip.
This Thousand Islands B&B is a minute's walk from a magnificent 25 mi bicycle and jogging waterfront trail along the St Lawrence seaway. The colorful, air-conditioned rooms at Tekdiv B&B offer a private or shared bathroom. In addition, the selection of rooms features a private balcony with a garden view and a shared lounge, complete with a fireplace. Smuggler's Glen Golf course and hiking trails in Thousand Islands National Parks are all within 3.7 mi. Thousand Islands Bridge, which connects to the United States over the Saint Lawrence River, is 1.2 mi away.
My Opinion and Last Word
Have you been to 1000 Islands, Canada? Any cool tips to share?
I loved being in Ontario Canada, and want to go back again. I hope my story has motivated you to visit Canada.
Please leave a comment below! I'd love to hear from you to improve my knowledge. 
Was this travel guide helpful for you?
If you'd like to help me continue making free guides, here is one way you can help:
Share This Guide 

– If you have a friend that would benefit from this guide, share it with them. Or post this guide on Facebook, Twitter or Google+
Your Support would definitely help me making more free guides like this. Thank you in advance!
Affiliate Link – This post in Dizzy Traveler contains affiliate links, which means I receive a referral commission if you purchase after clicking at no additional cost to you. These funds go to maintain the site. Thank you for your support.
---
A Few Pictures From My Trip
I have no words or photos that can come close to expressing how much I genuinely enjoy experiencing this treasure. I have tried to capture stunning pictures during my trip and am delighted to share a few here. For the best view, click the arrow key on the bottom right corner of the slideshow.
Getting There
The best way to visit 1000 Islands is by self-driven car. However, if that is not a choice, renting a car is another way to get there. A few guided bus tour services from Toronto are equally popular among tourists. Especially for those who just want to sit back and relax during the scenic trip without the hassle of driving.
Book your Sightseeing Trip
There are a lot of beautiful places to visit and do some exciting sightseeing activities to bring unforgettable memories back home. Please click on our below affiliate link to see your options.