Located in the southeastern part of Bangladesh, Jessore (Jashore) serves as a gateway for travelers embarking on road trips to Kolkata, India, or exploring the nearby cities of Khulna and Sundarban. The town is approximately 120 miles (192 km) away from Dhaka, and the journey by car takes around 4 hours, considering the traffic conditions. Moreover, Jessore offers a abundance of historical and cultural attractions that are definitely worth exploring.
How To Get There
The most convenient means of reaching Jashore (Jessore) is by air, with Regent Airlines, Novo Air, US Bangla, and Bangladesh Airlines being some of the airlines operating on this route. The short flight duration is only 45 minutes, and the domestic airport is located just 4 miles (6 km) from the town center. Additionally, there are a few luxury bus services available from Dhaka on a daily basis.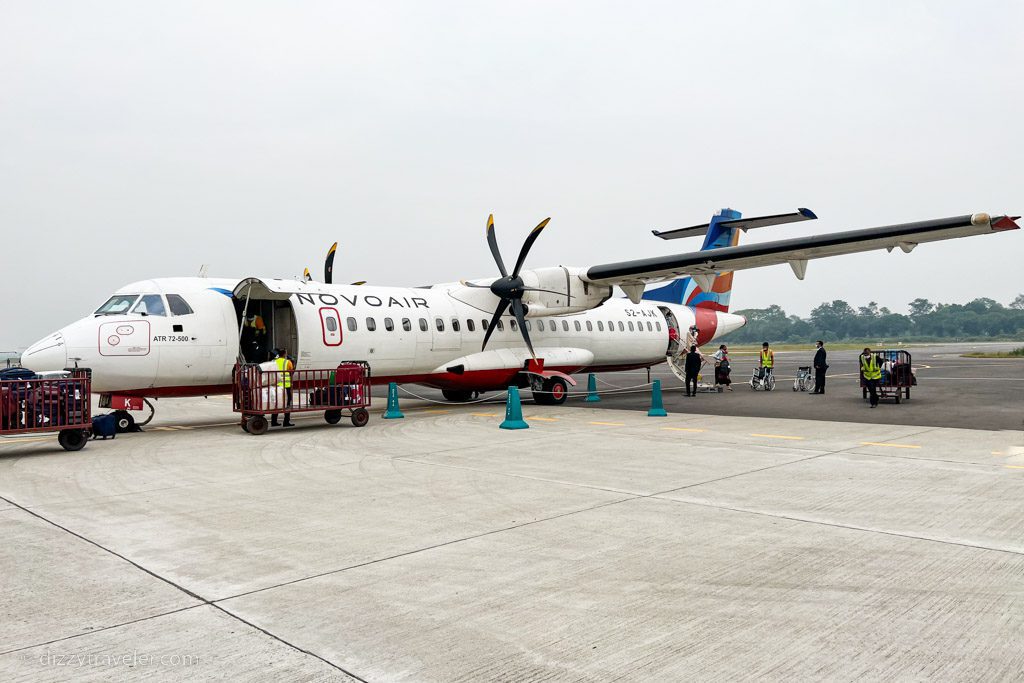 Things To Do In Jashore
Places of Interest on the Map
Jashore, being a small town, offers various places to explore around the town center based on your interests. The most delightful way to experience the area is by riding a rickshaw, immersing yourself in the local atmosphere. For slightly longer distances, you can opt to hire an auto rickshaw. However, if you plan to venture outside the town, I would suggest considering a private taxi for a more comfortable and convenient journey.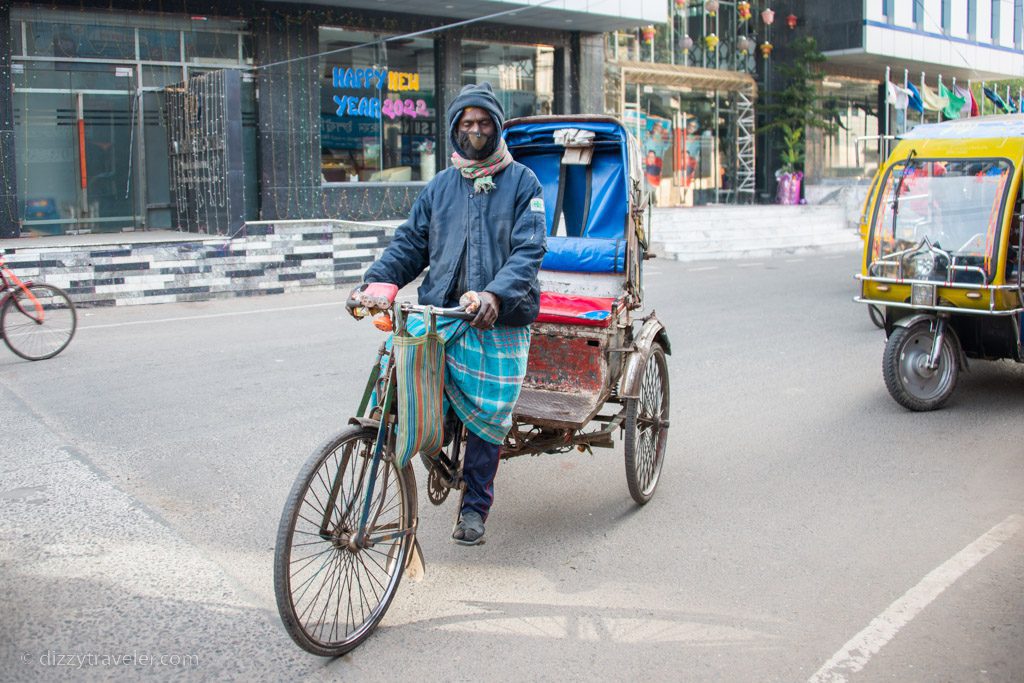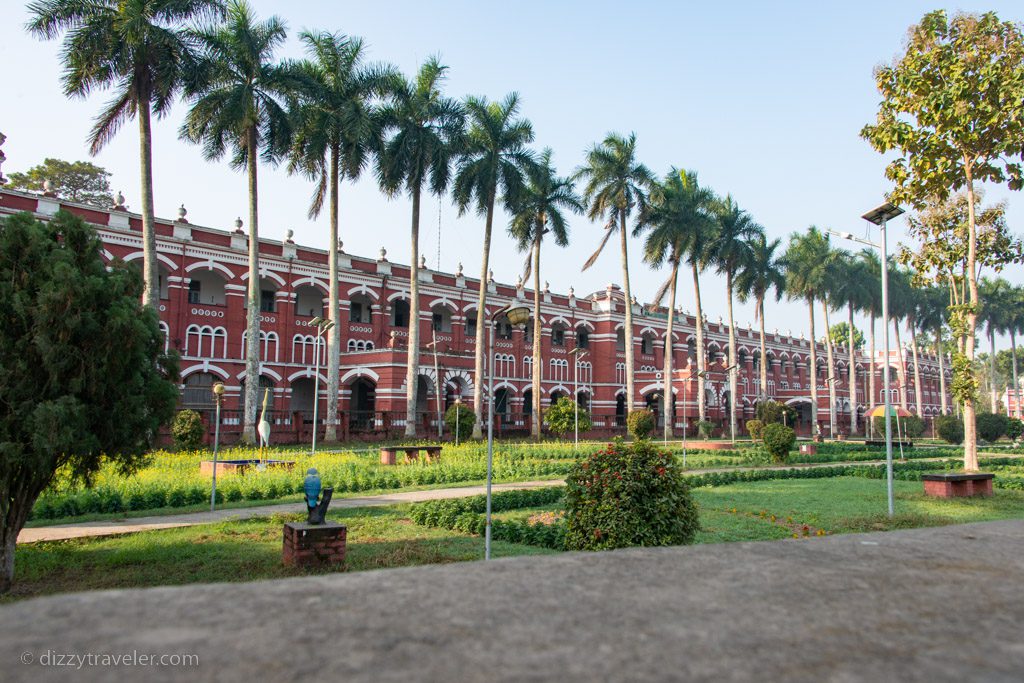 Long Drive To Godkhali Flower Garden
Gadkhali, a picturesque destination located about a 45-minute drive from Jessore and 18 miles (29 km) away, is situated next to Jhikargacha on the way to the Bangladesh-India Benapole border crossing. If you have a fondness for flowers, this place is an absolute must-visit. Renowned as the flower capital of Bangladesh, Gadkhali boasts over 600 hectares of land adorned with a breathtaking array of flowers, including roses, marigolds, gladiolus, chrysanthemums, nightshades, and many others.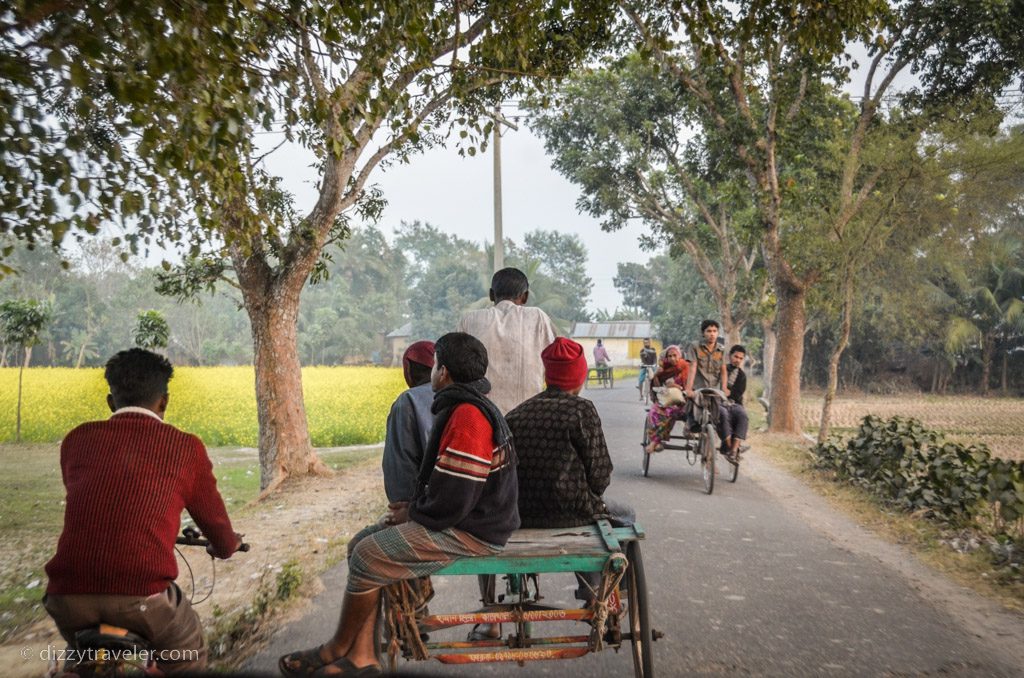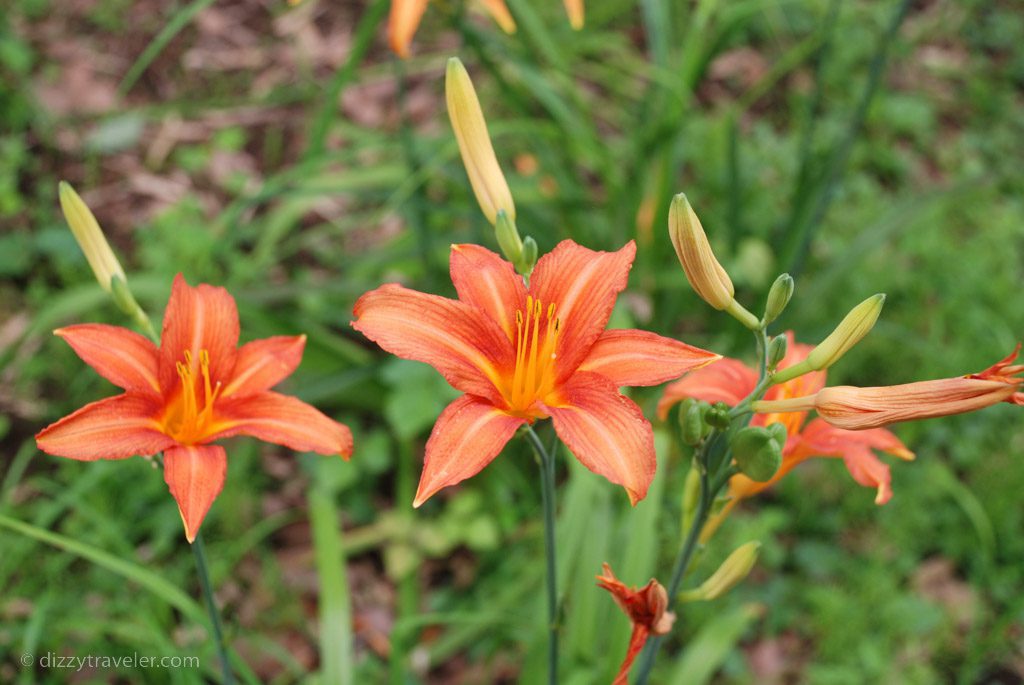 Experience A Typical Boat Trip
Bangladesh, with its abundance of rivers, canals (known as Khal), haor (wetland ecosystems), baor, and beel, has a deep-rooted connection with boats, making them an integral part of the local lifestyle. Therefore, a visit to Jashore would be incomplete without embarking on a traditional boat trip. During our own excursion, guided by personal preferences and native connections, we had the opportunity to explore the captivating village of Gojdurba, nestled near the small town of Arpara in Shalikha Upazila, Magura district. The presence of the picturesque Fatki River flowing through the village adds to its charm. However, for an extraordinary and unforgettable experience, it is not necessary to visit this specific location. Similar breathtaking sites can be found closer to the town, offering a comparable adventure.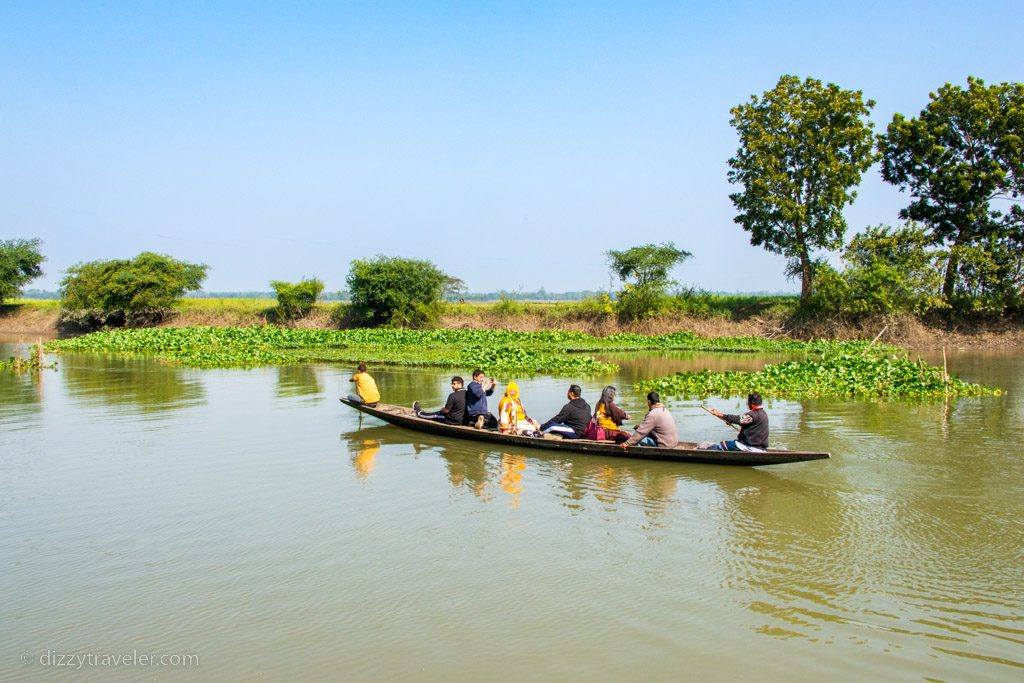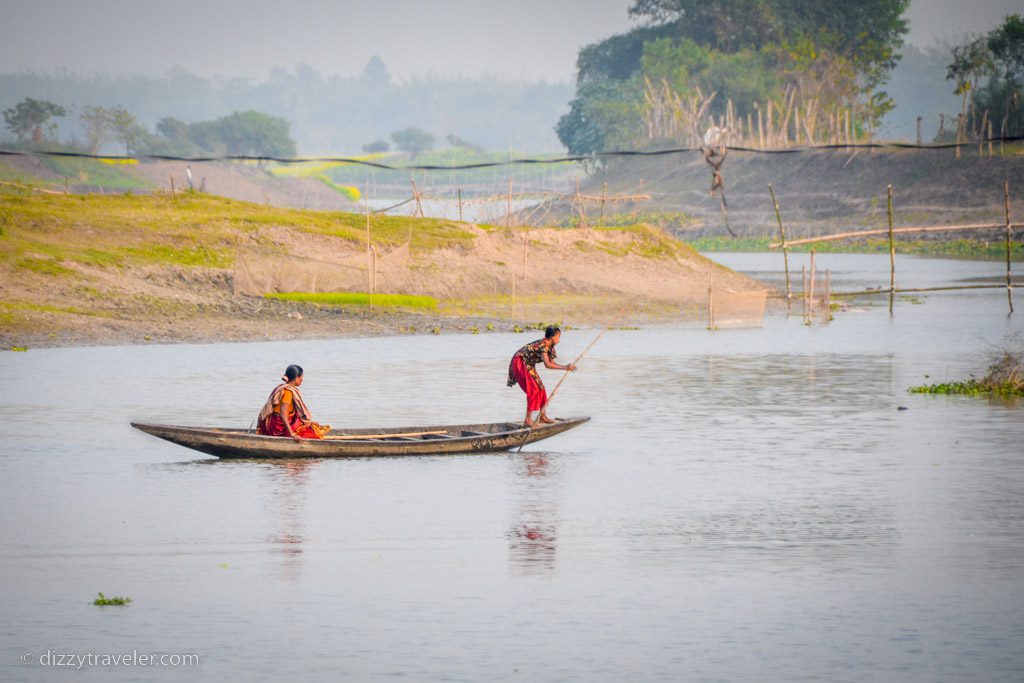 In Winter, Plan A Khajura Photography Trip
Allow me to share the story of my trip to this incredible destination, located just approximately 10 miles (15 km) from Zabeer Hotel International in Jashore, where we were accommodated. The precise location is a few miles away from the Jessore-Magura Highway. We rented a minivan and made prior arrangements with a local guide who efficiently managed all the logistics. The most challenging aspect of the journey was waking up at 4 am and reaching Kajura well before sunrise. Despite the darkness and fog on that winter morning, our anticipation to witness the authentic process of collecting date juice before daybreak kept us enthralled.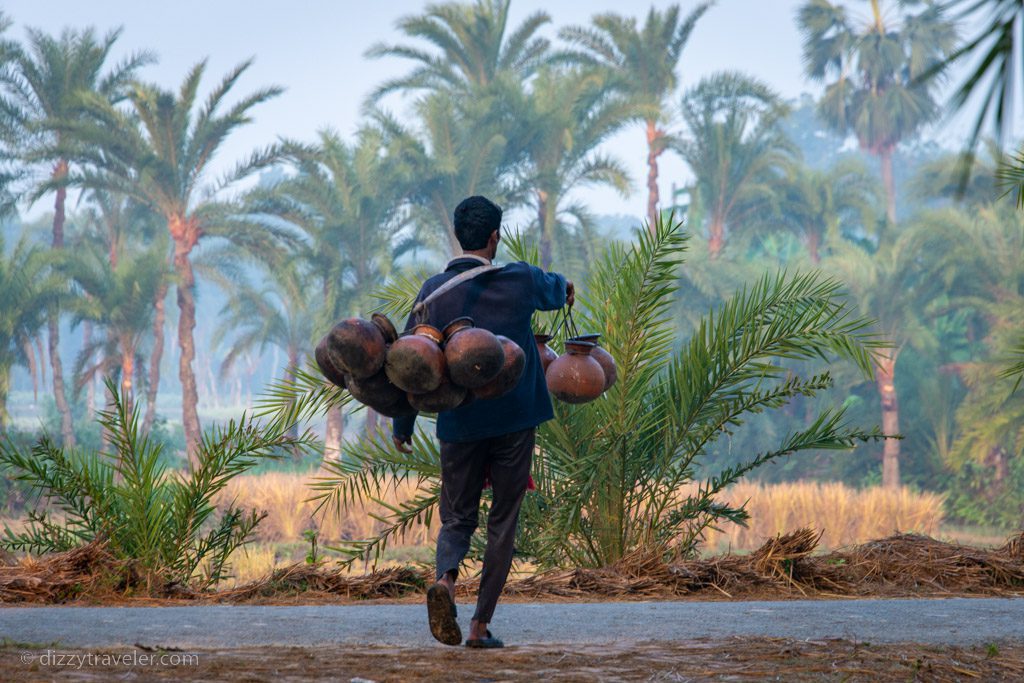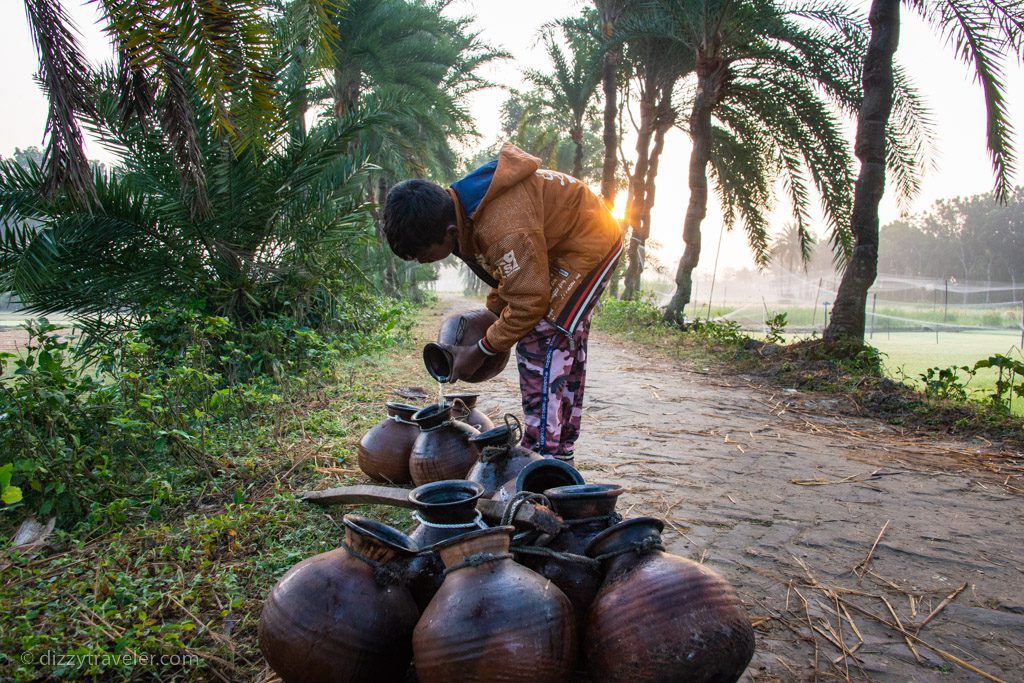 We didn't hesitate to indulge in the delightful juice, knowing that it was collected in a hygienic manner. I decided to try some of the freshly extracted Date juice, and to my surprise, it was absolutely delicious. Initially, I had reservations, but the assurance of hygienic collection specifically for us made me overcome any doubts. The tree climbers, locally known as "gaachi," took precautions during the overnight juice collection, such as using safety nets to protect the juice from birds and employing filters on the pitchers (rosher kolshi) to prevent insects from entering.
We observed numerous gaachis skillfully collecting juice from the palm trees and carefully transporting pitchers filled with fresh Date juice to a processing center for molasses production. The village scene on that winter morning was truly awe-inspiring, and we were fortunate enough to witness a magnificent sunrise. It was an unforgettable, once-in-a-lifetime experience that provided not only cherished memories but also excellent photo opportunities.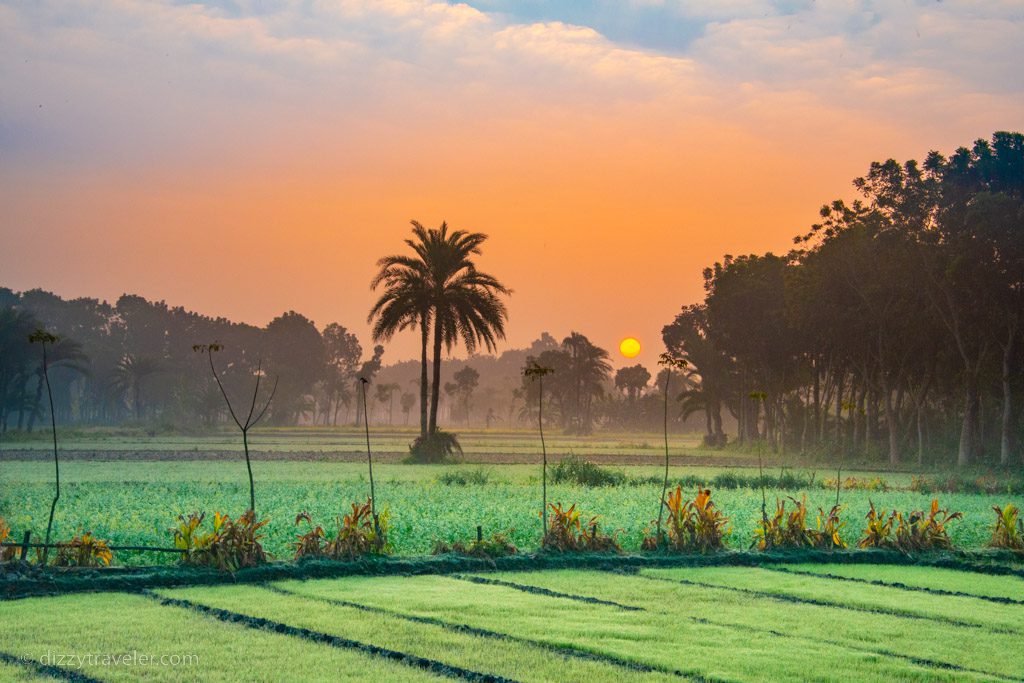 Visit Jessore Municipal Park
Located in the heart of the town, a sprawling park captures the attention of both locals and tourists. The park seamlessly complements the relaxed atmosphere of this small town, becoming an ideal spot for various activities. It serves as a popular gathering place for young people, providing a haven for leisurely socializing. Health-conscious joggers are particularly drawn to this park, appreciating its well-maintained pathways and refreshing ambiance. Furthermore, the park offers a delightful culinary experience with numerous street food carts, ensuring visitors are well entertained. For an enchanting experience, the evening hours, especially during sunset, are the optimal time to explore this vibrant park.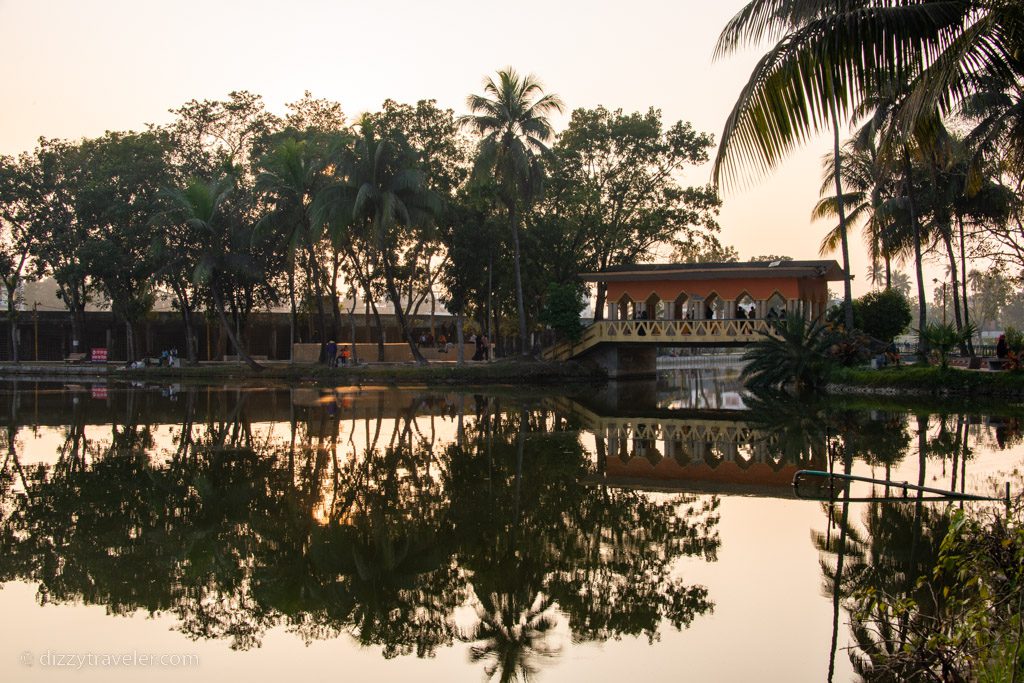 Michael Madhusudan Dutt Memorial
If you have an additional day during your trip to Jashore, you may want to consider visiting the Michael Madhusudan Dutta Memorial in Sagardari or combining your Khajura Baor excursion with this one. The memorial is located on the banks of the Kopotakkho River, also known as Madhupalli by the locals, just 34 miles (55 km) south of Jessore. Michael Madhusudan Dutt, born in 1824, was a renowned Bengali poet and playwright and is widely regarded as one of the trailblazers of Bengali literature.
Visit Jhapa Baor (Lake)
Jhapa Baor is a stunning arc-shaped lake that can be conveniently combined with your trip to the Godkhali flower garden. It is located approximately 45 minutes away (26 km) from the town center of Jessore. Rental and commuter boats are readily available, and the floating bridge is a renowned attraction for both locals and visitors. The view from the bridge during the rainy season is particularly captivating.
Book your Sightseeing Trip
There are a lot of beautiful places to visit and some exciting sightseeing activities to bring unforgettable memories back home. You may contact the Zabeer Hotel reservation directly for guidance.