We heard how wonderful of a destination Thailand is from family and friends for so long, we finally had to see it for ourselves! So we packed our bags and planned a two-week itinerary with truly unforgettable stops in Bangkok, Chiang Mai, Phuket, and Koh Samui. In the end, two weeks still wasn't enough to discover it all, but we promise we will be back again (with a follow-up blog post). Bottom line, if you want a vacation immersed in the culture, authentic food, beautiful scenery, amazing people, and tons of activities, then keep reading, as you picked the perfect post to read!
Pictures from our Thailand Trip
Default Gallery Type Template
This is the default gallery type template, located in:
/var/www/vhosts/dztraveler.com/httpdocs/wp-content/plugins/nextgen-gallery/products/photocrati_nextgen/modules/nextgen_gallery_display/templates/index.php.
If you're seeing this, it's because the gallery type you selected has not provided a template of it's own.
Places We Have Visited During This Trip
Helpful Information
Arrival in Bangkok, Thailand
We arrived at BKK airport after a 23-hour flight from JFK with a layover in Tokyo. We didn't stay long; however, as the very next day, we were off to Chiang Mai to start our adventure. More to come about Bangkok later in this blog though!
Trip Itinerary in Thailand
First – Visiting Chiang Mai, Northern Thailand
Chiang Mai is considered Thailand's cultural capital, close to some of the great attractions in northern Thailand, most within an hour or two's drive from the old town. It is, the second-largest city in Thailand has grown into a major business and tourist center in the last 10+ years, and is often used as a gateway to the jungles other adventures in the north. Chiang Mai was a great introduction to Thailand, offering a wonderful combination of culture, food, great weather, and friendly locals.
Things we did in Chiang Mai
The best that Chiang Mai has to offer begins with the food. The city is known for its multiple night markets where you can discover endless amounts of traditional and exotic dishes. We booked a food tour through Viator early in our trip and highly recommended doing this in order to learn more about the local cuisine. If you were only to try one dish here, it would have to be Khao Soi, a world-famous Thai dish that is exclusive to Chiang Mai. You can't even order it in Bangkok! It is a unique and flavorful soup curry dish filled with noodles and your choice of meat. Chicken or shrimp is most common, but for the best Beef version, pay a visit to Kao Soi Kad Gorm.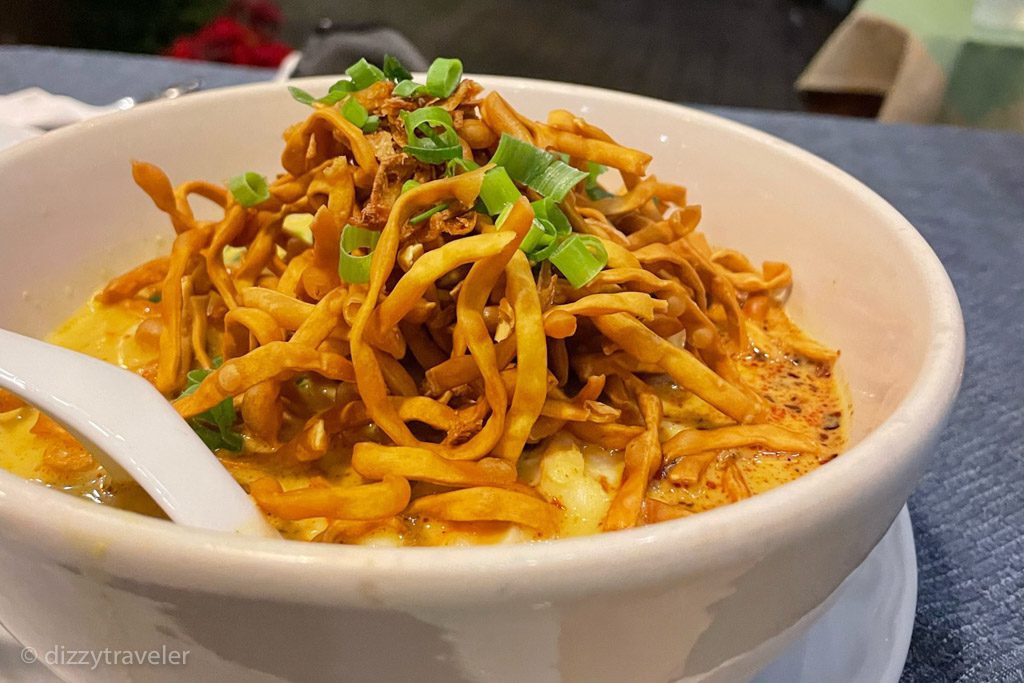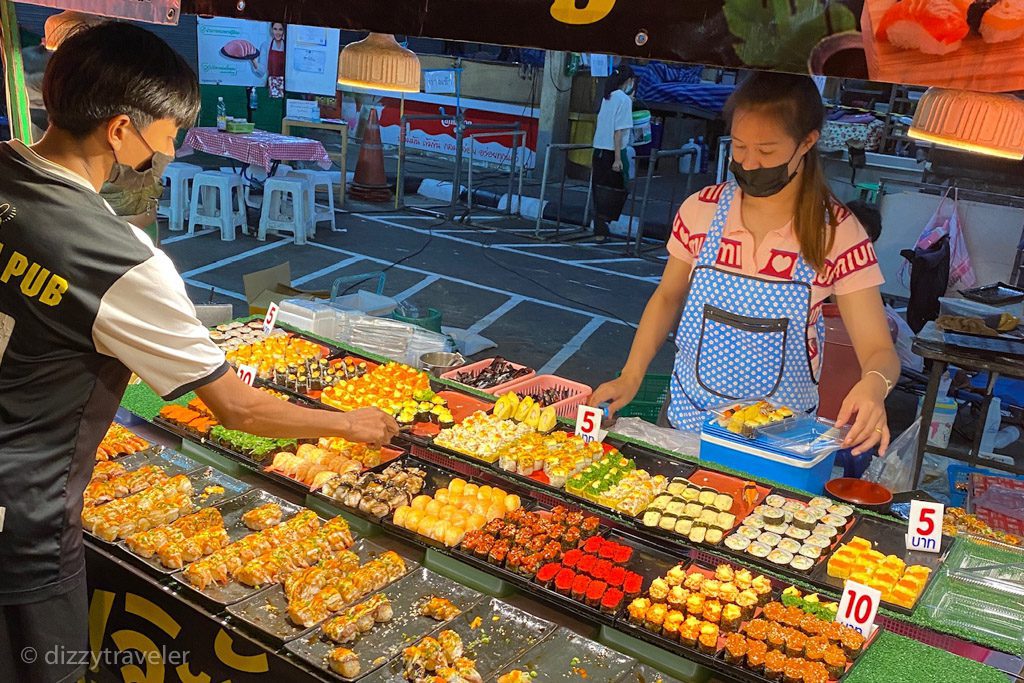 Our favorite activity was a five-course cooking class at Grandma's Home Cooking. They arrange transportation to and from your hotel, bringing you to a massive and beautiful farm. Upon arriving, we picked fresh herbs and vegetables straight from their garden to bring our recipes to life. We learned how to make authentic and traditional dishes with a local chef who took us through the culinary journey step by step.
Visiting a few Temples in Chiang Mai
Of course, it wouldn't be Thailand without a day dedicated to temples. We booked a private tour in order to see a few of the most famous temples, including Wat Pha Lat and Wat Doi Suthep. Doi Suthep was a stunning display of opulence at the top of a 200 step stairway. Don't worry, you can take a cable car if you don't feel like climbing the stairs. We really wanted to see Wat Rong Khun (White Temple), but this required a 3-hour drive outside of Chiang Mai. Remember to wear appropriate clothing (long pants & covered shoulders) during your visit, and remember to remove your shoes before entering.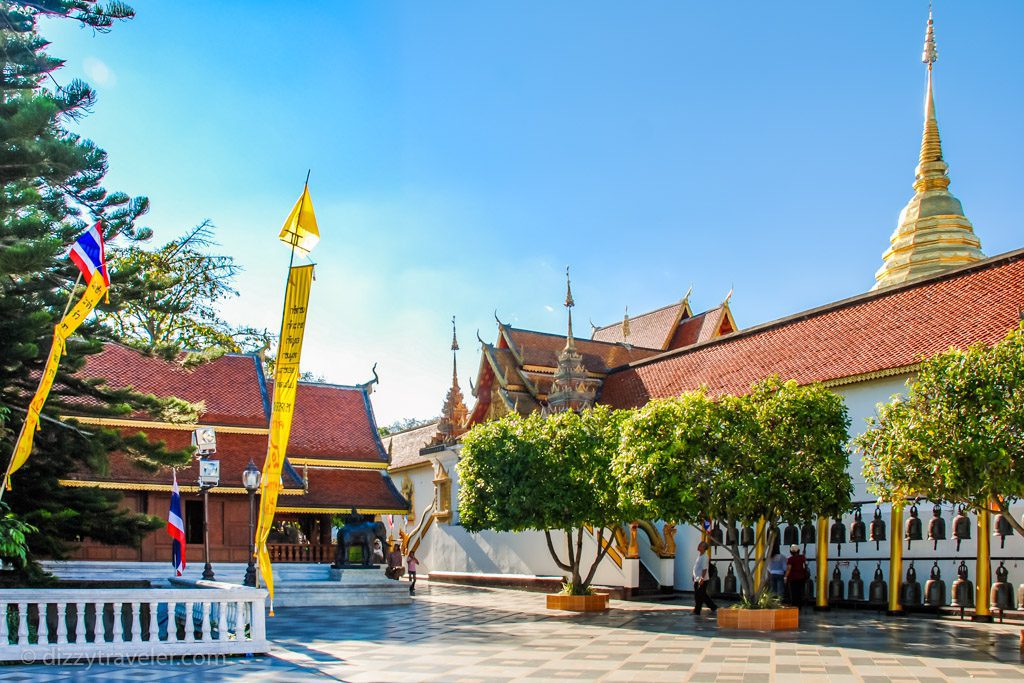 After all this excitement and climbing all those stairs, now is a good time for a famous Thai massage. Our favorite spa in Chiang Mai was Fah Lanna Spa (book in advance!). Of course, this was a more luxurious experience, but the average spa costs ~ USD 30 for a traditional 2-hour Thai massage. You can't beat that!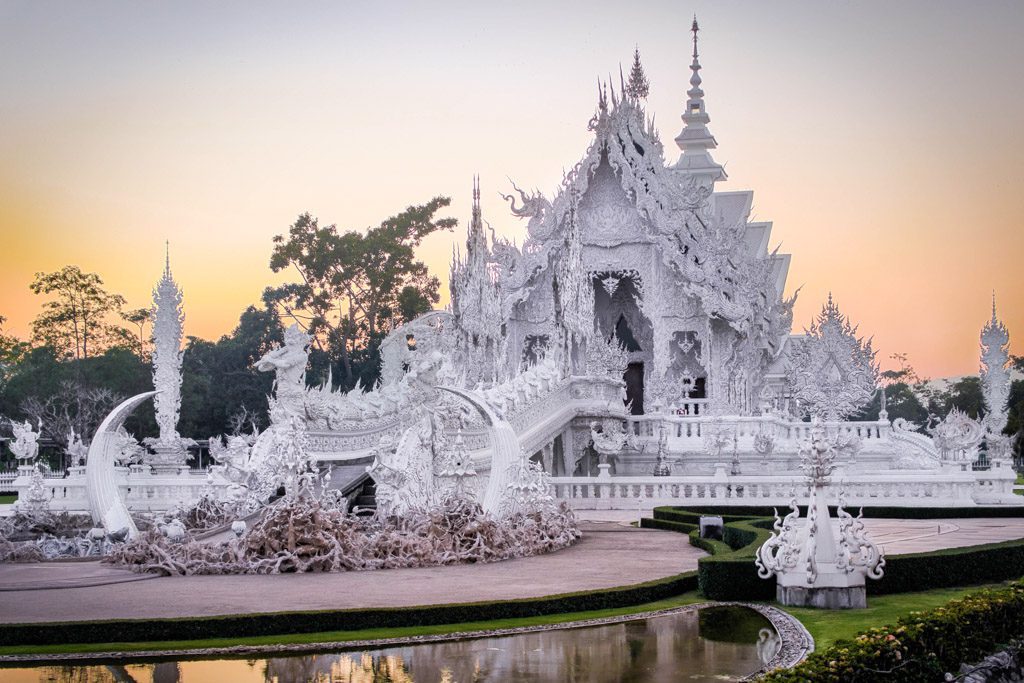 Last but not least, our trip to the elephant sanctuary was truly unforgettable. We spent the day taking care of, bathing, and feeding rescued elephants. We also learned how important it is to take care of these majestic creatures from abuse and extinction. Riding elephants is a big no-no in Thailand, so make sure to do your research to find an ethical sanctuary.
Where did we stay in Chiang Mai
We stayed at the incredible Pingviman Hotel situated within the walls of the Old City. The service was exceptional, and the Thai-style rooms were beautiful and spacious. Breakfast buffet was included during our stay, and it did not disappoint. Pingviman Hotel is a 10-minute walk from the Saturday and Sunday Night Markets, while Chiang Mai International Airport is a 15-minute drive away.
Second – Flying to Phuket and Side Trips
Phuket is one of the beautiful islands located in the southern part of Thailand in the Andaman Sea, and it is also the largest island. This mountainous island is often called the Pearl of the Andaman. Over the years, it has positioned itself as one of the top destinations in Southeast Asia and gained popularity among foreigners and locals alike. It is well known for the fascinating coastline featuring long sandy beaches surrounded by beautiful rock formations and major gateways to stunning islands such as Phi Phi, Similan, Racha, Coral, Koh Khai, and many more. Flights from Chiang Mai run daily with a few options. It is a short 2-hour flight to paradise.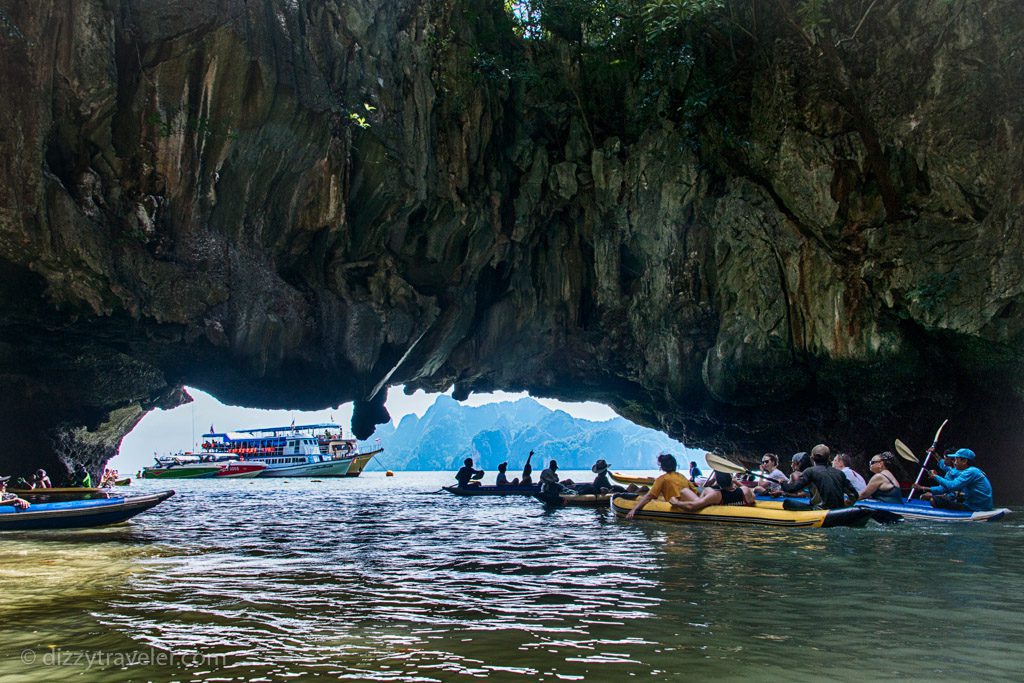 Things we did in Phuket
Phuket is all about sunshine, beautiful beaches, and thrilling adventures. To get the most out of your trip to Phuket, you'll want to plan day trips to neighboring islands. We booked tours to Phi Phi and Hong Islands – and both were incredible!
First, we booked a Phi Phi island sunrise tour through Simba Sea Trips, which took us on a speed boat to famous hotspots such as Maya Bay, Monkey Beach, and Koh Phi Phi Lee, with several stops for snorkeling along the way. Our favorite trip was John Gray's Hong Seacave Kayaking, where a tour guide takes you on a kayak through winding caves and mesmerizing coves – all while surrounded by natural wildlife. A truly unforgettable experience!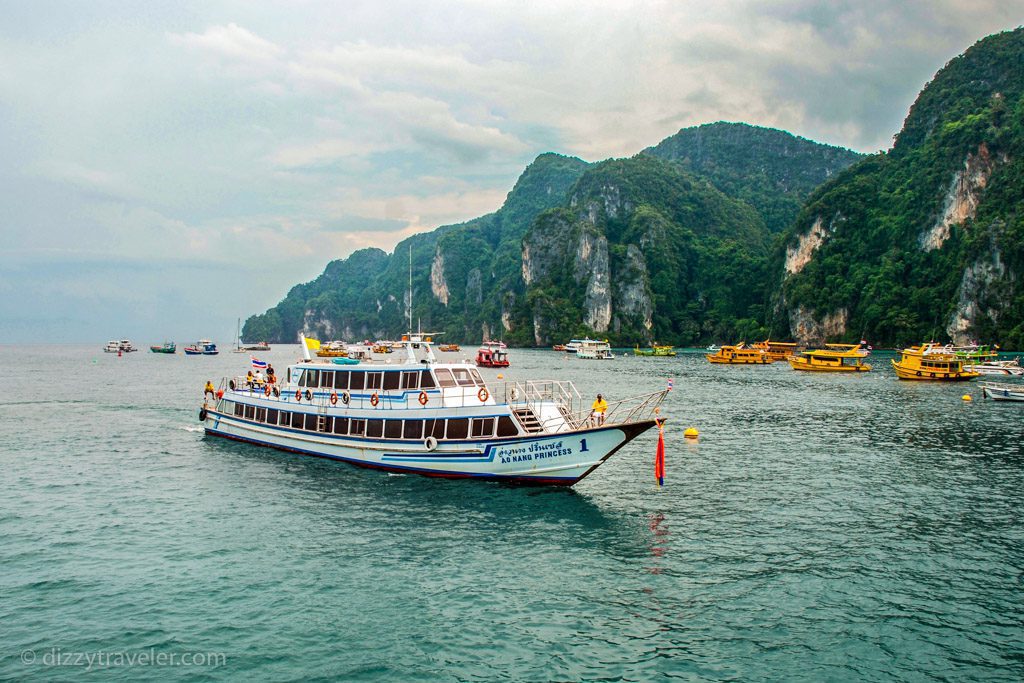 Phuket has plenty of great restaurants all around town, but you absolutely must make time to visit the Pad Thai Shop for lunch. This simple hole in the wall had the best Pad Thai we've ever had. Clearly, the locals agree – it was by far the most packed restaurant we saw on this trip.
Where did we stay in Phuket
Kata and Karon beach are known for their beautiful beaches, sprawling nightlife, and exceptional dining. We opted to stay at Mandarava Resort & Spa on Karon Beach. Our villa was perched way up in the treetops with a balcony overlooking the beach, along with breathtaking views of the sunrise. The hotel had various dining and pool locations spread throughout the property making this tropical oasis a home away from home.
Third – Koh Samui
Things we did in Koh Samui
Ko Samui, Thailand's second-largest island, is known for its palm-fringed beaches, coconut groves, and dense, mountainous rainforest, plus luxury resorts and posh spas. However, it's perhaps most famous for the landmark 12m-tall golden Big Buddha statue at Wat Phra Yai Temple.
If you're interested in bars and nightlife, then you'll want to head to Chaweng beach in the eastern part of the island. On the other hand, if you're interested in a quieter, more relaxed scene, then you're better off booking your stay at nearby Chaweng Noi. And for a couple looking for honeymoon vibes, Lamai Beach toward the southeast is the recommended spot.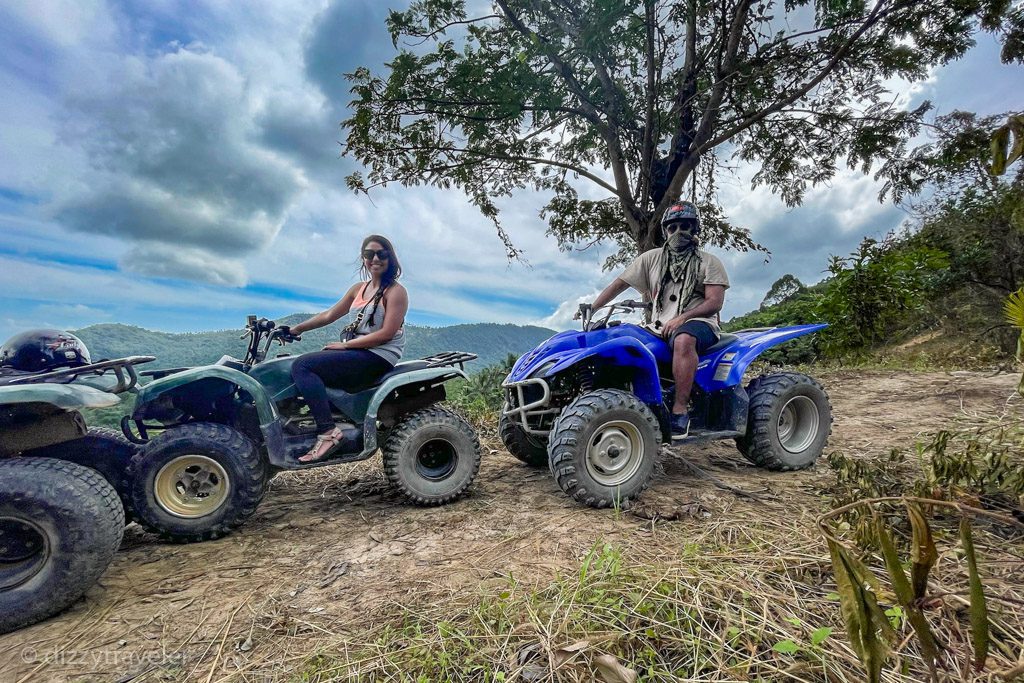 Where did we stay on Samui Island
Rather than beaches or nightlife, though, we came to Koh Samui looking for a more luxurious resort experience instead. For this, we made our way down to the southern tip of the island for a romantic getaway at Conrad Koh Samui – and it did not disappoint!
More than just "rooms", it's more accurate to think of their lodging as your own private villa, with breath-taking views of the ocean you can enjoy from your own private infinity pool. The entire experience from the moment we checked in was utterly mesmerizing and is one of our all-time favorite resorts in the world.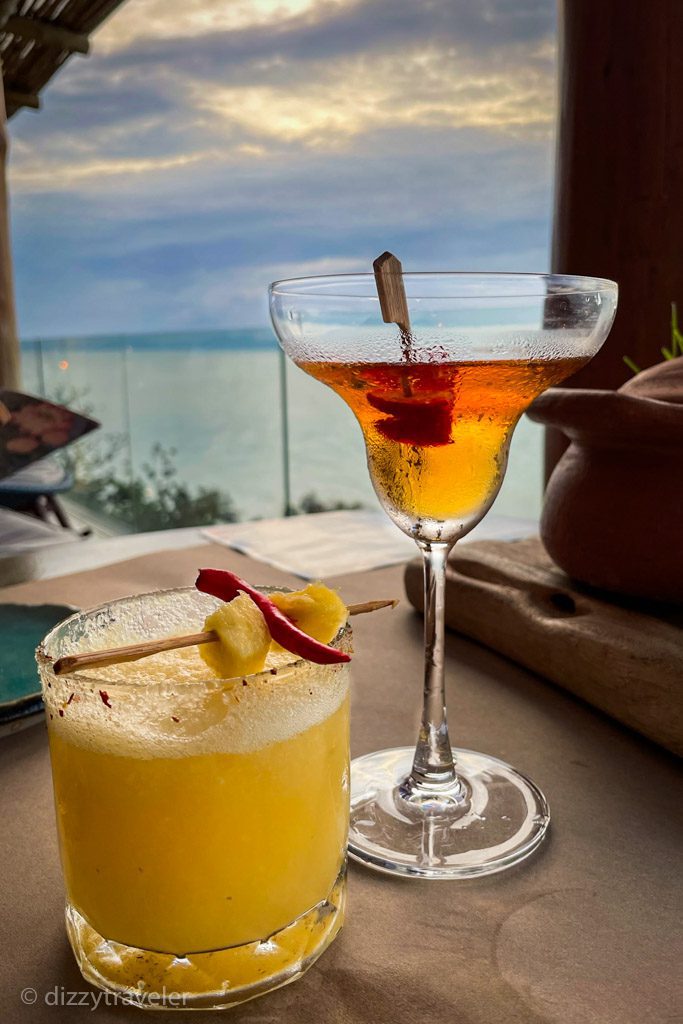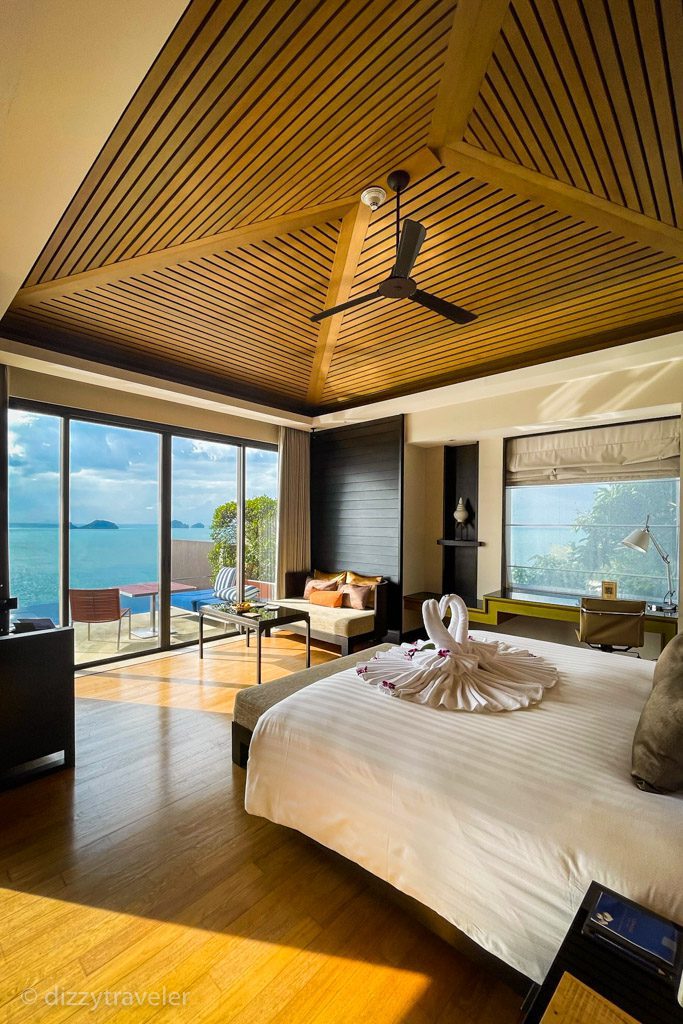 Given the location on the island, there is not much to see or do immediately around the hotel, so that you won't be doing too much exploring. But that's okay – between the five-star rooms, incredible restaurants, and activities offered at the hotel (i.e. Jet ski rentals), you'll never want to leave.
Fourth & Final Stop – Bangkok
Things we did in Bangkok
Bangkok, the capital of Thailand, attracts hundreds of thousands of people every year from all over the world. There are so many reasons why this popular wallet-friendly destination became the world's most visited city. This bustling city was filled with tons of skyscrapers, shopping malls, vibrant nightlife, temples, delicious food, and so much more.
We booked a private full-day tour with multiple stops at the most iconic markets in Bangkok. Our first stop was visiting the popular Damnoen Saduak Floating Market, which was about an hour from central Bangkok. Here, we hopped on a boat and floated through the canals, watching locals sell fruits, vegetables, and of course, souvenirs. If you pay close attention, you may even spot a giant monitor lizard swimming through the canals.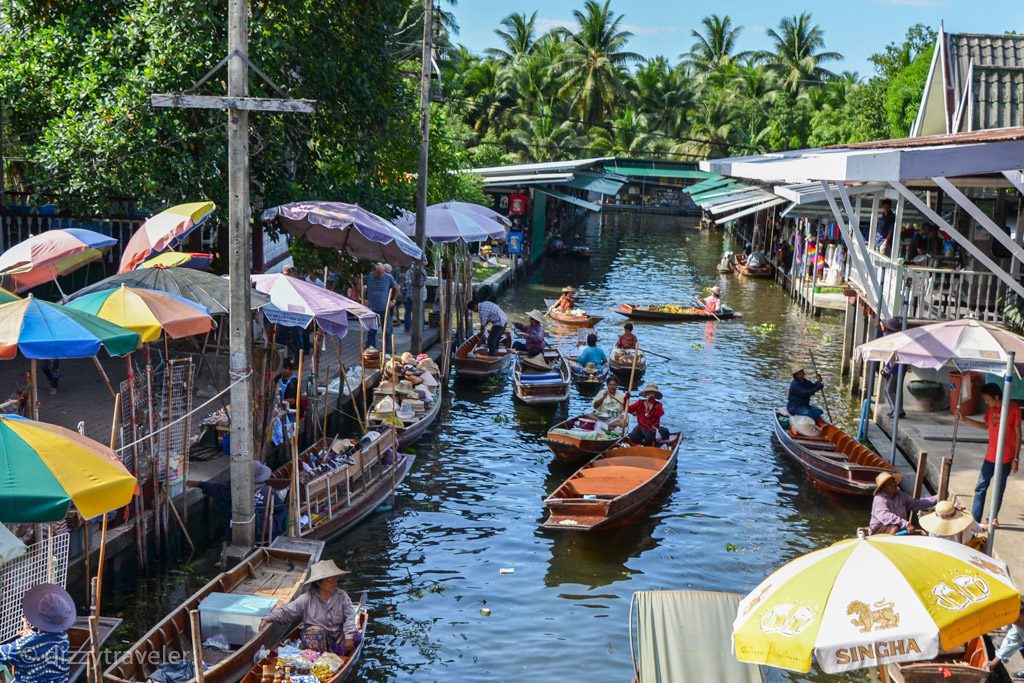 Our next stop was the Maeklong Railway Market, also known as the "umbrella pulldown market" – which is exactly how it sounds. This market is situated along both sides of an active train line. It was remarkable to see how quickly the sellers were able to pack up their individual stalls and umbrellas seconds before the train rolled by, and even more fascinating to see how quickly they went back to business after the train left. The train is so close that you can almost touch it – but we don't recommend it!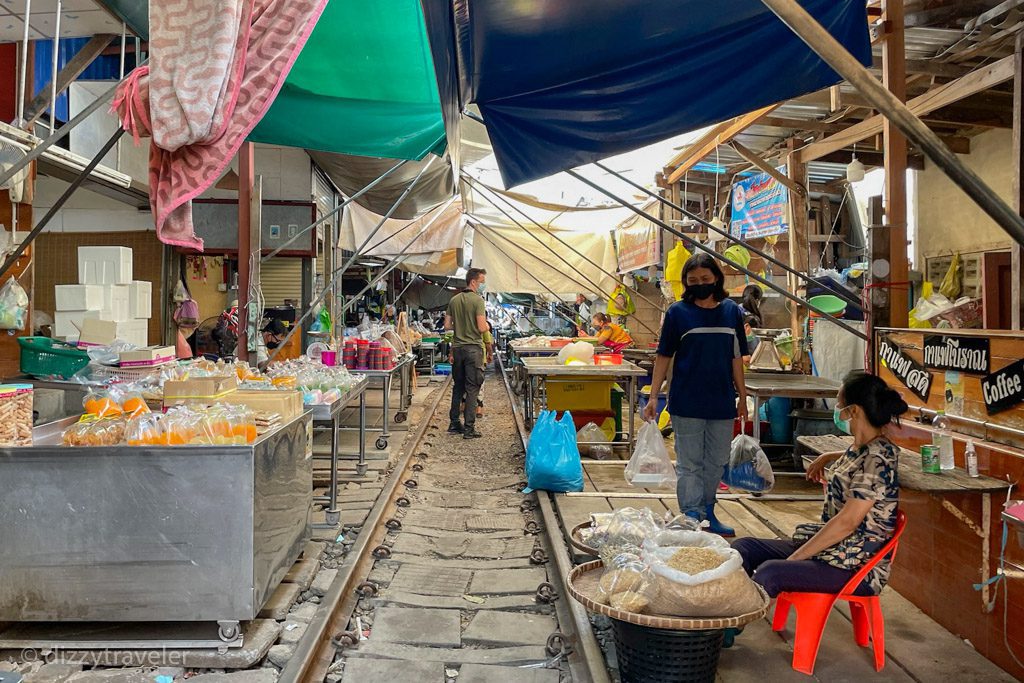 Our last stop on our tour was the Wat Bang Kung. This temple was situated within the roots of a giant banyan tree! Now we've seen it all. This ancient tree and temple have been around since the 18th century, and its intertwined branches, roots, and vines make this historical temple a must-see.
Where to Stay in BKK
We stayed at the Sheraton Grande Sukhumvit Hotel in Bangkok, and the location was ideal. We were right across from Terminal 21 Shopping Mall which had a different country theme on each floor. You won't go wrong visiting any of the shopping malls throughout the city. We made a visit to one of the largest malls in Bangkok, MBK Shopping Center, and stocked up on goodies for our family and friends back home.
Book your Sightseeing Trip
There are a lot of beautiful places to visit and do some exciting sightseeing activities to bring unforgettable memories back home. Please click our affiliate link to see your options.