If you are looking for a babymoon destination with perfect weather, beautiful beaches, and delicious food – look no further. St. Martin in the Caribbean, affectionately known as "The Friendly Island," made us feel comfortable and safe and exceeded our expectations of babymoons!
When to Visit
The best time to visit St. Martin is from December through April, with warm temperatures and less chance of rain. We visited the last week of March (3/25-3/30), and the weather was absolutely perfect. Every day was consistently 80 F / 27 C, with no rain or humidity. And the best part: we didn't encounter a single pesky mosquito the entire trip!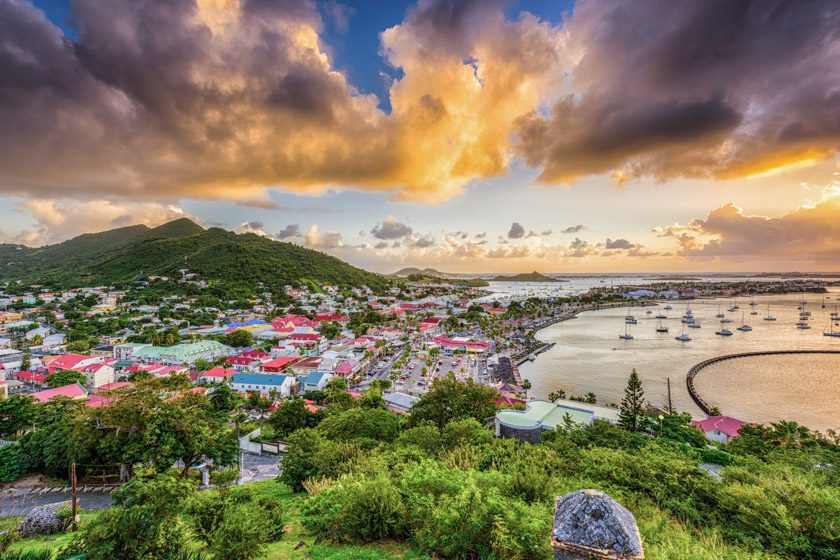 Where to Stay
St. Martin is uniquely divided into two parts, with a French side and a Dutch side. The Dutch side is more commercially developed with a vibrant nightlife, whereas the French side is more laid back with better food. Given we were traveling for our babymoon, we found the French side more appealing.
We chose Hotel L'esplanade in Grand Case, a neighborhood with most of the highly-rated restaurants on the island (more on this below, but spoiler alert: the food did not disappoint!). This hotel offered spacious rooms with stunning views and a short 10-minute walk to the main street, Boulevard de Grand Case (also known as "Restaurant Row").
A warning for fellow baby mooners: walking back to Hotel L'esplanade requires climbing a bit of a hill, plus a staircase. Fortunately, the hotel offers free shuttles to and from town if this is too strenuous for fellow moms-to-be (but shuttles run only from 6-10 pm)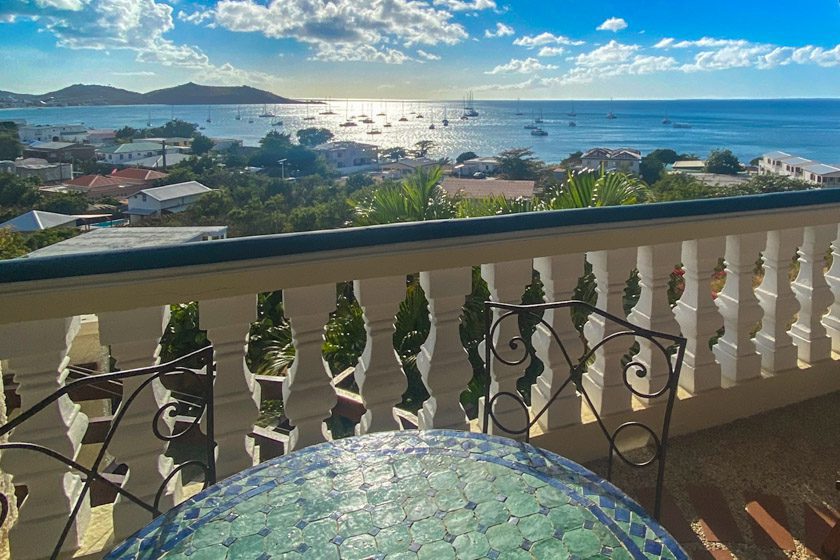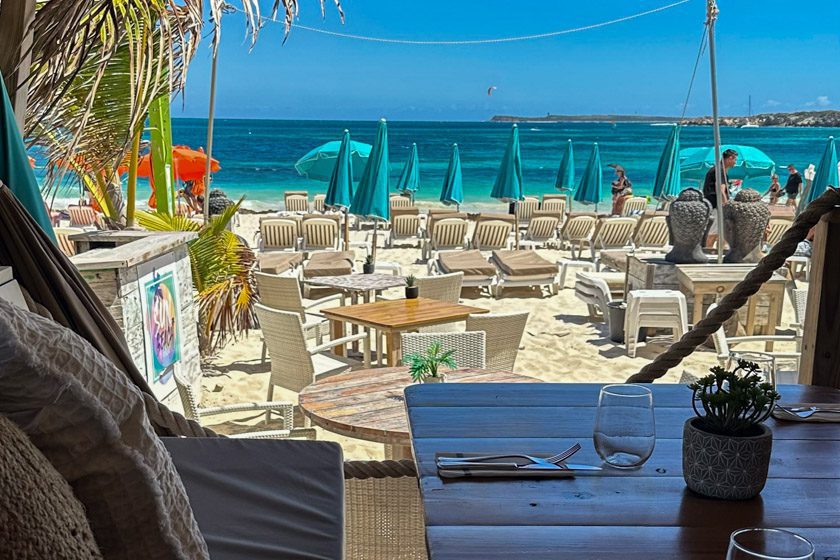 Logistics / Need to Know
JFK airport in NYC offers direct flights to Princess Juliana Airport (SXM), a ~3.5-hour flight. SXM is a small airport, and taxis are easy to find as you exit. The cab drive from SXM to Grand Case should be no more than $35-$40.
The Euro is the main currency of the island, but US Dollars are accepted everywhere. Whichever currency you choose, be sure to bring cash. Most places take credit cards, but taxis and some restaurants only accept cash. ATMs were surprisingly scarce in Grand Case, with the closest one about a ~30-minute walk from our hotel.
Everyone on the island speaks English; however, the French side of St. Martin offers a good excuse to dust off and practice your Francais skills.
Free wifi was available throughout the island.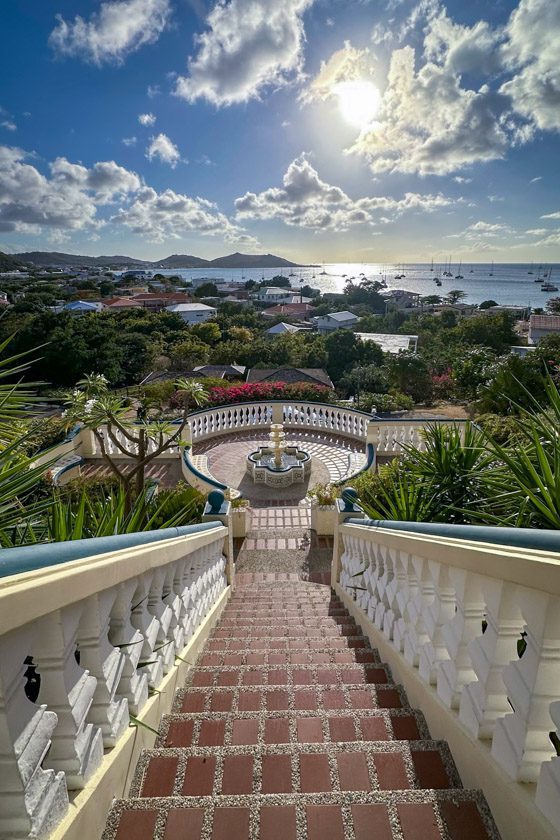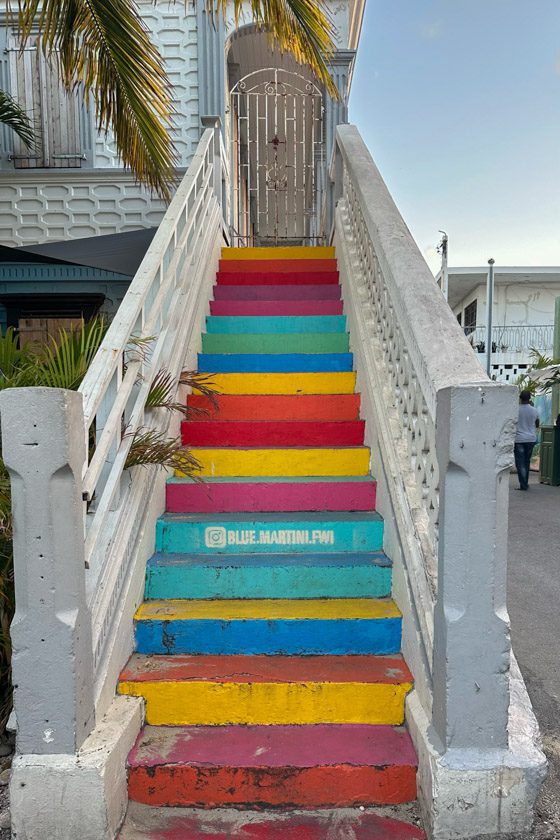 What To Do
For starters, Hotel L'esplanade offered some amenities we took full advantage of. They had a charming pool with a swim-up bar, which was a great way to spend a lazy afternoon (or two). Their bartender also whipped up an incredible mocktail made simply with fresh fruits, mint, and club soda. Down the hill from the hotel is Ti Spa, where we were able to book a couples (prenatal) massage. I would highly recommend this as a babymoon must-do.
Orient Bay beach is a short drive (10 mins) from Grand Case, with beautiful beaches, beach clubs, and lunch spots along the beach. Bikini Beach and Sun Beach are both great beach restaurants with good food and offer free beach chairs if you eat there. Coco Beach is a higher-end option beach club, with truly fantastic food (and prices to match!) Unfortunately, Coco charges for beach chairs ($30/per) even if you dine there.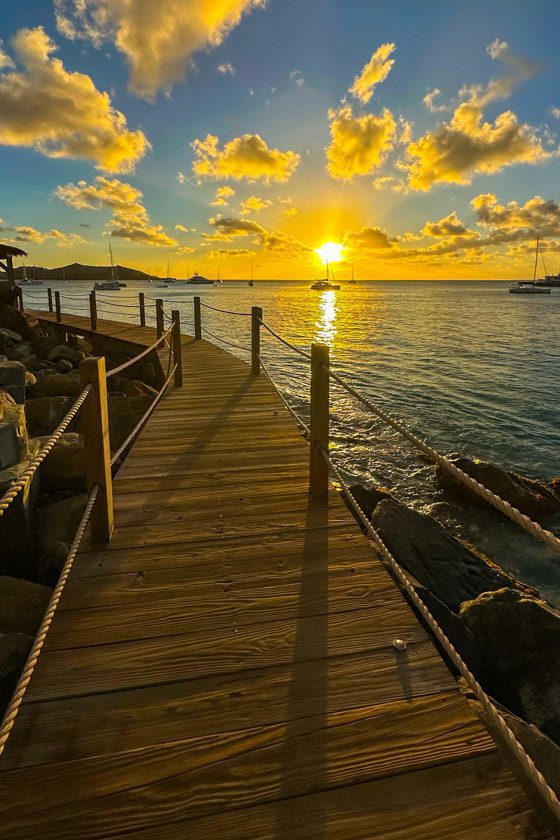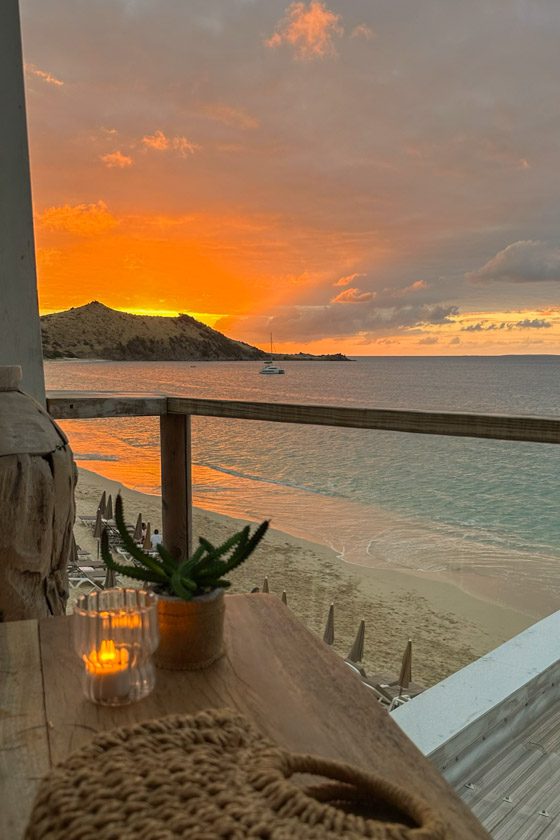 If you are in the mood for music and dancing, Rainbow Cafe on restaurant row morphs from a beautiful beach club during the day into a wild dance party at night that spills out onto the beach, with Hip Hop / Dancehall / Electronic music on Saturday & Sunday nights.
Water Sports in The Island
Water sports are plentiful in St. Martin, with scuba diving, jet ski tours, snorkeling excursions, and many other options. We opted for snorkeling (booked through Grand Case Beach Club via our hotel) and had an amazing time. (Babymoon note: Generally speaking, this is a safe choice for pregnant women, and actually some of the best exercise you can get, but check with your doctor beforehand to be safe!).
For 12 weeks in the year (starting sometime in February), there is a parade that runs down Boulevard de Grand Case every Tuesday night, and we were lucky enough to be in town for it! As a result, the entire street comes alive around 6 pm, along with countless pop-up vendors selling food, art, and interesting DIY crafts, handbags, and souvenirs.
Day Trips in St. Martin
Another popular choice for tourists in St. Martin is to take a day trip via ferry to Anguilla, which many consider to have even more pristine beaches and water than the main island of St. Martin itself. The ferry ride is about 45 mins & easy to plan, but we were told the ride could be a bit choppy (depending on the weather/waves), so we decided not to risk it (at ~22 weeks pregnant). However, the Dutch side of the island is only a short drive away as well, so you could plan to spend a day or two exploring if you'd like to get a taste of both worlds.
And, of course, the main attraction for us is Grand Case/St. Martin was the food! So without further adieu…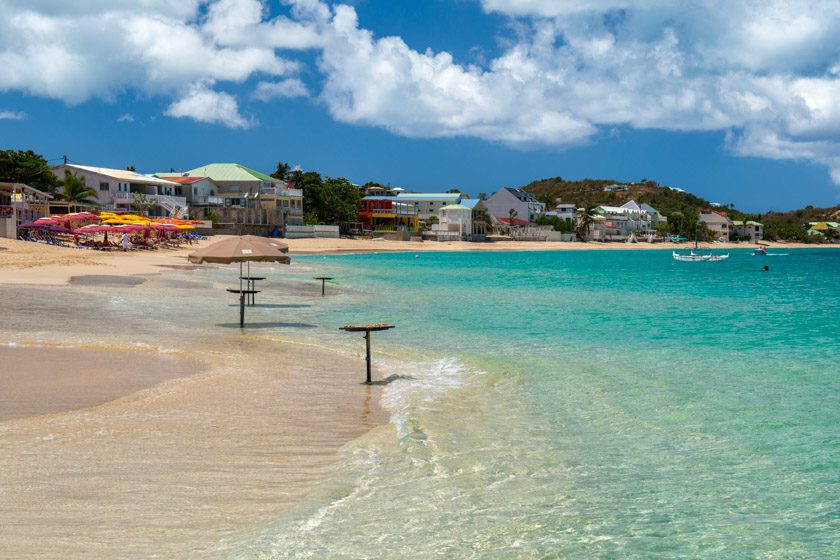 What To Eat
Lolos: Any discussion concerning food in St. Martin must start with their unforgettable Lolos, which are essentially open-air BBQ pits (no frills; cash only). You will not find a better value for money anywhere on the island, as a full plate of food + drink will run you about ~ USD 10. There are six main Lolos on restaurant row in Grand Case huddled closely together. The majority of their menus are identical (including chicken legs, ribs, snapper, lobster, shrimp, curry dishes, endless sides… you get the idea), but below are some of our favorite highlights:
Scooby's for Curry Chicken and Fried Shrimp
Au Goin Nes Amis for Ribs (we tried them at three different lolos, and these were the best!)
Rib Shack for Chicken Legs and corn on the cob
Another great lolo a bit further down the street is called Eli's Crepehits, which is famous for their crepes and chicken wings (I highly recommend the Sweet Chili flavor!).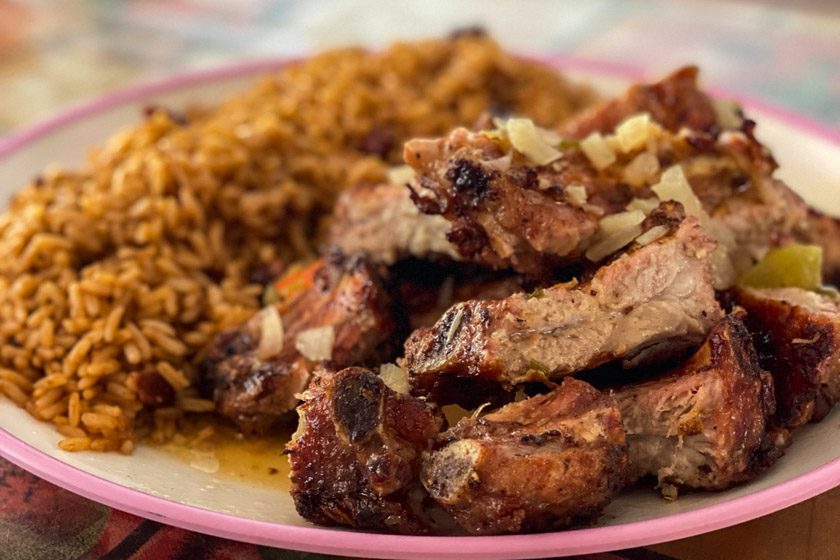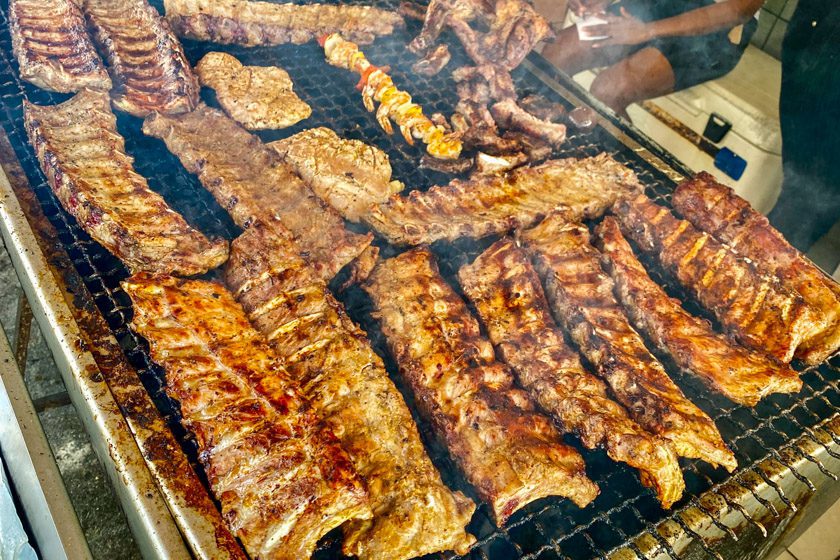 French Restaurant
Unsurprisingly, there are many French restaurants to choose from in Grand Case. On our first night, we opted for Ocean 82 to try the famous Lobster Thermidor, a popular French dish. It was very enjoyable, but just a warning, it is pricey!
If you begin to tire of the traditional creole & French fare, Spiga is a must-try Italian restaurant. We were lucky enough to spend two weeks in Italy last summer, and I must admit, the food at Spiga rivals even some of the best restaurants we tried in Italy! Be sure to save room for dessert, as that was definitely the highlight.
Rainbow Cafe is a must-visit any time of day, whether for lunch, evening cocktails & tapas (which is what we tried), or their full dinner menu, which includes greek, Italian, grilled platters, and even sushi.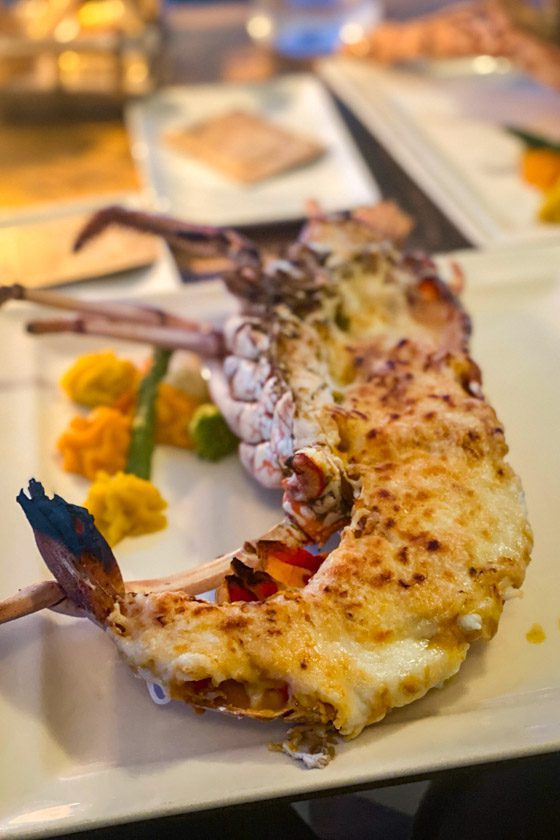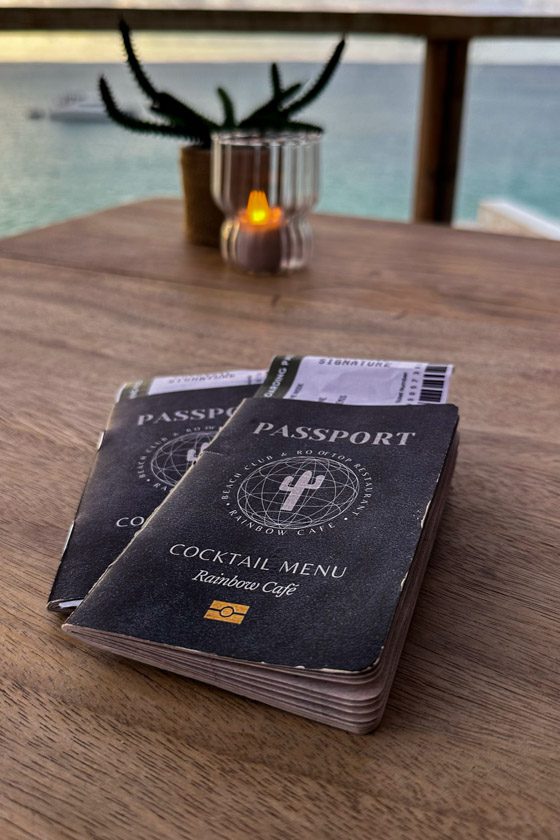 Where to stay in Saint Martin Island
Grand Case Beach is located in Grand Case. The property was built in 1990 and has air-conditioned accommodations with a terrace. The apartment features a kitchen, dining area, dishwasher, bathroom, and washing machine. In addition, a flat-screen TV is featured almost 400 HD multi-language movies. Princess Juliana International Airport is approximately 30 minutes from Grand Case Beach. A wide variety of restaurants and shops are within walking distance.
Grand Case Beach Club has 2 private beaches where guests can swim and snorkel. In addition, there is a restaurant and an outdoor pool. All rooms have views of the garden or the ocean. The hotel has a gift shop and a library on-site. Golf, windsurfing, deep-sea fishing, and horseback riding are nearby. Amenities include a car rental service and laundry. The on-site restaurant, the Sunset Café, serves French cuisine and is open for breakfast, lunch, and dinner. BBQ facilities are also available for guests to use.
My Opinion and Last Word
Have you been to Saint Martin? Any cool tips to share?
loved being in Saint Martin Island, and want to go back again. I hope my story has motivated you to visit St. Martin.
Please leave a comment below! I'd love to hear from you to improve my knowledge. 
Was this travel guide helpful for you?
If you'd like to help me continue making free guides, here is one way you can help:
Share This Guide 

– If you have a friend that would benefit from this guide, share it with them. Or post this guide on Facebook, Twitter, or Instagram.
Your Support would definitely help me make more free guides like this. Thank you in advance!
Affiliate Link – This post in Dizzy Traveler contains affiliate links, which means I receive a referral commission if you purchase after clicking at no additional cost to you. These funds go to maintain the site. Thank you for your support.
Book Your Sightseeing Trip
There are a lot of beautiful places to visit and some exciting sightseeing activities to bring unforgettable memories back home. Please click on our below affiliate link to see your options.