When I was searching for a nice place to visit in Switzerland, Zermatt came under my radar. Since then, I have visited there twice. Undoubtedly, Zermatt is Switzerland's top resort town, located at the foot of Matterhorn, probably the world's most famous mountains, renowned for skiing, snowboarding, glaciers, and other winter activities. At the same time, the slops of Matterhorn are the most attractive to many visitors that lure them to visit Zermatt.
Helpful Information
If you have to pick only one cool place to visit in Switzerland, then definitely the dreamy village of Zermatt should be on the top of your list. For many visitors, this could be a place where everything you see and do is unique and will give you a completely different experience than what you never experienced before.
The first time I visited Zermatt was as a solo traveler, and I enjoyed every moment I stayed there. But then, I fell in love so much that I decided to make a family trip; therefore, a few years later visited again with the entire family. Here I am sharing my experience so that you could also consider visiting this stunning place with your family if you haven't done so already. In addition, writing would prevent my memories from fading away over the years.
Before planning a road trip to Zermatt, it's important to know that it is a car-free town. So your best bet will be to park your car in Täsch, then take the Zermatt shuttle. The car park is right at the station, so there is no need to get out of the station; instead, just take an elevator up to the ticketing counter. The train runs every 20 minutes and takes 12 minutes to get there (about 4 miles). Visitors have the option to hire a taxi as well.
Things to do in Zermatt Switzerland
First Visit Matterhorn Glacier Paradise
One of the main attractions while visiting Zermatt is to explore Matterhorn Glacier Paradise. In fact, that was my top priority to ride a mountain lift to the highest elevation cable car station in Europe (12,740 ft).
Due to the snowing condition, I had taken only the lift service to Klein Matterhorn (meaning 'Little' Matterhorn. The ski area on the Theodul Glacier is open 365 days a year. We visited there in May and August, and on both occasions, they didn't allow us to get out of the Glacier Paradise complex due to a snowstorm. But if you are lucky, you can enjoy the breathtaking views of the highest mountains in Italy, France, and Switzerland in good weather.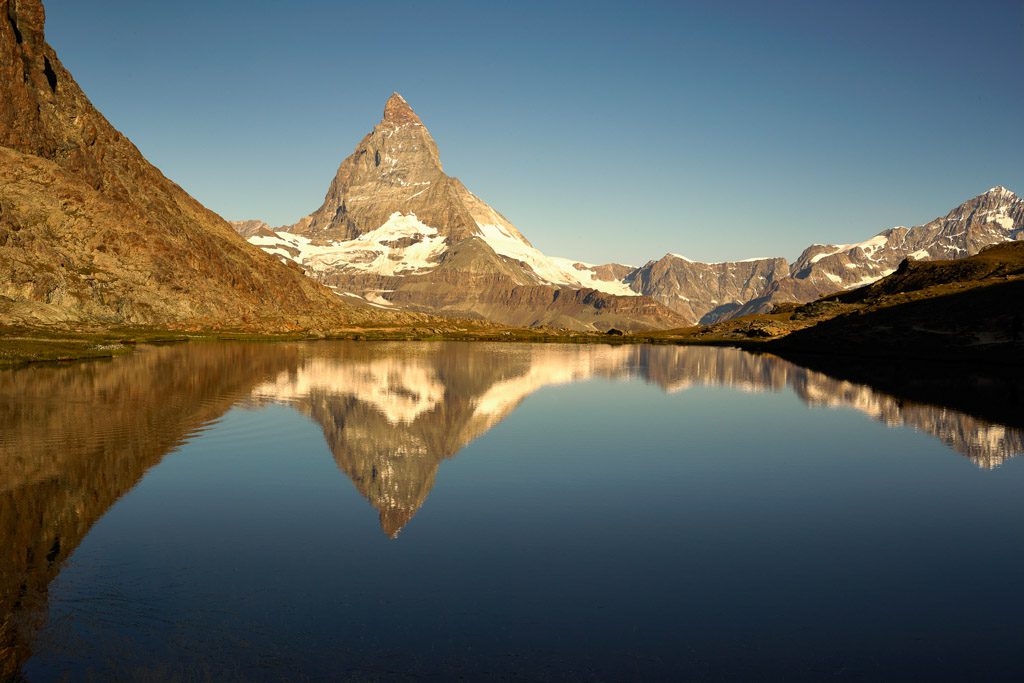 To reach there at 3,883 m elevation, you need to take a series of gondolas first from Zermatt to Furi 6,125 ft (1,867 m), then from Furi to Trockener Steg 9642 ft (2,939 m) finally from Trockener Steg to Klein Matterhorn. It takes about 45 minutes to get to Matterhorn Glacier Paradise from Zermatt without stopping over in Furi or Trockener Steg.
Best Views of Matterhorn from Zermatt
There are a few viewpoints in the village of Zermatt from where you can enjoy the breathtaking view of Matterhorn peak on a clear day. Even walking around the town, you will definitely discover places from where you will see Matterhorn perfectly. However, the best time for a better view is during Sunset or Sunrise. So here are a few places you should try.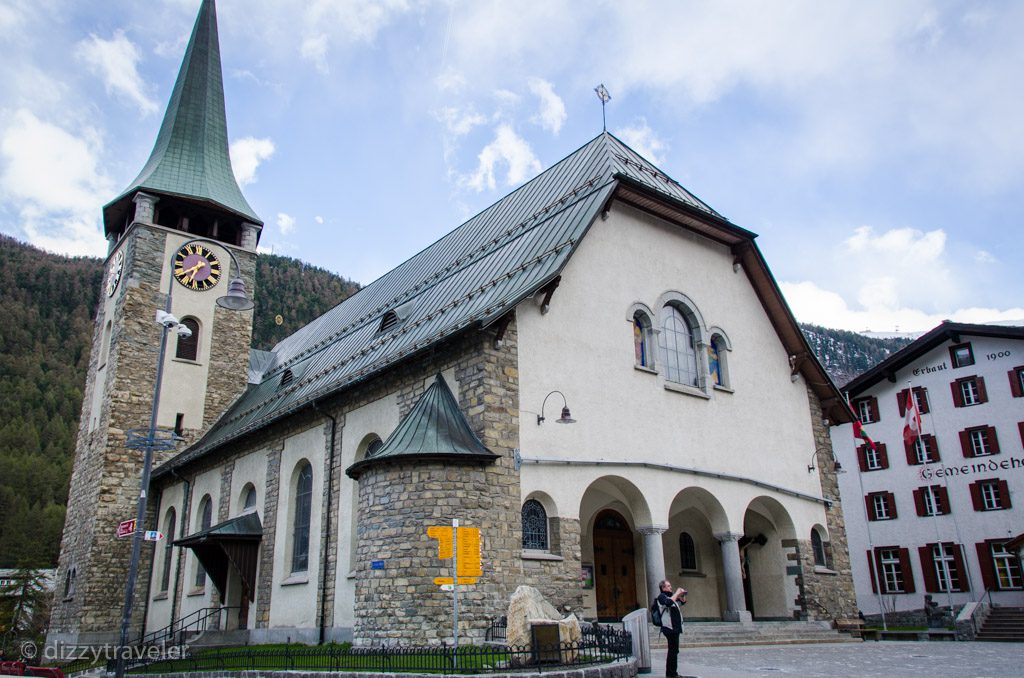 Head to Zermatt Matterhorn Viewpoint
If you don't mind a little uphill hiking, then this is the best place in Zermatt to watch the breathtaking view of Zermatt and the Matterhorn. Perfect location for the Sunset view and definitely worth the hike.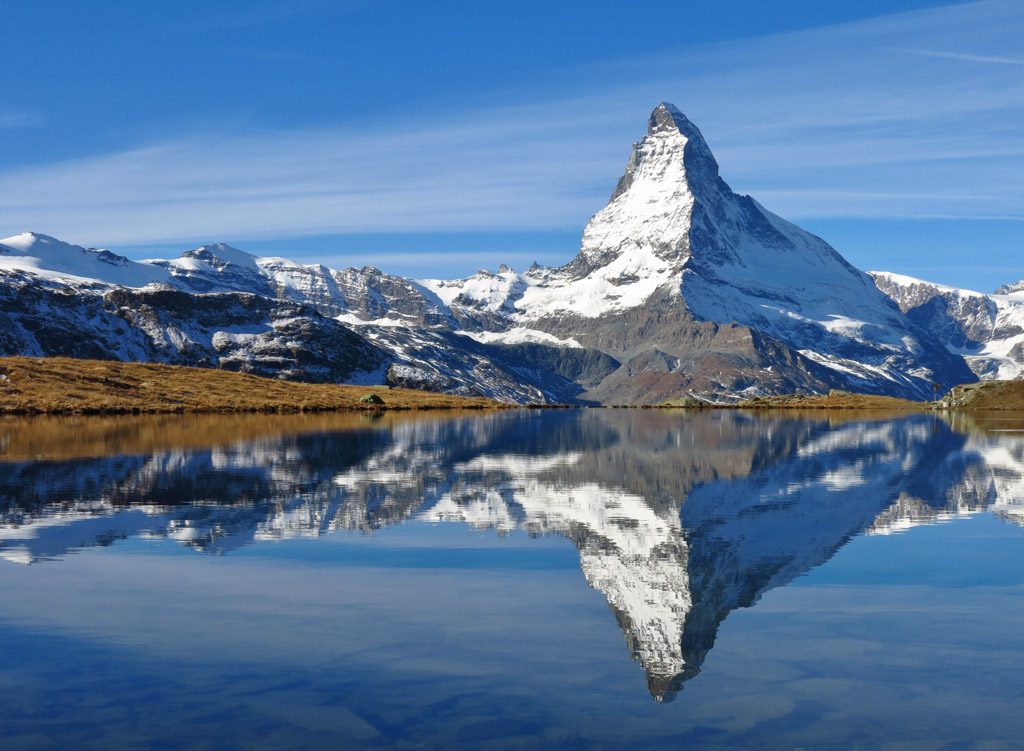 Another View From Kirchbrucke (Bridge)
I stayed at Romantik Hotel Julen, and I could see the Matterhorn peak through my room's window or balcony with some obstruction. But a short walk (a minute or so) from the hotel is the Kirchbrucke (bridge), from where I guess you will get another outstanding view of Matterhorn along with the river and townscape. It's a great area to stay in, and I am confident that you would like it. I saw many nice and cozy hotels around that area.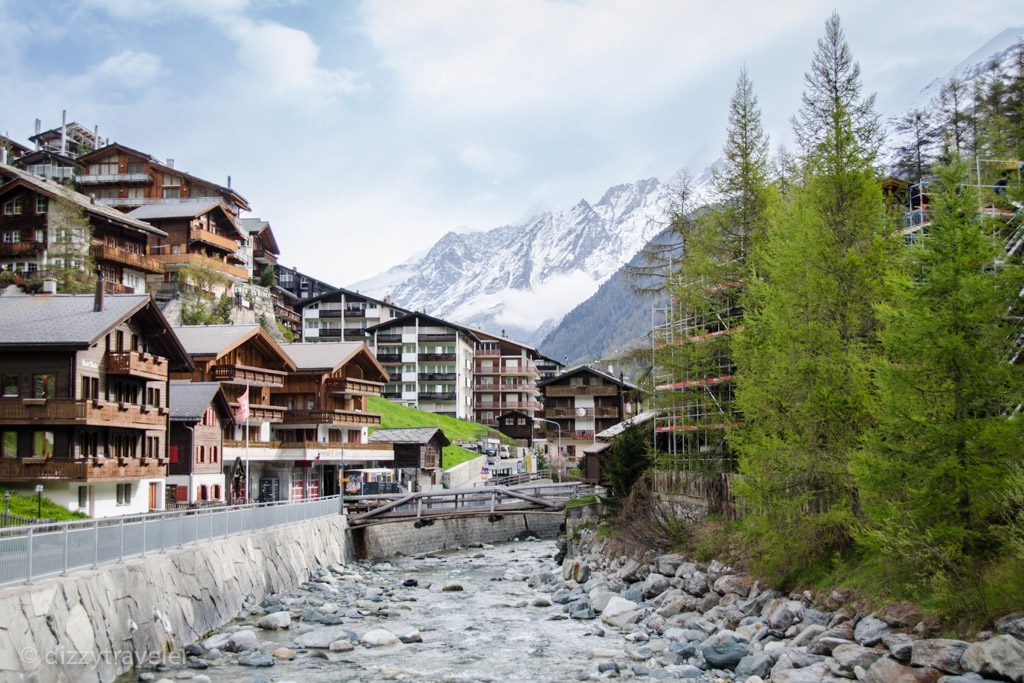 View From The Corner of Oberdorfstrasse 4
Another perfect location for a great photo or selfie with Matterhorn is right next to Zermatt City Hall, Kirchplatz 3. It is easy to find.Another perfect location for a great photo or selfie with Matterhorn is right next to Zermatt City Hall, Kirchplatz 3. It is easy to find.
Wander Around Zermatt Village
Apart from ski resorts, mountains, and winter sports activities, Zermatt deserves recognition for its old village. You will find amazing, traditionally looking barns, stables, and old houses built between the 16th and 18th centuries. Walking through the narrow streets and alleys feels like traveling back in time. That makes it a photographer's dream as well. In addition, there are guided village tours available for interested tourists. Since Zermatt is car-free, wandering through this easily walkable town is very relaxing.
I would definitely recommend a walk along the beautiful Mattervispa river in Zermatt. Here are a few other places I visited during my visit. Kirchpltz, Station Square, St. Perter's English church, Catholic church, Valley Station (Express Bayard Zermatt – Sunnegga), Cemetery for Mountaineers, Matterhorn Museum, etc.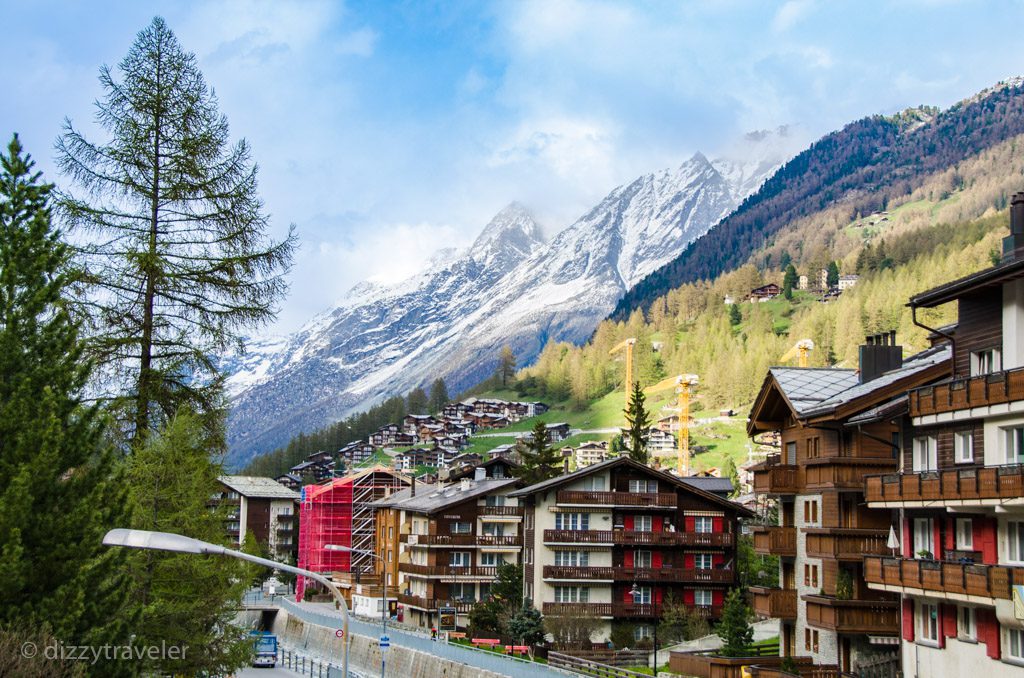 Hiking The 5 Lakes Trail
One of the best things to do in Zermatt is hiking, especially in summer. And in my opinion, the 5 lake trail (5-Seenweg) is the most famous among visitors. The trail connects all five beautiful lakes of Stellisee, Grinkjisee, Grunsee, Moosjisee, and Leisure. The total hiking takes about 3 hours. In addition, this path will allow you to see the picture-perfect view of the mountain range, including the Matterhorn and the fantastic reflection on the lake's water.
Map of 5 Lakes Hiking Trail
You start your adventure from Blauherd (elevation 2,571 m), one of the most beautiful sites in Zermatt. A superb place for unwinding and admiring the alpine world, the pass-through Stellisee – Grindjisee – Grünsee – Moosjisee – Leisee – Sunnegga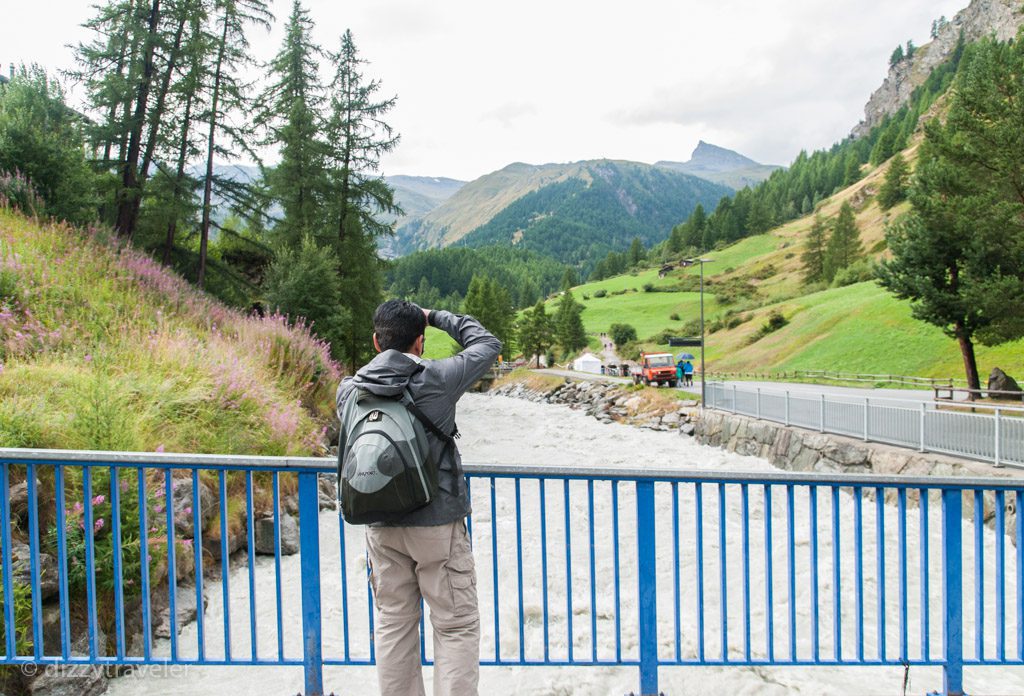 To get to Blauherd, take the underground funicular railway from Zermatt to Sunnegga. Then take the six-seater chairlifts or eight-person gondolas up to Blauherd.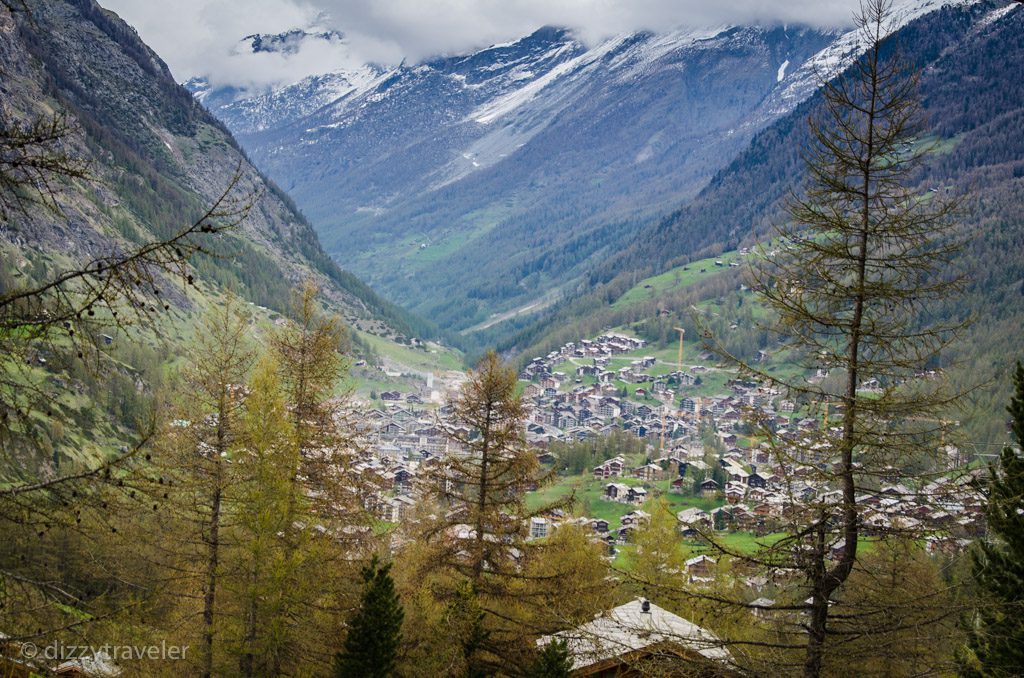 Day Trip to Gornergrat With Stops in Riffelbert and Rottenboden
The most popular way to see the Matterhorn is by taking the cog train from Zermatt up to the Gornergrat at 3,089 meters elevation. This route is so popular that trains run every 30 minutes and a spectacularly busy. For a great view, make sure you sit on the right side of the train. The Cornergrat Bhan runs year-round between 7:30 am to 8:00 pm.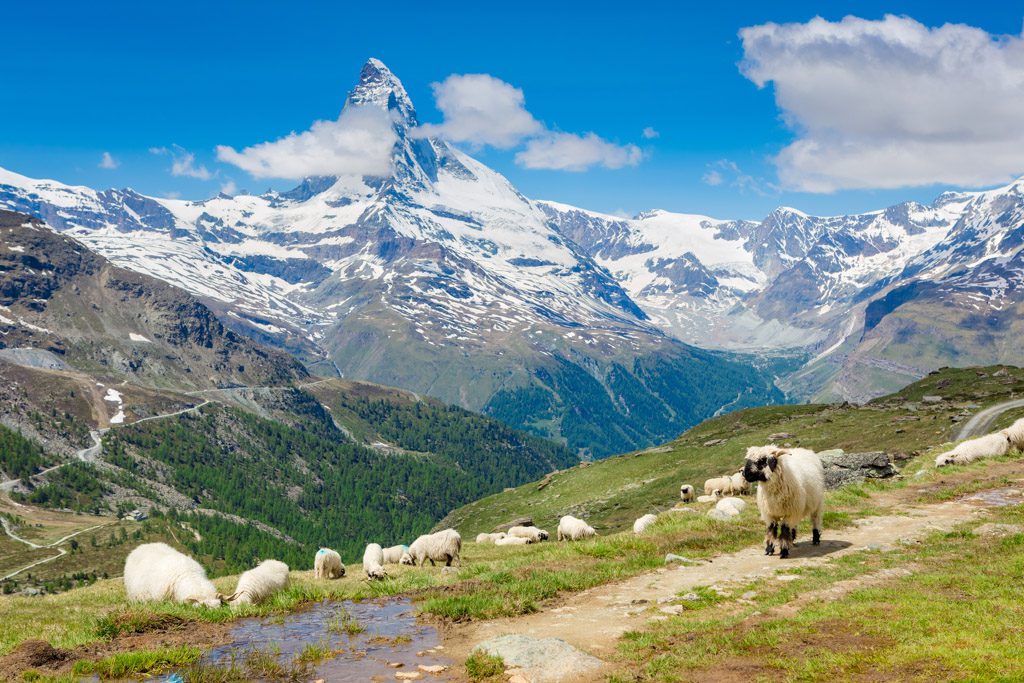 First Stop Riffelberg Station ( elevation 2,583 m)
Riffelberg station, at an altitude of 2,582 meters, can be reached on your way to Gornergrat from Zermatt. It is a famous stopover for hikers, skiers, and photographers to enjoy a marvelous view of the Matterhorn. As a traveler, you will feel incredibly close to the mountain. If you plan to stay overnight, I recommend staying at Riffelalp Resort or Riffelhaus 1853 for a great experience, but they are in high demand throughout the year and usually sold out months in advance.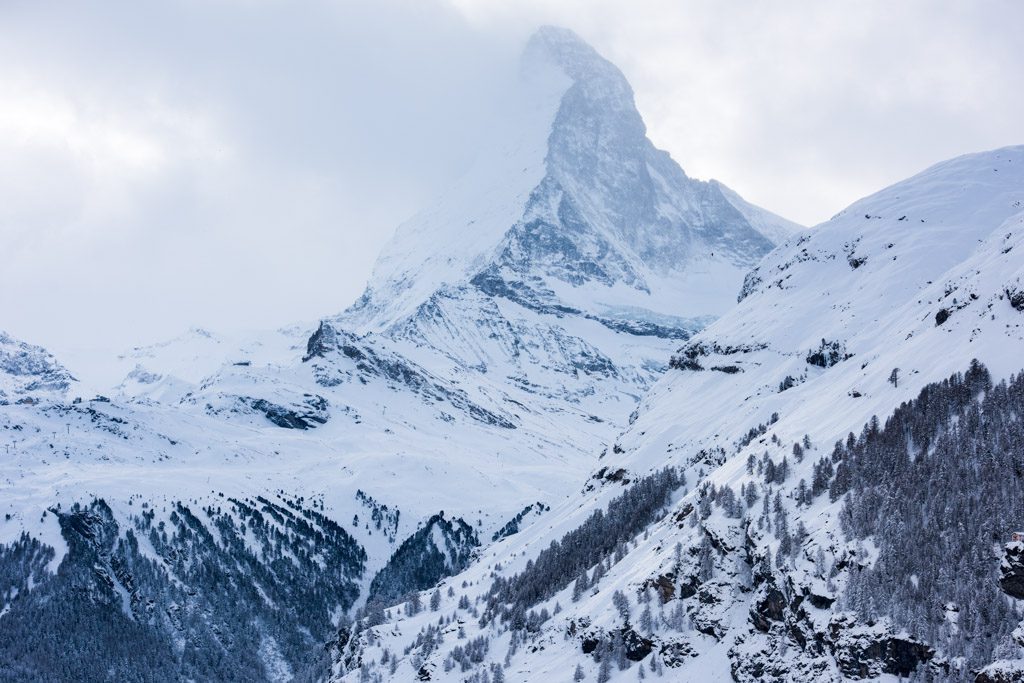 2nd Stop Rotenboden ( elevation 2,815 m)
If you are heading to Gornergrat in Summer, it is definitely worth stopping at Rotenboden. Fantastic photo opportunities and trekking to the top of the Gornergrat. Those who are not used to heights may need to get used to thin air and experience shortness of breath. Otherwise, the hikes are not so difficult, especially in summer. Many visitors walk directly from here to the Riffelsee lake for their signature photo capture of the Matterhorn and its reflection on the lake's surface.
Professional mountain hikers, climbers, and nature lovers gather in Rotenboden to start their trips to the Gorner Glacier and the monte Rosa hut.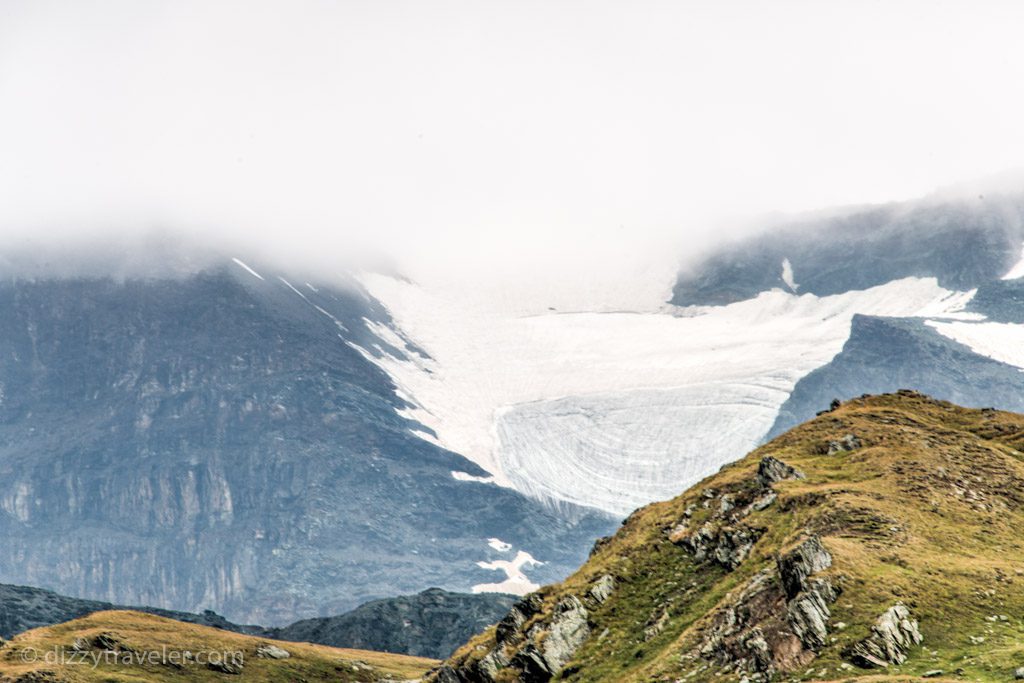 Final Stop The Gornergrat ( elevation 3,089 m)
If you are looking for a family day trip out of Zermatt, Gornergrat is considered the best place. A 35 minutes journey from Zermatt by cogwheel mountain train will take you to Gornergrat viewpoint at 3089 m. The observation platform is open year-long with a clear view of the Matterhorn, the beautiful Gorner glacier, and unparalleled views of many other sky-high peaks. Plan to have food at vis-à-vis restaurant with a view of Monte Rosa mountain and have local specialty cheese and rösti (Swiss fried grated potato dish).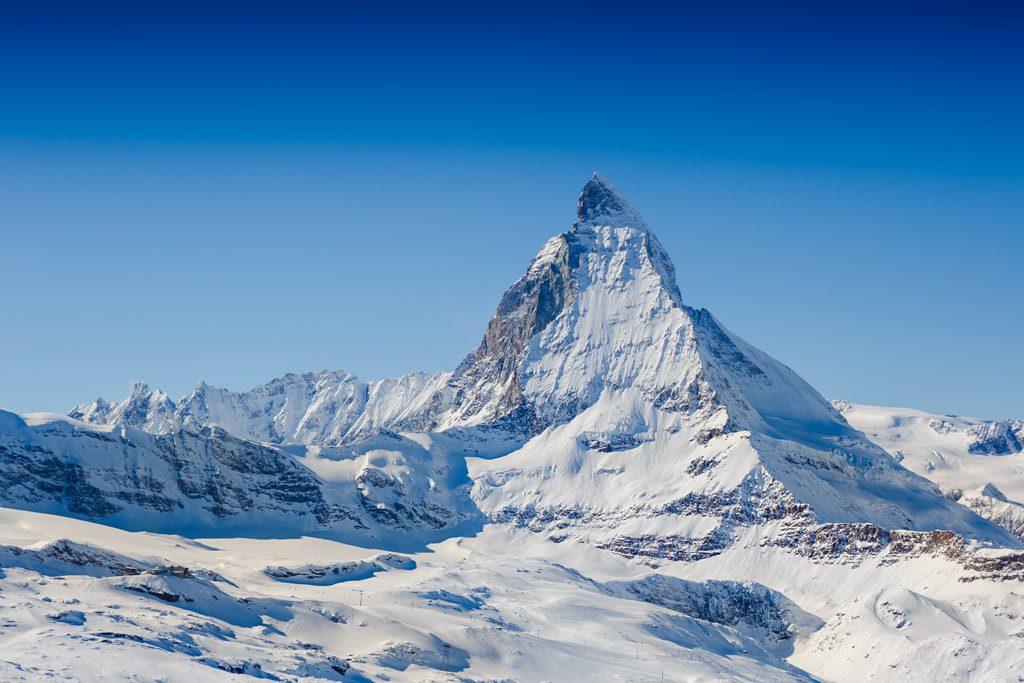 Where to stay in Zermatt, Switzerland
I stayed at Romantik Hotel Julen for three nights and absolutely liked my relaxing stay there. The charming hospitality and relaxed ambiance have turned the hotel into a modern legend. The breakfast was excellent especially loved their wide selection of cheese and bread. The 4-star superior Hotel, whose traditions go back almost 70 years, offers exclusive country-style rooms in old pine, many of which afford views of the Matterhorn.
You'll have no problem planning out your days and transportation needs with front desk services, including luggage storage and safety deposit boxes. In addition, in-room conveniences such as room service and daily housekeeping will make staying in a great choice.
Get all that Zermatt offers and all of its nearby adventures with a stay at Hotel Simi. This convenient location is minutes from the city center and provides quick and easy access to many local points of interest. In addition, the hotel's taxi and shuttle services make it easy to plan your day trips, sightseeing, and more around Zermatt. Finally, they have luggage storage and a safety deposit box service for your convenience. I would recommend this hotel definitely a great place to stay with a budget.
My Opinion and Last Word
Have you been to Zermatt, Switzerland? Any cool tips to share?
I loved being in Zermatt Switzerland, and want to go back again. I hope my story has motivated you to visit Italy.
Please leave a comment below! I'd love to hear from you to improve my knowledge. 
Was this travel guide helpful for you?
If you'd like to help me continue making free guides, here is one way you can help:
Share This Guide 

– If you have a friend that would benefit from this guide, share it with them. Or post this guide on Facebook, Twitter or Google+
Your Support would definitely help me making more free guides like this. Thank you in advance!
Affiliate Link – This post in Dizzy Traveler contains affiliate links, which means I receive a referral commission if you purchase after clicking at no additional cost to you. These funds go to maintain the site. Thank you for your support.
---
Book your Sightseeing Trip
There are a lot of beautiful places to visit and do some exciting sightseeing activities to bring unforgettable memories back home. Please click on our below affiliate link to see your options.