5 days Boracay itinerary via Kalibo
It was wintertime in Northern New Jersey, the USA was preparing a scape from the freezing cold during the holiday season and Boracay island in, the Philippines was the perfect place to be. Where people can experience the summer atmosphere throughout the year. Boracay, a small island in the Western part of the Philippines. One of the popular traveler's paradise is widely known for its stunning white-sandy beaches, island hopping adventures and lively nightlife, in addition also known as a sanctuary for watersport hobbyists especially for scuba divers, snorkelers, kayakers, and windsurfer.
Day 1 – Monday, Dec 25, 2017
There are two airports located near the island of Boracay. Caticlan (IATA: MPH) and Kalibo International Airport (IATA: KLO). Caticlan airport is right next to the Jetty port where you can take the boat to Boracay, whereas Kalibo is about 72 km away from the jetty about 90 minutes by bus. There are minivans, coasters, and buses that serve travelers between Kalibo International Airport and Caticlan Jetty Port.
I took Air Asia Flight FY7493 from Kuala Lumpur (KUL) at 11:05 am – Arrived at Kalibo Airport (KLO) at 2:50 pm. Then took the prearranged airport transfer from 12go Asia to the Caticlan jetty then transferred to a boat and once on the Boracay side of the island took a van to our Agos Boracay Rooms & Beds accommodation.
By the time we checked in and settled down at the hotel, it was late evening so we took it easy relaxed a little and then hanged out around White beach area for a while.
Day 2 – Tuesday, Dec 26, 2017
Our first full day in Boracay jampacked with activities, wake up early, get ready and after breakfast head towards the white beach on the west side of the island.
Visit The Stunning White Beach
White beach is one of the main attractions and one of the most visited beaches in Boracay island. Therefore the first thing we planned was to explore by taking a long walk on this four kilometers long White beach. That way we will be able to get to know all the actions around the beach like resorts, nightlife, restaurants, spas, markets, exciting beach activities and get a sense of what this place has to offer. Walk from one end to there other and find an interesting subject for my photography.
Apparently, the best view of Willy's rock is from White beach, which is one of the most recognizable attractions on the island of Boracay.
We had no set of schedule to meet so wanted to just relax, take our time and enjoy the beautiful beach and the crystal clear water.
Visit D'Talipapa Wet Market & Have Lunch at Station 2
During lunchtime, we visited D'Talipapa Wet Market – because a tropical island trip is not complete without trying out local seafood! It was interesting to be able to practice our bargaining skills and buy a different kind of freshly caught seafood from the market then simply walk to a nearby restaurant to have them cook them for us.
The grilled fish and eggplant for lunch was delicious and for the first time, I tried this extra strong local beer called Red Horse.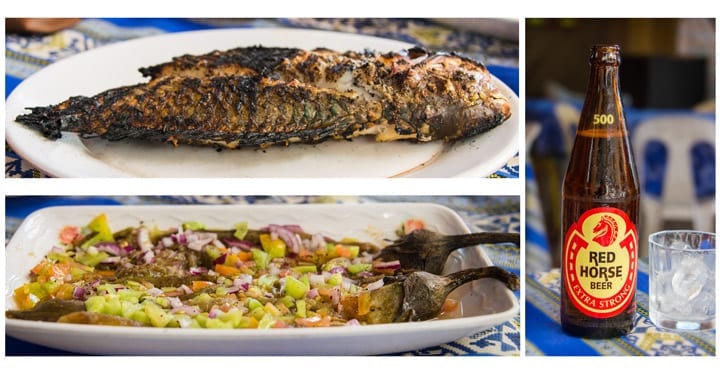 Visit Spider House Restaurant for Sunset Viewing
Spider House Restaurant is on the northwestern side of the island and it was absolutely one of the best locations on Boracay to watch the sunset. That is why this place gets very busy before the sunset, so to secure a nice cozy table we went there little early. Got a glass of drink, sit back and relaxed while watching the activities in the water. We enjoyed every moment since we got there.
Hang Out on White Beach at Yellow Cab Pizza Co.
In the evening there is no better place to be on the island but to hang out at the white beach and watch beach performance while having our dinner.
Day 3 – Wednesday, Dec 27, 2017
Today we planned to visit a small island on the north side of Boracay called Carabao Island then late afternoon return to White beach on Boracay for viewing the sunset. More details below.
First Stop at Bulabog Beach to Enjoy The Sunrise
This beach is on the eastern side of Boracay island and sunrise is best viewed from here, not too far from our hotel, it's about 5 to 10 minutes walk. So just plan to get to this beach very early to enjoy the sunrise. Durning windy season between November to April Bulabog beach is also ideal for wind and kitesurfing.
After Breakfast at Hotel, A Boat Trip to Carabao Island
Carabao Island also known as Hambil to the locals only 30 minutes away from Boracay, the island got gorgeous coastlines, crystal clear turquoise water and picturesque beaches. It is a perfect day trip location from Boracay. We rented a motorized private boat from station 1 area of the white beach for 6 hours and headed for our trip of the day.
There are two prominent beaches on the island and to get from one end to the other renting a motorbike is the only possible way.
Lanas beach is on the west coast of the island an awesome place for sunset viewing. There are few resorts and restaurants available for the day trippers.
Said Beach is on the east coast, close to the town of San Jose. This beach is very quiet and beautiful with fine white sand and leaning coconut trees.
Lunch at Nipa Hauz
We had our lunch at Nipa Hauz Resort & Restaurant in Carabao Island, they serve Filipino and Western cuisine. Undoubtedly one of the best food I ever had during my entire Philippines trip.

Return to Boracay from Carabao Island
At the end of our Carabao day trip, we headed back to Boracay, refreshed yourself at our hotel then got back to the mainstream of activities.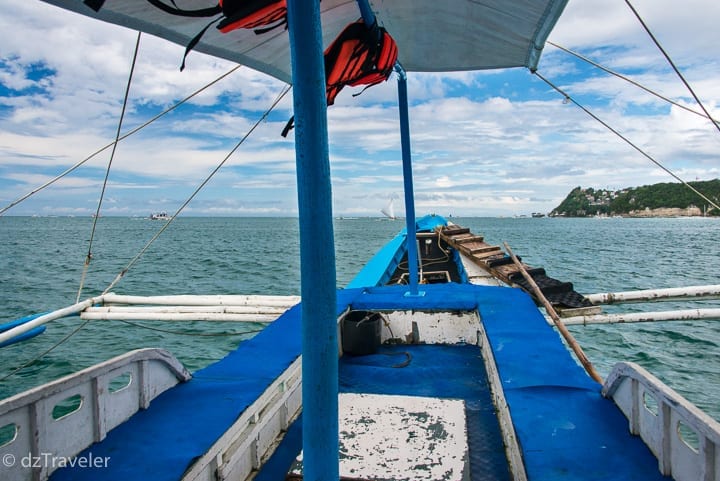 Watching Sunset from White Beach was on our Plan
Ask any person who has in fact been to this beautiful island and they will merely tell you about Boracay's remarkable sunsets. There are so many ways to enjoy the sunset, and we have done most of all, and today we planned a different way of experiencing the sunset just from the white beach.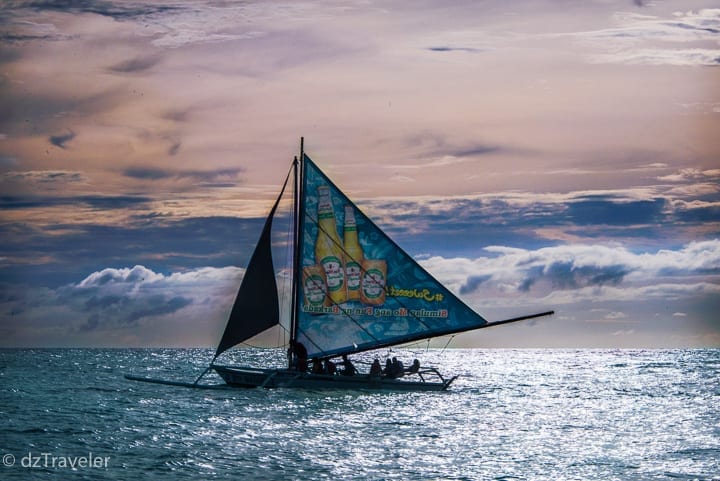 Day 4 – Thursday, Dec 28, 2017
Today we plan to hire a Banca and visit a few islands if possible swim and do snorkeling. Details of our activities mentioned below.
Early Morning – Island Hopping
Among all the activities island hopping is one of the most popular ones. It is not expensive to hire a boat or join a tour boat shared by others depending on if you're in a small or large group and if you want lunch included in the trip.
We did not share the boat with other travelers instead we hired a private boat for 4 hours to complete our island hopping adventure.
Our 1st stop was at Crocodile Island
2nd. Magic Island
3rd. Stop Crystal Cove
Final Stop Puka Beach
Quiet and Relaxing Puka Beach
It's the second largest beach on the island relatively quieter and beautiful at the northern end of Boracay. Renting ATV (All-Terrain Vehicle) is a fun and great way to explore the long stretch of the beach.
Later we visited Balinghai beach
In time the most visited white beach gets crowded, as we were looking for some privacy in a quiet relatively less visited beach so we headed for Balinghai beach. It is easily accessed by a sailboat (Paraw), motor boat Banca) or by rowing a canoe from white beach.
It's a small beach but peaceful with white sand and crystal clear water. Once we got there somehow I had a feeling of being on an isolated island away from civilization. We found two small stores selling snacks for the beachgoers, the coconut water and beer struck our attention. We enjoyed spending quality time there.
Exploring Ilig-Iligan beach (Lapus Lapus Beach)
Ilig-Iligan beach also known as Lapus-Lapus Beach, it is located on the northeastern side of Boracay. A private beach for Fairways and Bluewater Boracay Resort and championship Philippines Golf Course making it quiet and protected. Moreover, you could visit their bar and restaurant.
Ideal for diving, swimming, snorkeling, diving, and just chilling out on the white sandy beach. We enjoyed this windy beach as it was not all crowded like White or Puka beach.
Snorkeling in Crystal Clear Water
Snorkeling is just one of the leading activities on the island since the water is warm and you will have an excellent chance to discover the colorful wonders under the sea. With the ideal snorkeling methods and also tools, you will certainly appreciate sightseeing and tour under the pristine waters of the island.
There are lots of great places to snorkel around Boracay, especially around the beaches.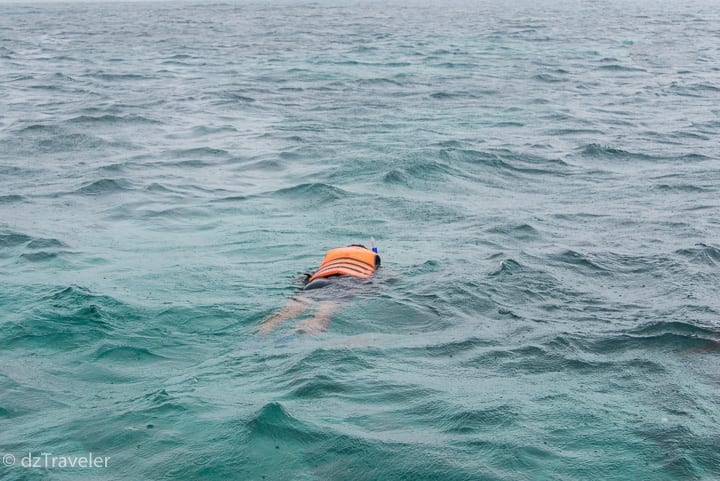 Dinner at Subo Restaurant
Subo Boracay is without a doubt the most modern food site on Boracay Island. This is the most recognized Filipino joint on the island and should be certain about your short list.
Day 5 – Friday, Dec 29, 2017
Today we are returning to Manila from Kalibo by 9 pm flight so we have enough time to explore few places on the island of Boracay. Mainly few beaches on the eastern side of the island and then to the top of Mount Luho. After lunch, we will start our journey to Kalibo airport.
Visit Tambisaan Beach
Tambisaan Beach, at the southeastern tip of the island, has several coral gardens just off the shore perfect for snorkeling. If you have snorkeling gear with you and would want to save more on costs, this is a better alternative to island hopping trips offered on White Beach. Tambisaan also happens to be an alternative port to Cagban, so the channel may sometimes get a bit bus
Climb Mount Luho
Mount Luho is the highest point in Boracay and one of their tourist attractions that rises up to an altitude of 100 meters above sea level. It is a small mountain with a viewing deck. A bird's-eye view from the top of Mount Luho makes the demand in climbing worthy. On the viewing deck of the mountain, you will see the terrific view of the ocean surrounding the entire island of especially the Bulabog Beach, Ilig-Iligan Beach, crocodile island and Carabao island in the far distance.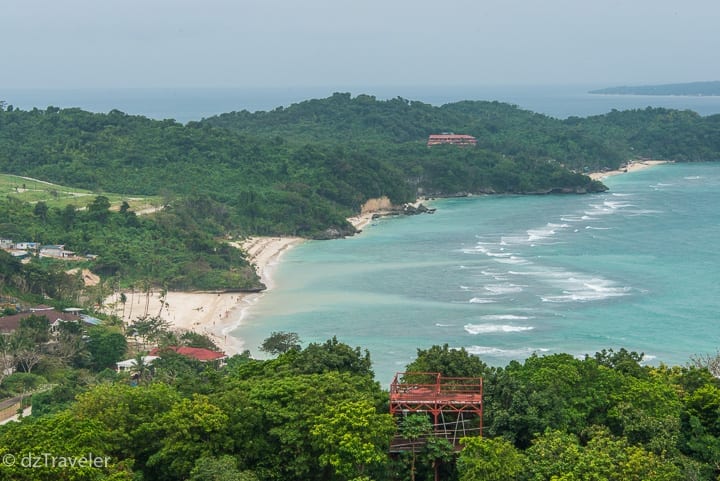 We hired a tricycle to get here but saw many people rented ATV to climb up there.
Lunch at Lemoni Café and Restaurant
The Lemon Cafe Boracay offers different kinds of food, including tasty desserts and roast chicken. The restaurant also serves up Mediterranean cuisine and other delectable dishes. Visit the restaurant and savor the taste of good food.
Leaving Boracay
Airport transfer by Southwest Tour from Agos Boracay to Kalibo Airport Pick up time at 3:40 PM Air Aisa Zest flight Z714 Departure Kalibo (KLO) at 9:40 pm – Arrival Manila at 10:45 pm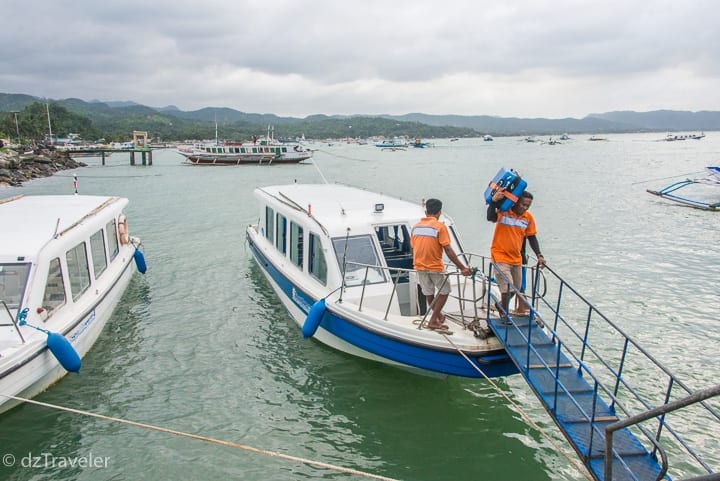 Accommodation in Manila
The Bayleaf Intramuros, Muralla corner Victoria Streets, Intramuros, Manila Tel: +632 318 5000
Where To Stay In Boracay
The concentration of accommodations is located surrounding White beach, which is divided into three stations. North side of the section is station 1 where many of the upscale resorts are located, in the middle section is station 2 mostly populated with mid-range hotels and for more budget accommodation is in the south end station 3. I stayed at Agos Boracay Rooms & Beds close to station 2.
Have you been to Boracay? Any additional tips to share?
Please leave a comment below! I'd love to hear from you to improve my knowledge.
Was this travel guide helpful for you?
If you'd like to help me continue making free guides, here is one way you can help:
Share This Guide – If you have a friend that would benefit from this guide, share it with them. Or post this guide on Facebook, Twitter or Google+
Most of my post in Dizzy Traveler Around The World contains affiliate links. If you make a purchase through these links, I will earn a commission at no extra cost to you. These commissions will help reduce the costs of keeping this site active. Appreciate for reading my post!
Your help would definitely help me making more free guides like this. Thank you in advance!
Subscribe to our mailing list