Cappadocia is one of the places you should not miss if you have an extra few days during your Istanbul trip. Located in Goreme National Park, Cappadocia is a UNESCO World Heritage Site, home to those iconic rock formations and hot air balloon rides. Also famous for cave hotels, homes carved into the rocks, and many churches. So whether you ride a hot air balloon or hike on the ground, Cappadocia is a must-visit. The area is full of stunning nature and hiking trails, ideal for summer and winter.
How To Get From Istanbul To Cappadocia Istanbul
The distance from Istanbul to Cappadocia is about 456 miles (734 km). There are different ways to get there. I preferred flying from Istanbul Sabiha Gokcen (SAW) airport to Kayseri (ASR), then renting a car from there to drive to Cappadocia Cave hotels in Goreme, which is about 50 miles (80 km). Of course, buses and trains are available if that works for your travel plan. A weekend trip from Istanbul to Cappadocia is quite doable, but three days were ideal for me.
By Air
Istanbul has two major airports, Istanbul Airport (IST) and Sabiha Gokcen (SAW). However, I found flights from Sabiha Gokcen, located on the Asian side, are cheaper. In addition, there are two airports close to Cappadocia Nevsehir (NAV) or Kayseri (ASR). Nevsehir is closer to Cappadocia, but I preferred Kayseri for two reasons: cheaper airfare also I was renting a car, so the extra 20 minutes of driving didn't bother me much.
From Nevsehir Airport: If you plan not to drive and land at Nevsehir airport, you need to take a taxi or hire a car service to get to Goreme National Park (Cappadocia). Depending on the traffic, the ride is about 45 minutes.
From Kayseri Airport: If you decide to fly to Kayseri, you need to take the shuttle from Kayseri Airport to the center of Kayseri, which runs 3 hours intervals and takes about 15 minutes. Then, get a bus to Goreme for approximately an hour and a half.
Things to do and see in Cappadocia
Fairy chimneys Cappadocia
Fairy Chimneys of Cappadocia is an elevated, thin spike of rock shaped by erosion. The 'fairy chimneys' formation stretches as far as 130 feet into the sky. The fascinating world Heritage site with unusual rock formations and a surreal landscape made Cappadocia one of the most popular destinations in Turkey.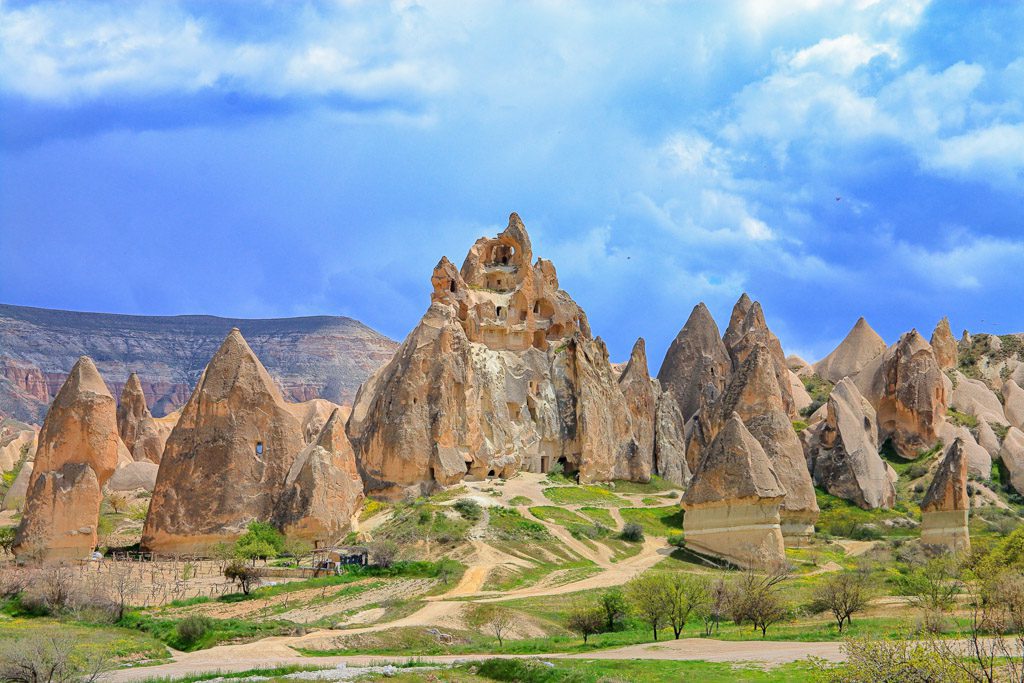 The Goreme Open-Air Museum
Only about 15 minutes walk from Goreme village, the Goreme Open Air Museum is UNESCO World Heritage Site. It retains the best rock-cut churches with beautiful wall paintings and includes all their original freshness. The museum is a must-see in Cappadocia.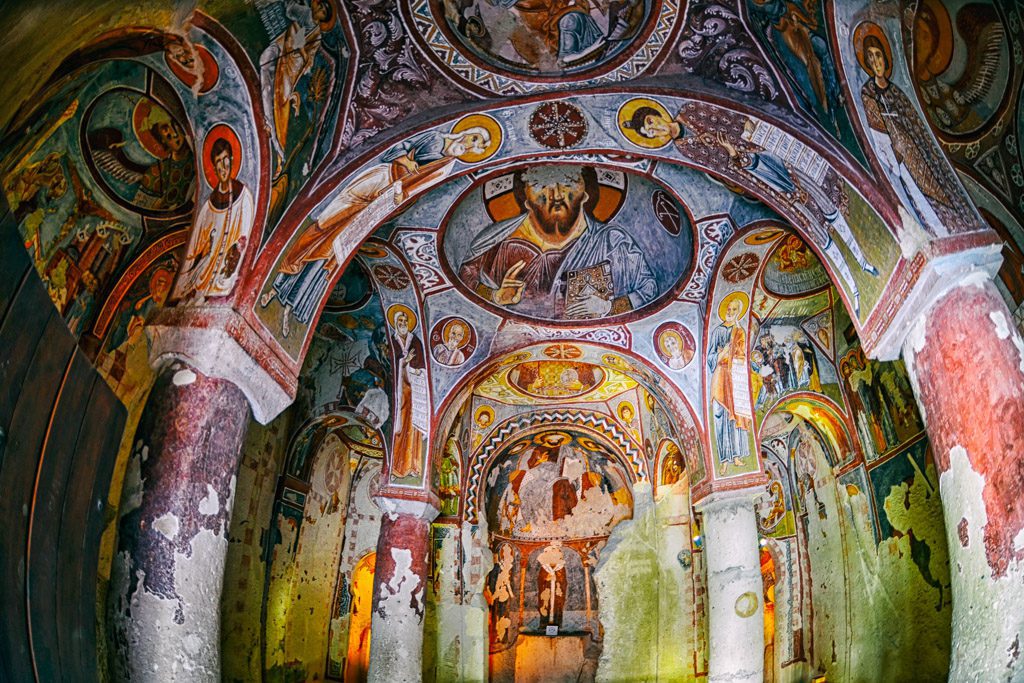 Explore Devrent Valley
Devrent Valley, also known as Imaginary Valle or Pink Valley, is located about 3 miles from Pasabaglari (Monkey Valley) and 3 miles from Avanos, a town known for its pottery and famous market. Unlike other valleys in the region, Devrent Valley was never settled by humans, so you will find no rock-hewn churches, ancient castles, or caves. Instead, tours are available to explore the area, such as by Jeep, Horseback ride, Quad, and much more. Although you will find animal-shaped rocks, Fairy Chimneys, and other interesting formations, the easiest to spot are the shapes of dolphins, snakes, seals, alligators, etc. The stunning Devrent Valley is definitely worth a visit.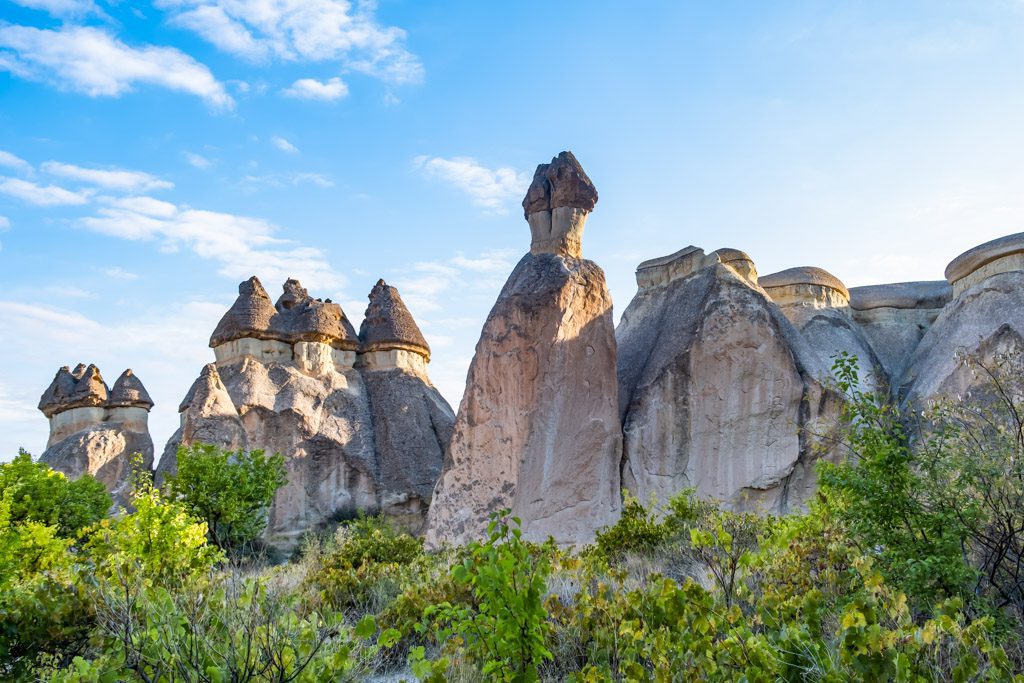 Uchisar Castle
Uchisar is a small village in Cappadocia, and it's only a short drive from Goreme. The centuries-old citadel is on the top of the hill with a beautiful view of Cappadocia; the sunset view of the surroundings, including Uchisar valley, is incredible.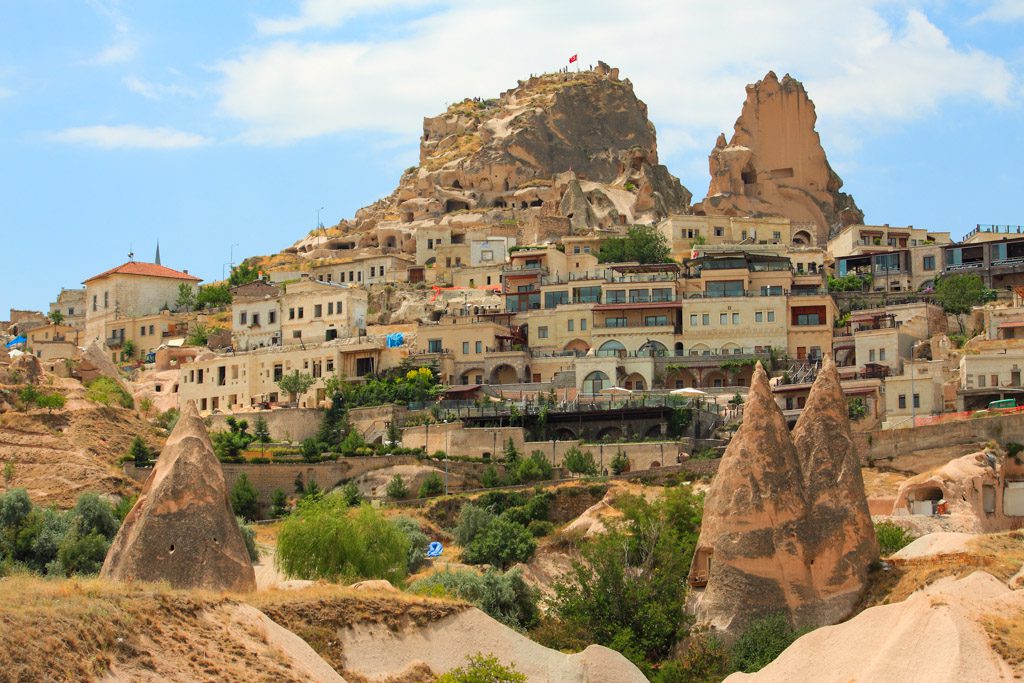 Cavusin Village Cappadocia
Cavusin Village is small but beautiful, surrounded by the historical landscape of fairy chimneys and artifacts sculpted into the rocks. Ruins and famous churches date back to the 5th century, such as Saint Yahya Church, Cavusin Church, and other places worth visiting. Cavusin is famous for its pottery and is home to stunning hiking trails. Here trekking is an excellent activity for those who love nature sports. Apart from hiking, there are horseback riding tours or ATV safari tours.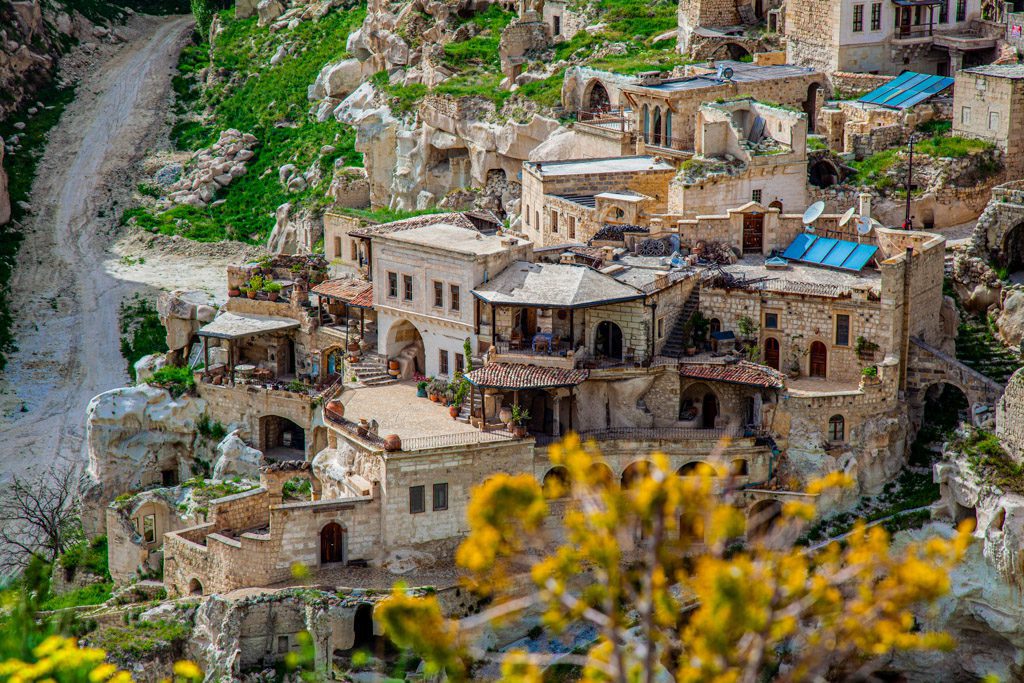 Red Valley Cappadocia
Red Valley (Kizilcukur in the Turkish language) is one of the best places to spend an evening in Cappadocia, watching stunning sunset views. It is picture-perfect for photographers. However, there is a limited seating area to watch the sunset comfortably, so plan accordingly and get there early. If you have a car and want to avoid the hike, you can drive up to Panorama point and start hiking there. The Red and Rose valley loops will take about 3 hours of hiking to return to Panorama point. At Panorama point, sit back and relax, have a drink or pizza at Crazy Ali Panorama Cafe, and enjoy the breathtaking sunset.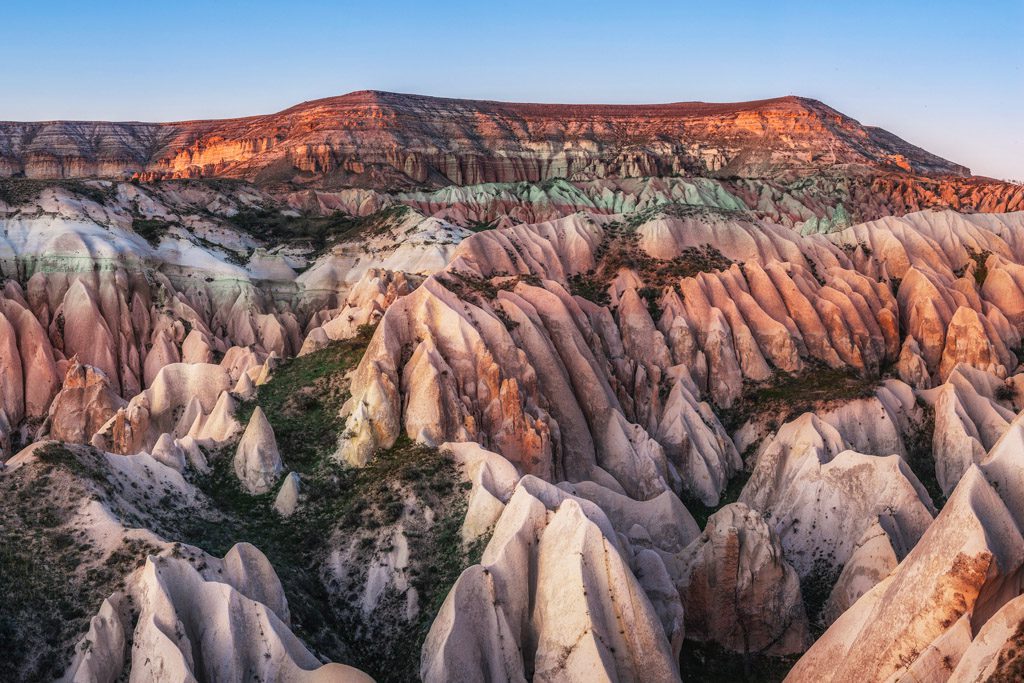 Kaymaklı Underground City
Buried under the surface of Turkey's Cappadocia are 36 incredible underground cities built in ancient times to protect the local population from marauding armies and roving gangs of invaders. Still, the Kaymaklı Underground City dwarfs them all with its sprawling structure. The underground cities were started building around 2000 BC and were later expanded.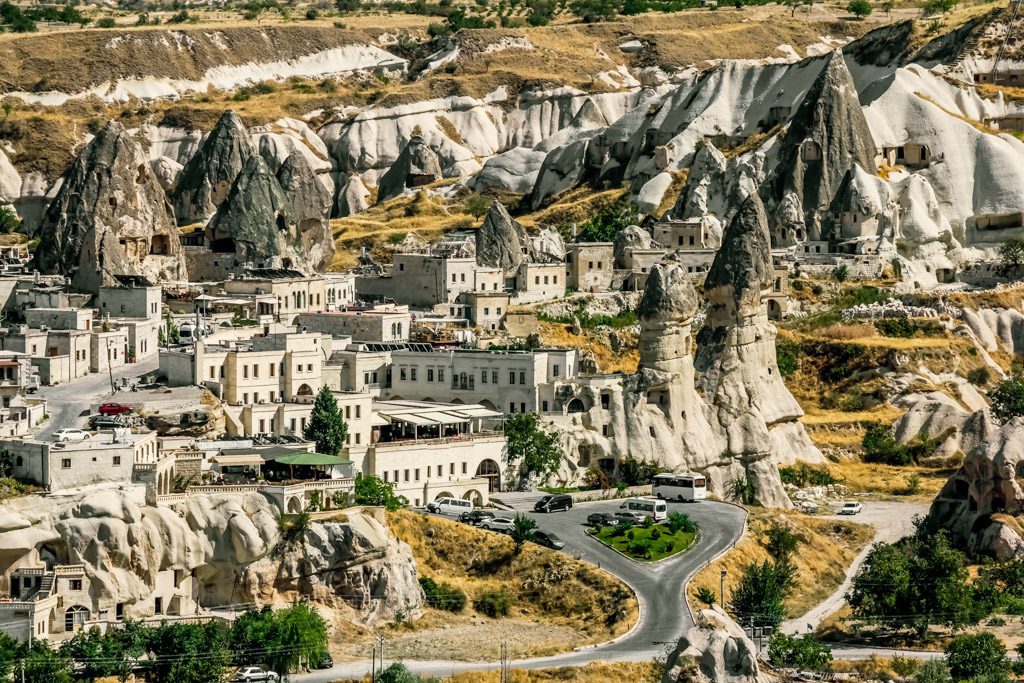 Pigeon Valley Cappadocia
Pigeon Valley is located between Goreme and Uchisar. If you are comfortable, rent scooters or ATVs to explore the region. Apart from Rose Valley, this is another gorgeous point to watch breathtaking sunrise and sunset. The valley is about 4 miles wide, so trekking is famous. Pigeon Valley Cappadocia is one of the most beautiful places worth visiting.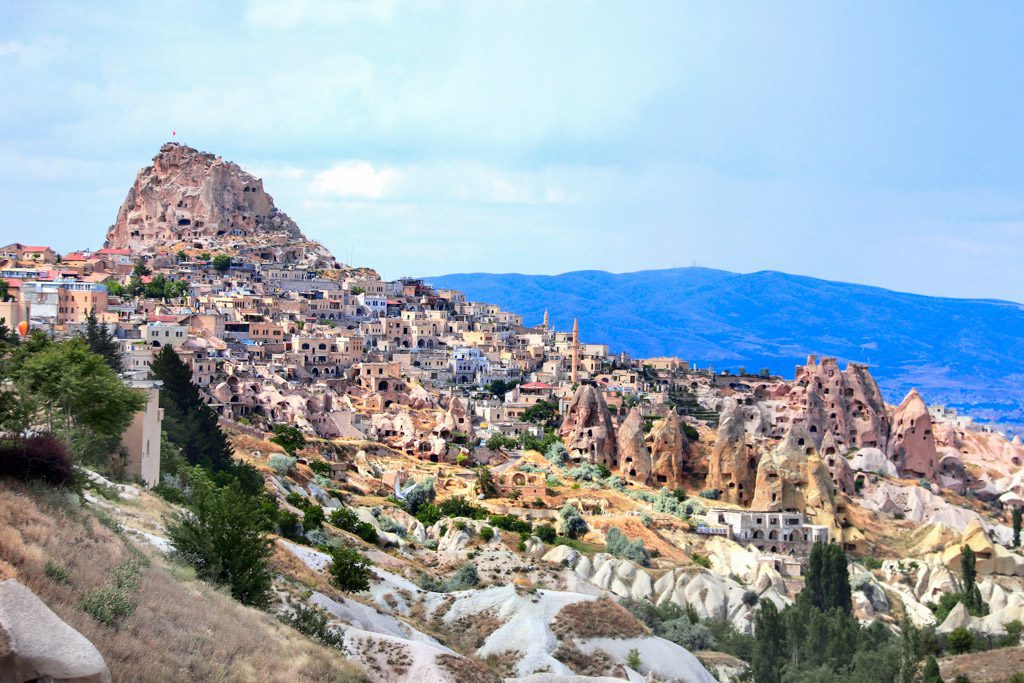 Where to stay in Cappadocia, Turkey
Cappadocia Cave Suites offers deluxe cave rooms and suites in a warm and cozy design at an ideal central location in Goreme. The property offers airport shuttle services at an extra fee to and from Kayseri and Nevsehir Airports. Guests can join sightseeing tours with various themes organized for groups or individuals. Hot air balloon rides are available. The property can also organize Turkish Nights, whirling dervish shows, horseback riding, and ATV tours. From the room's terrace, you can enjoy a beautiful valley view perfect for sunset watching.
In the hills of Goreme National Park, Azure Cave Suites offers mesmerizing views of hot air balloons hanging above the valley. The hotel's name is inspired by a unique variation of blue, the color of the sky on a clear day. You can enjoy the panoramic views of the national park from the terrace. Cave-style rooms at Azure Cave Suites feature modern amenities and unique design elements. Certain rooms come with an extra large spa bath or a Turkish bath where you can relax during your stay. Free WiFi is available. The property offers 24-hour front desk service. The staff can also help you with day and night activities, including hot air balloon flights, hiking tours, or alternative activities such as pottery workshops. Goreme Open Air Museum is 1.9 mi from Azure Cave Suites. Nevsehir Airport is 19 mi away.
My Opinion and Last Word
Have you been to Cappadocia, Turkey? Any cool tips to share?
I loved being in Cappadocia, Turkey, and want to go back again. I hope my story has motivated you to visit Turkey.
Please leave a comment below! I'd love to hear from you to improve my knowledge. 
Was this travel guide helpful for you?
If you'd like to help me continue making free guides, here is one way you can help:
Share This Guide 

– If you have a friend that would benefit from this guide, share it with them. Or post this guide on Facebook, Twitter, or Instagram.
Your Support would definitely help me make more free guides like this. Thank you in advance!
Affiliate Link – This post in Dizzy Traveler contains affiliate links, which means I receive a referral commission if you purchase after clicking at no additional cost to you. These funds go to maintain the site. Thank you for your support.
Book your Sightseeing Trip
There are a lot of beautiful places to visit and do some exciting sightseeing activities to bring unforgettable memories back home. Please click on our below affiliate link to see your options.