Flying from JFK Airport to Bangkok by Etihad Airways with a 48 hours layover at Abu Dhabi. My plan is to visit as many places as I can in Abu Dhabi. But there are so much to see in this young city and just a layover of 48 hours is not enough to cover a fraction of that.
Here are few affiliates link that may help planning a perfect trip while staying within budget
Best Time To Visit
Winter – November to March is the best time to visit Abu Dhabi. The daytime temperature is comfortable in the mid-70s and lowers 80s. Don't forget this is a high season so expect to pay a little extra for the accommodation.
Spring – April to May also pleasant in Abu Dhabi. Daily highs remain between low 80s to the high 90s. As the high seasonal crowds start to disappear the hotels begins to offer better deals.
Summer – June to August is extremely hot in Abu Dhabi, not a comfortable place you want to be if vacation is in your thought. Temperature remains way above 100s. In order to attract guest hotels routinely slash rates in half.
Autumn – September – October weather begins to cool down with a daily high from the 100s but still hot and humid.
How To Get There and Around
Abu Dhabi is the Captial of UAE and only 86 miles (140 km) south of Dubai. If you are visiting Dubai then it could be a perfect side trip for a day or two.
By Air – Abu Dhabi International Airport (AUH) is a major hub in the middle east, so not so difficult to get a good deal on domestic and international flights. The Airport is only 23 miles (36 km) from the City Center, therefore, a luxury Airport taxi won't cost you more than 90 Dirham ( US$ 25 @ US$ 1 = 3.67 AED). Traffic is usually smooth takes about 40 – 45 minutes.
By Self Driven Car – Self-driven rent a car is convenient as long as you comfortable driving on the right side of the road like the USA and Europe. Roads and Highways are excellent and at night well lit. It's also economical to use Rent-a-car with the freedom to drive from A to B. From Abu Dhabi to Dubai is about 2+ hours, so that makes it easy for day trippers.
By Taxi – Metered Taxi service is widely available, and they are affordable and reliable. I used them a few times, and undoubtedly it is the best option to move around the city.
Useful Tips
Currency – The local currency is the Emirati Dirham, officially abbreviated "AED". The current exchange rate is 1 US$ = 3.67 Dirham.
Clothing – Visitors and residents are advised to dress sensibly in public places. You can wear swimsuits and bikinis when by the beach or pool. It is recommended that women dress a bit more conservative than at home, but not necessary to cover your body from head to toe.
Travel Insurance – Bad thing can happen any time, especially when you are doing activities that you are not used to it. Believe me, I have practical experience in this. So travel insurance is an option that you can consider. That will protect you from unexpected surprises for travelers like you and your families. Don't think about all the things that might go wrong on your trip, but these things can and do happen.
Photography – It is forbidden to photograph people without consent. Be careful about posting your photos of people on social media without their permission as it's viewed as an invasion of privacy.


Best Thing To Do
Due to the discovery of oil, Abu Dhabi is evolved rapidly over the last century. The impressive downtown skyline of the vibrant city center boasts a spectacular view from the beautiful Corniche coastline. You will find traditional dhow boats along with luxury yachts around the old Mina Port. The Emirates Palace and Presidential Palace both are strikingly beautiful at Corniche.
The Sheikh Zayed Grand Mosque, Heritage village, Yas Island, and if time permits a desert safari, and visiting The UNESCO World Heritage Sites Al Ain city should be on your itinerary as well.
Experience The Abu Dhabi Heritage Village
The visitor can find important cultural attraction and wealth of insight into old Abu Dhabi at the Heritage Village. The best place to get the feel of traditional desert life. Enter Bedouin tents made from goats hair, wander around the tiny oasis or visit the traditional restaurant offers a refreshing mint tea with stunning views of the Abu Dhabi skyline and the corniche.
For great shots of Abu Dhabi's skyscrapers across the sea, walk a bit further along the breakwater to the giant flag pole. Hours of operation: Saturdays to Thursdays: 8.00 am to 1.00 pm and 5.00 pm to 9.00 pm. Fridays: 5.00 pm to 9.00 pm.
Our Trip Map for Abu Dhabi
Visit The Sheikh Zayed Grand Mosque
Abu Dhabi's number one cultural attraction is the Sheikh Zayed Grand Mosque. The mosque has 82 white shiny domes, golden colonnades and features stunning flower inlays across its marble flooring and walls. Around Sunset, the Mosque is bathed in a beautiful light making it ideal for photos (take 5 pm tour is best for this). Free public tours are available daily in many languages.

Explore The Corniche
The beautiful stretch of 5 miles along the coast of Dhow Harbour starting from Heritage Park in the north and all the way to Emirates Palace in the southwest part of the city is a great place to explore on foot or by riding a bicycle. Corniche is popular for its beautiful sandy beaches offering volleyball nets, ice cream shops, free concerts, and the crystal clear water.
This seaside promenade is lined with some of the city's most popular hotels, many choices of restaurants and shops. The view of the Persian Gulf and the skyline, it's one of the best locations for the photographers.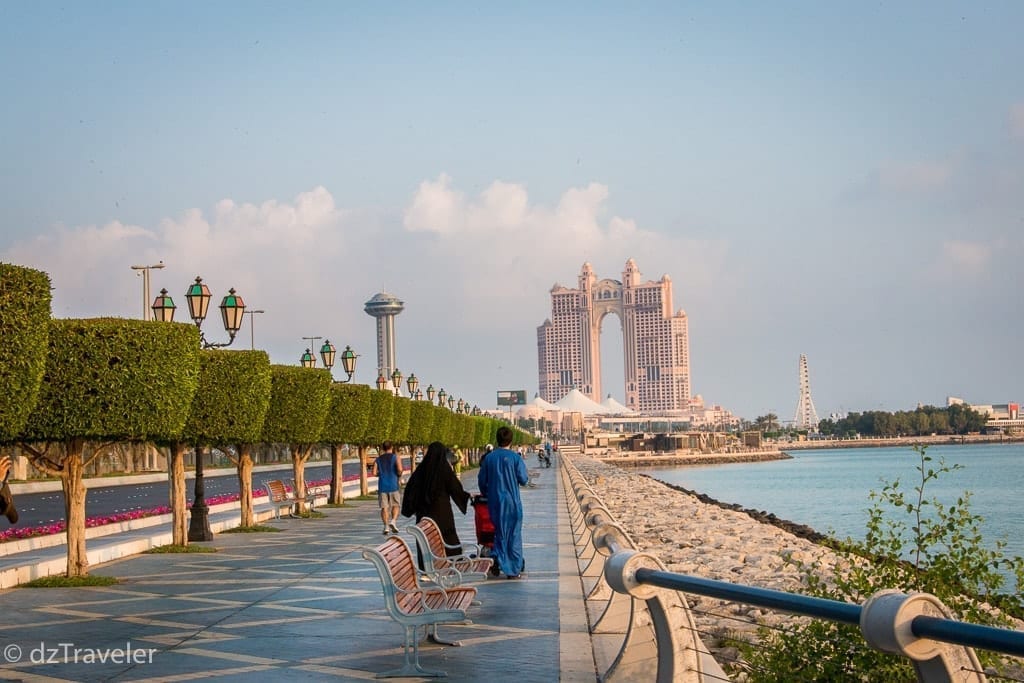 Best Photo Op At Emirates Palace
Located in the heart of Abu Dhabi, Emirates Palace is outstanding in both its design and offerings. From a 1.3 km pristine private beach to decorated pools and a private marina overlooking a natural bay, the iconic hotel is perfect for a once-in-a-lifetime holiday. It is definitely a must for luxury travelers and sightseers. Experience the hotel on a photo op or brief visit on a wider city tour. Most common areas are open to visitors, so you can explore the interior independently.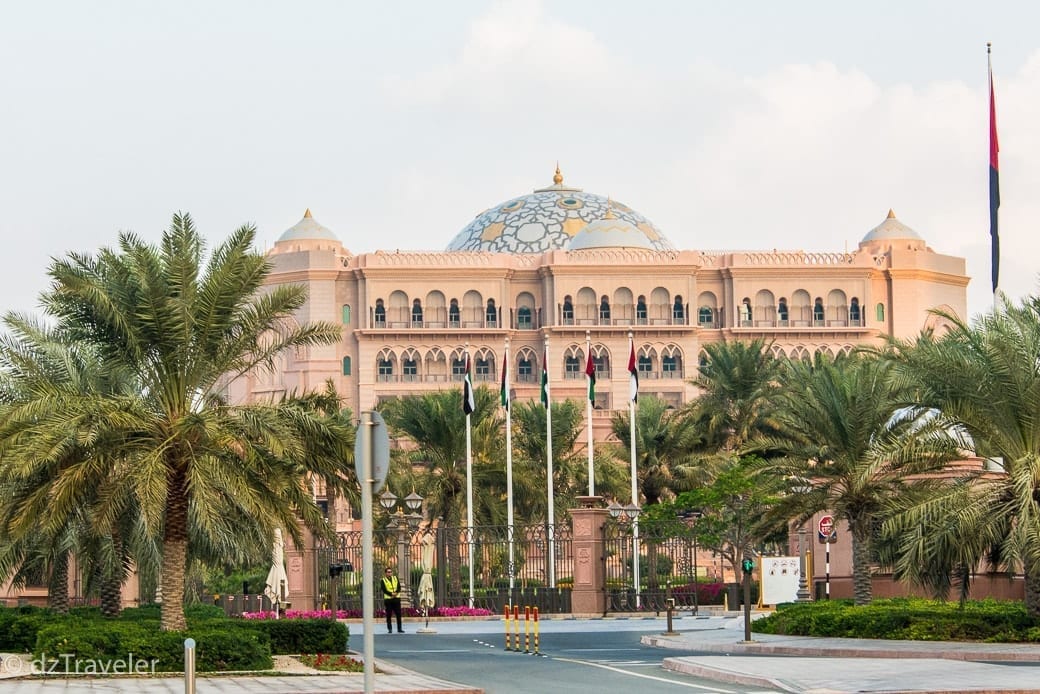 Swing By The Presidential Palace
You can take a photo from outside, it is not open for the public to go inside. Taking the photo of the place is not allowed but there are other places within the marina to get a good view of the palace. You will get a better view from Al Kasir island.

Fish Souk in Abu Dhabi
The old-fashioned Mian Port and Fish Souk offer a trip back in time. The souk is Arabic for 'marketplace'. Definitely worth a visit for their bustling atmosphere, eclectic variety of goods, and to observe the traditional way of doing business.
Every morning, fishermen load their catch on to the quayside and prepare for a day of haggling. Take a trip to the Fish Souk, purchase your fresh fish, then go to the side of the market where your choice of restaurants will prepare it for you as you like.
Observation Deck
Etihad Tower
Well worth a visit to Tower 2's 74th floor, the Observation Deck at 300 offers a 360-degree view of Abu Dhabi's splendid skyline and island.
For the non-hotel guest it cost 95 Dirham to get up to the top, this ticket gives you a 55 Dirham discount on any food or drinks at the cafe on the viewing floor, nothing like sipping a glass of prosecco watching the sun go down and the lights of Abu Dhabi spring to life. Hours 10 am – 6 pm.
A Desert Safari
Experience the desert on an evening desert safari. Start your evening with a late afternoon session of dune bashing. Enjoy the desert sunset from the summit of a dune and give sand skiing a try. Have a delicious BBQ dinner in a desert camp enjoy a live belly dancing performance. There are fun for everyone like trying out henna, ride a camel and enjoying being under the Arabian moon.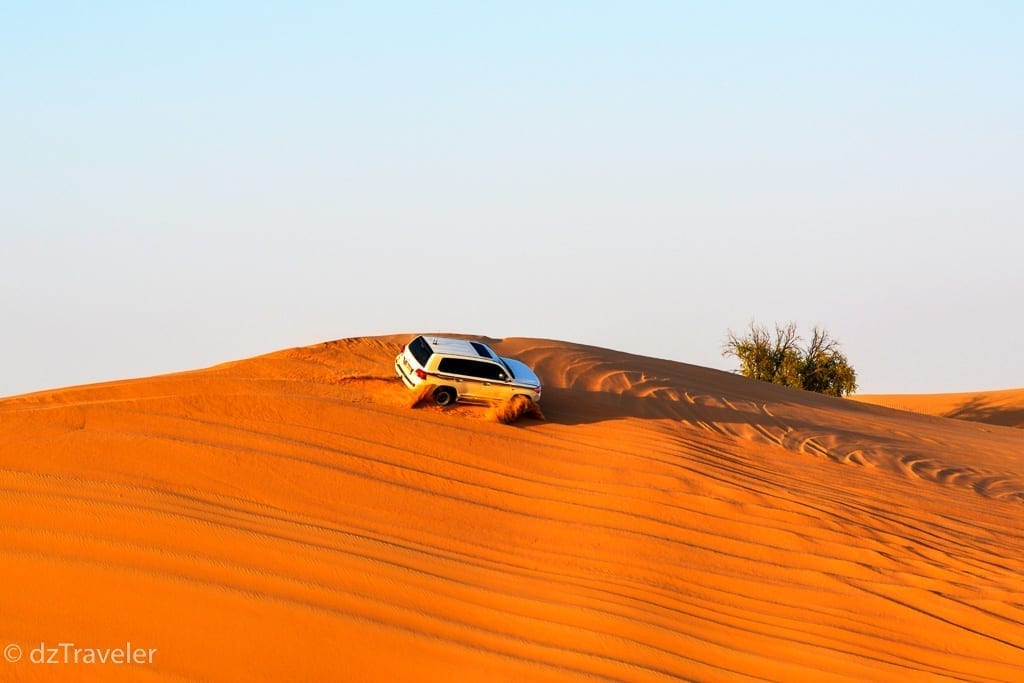 Recommended Hotels
The Corniche Hotel, Khalifa Street, Abu Dhabi, UAE
This hotel is located at the heart of the central business district along the stunning Corniche stretch. From the guest rooms, you can enjoy the breathtaking views of the Capital Garden and the Arabian Gulf.
Recommended Restaurants
Meat Co., Abu Dhabi, UAE
Even though the Meat Co. is known primarily as a splurge steak spot, but a fine lunch with an amazing view can be enjoyed here.
BBQ Al Qasr, Emirates Palace, West – Corniche Rd – Abu Dhabi
With its tents on the sand, this is the closest you can get to the sea without getting your feet wet. BBQ Al Qasr doles out divine grilled fare in the utmost of elegance.
Al Fanar Restaurant & Cafe, Yas Mall, Abu Dhabi
Al Fanar Restaurant & Cafe is good for a Bedouin-style neighborhood experience. Furnished with barasti booths, mud-brick rooms, and a mini souk feel. Choose from an array of traditional Emirati dishes, from bread, biryani to prawns and Emirati specialty jesheed.
Yadoo's House Restaurant & Cafe, Abu Dhabi
Meaning 'Grandmother's House'. Yadoo's House feels more like a family home than a restaurant with its simple furnishings. Serving an array of options from grilled local fish to classic Emirati mains such as harees (chicken soup) and machboos (meat and rice).
My Opinion and Last Word
Have you been to Abu Dhabi, UAE? Any cool tips to share?
Best background for Selfie – The welcoming staircase of the majestic Emirates Palace will be the best place for your Abu Dhabi selfie. The Louvre Abu Dhabi's (art and civilization museum) dome also makes a nice background for a selfie.
Please leave a comment below! I'd love to hear from you to improve my knowledge.
Was this travel guide helpful for you?
If you'd like to help me continue making free guides, here is one way you can help:
Share This Guide – If you have a friend that would benefit from this guide, share it with them. Or post this guide on Facebook, Twitter or Google+
Your Support would definitely help me making more free guides like this. Thank you in advance!
Affiliate Link – This post in Dizzy Traveler contains affiliate links, which means I receive a referral commission if you purchase after clicking at no additional cost to you. These funds go to maintain the site. Thank you for your support.
Few pictures from my Abu Dhabi trip: