Kalbarri National Park is about 22 miles (36 km) west of the beautiful coastal town of Kalbarri and 84 miles (136 km) north of Geraldton Airport (GET) and about 290 miles (570 km) from Perth. The park surrounds the Murchison River, where it meets the Indian Ocean with great 50 miles (80 km) gorge through the red and white bent sandstone to create scenic formation such as The Loop, Hawks Head, Z-Bend, and Nature's Window. Kalbarri National Park is a perfect stop for Western Australia's Coral Coast trippers that stretches from Turquoise in the south to the Exmouth in the north.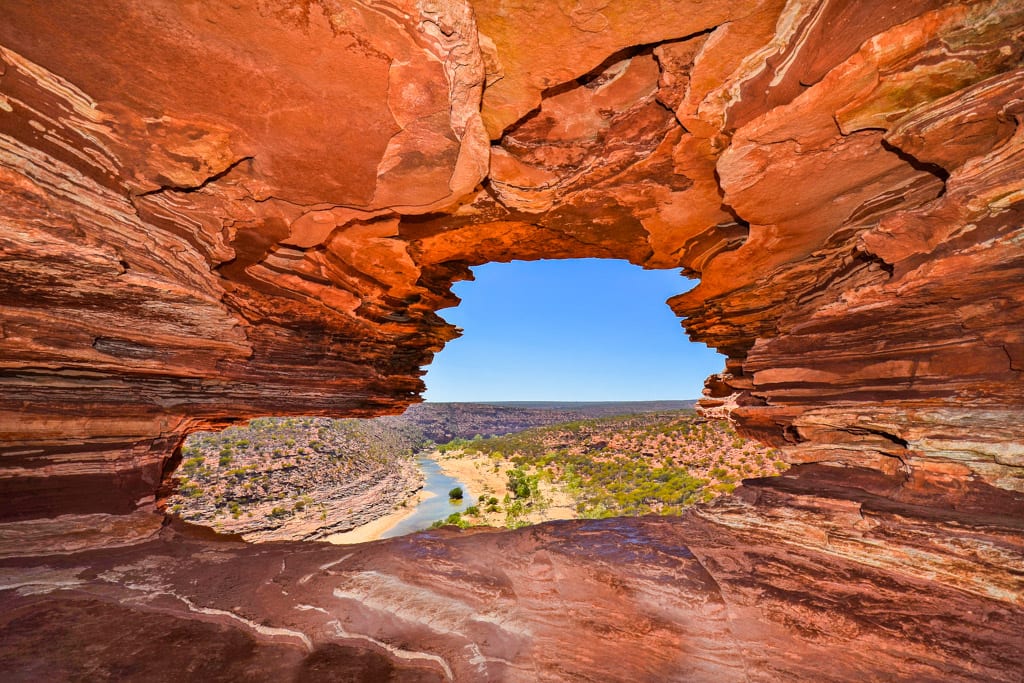 Kalbarri is a special place for the Nanda Aboriginal people, as it has been for thousands of years. Today, the Nanda people welcome visitors who respect the cultural and natural heritage of Kalbarri National Park.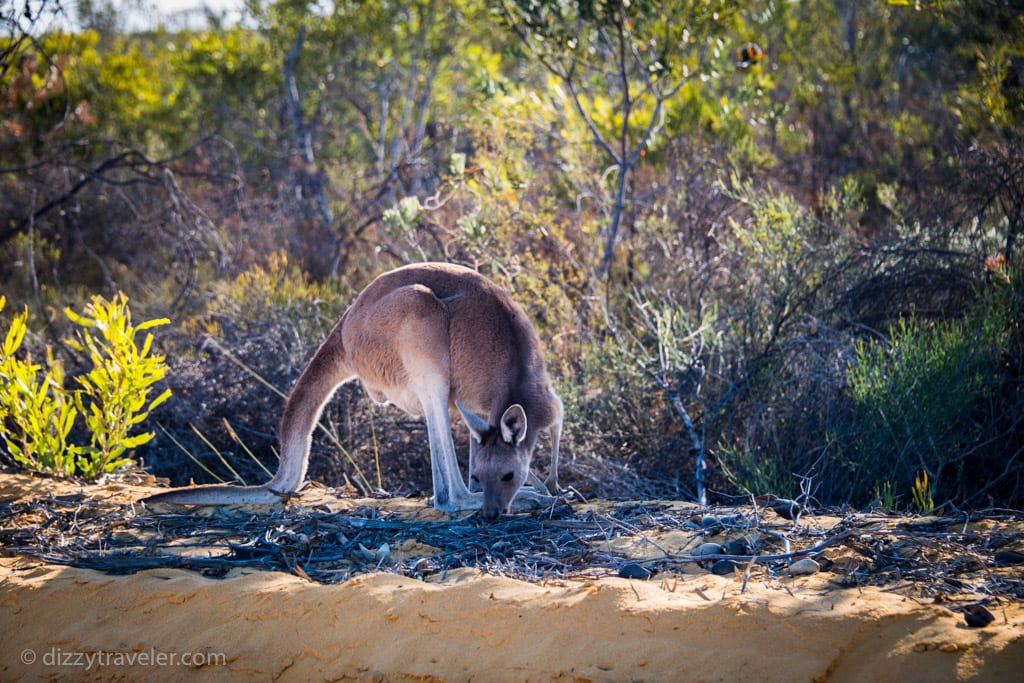 How to Get to Kalbarri National Park
By road, it takes around 6-7 hours from Perth to Kalbarri, but it took me long since, at midway, I stopped at The Pinnacles of Nambung National Park and made frequent stops to enjoy the breathtaking scenes on the Indian Ocean Drive.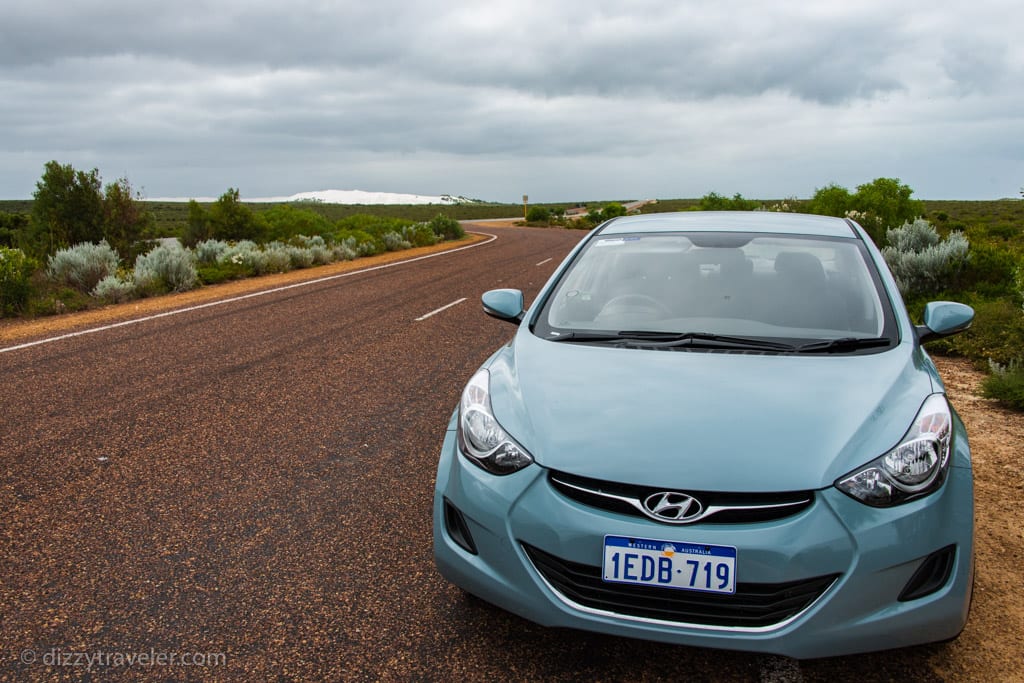 The nearest commercial airport to Kalbarri National Park is Geraldton Airport (GET), about 84 miles (36 km), and flying time is close to 1 hour from Perth. Check here for the cheapest flight. A rental car is available from this airport, so an excellent idea if you want to avoid the Kalbarri's long drive from Perth.
Best Time To Visit
Most travelers visit the park during the summer months of December to May, but it could be a very hot place during the day. However, if you want to enjoy the famous wildflower season, the best time to visit is between September to October. Autumn is also the right time to watch humpback whale migration.
Places in Kalbarri National Park
Loop / Natures Window
Close to the parking lot, there are shaded seating areas and walking trails to the excellent lookout. The geological wealth of the area is charming. The thinly embedded, red, and white lined rocks through most of the river gorge were accumulated millions of years ago on tidal flats. Rippled surfaces can be seen around Nature's Window.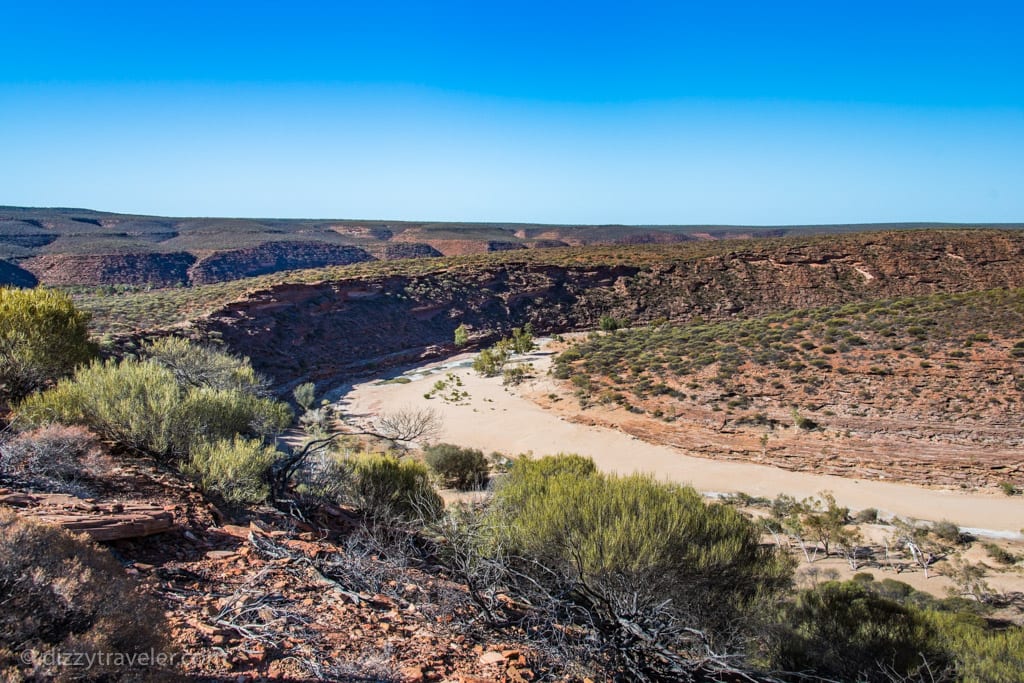 Nature's Window
This iconic attraction is a wind-eroded opening in the layered sandstone that frames the Murchison River's view. It is a moderate, one-kilometer return walk beginning with a step of stairs from the car park's lookout. View or the gorge is excellent, some of the areas are rocky, and rocks can be fragile; therefore, visitors need to take extra care in and around the window.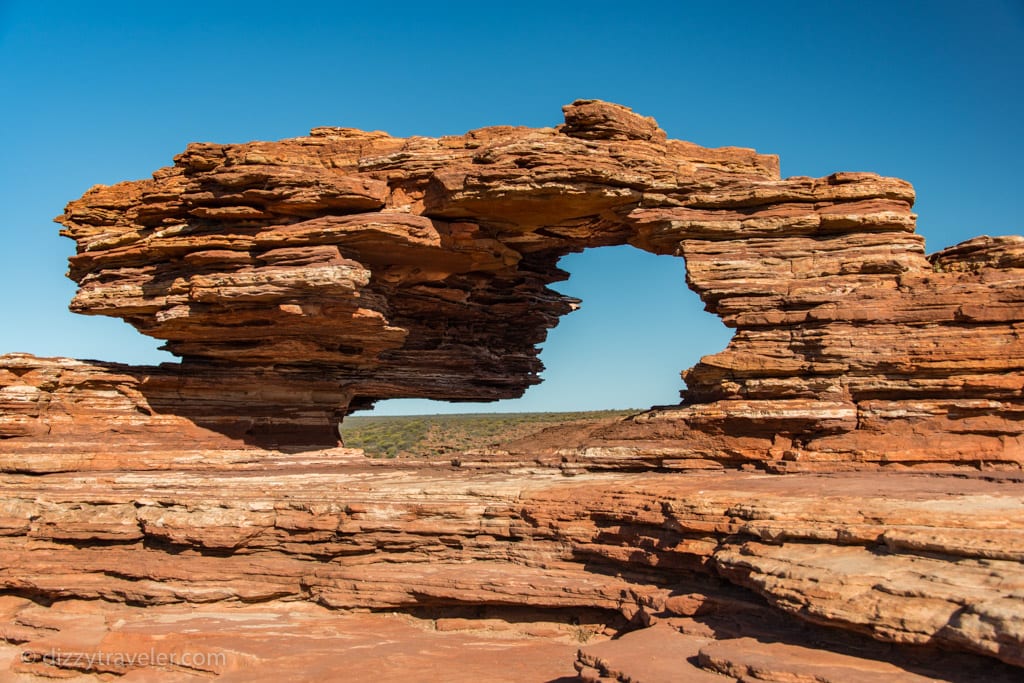 Z Bend Lookout and Trail
From the parking lot a moderately easy wak to the Z Bend Lookout for a spectacular view of the sharp bend in the Murchison River. The lookout is a popular toust spot in the park.
Visitors with a good level of fitness can hike 2.6 km (return) The Z Bend River Trail to access the river but is steep descents and ladder climbs are difficult. Hikers need to take extreme care for the loose rocks and gorge risk areas.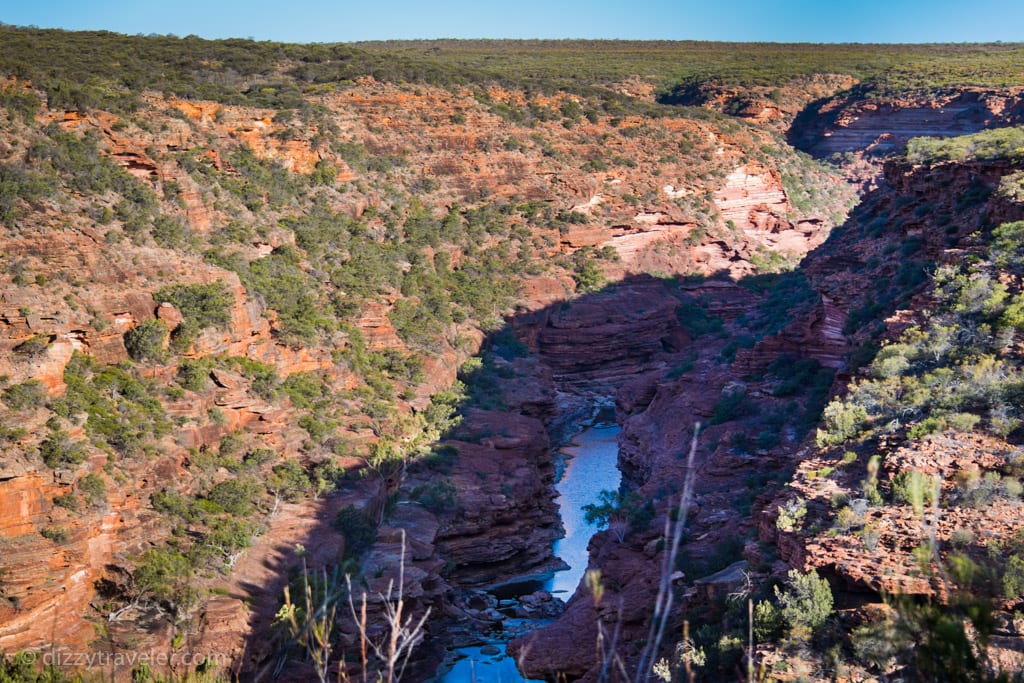 Hawks Head
Hawk's Head Lookout is a spectacular viewpoint that provides stunning views of the Kalbarri Gorges and Murchison River—named in honor of hawk shaped rock formation visible from the lookout. There are covered picnic areas and toilet facilities with wheelchair access available here.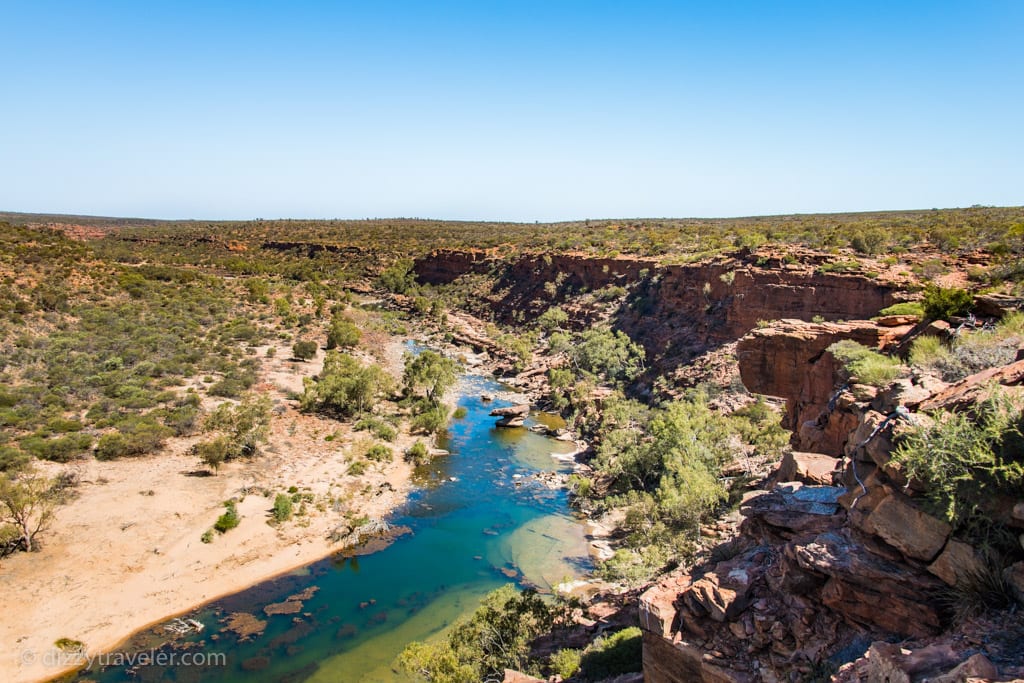 The Ross Graham Lookout
The Ross Graham Lookout presents outstanding views of the Murchison River Gorge, a picnic shelter, and toilet facilities. Take the hiking trail and explore the shady banks and serene pools of the Murchison River below.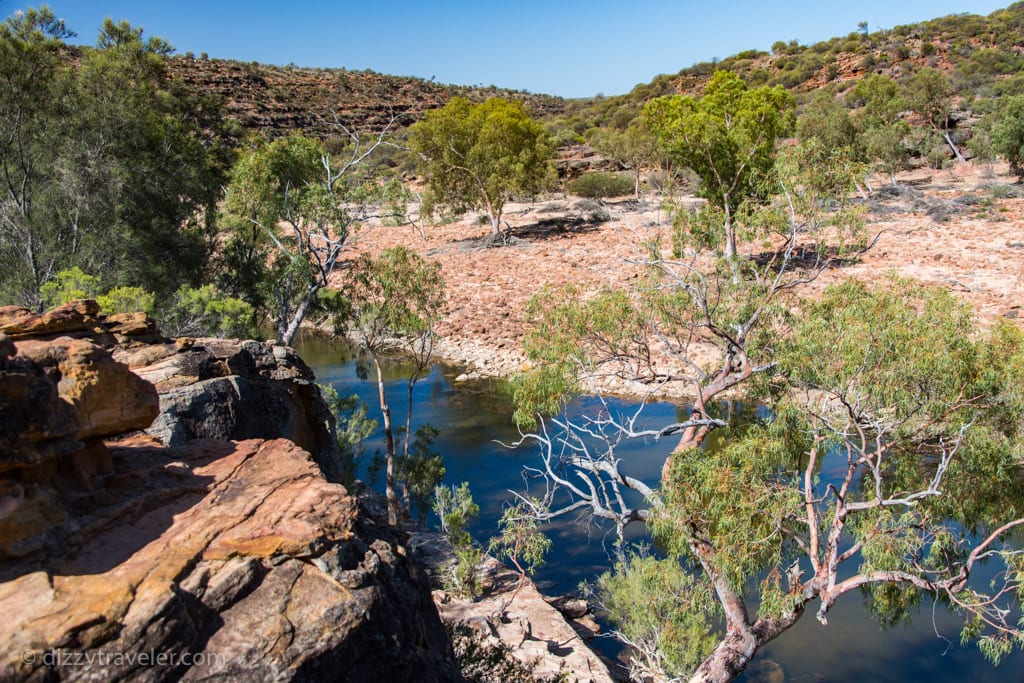 Where To Stay
Since there is no camping within Kalbarri National Park so the best place for an overnight stay in the nearest beautiful coastal town of Kalbarri about 22 miles (36 km) west. The town itself is a tourist destination for the breathtaking coastline, watersport, and fishing.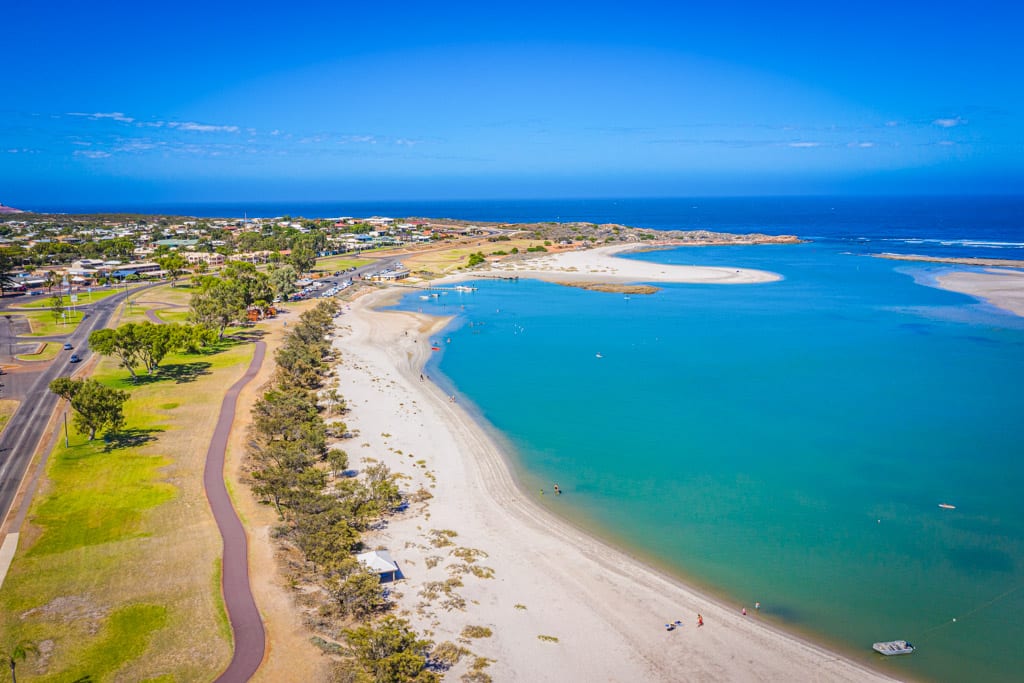 For those staying overnight in Kalbarri
Gecko Lodge Kalbarri is a romantic, adults-only bed and breakfast place located just 5 minutes' walk from the beautiful coastline and Murchison River. The property features an outdoor swimming pool and a private bathroom with a double spa bath or double shower, a BBQ area, and a contemporary kitchen.
Kalbarri Palm Resort is Just a 10-minute walk from beach swimming, fishing, and pelican feeding, Golden Chain Kalbarri Palm Resort features 2 pools, a hot tub, and a tennis court all set on extensive gardens and located at the point where the Murchison River meets the Indian Ocean.
My Opinion and Last Word
Have you been to Kalbarri National Park? Any cool tips to share?
I loved being to this country down under and want to go back again. Hope my story has motivated you to visit Australia. 
Please leave a comment below! I'd love to hear from you to improve my knowledge. 
Was this travel guide helpful for you?
If you'd like to help me continue making free guides, here is one way you can help:
Share This Guide – If you have a friend that would benefit from this guide, share it with them. Or post this guide on Facebook, Twitter or Google+
Your Support would definitely help me making more free guides like this. Thank you in advance!
Affiliate Link – This post in Dizzy Traveler contains affiliate links, which means I receive a referral commission if you purchase after clicking at no additional cost to you. These funds go to maintain the site. Thank you for your support.
Here is a few affiliate links that may help plan a perfect trip while staying within budget.