Are you looking for that perfect gateway to your (solo) trip to Europe? Look no further; Stockholm is a city with safe neighborhoods and friendly locals who speak English even better than you do! Stockholm is the "Venice of the North," they say. But I must add the "Paris of Scandinavia," too. Except that Stockholm is a lot cleaner than "the City of Lights!" In fact, in all the metropolises I have been to, Stockholm is by far one of the cleanest cities. Home to unique indoor and outdoor museums, exquisite architectures, fascinating bridges, and serene water views in between, how could you not visit this intraurban? If that is not enough, be prepared to be welcomed by upbeat local owners of homestyle eats, cozy cafes, and sweet-smelling bakeries! So, there is my word–your solo trip to Stockholm, Sweden, assures an adventurous and memorable experience!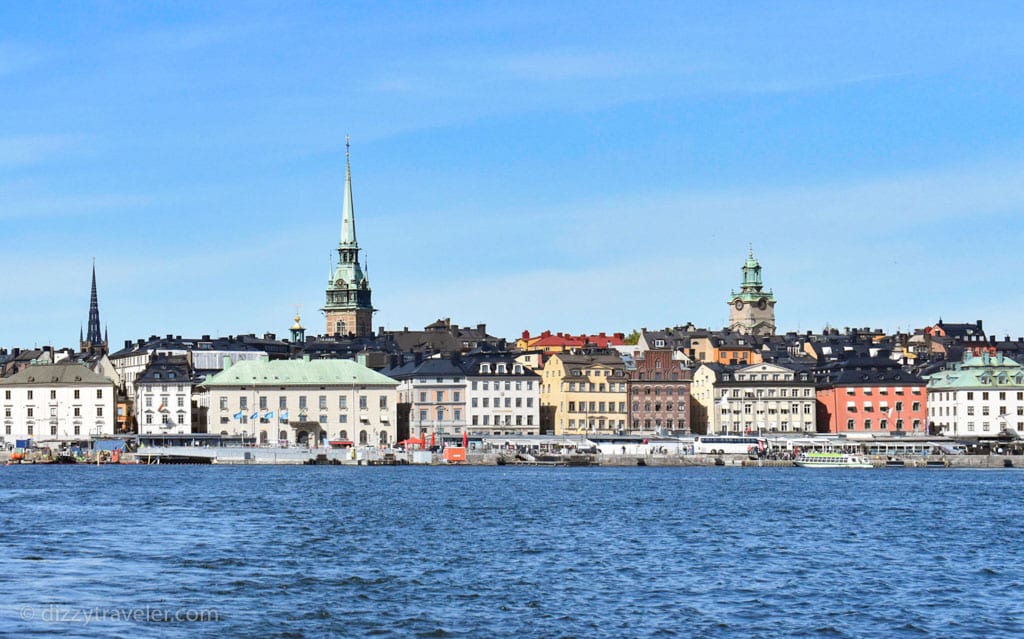 Things to Do in Stockholm in Three Days​
The truth is I did not set high expectations while planning for the brief visit. However, Stockholm has surpassed my expectations! I enjoyed my time there! And here are what I did and saw in three days:
Day 1 – Arrival to the city
The plane landed at Arlanda Airport at past 3:00 pm. The immigration and security, as well as picking up my luggage, were brisk processes. In no time, I was out of the airport building. Finding the bus "Flygbussarna Airport Coaches" was easy-peasy. I bought my tickets online which made it easier, as all I needed was hop on the bus and sit back and relax. The trip duration is 45 minute-journey through broad and open highways. I liked the absence of traffic congestions in Arlanda/Stockholm highways. Before I knew it, our journey has ended at the City Terminal – the central bus station of Stockholm. And from the bus station, it took a short walk to get to my hostel. I found it extremely easy to navigate the streets.
After settling into my hostel, I immediately explored the nearby streets, shops, and the city's central metro station. The latter is one of the places I needed to visit. Have I mentioned yet that the Stockholm subway is a tourist destination in itself and should not miss when visiting the city?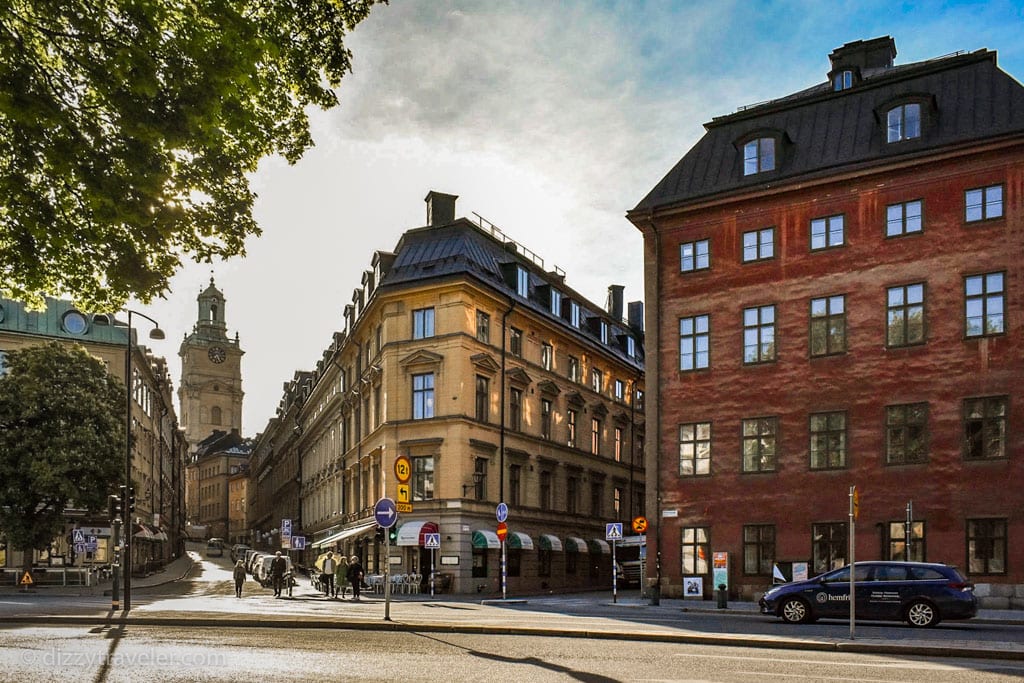 Visit and Take Pictures of Iconic Metro Stations
There are 100 metro stops and lines that interweave the city, and most of these stations are like giant-size art canvasses. Art-lovers should not miss these art displays. I only had a limited time, so I narrowed down my list to three metro stations only. Here was my top-three:
T-Centralen Station
I was eager to see the T-Centralen Metro Stop, but it took me a while to find it because it is two-level down from the main level. I had to ask from passersby a few times before I finally got to the right place. What is fascinating about this station is the elaborate paintings of leaves on the entire walls and ceiling. Not with green color leaves but staggering blue color!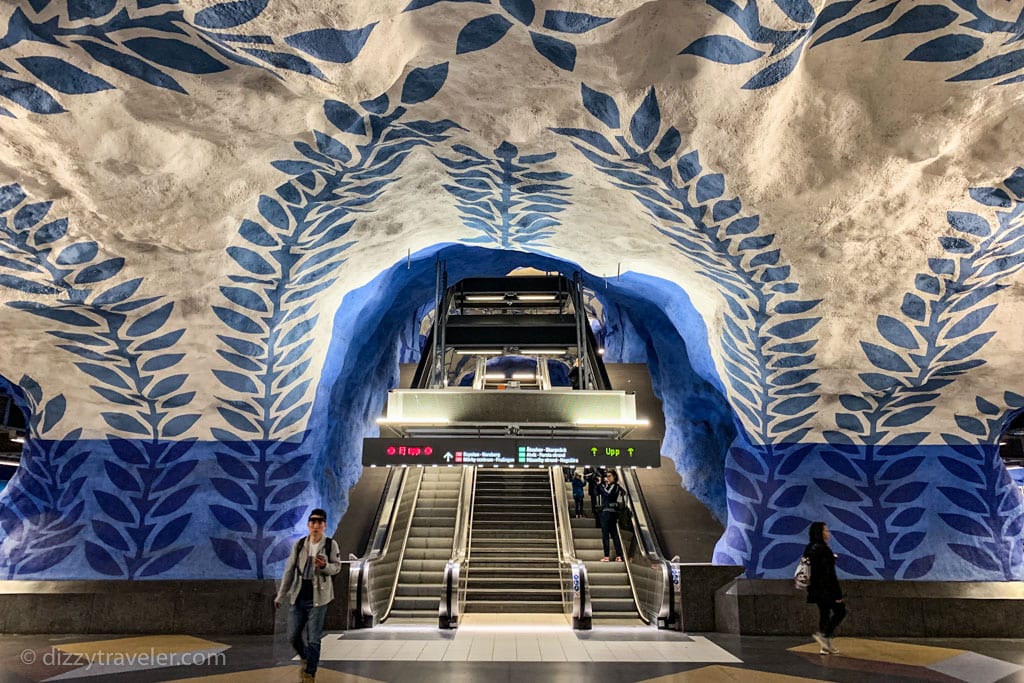 Solna Centrum Station
Hopping into the Blue Line, do not miss to get off at Solna Centrum Station for its spellbinding art motif of forest and evening sun. The green and bright red colors of the walls and ceilings depict a feeling that you are walking into the woods on sundown.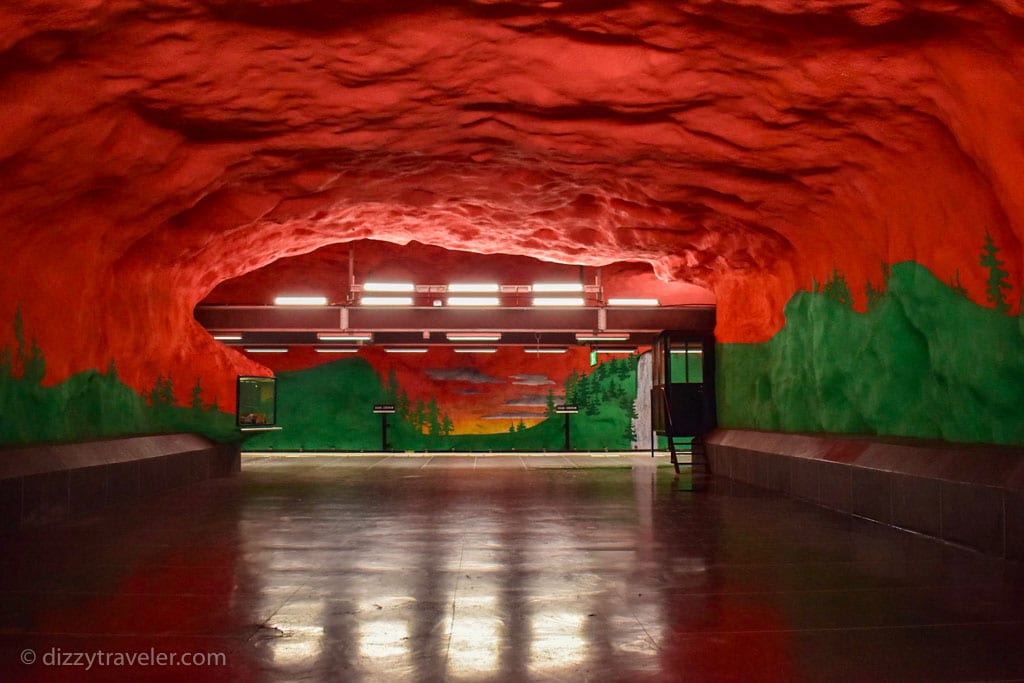 Kungsgradgarden Station
This station is very artistic from ceiling to floor. It is also the deepest metro station in the city. What I like about this station is the sound of trickling water, which gives a surreal feeling that you are like in the middle of a rainforest.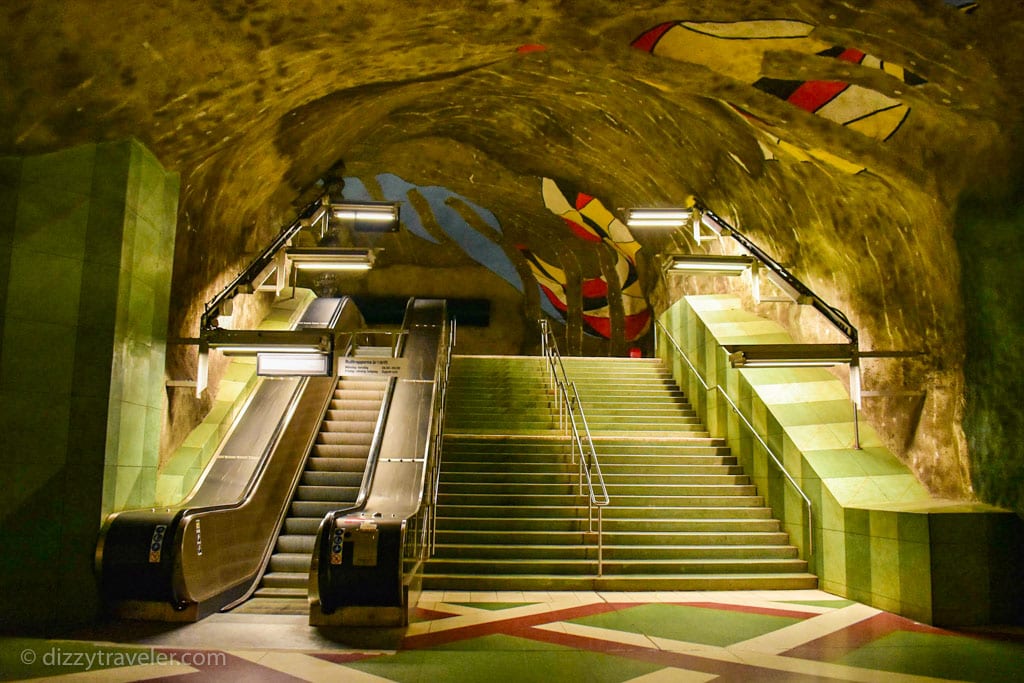 Day 2 - Explore the Gamla Stan and its landmarks
I was up from bed early and got ready for the day. I planned to explore the Gamla Stan, and on my way, I grabbed a cup of coffee and some food to bite for breakfast. Next, I continued walking and came up to a bridge. Mind you, Stockholm has 55 bridges connecting the 14 islands that make up the city.
Vasabron Bridge
That is the bridge that connects the Gamla Stan and Norrmalm District. A sweeping view of the City Hall is noticeably clear from here; thus, the perfect spot to photograph the said treasured city architecture. Those who have a soft spot for bridges in their hearts, Stockholm will not disappoint. This capital of Sweden is encircling with the body of waters and connected by 55 bridges in total. Straightaway, as soon as you crossed the Vasabron Bridge, your journey to the Old Town starts.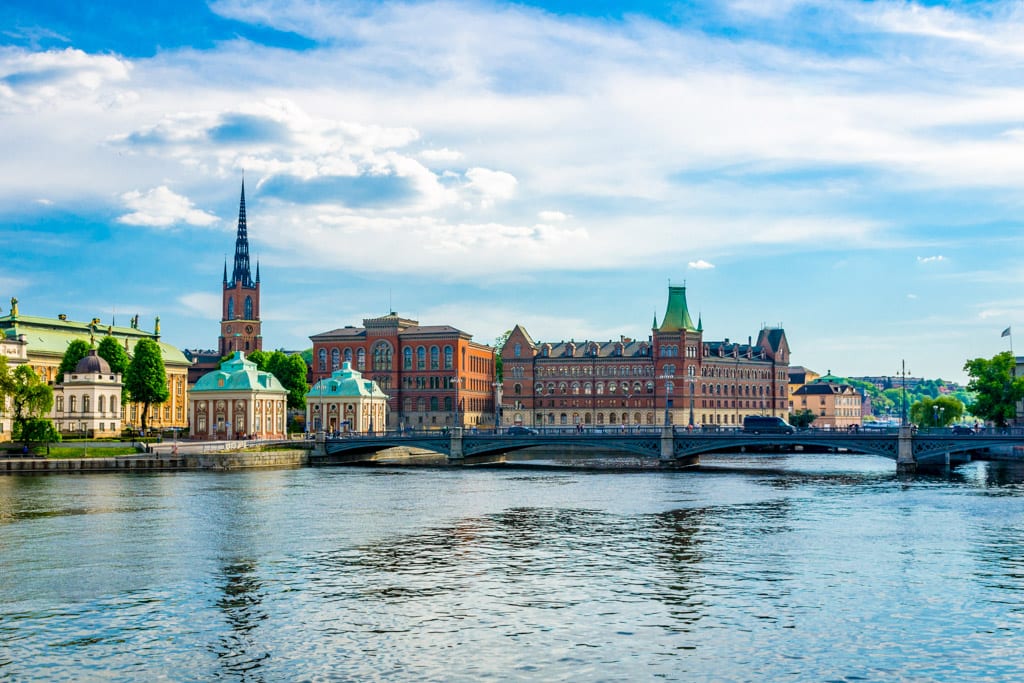 The House of Nobility
At every turn, those magnificent and exquisite neo-classic architectures are attention-getter indeed. The House of Nobility stands out for sure and considered one of the most elegant architectural treasures in Northern Europe. Curious how it looks inside? Go in. It is open and free for the public during weekdays from 11:00 am to 12:00 noon. Do check the Session Hall walls covered entirely with 2, 326 coats of arms of the Swedish aristocracy. It is mesmerizing!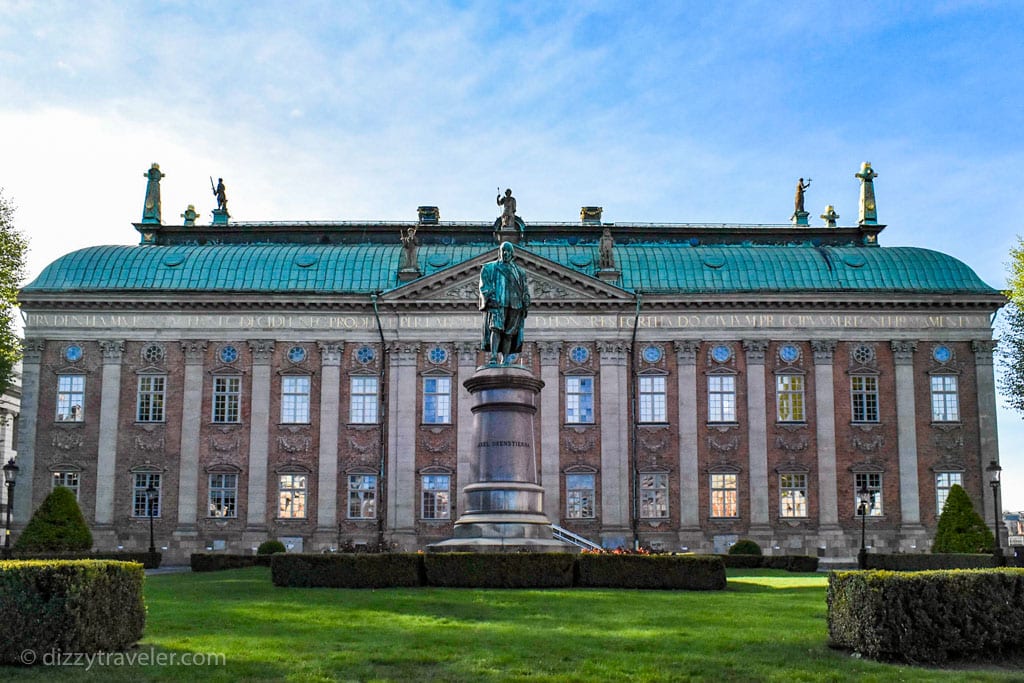 The Ridalholmen Church
Located on Ridalholmen Island, this cathedral is the resting place for most Swedish monarchs. Interestingly, it was part of a medieval abbey and today a burial and memorial church only. In that case, no other ceremonies are taking place here anymore. Those interested in medieval graves, I suggest that you pay a visit. For a minimal amount for the entrance fee of KR50.00 ($5.00 in U.S. currency,) I don't see why not, right?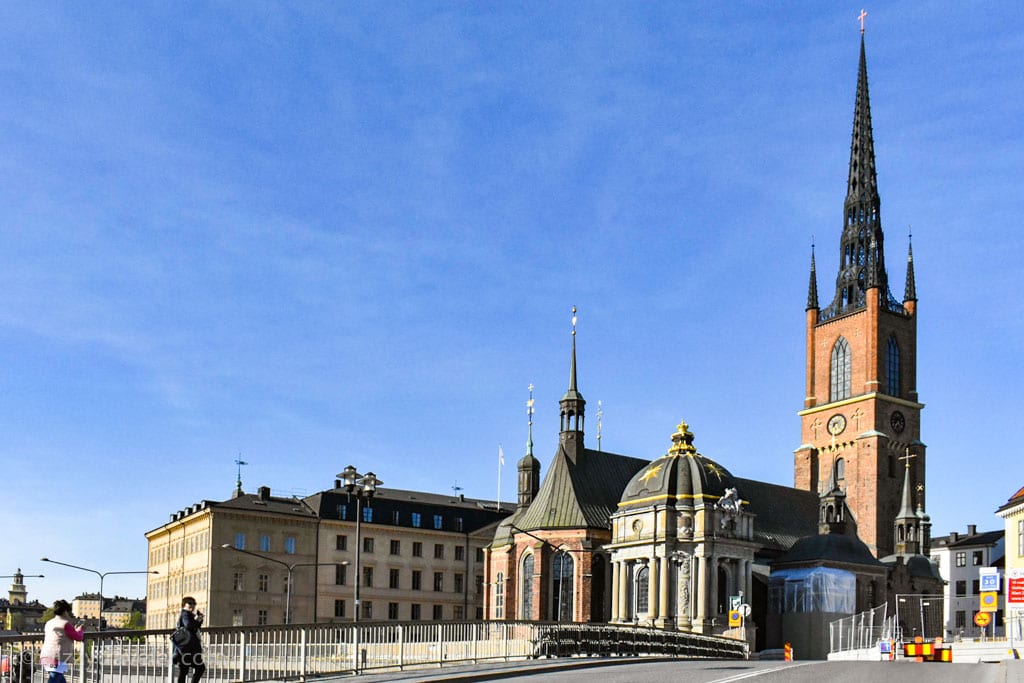 Visiting The Waterfront
Exiting the compound of Ridalholmen Cathedral, now head toward the waterfront. At the time I was there; the weather was gloriously sunny! The splendid views of the water and the blue sky begged me to take a moment and bask into the beautiful surroundings. There are adequate benches around the promenade. Take a seat and just enjoy the views. From this vantage point, the imposing image of the City Hall is like begging to be photographed! Its reflection on the water is so clear as a crystal. Beautiful!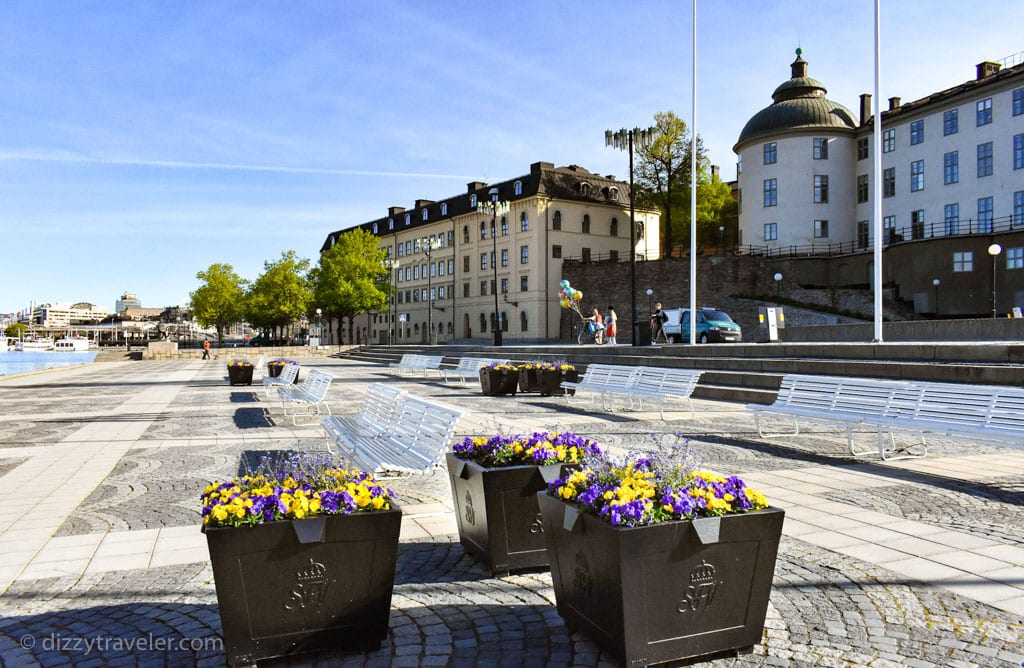 The City Hall
This piece of romantic style architecture from the exterior side is already a treat to the eyes, but its interior is even more enchanting. The Golden Hall, with 19 million gold mosaic tiles and ornamented walls your jaw will drop on the floor. There is a 45-minute guided tour to join. However, the KR40.00 ($5.00) tickets are only available on that day, meaning, you cannot purchase in advance.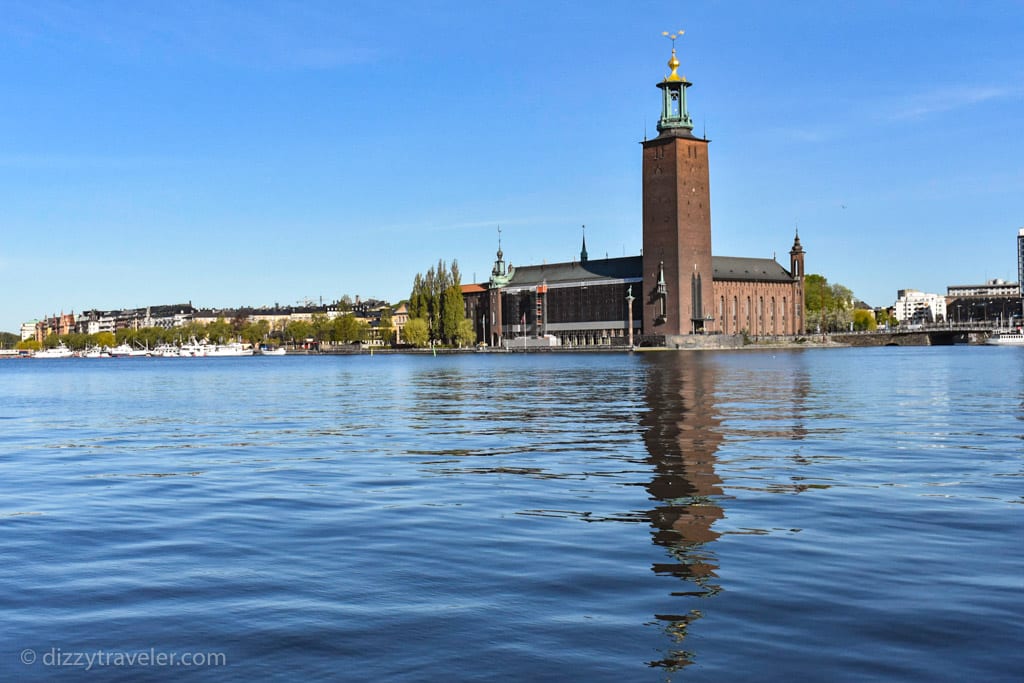 The Marten Trotzigs Grand or known as The Narrowest Street
Are there fans of the "most, tallest, widest, oldest" and yes, the "narrowest" landmarks here? Well, Marten Trotzigs Grand will surely fascinate you all. Located in Gamla Stan (The Old Town,) this street is only 90 centimeters wide! Thus, making it the narrowest street (or alley) in the entire city. There is no exact address of this site, but ask the locals, and they will be able to give directions as to where it is. Not a fan? Go see it anyway! Just for the fun of it.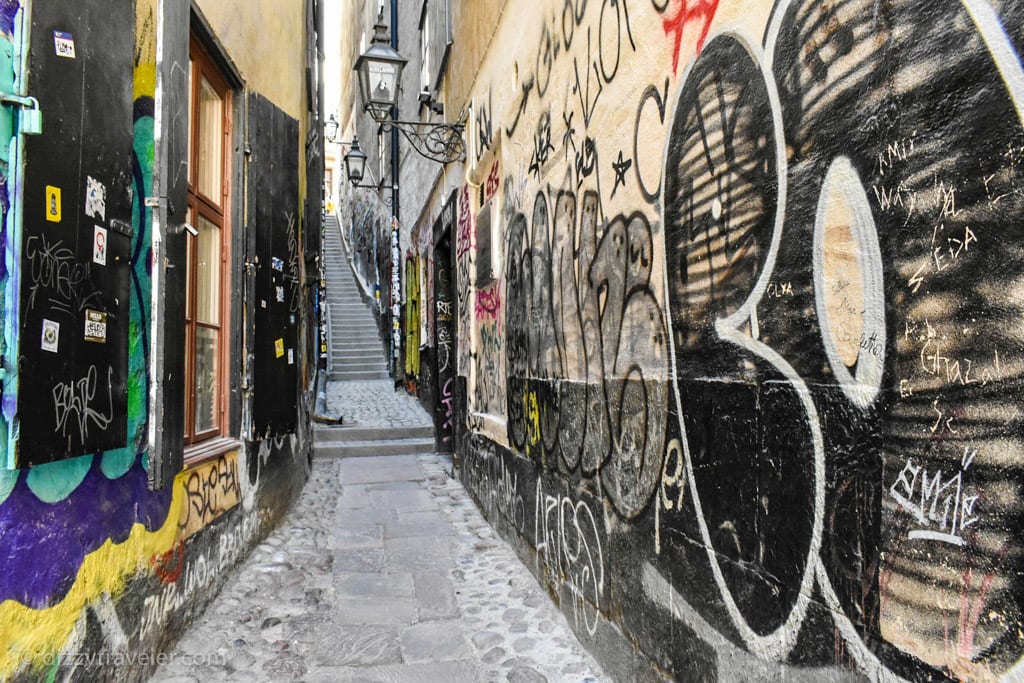 There are many guided tours available in Stockholm, such as sightseeing, walking tours, a cruise, a food tour, and much more. Get Your Guide is the one I recommend.
The Stortoget Square
This square is not only charming but also the oldest square in the city. Dating back to the medieval times, this was the meeting place for the elites. Today, it is now the ideal spot for tourists like you and me. A place to go for a break after exploring the city. The bright colored ginger house-like buildings are still in perfect shape; and converted into cozy restaurants, coffee, and pastry shops. For that IG-perfect shot of the square that you want to show to friends, the west side is undoubtedly the best! Other notable elements in the square are the centuries-old water-well and the Borshuset Building, which used to be the city's stock exchange building but now the home to the Nobel Museum.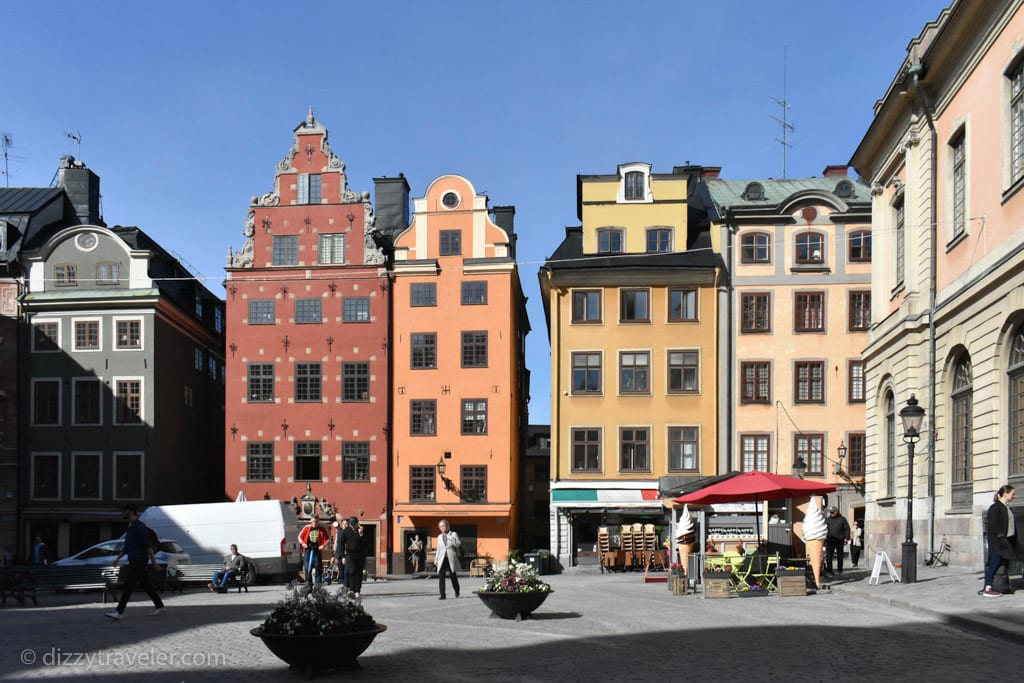 The National Museum
The art collections here are vast that even if you have one full day to explore may still not be enough. The gallery is full of paintings and sculptures from the late middle ages to the early 20th century. If you want to look at the stupendous art acquisitions and collections of Sweden's royal family, then visit this museum. Not interested at all? Then perhaps the location of this museum is enough reason to visit. Located on the peninsula Blasieholmen, a sweeping view of the Royal Palace is to be admired from here.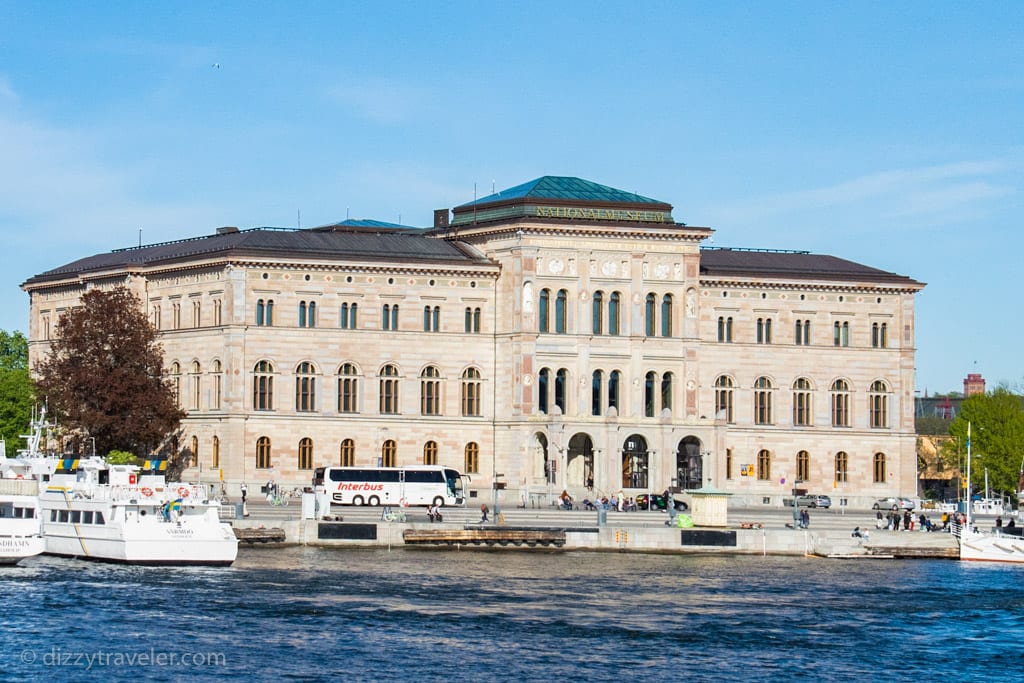 The Medieval Museum
Tucked beneath street level next to the Swedish parliament building is the Medieval Museum. It is a remarkably interesting museum complete with well-labeled signages, light & sound effects, paintings, cobbled stone streets, and a life-size marketplace, it feels like you are on a journey to the past. One of the highlights in the museum is the 55-meter-long stretch of fortress, the earliest remnant of middle ages Stockholm! Archaeologists discovered this section in the late 1970s, and the whole museum built around it. By the way, did I mention yet that it is a free-entrance museum?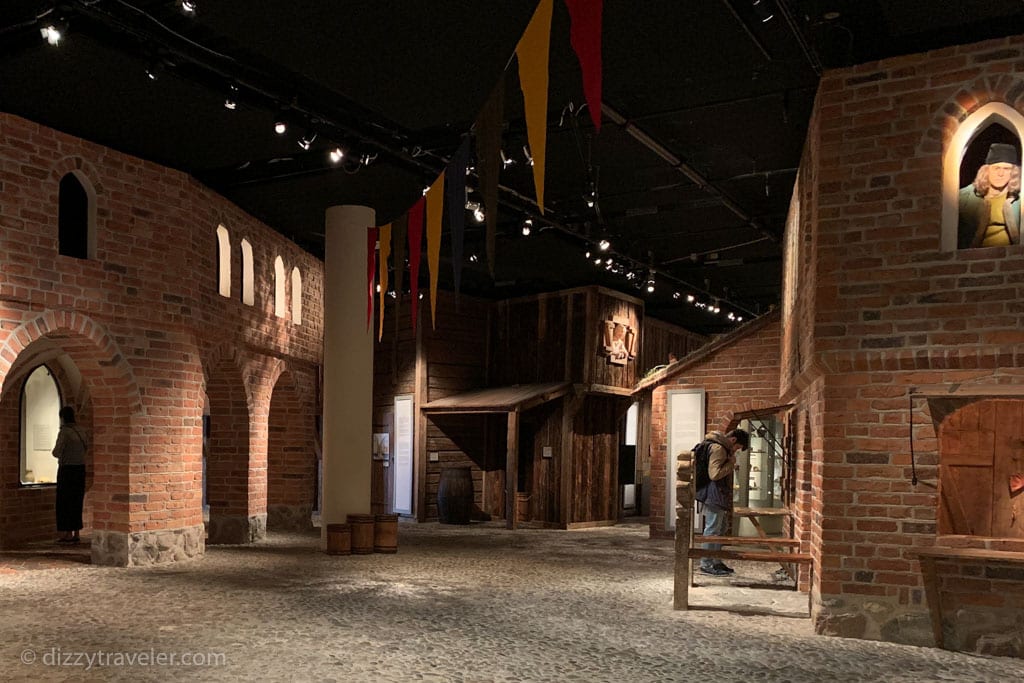 Experience the Ocean Bus
Before winding down your day, why not experience riding the Ocean Bus? Yes, get that opportunity to experience the city from both land and water in one single vehicle – the amphibious bus! It is fun and exhilarating at the same time! For one hour and 15 minutes, you will explore Stockholm in a unique way. You also get to see many of the city's most known attractions while onboard like Djugarden, the Royal Palace, the Vasa Museum, and many other tourist spots. The amphibious bus departs from Stromgatan, just across the Royal Opera. Live guiding on the bus is in Swedish and English and from time to time, your tour guide cracks funny jokes. By the way, this tour is only available from the first of May to the end of August.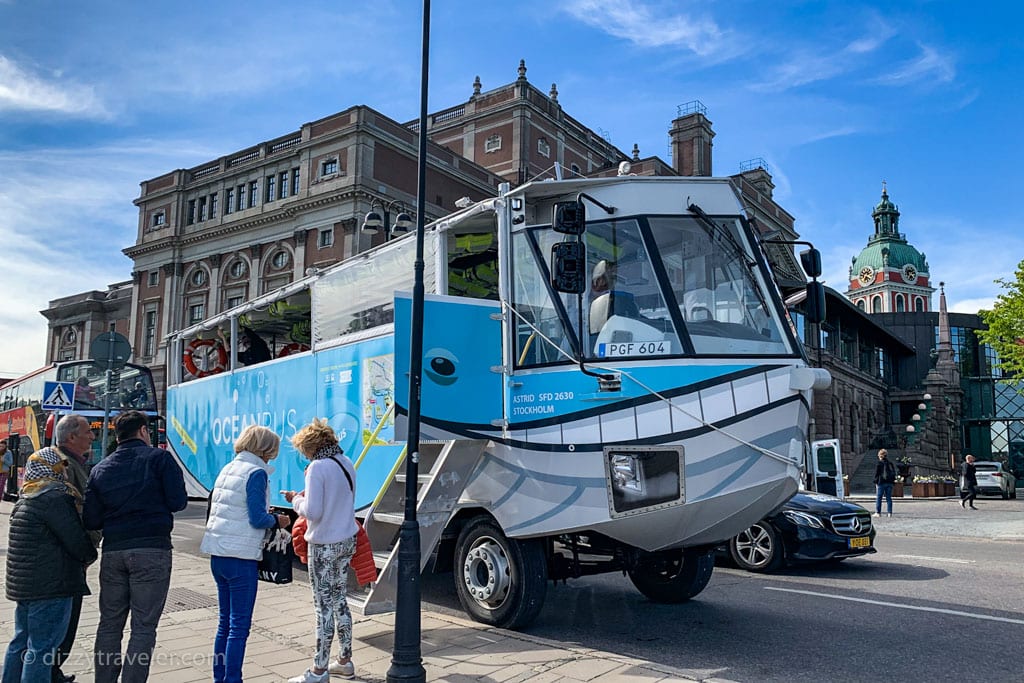 I was ready to roll this day by a trip to a lovely and one of the most renowned bakery shops in Stockholm – the Vetekatten. I scored on some delicious cinnamon rolls and a cup of morning coffee. Then I went on with my day.
The ABBA Museum
When I was in my teens, the ABBA was my favorite singing group, so naturally, a visit to the Abba Museum is on top of my to-do list! Just in case you do not know yet, the ABBA singers are Swedes! While the museum is not the usual kind of museum, it is instead so upbeat. You will see the band's memorabilia, costumes, the musical instruments they played, etc. The best part, though, is at the end of my tour (self-guided) I had the chance to be the "fifth member" of the group! I sang, danced, and performed in front of a quite broad audience! That was fun!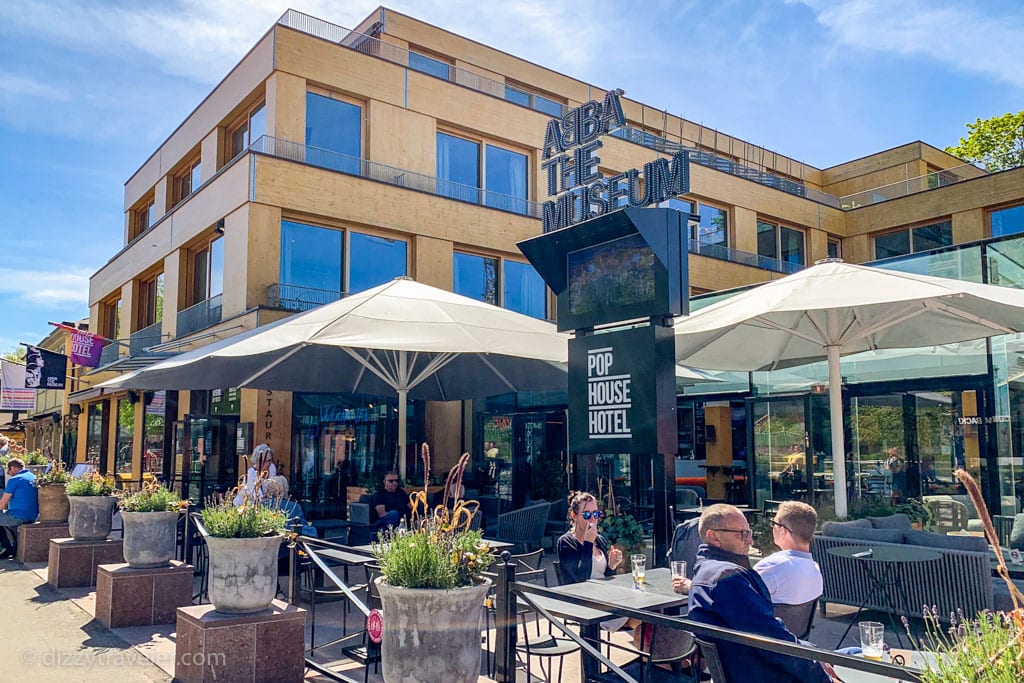 The Skansen Open Air Museum
Skansen is not only the oldest but also the widest and broadest open-air museum in the world! It occupies 30 hectares (or 75 acres) on Djurgarden, an island in Stockholm that was once a hunting and recreation ground for the royal families. Because it is a vast park, a visitor can have the entire day but still unable to see all that is there. Henceforth, you must have a plan of what you want to see or visit. There are about 150 different structures, The Vastveit storehouse, the Seglora Church, the Bredablick Watchtower, and the Hällestadsstapeln Belfry and the Hornborgastugan just to name a few of the must-see buildings. There is also a huge square where you can shop for some souvenir items and food stalls to buy some snacks or light meals.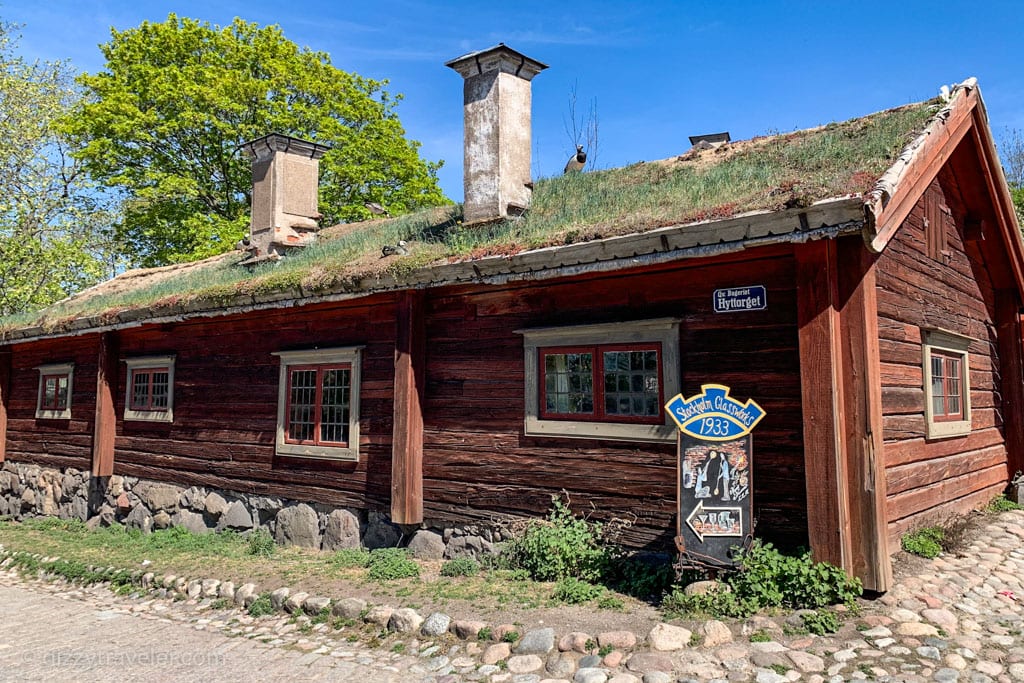 Sunday Open Air Flea Market
If passing through Hotorget on a Sunday, head to the open-air flea market for some treasure hunting. This cobbled square is a marketplace since the 17th century. And every Sunday, merchants' tables are set up littered with almost anything you can find – from books, kitchenware, gadgets, pottery, knick-knacks, and other antique-finds for a dirty cheap price tag. Aside from those mentioned stuff, fresh produce and flowers are some of the items awaiting you.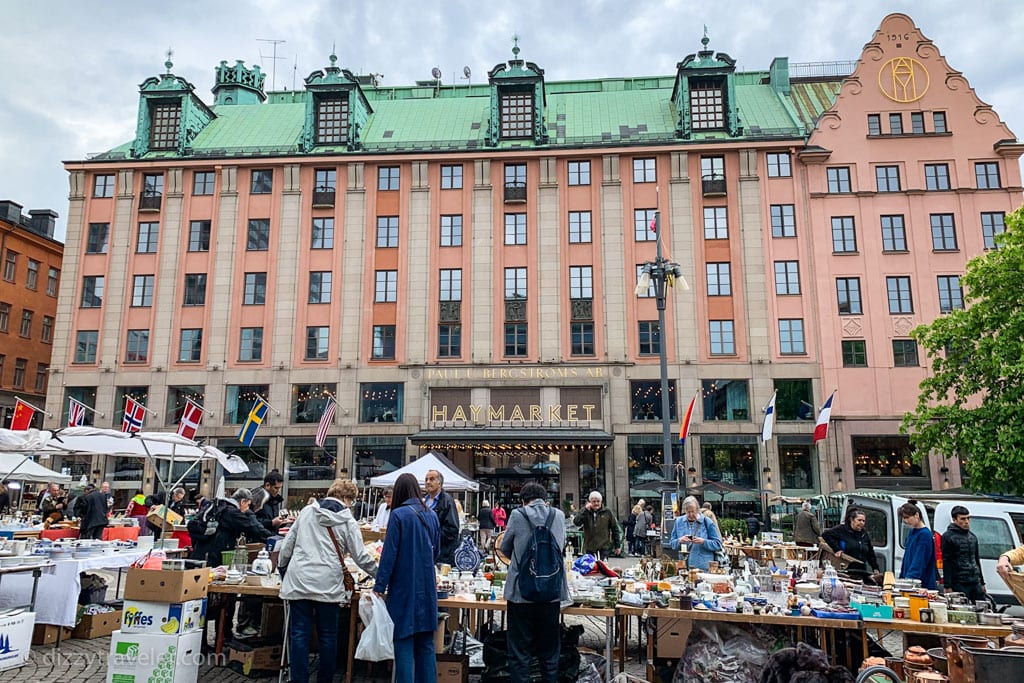 Where Did I Stay In Stockholm, Thailand
I was traveling alone on a tight budget and only needed a place to lay down my back. Therefore, a hostel like City Lodge Hostel suited my needs. I did not expect a lot since I knew already that this is not an excellent par hotel. However, the location is an essential factor when I chose for my stay. I picked Norrmalm district for my base camp. It is one of the safest neighborhoods in Stockholm, not to mention its accessibility to shops, restaurants, and the central city station. City Lodge Hostel has that factor.
Where I Ate
Is Stockholm a world for the foodies? Of course!
 
Meatballs for The People Restaurant
The team behind this place has taken the liberty to create their take on Sweden's beloved meatballs. Here they serve organic meatballs in a variety of tastes from classic meaty ones to more innovative versions with ingredients like salmon or vegetables. You can either eat on-site or buy meatballs to take away. I did the latter.
Breakfast at Veti-Katten
If you need a slow-paced sanctuary to break your previous night fasting, Vete-Katten is that place! The ambiance is warm, and I must say the dining hall is elegant and straightforward. Serving only freshly baked products since 1928, the company has proven long enough that they are the best bakeshop in town! Both young and old, and tourists alike love to flock here. The selections of traditional Swedish bread and rolls are divine, and their cakes are to die for.
My Opinion and Last Word
Have you been to Stockholm, Sweden? Any cool tips to share?
As a solo traveler, I find the city to be very safe and friendly. So, for those aspiring to explore on their own for the first time, Stockholm is a perfect candidate. However, this Scandinavian city is notorious for bleeding a traveler's wallet, but if you do not mind staying at hostels and grabbing meals from convenient stores like 7-11, by all means, you have my thumb up for that.
Lastly, there is something about the Swedes! They are very refined people and after just a few days in Stockholm, I was a convert! I hope my blog will inspire you to visit this beautiful Scandinavian city! Make sure to leave a comment with your thoughts.
Make sure to leave a comment with your thoughts! I'd love to hear from you to improve my knowledge. 
Was this travel guide helpful for you?
If you'd like to help me continue making free guides, here is one way you can help:
Share This Guide – If you have a friend that would benefit from this guide, share it with them. Or post this guide on Facebook, Twitter or Google+
Your Support would definitely help me making more free guides like this. Thank you in advance!
Affiliate Link – This post in Dizzy Traveler contains affiliate links, which means I receive a referral commission if you purchase after clicking at no additional cost to you. These funds go to maintain the site. Thank you for your support.
Here are few affiliates link that may help planning a perfect trip while staying within budget