Namaste From Magical Kathmandu
Apart from Nepalese rich culture and mountaineers paradise, Kathmandu, the capital of Nepal, is also world-famous for its historical sites; in fact, seven of them are listed as UNESCO World Heritage Sites. This is my second trip to Kathmandu; however, this place is so magical no wonder why I am already planning my next trip before even finishing this one.
Map of 15 Most Visited Places In Kathmandu
Among all the places listed on the below map, you must at least visit the seven UNESCO sites such as Buddhanath Stupa of Kathmandu, Swayambhunath Stupa (Monkey Temple), Kathmandu Durbar Square, Hanuman Dhoka, Patan Durbar, Bhaktapur Durbar, Pashupatinath Temple, and Changu Narayan Temple.
15 Best Things To Do In Kathmandu
Among all the amazing sightseeing activities I did during my recent trip to Kathmandu here are a few of the most striking ones. It can be used as a guideline to plan yours based on your interest and time available to spare.
1. Everest Mountain Flight
My Nepal trip would be incomplete without taking the mountain flight. The experience was outstanding, while the sun was rising in the horizon, and the magnificent view of the snow-covered glittering mountain peak through the plane window absolutely took my breath away.
The flight usually lasted about an hour. During the flight, I was able to witness the fantastic 20 of the highest peaks, including Mt. Everest and Chamlang peak from just about 20 miles away. All 16 passengers onboard got a window seat, and interestingly enough, the pilot called us one by one to the cockpit to have a view from a different perspective. I'd definitely recommend this scenic mountain flight.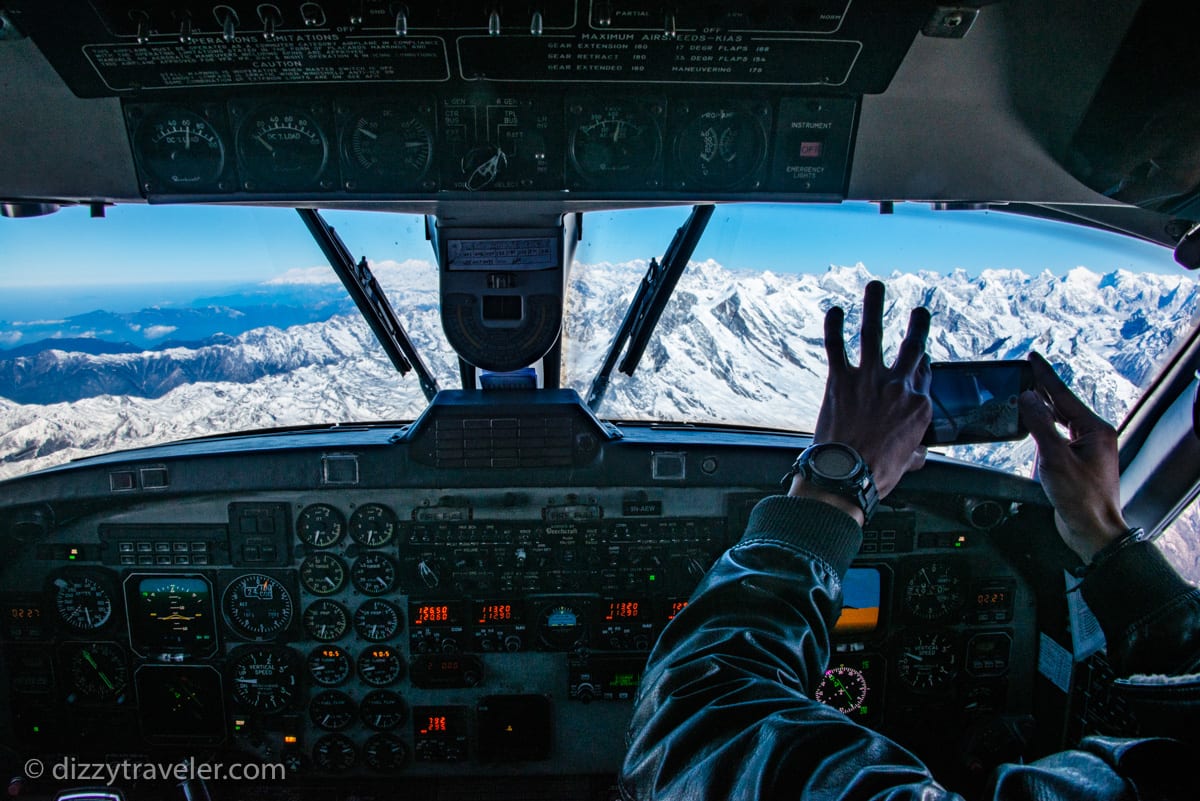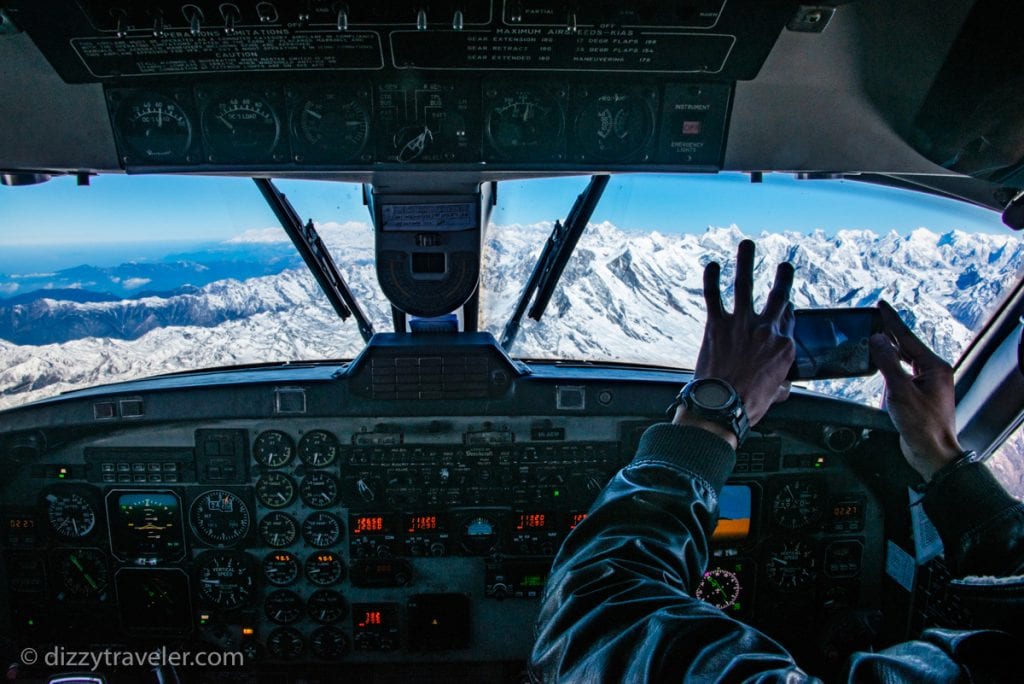 2. Visit Kathmandu Durbar Square
Kathmandu Durbar Square resides at the heart of the capital city, one of the three UNESCO World Heritage Sites that are located in Kathmandu valley. Durbar square is a Royal Square where royal palaces are surrounded by a majestic collection of temples, fountains, ancient architecture and statues. The palace is also well known as Hanuman Dhoka Durbar, once used as the residence of the Nepali royal family and administrators. This one of the most visited sites in Kathmandu and extremely popular among tourists.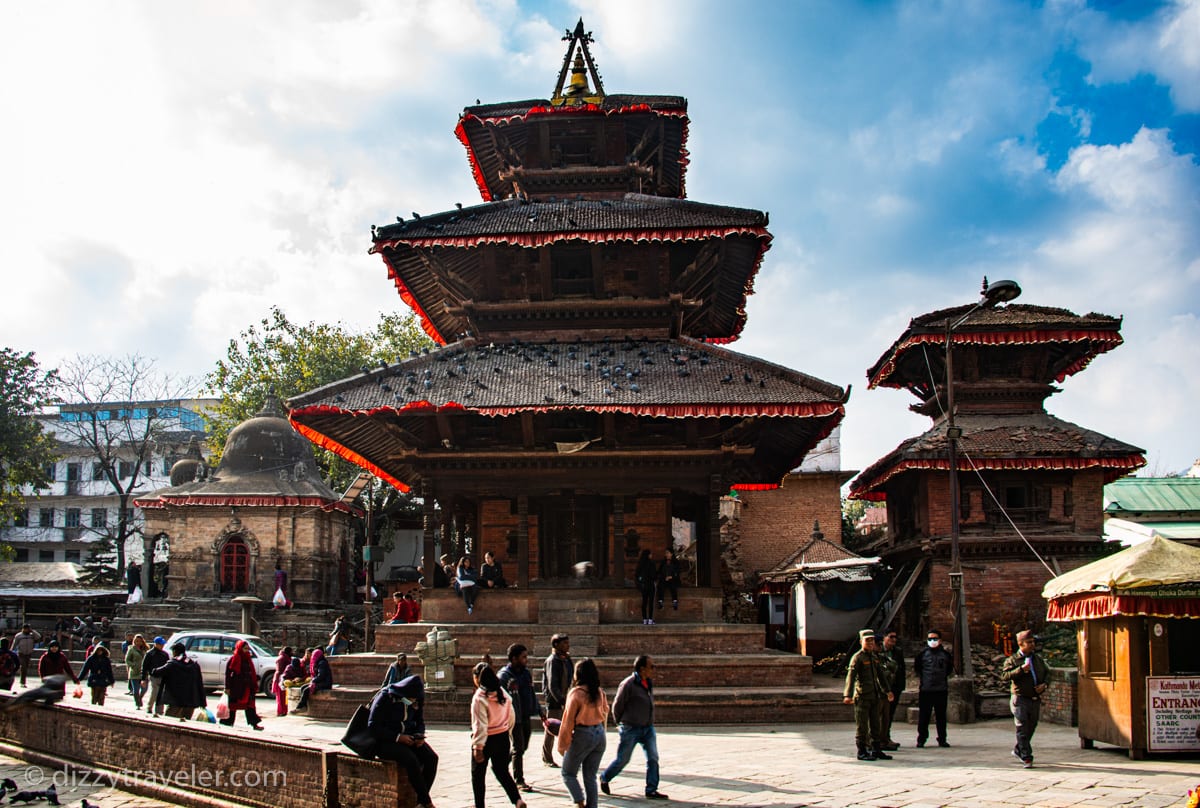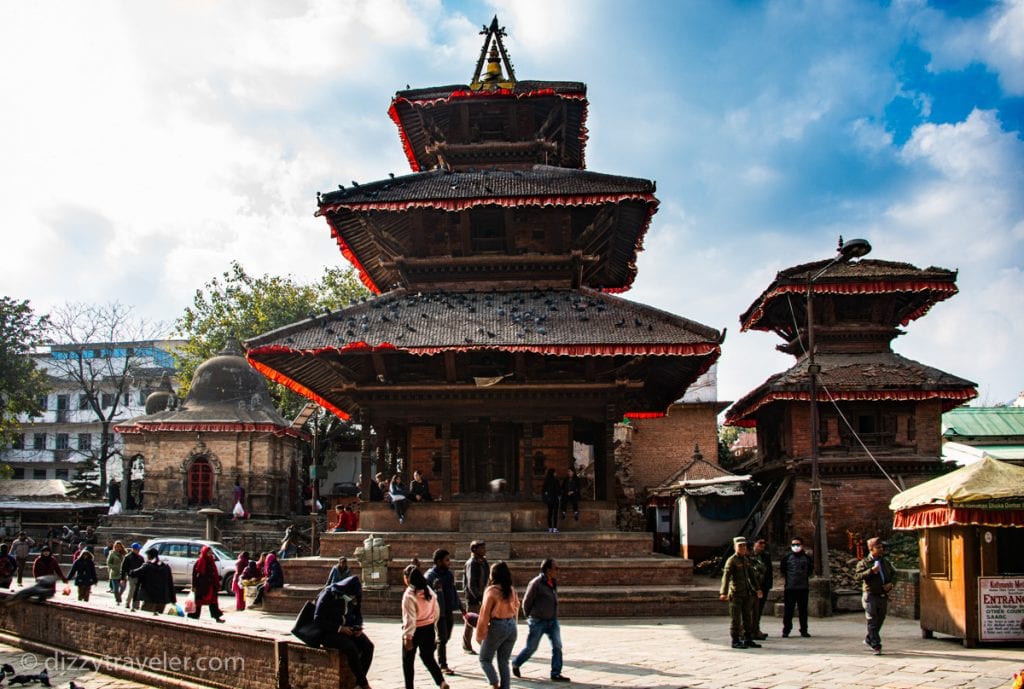 3. Swayambha Temple (Monkey Temple)
Swayambha, also known as Monkey Temple, is an ancient religious masterpiece atop a hill in the west of Kathmandu valley. it is one of the most sacred Buddhist stupas in Nepal. Worth a visit.
Getting up to the shrine at the summit is quite challenging, hundreds of steep stone steps to climb. However, there is a motorway leading up almost to the top from there, only a short walk. Once at the top, visitors are rewarded with a beautiful panoramic view of the city from the temple. Early morning and evening is the best time to visit.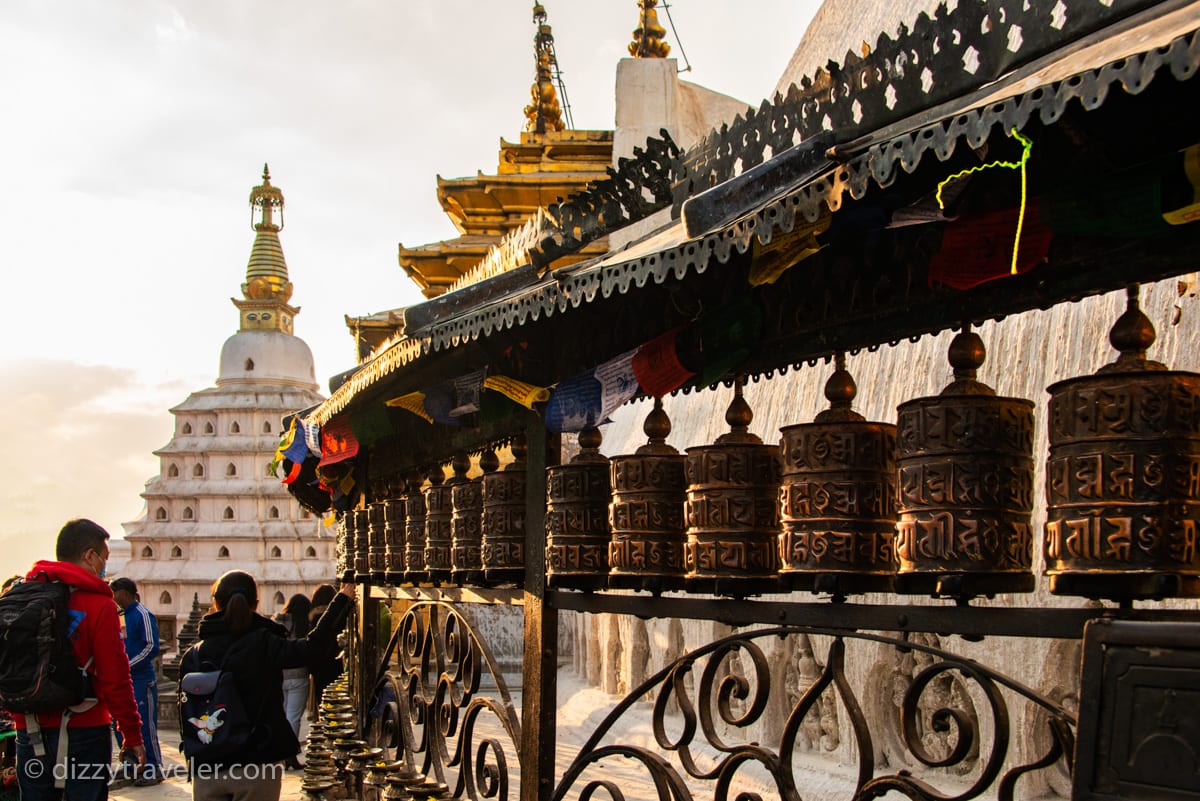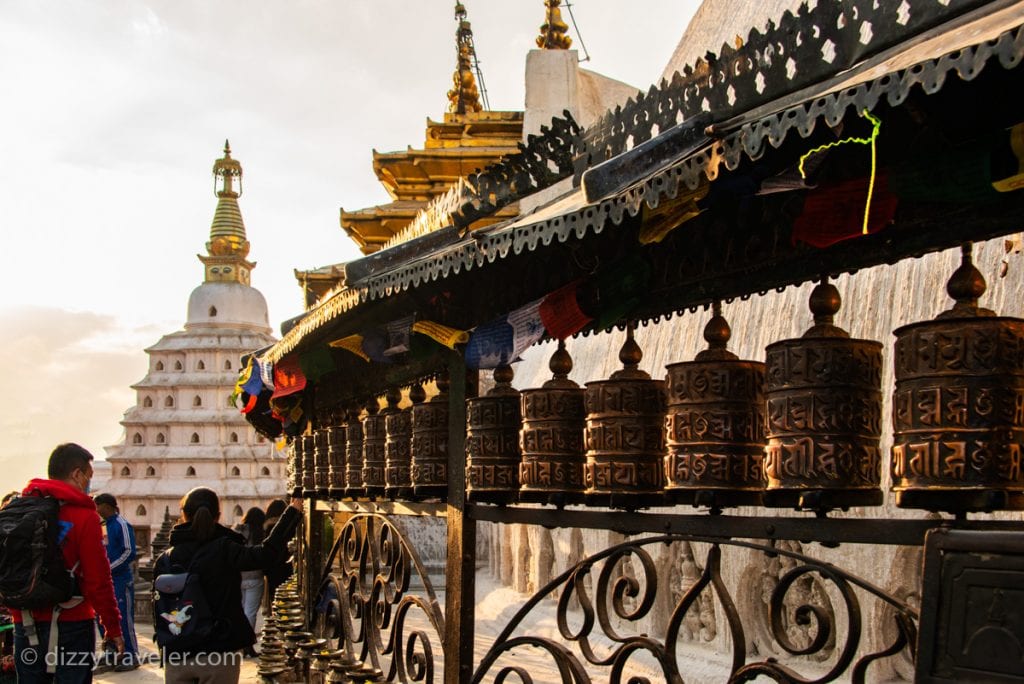 4. Sunrise From Nagarkot View Tower
For a great once in a lifetime sunrise experience, we definitely needed to get up really early as the sunrise happens around 6:45 am in Kathmandu (when I was visiting). However, to view the unbelievable view and the golden light on the towing Anapuran mountain range, we needed to be there way before. Even Nagarkot hilltop viewing tower is only about 19 miles (30 km), but still it usually takes an hour to get there through the narrow winding road up to an elevation of 7200 ft (2100 m). Then another 10 – 15 minutes hike up to the tower from where you park your car.
When you finally got to the top, it will still be dark and cold, but soon you will be witnessing best ever sunrise view on the east over the rolling mountains. And on the northwest, the snow-covered mountain range will be glowing golden like never seen before. A trip to Kathmandu would be incomplete without a visit to Nagarkot.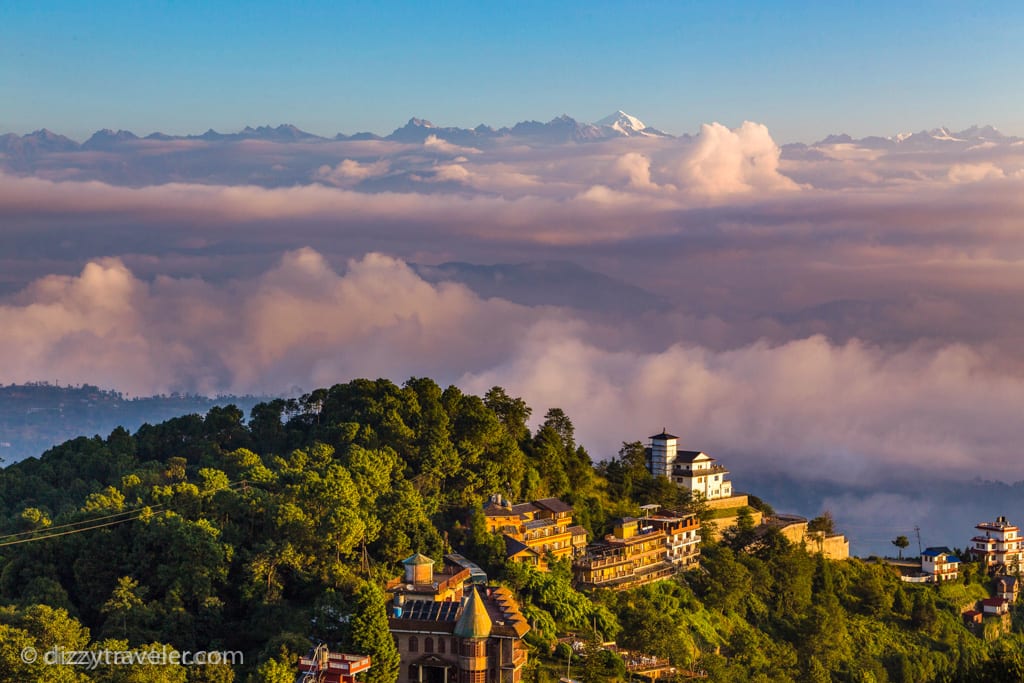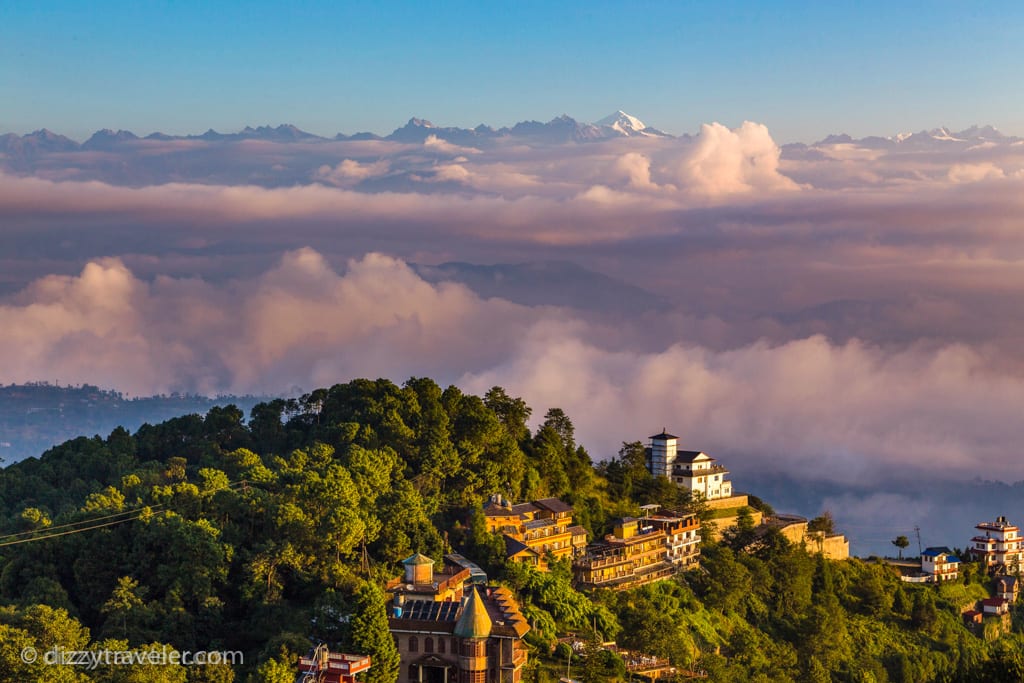 5. Dhulikhel, Nepal
It should be between 8:00 to 8:30 when usually visitors start getting down from Nagarkot. I would recommend a stop at Dhulikhel in the valley for breakfast. The picturesque views of the high Himalayas and the range of peaks on the horizon are also best seen from there. Also, it is one of the popular destinations among tourists to experience the authentic culture and heritage of the indigenous people of Nepal.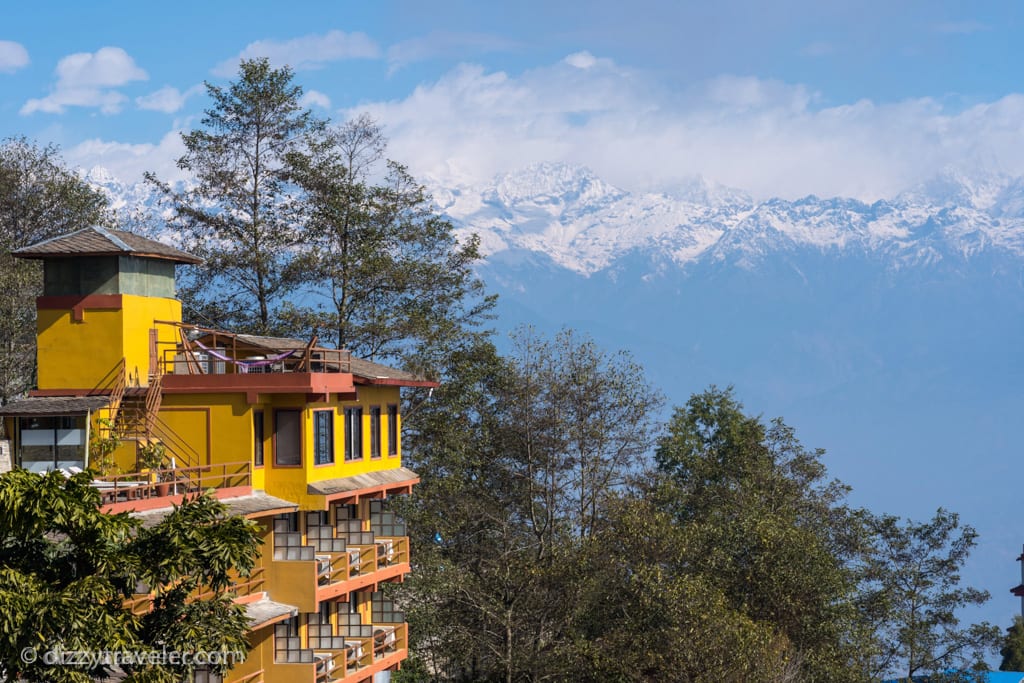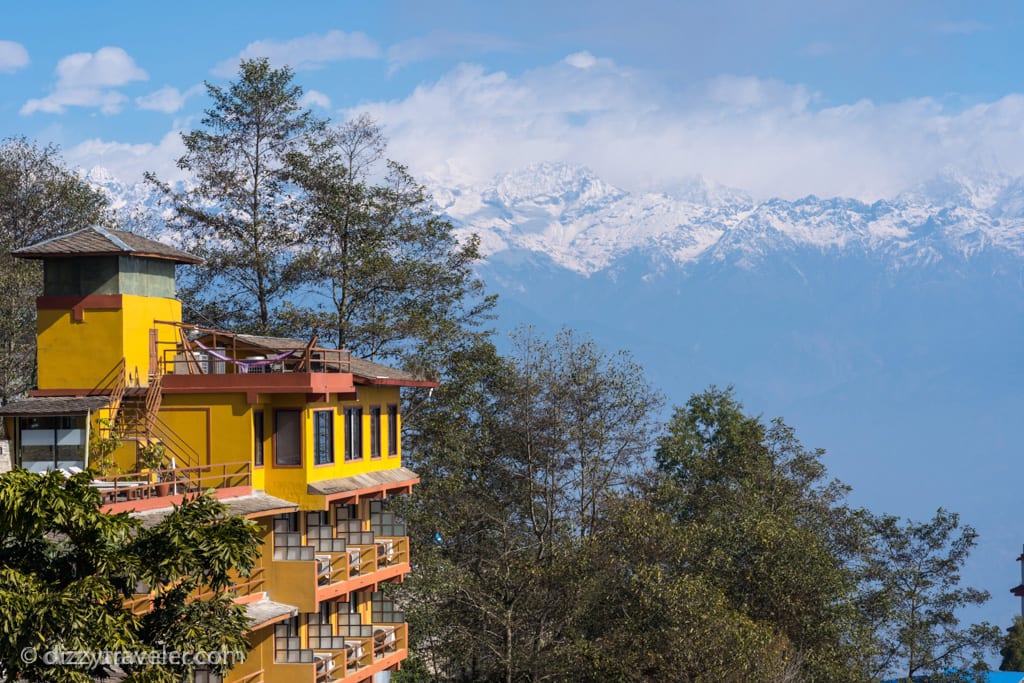 6. Bhaktapur Durbar Square Dhoka
Bhaktapur is one of the three major cities in Kathmandu valley that will remind you of how this city once looked like during ancient times. The Durbar Square got a few beautiful architectures, no wonder why it is listed as a UNESCO World Heritage Site.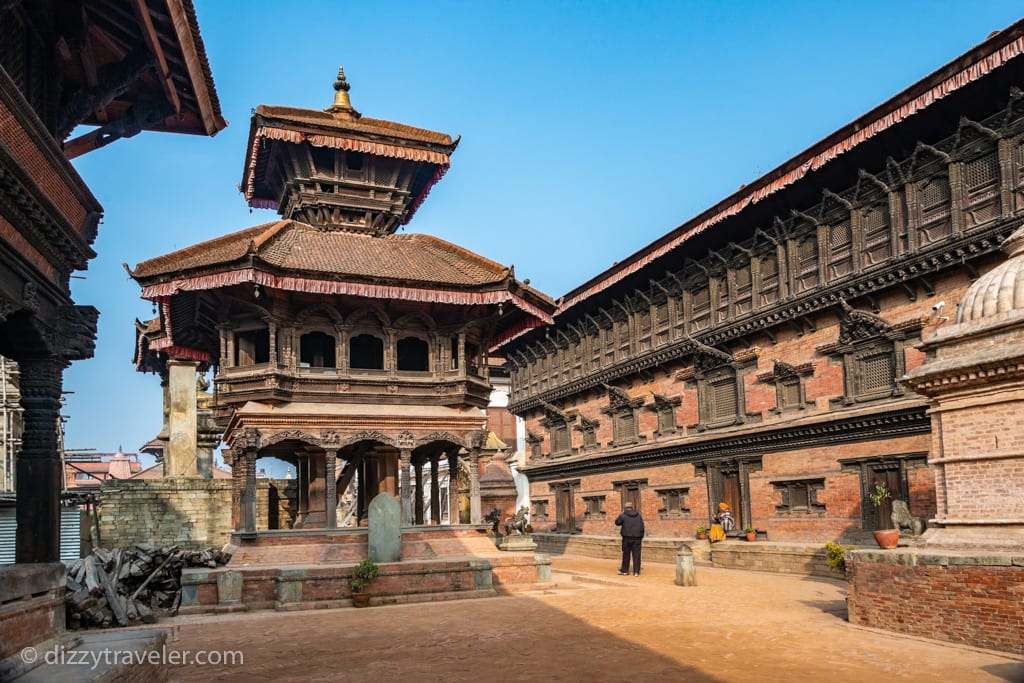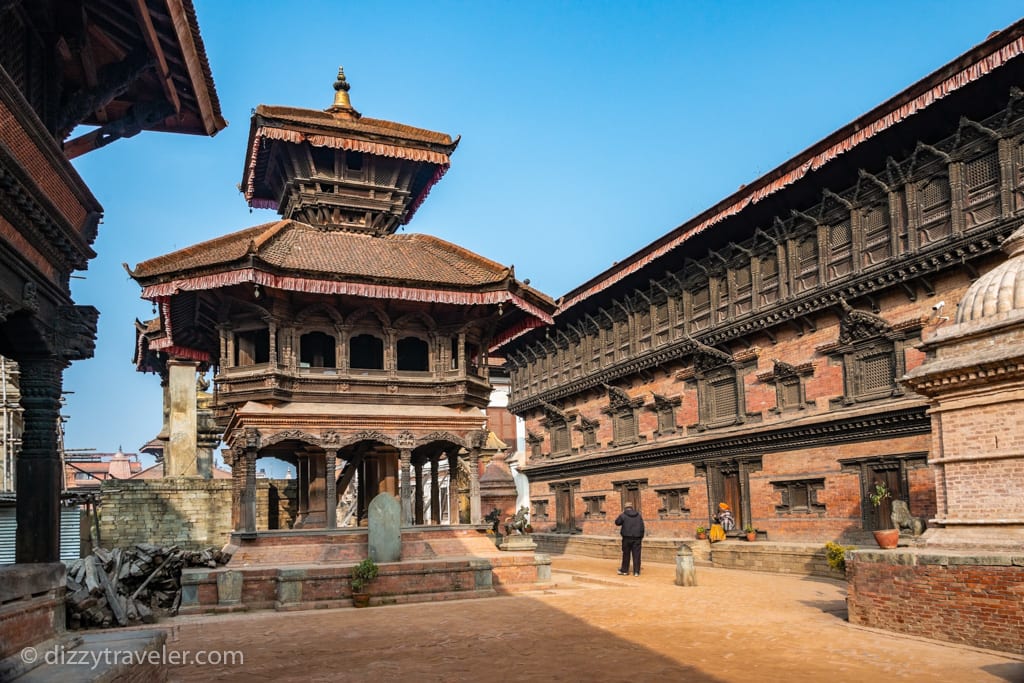 7. Taumadhi Square in Bhaktapur
A short walk from Durbar Square through the historical Bhaktapur town will bring you to another UNESCO World Heritage Site called Taumadhi Square that houses the Nyatapola Temple. It is another must-see masterpiece in Bhaktapur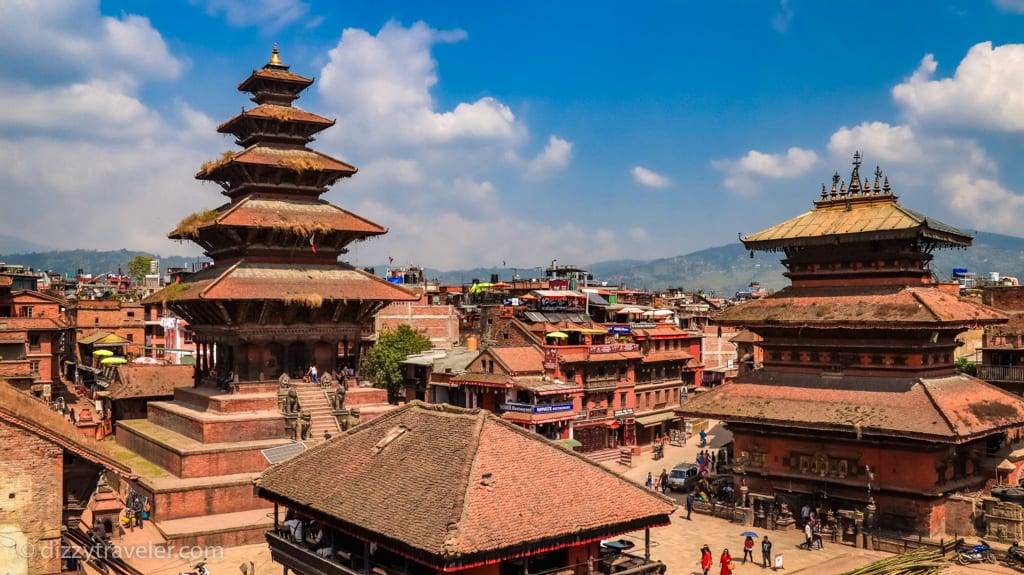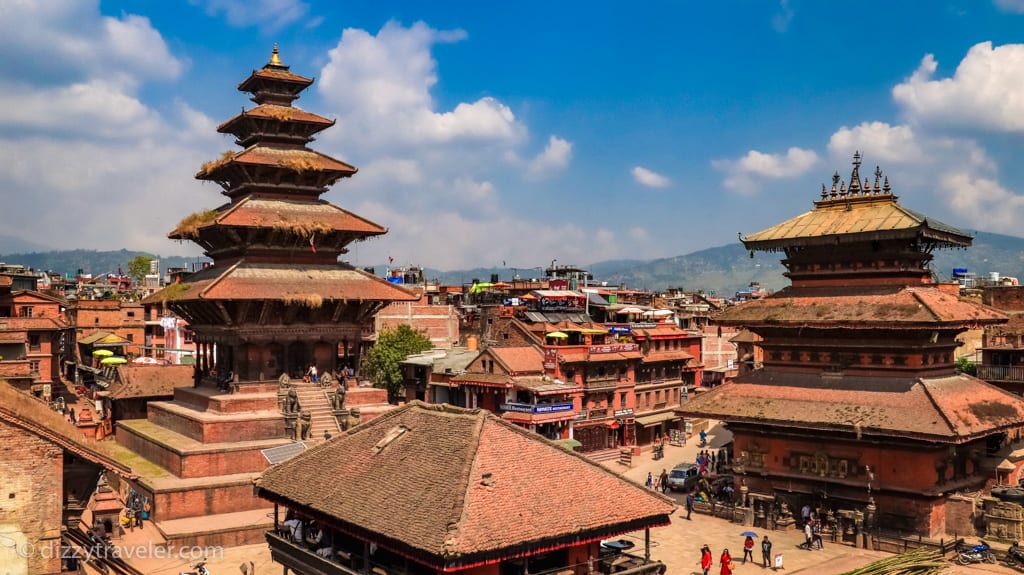 8. Dattatreya Square Bhaktapur
Dattatreya square in Bhaktapur got a few of the great Hindu monasteries, temples, and museums. Here are a few worth paying attention Bhimsen Temple, Laxmi Narayan Temple, Dattatreya Temple, Pujar Math (Woodcarving Museum), Peacock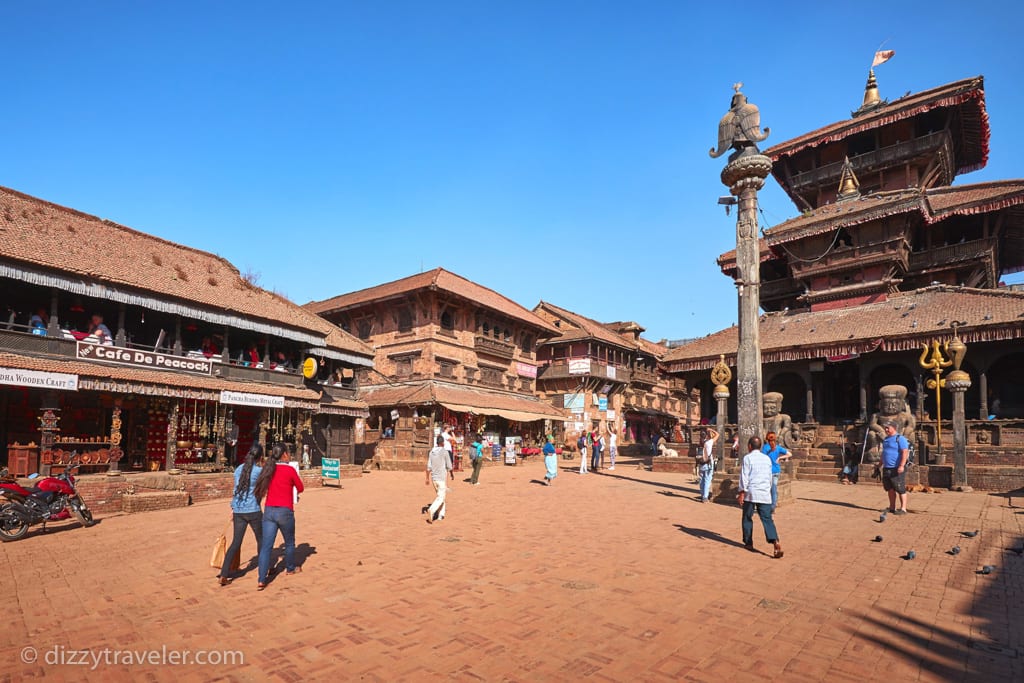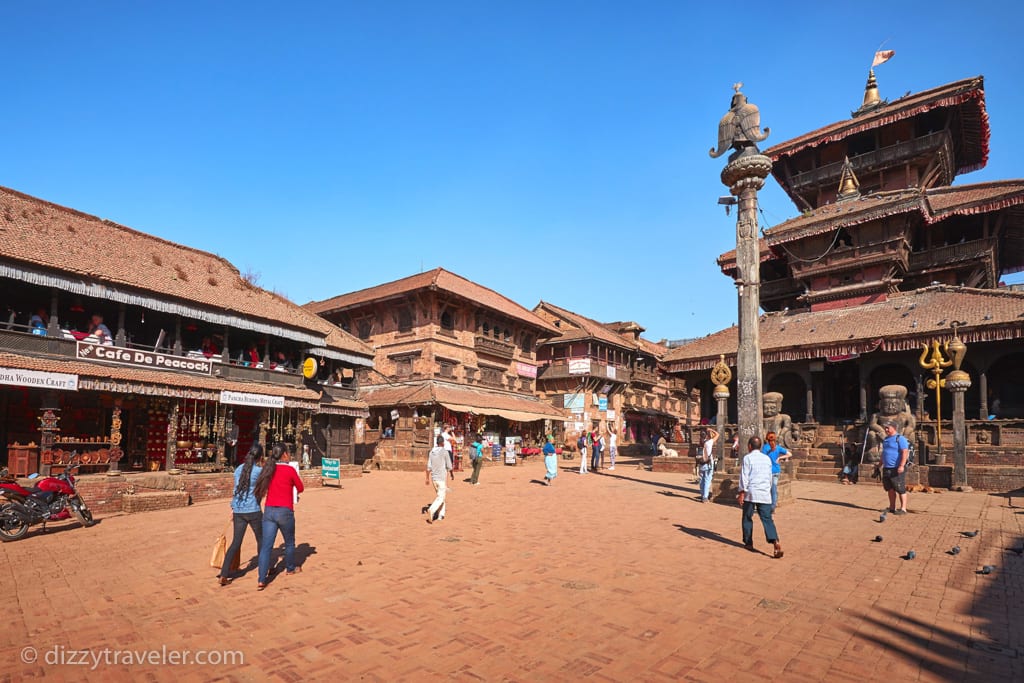 9. Kopan Monastery
Hire a taxi and visit Kopan Monastery, one of the most famous monasteries of Tibetan Buddhism. The monastery is located on top of a hill, not that far from Boudhanath Stupa, which can be seen from a far distance. From here, visitors can witness picturesque view of Kathmandu valley, and surrounding mountains from it's higher ground.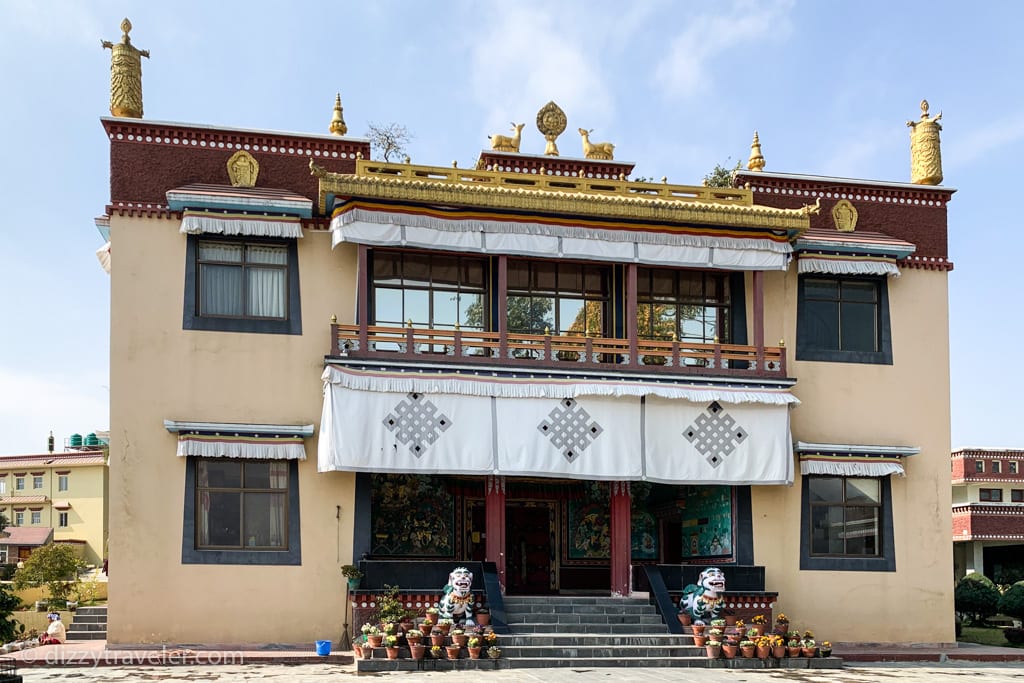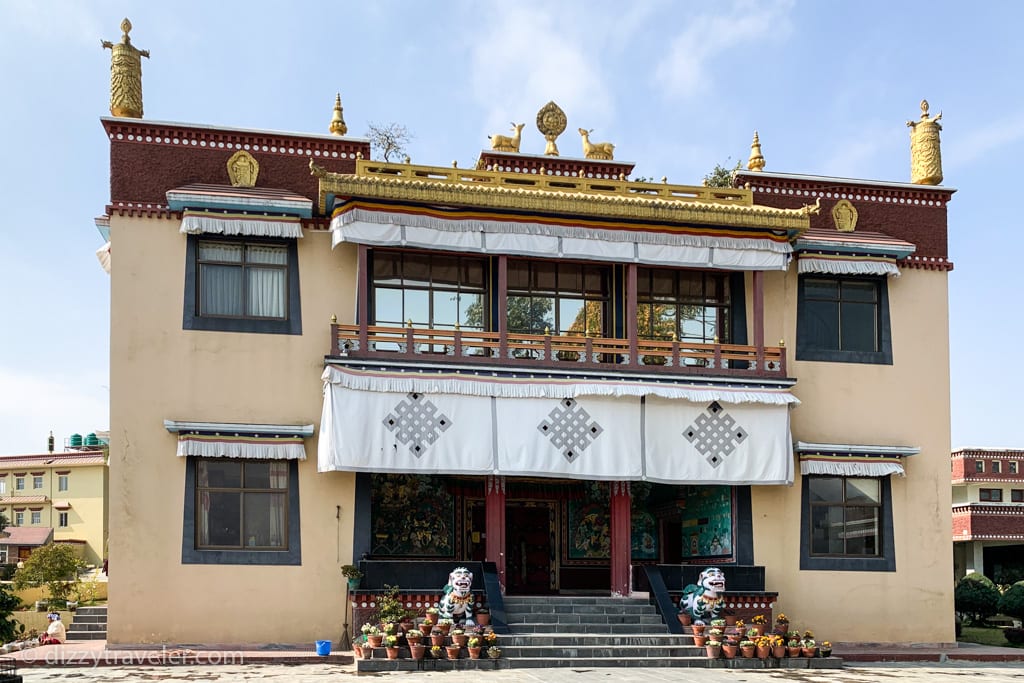 10. Boudha Stupa
It is situated 7.5 km away to the east of Kathmandu Durbar Square. Boudha Stupa is listed as a UNESCO World Heritage Site and one of the most impressive landmarks in Kathmandu. Apart from its spiritual value, the 36-meter high stupa is also believed the biggest stupa in the world. There are four famous remaining monasteries around the Boudhanath Stupa; they are Guru Lhakhanbg Monastery, Samteling Monastery, Jhamchen Lhakhang, Kilyak Yevam worth visiting.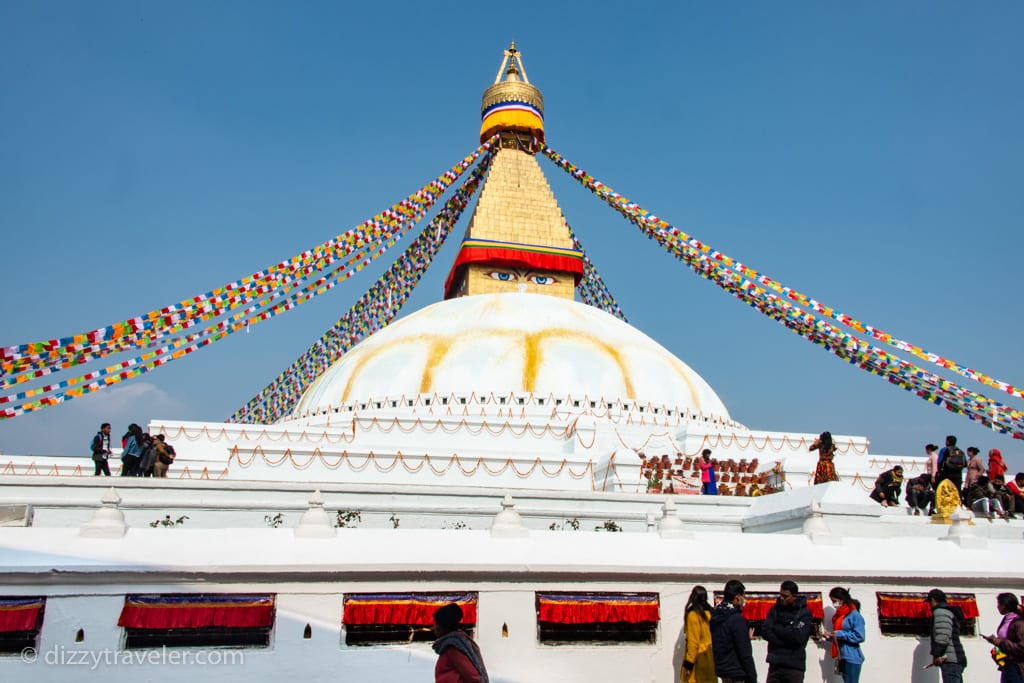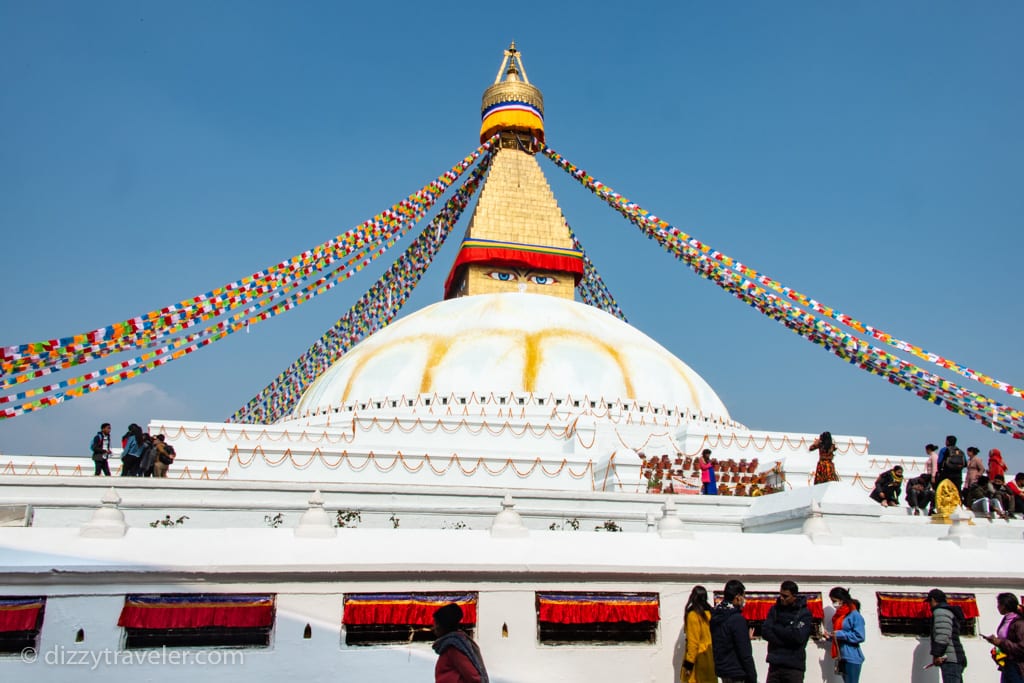 11. Budhanilkantha Temple (Hindu Temple)
Visit the holy Budhanilkantha, the shrine of the sleeping Vishnu, one of the most popular temples of Lord Vishnu. Located at the base of the Shivapuri hills in the northern-most part of Kathmandu Valley, Budhanilkantha is about 8 km from the city center. The exceptionally detailed artwork that went into sculpting this brilliant 5th century stone image of the sleeping Vishnu is worth a close look.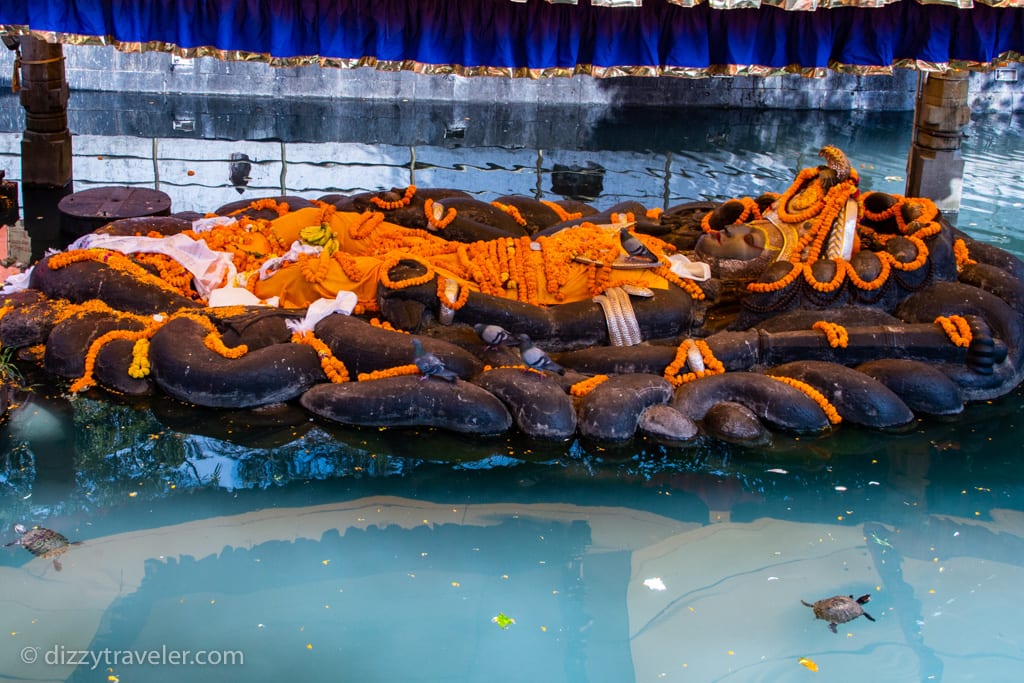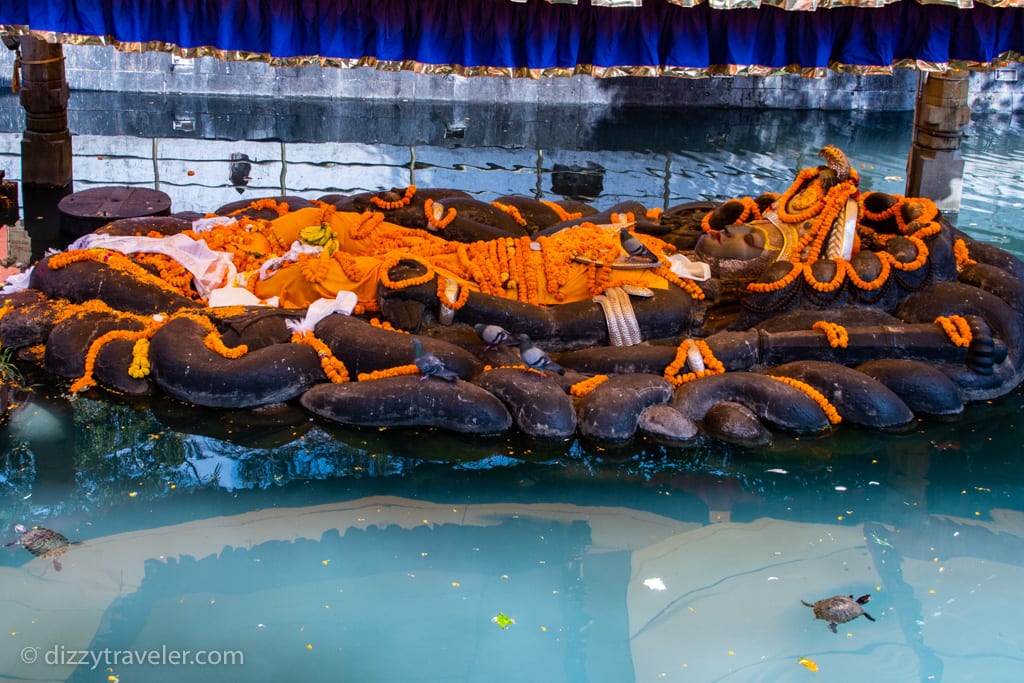 12. Patan Durbar Square
Patan Dubar Square is one of the three squares in the Kathmandu valley that are listed as UNESCO World Heritage Site. The other two are in Bhaktapur and Kathmandu at the Hanuman Dhoka Palace Complex. Durbar Square means Royal Square and the plazas and structures around the Royal Palaces. Patan maintains its historical tradition and ancient charm despite its proximity to the capital. We spent quite a while exploring at the square visiting old royal palace, museum, temples, and much more.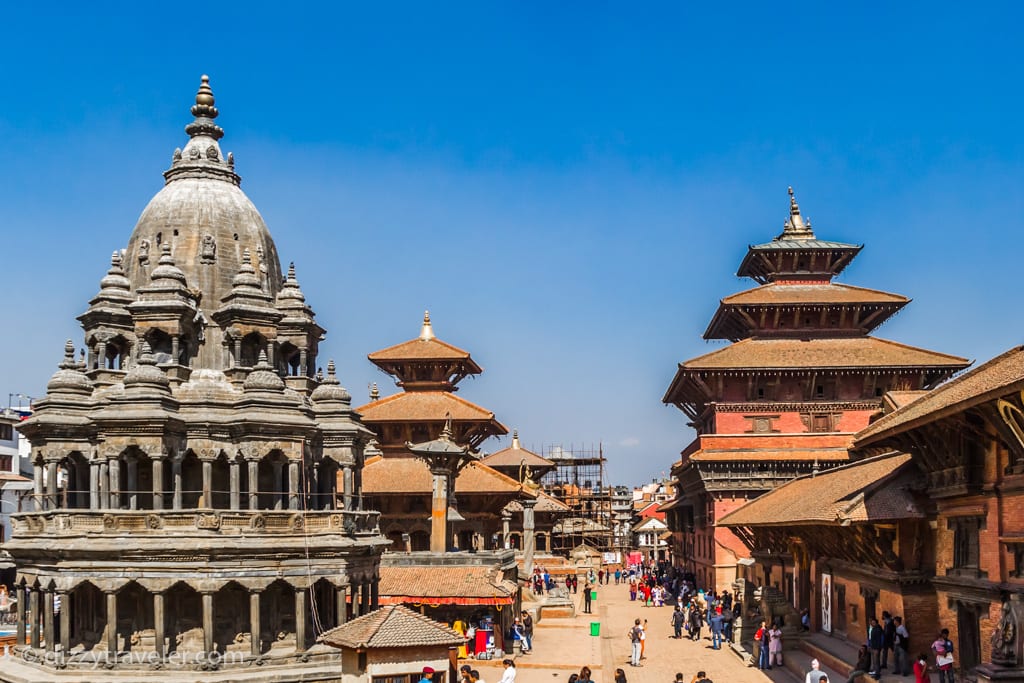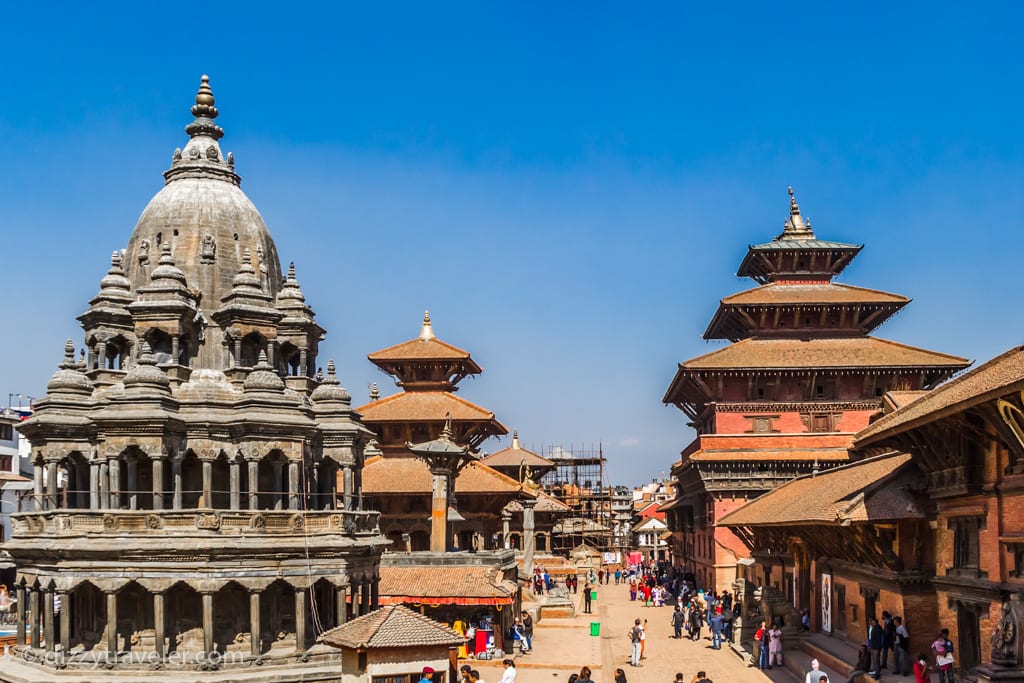 13. Golden Temple
The Golden Temple existed in Kathmandu since 1409 and is located just off the Patan Durbar Square hidden away from the crowded streets of the historical city of Lalitpur (Patan). The main temple in the yard is a three-tiered square pagoda building dominating the entire complex. This temple is UNESCO listed as part of Patan Durbar Square complexes.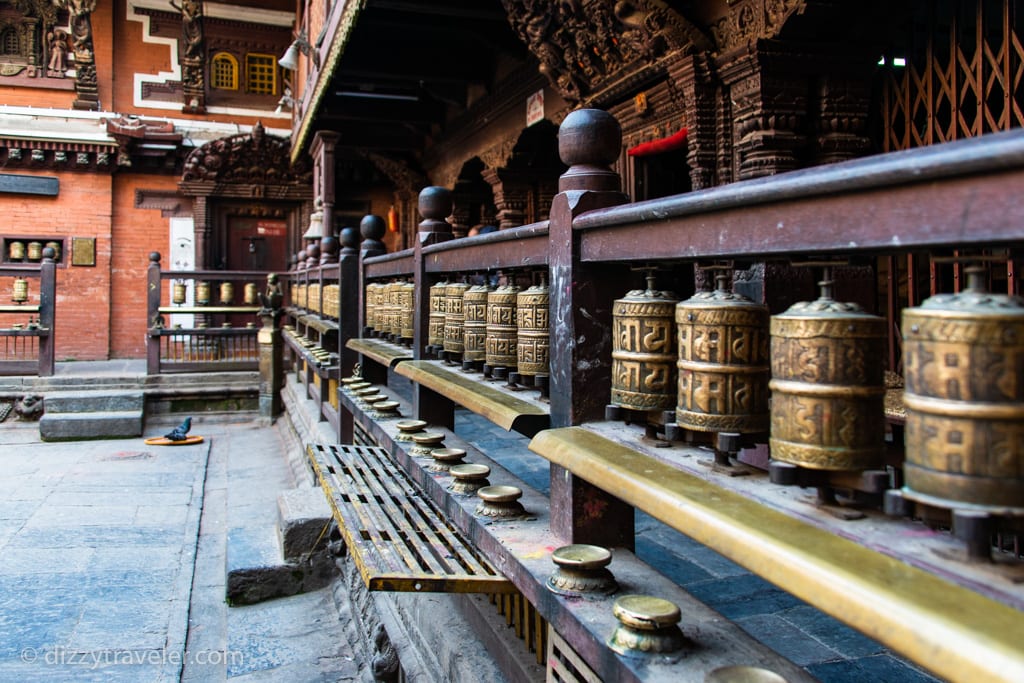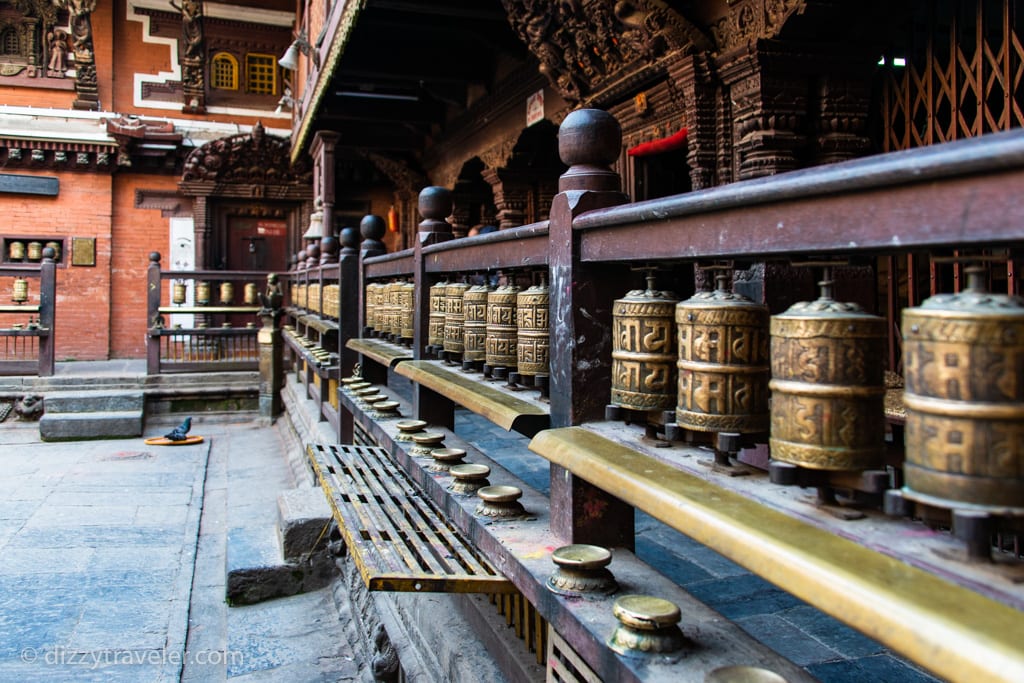 14. The Pashupatinath Temple
The Pashupatinath Temple lies about 5 km from Kathmandu. This Hindu holy site is one of the seven UNESCO Cultural Heritage Sites in Kathmandu valley. The temple is holy that only Hindus can go in, so as a foreigner, visitors need to watch it from the other side of the Bagmati river.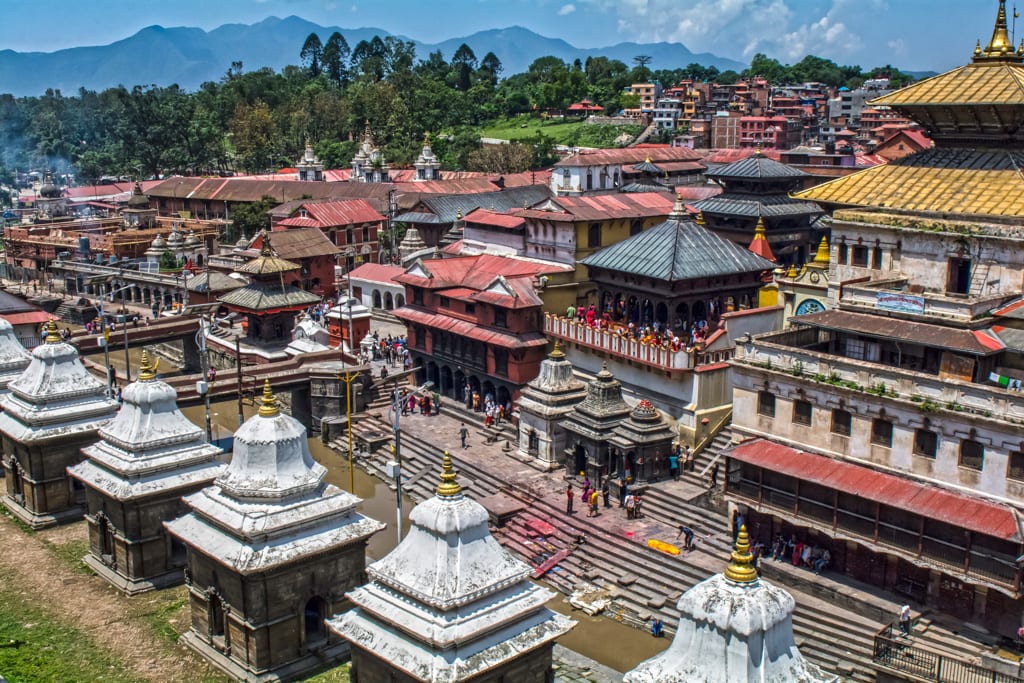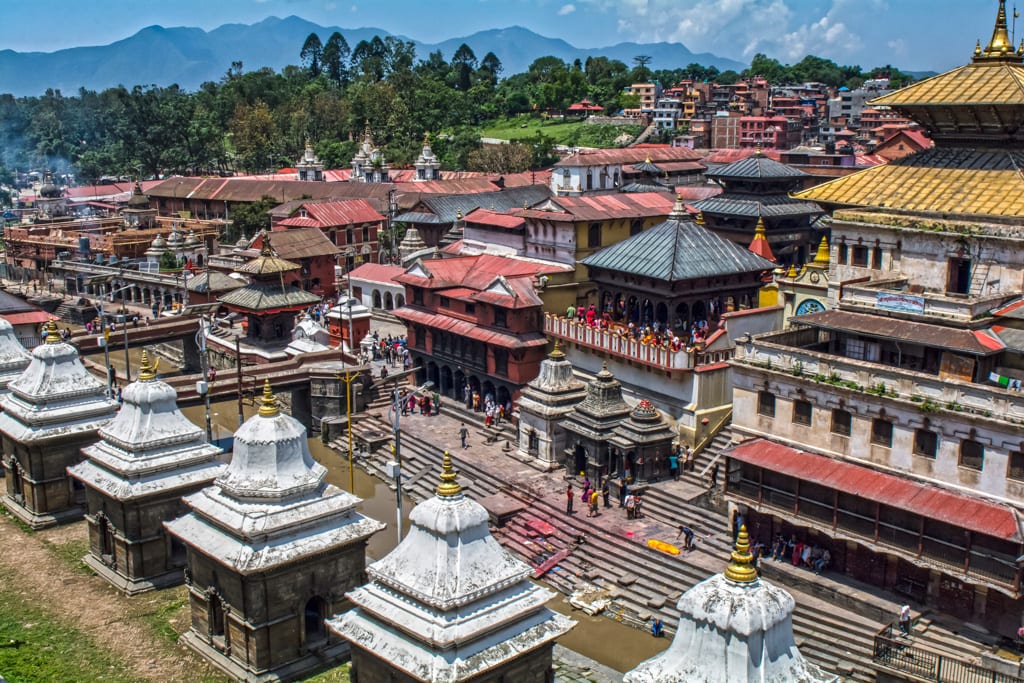 15. For Great Night Life Visit Thamel
The bustle, tourist-friendly Thamel is the city's main nightlife zone. Full of bars with live music, hotels, shops, spas, and restaurants that serve traditional Nepalese and International dishes make it the best place to stay in Kathmandu.
Dinner at Namaste Restaurant in Thamel
Namaste is a pure Nepales restaurant just a couple of blocks from our hotel in Thame. The food was delicious, and the traditional Nepali music and dance were incredible.
We loved the thali and a few of the dishes ordered separately. We enjoyed our fantastic dinner, along with the traditional Nepali wine.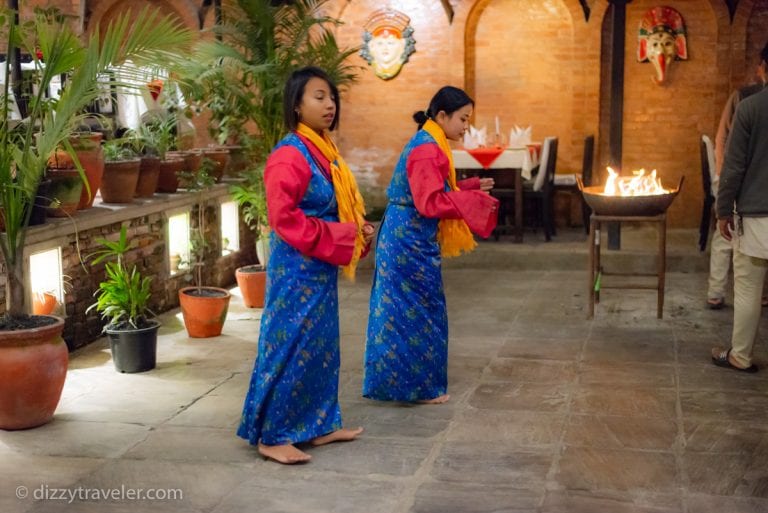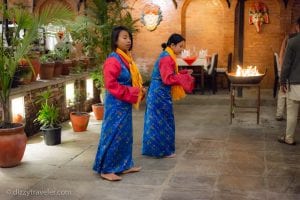 Live Music at Mughal Restaurant, Thamel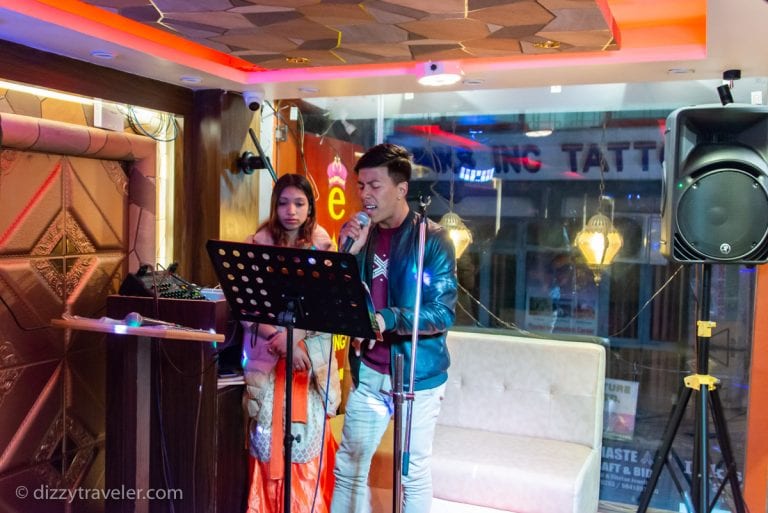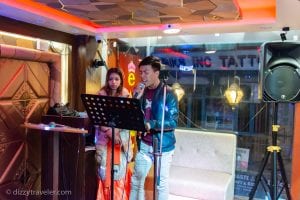 Moghul restaurant is located just a few blocks from our hotel in Thamel. We had a great time there, having local Gorkha Beer and enjoying live music then later delicious local food. A perfect way to spend an evening in Kathmandu.
Nepalese food and drinks worth trying
Nepalese food is typically a bend of Indian, Tibetan, and Chinese ingredients. Dal Bhat is a popular item throughout Nepal, available for vegetarians and non-vegetarian. This dish will keep you full for a while a combination of lentil soup, rice, vegetables.
Nepalese momo (Tibetan style dumplings) is one of the most popular foods in Nepal. It is usually fried or steamed dumplings filled with steamed vegetables or meat, served with local dippings sometimes spicy.
I also loved Newari food, tried a variety of Newari indigenous dishes and found them delicious. Donut like crunchy sweet-flavored puffy Sel Roti is made of rice flower usually popular for breakfast or snack. There are a few local beers I liked, including Gorkha, Everest, and Namaste.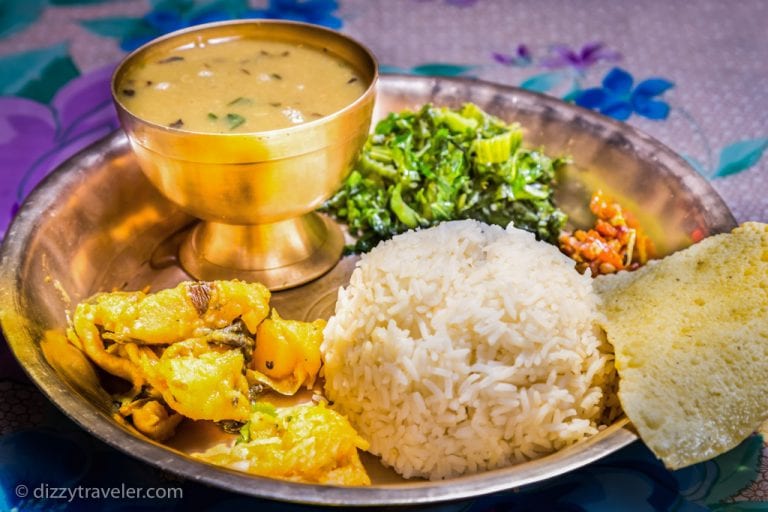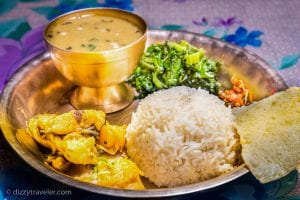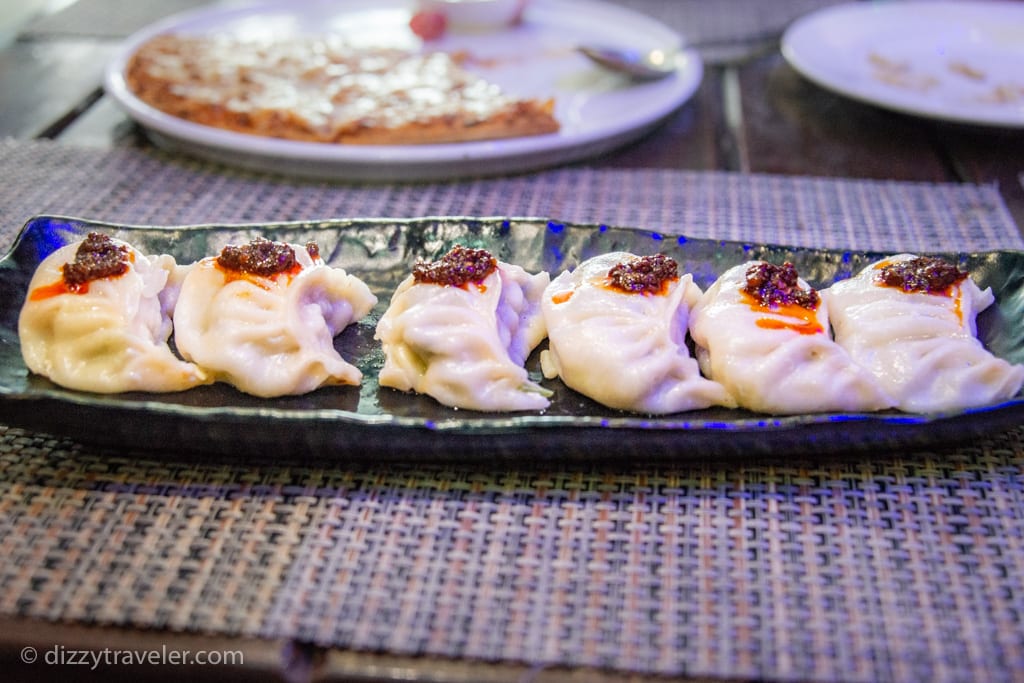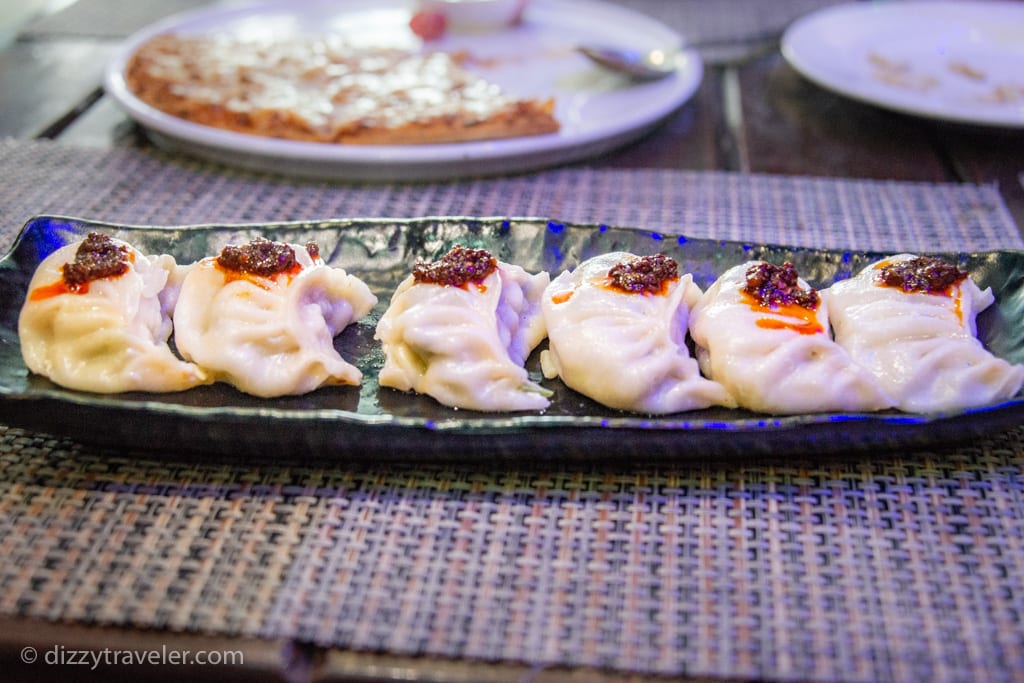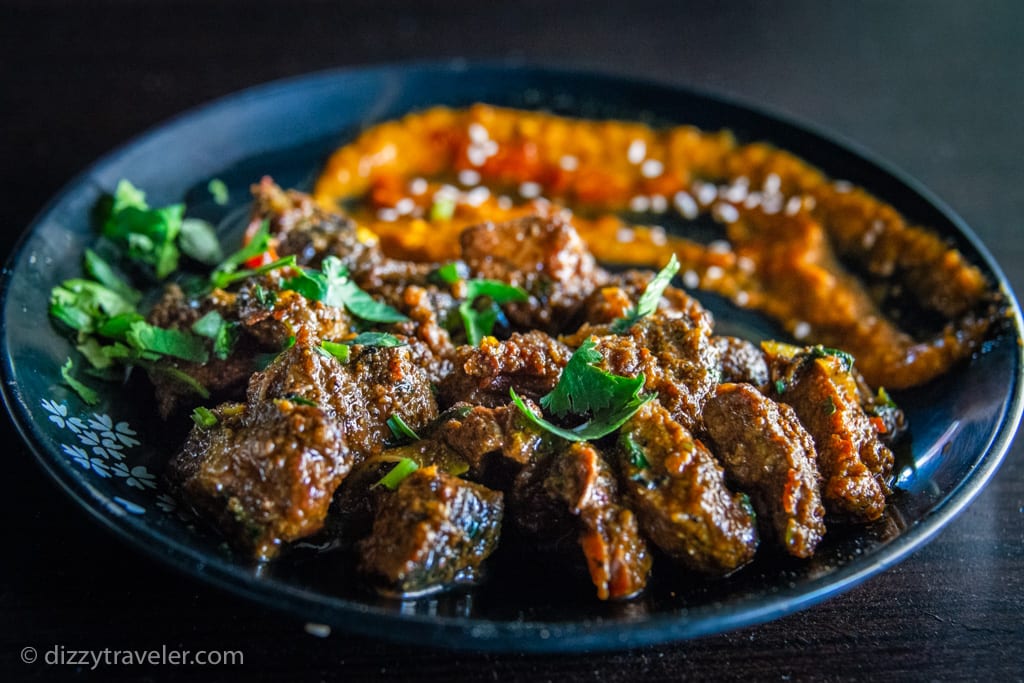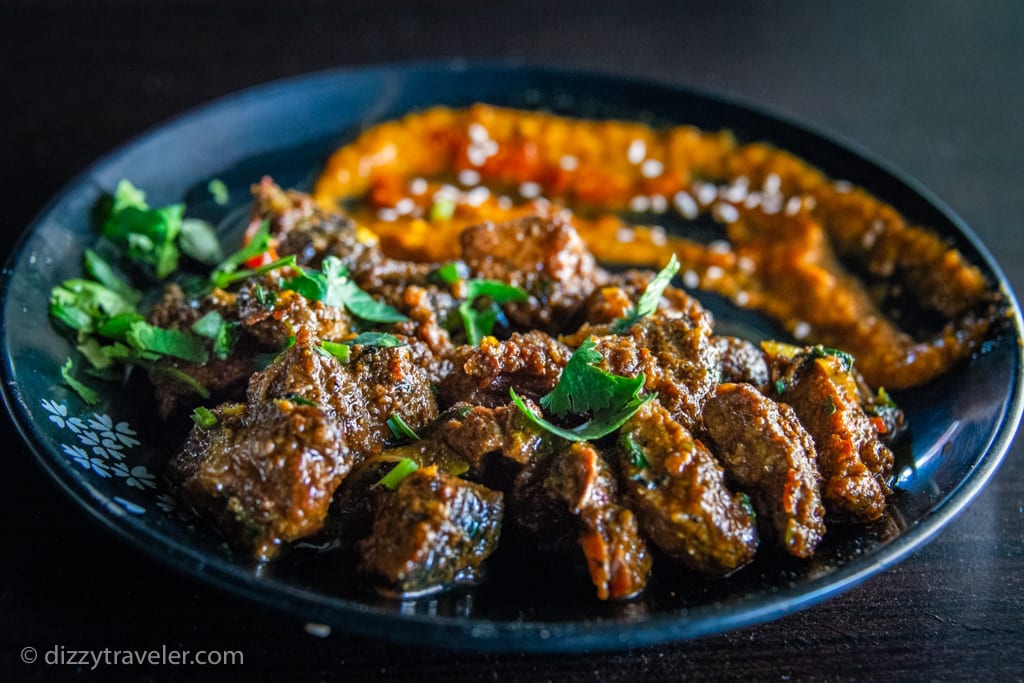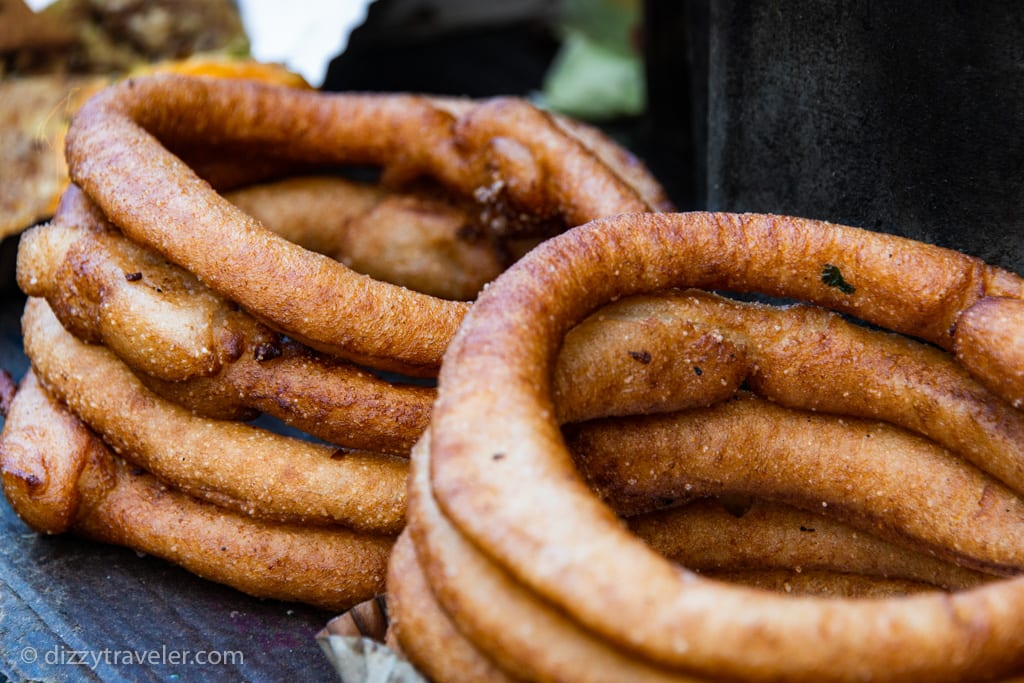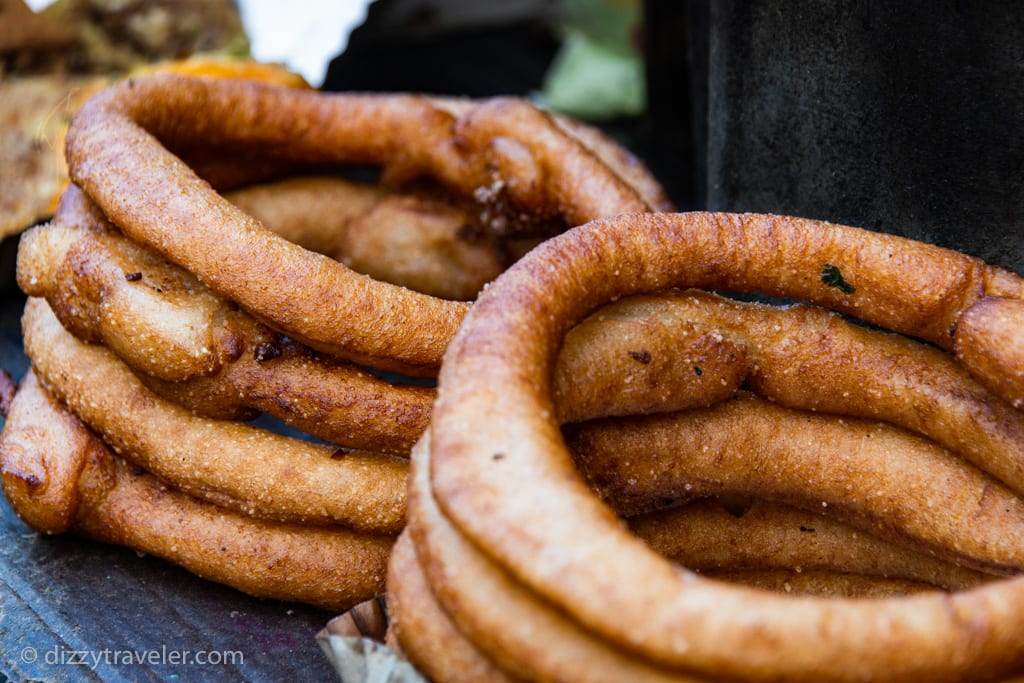 Where Did I Stay In Kathmandu
There are plenty of hotels to choose from in Thamel, but among all, I have decided to stay here. This hotel is conveniently located close to many attractions and surrounded by various restaurants and shopping.
The rate is relatively affordable compared to other hotels and fits my budget. The facility was nice and clean, with comfortable beds, and most of all, we loved the food in their restaurants. Hotels staffs were friendly and helpful. They went out of their way to cook a few of our favorite dishes for us; even those items were not on their menu. We stayed at this hotel on two separate occasions and definitely recommended this hotel.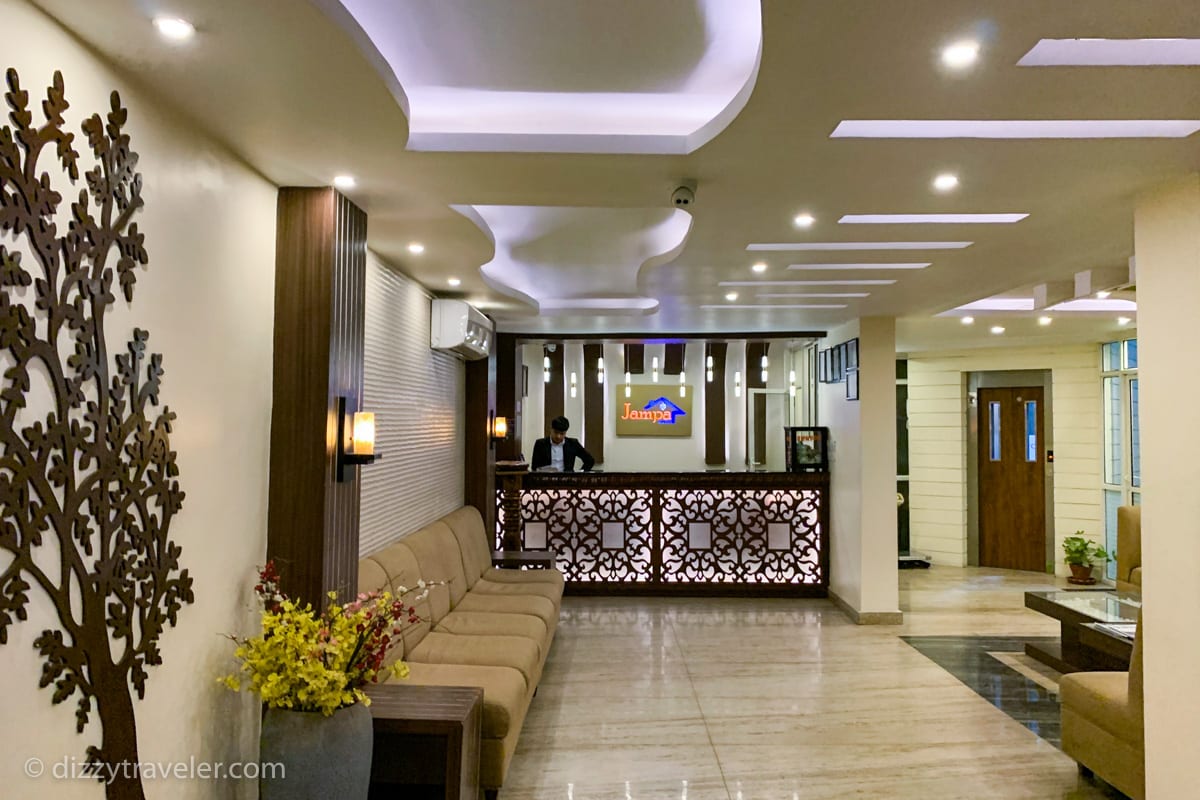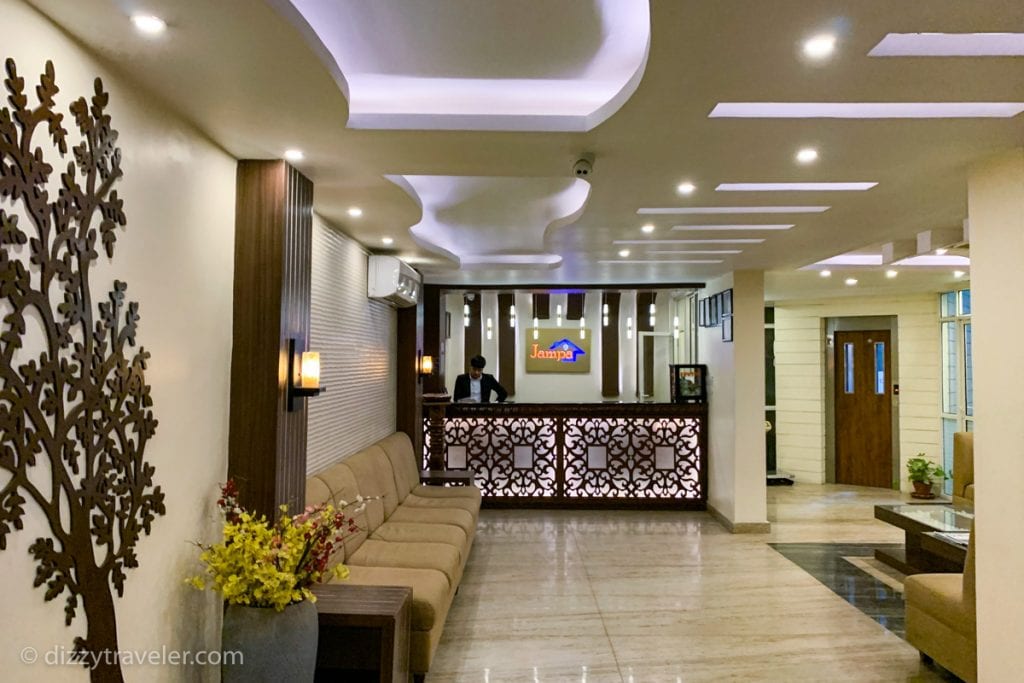 Helpful Information
My Opinion and Last Word
Have you been to Kathmandu? Any cool tips to share?
I loved being in Kathmandu and want to go back again. I hope my story has motivated you to plan your visit.
Please leave a comment below! I would love to hear from you to improve my knowledge.
Was this travel guide helpful for you?
If you would like to help me continue making free guides, here is one way you can help:
Share This Guide – If you have a friend that would benefit from this guide, share it with them. Or post this guide on Facebook, Twitter, or Instagram.
Your support would definitely help me making more free guides like this. Thank you in advance!
Affiliate Link – This post in Dizzy Traveler contains affiliate links, which means I receive a referral commission if you purchase after clicking at no additional cost to you. These funds go to maintain the site. Thank you for your support.